29 August 2018
29 Aug 2018
Love is in the Air
On Monday August 2013 a group of Bradshaw cousins visited Coolderry from St. Louis and Kansas City. USA. On this visit Corey Bradshaw proposed to his girlfriend Courtney, on the farm from where his great grandfather emigrated in 1927. Happily Courtney said "Yes", in the presence of Corrie the dog. Celebrations followed with all the Bradshaws.
---
Visitors to Borrisoleigh
---
Inside the Papal Mass
by
Josephine Ryan, Currabaha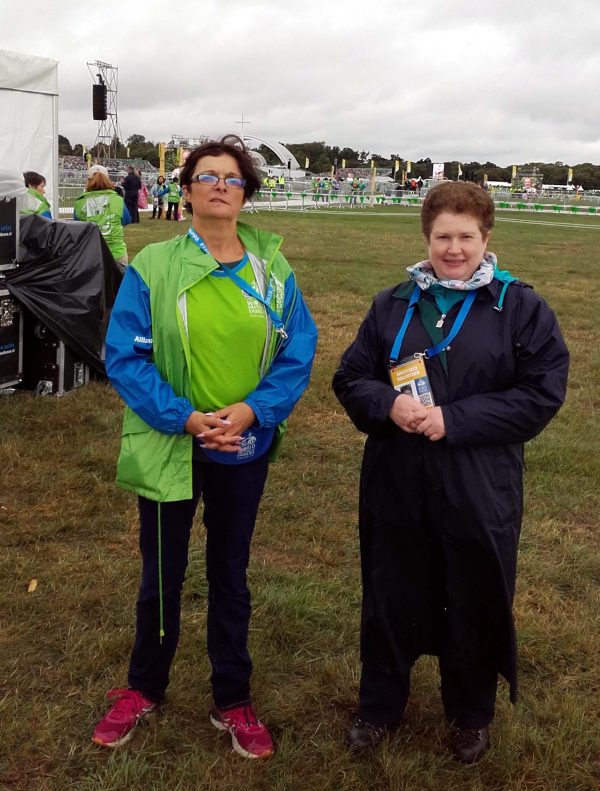 I was asked to be Eucharistic Minister at the Papal Mass and accepted their request. Sunday morning started with myself and numerous others being transferred by shuttle at five thirty am into the Phoenix Park. The weather was horrendous. We made our way to our subchapels, but even in the midst of the rain and darkness the Altar and Cross were breathtaking. It is so beautiful it is a pity to have it taken down. It was clear on walking in that the whole event was very well laid out. There were sixteen subchapels in all and approximately 2000 Eucharistic Ministers. Our day began by filling over one hundred and twenty ciboria and pyxes.
That was followed by Mass in each of the Chapels to consecrate the hosts before the main three pm Mass. It was very moving to see all the people in my Chapel silently fall into prayer for a while after Mass was over. We then walked our areas to familiarise ourselves with our positions. The artists performing were outstanding and kept us all in good spirits as we awaited the arrival of the people and the Holy Father. The army helicopter signalled the arrival of our special guest. Between our Army and Gardai he was certainly very well protected both on foot and in the air. It was amazing how accessible it was to see him. Nobody was put behind barriers or out of the way. The Pope mobile went at a nice pace and I got to see him for a while as he came down our path and then they were slow manouvering it around the corner at our Chapel. He is not very tall. I think everybody was really moved by how beautiful the Mass was. The choir was a credit to the country. It lifted the Park and our hearts with it. Our Holy Father, Pope Frances is a perfect example of a man living his faith and walking humbly with his God. God Bless him and all Priests and religious who serve so faithfully. Our day ended with myself, Fr.Daniel and Jacqueline sorting through the ciboria and making each one full. All remaining hosts in the ciboria, the ciboria, pyxes, and chalices will be distributed to all parishes in Dublin Diocese. By 6:00pm the park was back to the way it looked when we went into it in the morning. We were very surprised by how quickly the park emptied given the amount of people that came. It was a great experience to be part of such a blessed day and I am glad that I accepted their invitation to be part of such a great occasion.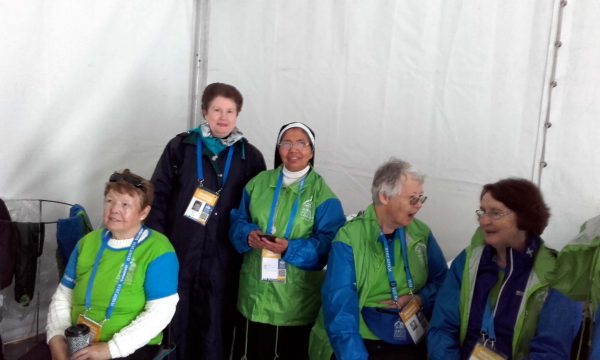 ---
Borrisoleigh Active Social Club
September Meeting
Borrisoleigh Active Social Club September meeting takes place in the Community Centre Borrisoleigh on Wed Sept 5th at 8pm. New members are always welcome to join us.
Trip to Inis Óir
---
Borris-Ileigh Camogie Club

SENIOR: Seniors played Clonoulty on Saturday last with an unfortunate loss in the second round of the championship. Final score Clonoulty 6-17 to Borris-Ileigh 1-08.
Scores from: Alice Fogarty 0-02, Megan Ryan 0-02, Nicole Walsh 0-04 & Nora O'Brien 1-00. Hard luck girls.
Next game vs Annacarthy on Saturday 15th September at home at 5-00 pm.
MINOR championship commences shortly. If you wish to attend training and have not received a text please contact any committee member if you wish to join the panel.
U14's had a great win over Arravale Rovers last Sunday in the 2nd round of the Autumn league & Final Score: Borris-Ileigh 8-07 to Arravale Rovers 0-00.
Scores from: Dani Ryan 2-04, Ava Bevans 2-01, Aoife Fitzgerald 1-00, Chloe Carroll 1-00, Jane Delaney 0-01, Hope Bergin 0-01 & Rhona Lyons 2-00
U12's teams 1 played Shannon Rovers last week with a fine win. Scores from: Aoife Fitzgerald 7-00, Ava Bevans 1-02, Therese Groome 1-01. Next game vs. Gortnahoe at home on Wednesday August 29th at 7pm.
Team 2 play Moneygall (away) on Thursday August 30th at 7pm.
U10's had a great morning at the county blitz in Kildangan last Saturday. Many thanks to Kildangan for the hospitality.
---
Adult Education Classes
Tipperary ETB – Adult Education Classes are starting back in September. If interested in joining one of these classes from Basic to Advanced Computers, Communication Skills, Digital Media, Literacy and Numeracy, Please contact Mary Jo at 067 31845 or 087 351 8221 for more details.
Tipperary ETB – Adult Education Communication Classes: Are you terrified of expressing your opinion in public, doing a reading / speech at a wedding, the sound of your own voice when speaking up, using Microsoft Powerpoint when making a presentation? If so, this course is for you. Contact Mary Jo at 067 31845 or 087 351 8221 for more details.
---
Pic of the Past ………..down memory lane
---
Committee: Enda Ryan, Noreen Fahy, Marie McGrath, Derry O'Donnell and Fiona Max
Many thanks to all those who contributed photographs and news items
Remember, we need you to continue to send us material so that we can keep our website current and interesting.
While we make every effort possible to ensure that the information contained in this Website is accurate and complete, we cannot accept any legal liability as a result of the inaccuracy or incompleteness of the information presented to users of this site. We also reserve the right to edit material for suitability to a website format.
Also, if you like what you see and want to leave a comment, remember to use the Guestbook