28 March 2018
28 Mar 2018
Daffodil Day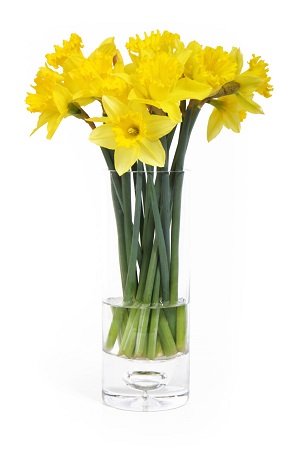 DAFFODIL DAY 2018
€5,510 donated!
A huge thank you to everyone who came out to support us on Friday 23rd March.
Very special thanks to all the volunteers who gave up their time.
Thanks to all those who provided much needed refreshments to the volunteers throughout the day.
---
Borris-Ileigh Juvenile GAA
---
St.Joseph's College Borrisoleigh
St Joseph's Borrisoleigh school tour to Rome, Pompeii and Mount Vesuvius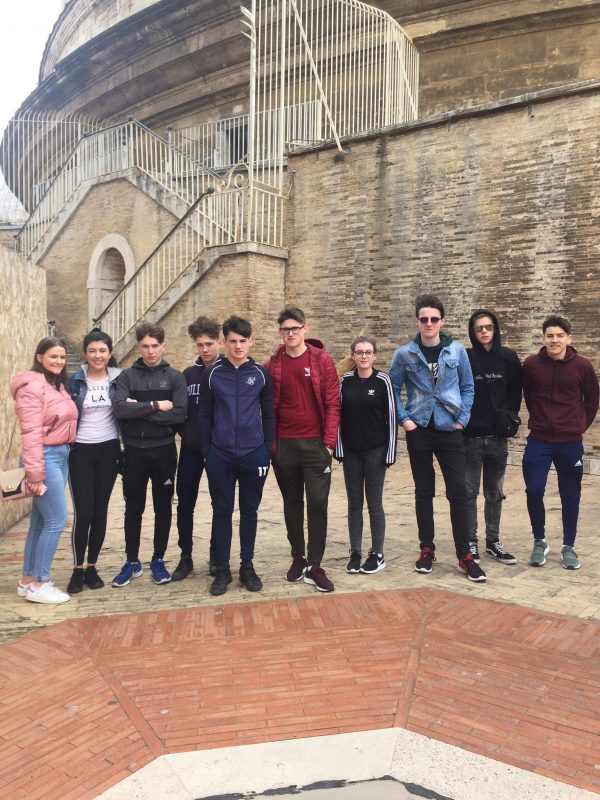 At the crack of dawn on Wednesday morning 21st March the TY and 5th year students of St Joseph's Borrisoleigh departed on their school tour to Italy. On arrival, the students were brought on a walking tour of the eternal city taking in wonderful sights such as the Trevi fountain, the Spanish steps, the Pantheon and the Royal Palace.
On day 2, a visit to Vatican city and in particular the beauty of the Sistine chapel and the magnificence of St Peter's Square captivated the students and accompanying teachers.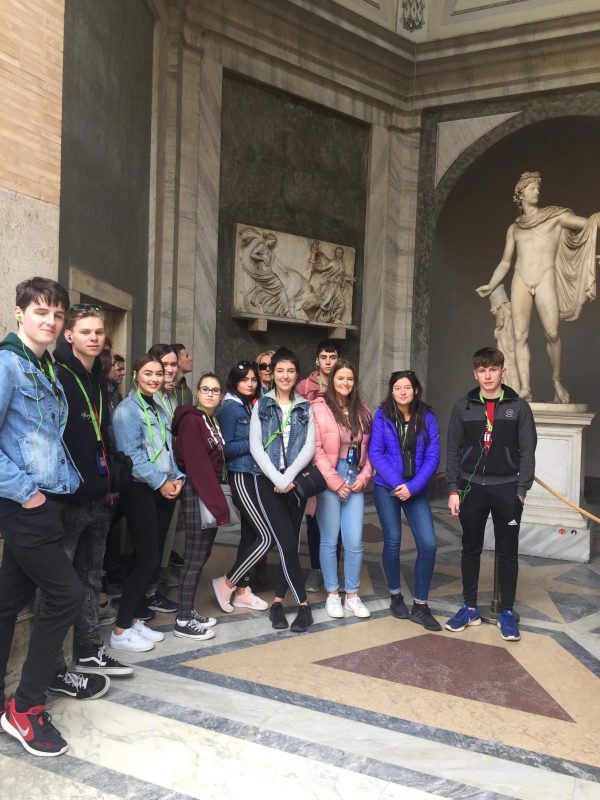 In Vatican City
Day 3 saw a fascinating trip to Pompeii and Mount Vesuvius with the last day in Rome for a visit to an outdoor market and some shopping. The famous Italian cuisine was savoured by all and a wonderful cultural and historical experience will be remembered for years to come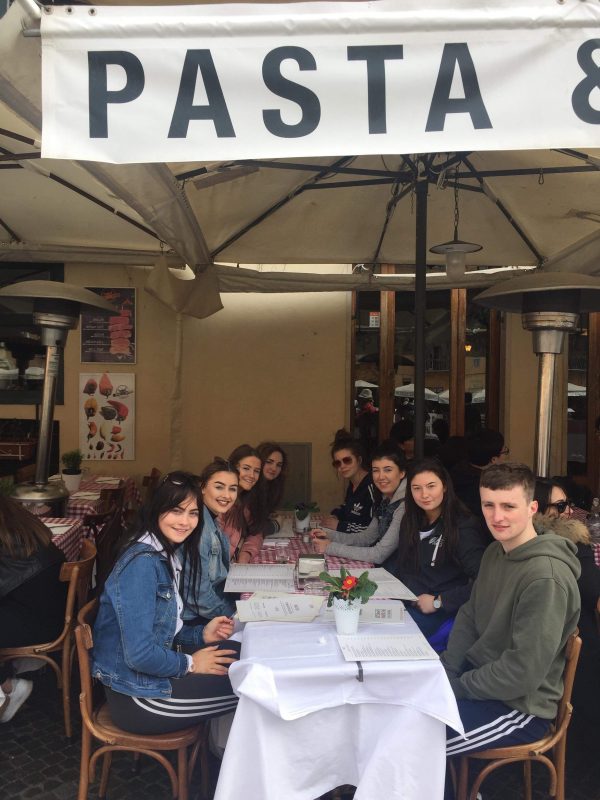 Pasta anyone?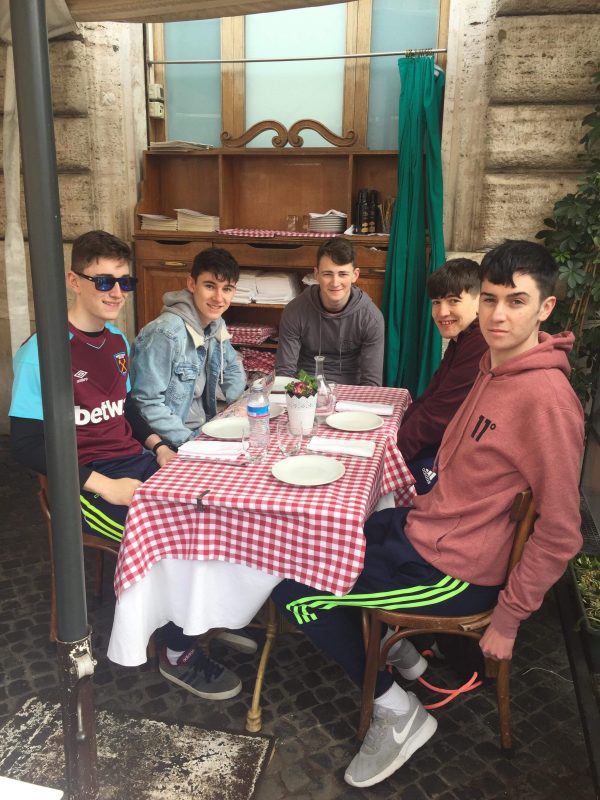 Buon appetito!
Music students attend Seussical the Musical at the Limetree Theatre
On Wednesday 21st March the first, second and fifth year students attended a performance of Seussical the Musical by MIDAS at the Limetree Theatre. Featuring many of the beloved Seuss characters such as The Cat in the Hat, Horton the Elephant and Gertrude McFuzz, the story teaches us the importance of fighting for your beliefs and the power of being unique. The students enjoyed the lively musical numbers which ranged in style from Latin to pop, swing to gospel, and R&B to funk.
---
Scór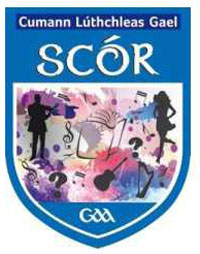 All roads led to Cashel last Sunday where the county final of Scór na bPaístí took place. There was great excitement when Borrisoleigh were announced winner of the novelty act competition with their act named 'Mícheál's All Ireland Day'. The group consists of Niamh Ryan, Joanne Groome, Nicole Cogan, Kalyn Treacy, Conor Kinnane , Eoghan O Hagan, Lochlainn Hodgins and Aaron Young. A big thank you to Paula Stapleton who wrote the script and has been mentoring the children for the past three months.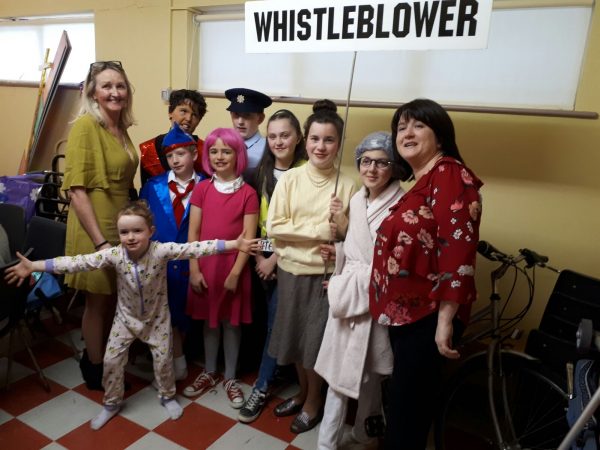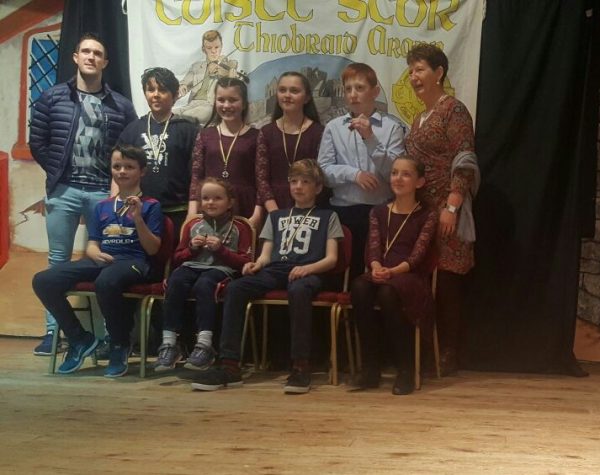 Congratulations to our figure and set dancers who were not winners on the day but competed excellently. Our dancers were coached by Evelyn Groom, Anna Ryan, Julie Treacy, Carol Kinnane and Phil Maher. We are very lucky in our parish to have coaches of such high calibre who gave up their time to mentor the children.
We held an end of year Scór night in the Marian Hall on Wednesday 21st March. Entertainment was provided by singers, musicians and dancers. A great night was had by all.
---
Borrisoleigh Active Social Club
The April meeting of Borrisoleigh Active Social Club takes place in the Community Centre on Wed April 4th at 8pm. It's going to be a meeting with a difference. We have an evening of Traditional music/entertainment night and we extend an invitation to everyone to join us. Refreshments will be provided.
On April 11th a group are heading off to Killarney. This is going to be our first overnight trip and everybody that's going is really looking forward to it.
---
Borris-Ileigh Camogie Club Notes

REGISTRATION:
If you have missed our registration dates and wish to join the club this year, please contact 087 4380801, or hand in completed form and fee at training. Many thanks. All new members welcome.
Adult player €50, Juvenile €30, Committee/Trainers/Social members €20
CLOTHES COLLECTION: Time to do the spring clean!
Clothes collections will take place on Saturday April 21st at the pavillion from 10.00 am to 12midday and on Monday and Tuesday evening (April 23rd & 24th) from 7 to 8pm.
Your support would be appreciated.
​​​​​U16's had a comprehensive win over Moyle Rovers on Saturday last. Remaining fixture to be announced. Well done girls.
U12's start play first round of the year on this Friday evening March 30th at home at 6.30 p.m vs. Cashel. Good luck to all.
U10, U8 and U6 training will re-commence shortly.
---
Borris-Ileigh GAA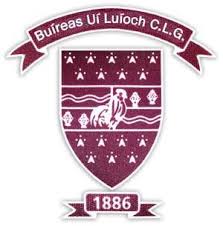 Tipperary Water County Senior Hurling League:
Well done to our senior hurlers who got their 2018 campaign off to a winning start after victory over Eire Og Annacarty in the "Tipperary Water" County Senior Hurling League in Annacarty last Sunday morning. Two well taken first half goals from Sean McCormack and Matthew Stapleton proved crucial giving us a two point lead at the break with the score at 2-06 to 0-10. But the game was far from over as Eire Og Annacarty started the second half very strongly bringing the deficit back to 1 before eventually taking the lead with the score at 2-09 to 0-16. But a long ball into square 5 minutes from time was well fielded by Niall Kenny before he batted the ball past Tipperary goalkeeper Darragh Mooney for his second goal of the day giving us a 5 point lead going into the closing stages. Eire Og would reduce the deficit to 2 but it would be too little too late as we ran out winners on a score line of 3-14 to 1-18. A great victory considering the large number of absentees we had.
Team and Scorers: James McCormack, Thomas Fahy (0-01), Paddy Stapleton, Michael Ryan, Liam Ryan, Seamus Burke (0-01), Keith Ryan, Jack Hogan (0-01), Sean McCormack (0-03(0-2f)), Niall Kenny (2-00), Shane Kenny, Conor Kenny (0-03), Thomas Ryan, Ray McCormack (0-02), Matthew Stapleton (1-03 (0-03f))
Subs Used: Aaron Rabbitte, Micheal Carey
North Junior 'A' Hurling League:
Commiserations to our Junior 'A's who were defeated this evening in their first competitive game of 2018 in the North Junior 'A' Hurling League. They went down on a score line of 1-15 to 0-13 in Kilcolman on Sunday afternoon. A tough start for a very youthful group of players but they put in good performance all round just falling short for a finish but no doubt a game they will learn from going forward.
Team and Scorers: James McCormack, Jack Prior, Cathal O'Connell, Declan Ryan, Seamus Ryan, Aaron Rabbitte, Aaron Reid, Shane McCormack (0-02), Patrick O'Connell (0-01), Conor Keane, Nicky Cooney (0-01), Micheal Carey (0-09(0-09f)), Alvis Danko, Declan O'Connell, John Ryan
Subs Used: Michael Ryan, Jamie Corcoran
Any updates regarding fixtures will be posted on our social media accounts. Be sure to sign up for our Clubify page, you can also find us on Facebook by searching "Borris GAA", on Instagram at "borrisileighgaaclub" and on Twitter @Borris_GAA.
Borris-Ileigh GAA Golf Classic 2018:
The 2018 Borris-Ileigh GAA Annual Golf Classic will take place this year across the weekend of 12th and 13th of May in Rathdowney Golf Club. We encourage all from near and far to come along for a Round in what is guaranteed to be a great day out for all with food and refreshments provided for all on the day. Entry for a team of 4 is €140 and sponsorship of a tee box is €50. The Tee Times are open for bookings as of now, so to get your bookings in contact Martin Fahy (087) 2608780 for all of the details. Don't hesitate to spread the word, we look forward to seeing you all on the 11th and 12th of May.
Premier League "Last Man Standing" Extra Time:
With one Last Man Standing competition drawing ever closer to the finish line we are starting another one giving you another chance to prove your knowledge in all things Premier League . This Premier League 'Last Man Standing' competition will run from Saturday the 31st of March till a lucky winner is found. Entry is just €10 with a fine prize pot of €300 for the lucky winner. The entry can be given to Trevor Groome (087) 7477132, Tommy Mockler (085) 2741024 and Philip Fahey (087) 2916361. All usual rules will apply, once entered each week you must text your name and Premier League team you think will WIN to 0872690591. Selections to be received no later than 7PM Friday evenings before a Round of fixtures begins. If you are unfamiliar with the rules or format of the competition be sure to check our social media accounts for more details. All funds raised from both "Last Man Standing" competitions go directly towards paying for our fantastic new Hurling Wall which is an invaluable asset for our Club in developing the next generation of young girls and boys to wear the Maroon and White. We thank you again for your continued support, without your efforts we would not be able to carry on to make the great strides we are making in developing our Club facilities in the Park which is a credit to your unyielding generosity. Best of luck to all entries.
AIB All Ireland Victory:
We as a club would like to send a huge congratulations to our former club man Shane Stapleton who picked his second AIB All Ireland Club Final winners medal last weekend with Cuala of Dublin as they defeated Na Piarsaigh of Limerick after a replay on a score line of 2-17 to 1-17. A fantastic achievement for him, well done to all involved.
Lotto:
This Results of our weekly Borris-Ileigh GAA Club Lotto draw are as follows:
The numbers played were 4, 13, 17 and 20 This weeks Lucky Dip winners were:
1. Kevin Bannon, Pallas Street
2. Maroin Kennedy, c/o Joe Kennedy
3. Noel Kent, Main St.
4. Liz Ryan, c/o Mary Ivors
Well done to all of this weeks lucky dip winners. Next Weeks Jackpot is up to a nice €6,200.
If you wish to play online in time for next weeks draw you can do so here
Best of luck all entries and thank you for your continued support.
Borris Abu!
---
Book Launch
Glankeen of Borrisoleigh by Rev. M Kenny S J. A history of the parish of Borrisoleigh, Co. Tipperary, originally published in 1944 and which has been out of print for several decades is being republished in an updated and expanded format. The new book is being launched in The Community Centre on Friday 18th May at 7.30pm
The new publication will include a reproduction of Fr. Kenny's original work plus several new chapters covering Borrisoleigh casualties in the Great War, An updated history of the ancient monastic site of St Cualainn. A listing of the gravestone inscriptions in Glankeen Cemetery along with a map of the grave locations. Descriptive interpretation of the gravestone iconography found in the cemetery and essays on some notable personages interred in Glankeen.
The republished work will be available in limited edition hardcover and softcover bindings. Pre publication prices are as follows; Hardcover €27.50, Softback €20. To reserve a copy email; glankeen@tipprevolution.ie
---
Pic of the Past ………..down memory lane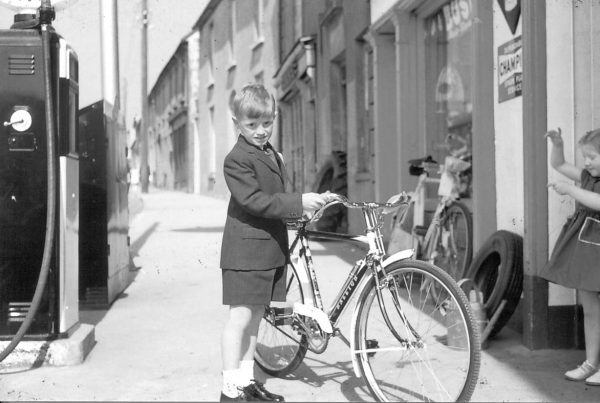 Confirmation Day
John Kenny receives his new bicycle
---
Committee: Enda Ryan, Noreen Fahy, Marie McGrath and Derry O'Donnell
Many thanks to all those who contributed photographs and news items
Remember, we need you to continue to send us material so that we can keep our website current and interesting.
While we make every effort possible to ensure that the information contained in this Website is accurate and complete, we cannot accept any legal liability as a result of the inaccuracy or incompleteness of the information presented to users of this site.
Also, if you like what you see and want to leave a comment, remember to use the Guestbook