Blood Donor Clinic
The Irish Blood Transfusion service issued a Pre-Amber Alert on 29th of May 2023. IBTS need to collect an extra 400 donations per week for the month of June. We are appealing to local blood donors to attend. New blood givers are welcome.
The Dome, Semple Stadium
Monday 26th, Tuesday 27th, Wednesday 28th, Thursday 29th June 2023
16:50 – 20:10
New and existing blood donors welcome
Please call 1800 222 111 for appointment
---
Volunteering Opportunity
What is 50808?
We are a free nationwide anonymous 24 hour messaging service providing everything from a calming
chat to immediate support. This service is supported by the Health Service Executive (HSE). 50808 provides a safe space where texters are listened to by trained volunteers.
What do we offer?
We offer a safe, non-judgmental space where people can text us about anything that is making them
feel down. This is not just a platform for those in crisis situations such as being in physical danger from
others or to themselves. We have supported many people who are struggling with relationship
breakdowns, bereavement, feeling stuck in a rut, loneliness or simply feeling down and wanting to talk it
out with us.
More information is available
here
.
---
---
Parish News

Anniversary Masses
Saturday 1st July at 7pm – Borrisoleigh
Thomas and Annie Russell.
Saturday 8th July at 7pm – Borrisoleigh
Martin Kennedy, Main St.
John & Gretta Ryan, Coolataggle.
Thurles Lions Club are holding a Coffee Morning and Open Day at Two Mile Borris Vintage Museum E41 EE95 on Sunday 2nd July between 10.30 and 3pm.
Monies raised will benefit local charities. Everybody is welcome"
Latteragh Graveyard Mass.
We will be celebrating our annual Mass at Latteragh on Monday evening July the 10th (time to be confirmed, probably 7pm) at Latteragh cemetery. An unattended donations bucket will be placed just inside the cemetery gate for any donations to the ongoing upkeep of the area. Everyone is invited back to the Community centre afterwards for a cup of tea/coffee and light refreshments. The AGM of the carers group will take place and we hope to be able to share some recently recovered film footage of work at Latteragh dating from our startup in 1999. All very welcome.
National Grandparents Pilgrimage to Knock: Celebrating the World day for Grandparents and the Elderly, Sunday 23rd July 2023. Theme "His Mercy is from Age to Age".
---
Knitting and Crochet Group
Knitting and Crochet Group continues to meet every Wednesday at 10am. New members with other skills or none always welcome.
For information call Mary on 0863098982
---
Pic of the Past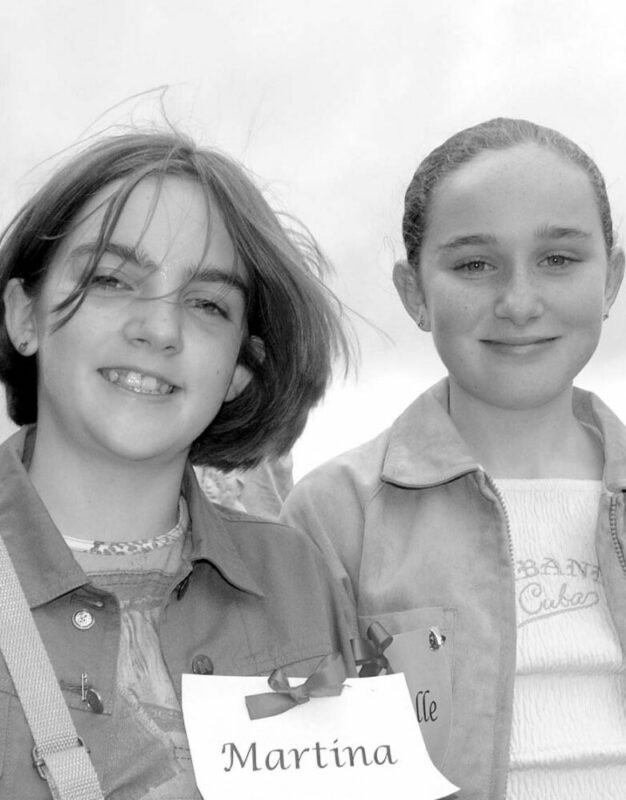 Niamh and Ciara Lyons, Upper Main Street
---
Your Website Needs You
Committee: Enda Ryan, Noreen Fahy, Marie McGrath, Derry O'Donnell
Many thanks to all those who contributed photographs and news items.
Remember, we need you to continue to send us material so that we can keep our website current and interesting.
Send your email to: info@borrisoleigh.ie
This website is supported by
Borrisoleigh Community Development Association.
While we make every effort possible to ensure that the information contained in this Website is accurate and complete, we cannot accept any legal liability as a result of the inaccuracy or incompleteness of the information presented to users of this site. We also reserve the right to edit material for suitability to a website format.
Also, if you like what you see and want to leave a comment, remember to use the Guestbook