28 February 2018
03 Mar 2018
Mass in Ileigh Church Cancelled
There will be no Mass in Ileigh Church on Sunday 4th March due to the bad weather
---
Community Health and Well-Being Showcase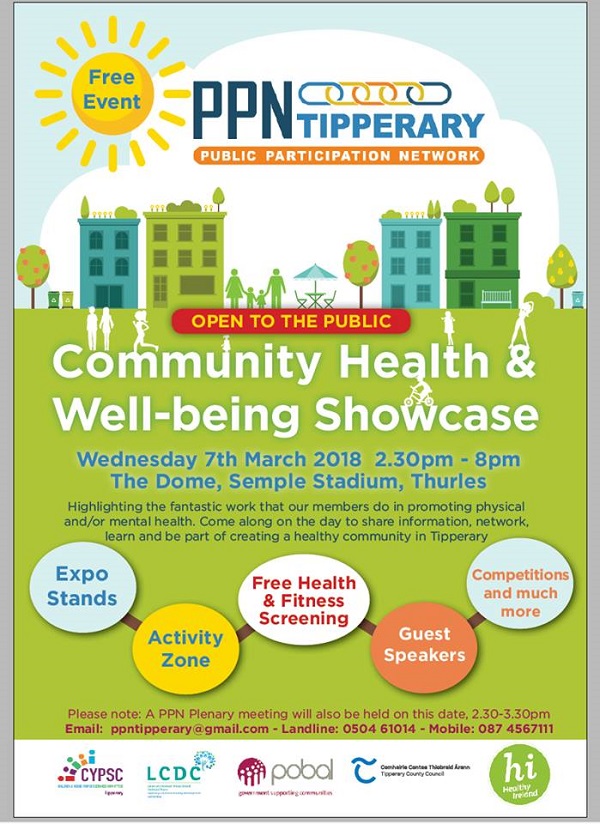 ---
St Joseph's College
Green Schools Expo RDS
The Green Schools committee from St. Joseph's College, Borrisoleigh attended the green schools Expo in the RDS in Dublin on February 22nd hoping to get ideas on how to make the school more environmentally friendly.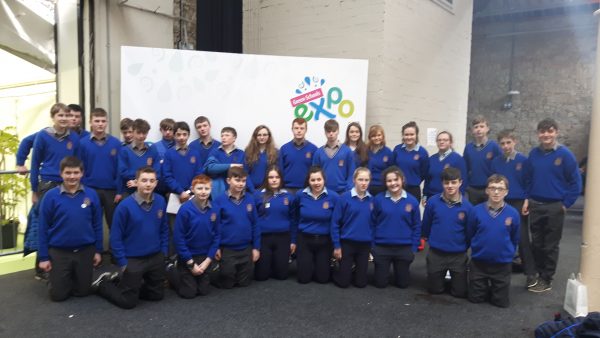 There were many informative stands on display as well as optional talks from various environmentalists . Plastic waste was highlighted and our over dependence on plastic and how to dispose of it in a careful manner was one of the main concerns. In Ireland we throw away 100 million standard disposable coffee cups each year, a fact which the students feel we can definitely do something about if we think before we act. There are compostable versions of coffee cups available so it's just a matter of making them easier to access.
The students were intrigued by the 'Virtue brush' which is an environmentally friendly toothbrush with a 100% Bamboo handle and charcoal infused bristles.
Climate change was the main theme of the expo with Dr Michael O Mahony telling us that we have only 20 years to get our countries working together to try and slow down our temperature changes and all the effects it is having on our world. There were lots of interesting projects from schools around the country and many organisations trying to get us to become more aware and careful about how we take care of our environment.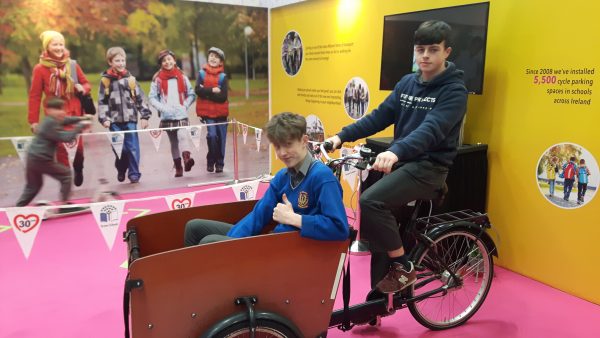 "Helping to reduce their carbon footprint"
Adam Galvin and Josh Younge at the Green schools Expo in the RDS
---
Track Attack Notes
Get Active with St Cualan's – A Huge Success
An atmosphere filled with warmth and enthusiasm thawed the chill wind that swept across the track on Friday night last in Borrisoleigh when a huge crowd turned out to help the students of Scoil Naomh Cualan achieve their activity flag.
Kindly sponsored by Shanahan's Centra, the 3km run and walk was an "Integration of the Generations" and the simplicity of the idea proved to be an outstanding success. On a night when the simple thing to do was to sit watching Coronation Street on the TV, many decided to do the opposite. Kids from an age as young as 5 embraced the initiative and gave it their absolute all over the 3km course.
The St. Cualan's kids were selected into 16 teams and from the minute the siren echoed across the track, every one of them gave it their absolute best to earn points for their teams.
Once the mass of participants converged in the Parish Centre, the scores were amassed and the victors were announced. The first winners of the Scoil Naomh Cualan – Get Active Cup are Team Poland who were captained by Eamon Groome. The other victorious winners were Lisa Carr, Tara Fitzgerald, Conor Browne, Ava Fanning, Ralfs Vilande, Jack Ryan and Avril Bourke.
The second place team on the night were Team France whose medal winning participants were Will Cooney, Niamh Ryan, Charlie Fitzgerald, Grace Stapleton, Shay Quigley, Jim Browne, Oisin Ryan and Joanne Groome.
The third team to climb the winners' podium was Team Spain. Their team members were Patrick Brett, Therese Groome, Ava Marie Rabbitte, Edgar Reijers, Aoife Ryan, James Maher, Emily Healy and Thomas Stapleton.
Track-Attack would like to express our thanks to Sean and Marie Shanahan for their extremely kind sponsorship for the event. Thanks to Kay Ryan and all the staff of Scoil Naomh Cualan for all their help and cooperation to make the event the success that it was. Thanks to Tom Mason and his reliable team of stewards for their constant support and help, thanks to Teresa Murray and the catering crew who again left no stone unturned in their department. Thanks to John F Kennedy for providing us with his photography skills on the night. Thanks to Christina O'Dwyer for her help with First Aid and thanks again to our brilliant registration team.
We would also like to thank our 2 Track-Attack special guests on the night namely Seamie Callinan and Mickey Mouse. The presence of both added greatly to the overall event. A special work of thanks must go to Joan Cummins who was the link between the school and Track-Attack and worked tirelessly in the days leading up to the event to guarantee that the whole event went off without a hitch.
Zenga's Podium Finish in Templemore
16 Track-Attackers travelled to Templemore for the Fit4Life Track & Trail 4 mile race on Sunday morning. It was a brilliant event and thoroughly enjoyed by all.
Cream of the crop on the day was John Vahey who came home in a brilliant third place to reconfirm the outstanding progress that he has made in the sport of running. We also had some other outstanding performances with a hugely noteworthy performance from Paddy Ryan worth a very credible mention.
The 16 Track-Attackers on Tour were Paddy Ryan, Helena Kennedy Doyle, Mark Fahey, Caroline Hassett, John Vahey, JP McSherry, John Cummins, Donal Ryan, Mary Treacy-Ryan, Pat Keane, Fiona Looby, Trish Ryan, Teresa Murray, Phil Mason, Sheila Devaney and Ger Bourke.
---
Borrisoleigh & Ileigh Parish
"Prepare the way of the Lord" – Matthew 3:3
Borrisoleigh & Ileigh Parish is 'Listening' in the Community Centre on March 12th at 7pm. All are welcome.
In accordance with his Pastoral Letter, 'Prepare the way of the Lord', Kieran, our Archbishop, invites you as a parishioner of Borrisoleigh and Ileigh Parish and a member of the Church in Cashel and Emly to participate in a process of listening and reflecting with a view to planning for the future of the Church in the Archdiocese. The people and priests of each of our parishes are engaged with this listening process. All are welcome to be part of this process including those, who, for various reasons, have left our church communities. The Listening Process in the Parish of Borrisoleigh and Ileigh will take the form of a Listening Gathering for all the parishioners as well as affording the opportunity for all the active groups in the parish to become involved. The Listening Gathering will take place in the Community Centre on Monday, March 12th, at 7.00p.m. followed by light refreshments.
---
Cooking Demo
Cookery Demonstration by Naomi (Naomi's Cafe, Thurles) in aid of North Tipperary Hospice.
The Community Centre, Wednesday March 14th 2018 at 7.30pm. tickets €10 each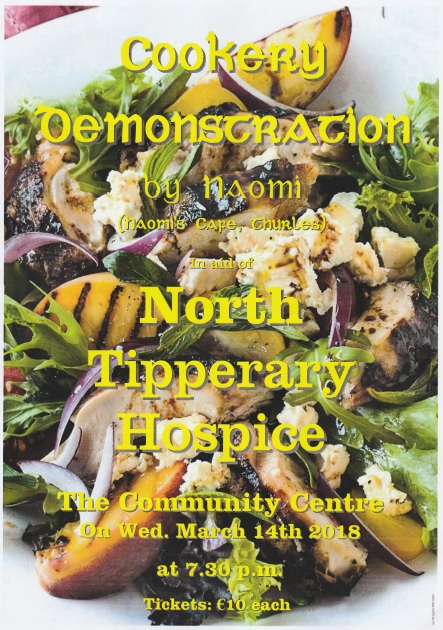 ---
Glenkeen History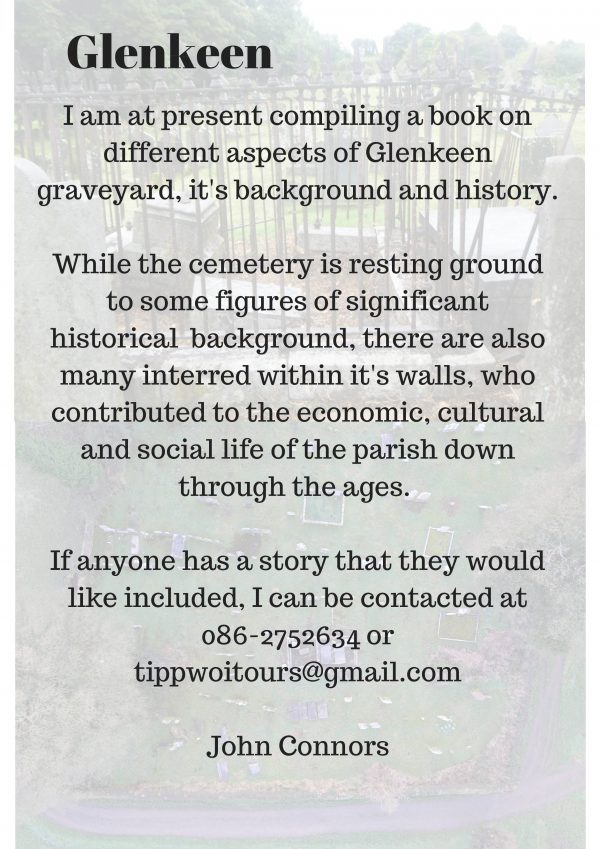 ---
Borrisoleigh Active Social Club
The next meeting of the Borrisoleigh Active Social Club takes place in the Community Centre Borrisoleigh on Wed March 7th at the Earlier time of 8pm.
We will have John Connors giving a presentation on the history of Borrisoleigh. This will be a very interesting evening followed by refreshments.
Any outstanding membership needs to be paid to any of the officers immediately. New members (men & women) always welcome. Some of our upcoming events include a night away to Killarney and our annual coffee morning. More details to follow.
---
Borrisoleigh & The Great Famine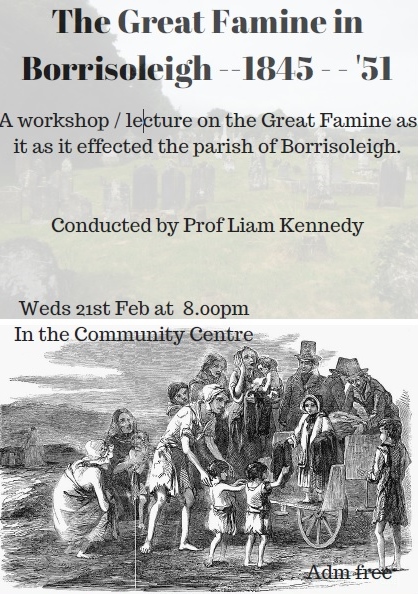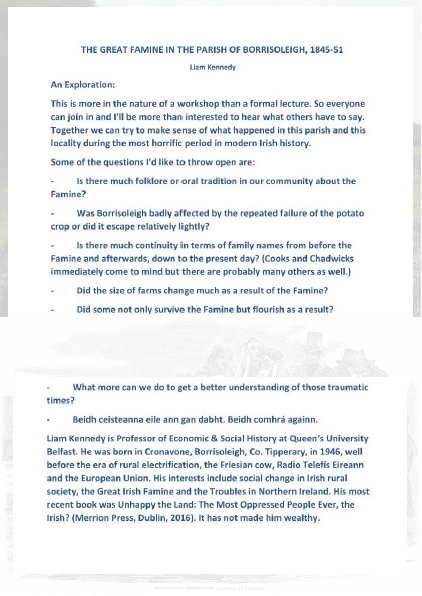 ---
Borris-Ileigh GAA Sportswear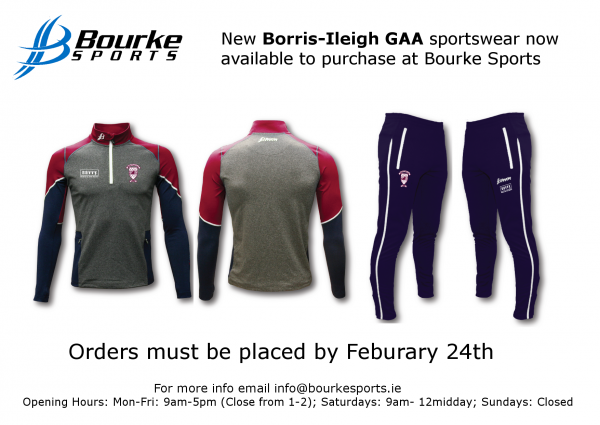 New Borris-Ileigh GAA Sportswear now available to purchase at Bourke Sports. Order must be placed before February 24th.
Prices
Half Zip: Adults without initials: €44 (Initials are €4 extra) Kids without initials: €38 (Initials are €4 extra)
Pants: Adults without initials: €38 (Initials are €4 extra) Kids without initials: €33 (Initials are €4 extra)
Phone: 087 613 8004
---
Borrisoleigh Community Development
Borrisoleigh Community Development Association are delighted to announce that their application for funding under the LEADER Programme 2014-2020 which is in line with the County Development Plan has been approved for The Borrisoleigh River Walk Trailhead at Ballyroan. The grant covers 75% of the costs and the local contribution will be 25%. See plan here.
---
Borris-Ileigh Camogie Club Notes

REGISTRATION: A further membership registration date will take place on Thursday March 1st from 7pm to 8pm at the pavilion. All new members welcome.
Adult player €50, Juvenile €30, Committee/Trainers/Social members €20
CLOTHES COLLECTION: Time to do the spring clean!
Clothes collections will take place on Saturday April 21st at the pavilion from 10.00 am to 12 midday and on Monday and Tuesday evening (April 23rd & 24th) from 7 to 8pm.
Your support would be appreciated.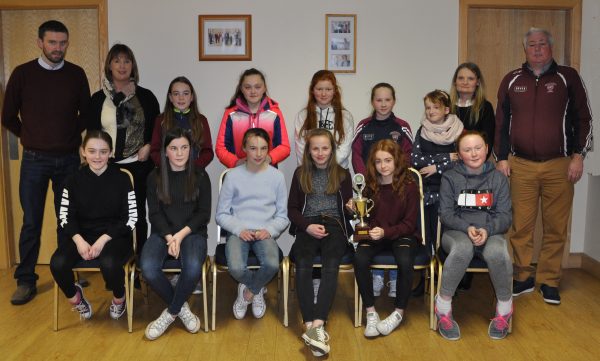 U12 camogie shield county final winners 2017, receiving their medals at a presentation evening on Saturday last.
​​​​​Borris-Ileigh U16 camogie championships fixtures.
Sat 3rd March away to St. Pat's Drangan
Sat 10th March at home to Moycarkey
Sat 24th March at home to Moyle Rovers.
Good luck girls.
---
Inch Drama Group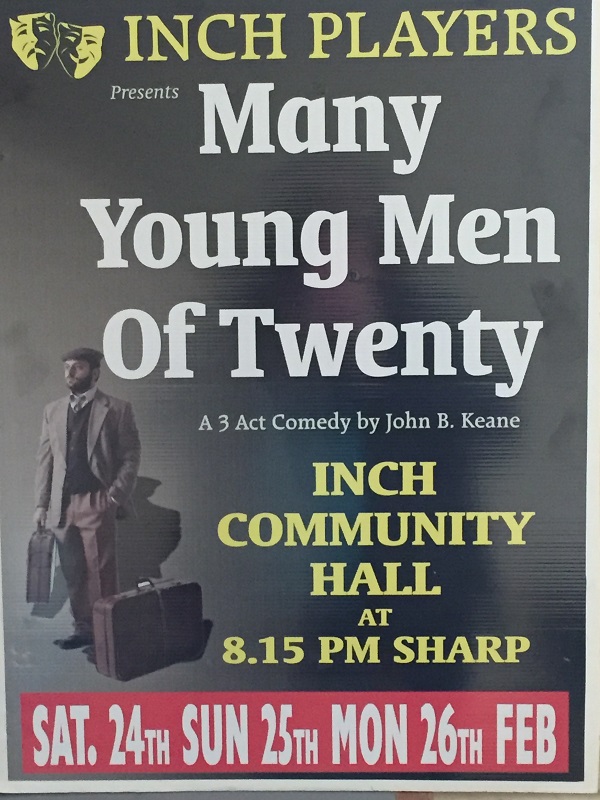 In response to the above we received the images below from Anthony Nolan, a programme from a 1978 local production of this play.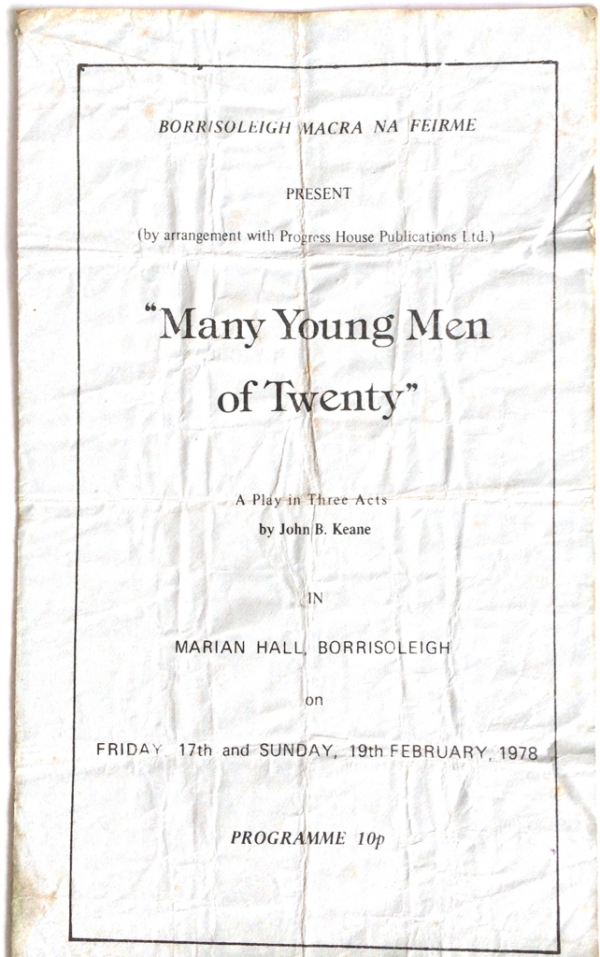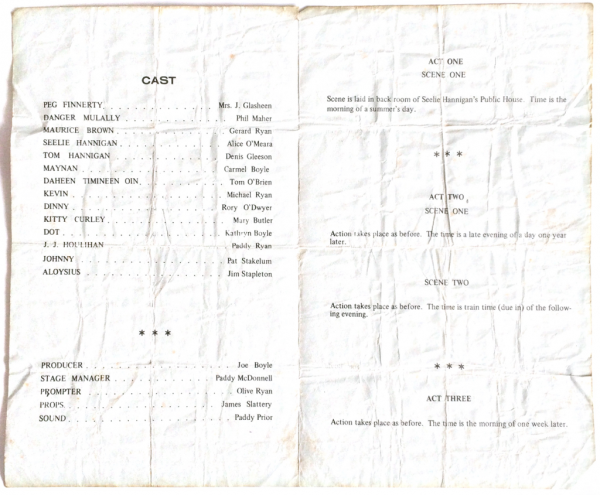 ---
Templemore Lions Club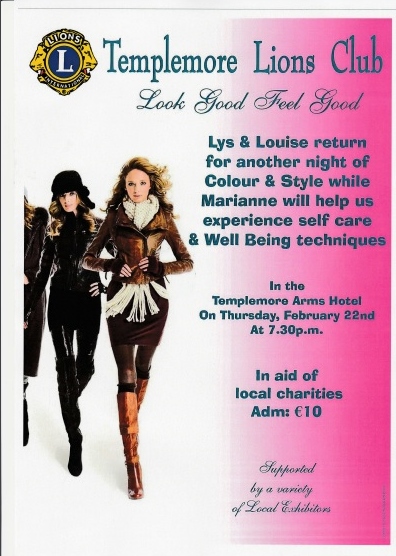 ---
Job Skills Training Course
Interview Technique Course
McAuley Centre Templemore
****Free to All****
40 euro paid to participants on completion of programme
Start dates: March 5th 2018 Mon – Fri 10am – 12.30pm
2 weeks including interview prep & mock interview
Contact Suzanne/ Linda To book your place 0505 23379
---
Pic of the Past ………..down memory lane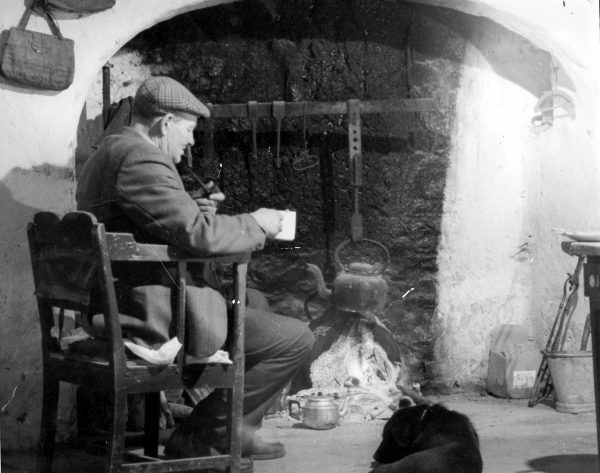 Níl aon tinteán mar do thinteán féin
Kieran Finn, Rathmoy
---
Committee: Enda Ryan, Noreen Fahy, Marie McGrath and Derry O'Donnell
Many thanks to all those who contributed photographs and news items
Remember, we need you to continue to send us material so that we can keep our website current and interesting.
While we make every effort possible to ensure that the information contained in this Website is accurate and complete, we cannot accept any legal liability as a result of the inaccuracy or incompleteness of the information presented to users of this site.
Also, if you like what you see and want to leave a comment, remember to use the Guestbook