27 January 2016
27 Jan 2016
Scoil Naomh Cualán 
Combating the January blues with a fun experiment on forces using spring balances in the senior classes.
More updates as usual from our website.
Children have also been enjoying their swimming lessons this term.
St. Cualán Open Evening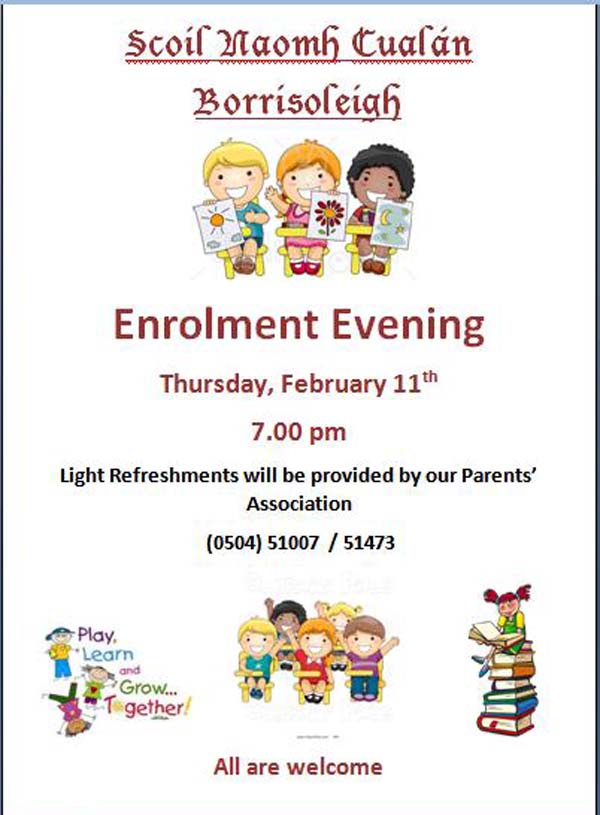 Scoil Naomh Cualán invites parents and children who are due to commence school in September 2016 to our Open Evening on Thursday, February 11th, at 7.00 p.m. We look forward to welcoming prospective pupils and parents to the school in a relaxed and informal setting where there will be an opportunity to avail of light refreshments and meet with staff, pupils and parents. All are welcome.
All at Scoil Naomh Cualán would like to say a huge 'thank you' to everybody who has supported the school through purchasing our calendar, attending our concerts or sponsorship of prizes over the past few months. We are very grateful for your support. You can keep up with all our activities on www.scoilnaomhcualan.ie
---
Evening of Prayer through Song

with David Parkes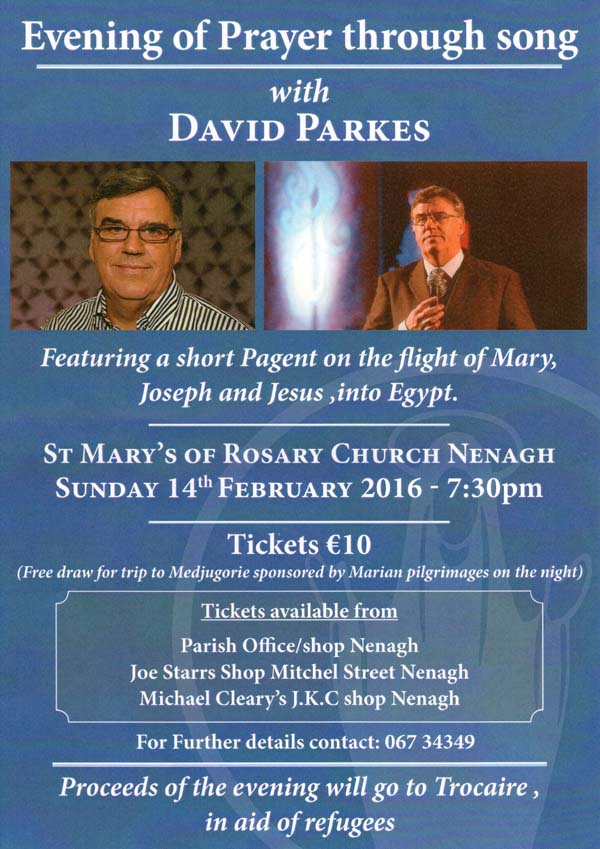 Talks on the Gospel of St. Luke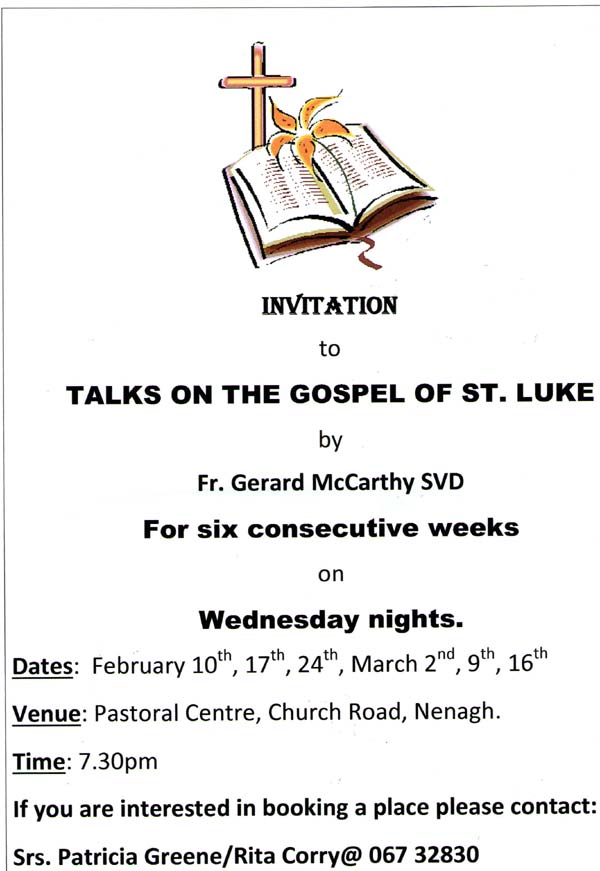 ---
Borrisoleigh Active Social Club
The first of our monthly meetings for 2016 was held recently in the Community Centre. There was a good crowd in attendance and there was a good selection of ideas discussed. Our next meeting will be held on Wed Feb 3 @ 8.30pm. Sargent Tom O Dwyer, The Crime Prevention Officer, Thurles Station will be at this meeting to give advise on security and crime prevention and hopefully answer any questions we may have. Everybody is welcome  to this meeting and light refreshments will be served. Membership €10 for 2016 is due and there will be a €2 charge per meeting to cover costs.
---
Marian Hall Lotto
---
Borrisoleigh Track-Attack Notes
19 Teams Fight for Safari Team Trek Title
The Jungle Joggers will be hitting the Borrisoleigh track in earnest over the coming weeks as a phenomenal 171 participants take part in the Track-Attack Safari Team Trek which is been kindly sponsored by Camsaw Distributers Ltd (main suppliers of OleoMac and Weibang lawnmowers).
19 team with a total of 9 participants on each team will battle it out over the coming 8 weeks in what is sure to be a brilliant battle. Teams are made up a mixture of male, female, young and experienced athletes. Each athlete is battling against themselves to gain points for their respective teams. For every second that they will improve on their Personal Best time of the Series, they will gain a point up to a maximum of 60 points in a given round. If an athlete loses time on their PB, they will lose a point for their team up to a maximum of 30 points.
In each of the 8 weeks, it's the 7 best performances out of the 9 per team that will count for team points which gives a bit of scope for athletes missing a night. There is however a bonus of 90 points to each team that have their 9 members competing on a night. For any team that don't have the 7 members present, they lose a total of 30 points for each athlete missing under the 7.
It promises to be a hugely enjoyable few weeks ahead. Participants are naturally competitive so they will give it their all to ensure they maximise their teams score. The full list of teams can be seen posted on our Borrisoleigh Track Attack Facebook page. The 19 captains are as follows: Tom Delaney (Antelopes), Helen Hurley (Zebras), Laoise McGrath (Meerkats), Jane Chadwick (Wildebeests), Evan Ryan (Crocodiles), Cian Murphy (Impalas), Miriam Murphy (Jaguars), Cillian O'Brien (Bobcats), Clodagh Ryan (Gazelles), Amy Kennedy (Lions), Tracy Devaney (Tigers), Seb Marchand (Cheetahs), Sean Og Hayes (Leopards), Avril Ryan (Pumas), Richie Tynan (Warthogs), Mairead Ryan (Rhinos), Mick O'Connor (Buffalos), Denise Gould (Bears) and Joe Holland (Hyenas).
Week 2 of the Series saw a huge improvement in the overall performances as many athletes knocked considerable chunks off their previous weeks finishing times. The star performance in heat 2 came from Emily Bourke who shaved a hugely impressive 4 mins and 59 seconds off her previous finish. Impressing on the night also were Kathleen Ryan, Sarah Denvir, Amy Kennedy and Deirdre Collins. For the men, the star performance came from Luke Cooney with an improved time of 2:51. Pauric Stapleton was also in impressive form shaving 2 and a half minutes off his previous best. Others to impress were Jimmy Stapleton, Leo Collins, Ger Ryan and Joe Holland.
Although the teams are now in place, it's never too late to join us at Track-Attack. You won't be able to be part of a team but you can still come along and be part of a tremendous community event. Be it for fitness or fun or both, there is a place for you. Membership fee is €10 for adults for the year while Under 18's are €5. There is a nightly charge of €2 for adults but underage members are free. All money raised is channelled towards the track development fund.
---
 

Borrisoleigh Festival Committee
Borrisoleigh Festival Committee will hold their AGM on Wednesday February 3rd at 8pm in the Marion Hall. We need new members with new ideas so as our annual festival can continue. Without your help it will become difficult to continue with it. So, please keep February 3rd in mind.
---
Borris-Ileigh Juvenile Club AGM
Borris-Ileigh Juvenile Club AGM is rescheduled for Sunday 7th February @ 7.30pm in the Town Park Pavilion.
---
Scór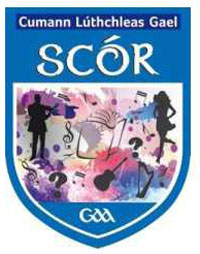 Scór Na nÓg
All roads will lead to Killarney next Saturday where Katie Shanahan will compete in the All Ireland Final in Scór na nÓg. Katie will be Munster's representative in the Solo Song Competition. Borrisoleigh Scór committee will make a presentation to Katie in the Marion Hall tonight Wednesday the 27th January at 8pm. All the community are invited and encouraged to attend. We would also like to wish the Portroe Ballad Group the very best of luck.
Scór Na bPaístí agus Scór Sinsear
Please note that Scór Na bPáistí parish final will take place in the Marion Hall on the 14th February. The county final of Scór Sinsear will take place in Clonmore Hall on 21st February at 8pm.
Any individual or group who wish to practice in the hall for either of the above competitions must book the hall via Eileen Slattery 0879849848 or Teresa Doolan 086 0765202.
---
Borris-Ileigh GAA Club Notes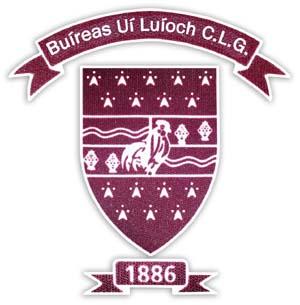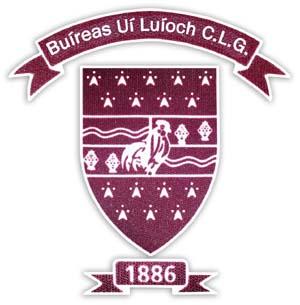 New Development: As many of you have probably seen by now, a new development has begun to take place in the town park. This is quite a large scale development and hopefully will leave the parish with one some of the best, if not the best, facilities in the county. We hope to have this development up and running in the next few years and looking forward to people enjoying these marvellous facilities.  This will facility will be for all members and clubs of the community and will not just be a GAA facility. It is our belief that the Town Park should be at the heart of our community and this will only add to it.
As stated, our plan is to have state of the art facilities for the people of Borrisoleigh. This will consist of the following; the building of a state of the art multi purpose sports complex that will house our sports hall, ball alley, gym, 4 dressing rooms, meeting rooms, external floodlit hurling wall, kitchen and toilet facilities and also a viewing area out on the pitches. We will also complete the floodlighting of the now extended walking track, the building of a third playing pitch, the re-development of the tennis courts and the re-development of the soccer pitch.
As you can imagine this will not come cheap, and we hope that with the support of the parish, we can complete this development within the next few years. We are proposing a fundraising scheme where we can claim back tax on a charitable donation. We are proposing that people give a donation that equates to €21 per month for 3 years. You can pay this by standing order or in a lump sum. Members of the development committee have called to some houses already and hope to call to the remaining houses in the next week. We hope this will finish paying for the development within the 3 year mark stated above. We hope as many people as possible will become involved in this scheme and help us give the people first class sports and recreational facilities in the parish.
Senior Hurling: The draw has been made for the county championship and we have drawn Thurles Sarsfields, Annacarty and Roscrea. These games will commence in early April. Two teams will qualify for the last 16 of the county championship. The draw for the north championship will take place in a few weeks
U 21 Hurling: Hard luck to our u21 hurlers who lost the county final to Killenaule on Saturday afternoon in Templetouhy. It was a disappointing end to our campaign but a lot has been learned and we were given many good days out by our players. Many thanks must go to all involved and to our management team for their great commitment given.
Tipp Supporters Club: Applications are now being taken for membership for the Tipperary Supporters Club for 2016. The cost is just €30 and is of great source of income to the Tipperary training fund. If you are interested in joining please contact TF Stapleton
AGM: Our senior club will holds its AGM on Sunday  31st of January at 7pm in The Pavillion. All members and potential members are asked to attend. Nominations for any position are to be with club secretary Gerry Treacy in writing next Tuesday 26th by 8pm. We encourage anyone interested in getting involved in any capacity to put their names forward.
The Juvenile Club will also hold its AGM on Friday night 29th of January at 7.45pm in The Pavillion. Nominations are to be with Philip Delaney by Tuesday 26th. All positions are open for application and we would love to see new people getting involved.
---
St. Joseph's College Benefit Night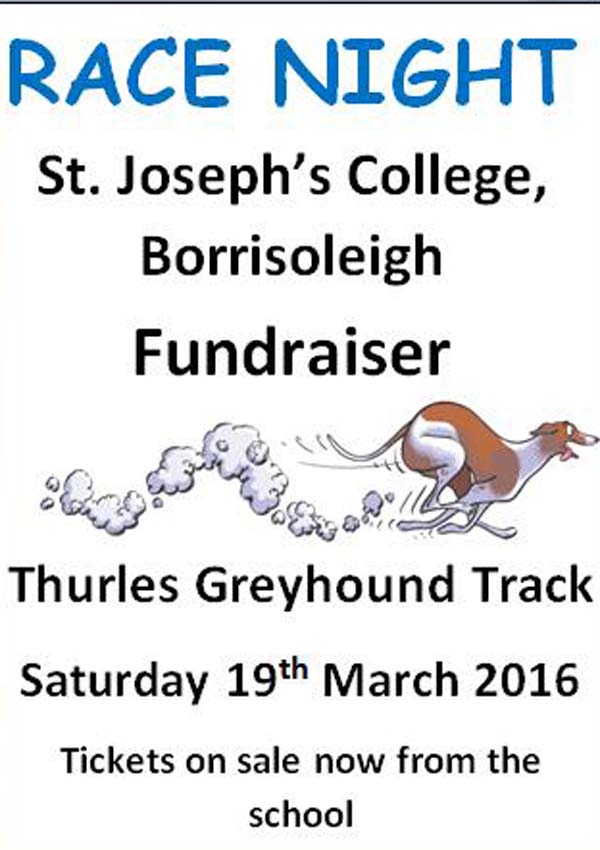 ---
 Borris-Ileigh Camogie Club

All roads lead to the Templemore Arms Hotel on Friday February 12th for the event of the year. Borris-Ileigh camogie are strutting their stuff, and take to the cat walk for this the 3rd Fashion Show event. The models, shops and organisers are all set, and looking forward to seeing you all there.
Shops showing their clothes are as follows: Born, Lar ná Pairce, Morans Menswear, En Paris, First Editions, Dunnes Stores, Bourkes Sports, McLoughney Menswear and Sixty Three.
Guests can enjoy wine and cheese on arrival, and we have many fabulous spot prizes for you to win. Local business will be show casing their products, and some stalls are still available if you would like to book one for the night.
Tickets are €10, and are available from any committee member or player or contact us via the Facebook page Borris-Ileigh camogie.
Kick off at 8p.m. Hope to see you all there…
---
 Pic of the Past … down memory lane
---
Committee: Enda Ryan, Noreen Fahy, Margaret Cowan, Marie McGrath, Aileen Óg Groome and Derry O'Donnell

Many thanks to all those who contributed photographs and news items. Remember, we need you to continue to send us material so that we can keep our website current and interesting.
Send your email to: info@borrisoleigh.ie

While we make every effort possible to ensure that the information contained in this Website is accurate and complete, we cannot accept any legal liability as a result of the inaccuracy or incompleteness of the information presented to users of this site
Also, if you like what you see and want to leave a comment, remember to use the Guestbook!