27 December 2017
27 Dec 2017

---
Brazil Mission Fundraising 2017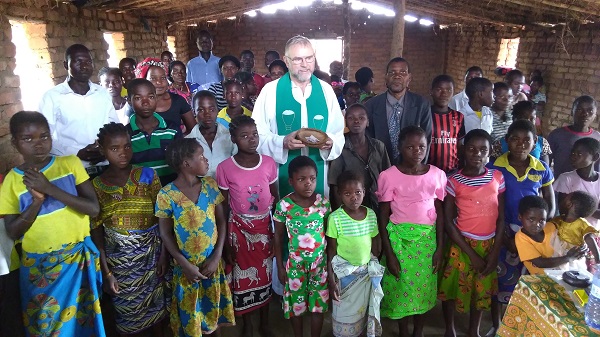 Dear Website Readers ,
Recently I visited our Redemptorist in Mission in Mozambique. Our Redemptorist priests from Brazil are being encouraged to go to Mozambique as we Irish Redemptorists were encouraged to take off to Brasil since the early 1960s. I wanted to visit Africa to see how our Missionaries are getting on out there and to explore the possibility of I myself going there with them at some time in the future. For the moment I'll be returning to Brasil.
A group of people here from the local parishes have been organising a Borrisoleigh Tractor Run, a Raffle and a selection of Templederry Walks for next weekend. The Tractor Run will start off from Bishop Quinlan Park on Saturday next the 30th of December at 11am, and the Templederry Walks are programmed for Monday the first of January at 10.30am from the Templederry Community Centre.
We are inviting as many people as possible to be with us on these two important occasions. Our gratitude to the organisers and to all who have already contributed. All the proceeds will be making its way directly to attend the needs of the poorer communities in the North East of Brasil, where I continue working.
We thank in a special way the organisers of the events and thank also the support of Fr Gerard Hennessey PP in Borrisoleigh and of Fr. Willie Teehan PP in Templederry in the organisation of these events.
Thanking you you all for your continued support and wishing you God's blessing for the New Year.
Fr. Matt Ryan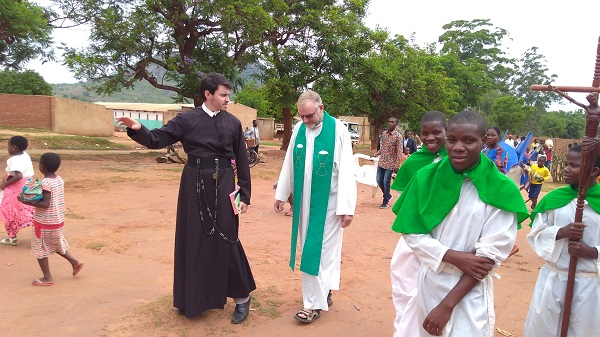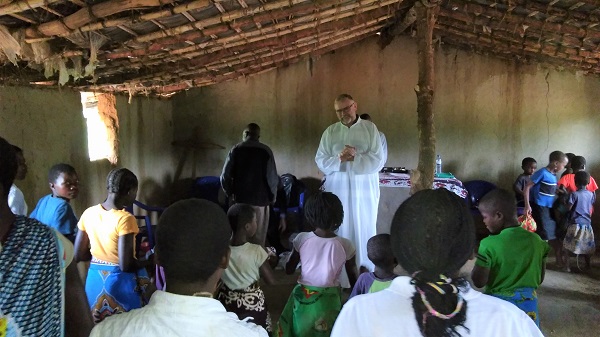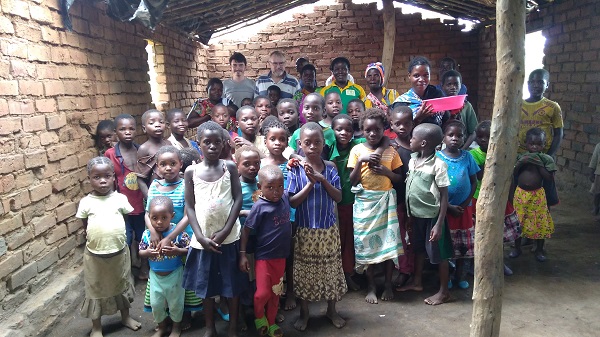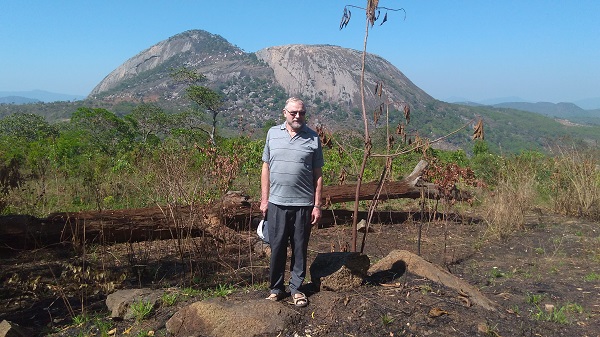 Fundraising Walks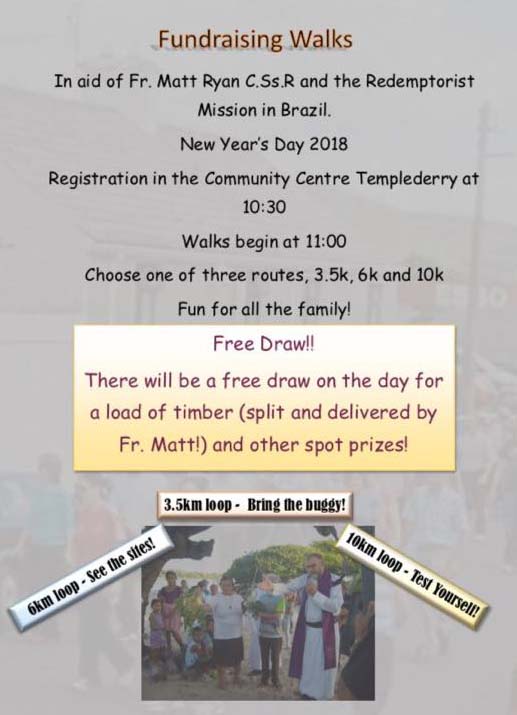 Walks are being held to raise funds for the work of Fr Matt and the redemptorist mission in Brazil
All donations gratefully accepted.
Contact – Helen Slattery 087 6748147 or Christy Kinane 087 6198362 or Tom Leahy 0504 52885.
---
Borrisoleigh Annual 2017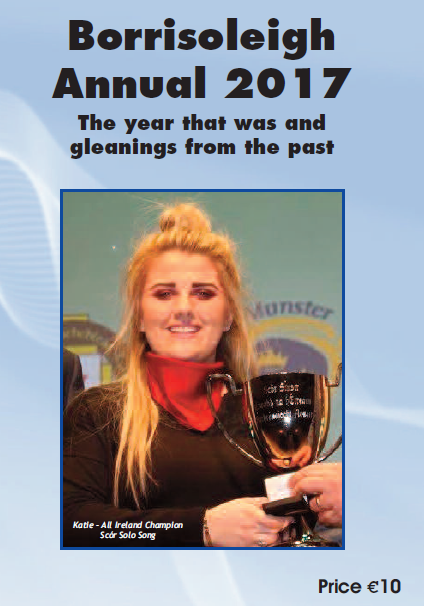 Borrisoleigh Annual 2017 now on sale in all the local shops. Price €10
---
Borris-Ileigh Camogie Club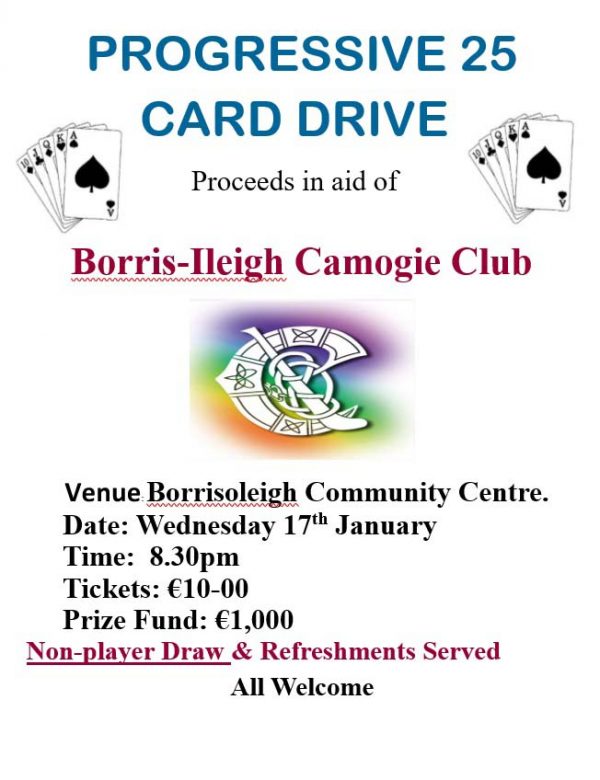 ---
Borris-Ileigh GAA Club Notes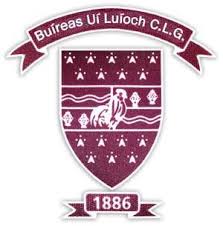 Christmas Fundraisers:
Borris-Ileigh GAA Premier League – 'Last Man Standing' 2018
Fancy yourself as a bit of a soccer expert?
We are starting a Premier League 'Last Man Standing' competition in the new year beginning on Saturday January 13th.
For all those new to this format here is quick explanation of the rules and how you can get involved:
Last Man Standing Rules:
Each week you must text your name and Premier League team you think will WIN to 0872690591
RULES
Just pick one winner from the Selected Premier League match fixtures each week until eliminated. (Fixtures will appear on the clubify and Facebook page)
To progress in the competition, you must select a winning team. Draw or loss equals elimination.
Once selection is made, it is final.
You may not pick the same team twice (unless the tournament progresses past 20 weeks). If same team is picked twice in competition you will automatically be assigned the first team alphabetically in the league.
Selections to be received no later than 7PM Friday evenings.
Enter by text ONLY to 0872690591
If you forget to make your selection by 7PM Friday evening, you will be assigned the first team alphabetically in the league.
In the event of the match being cancelled or postponed, you will go through to the next round and that team is no longer available for selection.
The decision of the Organisation Committee shall be binding on all matters. The Organisation Committee reserve the right to amend the rules for the proper conduct of the competition
In the event of all players being eliminated in any round, then all players shall be re-entered in the next round. (Whether they draw or lose)
Should two or more participants remain standing and all are eliminated in the same week, the Last Man Standing prize will be distributed equally among them. Otherwise the Last Man Standing walks away with the entire pot.
Entry is just €10 with a fine prize pot of €500 for the lucky winner. All proceeds of the fundraiser will go directly to financing of our fantastic new hurling wall. The entry can be given to Trevor Groome 087 7477132, Tommy Mockler 085 2741024 and John Vahey 086 0551519. Anybody else willing to help work away and pass on entries to one of the lads. All we need is name, mobile number and of course €10. (U16's allowed to enter with parental consent).
Feel free to spread the word to anyone brave enough to put their knowledge
Here's a list of fixtures for 1 week one of the competition:
Week 1 – 13th Jan
Chelsea vs Leicester
Crystal Palace vs Burnley
Huddersfield vs West Ham
Newcastle vs Swansea
Watford vs Southampton
West Brom vs Brighton
Spurs vs Everton
Best of luck to all entries, thanks you for continued support.
---
Borris-Ileigh Juvenile GAA Club
Borris-Ileigh Juvenile GAA Club are holding a Church Gate Collection this Saturday 30th and Sunday 31st December. Your continued support is greatly appreciated.
---
Pic of the Past ………..down memory lane
---
Committee: Enda Ryan, Noreen Fahy, Marie McGrath and Derry O'Donnell
Many thanks to all those who contributed photographs and news items
Remember, we need you to continue to send us material so that we can keep our website current and interesting.
While we make every effort possible to ensure that the information contained in this Website is accurate and complete, we cannot accept any legal liability as a result of the inaccuracy or incompleteness of the information presented to users of this site.
Also, if you like what you see and want to leave a comment, remember to use the Guestbook