27 April 2016
27 Apr 2016
Charity Walk for Suir Haven Centre

---
Borrisoleigh Community Games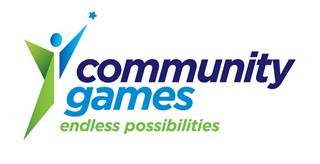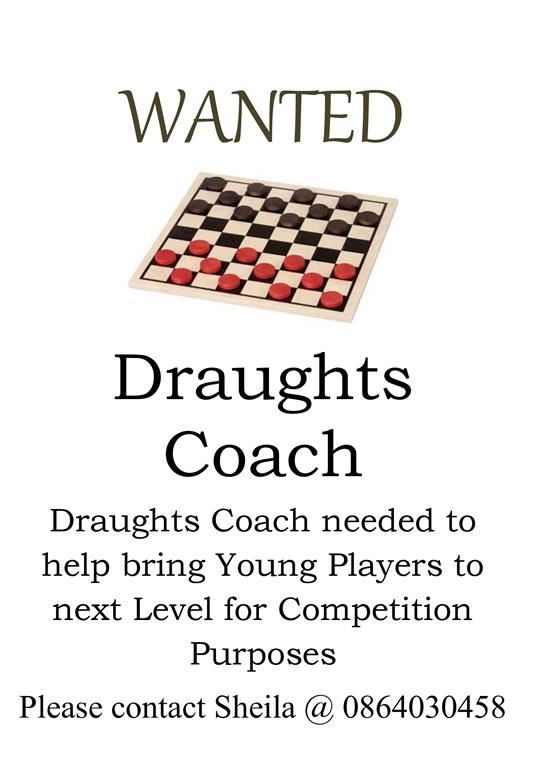 ---
Borrisoleigh Track-Attack Club Notes
Geraldine & Matilda Climb To Summit
With just a single round of the Track-Attack Snakes & Ladders Series remaining, it's impossible to predict as to where both the team and individual honours will eventually end up. In the individual women's grade, both Geraldine Walsh and Matilda Hayes had lady luck running their way as thanks to them both hitting square 56, the ladder that was dwelling there elevated them both to the lofty placing of square 83.
They are been chased down by Jacqueline Minogue who sits on square 64 while the trio of Kathleen Ryan, Aoife O'Meara and Yvonne Hodgins are ready for one final lunge forward as they sit nicely on square 60.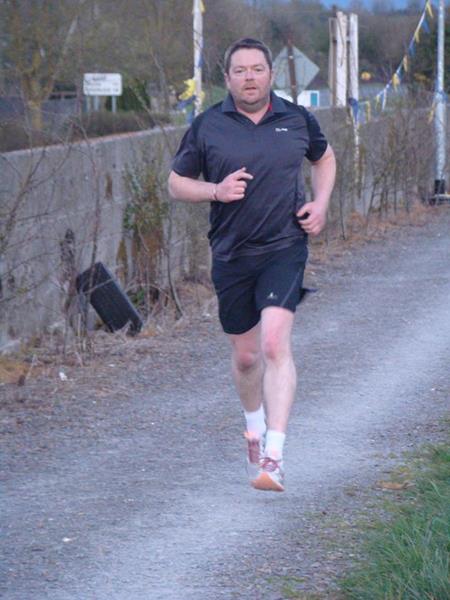 Alan Kelly in action in round 4
Jim Costigan in action in round 4
In the men's grade, we have a new leader in the form of Ger Ryan who now also sit on square 83 and one more good performance in the final round could well see him kick for home. Kevin Murphy is his closest challenger on square 67. Kevin Delargy has doctored his way to square 60 where he shares digs with Seamus Devaney and Denis O'Connell.
We also have new leaders in the underage boy's grade. Square 83 is pretty congested at present as following some superb performances from the hugely talented duo of Eamon Groome and Tom Delaney, they also have taken out lodgings there for the week as they wait to see where the final performance will decide their final dwelling will be. Patrick Groome has shown fantastic levels of improvement in recent weeks and as a result he has worked his way into third spot overall on square 52, Daniel Hogg sit on 40 while Sean Og Hayes is a further one behind in 39.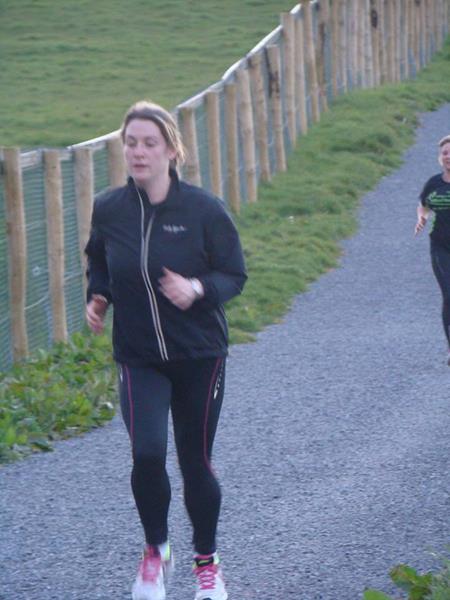 Joanne Shanahan in action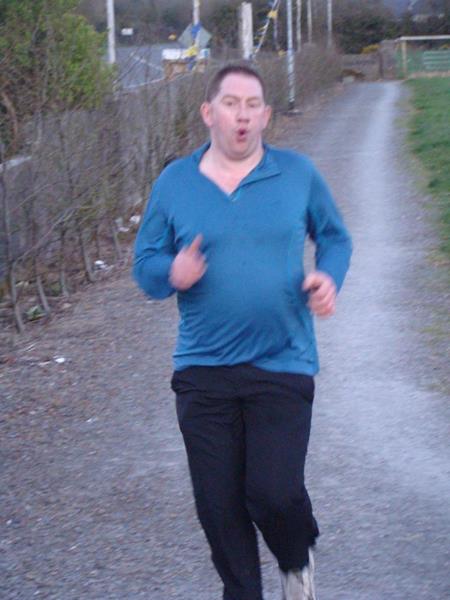 Snakes & Ladders Series Leader – Ger Ryan
Therese Groome has been one of the stars of the entire Series and her impressive showings have seen her hold down the top position in the girl's grade for another week. Avoiding the snakes in the final week will be her biggest task!! She is 68 squares to the good but hoping to close that gap are Emma Maher and Laura Kennedy who both occupy square 44. Niamh Ryan is next in command on square 35 while both Gabrielle Hodgins and Ella Ryan are placed on square 32.
In the team event, both Team Fir and Team Hazel are the joint leaders thanks to a string of impressive performances from their respective team members. Team captain Denis O'Connell and Patrick Groome were the star performers for Team Fir in round 4 while for Team Hazel, Miriam Murphy and Evelyn Groome were their top scorers.
---
Cycle Against Suicide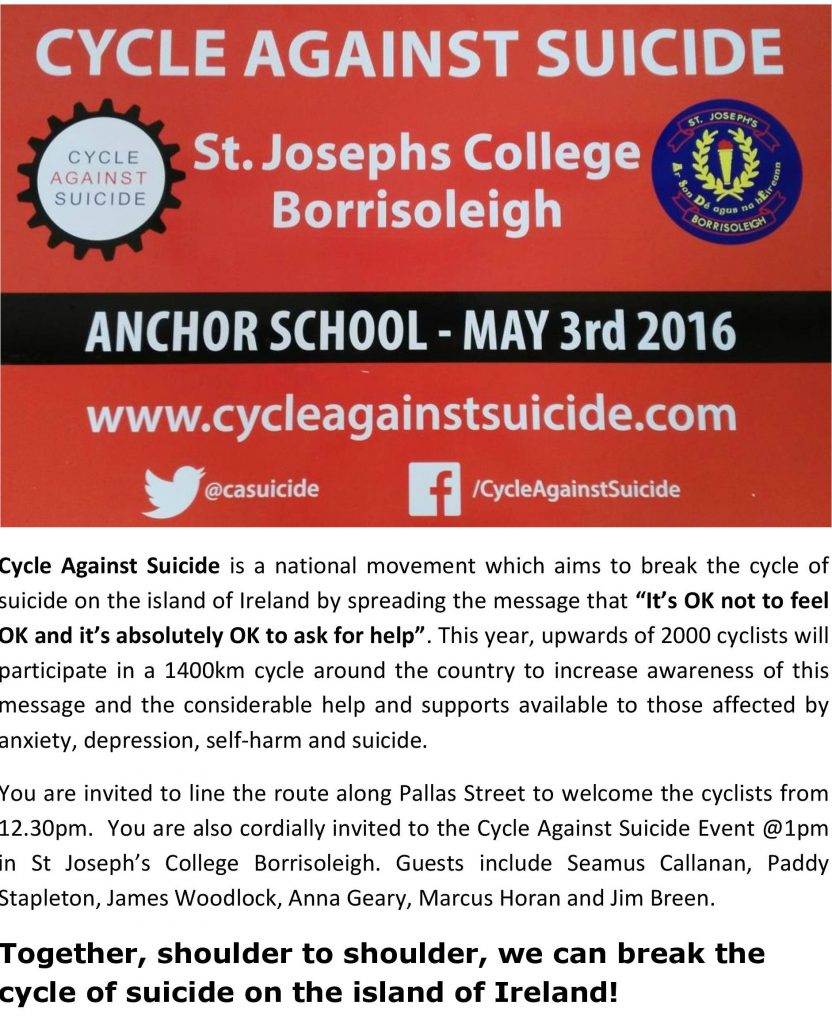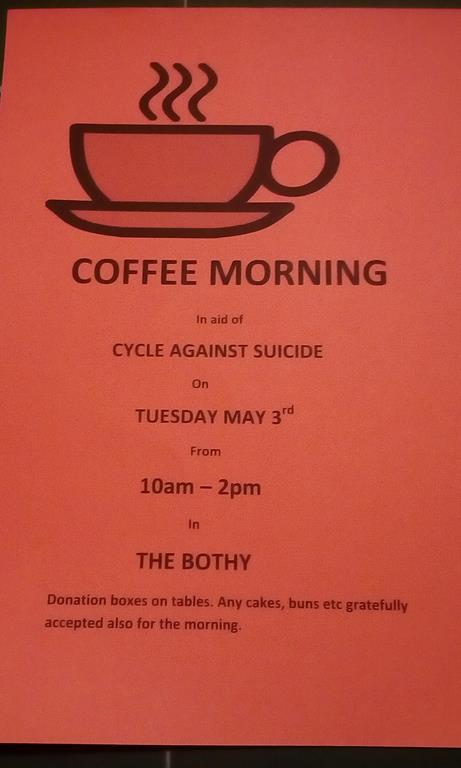 ---
Borrisoleigh Historical Society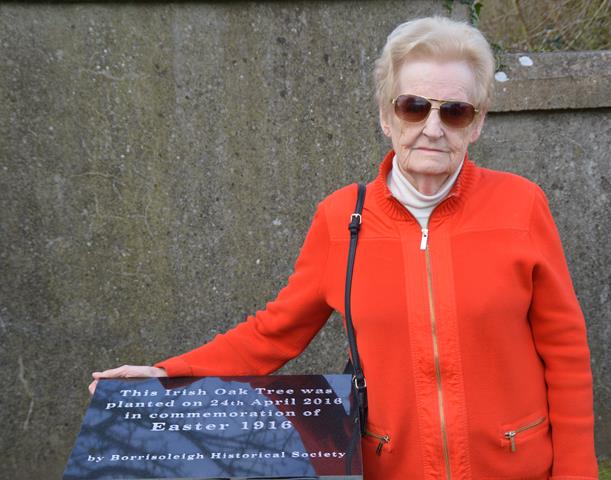 Marie DeBoer [Hynes], pictured at the Society's tree planting on Sunday last. Marie's mother, a founder of Cuman na mBhan in Carlow, was actually on O'Connell St on April 24th and witnessed Patrick Pearse read the proclamation outside the GPO. She also often spoke about seeing Sean MacDiarmada appealing to the looters to disperse and go home.
After 11.00am Mass last Sunday, exactly the date of the anniversary of the 1916 Rising, the Historical Society planted an Irish Oak tree and unveiled a plaque at the rear of the church, to mark the occasion. A short ceremony, with the reading of the proclamation and a blessing, conducted by Fr Egan, was held. At the conclusion, the large crowd that gathered, burst into a spontaneous rendition of Amhrán na bhFiann.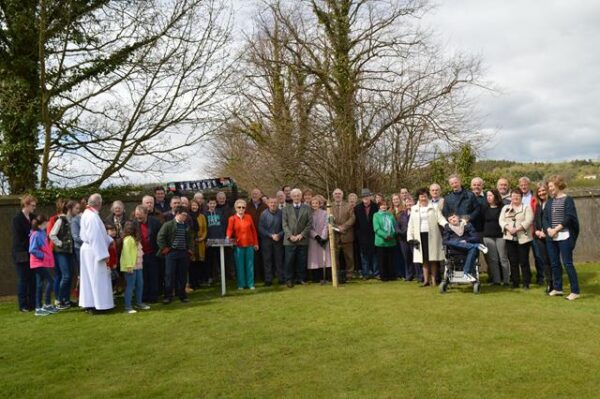 Monday, the 9th of May, sees the return of local man, John Connors, who will present to us his lecture, "Revenge for Dwyer and The Ragg– related events and the wider story". In the course of his research, John has interviewed, among others, family of Anthony Foody, who was shot in revenge for Tom Dwyer's killing. This promises to be a very informative and interesting lecture, casting new light on events of that time.
---
Boxercise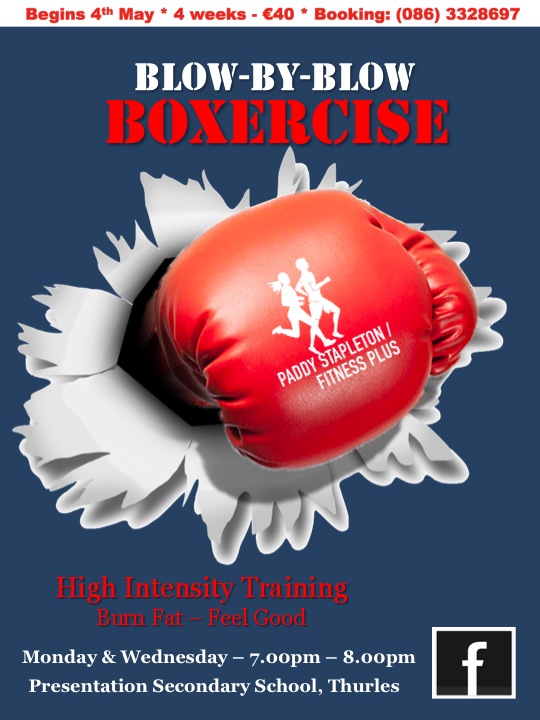 ---
Borris-Ileigh Juvenile Club
U6 training will commence on Sat May 7th. Time to be confirmed.
U8 & U10 training continues every Tuesday evening  and on a Saturday morning. Times confirmed by text.
U12's played Moycarkey-Borris on Saturday evening last in 2 group games. We were able to put out two teams and we won both our games. It was very heartening to see such great commitment by the boys in each game. Championship will be commencing shortly so keep up the great numbers attending training.
We have being invited by Na Fianna Gaa Club Dublin to participate in the Mc Nulty U11 hurling tournament on Bank Holiday Monday May 2nd. This is a major blitz that Na Fianna hold and clubs from Kilkenny, Offaly, Waterford and Dublin are all part of what we hope will be an enjoyable day out. We hope to enter two teams so a great response from all the group to travel would be appreciated. There will be  a bus organised to travel and details will be sent out to all via text message. Thanks to Na Fianna for the invitation to participate.
U14 training continues weekly.
U16's were beaten by Inane Rovers on Monday night last in the North Semi Final. Well done to  the panel and the great effort that was put in by all for training and in the games.
U14 County A Football semi finals and final are going to be played this Saturday  evening in the town park. Semi-Finals commence @ 7pm with the final scheduled for 8pm. Best of luck to Inane Rovers who represent the North Division.
---
Borris-Ileigh Camogie Club Notes

SENIORS: We played Annacarty last Sunday in the County Semi-Final of the League. Unfortunately, despite a closely held contest, this brings to a close the League for the Borris girls. At half time they were down by a goal, with Annacarty only scoring three points in the second half, Borris were in hard luck on loosing this game by a point.
Final Score: Borris-Ileigh 0-09 – Annacarty 1-07
Scores from: N Walsh 0-06, C Maher 0-02, & N O'Donoghue 0-01.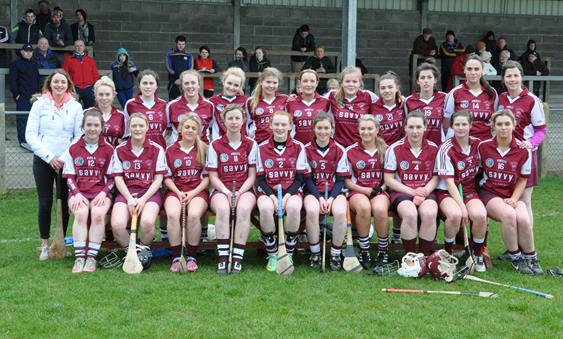 Team: Emma O'Meara, Kate Delaney, Maria Curley, Niamh McGrath, Tara Mockler, Julianne Burke, Noreen Stapleton, Aoife DeLargy, Julie Kelly, Niamh O'Donoghue, Nicole Walsh, Aedín Hogan, Caitriona Maher, Mary Bradshaw, Chrissy Kenny, Sarah Kinane, Ailish O'Connell, Avril Ryan, Kate O'Meara, Emer Lyons, Clóda Scanlon & Nora O'Brien.
U16's played Templemore last Monday, which was a great game from our u16's but unfortunately a draw game with a score line of
Borris-Ileigh 0-06 Templemore 1-03.
Scores: Kate Delaney 0-04 and Aoife Ryan 0-02.
U16's play Kildangan at home on Thursday April 28th at 7pm. Good luck girls.
U14 fixtures will re-commence shortly, confirmation to follow.
U12's had another great victory last Friday night over Boherlahan, winning this one 12-02 to 1-01. Scores from: Rhona Lyons 7-00, Chloe Carroll 1-00 and Dani Ryan 4-02.
Next game scheduled for Monday May 2nd away to Shannon Rovers at 7pm. Confirmation will issue by text.
U10's, U8's & U6's are back training and with great crowds. Keep up the good work.
U10 blitzes are coming up and will be played as follows:
May 14th, June 25th, July 23rd, Aug 20th and Sept 10th at the Camogie Grounds, The Ragg.
U8's blitzes: May 7th, June 11th, July 16th, August 13th & September 3rd, also at the Camogie Grounds.
Pitches permitting. Parents will be notified by text.
If you or your child would like to participate, new members at all age levels are always welcome.
Next Sunday May 1st a 12 hour charity walk takes place on the track in Borrisoleigh in aid of Suir Haven Centre, Thurles. This is very worthy cause, and we would be grateful if all members supported this parish event.
---
The 1916 Rising – Borrisoleigh Remembers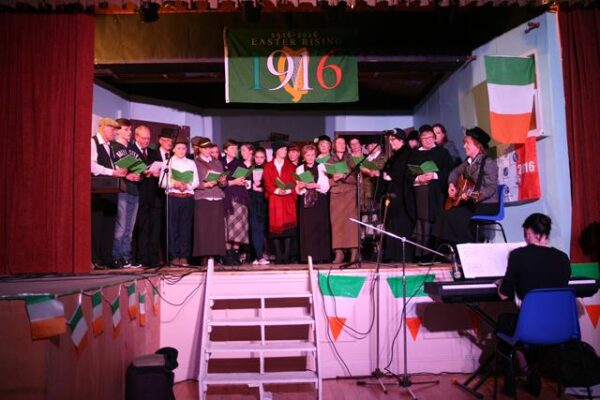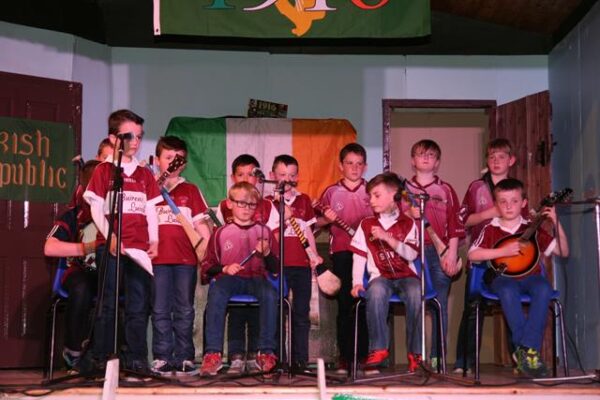 Some photos from the fundraising concert in aid of North Tipperary Hospice – more in gallery
---
Borris-Ileigh G.A.A. Notes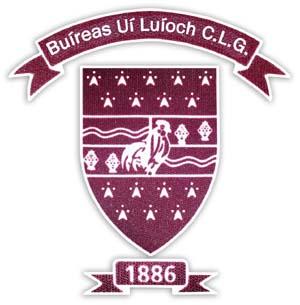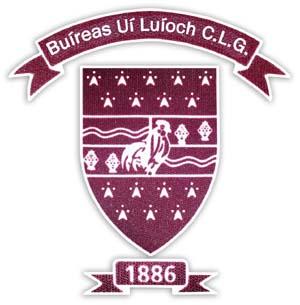 Membership: Membership and insurance is now being taken for 2016. For adult players the rate is €50 and for student players the rate is €30. The cost for non playing members is also €30. Membership and insurance can be paid to Registrar John Bradshaw or any club
Senior: Well done to our senior hurlers who had a fine win over Éire Óg Annacarty on Sunday last. In somewhat blustery conditions in Boherlahan, Borris saw off the west champions starting strongest and pulling ahead in what proved to be too big a lead to be caught. The win puts Borris back in contention to qualify from the group. We will play Roscrea next in round three and a win here would see us through if Sarsfields beat Annacarty. 
Our game against Roscrea will on May 7th in Moneygall at 7pm.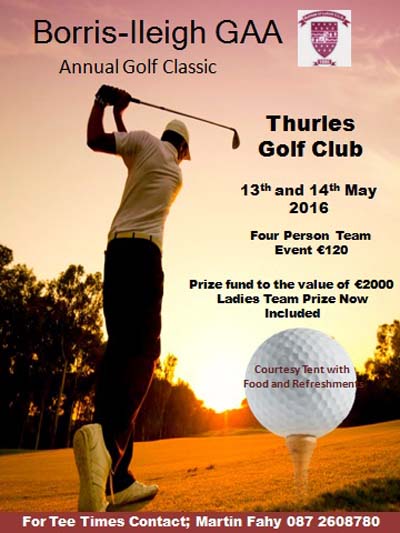 Golf Classic: We are delighted to announce that the Borris-Ileigh GAA Club Golf Classic is back once again for 2016. For the past three years we have seen three fantastic weekends where over 100 teams,each year, took to the course and enjoyed the great hospitality put on by the club. This year the event will again take place in Thurles Golf Club on Friday 13th and Saturday 14th of May. The time sheet is filling up and places can be booked by contacting Martin Fahy on 087 2608780. If you are interested in either entering or sponsoring a team the cost is just €120, while the cost of sponsoring a tee box is only €30. We are most grateful to all those who continue to support us and we feel that you will defiantly find you will have got value for money. We hope to see you on the 13th and 14th.
There will be a prize fund of €2000 and there will be a special prize for the highest placed ladies team.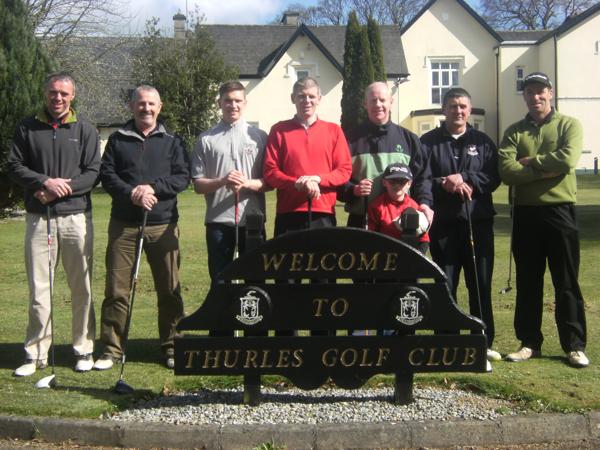 ---
The future of the Bothy is up to you – we really need volunteersThanks to everyone who have volunteered a few hours of their time to keep our community tearooms open. Your support is really appreciated. Thanks also to everyone who pops in for cuppa and something to eat. Without you we couldn't stay open.
However, we still need a few more volunteers. Wouldn't it be great if our tearoom was open everyday for people to call in or to meet up with friends.
Give Fiona a call on 087-2169150 if you've a few hours to spare every week or every other week. Thanks
---
Saints All-Stars Camp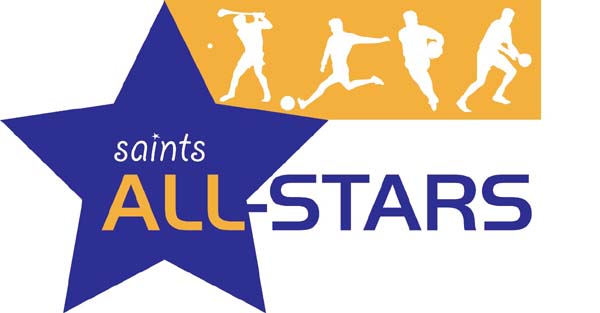 Saints All-Stars will be back again this year in the park in Borrisoleigh.
We will again be focusing on Hurling, Football, Soccer and Rugby with some
old and new coaches!
Of course there will be a surprise for each child that signs up.
The date to save is the 1st of August which is a bank holiday Monday. It will be running
all week from 10am to 2pm.
The price is 50 euro per child and less if you have more than one child.
My number is 086-3328697 to book or ask any questions.
I will be around to schools soon to let the kids know!
---
Pic of the Past…………down memory lane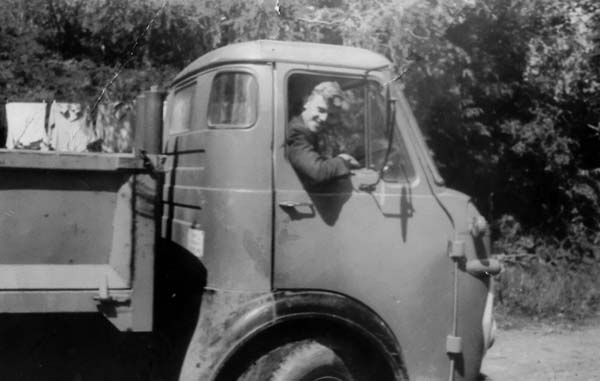 Willie Kelly driving the first truck in Kelly's of Fantane – 1965
Make of truck: Commer – Reg. No. HFI 703
---
Committee: Enda Ryan, Noreen Fahy, Margaret Cowan, Marie McGrath, Aileen Óg Groome and Derry O'Donnell

Many thanks to all those who contributed photographs and news items. Remember, we need you to continue to send us material so that we can keep our website current and interesting.
Send your email to: info@borrisoleigh.ie

While we make every effort possible to ensure that the information contained in this Website is accurate and complete, we cannot accept any legal liability as a result of the inaccuracy or incompleteness of the information presented to users of this site
Also, if you like what you see and want to leave a comment, remember to use the Guestbook