26 October 2022
26 Oct 2022
Borris-Ileigh Camogie Club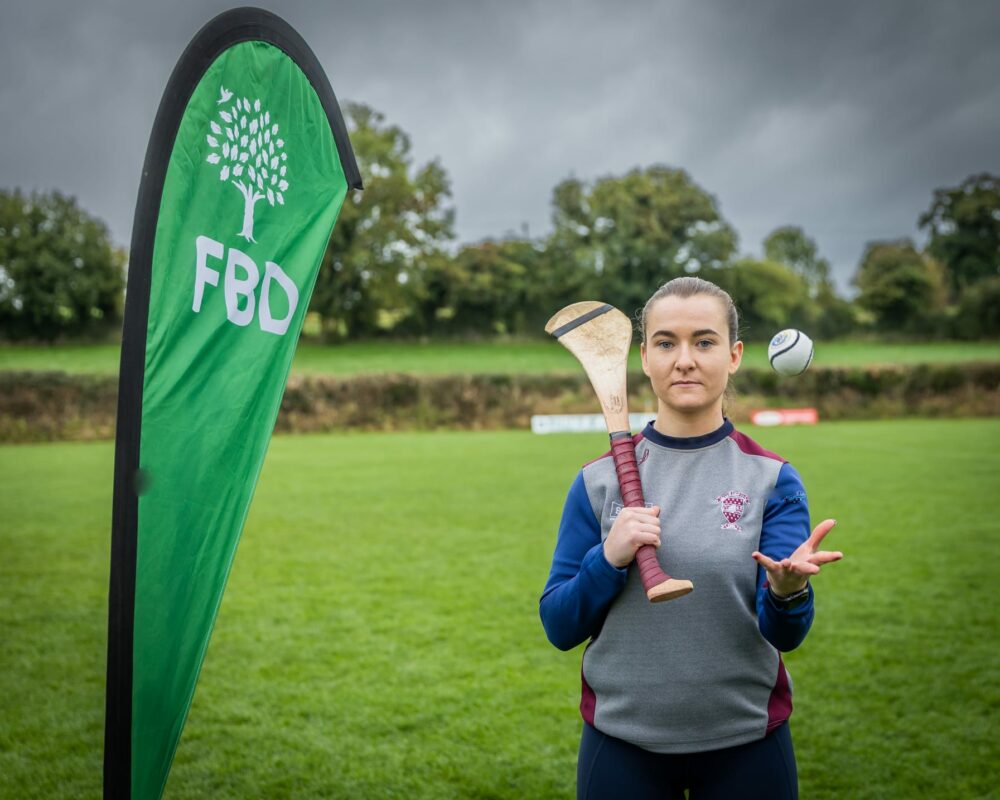 Borris-Ileigh Captain Aedin Hogan at the launch for the FBD County Intermediate Final
County Intermediate Final:
On Saturday next, our Intermediate team will contest the County Final against Shannon Rovers in the County Camogie Grounds in the Ragg at 3pm.
It promises to be another cracking game with only one point separating the teams when they met in the round robin section of the Championship.
We would encourage everyone to come along and give your support to our team led by captain Aedin Hogan.
Social Media:
You can follow all our club activities on our social media pages (Facebook, Instagram and twitter).
Fundraising Duathlon:
We got a tremendous response from business people locally for our Club Fundraising Duathlon.
We would ask all our members to support our sponsors in their line of business whenever possible.
Our Gold Event Sponsors are as follows:
Kenmac, Pat Keane Painting, Cross Fabrications Ltd, Muddy Puddles Country Childcare, Ryan Chilling, Glenbreedy Construction, Timmy Young Kitchens, John Maher Transport Ltd, Nenagh Plant Hire & Hardware Ltd, Templemore Jewellers, Paddy Ryan Plant Hire, Declan Maher Financial Services, Latteragh Crafts, Paudie McGrath Steel Fabrication Ltd, Donal Hurley Gala, Stapleton's Bar, Finn's Bar, Maher Walsh Plumbing & Heating Ltd, Paul Boyle Windows & Doors, Kennedy's Funeral Home, Premier Fire Products, First Steps Montessori, Lings Garden, Paddy Clarke Hardware, Leap Gym, O'Connell's Pharmacy, Hyland's CarePlus Pharmacy, Tom Stapleton Monumental Works, Gordon Loughnane Bar, H&MV, Ryan Catering Equipment, MB Catering, Borrisoleigh Bottling Ltd and Pat Ryan's Garage.
---
Children's traditional music group
The children's traditional music group are meeting again at 8.15 in the Marion Hall this Friday night (Oct 28th).
---
Borrisoleigh Active and Social Club notes


On Sunday 16th October a group of 39 travelled to Mayo for a 3-night break, stopping on route at the Galway Plaza for refreshments. We arrived at our destination, the Breaffy House & Spa Resort, in Castlebar, a renowned 4 Star Hotel set on 100 acres of beautifully manicured grounds & woodlands in the early afternoon, allowing our party time to enjoy the facilities before regrouping for a beautiful 3 course dinner followed by a very enjoyable 'sing-song'. On Monday after a delicious breakfast, we headed for Achill Island where we were blessed with beautiful sunshine, good company & amazing scenery, it was a wonderful experience & thoroughly enjoyed. Again, we regrouped for dinner & entertainment in the bar. On Tuesday morning we visited Turlough House & the National Museum of Ireland, which was extremely interesting, it housed many rare archives, photography & films that explored Irelands rural past which many of us could relate to from our childhood days. We proceeded into the bustling town of Westport for a very enjoyable afternoon of shopping & sight-seeing, again we retired to Breaffy House for dinner & a great nights entertainment where we enjoyed more fun & games! (enough said!!) On Wednesday morning we sadly departed Breaffy House & headed for the beautiful village of Knock where we spent a few glorious hours in the peaceful village where Our Lady appeared. In the afternoon we proceeded down south with a welcome stop at Bunratty on route. This trip was an excellent opportunity for our members to get together & make new friends, it was a very enjoyable few days & we were blessed with the weather. There has been excellent feedback & we are looking forward to the next trip already. We thank Borrisoleigh Bottling Ltd for providing bottles of water for the journey, it was very much appreciated.
Reminder: our next meeting will take place on Wednesday 2nd November at 7pm in the parish centre where we will be planning our Christmas shopping trip, a show at Bru Boru & the Christmas Panto at Limerick University Concert Hall.
New members are always welcome!
---
Tipperary NY Hurling Club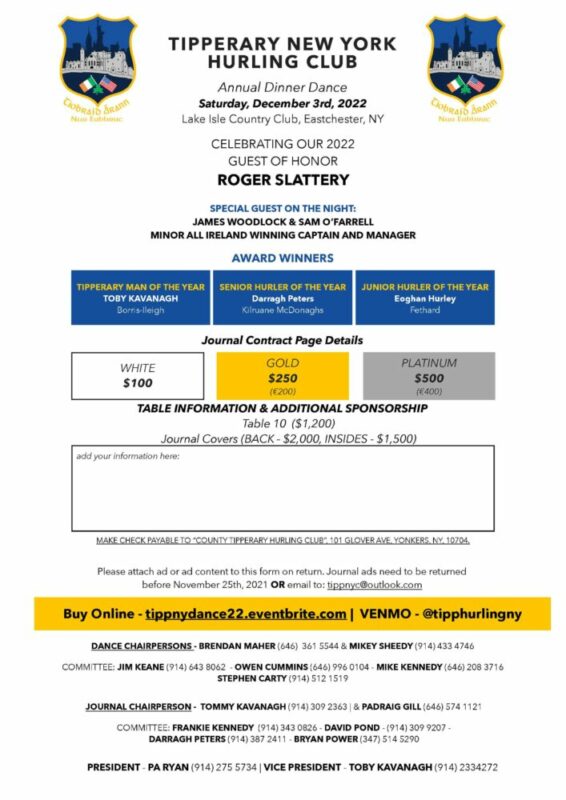 It's that time of the year again, Dinner Dance Season.
We have our dance coming up on December 3rd in Lake Isle, which promises to be a great night as always.
I am reaching out to see if you'd be interested in contributing to our journal, we appreciated your continued support of our club.
Preparation for the Dinner Dance is in full flow with all our honorees announced:
Guest of Honor – Roger Slattery
Tipperary Man of The Year – Toby Kavanagh
Senior Hurler of The Year – Darragh Peters
Junior Hurler of The Year – Eoghan Hurley
If you or anyone you know wants to buy a ticket / table or a journal ad please follow the link below:
BUY TICKETS & ADs HERE
https://www.eventbrite.com/e/tipperary-ny-hurling-club-dinner-dance-2022-tickets-434206351887
---
Fundraising Duathlon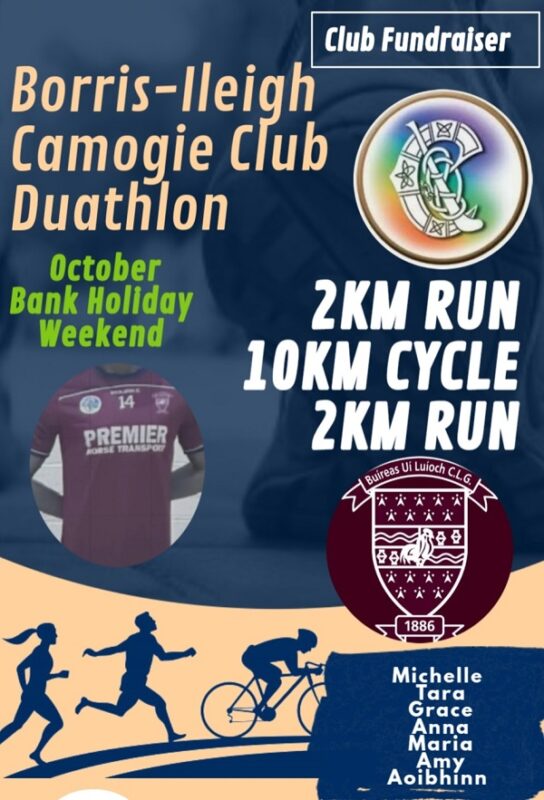 Our club will hold a fundraising Duathlon on the October Bank Holiday weekend next where 7 of our Under 13 players will take on the task of running 2km follwed by a 10km cycle and finish with another 2km run.
The 7 participants are Amy Maher, Grace Groome, Anna Meehan, Tara Maher, Maria Groome, Michelle Meehan and Aoibhinn Keane.
We are currently seeking Gold (€100) and Silver (€50) event sponsors and we are getting a fantastic response from local and surrounding business people.
Our gold sponsors to date are as follows:
Kenmac, Cross Fabrication Ltd, Ryan Chilling, Pat Keane Painting, Muddy Puddles Country Pre-School, Timmy Young fitted kitchens, John Maher Transport, Nenagh Plant Hire & Hardware Ltd., Templemore Jewellers, Declan Maher Financial Services Ltd, Latteragh Crafts, Donal Hurley Gala, Stapleton's Bar, Finns Bar, Philip Maher/John Walsh Plumbing, Ryan Catering Equipment, First Steps Montessori, Paddy Clarke Hardware, O'Connell's Pharmacy, Tom Stapleton Monumental Works & Undertaker,
MB Catering (Micheal Bourke), Glenbreedy ICF Construction, Paddy Ryan Plant Hire, Hyland's CarePlus Pharmacy
---
Parish News

Anniversaries: Saturday 29th October @ 7pm Mass: Michael Small, Rathcarden, Michael & Annie Ryan, Gurteeney, and Matt Patterson
Lios Padraig, and the deceased members of the Patterson Family.
Sunday 30th October 11am Mass: Pauline Healy nee Carroll, Birmingham, and formerly of St. Bridgid's Villas who died recently.
Collection: Last Sunday's collection amounted to €830.
Mass of Rememberance: Our Annual Mass for the faithful departed who died in our parish during the past year, will be celebrated on Friday 4th November @7pm Mass. Anyone who had a close member who died over the past 12 months and would like them to be remembered at this Mass, please leave the names of their loved one into the Parish Centre or the Parochial House.
Child Safeguarding Leaflets: Are available in the main porch of both Parish Churches. Please take one on the way out.
Good Luck: To our Intermediate Camogie Team who are playing in the Co. Final against Shannon Rovers on Saturday next in The Ragg.
Thought for the week: Nothing ever goes away until it has taught us what we need to know-Pama Chodron/fearless soul.
---
Eucharistic Adoration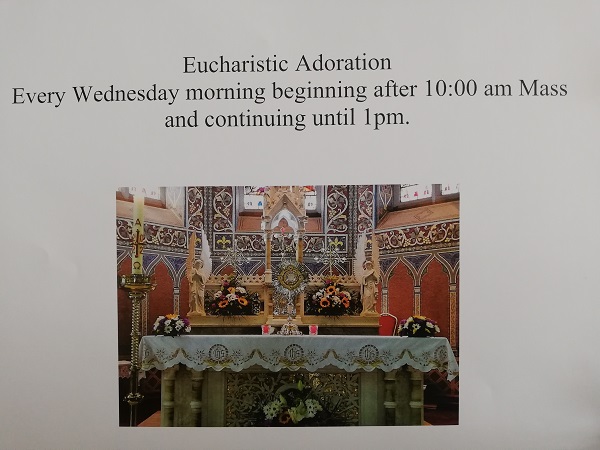 ---
St. Joseph's College notes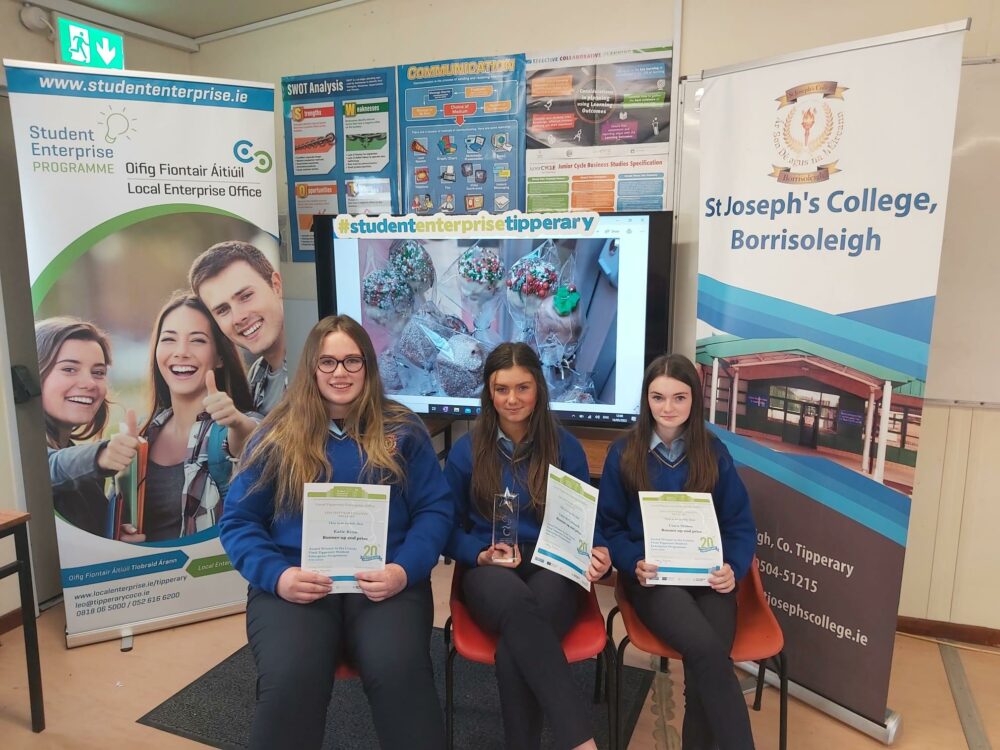 2nd in Intermediate section of Student Enterprise Programme with their Business "The crazy Cakepops" from left to right Katie Ryan, Tara McCormack and Ciara Maher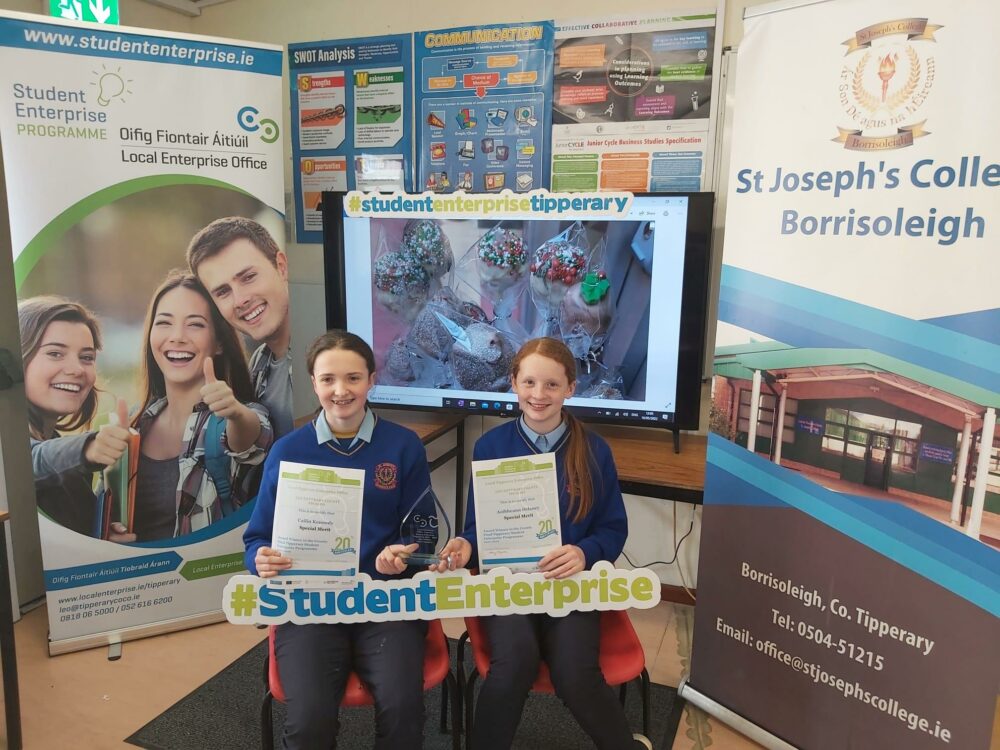 Prizewinners in the Junior Category of Student Enterprise programme 21/22 Cailin Kennedy, Aoibhinn Delaney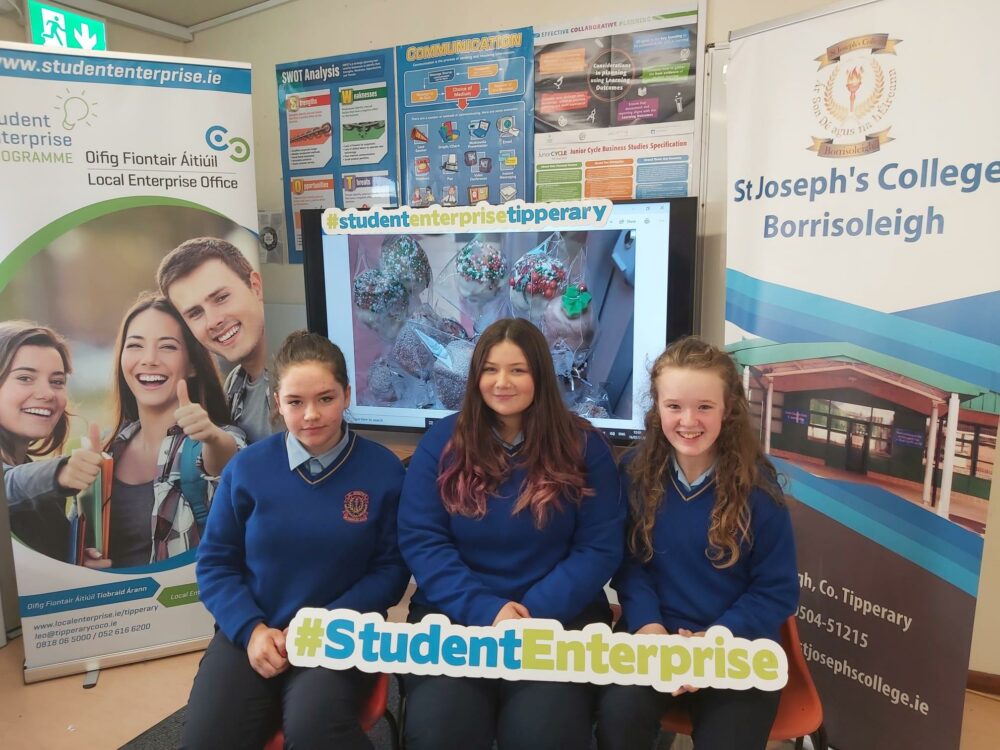 Prizewinners in the Junior Category of the Student Enterprise Programme 21/22 County Final with their Business "Throw and Grow" – Holly Preston, Kayleigh Murphy and Aine Cosgrave
Culture of Enterprise continues at St. Joseph's College Borrisoleigh.
Preparations are well underway for 1st, 2nd and TY Business Students in St. Joseph's College for participation in the Annual Student Enterprise Programme. This national competition gives students an opportunity to plan and develop a Business from initial stages of Idea generation and concept development right through to full scale launch. The Annual Christmas Market which is scheduled for 16th of December provides students with an opportunity to sell their produce, make a profit and hopefully be selected to represent the school at County Final level of the competition. Judges from Industry, Mr. Colm Banaghan, Banaghan & Co. Nenagh and the Services sector, Mr. Alan Darcy from Darcy Cleary Insurance along with Tina Mulhearne Student Enterprise Officer for Tipperary and John Walsh, Chairperson, Board of Management will be in attendance on the day and will have the difficult task of judging what Businesses will go forward to the County Final. The success rate of students from St. Joseph's at County Final level has been commendable over the years and we are hoping that 2022 2023 will be no different.
---
ALONE Visitation Support and Befriending Service
Would you be willing to provide companionship to an Older Person for one hour per week? ALONE are currently seeking volunteers for their Visitation Support and Befriending Service in the Borrisoleigh area. Full training and support provided. If interested please sign up here: https://www.tfaforms.com/4890717
For more information, contact Aoife on Aoife.dennehy@alone.ie.
---
Borrisoleigh Community Development Association
Volunteers wanted! If you have a free hour or two (or more) to help out with maintaining the flower beds and planters around Borrisoleigh, please get in touch. Every little helps, go at your own pace. You can contact Joe Loughnane on 087-9778347.
---
Pic of the Past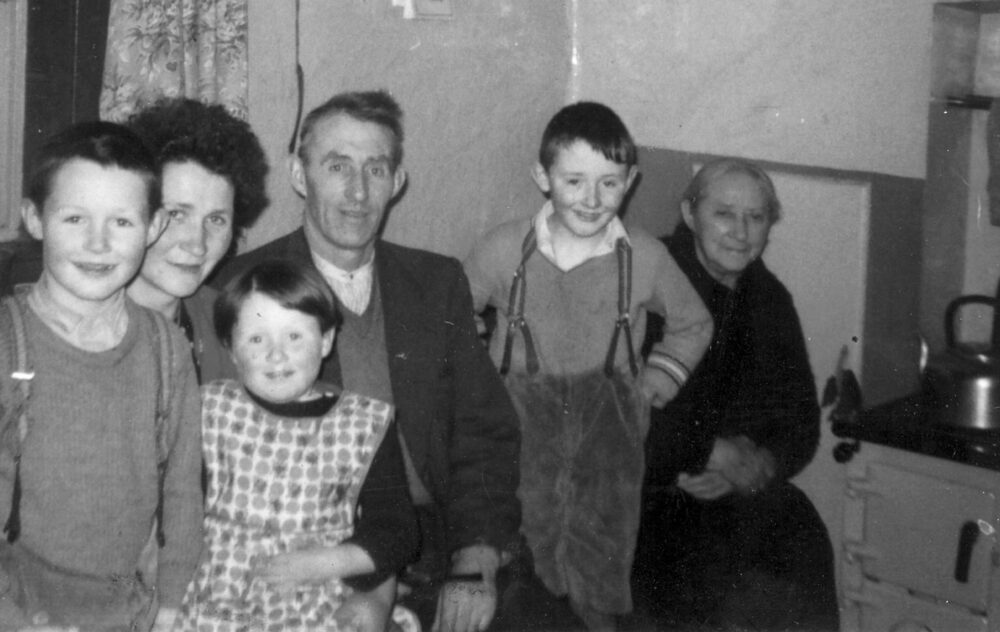 Howard Family, Glenbreeda
Con, Bridie, Lar, Ger and Margaret (Snr)
Margaret (Jnr) in front
---
Your Website Needs You
Committee: Enda Ryan, Noreen Fahy, Marie McGrath, Derry O'Donnell
Many thanks to all those who contributed photographs and news items.
Remember, we need you to continue to send us material so that we can keep our website current and interesting.
Send your email to: info@borrisoleigh.ie
This website is supported by Borrisoleigh Community Development Association.
While we make every effort possible to ensure that the information contained in this Website is accurate and complete, we cannot accept any legal liability as a result of the inaccuracy or incompleteness of the information presented to users of this site. We also reserve the right to edit material for suitability to a website format.
Also, if you like what you see and want to leave a comment, remember to use the Guestbook