26 February 2020
26 Feb 2020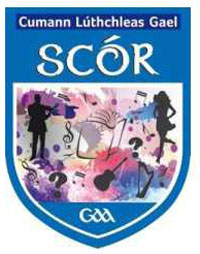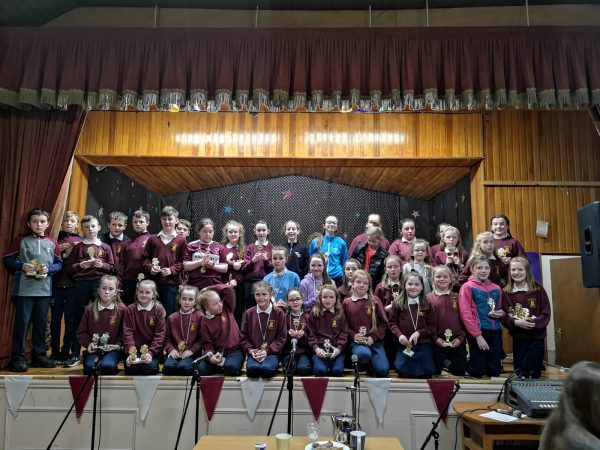 Scór na bPáistí Parish Final
Over 60 children took to the stage in the Marion Hall on Sunday afternoon in the Scór na bPáistí parish final, and they treated all those present to a wonderful afternoon of entertainment.
The following groups now go through to represent Borrisoleigh in the Area Final in Templederry on Sunday next 1st March at 2pm.
Figure Dancing – Maria Groome, Amy Maher, Aoibhinn Keane, Ella Groome, Sinead Cowan, Michelle Meehan, Chloe O' Brien & Anna Meehan
Solo Song – Amy Maher & Lucy Rabbitte
Recitation – Joanne Groome & Tara Fitzgerald
Sean Nós – Amy Maher & Áine Cosgrave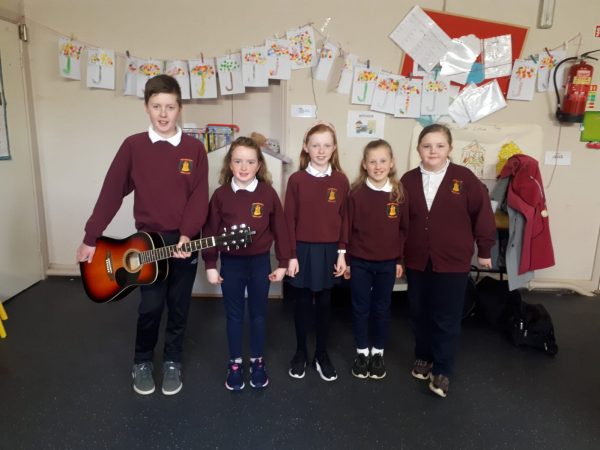 Ballad Group – Maroon – Kara Young, Ella Slattery, Aoife Ryan & Therese Groome
White – Lucy Rabbitte, Tara Maher, Áine Cosgrave, Amy Maher, & Abbey Young
Question Time – Maroon – Michael Ryan, Aisling Boyle, Conor Kinnane, & Jack Groome
White – Paul Kinnane, Therese Groome, Lucy Rabbitte & Daniel Groome
Novelty Act – The Fairytale – Shane Ryan, Therese Groome, Michael Ryan, Aisling Boyle, Charlie Fitzgerald, Ella Slattery & Áine Cosgrave
A fishy tale of past & present – Tara Fitzgerald, Abi Kelly, Ava Marie Rabbitte, Amy Maher, Kara Young, Holly Preston, Farah Treacy & Grace Stapleton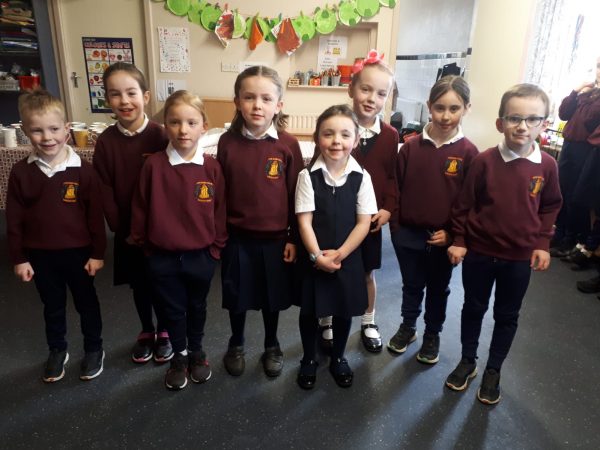 Instrumental Music – Maroon – Kara Young, David Rabbitte, Áine Cosgrave, Abbey Young & Lucy Rabbitte
White – Blake Byrne, Amy Maher, Aisling Boyle, Therese Groome & Conor Kinnane
Set Dancing – Maroon – Therese Groome, Amy Maher, Aoibhinn Keane, Anna Meehan, Ella Groome, Maria Groom, Ella Slattery & Ava Marie Rabbitte
White – Áine Cosgrave, Grace Groome, Niamh Ryan, Tara Fitzgerald, Isabel Treacy, Moira Meehan, Lucy Rabbitte, & Caoimhe Keane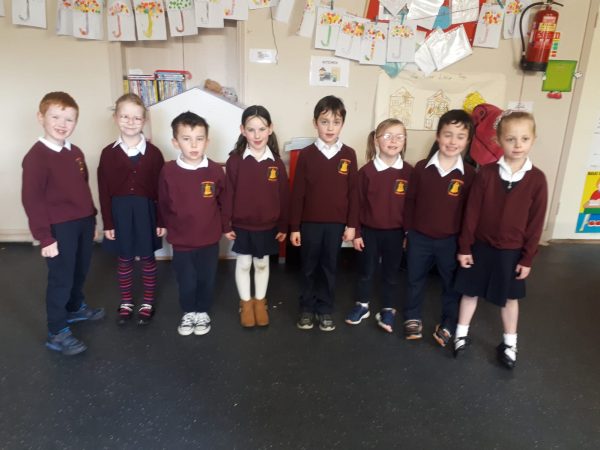 ---
Rathmoy Residents Association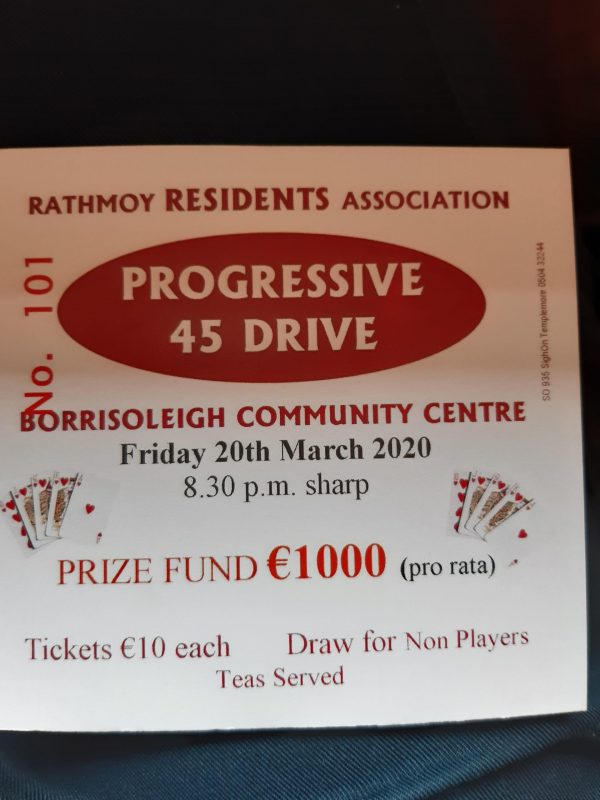 Planting of trees/flowers: as you may have noticed we have planted 750 beech plants along the main Thurles road, we would like to thank Tipperary Co. Council for their contribution to this project. We are also developing a large wildflower garden in the same area to better the habitat for birds, bees and insects which are under huge threat. We are doing our little bit to help the whole ecosystem.
45 drive: Our annual 45 drive game will take place on Friday 20th March @ 8.30pm. Tickets are available from committee members. Your support will be very much appreciated.
---

The dates for this year's Borrisoleigh Festival are 11th and 12th July. Put it in your diary!
We recently held our AGM.
The following officers were elected or re-elected.
Chairperson Marie Shanahan, Vice Chairperson Declan Curtis, Secretary Fiona Max, Treasurer Kathleen Scanlon, PRO Derry O'Donnell.
---
Scoil Naomh Cualán News
BIG TRAVEL CHALLENGE 2020
The Green School Committee is inviting all in Scoil Naomh Cualán to take part in the BIG TRAVEL CHALLENGE 2020. We hope this challenge will encourage more pupils to enjoy the benefits of actively travelling to school in the month of February.
The aim of the challenge is to promote a sustainable mode of transport for 10 days during the month of February. Our aim is to increase the numbers of pupils walking to school. To spread the message of The Big Travel Challenge the Green-Schools committee visited each class to talk about the challenge.
We are asking pupils to make an extra special effort from Monday 10th February to Monday 25th to walk to school for TEN DAYS.
Any parent willing to help out with this initiative please let us know by calling Clare in the office on 086-0233023. It would involve walking to school in the morning time with a group of children.
---
Parish News

Anniversary Masses next weekend: We pray for all whose anniversaries occur and for whom the following Masses will be offered.
Saturday February 29th @ 7pm Mass: Michael & Sarah Shanahan and Son Michael Fantane. Also for Bridget Ryan, Ballyroan who was interred during the week.
Next Wednesday is Ash Wednesday which marks the beginning of Lent. Masses will be celebrated at 10am & 7pm. The distribution of ashes will take place during both Masses. Ash Wednesday is a day of fast and abstinence. There will be Mass every Friday evening during the season of Lent. This will be instead of the morning Mass.
Clergy Collection: Will be taken up at all Masses next Weekend. This collection goes to support all the clergy active and retired in the Archdiocese.
Last Sunday's Collection: Came to €915 many thanks for your generosity.
Readers Rota: For March, April and May available in Sacristy.
Archdiocese of Cashel and Emly Pilgrimage to Lourdes 2020 50th Annual Pilgrimage: 13-18 June, 5 nights – Fully Inclusive Price €745. Booking Forms available now for the Pilgrim Section From Joe Walsh Tours 143 Lower Baggot Street Dublin 2. Tel (01) 2410 811 ((01) 2410810. Pilgrimage Director: Rev Jimmy Donnelly, Parochial House, Church St., Doon, Co. Limerick. Tel: 061380165
Application Forms available for Assisted/Sick Section, Enquiries to: Rev. Joe Tynan, Parochial House, Kilteely, Co. Limerick. Tel: 061384213
Youth Section Director: Rev Pat Coffey Parochial House, Golden, Cashel, Co. Tipperary. Tel: 06272146.
TIPPERARY FIRE & RESCUE SERVICE are aiming to increase the number of Smoke Alarms in homes across County Tipperary to a minimum of 2 Working Smoke Alarms in every home. We hope to do this by a combination of actions including Publicity Campaigns using Social Media, School Education Visits, School Visits to Fire Stations, Advertising in Local Media. In addition we would like to specifically target the Vulnerable and Highest Risk Groups in our Community by providing and installing alarms to these Groups. Generally these Groups include :-
• Elderly/Vulnerable
• Those Living Alone
• Those living in Isolated Rural Areas.
I would be most grateful if you could provide us with names, addresses and contact numbers of people in your community fitting into the above category and to whom we could provide and install Smoke Alarms. Upon receipt of these forms we will pass on these forms to the relevant local Fire Station and then local Firefighters will contact householder directly to arrange a suitable time for Home Fire Safety Visit.
This visit will involve 2 Firefighters in Uniform and travelling in a Fire Service Vehicle going to house and conducting a Fire Safety Check of House and will generally involve the installation of two 10 year Smoke Alarms in the home.
We have already installed hundreds of Alarms in homes throughout County Tipperary and with your help we hope to continue these installations and try and get Smoke Alarms in as many homes as possible in County Tipperary.
Thanks for your help in this regard Eddie Ryan CEng MIEI Senior Assistant Chief Fire Officer or any member of the local Conference of St. Vincent de Paul.
PATRICK FEENEY IN CONCERT: Sunday March 8th 2020 in SS Joseph & Brigid Church, Bóthar na Naomh, Thurles as part of his Gospel Concert Tour. Tickets now available in the Parish Office, Cathedral Street, Thurles (0504 22229) & Bookworm, Liberty Square, Thurles (0504 22257). Ticket Donation: €25. Proceeds to the Cathedral Reroofing Project.
Thought for the week: We can't help everyone, but everyone can help someone – Ronald Reagan.
---
AXA Community Bike Ride
We had a lovely cycle Sunday morning and very lucky to have sun shining on us. I was on Tipp fm last Thursday as we are looking for more leaders and cyclists to take part. Next Saturday we have an easy going cycle at 10 o clock please register if interested on the website.
---
Borrisoleigh Active Social Club
Borrisoleigh Active Social Club will hold their March meeting on Wed March 4th at 8pm in the Community Centre.
At this meeting we will have a representative from Alzheimer's Society of Ireland to which we will present the proceeds of our coffee morning.
Chair Pilates class continues every Tues at 7pm in the Community Centre.
---
Borrisoleigh Historical Society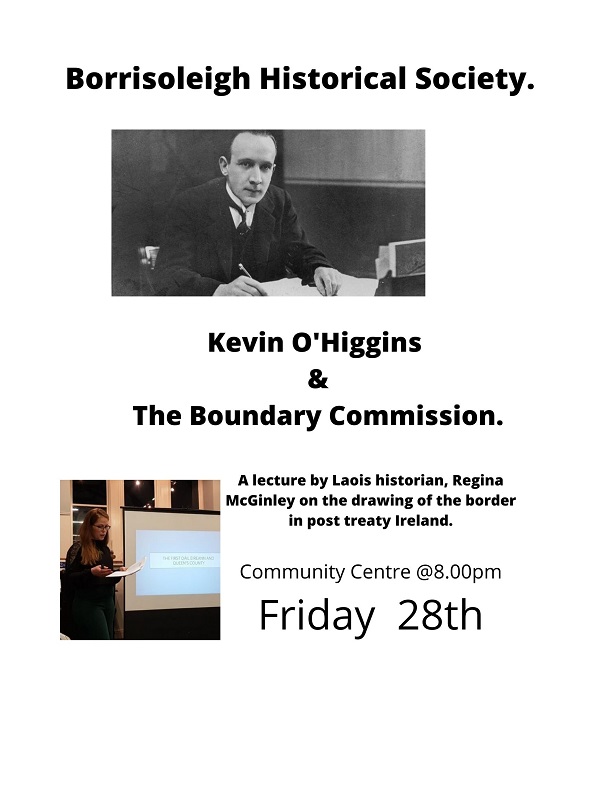 Our society have a number of events in place for the coming months, that we hope will be of interest. The first of these;
"Kevin O'Higgins and the Boundary Commission" – will be presented by Laois County Library Historian in Residence, Regina McGinley. Regina has studied extensively on the life of the controversial O'Higgins and his input into the early period of the State. Her lecture gives an insight into how the border with Northern Ireland was drawn up, – who were the main influencers, behind the scenes treachery and breach of trust, the views of Sinn Fein TDs from the proposed border area, – and what the local population felt on the matter. Admission is €5.
Field trip; Plans are in progress to hold a number of field trips during the coming summer. In May, [date to be yet decided] we will travel to Newport to spend an evening in the company of the local History & Heritage Group.
End of year publication; We aim to produce a historical publication at the end of the year with stories relative to Borrisoleigh. If people have conducted research into any aspects of life in the parish from times gone by, we would love to hear from you [0862752634]
---
Local Enterprise Week 2020 2nd – 6th March
Are you interested in setting up your own business or are you already in business and looking at ways to increase sales of your product or service? Are you concerned over the impact of Brexit?
Local Enterprise Week runs from March 2nd to 6th across Co. Tipperary, and Local Enterprise Office Tipperary has organised a programme of events across the county that will appeal to Tipperary entrepreneurs, whatever stage your business is at.To see upcoming events and training visit www.localenterprise.ie
#MakingItHappen
---
Chiropody Service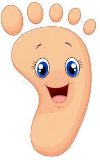 Chiropody Service will continue in the Parish Centre on Monday 24th of February 2020.
Please ring Deirdre at 089 4478511 for Bookings.
---
Pic of the Past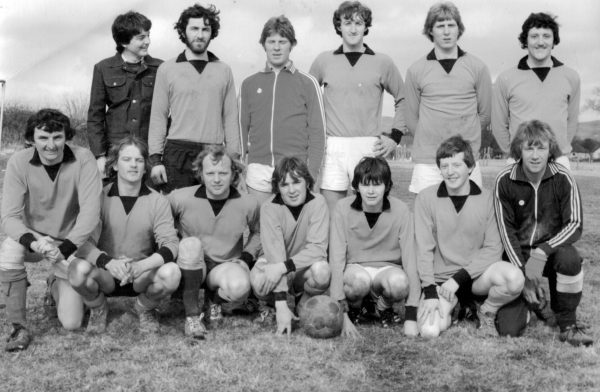 Borrisoleigh Soccer Team – 1970s
Back: Michael Kinane, Don Ryan, Gerry Stapleton, Joseph Kenny, Timmy Stapleton and Paddy Butler
Front: Rory Kinane, Pat Harkin, Paddy Hennessy, Tom Reid, Pat Stakelum, John Treacy and Owen Walsh
---
Your Website Needs You!
Committee: Enda Ryan, Noreen Fahy, Marie McGrath, Derry O'Donnell and Fiona Max
Many thanks to all those who contributed photographs and news items
Remember, we need you to continue to send us material so that we can keep our website current and interesting.
Send your email to: info@borrisoleigh.ie
This website is supported by Borrisoleigh Community Development Association
While we make every effort possible to ensure that the information contained in this Website is accurate and complete, we cannot accept any legal liability as a result of the inaccuracy or incompleteness of the information presented to users of this site. We also reserve the right to edit material for suitability to a website format.
Also, if you like what you see and want to leave a comment, remember to use the Guestbook