26 August 2020
26 Aug 2020
Recipe of the week

Blackcurrant, Lime and Coconut Cheesecake
Ingredients
235g Digestive biscuits
150g butter
50g desiccated coconut, toasted
1.5 tbsp Demerara sugar
350g blackcurrant, washed and dried
205g golden caster sugar
200g full-fat cream cheese
Finely grated zest and juice of one lime
200g creme fraiche
Method
Crush the digestive biscuits into crumbs. I usually do this by placing the biscuits in a large ziplock bag and crush using a rolling pin until they resemble fine breadcrumbs.
Melt the butter in a large bowl. Once melted add the Demerara sugar and stir. Next, add the toasted coconut and crumbled biscuits. To toast the coconut, I place it in a dry pan over a low heat. Carefully stir the coconut as it can burn quite easily. Combine coconut, butter, sugar and crumbled biscuits thoroughly.
Place teaspoons of the biscuit base into ramekins or glass jars and press down firmly to secure the base in place. Alternatively you can use a springform tin. Place the bases in the fridge while you prepare the topping.
Blitz 200g of blackcurrants in a food processor with 165g golden caster sugar. Set to one side.
Over a low heat, gently cook down 100g blackcurrants in a small pot with 40g of golden caster sugar. The sugar should be dissolved and the berries partially burst. Place to one side.
Beat the lime zest, lime juice and cream cheese in a large bowl. Fold in the creme fraiche, blitzed blackcurrants and cooked blackcurrants.
Spoon the blackcurrant mixture into the jars/ramekins/springform tin to top the biscuit base. Pop in the fridge for 2 hours minimum to set, preferably overnight if possible.
When serving top cheesecakes with remaining blackcurrants to garnish. Serve and enjoy!
Recipe supplied by Gráinne Fahey. For more tasty recipes follow on Instagram : www.instagram.com/legra_cookingandbaking/ and Facebook www.facebook.com/grafahey/. Special thanks goes this week to Ciara and Emma Doolan, Glenbreeda for the beautiful gift of their home grown and harvested blackcurrants. They were so delicious that this recipe was born as a result. Enjoy! X
---
Parish News
You are asked to pray for the soul of Joanne Kiely, Mountgeorge who was interred recently. May she rest in peace.

COVID-19 Support Line for Older People
ALONE manage a national support line and additional supports for older people who have concerns or are facing difficulties relating to the outbreak of COVID-19 (Coronavirus). Professional staff are available to answer queries and give advice and reassurance where necessary. The support line is open seven days a week, 8am – 8pm, by calling 0818 222 024.
Church leaders urge worshippers to wear face coverings to reduce the spread of coronavirus
The following statement has been issued by the Roman Catholic and Church of Ireland Primates of All Ireland, the Moderator of the General Assembly of the Presbyterian Church in Ireland, and the President of the Methodist Church in Ireland:
At this time, both in Northern Ireland and in the Republic of Ireland, the governments have not formally made mandatory the wearing of face coverings at services of worship. This is, in part, due to the fact that as churches we are committed to maintaining 2 metre physical distancing between household groups and strict adherence to all government guidance on hand hygiene, cleaning, ventilation etc.
It, however, remains our responsibility to ensure that our services of worship are safe places for all who join with us. It has become increasingly clear that the wearing of face coverings, in conjunction with hand washing etc., is likely to reduce the spread of coronavirus, thus helping to protect others. Their use is therefore one way in which we can evidence protection for the most vulnerable, support for our health workers, and practical love for our neighbours.
Following further recent consultations with public health authorities, we join with Christian church leaders all over this island in formally recommending and encouraging the use of face coverings at all services of worship, along with the ongoing maintenance of 2 metre physical distancing, from Sunday 30 August 2020, and earlier if practicable.
We understand that some people are exempted from the wearing of face coverings, as outlined in the two jurisdictions.
We also recognise that whilst it may not be appropriate for those who are leading from the front during worship, including preaching, to wear face coverings, they should at all times continue to maintain at least 2 metre physical distancing from one another, and 4 metre physical distancing from the front row of the congregation.
The Most Revd Eamon Martin
Roman Catholic Archbishop of Armagh and Primate of All Ireland
The Most Revd John McDowell
Church of Ireland Archbishop of Armagh and Primate of All Ireland
The Rt Revd Dr David Bruce
Moderator of the General Assembly of the Presbyterian Church in Ireland
The Revd Dr Tom McKnight
President of the Methodist Church in Ireland.
PRAYER FOR ANXIETY & STRESS:
O Lord, let me hear you.
My soul is weary. Worry, fear and doubt surround me on every side.
Yet your sweet mercy cannot be held back from those that cry out to you.
Hear my cry.
Let me trust in your mercy. Show me how. Free me
Free me from anxiety and stress, that I may find rest in your loving arms. Amen.
---
Axa Community Bike ride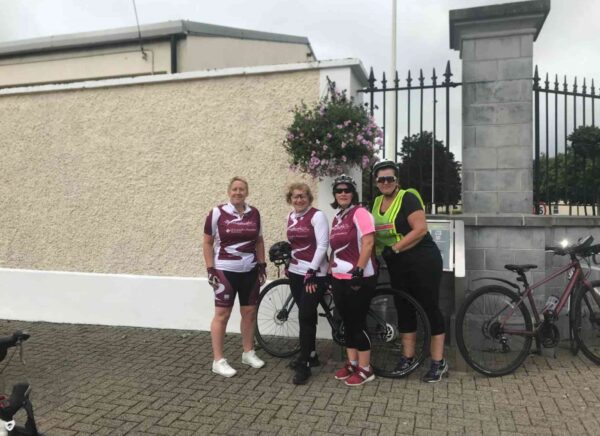 We had a lovely cycle Saturday morning avoiding all the showers that were going around. We cycled 26 kms at a lovely pace with everyone finishing strong.Next week we are visiting Loughmore tea rooms for refreshments during our cycle.
---
Borrisoleigh Historical Society

A little local history of times past.
https://www.youtube.com/watch?v=O60Yk3_GgD4&t=291s
---
Pic of the Past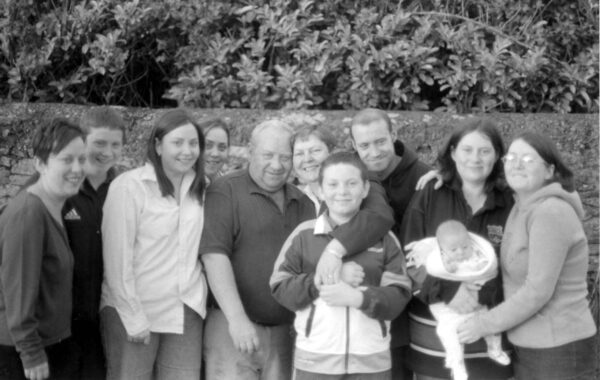 Ryan Family, Mount GeorgeCaroline, Peter, Sinéad, Marie, Tony, Nuala, Rory, Michael, Fiona holding baby Liam and Bríd
---
Your Website Needs You
Committee: Enda Ryan, Noreen Fahy, Marie McGrath, Derry O'Donnell and Fiona Max
Many thanks to all those who contributed photographs and news items.
Remember, we need you to continue to send us material so that we can keep our website current and interesting.
Send your email to: info@borrisoleigh.ie
This website is supported by Borrisoleigh Community Development Association.
While we make every effort possible to ensure that the information contained in this Website is accurate and complete, we cannot accept any legal liability as a result of the inaccuracy or incompleteness of the information presented to users of this site. We also reserve the right to edit material for suitability to a website format.
Also, if you like what you see and want to leave a comment, remember to use the Guestbook.