25 September 2019
25 Sep 2019
Community Wellbeing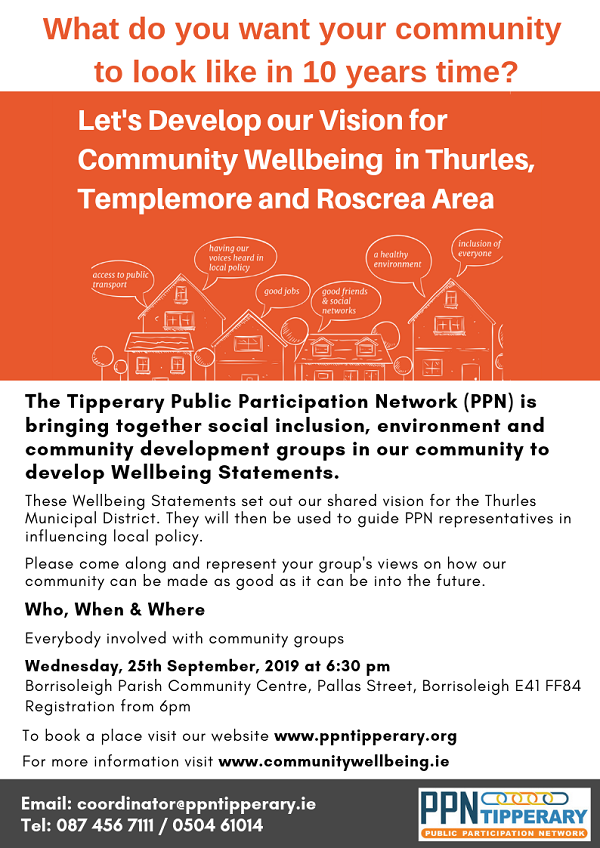 The Tipperary PPN (Public Participation Network) is a collective of all the community, voluntary, social inclusion and environmental groups in Tipperary. Established in 2014, the PPN provides the community voice on Tipperary County council committees. It also runs training courses for member groups and shares information about funding and activities. Tipperary PPN is very excited to be part of the pilot community wellbeing project.
We are currently running community meetings in each Municipal district. What do we need for the wellbeing of the community of Thurles, Templemore and Roscrea area that is the question being posed by Tipperary PPN, and they want to hear from all the groups and organisations in in this area. Developing a Vision for Community Wellbeing means thinking about what we have and what we need to help Thurles, Templemore and Roscrea area to be as great as it can be for us and for the many generations that follow on from ours.
One thing everyone can agree on is that we would like our community to be the very best it can be. Tipperary PPN are delighted to be rolling out a new National Initiative on Community wellbeing. "Our wellbeing is affected by many things; the economy, the environment, services etc" explained Avril Wilson PPN Co-ordinator "and the wellbeing of the community affects everyone within it. We really want to hear from the groups and organisations on the ground and what is important to them". Groups will also be able to feed in online. All this information will be brought together and be used to influence policy and guide the work of the PPN and its representatives in influencing policy and working towards achieving the community's goals.
Getting involved
The community consultation meeting for this area will take place on Wednesday, 25th of September 2019 in Borrisoleigh Parish Community Centre, Pallas Street, Borrisoleigh, Co. Tipperary E41 FF84 from 6pm.
If you would like to find out more, or your community organisation would like to participate in the consultation on community wellbeing, please contact the PPN office on 0504 61014 or email at coordinator@ppntipperary.ie
To register for the event visit:
www.eventbrite.ie/e/lets-develop-our-vision-for-community-wellbeing-in-thurles-templemore-and-roscrea-area-tickets-65168695322
or
---
Culture Night Photo Exhibition
Due to public demand, the Culture Night photo exhibition, hosted by Eddie Stapleton, will open in the Bothy on Friday and Saturday nights coming, from 7.30 to 8.30 pm. Another opportunity to see this amazing collection of photographs.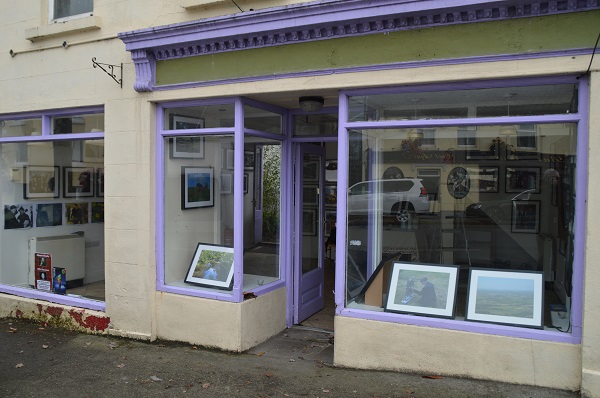 ---
Historical Talk and Re-enactment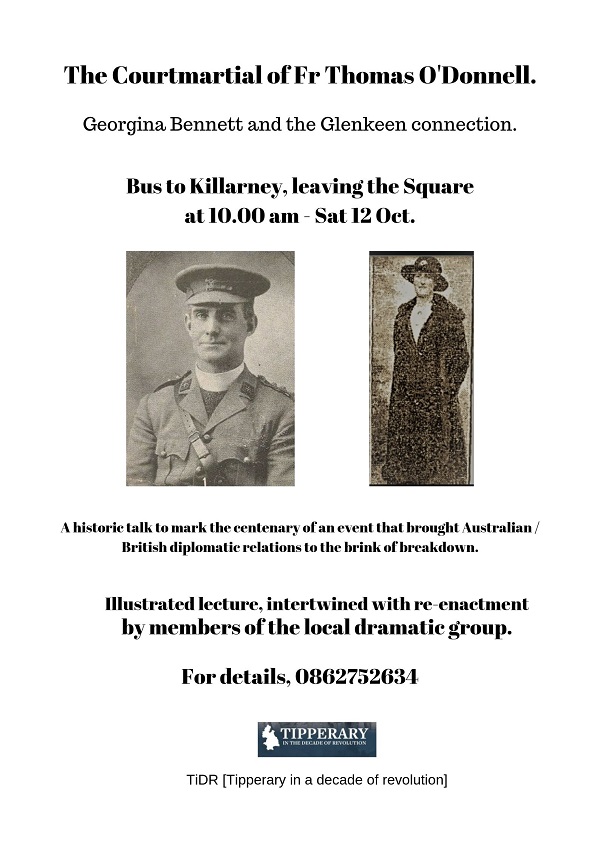 ---
AXA Community Bike Ride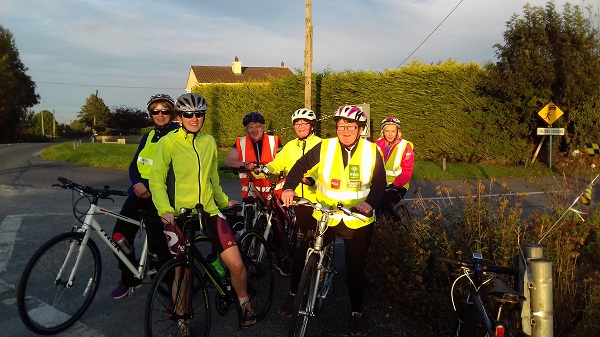 We were on the road again Sunday evening and the sun shone on us once again. We had a lovely cycle and got the news that the hurlers had won their semi final after extra extra time well done and good luck in the final. Next Sunday we are back to our normal time 10.30am so anyone interested register for Community bike ride and you will be welcome to join us. To register on Cycling Ireland click here
---
Parish News
Anniversary Masses next weekend: We pray for all whose anniversaries occur, and for whom the following Masses will be offered.
Saturday 28th September 8pm Mass:

Bill Prior, Nenagh Road. Danny Ryan, Chapel Street. Paddy Ryan (Matt) Currabaha and Denis & Maureen O'Dwyer, Pallas Street.
Sunday 29th September 9.30 Mass:

Nonie Bourke, Cullohill.
Sunday 29th September 11.30 Mass:

Mick & Biddy Ryan, Mountgeorge.
You are also asked to remember in your prayers Mrs. Mary Kinane, Upperchurch who was interred last Sunday.
Eucharistic Adoration:

Assembly takes place on Saturday 28

th

September from 10am to 1pm in St. Patrick's College, Thurles. Rosary & Testimony at 10am, Holy Hour at 11.15am led by Fr. John Keane and Holy Mass at 12.15pm concelebrated by Fr. Daniel Woods and Fr. John Keane. All are welcome

Congratulations:

To our Senior Hurling Team on defeating Burgess in the North Semi Final and we wish them the best of luck in the North Final.

October Clergy Collection:

will be taken up at all Masses on the 5

th

/6

th

October 2019.
A Listening Process Gathering of Parishes to discuss priorities for parishes of our diocese and plan for 2020 will take place on Wed 9th Oct @ 7.30pm – Thurles Parishes in Templemore Arms Hotel, namely, Thurles, Borrisoleigh & Ileigh, Drom & Inch, Loughmore & Castleiney, Templemore, Clonmore & Killea, Templetuohy & Moyne and Upperchurch & Drombane. All are welcome to participate.
---
Community Mothers Programme

---
Borrisoleigh Active Social Club
Borrisoleigh and Drom/Inch Active Social Clubs joined forces last week and headed to Galway for a few days. We were picked up by coach from our respective parishes.
Our first stop was in Bunratty for lunch. We then headed to The Ardilaun Hotel Galway which was our home for the few days.
Monday we headed off for a cruise of Lough Corrib and Tuesday we went to Kylemore Abbey. We had great entertainment/fun each evening in the hotel. Before we headed home on Wed we had a bit of free time in Galway city.
We had such beautiful weather and the scenery was superb. Both groups mingled so well and I do believe it was a very successful and enjoyable trip.
A big thank you to everyone that travelled for their co-operation. Thanks also to Borrisoleigh bottling for their sponsorship of water which was well appreciated for the few hot days. And finally thanks to Rory our bus driver for his courtesy. Here's to the next trip.
We are booking tickets for the Panto in Limerick which is Aladdin on Sat Dec 28 with the option of having afternoon tea in The Castletroy Park Hotel beforehand. Names need to be given to Lucia on 0863961211 asap as tickets are limited.
Dates for the diary: Halloween party in Finn's Bar Borrisoleigh on Mon Oct 28th.
Christmas party on Sun Dec 1st and Christmas shopping trip on Tues Dec 10 to Cork.
Pilates class for our members continues every Tues at 6.45pm in the Community Centre Borrisoleigh.
---
Bridge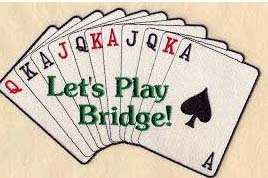 Bridge resumed last Thursday night 19th September at 7.30pm in Borrisoleigh Community Centre.
If anyone is interested in taking Bridge Lessons with a view to joining the Borrisoleigh Bridge Club.
Contact 086 1658298 or 0504 22620.
Bridge lessons will commence on Thursday 26th September in Thurles.
---
Pic of the Past
---
Committee: Enda Ryan, Noreen Fahy, Marie McGrath, Derry O'Donnell and Fiona Max
Many thanks to all those who contributed photographs and news items
Remember, we need you to continue to send us material so that we can keep our website current and interesting.
While we make every effort possible to ensure that the information contained in this Website is accurate and complete, we cannot accept any legal liability as a result of the inaccuracy or incompleteness of the information presented to users of this site. We also reserve the right to edit material for suitability to a website format.
Also, if you like what you see and want to leave a comment, remember to use the Guestbook