25 October 2017
25 Oct 2017
Borrisoleigh Annual 2017
The Borrisoleigh Annual for 2017 group will hold a meeting on Thursday 26th Oct at 8.00pm in the Parish Center to progress work on the Annual.
Anyone interested in be involved in this project please attend
Closing date for submission 3rd Nov 2017
---
St. Joseph's College Borrisoleigh
---
Sr. Áine Historical Society
There are a small number of seats available for next Saturday's trip (28th) to the Michael Collins centre in Clonakilty. The bus will leave the Town Hall at 7.30am and anyone interested in travelling please contact Ronan Loughnane on 087-7931721.
---
Charity Fitness Classes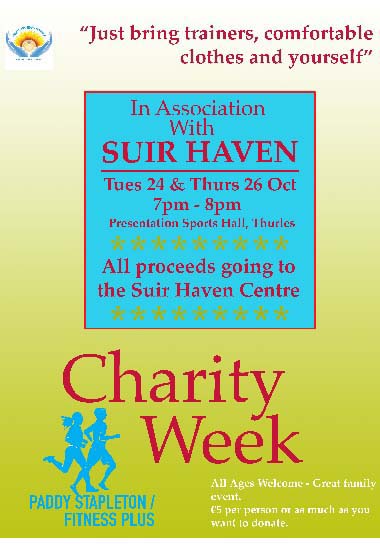 ---
Borrisoleigh Christmas Lighting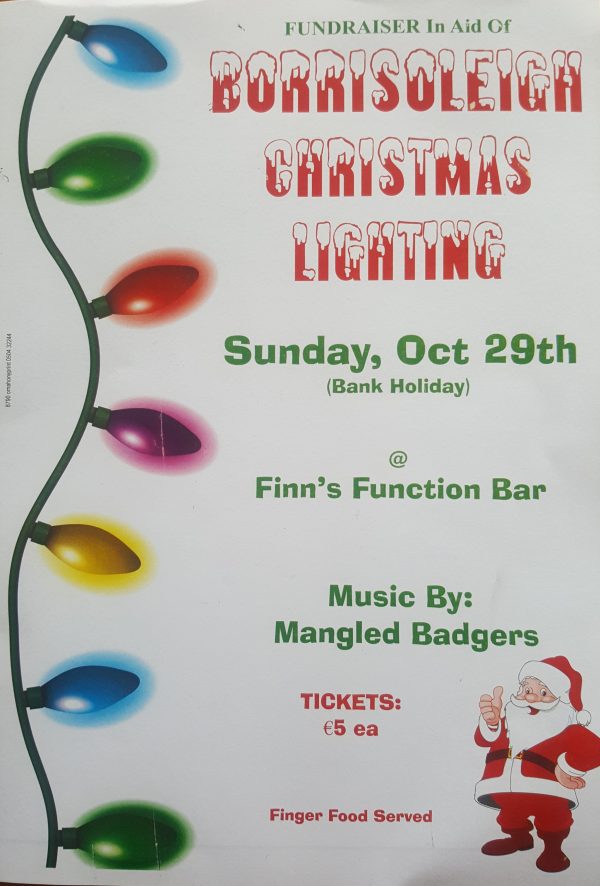 A fundraising dance is being held in Finns Bar function room on Sunday October 29th in aid of Borrisoleigh Christmas Lighting. Tickets cost €5 and are available from any festival committee member or from Finn's Bar. Music on the night is The Mangled Badgers. Finger food served. Please support this worthy cause and help light up Borris for Christmas.
---
Parent & Toddler Baby Group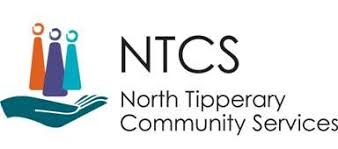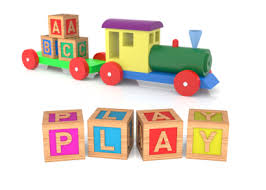 Parent, Toddler and Baby Group are back every Wednesday Morning from 9.30am to 11am in the Community Centre, Borrisoleigh.
Further information Please ring Bridget at 087 2780029
---
Borrisoleigh Track Attack Notes
Tracking Their Way to Dublin
Twenty thousand people will congregate in the Capital City next Sunday morning where they will be hoping to cover the 26.2 miles of the Dublin Marathon while also hoping to achieve all their various personal goals.
Amongst the mass of people will be 20 Track-Attackers which is an amazing achievement in itself when you consider where their starting point in running terms was this time last year. Another striking feature amongst the group is the family connections within.
Amongst the 20 will be 3 sisters who hope to complete the magical distance for the first time. Margaret Meehan will be joined by her sisters Carol and Noreen Treacy. After each of the 3 completed the 30km in our Trip around Tipp in July, they decided to go the extra bit and sign up for the full 42. On the day they will be joined by their first cousin Mike Gleeson.
Jacqueline Minogue will also be attempting the 42km challenge for the first time and she will be joined by her husband Pat and her sister Caroline Murray who are also both making their marathon debuts.
Former International racquetball player Christy Slattery will be toeing the start line for the second time on Sunday but this time he will be joined by his wife Betty and niece Christine.
Donal Ryan will also dip his toes into the marathon ocean for the first time (hope the steward will have plenty of Marshmallows along the way!!) and he will be joined by his wife Noreen.
Laura Bourke, Joan Cummins, Caroline Hassett, Teresa Coffey, Louise Higgins, Siobhan Carr and Teresa Murray will all be making their debut at the distance where they will be joined by Paddy Ryan who deserves great credit for the work he has put in over the past few months in getting the group as a whole ready for the event. Paddy is heading for his third marathon finish.
Two Track-attackers were unlucky to miss out due to injury but hopefully there will be another day for Edel Minogue and Mary Ryan.
---
Word of Thanks
Fr. Liam Everard
"A sincere word of thanks to all for the beautiful presentation last Saturday night. Your kindness and generosity was overwhelming and has left me very humbled. Thanks to all who helped to organise the event, and all the speakers on the night for their gracious and kind words. I will be forever grateful to the people of Borrisoleigh and Ileigh and have lovely memories of my time there. With fond remembrance in prayer."
Míl buíochas dóibh go léir
Liam Everard
---
Scoil Naomh Cualán U13 North Champions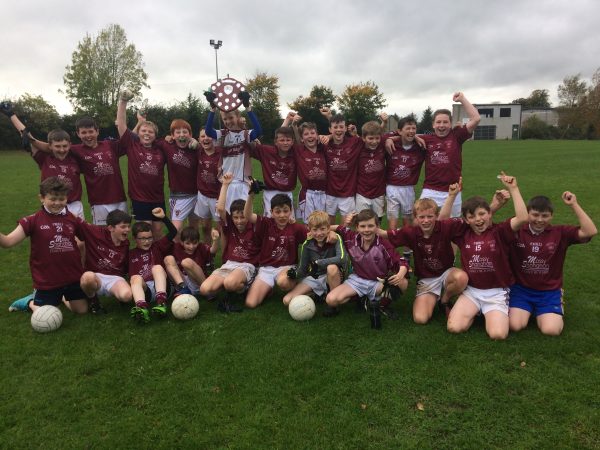 Last week the U13 boys of Scoil Naomh Cualán claimed the North football title, overcoming Ardcroney NS in a titanic battle.
They won by the minimum after battling through regular time and two halves of extra time. It was an outstanding display from both sides and thankfully the Borris boys came out on top.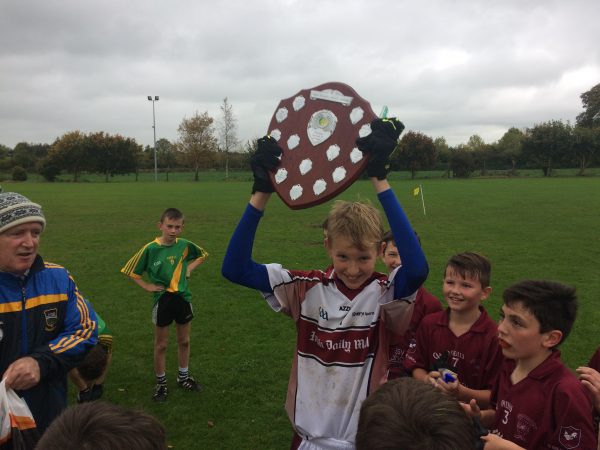 We now face Gaelscoil Carrick on Suir in the county semi-final on the 9th of November. Best of luck boys!
Also, on Monday past our U11 boys won their north football blitz which has qualified them for the county final. Well done boys! Our opposition and date are unknown as of yet.
---
Fr. Everard Appreciation Evening
A huge crowd gathered in the Sacred Heart Church, Borrisoleigh last Saturday evening to celebrate and acknowledge the fifteen years of sterling service that Fr. Liam Everard gave to this parish.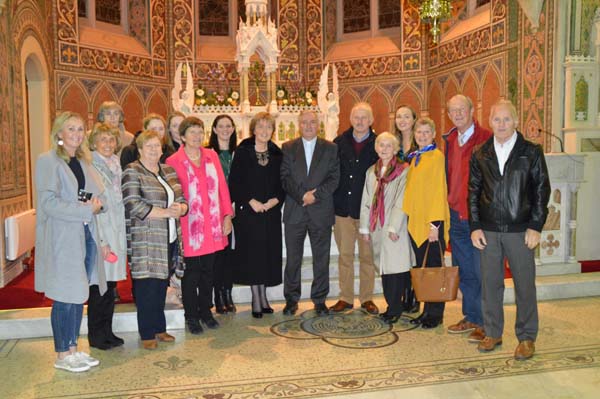 Representatives of parish organisations in turn, spoke of their admiration for Fr. Everard and shared stories of how Fr. Liam worked tirelessly on a huge range of issues and projects in our community. As each person spoke, they highlighted the qualities that made Fr. Liam so popular and admired. His easy going nature, his sense of humour, the time he had for both young and old in the parish and most of all the friendship that he showed to all his parishioners.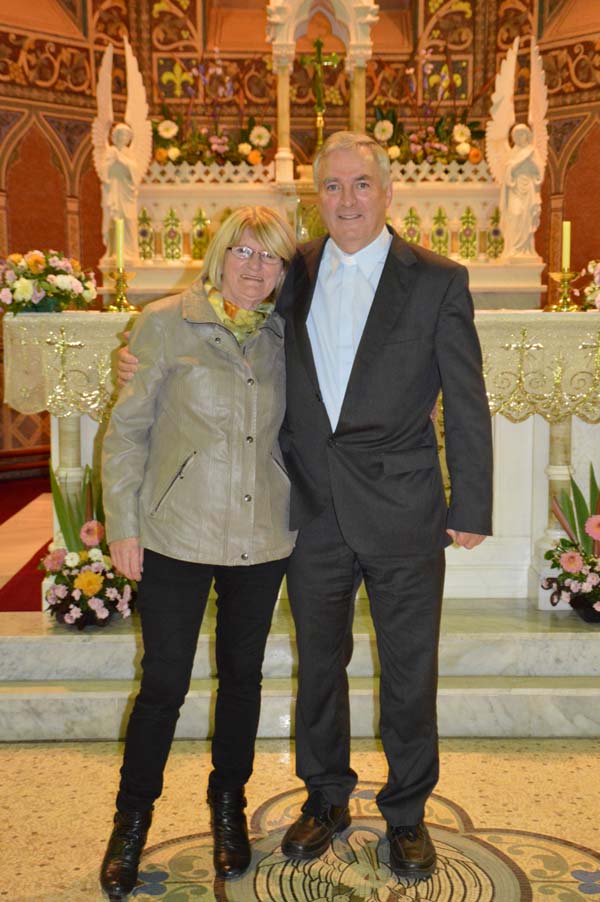 Fr. Liam himself then spoke very eloquently about his time in Borris. It was clear he loved his time here and misses Borrisoleigh as mush as Borrisoleigh misses him. He ended by thanking everyone for their kindness and generosity towards him and wished Fr. Hennessy the very best of luck in his new ministry in the parish.
The crowd then retired to the Community Centre, a building that Fr. Liam played a leading role in bringing to fruition. A beautiful selection of refreshments were enjoyed by all as they chatted with Fr. Liam. A special moment in the evening was when Frances Kennedy delivered a beautiful poem that she had penned about Fr. Everard.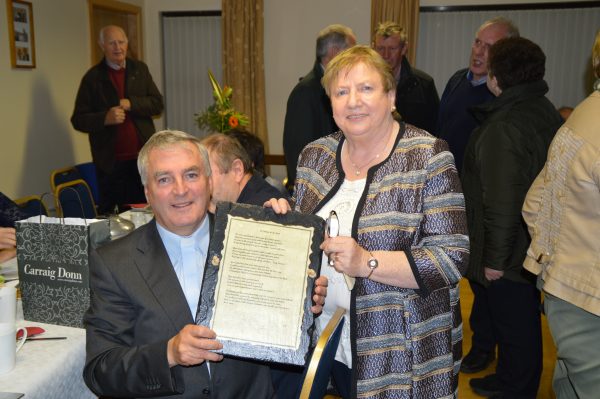 The evening was a great success and a fitting testament to Fr. Liam's time in Borrisoleigh and we wish him the very best of luck in his new parish and the next chapter of his life.
Also, a big thank you to everyone who helped to make the night such an enjoyable event.
For more photos please click here
---
Borris-Ileigh Camogie Club

U14 Camogie League Semi final vs Moycarkey takes place in Camogie grounds the Ragg on this
Sunday October 29th @ 1.30pm.
U12 Camogie Shield Final vs Fethard takes place this Saturday 28th October at 3pm in the Camogie grounds the Ragg. Good luck to all.
The club's AGM takes place at 8pm on Saturday November 11th in the Pavilion.
New members are needed in order for the club to continue it's good work. We look forward to seeing you there. All nominations for managers and committee should be with the Secretary by Thurs November 9th.
---
Borrisoleigh Active Social Club
The meeting for November is on Wednesday Nov 1st at 8.30pm in the Community Centre.
We have a busy time coming up with members doing their own Pilates class on Tuesday nights. There are more going to see Phil Coulter, going to the movies and even off to the panto in Limerick. We might even have time for a shopping trip before Christmas. We are busy busy busy.
---
Borris-Ileigh GAA Club Notes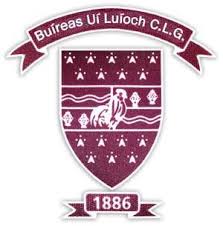 Upcoming Fixtures:
Our Seniors will play their final competitive game of the year this Friday as they take Drom Inch in the County Senior Hurling League Division One Final. The game will take place in the Park at 8pm. This game was originally due to take place on last Saturday but was postponed due to Storm Ophelia. Hopefully we'll have another piece of Silverware to round off what has been a fantastic year for the club. Best of luck to both players and management. All support greatly appreciated.
Lotto:
Our Jackpot is now up to a huge €20,000 for the coming week. This weeks numbers were 2, 5, 10 and 20.
Tickets are available at all local shops and pubs.
4 – LUCKY DIP WINNERS – €50.00 each
TJ Ryan, Coolderry
Tom Conway, c/o Joe Kennedy
Enda Ryan, Coohaun (ONLINE)
Teresa Coffey, c/o Coffey's Bar
Our draw has now reached it's capacity so this Jackpot will roll over continuously until a lucky winner is found. In the mean time we will be building up the next Jackpot should there be no winner after next Thursdays draw.
Best of luck to all entries.
Well done to all this weeks lucky dip winners. If you wish to play online you can do so here: https://www.locallotto.ie/localhome.asp?LL_ID=549
---
Pic of the Past ………..down memory lane
---
Committee: Enda Ryan, Noreen Fahy, Marie McGrath and Derry O'Donnell
Many thanks to all those who contributed photographs and news items
Remember, we need you to continue to send us material so that we can keep our website current and interesting.
While we make every effort possible to ensure that the information contained in this Website is accurate and complete, we cannot accept any legal liability as a result of the inaccuracy or incompleteness of the information presented to users of this site.
Also, if you like what you see and want to leave a comment, remember to use the Guestbook