25 April 2018
25 Apr 2018
Borrisoleigh Festival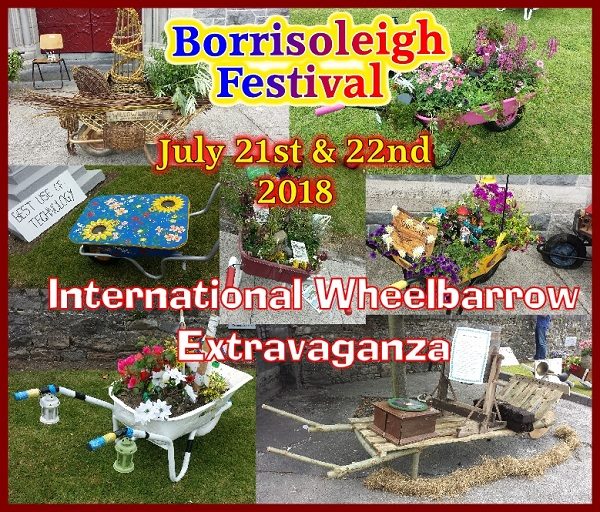 Borrisoleigh Festival is on 21st and 22nd July this year and the committee would like input as to what kind of entertainment they would like to see for children. If you have any suggestions you can contact any committee member or message the festival Facebook page.
Now is a good time to start thinking about your wheelbarrow design in time for the International Wheelbarrow Extravaganza!
The Borrisoleigh Festival Church Gate Collection is on May 5th & 6th. Your support is greatly appreciated!
---
Spring Clean
Wednesday 2nd May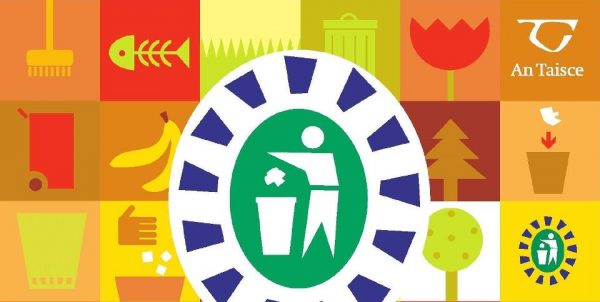 Meet in the square at 7 pm for gloves and bags
We've a limited number of litter pickers please bring some from previous years if you have them
Wear a hi-vis jacket
This year we will be concentrating on the approach roads to the town.
We would like to thank our volunteers, please know that your contribution in appreciated
All litter collected will be disposed of responsibly.
---
Fundraiser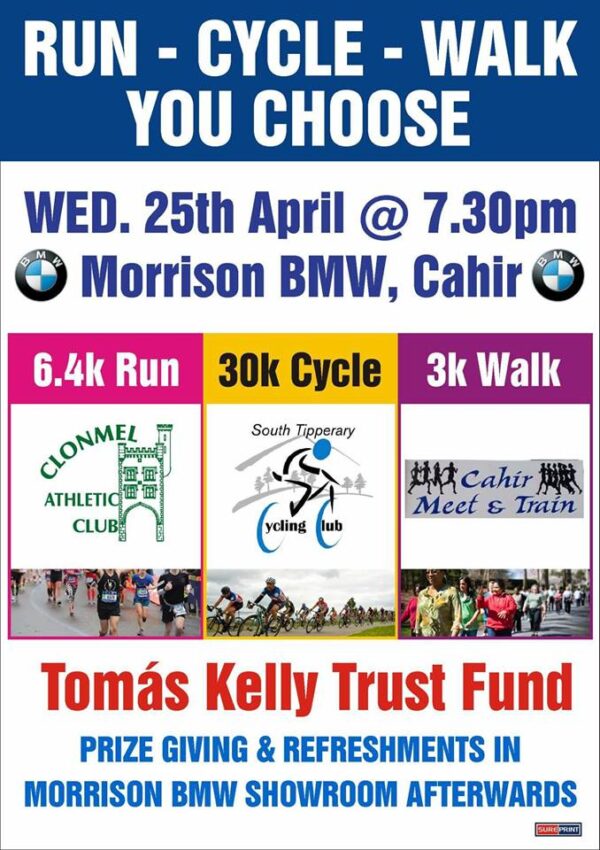 ---
Borrisoleigh Active Social Club
The May meeting of Borrisoleigh Active Social Club takes place in the Community Centre Borrisoleigh on Wed May 2nd at 8pm. We will have a representative from the Citizens Information Centre Thurles.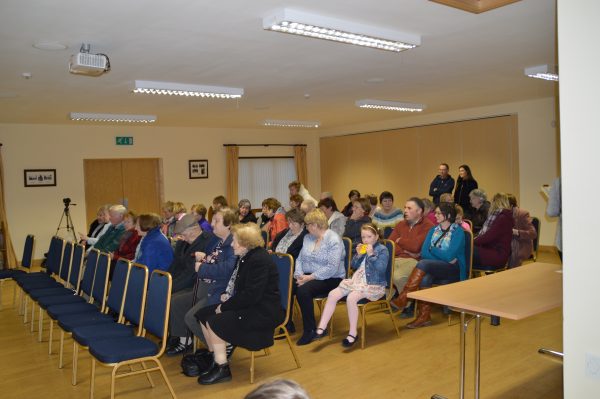 Some of the crowd at the trad session recently
---
Fr. Denis Kennedy
Fr Denis Kennedy CSSp from Borrisoleigh and currently based in Glasthule Parish in Dublin has published his
"Memories of the Biafran War, July 1967 – Jan 1970".
If you would like to order a copy (€10) please contact: 086-0629126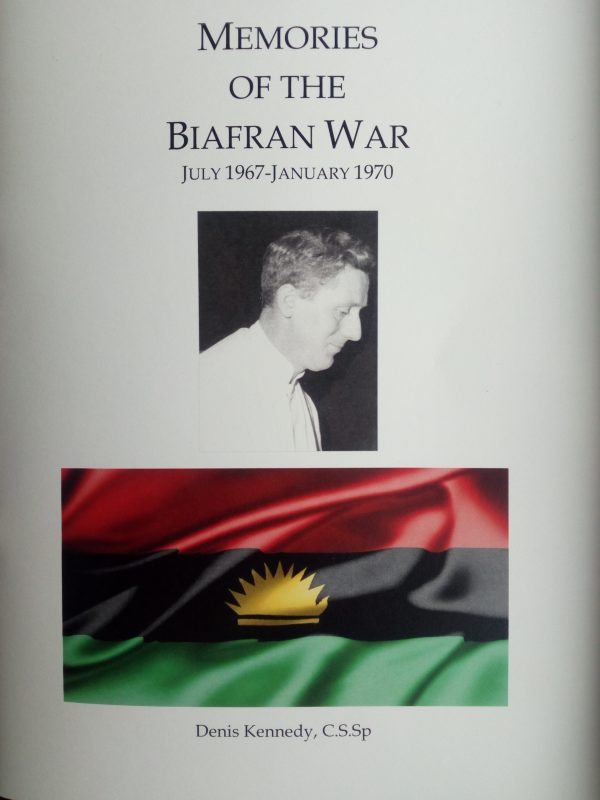 ---
Borris-ileigh GAA Club Notes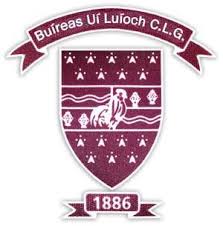 "Hibernian Inn" North Senior Hurling Championship:
A huge congratulations to our Senior hurlers who recorded their second victory in 7 days in very
impressive fashion beating Silvermines in Templederry last Sunday evening. The Mines were in
a rich of vain of form coming into this game having dispatched a fancied Templderry Kenyons
side in last weeks Seamus O'Riain Cup group game on a scoreline of 1-19 to 0-09. Meaning this
had all the makings of well contested encounter. A strong gale going from right to left across the
field proved a tough obstacle for the two teams thorughout the game. The Mines had the aid of it
in the first half, both teams traded scores early on with star Tipperary forward Jason Forde firing
the Mines into a 1 point lead with a well taken score from play followed by a well struck free.
Some well taken scores from Dan McCormack and Jerry Kelly along with Brendan Maher superb
accuracy from placed balls early kept us in touch before a mistake by Silvermines goalie Cathal
Sherlock was pouced on by Matthew Stapleton who dispossed him before rounding the stranded
keeper finishing well to the back of the Mines net giving us a 1-04 to 0-06 lead with 10 to play in
the first half. We tagged on a couple more points before half time to put us in a strong postion
going into the second half being 3 points up having played against a strong breeze with the score
at 1-06 to 0-06, leaving the Mines to rue some very wayward first half shooting. There was finally
some daylight between the teams early in the second half as we scored 3 unanswered points
thanks efforts from Sean McCormack, Liam Ryan and another fine Dan McCormack score who
finished up with a fantastic five points from play in an impressive display. Just as the game
looked to be getting away from the Mines Jason Forde fielded of a well placed puck out before
racing all the way in from the right touchline to finish past Jack Bourke to bring the deficit back to
three once again with the scoreline reading 1-10 to 1-07. But that was it was as good as it would
get for the Mines in the second half as we used the wind to full affect with some excellent long
range scores from both Shane Kenny and Ray McCormack. The game was soon put to bed
when substitute Kieran Maher fired our second goal of the game within 30 seconds of his
introduction. Two late poitns from Jack Hogan and Conor Kenny rounded off a great team
performance as we ran out comfortable winners on a scoreline of 2-19 to 1-08, a huge
improvement on last weeks victory over Portrue in Tipperary Water County Senior Hurling
Championship.
The team and scorers are listed below:
Jack Bourke
Thomas Fahy, Paddy Stapleton, Vincent Stapleton
Ciaran Cowan, Brendan Maher(0-05(0- 05f)), Seamus Burke
Liam Ryan 0-01, Sean McCormack 0-01
Jerry Kelly 0-01, Shane Kenny 0-02, Dan McCormack 0-05
Jack Hogan 0-01, Ray McCormack 0-02, Matthew Stapleton 1-00
Subs Used: Conor Kenny(0-01(0- 01f)) for Jerry Kelly, Kieran Maher (1-00) for Matthew
Stapleton, Aaron Rabbitte for Vincent Stapleton.
We now face the 2016 North Champions Kiladangan in the Quarter Final of the competition. This
game will take next Sunday the 29 th of April in Dolla at 3.30pm. This game will be preceded by
the meeting of Newport and Kilruane McDonaghs in another of the 4 Quarter Finals. The other
two Quarter Finals will see Toomevara face Portroe while Nenagh will meet Burgess.
Best of luck to both players and management in what will be a very tough game. All support
greatly appreciated.
Borris Abu!
Borris-Ileigh GAA Golf Classic 2018:
The 2018 Borris-Ileigh GAA Annual Golf Classic will take place this year across the weekend of 11th and 12th of May in Rathdowney Golf Club. We encourage all from near and far to come along for a Round in what is guaranteed to be a great day out for all with food and refreshments provided for all on the day. Entry for a team of 4 is €140 and sponsorship of a tea box is €50. The Tea Times are open for bookings as of now, so to get your bookings in contact Martin Fahy (087) 2608780 for all of the details. Don't hesitate to spread the word, we look forward to seeing you all on the 11th and 12th of May.
---
Borris-Ileigh Camogie
Book Launch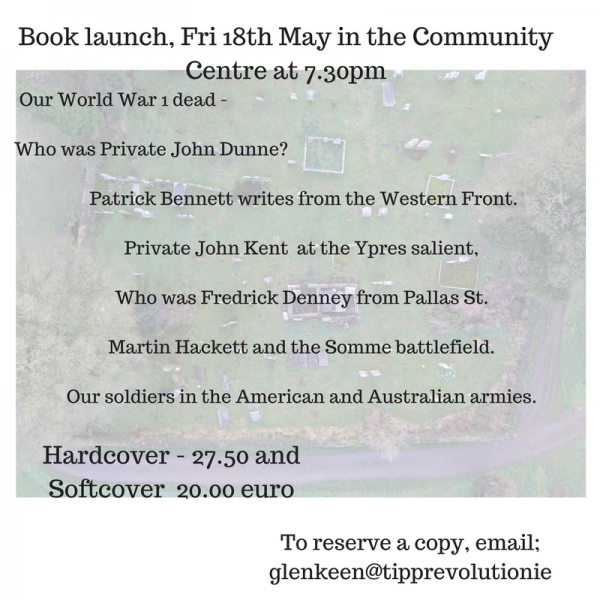 Please note: Email address should read glankeen@tipprevolution.ie
---
Borrisoleigh Historical Society
On Saturday last (21st) a group organized under the umbrella of "Ormond Historical Society" and "Tipperary in the Decade of Revolution", travelled to Loughglynn in Co Roscommon, where in conjunction with the newly formed historical society there, a commemoration was held to the memory or Nenagh man Sean Bergin and Stephen McDermott of nearby Ballinagare. Both men were shot dead by British military after being taken prisoner in Loughglynn wood on 19th April 1921.
It was a great occasion and the local organising committee spared nothing in making us welcome. We were met in the village of Ballinlough by two gentleman from that area who gave us a brief history of the place and events that occurred there during the troubled times. At Val's restaurant in Ballyhaunis, we were welcomed by a printed menu specially designed with the Tipperary colours. They insisted on us stopping at the monument to football legend Dermot Early and reminding us of the Tipperary connection, the late Lt General's wife, Mary Egan, being a native of the Premier County.
After the conclusion of the commemoration, tea, food and refreshments were served in the local community centre, followed by an evening of song and music.
---
Borris-Ileigh Camogie Club Notes

Many thanks to you all who supported our recent Clothes Collection. It was a great
success.
​​​​​U16's played Moycarkey at home on Friday last with a fantastic victory and a place
earned in the Championship Quarter Final. Borris took the lead from the off and had
gained a lead of two goals at half time. A tough, physical game that resulted in a final
score of Borris-Ileigh 4-08 to Moycarkey 1-03. Well done girls.
Panel: Chantal Feighery, Emma Galvin, Charolynn Leimhner, Katie Fitzgerald,
Mairead Maher, Dani Ryan, Emma Doolan, Emma Kelly, Anna McGrath, Kelly
Healy, Eimear Fahy, Katie Boyle, Natasha Kennedy, Hope Bergin, Melissa Ryan,
Cora Kenny & Laura Young
Scores from: Dani Ryan 0-02, Katie Boyle 3-02, Katie Fitzgerald 0-01, Emma Doolan
1-02 & Kelly Healy 0-01. Well done girls.
U10's are back training strong in preparation for upcoming County Blitz's. Proposed
dates as follows: April 28th (in Borrisoleigh), May 26th , June 30th , July 28th , August 25th
& September 29th .
U8 and U6 training is back and new recruits are always welcome.
Upcoming U8 blitz's, May 12th , June 9th , July 14th , August 11th & September 8th. .
​​​​​
---
Marian Hall Lotto Results
Lotto numbers: 17 19 22 28
No winner
1 match 3: Josie Byrne c/o Bingo
Next week's jackpot €6,950
---
Borrisoleigh Drama Group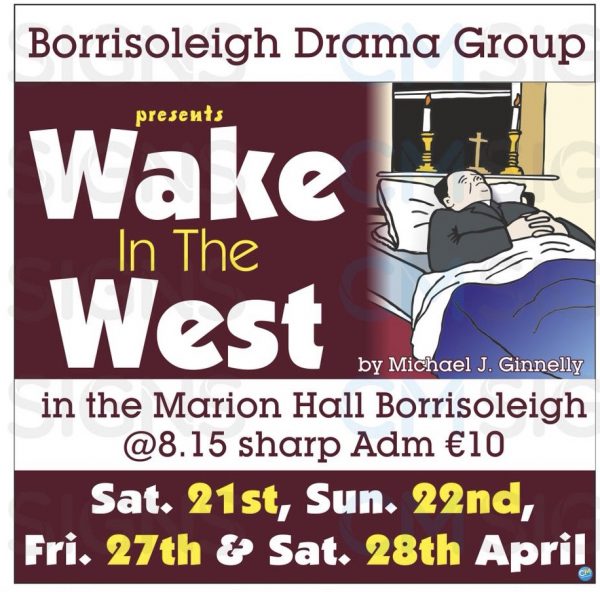 Borrisoleigh Drama Group in rehearsal for the popular comedy 'A Wake in the West'
Borrisoleigh Drama Group present Wake in The West
Borrisoleigh Drama Group, as always, gave a tremendous performance of the play Wake in The West by Michael J Ginnelly at the weekend. The traditional setting of a rural wake provides the backdrop for this hilarious comedy. Anyone who missed the first two performances has the opportunity to catch this side splitting comedy on Friday 27th and Saturday 28th April in the Marion Hall, Borrisoleigh at 8.15pm sharp. Admission is €10 and the Drama Group will be making a donation from the proceedings to 3 different worthy causes; The Le Chéile ASD Unit, Scoil Naomh Cualan, Borris-Ileigh Juvenile GAA Club and the Tomás Kelly Trust Fund.
---
Fr.Matt in Brazil
Just to let you know that Holy Week is a time when people like to give food hampers to the less well off families here in Brasil. The idea is that those who are better off make sacrifices in their eating habits during Holy Week and the food that they refrain from eating is passed onto those who are most in need.
Some of the bigger shops and well off people, pass those hampers onto us here in Parque Brasil because they know that this area where i live is one of the of the poorer areas in the city of Teresina. I together with a few local people divide out what's given so that most of the more needy families can get something. This year we were able to give more and better food baskets because I bought a lot of food stuff with the Walks and Tractor Run money. Each food basket would have been worth about 25 euros which would keep a normal poor family of 4 or 5 people going with the basic food stuffs for at least 15 to 20 days.
The best of all was that I was able to do that without the poor noticing where it was coming from. You'd have queues at your door very quickly here if they thought the padre was giving food handouts !!!
We had a great rainy season here this year. Its bee raining almost every week since I came back here in the beginning of January. That's great for us all and especially for the farmers .
However a lot of houses were seriously damaged with the heavy rains. For the last few weeks we have been helping families to mend their houses. In a few cases we had to knock down the little mud hut and build a better little house for them with bricks. I go after the local authorities looking for building materials and I also ask the brick layers and helpers to work on a voluntary basis on Saturday and Sunday morning. I get a group of women to make a good dinner for the workers and I give them a bottle or two of "something" and that keeps them going until the early afternoon. Sometimes I pay one or two fellas to work for a few days during the week when the needs are more urgent.
At the moment we're building a two room house for Erisvania. Her house was so badly hit by the rains that we had to take it down. It was a mud walled house but with slates on it. Erisvania has a daughter called Geicy of about 10 to 12 years old and a little baby Alice a few months old. We have been trying to get the building material from the local authorities but that takes so long and its so complicated at times. Local people help outt with materials also but It's great to have the Templederry Walks and the Borrisoleigh Tractor Run money behind me to be able to buy a few bags of cimento or iron or a door or window or a few hundred bricks when the need arises. The money raised at the end of last year in Ireland has given me great liberty to do good for others in the name of all of you !
It's great to be here and thanks once again to all of you for your kind support !
Abraços Matias Ryan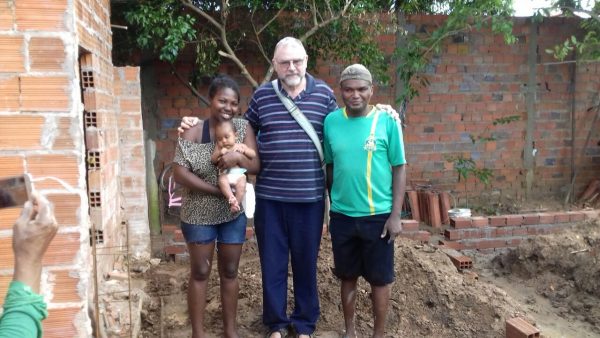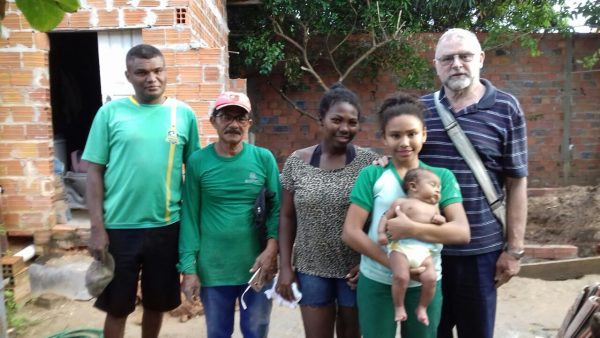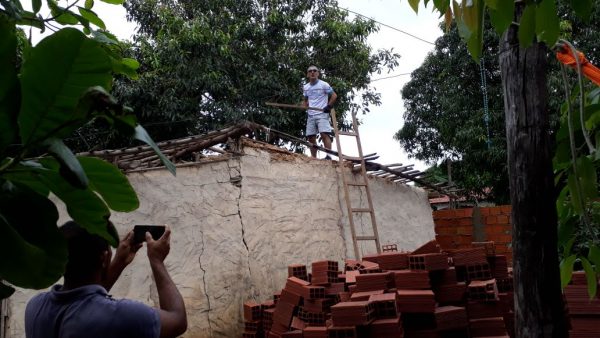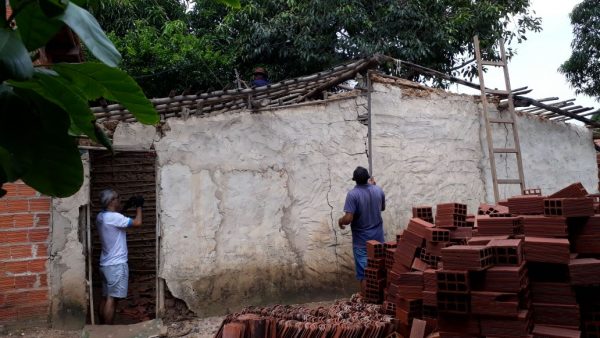 Photo of me with a young mother who was recently baptised in our Church here in the Area Pastoral
The other photo is of my Redemptorist colleague, Father Valdo, who was ordained last year and who lives here in Parque Brasil with me. The lady in the photo with us is Cleiriane and she works with us.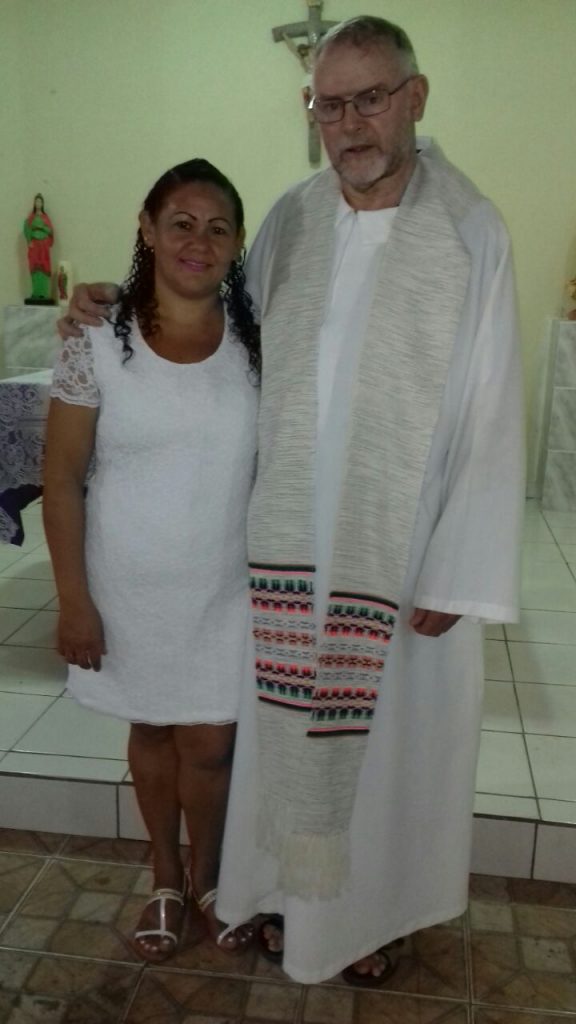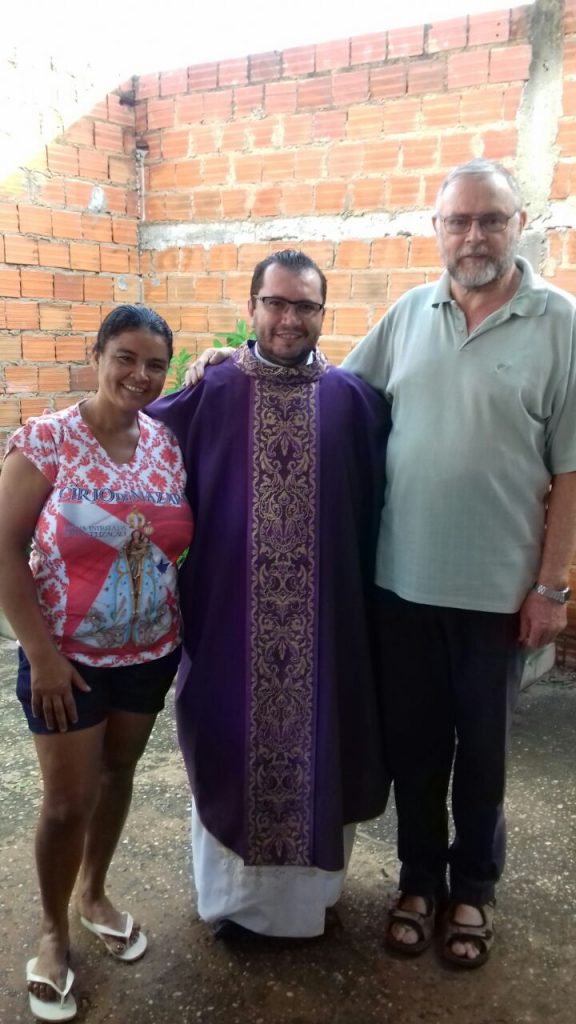 ---
May Masses and Devotions in Our Lady of Clonfert Church
Our programme for May Masses and Devotions at the Shrine in Our Lady of Clonfert Church, Clonfert, Ballinasloe, Co. Galway. We have welcomed to date, many Tipperary people each May but it would be great to see some more friendly Tipperary faces this side of the River Shannon.
Fr. Declan McInerney. P.P.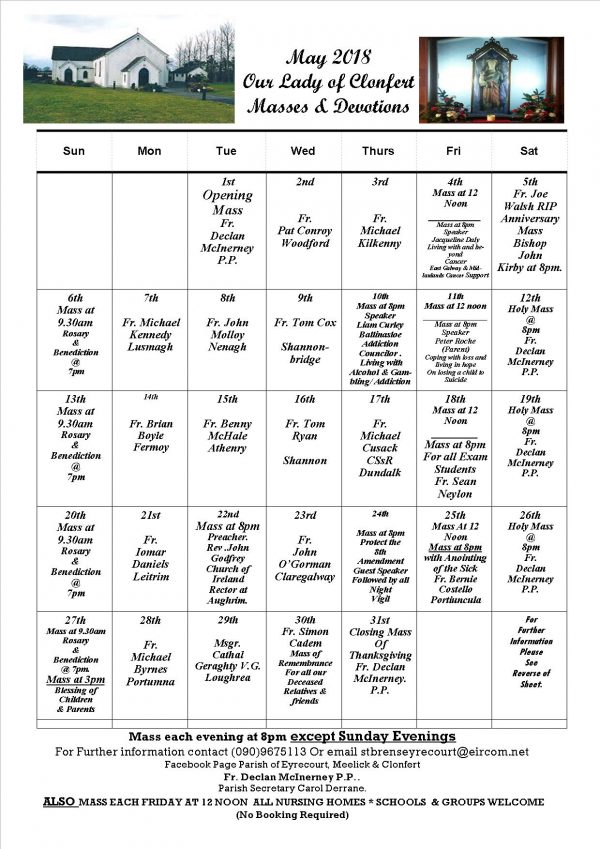 History of the Statue of Our Lady of Clonfert
This Madonna and Child is a 14th Century hand-carved wooden figure. It is of native craftsmanship, one of a number of examples from a school of woodcarving, which apparently flourished in the Shannon area from the 13th to the 17th Century.
The Statue highlights Mary as the Mother of the Human Race, standing within reach of all. Undoubtedly this statue originated in one of the two religious houses nearby at that time; St. Brendan's Monastery or the famous Clonfert Cathedral.
It was hidden in a hollow oak tree during the Cromwellian Persecution of the Catholics in the 17th Century. Tradition has it that in the 19th Century it was found by woodcutters, who accidently cut off the left arm.
It was at one stage in view in the National Museum in Dublin and was carried in procession in the Eucharistic Congress in Dublin in 1932. Instrumental in the granting of many petitions through the intercession of the Blessed Virgin, Mary.
Brief Summary
2nd May 1st Anniversary Mass for Fr. Dan O'Donovan CC Ballinasloe All welcome
4th May Jacqueline Daly is a director of the East Galway and Midlands Cancer Support Centre (Le Cheile) Ballinasloe . She will talk on living with and beyond Cancer.
5th May Anniversary Mass for Fr. Joe Walsh RIP . Bishop John Kirby
10th May Liam Curley, Creagh , Ballinasloe, is an addiction councillor with many years of experience dealing with various forms of addiction. Liam will speak of Alcohol and Gambling addiction and living with someone who carries the burden of addiction.
11th May Peter Roche sadly lost his son to suicide in 2010, he will tell his story and offer support in relation to coping with loss and moving forward in Hope
17th May Fr. Michael Cusack is a Redemptorist Priest and will be well known to those who attend Galway and Esker Novena. A gifted preacher and will have plenty of food for thought
18th May Mass for Exam Students for everyone taking exams at all levels with special Exam prayer Card.
24th May Mass on Eve of the Referendum . ( for the protection of the 8th Amendment )Guest speaker followed by all night prayer vigil at the Shrine . All welcome.
25th May Mass with Fr. Bernie Costello Portiuncula, with Anointing of the Sick (Hall across from Church also available on the night)
27th May Mass at 3pm and Blessing of Parents and Children (bring ear plugs)
30th May Mass for all our deceased relatives and friends. Fr. Simon Cadem.
MASS WILL BE BROADCAST ON A LARGE TV SCREEN IN THE HALL ACROSS FROM THE CHURCH EACH NIGHT.
Practical advice Arrive on time and bring a bottle of Water & a cushion if needed !!!!!!!!!!!!!!!!!!!!!!!!!!!
Fr. Declan McInerney P.P.
---
Pic of the Past ………..down memory lane
---
Committee: Enda Ryan, Noreen Fahy, Marie McGrath, Derry O'Donnell and Fiona Max
Many thanks to all those who contributed photographs and news items
Remember, we need you to continue to send us material so that we can keep our website current and interesting.
While we make every effort possible to ensure that the information contained in this Website is accurate and complete, we cannot accept any legal liability as a result of the inaccuracy or incompleteness of the information presented to users of this site.
Also, if you like what you see and want to leave a comment, remember to use the Guestbook
---