Borris-Ileigh Drama Group to perform Widows' Paradise
Extra Night Added Thursday 25th May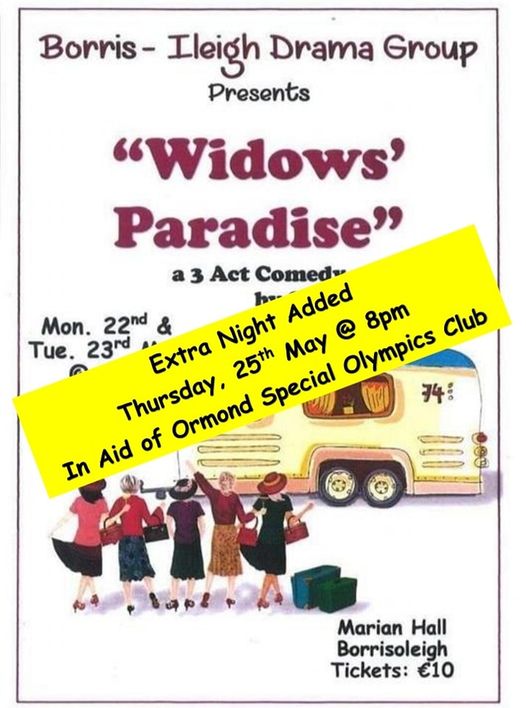 Borris-Ileigh Drama Group is delighted to announce an EXTRA PERFORMANCE on Thursday 25th May in aid of Ormond Special Olympics Club, of its production of the side-splitting comedy play, "Widows' Paradise" written by Sam Cree and directed by Mary Boyle. Following two sold out performances on 22nd & 23rd May the extra night has been added to cater for audiences who missed out on the first two nights and to help raise funds to support the great work of Ormond Special Olympics Club.
The play promises to take audiences on a riotous journey filled with laughter, memorable characters, and an unforgettable evening of entertainment. The play will be performed on Thursday 25th May in The Marian Hall, Borrisoleigh at 8pm, admission €10.
"Widows' Paradise" follows the escapades of five women who seek refuge from their individual 'man troubles' by embarking on a weekend getaway in a coastal caravan. Of course things don't go according to plan with resulting hilarity. Written by the legendary Irish playwright Sam Cree, who also wrote for the 'Carry On' movie series, "Widows' Paradise" has captivated theatregoers around the world since its debut. With its sharp wit, clever dialogue, and uproarious situations, audiences are ensured of a great night's entertainment.
This has been the first production by Borris-Ileigh Drama Group since before the pandemic and the cast and crew have put in a phenomenal amount of work to get to this point. It also marks the 10th anniversary of the group's reforming in 2013. The dedication of the actors, producers and all the backstage crew is second to none, with their greatest reward being happy in the knowledge that they have entertained an appreciative audience. Your support is greatly appreciated. Contains adult themes, may not be suitable for young children.
---
Borrisoleigh Historical Society
Monday night last saw a fine turnout in the Community Centre for the final lecture of our current season. John Connors delivered a talk on famine times in Borrisoleigh and on the mass evictions at Cullohill in 1850. At the conclusion of John's talk, Sofiia Mandrusiak from Kolomyiia spoke about the historical connections between the history of our two nations and also on the current state of affairs in her country. On behalf of our society, John Flannery presented a framed citation to Sofiia to mark the occasion of her visit to us. Liam Donnelly, on behalf of Rathmoy residents, presented our visitor with a bunch of flowers, making Sofiia an honourary member of the neighbourhood's association.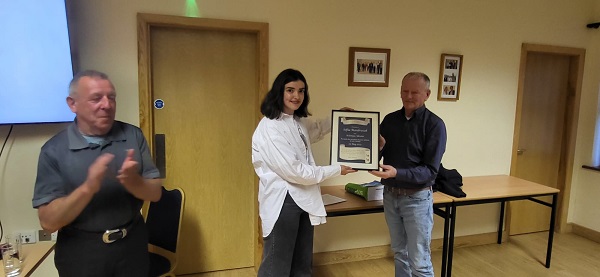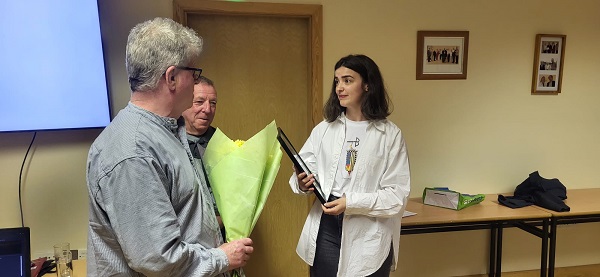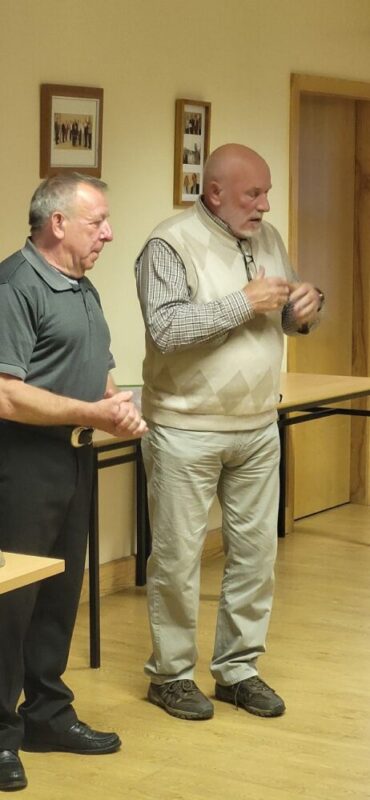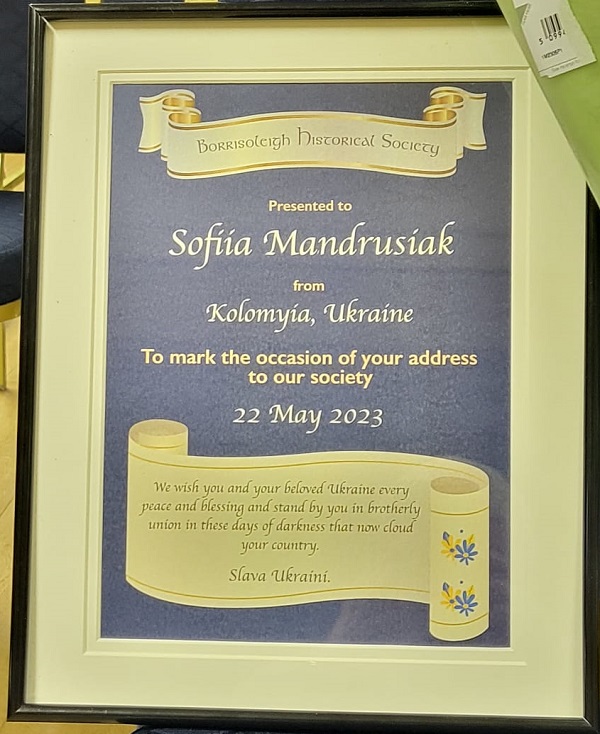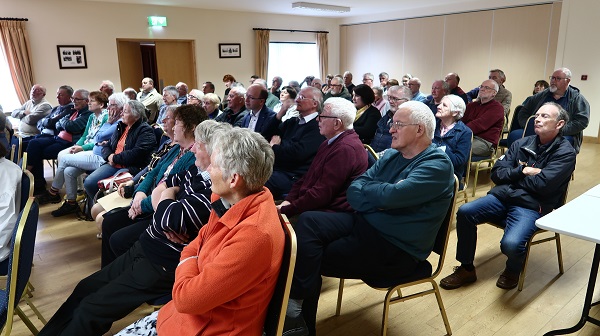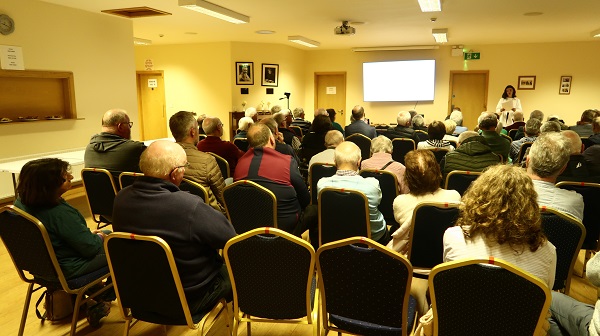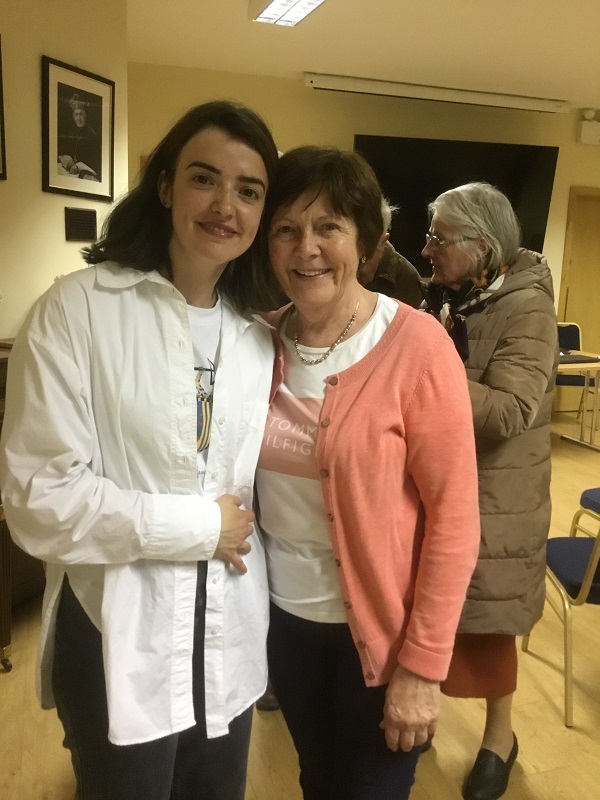 ---
Borrisoleigh Active Social Club
Borrisoleigh Active Social Club are off on their travels this Friday. They are heading to The National Stud and Japanese Gardens and finishing up with a visit to Newbridge Silverware. The bus will leave the GAA car park at 9.30am.
The next meeting will be on Wed June 7th at 7pm in the Community Centre Borrisoleigh.
Dates for the diary Fri June 16 Coffee morning and cake sale in the Community Centre with proceeds to the people of Sudan, Turkey and Syria. All donations will be appreciated. More details to follow.
Tuesday July 4th trip to the beach in Tramore and a visit to Mount Congreve. Again details to follow.
---
Parish News

Anniversary Masses
Saturday 27th May, 7pm – Borrisoleigh
Gloria O'Shea, Pallas St. – Month's Mind
Sunday 28th May, 11am – Ileigh
Maura Ryan (Simon), Ballydaff.
Padre Pio National Pilgrimage:
Holycross Abbey, on Sunday 28th May. Ceremonies begin at 1.30pm Contact 0504 43124 or
hbparishoffice@gmail.com
.
Cashel & Emly Diocesan Pilgrimage to Lourdes:
17th – 22nd June 2023 for 5 nights. All booking should be made through Joe Walsh Tours, 89 Harcourt St. Dublin 2. Contact 01 2410800. or booking form can be downloaded from diocesan website –
www.cashel-emly.ie
. Please note there will not be a special assisted section with medical and care staff this year. Hopefully this will resume in 2024. For this year pilgrims should be able to make the pilgrimage independently or with the assistance of someone accompanying them and taking responsibility for their care.
Synodal Pathway: The National Steering Committee of the Synodal Pathway invites you to the day of prayer in Knock on 31st May 2023. Mass will be celebrated by Archbishop Francis Duffy at 12 o'clock.
Novena for Life:
The Pray for Life Novena is an invitation to join the thousands of people across Ireland to pray for the protection of human life from Tuesday 23rd May to the Feast of the Visitation on Wednesday 31st May. Each day's intention is accompanied by a short reflection and suggested actions to help build a culture of life in Ireland. Visit
www.prayerforlife.ie
for the daily novena prayers which will also be posted on
facebook.com/PrayforLifeNovena
and @ChooseLifeIRL on Twitter. This is an initiative of the Council for Life of the Irish Catholic Bishops' Conference.
All Ireland Rosary Rally in Knock takes place on Saturday June 3rd from 1pm in Knock. It will include Holy Mass, the Rosary, the Stations of the Cross and a talk by Bishop Oliver Doeme. The Main Celebrant for the Holy Mass is Archbishop Eamon Martin. A bus will leave from Tipperary Town. Please book your seat early to avoid disappointment. Contact Maura Stapleton: 086 0622087.
---
Eucharistic Adoration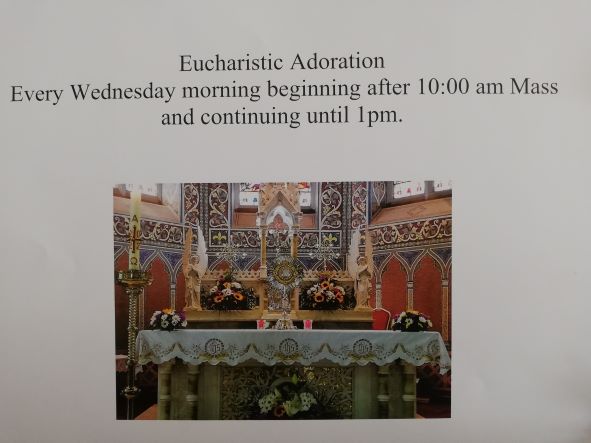 ---
Knitting and Crochet Group
Knitting and Crochet Group continues to meet every Wednesday at 10am. New members with other skills or none always welcome.
For information call Mary on 0863098982.
---
Pic of the Past
---
Your Website Needs You
Committee: Enda Ryan, Noreen Fahy, Marie McGrath, Derry O'Donnell
Many thanks to all those who contributed photographs and news items.
Remember, we need you to continue to send us material so that we can keep our website current and interesting.
Send your email to: info@borrisoleigh.ie
This website is supported by
Borrisoleigh Community Development Association.
While we make every effort possible to ensure that the information contained in this Website is accurate and complete, we cannot accept any legal liability as a result of the inaccuracy or incompleteness of the information presented to users of this site. We also reserve the right to edit material for suitability to a website format.
Also, if you like what you see and want to leave a comment, remember to use the Guestbook