Borrisoleigh Festival 1st & 2nd July 2017


International Wheelbarrow Extravaganza at Borrisoleigh Festival
The inaugural International Wheelbarrow Extravaganza will feature at this years Borrisoleigh Festival which takes place on July 1st and 2nd. The competition is open to everyone to submit their modified wheelbarrows to be in with a chance to win some great prizes. Your imagination is the only limiting factor in this unique competition!
There are five categories in which you could have a chance to win:- Best Homemade Wheelbarrow, Best Floral Display, Best Use of Recycled Materials, Best Use of Technology and Best Artistic Creation.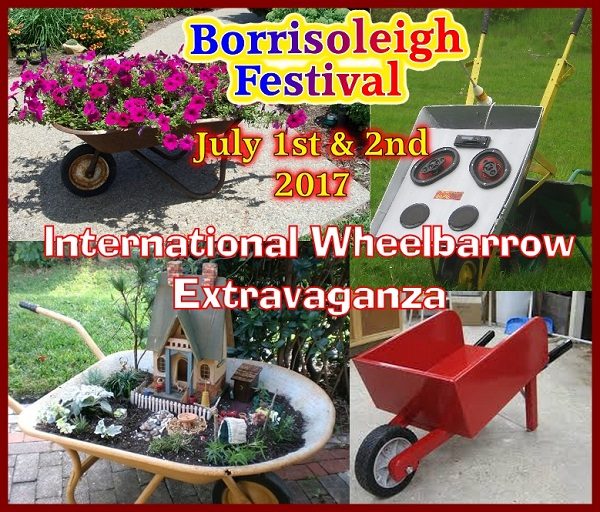 The wheelbarrows must meet the eligibilty criteria of having one single wheel at the front and two supporting legs and two handles at the rear and be capable of being moved by one person.
There is fantastic scope for individuals, community groups and businesses to come up with their own unique designs, decorations and modifications. Whether you want to make a wheelbarrow from old pallets, show off your prize begonias, decorate in your club colours or add solar panels and gadget charging stations to your wheelbarrow, the choice is up to you and the fame and glory is yours for the taking!
The wheelbarrows will be on display to the general public on Sunday 2nd July when the judging will also take place.
There will of course be plenty for everyone at the festival with Churn Rolling, Line Dancing, Kiddies Disco, Guided Mountain Walks and live music in The Square to name but a few. There are stalls available for the Food Fair on Sunday 2nd July. If you are interested in selling your produce contact Fiona on
087-2169150
. Likewise any businesses wishing to sponsor any of the events and have your banner displayed alongside please phone the number above.
Anyone interested in giving churn rolling a go on July 1st in Borrisoleigh or July 14th in Tipperary Town please give names to Fiona Max 087-2169150 or message
Borrisoleigh Festival Facebook page
. Minimum 5 training sessions required to participate.
---
Borrisoleigh Active Social Club
On Thursday June 1st we are having our end of season night out. We are going to Parker's Restaurant Holycross and heading to Jim o the Mills after. Any member interested in joining us for the night please give in your name to either Eileen 0879849848 or Lucia 0863961211 before May 29th.
---
Saints All-Stars is back again in 2017!
The date is the August Bank Holiday Monday – 7th August.
We are again running for the week – 10am – 2pm.
For booking this year I will arrange to come down to the park for some juvenile training sessions where people can register.
Of course if you will not be at the training you can get in touch by phone.
The club will send a text out about when what sessions I will be at.
Regards,
Paddy Stapleton
0863328697
---
Borris-Ileigh GAA Club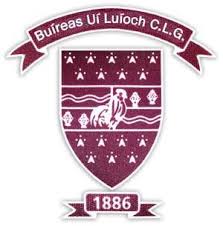 Senior:
Our next opponents are Loughmore-Castleiney in Round 2 of the Tipperary Water Senior Hurling Championship. The game will take place next Sunday evening on the 28/05/2017 in Semple Stadium at 7.30pm. All support greatly appreciated.
Junior:
Our Junior 'A' were narrowly defeated by Toomevara in Round 7 of the North Tipp Junior Hurling League last Saturday evening on a scoreline of 1-16 to 1-14. Commiserations to all involved.
Golf Classic:
We would like to take this opportunity to thank all of our sponsors, participants and volunteers for making our 4th Annual Golf Classic such a fantastic success. We are entirely grateful for all of your continued efforts and support fundraising for the club, without you we would not possess the club or facilities we have today.  Thank you.
County Board Draw:
Membership for the 2017-18 County Board Draw is now available. With a prize fund of over €500,000 and a local draw each month, we encourage new and existing members to participate in this years draws as it gives each participant an opportunity to win a whole host of great prizes and provides a vital source of income to the club. For further information contact T.F. Stapleton (086-3334826).
Lotto:
Our Jackpot is now up to €15,600 for the coming week. Tickets are available at all local shops and pubs. You can also play online at www.locallotto.ie. Just type in Borris-ileigh GAA to play.
---
Borris-Ileigh Juvenile GAA Club
Borris-Ileigh GAA & Borris-Ileigh Juvenile GAA clubs held a presentation night last  Saturday, the 20th May in the Community Centre.
A presentation was made to honour the U16 County Final Winning Team of 1991. Presentations were also made to club players who represented our county to win All-Ireland and also a presentation was made to Katie Shanahan for her terrific win in Scór Sinsear (solo song). More photos from the night can be found
here
.
.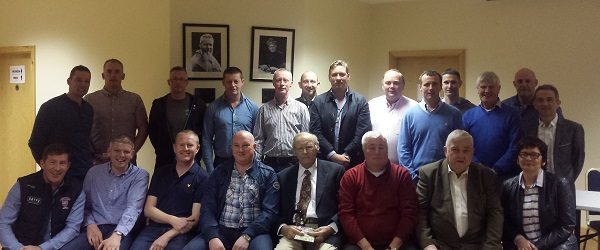 Pictured at the presentation ceremony on Saturday 20th May are the players, management team and representatives of the Borris-Ileigh U16 County Final winning team of 1991
.
The winning team of 1991 consisted of John Cummins, Sean Prior, Mossy Ryan, Seamus Maher, Denis Kelly, Conor Ryan, Trevor Groome, Philip Rabitte, Conrad Kennedy, Mick Joe Ryan, Mark Stapleton, Liam Small, Jimmy Ryan, Robbie Stakelum, Sean Maher, Martin Hennessy, Angelo Walsh, Martin Ryan, Damian Ryan and Timmy Ryan. The management team were Pat Ryan, Jimmy Slattery Snr, Liam Stapleton, Pat Maher and Liam Gleeson.
.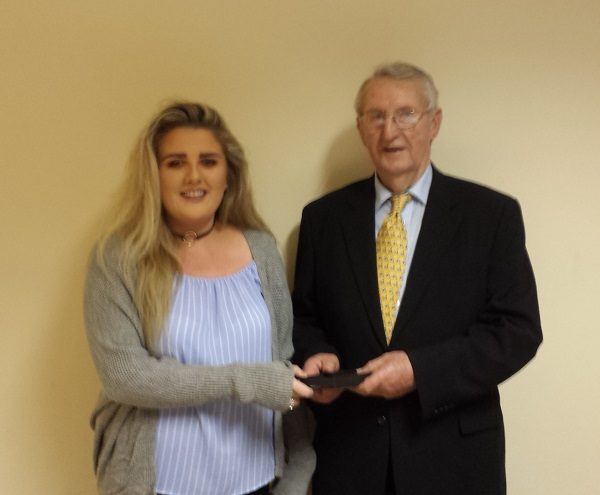 Katie Shanahan receiving her presentation from Jimmy Finn 
.
Borris-Ileigh Juvenile GAA Club (Through Noel O'Dwyer) has been kindly donated Tipperary blue and gold caps from the famous JP McManus Pro-Am golf tournament back in 2010. These caps will be on sale over the coming days.
€3 each, two for €5 or five for €10. If you want to secure a cap/caps please text 087-9582503 with your name and quantity. Thanks for your valued support.
.
Wednesday 24th May the club is doing a clean up in the park at 7pm. We will be tidying up the banks and grass areas where the lawnmower can't reach along with a general tidy up. All available volunteers welcome to assist on the day. Please bring any tools or equipment you think might be useful.
.
Well done to the Scoil Naomh Cualán boys U13 team who are now through to the County Final on Friday 26th, opposition Tipperary CBS. Time 10am. Also, best of luck to U13 Scoil Naomh Cualán Camogie girls who are also through to the County Final on Friday opposition Ballylooby at 11am. Venue: Semple Stadium
---
Tipperary War of Independence Tours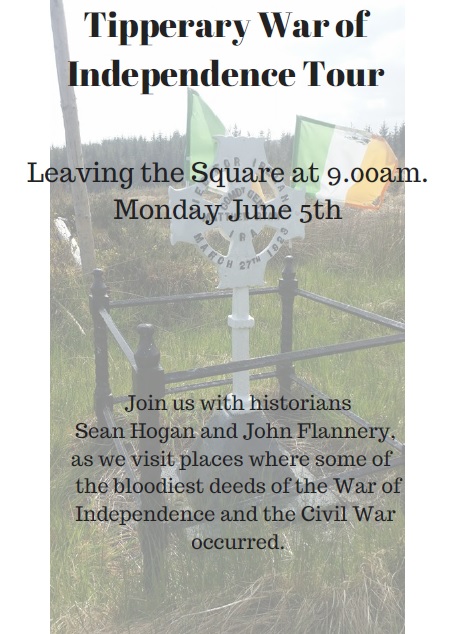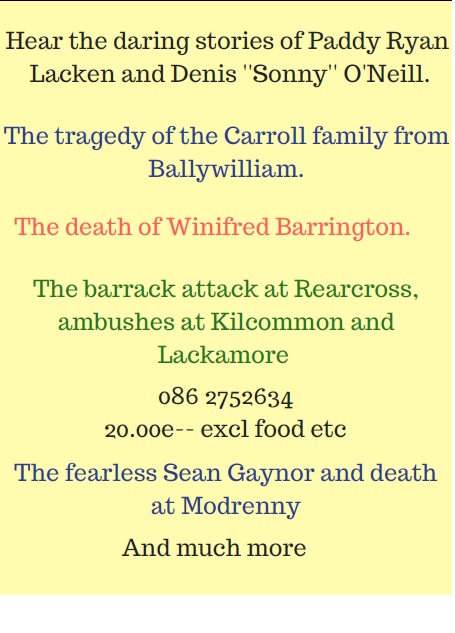 ---
Borris-Ileigh Camogie Club Notes

U12's had another great win over Clonoulty last week.
Final Score: Borris-Ileigh 5-01 Clonoulty 2-03. Scores from: Aoife Fitzgerald 1-00, Ava Bevans 0-01, Chloe Carroll 2-00, Jane Delaney 1-00 & Emma Quigley 1-00.
Remaining fixtures for U12 Summer League as follows:
Weds 24th May vs, Thurles at home.
Mon 29th May vs. Arravale Rovers (away)
Friday 2nd June vs. Templemore (away)
Good luck to all.
The U10's attended the U10 County Blitz last Saturday morning in The Ragg. A great morning was had by all.
It is hoped that as many people as possible can help out with the park clean up on this Wedsnesday 24th May at 7pm. Many thanks.
Best of luck to U13 Scoil Naomh Cualán girls who play Ballylooby at 11am at the Cumann na mBunscol County final on this Friday at 11am in Semple Stadium and to the U13 team playing Tipperary at 10 am.
First U10 County Blitz is scheduled for Saturday May 20th at the Camogie Gounds, The Ragg. Text to issue re: time.
QQI Level 5 Safety & Health in the Workplace course
QQI Level 5 Safety & Health in the Workplace course which is starting on 17th June in Thurles.
Dates: 17th, 24th June, 1st, 8th & 15th July 2017
Venue: Thurles Chamber Enterprise Centre, LIT Campus, Thurles
Time: 9.30am – 4.30pm (delivered 1 day a week over 5 weeks)
**SPECIAL INTRODUCTORY OFFER €350**
(PRICE INCLUDES ALL BOOKS, MATERIALS AND QQI CERTIFICATION)
Please contact Liz on (0504) 49155 for further details or email me: info@2upskill.com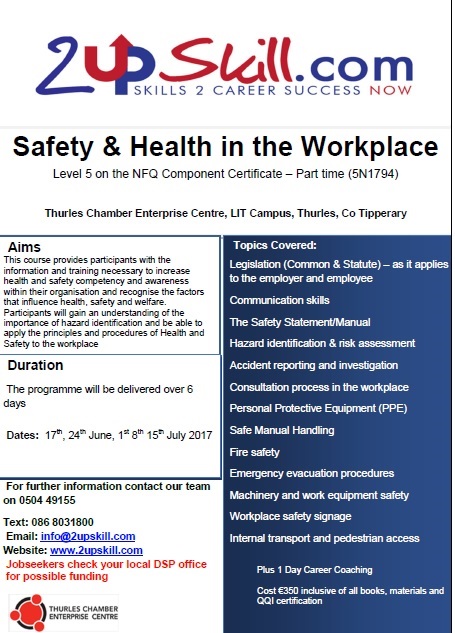 ---
Pic of the Past ………..down memory lane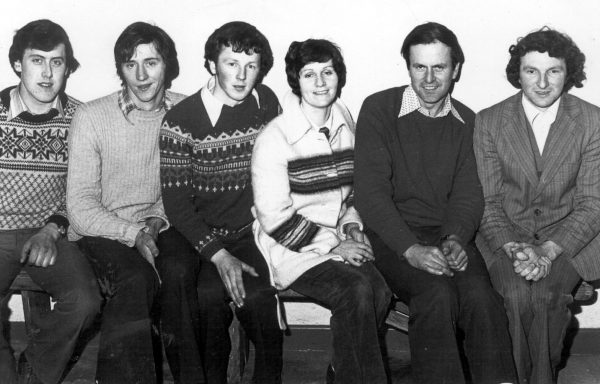 Macra na Feirme
Rory O'Dwyer, Gerry Ryan, Cooleen, James Slattery,
Eileen Glasheen, Lar Brien and Gerry Regan
---
Committee: Enda Ryan, Noreen Fahy, Marie McGrath and Derry O'Donnell
Many thanks to all those who contributed photographs and news items. Remember, we need you to continue to send us material so that we can keep our website current and interesting.Send your email to:info@borrisoleigh.ie
While we make every effort possible to ensure that the information contained in this Website is accurate and complete, we cannot accept any legal liability as a result of the inaccuracy or incompleteness of the information presented to users of this site.
Also, if you like what you see and want to leave a comment, remember to use the Guestbook