23 October 2019
23 Oct 2019
Halloween Disco

---
Bat Workshop
On Wednesday October 23rd Albert Nolan will be providing free biodiversity training on bats starting at 7pm. This will be held in Borrisoleigh Community Centre. Training will involve a short indoor presentation on bats in the community, training on how to use bat detectors followed by a bat walk to record any species present in the village using the bat detectors. This is a fun and educational walk and helps raise awareness around these misunderstood creatures. This event is being facilitated by the Borrisoleigh Community Development Association.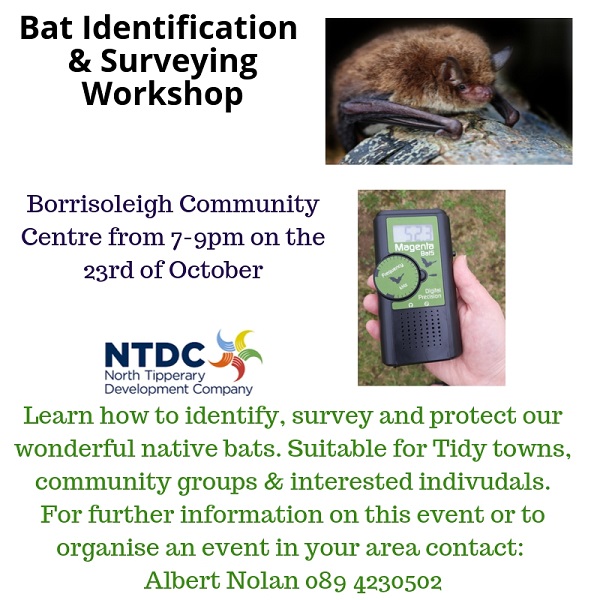 ---
AXA Community Bike Ride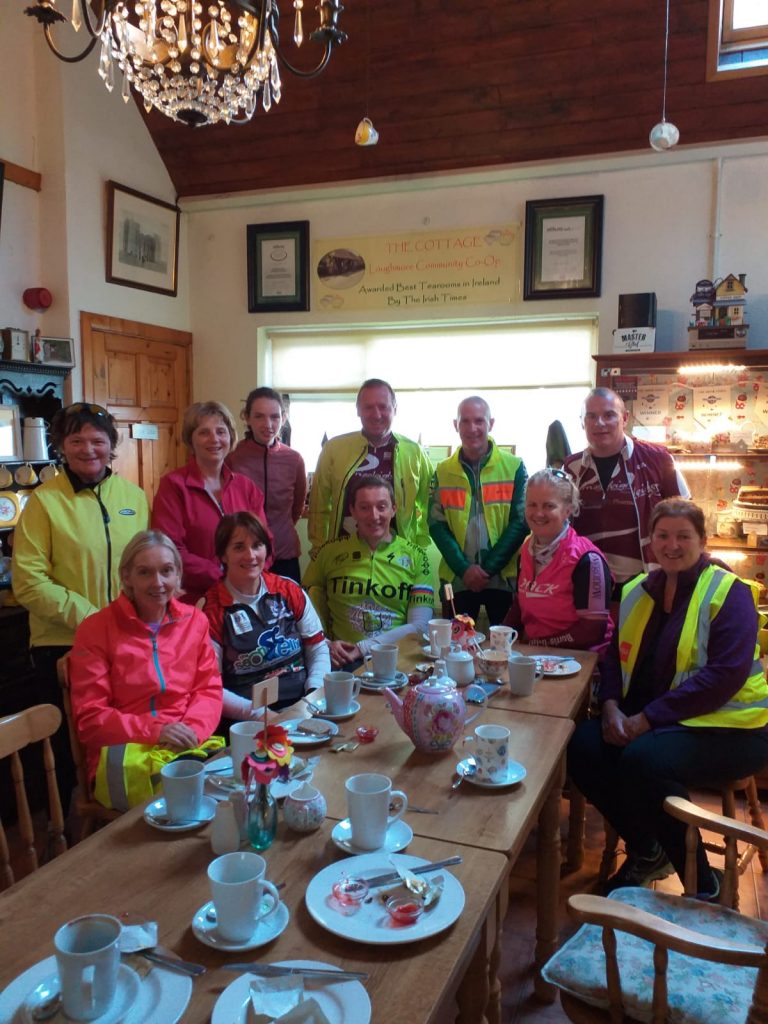 Huge thanks to all the cyclists who turned out on Sunday for both cycles. We had the sun shining on us again and great chat all the way to Loughmore Tea Rooms. Thanks again for the hospitality. We headed home as some were heading to Semple Stadium. Congrats to the hurlers and good luck in the final.
Next weekend we have the challenging cycle on Saturday at 10 o' clock and the easy going cycle on Sunday at 10 o' clock. Check the AXA Community Bike Ride website. Click here and make sure you register for the cycle of your choice.
---
Parish News
Anniversary Masses next weekend
We pray for all whose anniversaries occur, and for whom the following Masses will be offered.
Saturday 26th October 7pm Mass
Dan & Nora Ryan and deceased family members Glenbreeda
Katie & Dick Tynan, Rathmoy.
Sunday 27th October 9.30am Mass
Mick & Ellie Shanahan, St. Bridgids Villas
Sunday 27th October 11am Mass
Jim Molumby, Lower Street
Mattie, Mai and Molly Stapleton, Pallas
Phil Kinane, Mount George
Safeguarding Brief 27th October
How we communicate the Church's safeguarding message, policies and procedures is an important role of safeguarding committee. On the safeguarding page of the Diocesan website www.cashel-emly.ie/safeguarding you will find our safeguarding plans, policies and guidance. We have also produced a safeguarding newsletter and soon an information leaflet on Human Trafficking which will be available in the church and on the website.
Mission Sunday
Thank you for your prayers and generosity towards World Mission Sunday last weekend. Your kindness means so much. It will help missionaries and struggling communities to form and sustain communities of hope and faith. Please know that your continued kindness towards World Mission Sunday makes transformative differences in the lives of people who are suffering. Thank you
You can still support World Mission Sunday! Donate online at www.wmi.ie/donate or give €4 right now by texting the word 'Mission' to 50300. (texts cost €4 World Mission Ireland will receive a minimun of €3.60. Service Provider: LikeCharity. Helpline: 076 680 5278 Republic of Ireland only) You can also donate on line at www.wmi.ie/donate World Missions Ireland, the Church's charity for overseas mission, is responsible for the coordination of Mission Month. Go to www.wmi.ie to learn more about their work.
Revive: "Pull Hope"
A Catholic Space for young people 18-30 to encounter HOPE. Games, Community & Free Pizza. YOU are invited
23rd October 2019 @ 8pm Parish Hall Bóthar na Naomh Thurles. For more information contact
087-0646637.
Thought for the Week
Thanks-a word that brings us alive, for what once was can always give life.
Thanks-a word that keeps us humble, for we know that we depend on others.
Thanks-a word that keeps us joyful, for we know that in every day
there are meetings and the memories, the help and the support given and received,
which are the seeds of life and of growth.
May we be people who are truly grateful, to others and to God
for what makes life worthwhile.
Remember this day
Remember last week,
Remember all times,
And be grateful! –Donal Neary SJ
---
Borrisoleigh Active Social Club

Borrisoleigh Active Social Club are holding a fancy dress Halloween party on Monday October 28th @ 8pm in Finn's Bar. Food and sing song with Phil Maher and friends. Spot prizes and a "Special " prize for best dressed. Cover charge €5.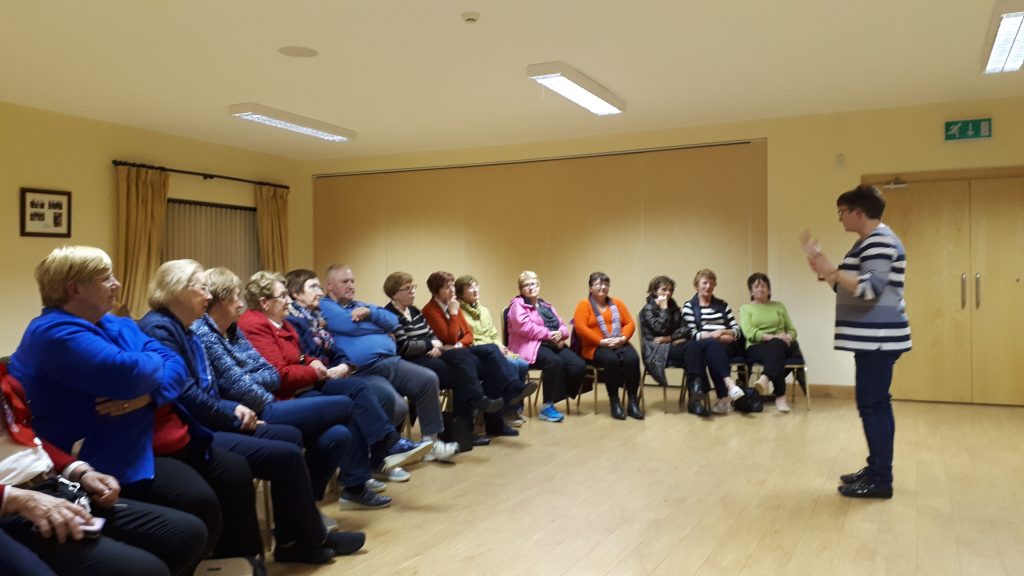 Last Wednesday we had a First Aid class with Christine O' Dwyer. This was very informative and interesting and we had a good crowd. Our thanks to Christine for providing the class for us.
Our next meeting takes place in the Community Centre Borrisoleigh on Wednesday November 6th at 8pm.
Reminder to give in your name if interested in going to the Garda College Templemore on Monday November 11th to Lucia on 0863961211.
---
Tipperary Mountain Trekking Centre
Saturday Children's small group riding lessons
Samhain Pony Camp 29th and 30th October
Creative Writing Weekend with Charlie Adley 23rd and 24th November
Contact Clare at 087 410 6868
Rusheen
Borrisoleigh
---
Yoga Classes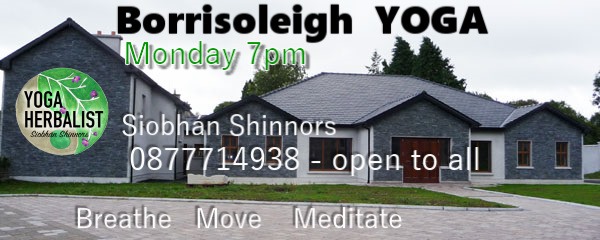 Pic of the Past
---
Committee: Enda Ryan, Noreen Fahy, Marie McGrath, Derry O'Donnell and Fiona Max
Many thanks to all those who contributed photographs and news items
Remember, we need you to continue to send us material so that we can keep our website current and interesting.
While we make every effort possible to ensure that the information contained in this Website is accurate and complete, we cannot accept any legal liability as a result of the inaccuracy or incompleteness of the information presented to users of this site. We also reserve the right to edit material for suitability to a website format.
Also, if you like what you see and want to leave a comment, remember to use the Guestbook