St. Joseph's College
Munster School's Athletics Championships
St.Joseph's College Borrisoleigh students competed successfully in the Munster Schools Athletics Championships in Castleisland. All nine athletes came home with medals. The Junior relay team of Aaron Ryan , James Sage , Eoin Kelly , Lewis Doyle and Alex Reynolds were crowned Munster Champions on the day and will go on to represent their school in the All-Ireland. The Junior Boys also received the Cup for overall Best East Munster School and tied with St Flannan's for top Munster Junior Boys school. A great achievement from just 5 junior boys. The Minor boys relay team of William Maher, Colm Ryan , Gavin Ryan and Tom McCutcheon received bronze medals. Tom McCutcheon also came 3rd in 100 m sprint. Two of the Junior boys will go on to represent their school in individual events in the All-Ireland in Tullamore. James Sage received the Silver medal in 80m hurdles and Alex Reynolds was crowned Munster Junior boys Discus Champion. We wish the Junior boys Relay team and James and Alex in their individual events the best of luck on June 2nd in Tullamore.
---
Track Attack
Running Fever to hit Borrisoleigh
With the thriving nature of road running in Tipperary, the contagious fever is set to effect the village of Borrisoleigh on Tuesday 26th of June when the Track-Attack Club will play host to their fifth annual 5km road race in what will potentially be a great advertisement for the sport in general.
Sponsored by Declan Maher Financial Services, the event has grown year on year and with the attractive race package that has been put together for this year, the trend should well continue on its upward curve.
The defending men's two time champion is Irish International athlete Sean Tobin from the Clonmel Club while Borrisokane's Siobhan O'Doherty have been successful on all four occasions to date in the women's race.
This year's winners (men & women) will receive €200 each for their efforts with the second place athletes getting €100 and the third finishers getting €75. We are have a bonus for the course record and in what could well be a unique offer, we offer a €100 bonus to each of the top three if they can overcome the standing barrier. The course records are 14:58 for the men and 16:42 for the women with both times set by the aforementioned Sean Tobin and Siobhan O'Doherty.
Hand crafted slate trophies will be on offer to the first Under 18 boy and girl and the first man and woman in the Over 40, 50 and 60 age-groups. Prizes are also on offer for every 25th finisher.
The big change to this year's event is the change to the team structure. Teams in this year's event will consist of 3 men and 3 women with the winners being the first club to have their name etched on the Track-Attack Perpetual Cup while also picking up a prize of €300. Athletes who finish in the top 3 individual places are not permitted as members of a team but overage and junior grade members are permitted as team members.
The race holds a permit from Athletics Ireland and will be timed by Premier Timing Systems. The entry fee is €10 with a €5 fee for under 18's.
---
Borrisoleigh Active Social Cub
Tipperary Sports Partnership ran a Go For Life Sports Festival last week in Thurles. Two of our members took part and hopefully they will bring back to the club some of the tips and advice that they got on the day.
We've a group heading to the Bloom Festival in Dublin next week. There are concession tickets available so contact Lucia 086 3961211 if you're interested.
Another trip is on the cards. We are organising a trip to Belfast in October. From Oct 15 to 18 going by coach and staying in the Malone Lodge Hotel Belfast. 3 nights Dinner Bed and Breakfast. 2 day trips and live music in the hotel. For more details contact Lucia.
We will be visiting Glenstal Abbey Murroe Co Limerick next month. Full details next week.
For our end of season night out on June 6th we will be going for a Chinese meal in Borrisoleigh. Names can be given to Dolores, Eileen or Lucia by Mon June 4th.
---
Borris-Ileigh Camogie Club Notes

U10's continue to train strong in preparation for upcoming County Blitz's. Proposed dates as follows: May 26th, June 30th, July 28th, August 25th & September 29th.
Further upcoming U8 blitz's: June 9th, July 14th, August 11th & September 8th.
---
Marian Hall Lotto Results
Lotto results 12 14 17 25.
No winner
One match 3: Mary Lanigan Ryan
Next week's lotto: €7.750
Next Tuesday night is the final night of bingo here in Borrisoleigh. We wish to thank all our patrons for their support over last number of years. Marian Hall Committee
---
Borrisoleigh Festival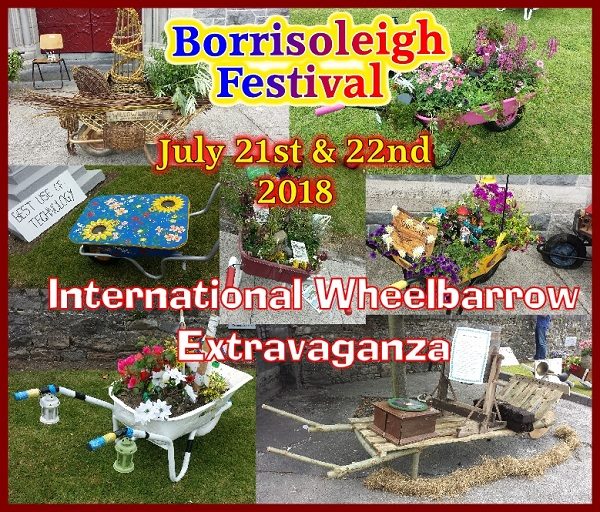 Borrisoleigh Festival is on 21st and 22nd July this year and the committee would like input as to what kind of entertainment they would like to see for children. If you have any suggestions you can contact any committee member or message the festival Facebook page.
Now is a good time to start thinking about your wheelbarrow design in time for the International Wheelbarrow Extravaganza!
---
Set Dancers
---
Drom & Inch Camogie Club Fun Run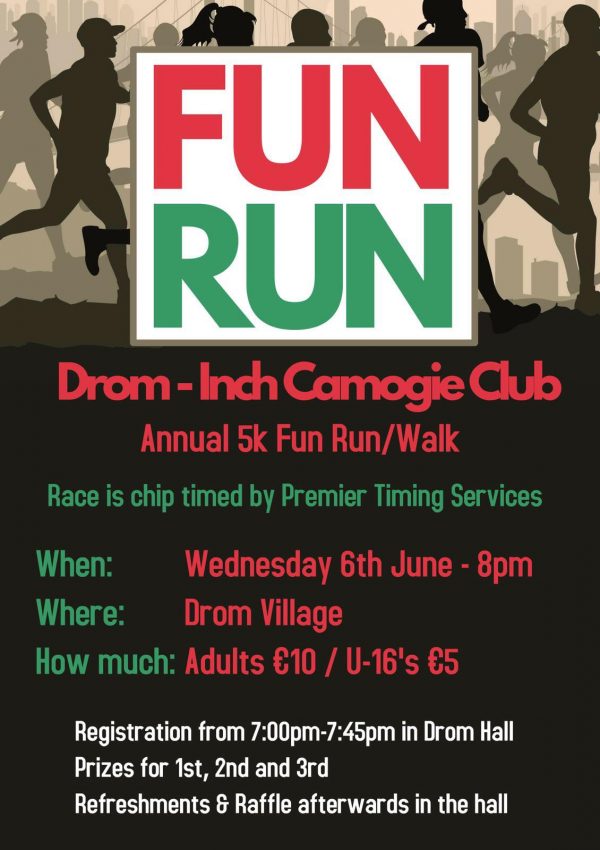 ---
Day of history in Glenkeen
On a day of glorious sunshine on Saturday last (19th), a day that will live long in memory, took place beneath the shadow of the old ruined monastery, in famous Glenkeen graveyard. Under the guidance of John Flannery of Ormond Historical Society and John Connors of TiDR (Tipperary in the Decade of Revolution), a history tour, spanning the period of the assimilation of the Gaelic chieftains and the Norman ascendency with the treaty between the O'Dwyers and DeBurgo, right up until modern times, took place.
Beginning around midday, with the recitation of a welcoming poem composed by Derry Bourke, this was followed by the blessing of the new information board, by Fr Gerard Hennessey PP. John Flannery commenced the historic part of the programme with a talk on Thomas Burke, step father of W.T. Cosgrave and father of Frank, one of the first fatal casualties of the 1916 and also father of Joan, who went on to become a famous opera singer. In total, twenty three different monuments were visited and those buried beneath them spoken about.
A group of local dramatists, under the stewardship of Paul Boyle, conducted four separate pieces of pageantry. The first was a re enactment of a fiery speech delivered outside the chapel in Borrisoleigh after Sunday Mass in the course of the 1934 local government campaign. The significance of the piece was the divide between the rate payers and labourers, which was a huge issue of that time. The next piece was about the public meeting held in Borrisoleigh in December of 1938 that was convened to discuss the proposed closing of the Glenkeen graveyard. The acting did truly reflect the scale of anger that the proposal created in the neighbourhood, when it was threatened, among other things, "that the guns would be taken down from the thatch and out of their hiding places".
The third re enactment centred on a woman, Georgina Bennett, who visits the graveyard in 1949, seeking the burial place of her parents and family. In conversation with two county council workers there, she tells the story of the demise of her family. The drama continues with her being taken back thirty years, to 1919. This sees Miss Bennett in Westminster Guildhall. There she is giving evidence for the defence in the court martial of an Australian army chaplain, Fr Thomas O'Donnell.
The final piece of drama saw Hannah Bracken, wife of JK Bracken, chair a rather fractious meeting of Templemore UDC. JK Bracken, is loud in defence of his under siege wife and also in defence of his business interests.
Sean Hogan, historian, from Puckane, gave an excellent talk on the life of Seamus Burke TD of Rockforest and his role in the governments of the early years of the state. Orla Ryan was on hand to read various excerpts from newspaper archives and Paudie Bourke supplied the music with his bagpipes.
---
Book Launch – Change of date!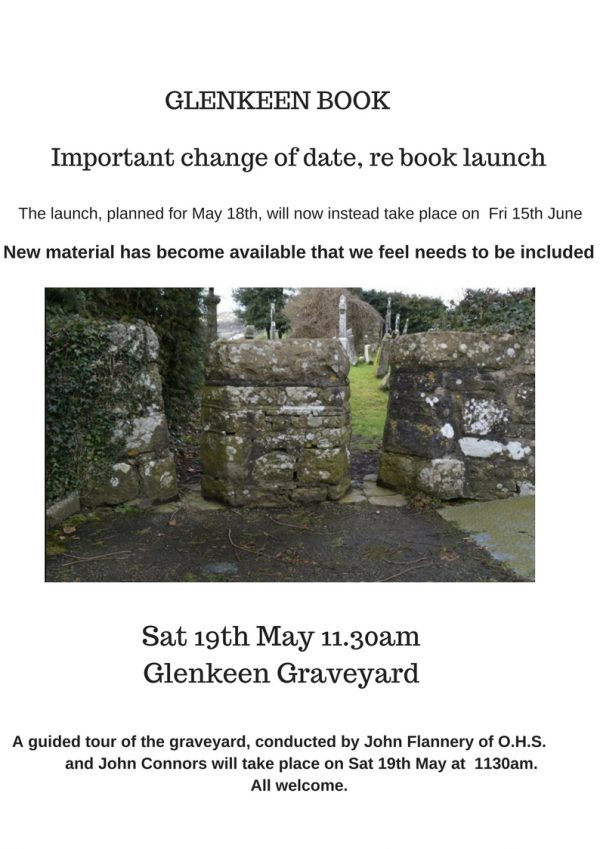 Please note: Email address should read glankeen@tipprevolution.ie
---
Inch Youth Drama
Following on from their recent performance of 'Fortunes and Misfortunes' Inch Youth Players presented a cheque for €2000 to the Le Chéile ASD Unit in Scoil Naomh Cualán. We would like to thank all who attended the play which in turn supported this most worthy cause.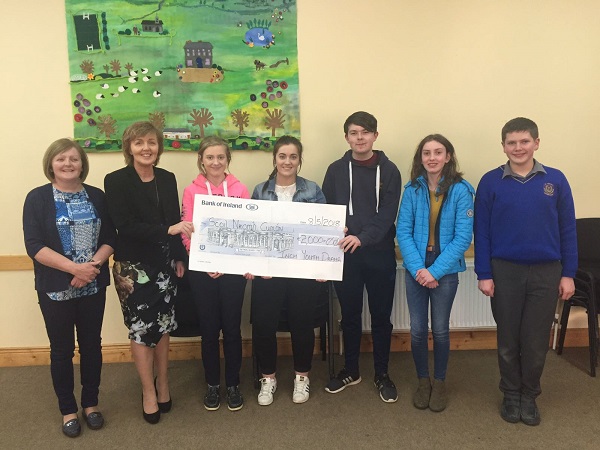 ---
First Annual Philip Ryan Céilí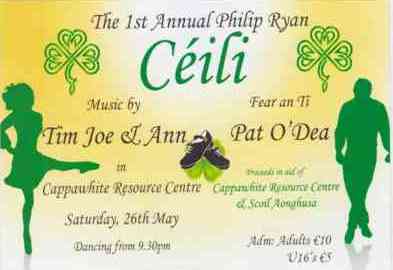 On Saturday 26' May a Ceilí will be held in Cappawhite in memory of Set Dancing teacher Philip Ryan. Philip spent many years teaching steps to young and old throughout Tipperary and we were very lucky to have had him here in Borrisoleigh for many years bringing huge success in Fleadh and Scór competitions. He also taught successfully in our neighbouring parishes of Upperchurch and Templederry where he made many friends and is fondly remembered, Philip passed away last year following a battle with cancer. His many friends wish to honour his memory and what better way than a night of dancing, Music will be provided by Tim, Joe and Ann O'Riordan from Cork and a great night is guaranteed. Proceeds from the night will go to the Cappawhite Resource Centre and Scoil Aonghusa Cashel where Philip worked before his untimely death.
Tickets are on sale and can be purchased from Betty Treacy (Borrisoleigh) 087 2558770 and Teresa Shanahan (Templederry) 087 7627219
---
Scoil Naomh Cualán
A great win for Scoil Naomh Cualán this week after they were crowned U13 North Champions with a win over Carrig N.S. They now progress to the County Final in Semple Stadium.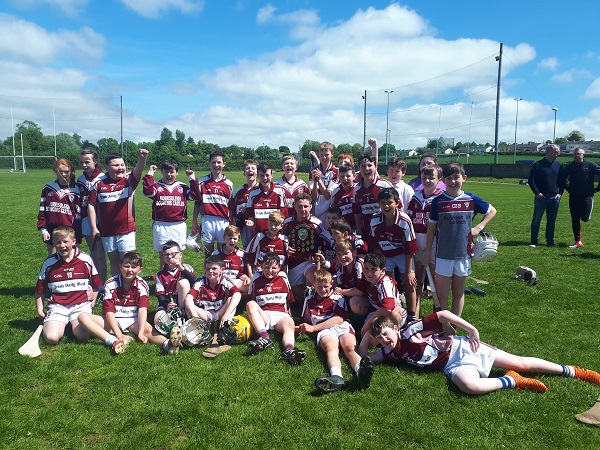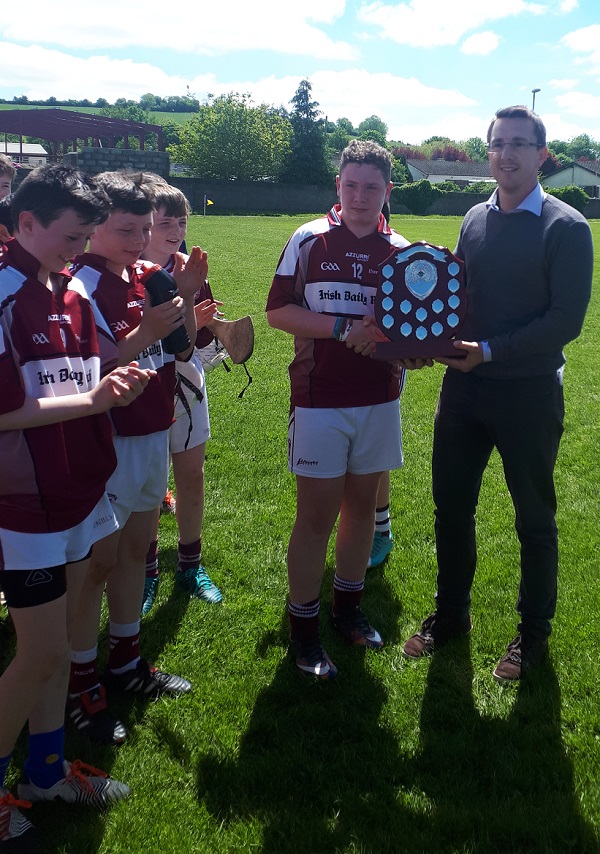 Summer Care
---
Pic of the Past ………..down memory lane
---
Committee: Enda Ryan, Noreen Fahy, Marie McGrath, Derry O'Donnell and Fiona Max
Many thanks to all those who contributed photographs and news items
Remember, we need you to continue to send us material so that we can keep our website current and interesting.
While we make every effort possible to ensure that the information contained in this Website is accurate and complete, we cannot accept any legal liability as a result of the inaccuracy or incompleteness of the information presented to users of this site.
Also, if you like what you see and want to leave a comment, remember to use the Guestbook