23 February 2022
23 Feb 2022
Melbourne 7's
---
Borris-Ileigh Camogie Club

Julieanne Named as Joint Tipperary Captain:
A huge congratulations to Julieanne Bourke who have been named as joint captain of the Tipperary Senior Camogie team for the Littlewoods National League.
It's a fantastic honour for Julieanne and a just reward for dedication, her attitude towards the game and her outstanding playing ability. We would like to wish Julieanne and the second joint captain Grace O'Brien the very best of luck in their role of leading the Premier County.
They have got off to the perfect start after registering big tallies in their opening matches which resulted in comprehensive victories over Down and Offaly respectively.
Management Team 2022:
Our management teams for our various teams are now in place so as soon as the weather becomes a bit more accommodating, we'll hopefully see plenty of action in the Park every night. The teams are as follows:
Under 6: Trevor Hassett (manager), Emma Kelly, Jane Delaney and Michael Small.
Under 8: Aoife Max, Maria Cowan (Joint managers), Mark Bourke and Marie Maher.
Under 10: Edel Groome (manager), Seamus Tynan, Martin Treacy, Ava Bevans and Joanne Ryan.
Under 12: Christine Ryan (manager), Liam Stapleton, Nora O'Brien, Siobhán Groome, Michelle Maher, Mikey Bevans and Pat Keane.
Under 14: Mark Stapleton (manager), Mossy Ryan, Julie Kelly, John Joe Maher, Julieanne Bourke, Aedin Hogan, Mary Rabbitte and Denis Kelly.
Under 16: Helen Kiely (manager), Jimmy Slattery, Siobhán Stapleton, Liam Stapleton.
Under 18: Mike Galvin (manager), management team to be confirmed.
Intermediate: Seán Maher (manager), Julie Treacy, Mike Galvin and Michéal Tierney.
Club Membership 2022:
The Foireann system is now up and running for membership to be paid. All membership must be paid through this system. If you need any assistance with this, please feel free to contact our club registrar Siobhán Groome.
The fees for the year are as follows: Adult player €60, Under 18 player €35, Non playing full member €20, Social member €10, Family membership €100.
---
Parish News

Anniversaries: Saturday 26th Feb @ 7pm Mass: Tim and Bridget Ryan, Ballyroan House.
Sunday 27th February @ 11am Mass: Mary Molumby, Lower Street.
Diocesan Pastoral Plan
Dear Parishioners,
You are warmly invited to a meeting to present the pastoral plan Seeds of Hope on Tuesday 1st March from 7:30-9pm in the Templemore Arms.
Seeds of Hope is our plan for all the parishes in the Diocese of Cashel and Emly for the next five years and emerged from the listening process which took place from 2016-2019.
Many of you were involved in the listening process and your discussion and feedback is reflected in the plan.
We look forward to meeting you.
Katherine Dullaghan and Sadie Moloney
Pastoral Development Office
Tipperary Town.
Divine Mercy Conference: Week-end starting 26th at 6pm. Theme
"Eucharist Jesus". Available free on www.divineconference.com or audio only www. RadioMaria.ie or Saorview 210. List of speakers available on Poster back of church or next weeks Borrisoleigh website.
Thought for the week: Many of life's failures are people who did not realise how close they were to success when they gave up.-Thomas Edison.
---
Mindful Yoga & Meditation Classes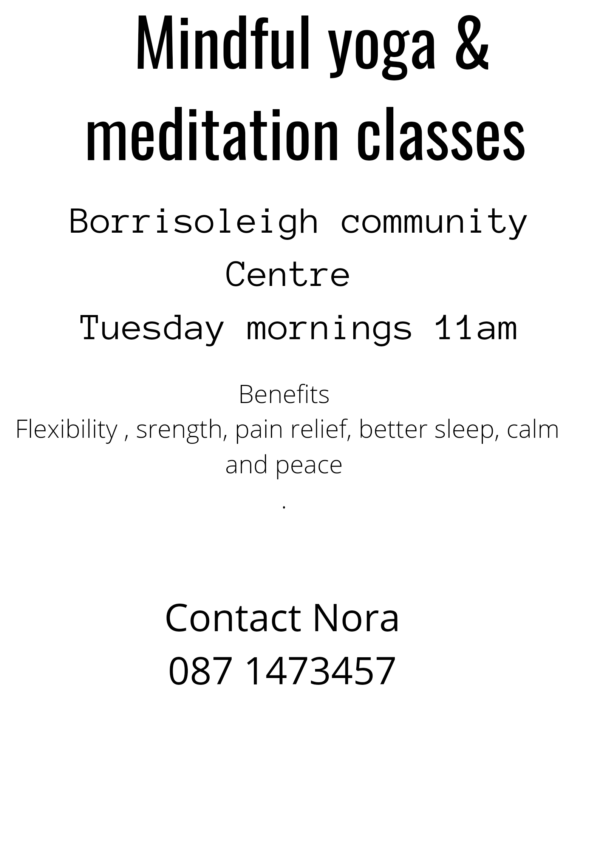 ---
Scoil Naomh Cualán Open Night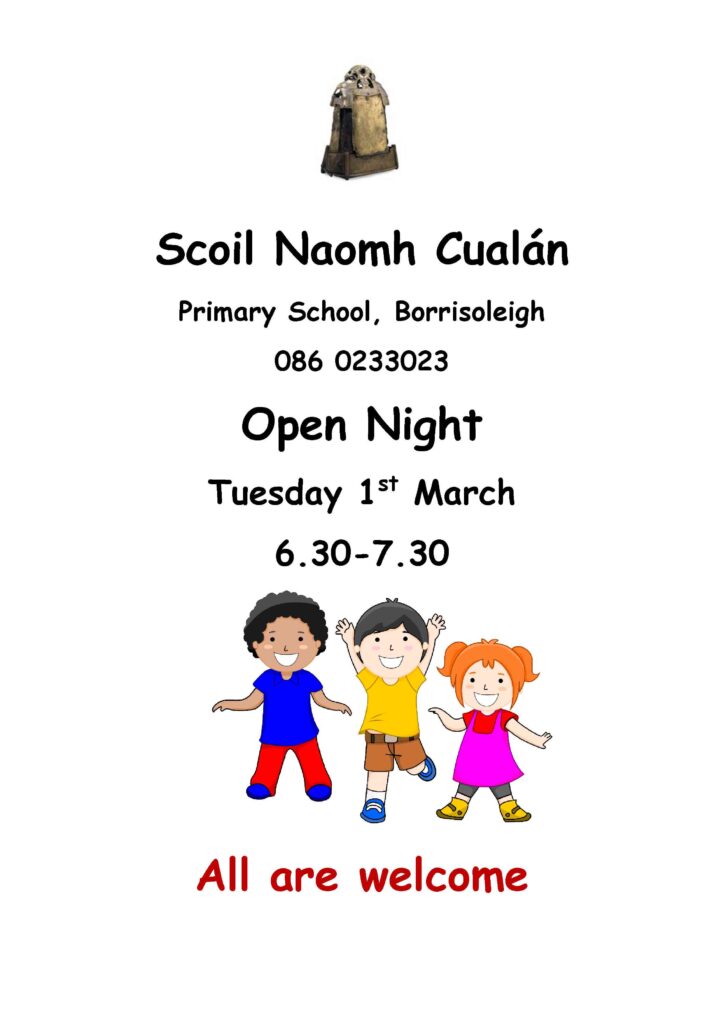 ---
Borrisoleigh Community Development Association AGM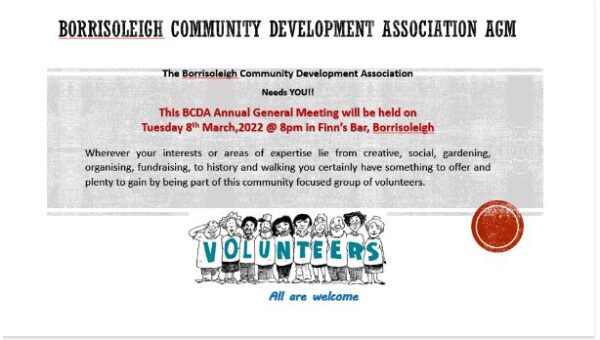 Borrisoleigh Community Development Association Notes
Tipperary PPN is running a Grant Application Writing workshop, on Thursday 3rd March 2022 from 7pm-9pm. To book you place for this workshop please visit https://www.eventbrite.ie/e/grant-application-writing-workshop-tickets-255239136127
Ensure to book in early, the workshop in February was oversubscribed!
Below are the objectives that can be achieved by attending this one evening course:
Understand the components of a grant opportunity and to recognise if a grant opportunity is suitable for your group.
Develop the attitude and skills needed to write competitive grant proposals successfully.
How to manage the challenges of writing a successful grant application.
Gain competence in writing typical grant components, including a statement of need, implementation strategies, monitoring & evaluation, classify outcomes & impact, budget attachments, and an executive summary.
Click here to view the Tipperary PPN January newsletter with 1. PPN News & Members Corner; 2. Funding/ Grant Opportunities; 3. Public Service Announcements, Training and Upcoming Local Events
---
New Photos added to the Gallery
Some new photographs added to our gallery. Click here to view.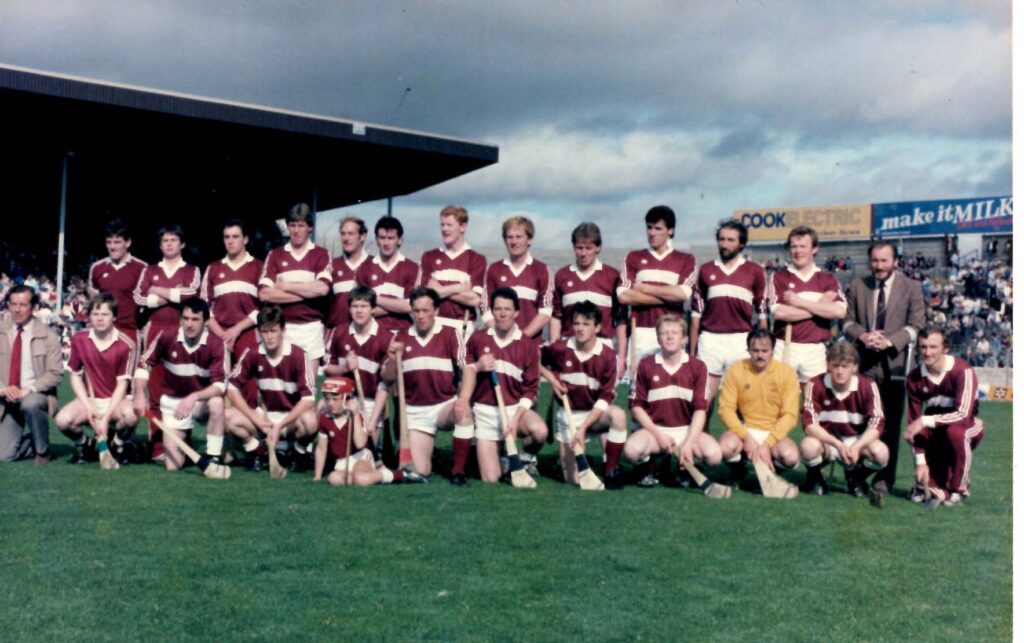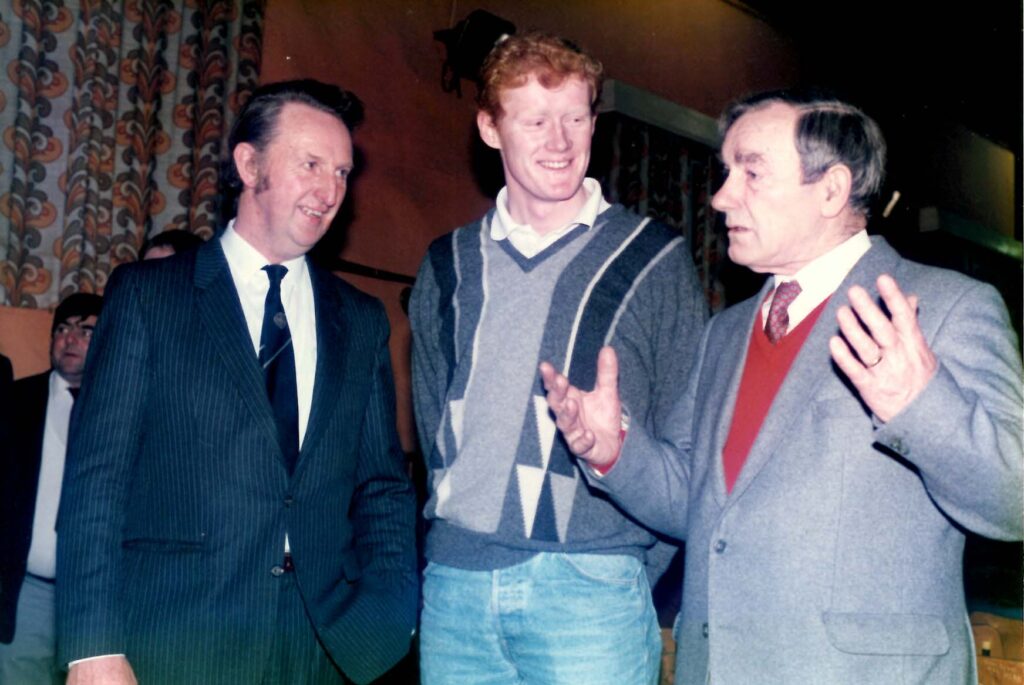 ---
Pic of the Past
---
Your Website Needs You
Committee: Enda Ryan, Noreen Fahy, Marie McGrath, Derry O'Donnell
Many thanks to all those who contributed photographs and news items.
Remember, we need you to continue to send us material so that we can keep our website current and interesting.
Send your email to: info@borrisoleigh.ie
This website is supported by Borrisoleigh Community Development Association.
While we make every effort possible to ensure that the information contained in this Website is accurate and complete, we cannot accept any legal liability as a result of the inaccuracy or incompleteness of the information presented to users of this site. We also reserve the right to edit material for suitability to a website format.
Also, if you like what you see and want to leave a comment, remember to use the Guestbook