23 December 2020
23 Dec 2020

Wishing everyone a very Merry Christmas and a Happy New Year from the Website Committee. We wish to thank you for all your support throughout 2020.
---
St. Brigid's Borrisoleigh Appeal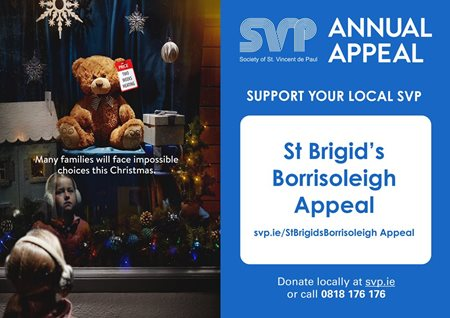 By supporting our Annual Appeal, you can help a family through this winter. Your help can get them back on their feet and can give them a brighter future.
This Christmas please support St Brigids SVP Borrisoleigh Annual Appeal by donating through the link below:
---
CANCELLED!!!!
St. Stephen's Run/Cycle in aid of Borrisoleigh Community Centre
St Stephen's Day Run/Walk/Cycle Cancelled
Due to the uncertainty caused by Covid-19 this Christmas, a decision has been made to call off this years run/walk. Please God next year we'll be back to normality and we'll be back bigger and better. Thanks for your support of the last number of years and we look forward to seeing you all on St Stephen's Day 2021.
Have a happy and safe Christmas
The Community Centre Committee
---
Since I came here three years ago, Christmas masses have been very well attended with full churches. It was heartening to see so many people coming to mass and visiting the crib.
Sadly this year, it will be completely different. Due to Covid-19 and Government regulations we are limited to 50 people only attending each mass. Also there have to be one hour between masses to allow for cleaning and ventilation.
No one is allowed to congregate on church grounds.
The duration of each mass is limited to one hour and this includes people entering and leaving the church.
The wearing of face masks is obligatory for everyone over 13 years of age.
There will be 3 masses on Christmas Eve and 3 on Christmas Day and they are as follows:
Christmas Eve Thursday 24th December
11am Borrisoleigh Church
6pm Borrisoleigh Church
8pm Borrisoleigh church
Christmas Day Friday 25th December
8am Borrisoleigh
9.30am Ileigh
11am Borrisoleigh
The Community Centre will be open to cater for the overflow of people for three masses i.e. 6pm and 8pm on Christmas Eve and 11am on Christmas morning. Holy Communion will be distributed in the Centre at each of these masses.
Remember there is no obligation to attend mass on Christmas Day. Instead you may like to join as a family in the celebration of mass on-line from Borrisoleigh Church at twitch.tv/borrisoleighandileigh (all one word and all small letters) or you may watch it on R.T.E at 11pm on Christmas Eve and 10am on Christmas Day.
You may like to attend mass on Christmas Eve morning or on one of the twelve days of Christmas i.e. 26th of December – 6th January inc.
Stewards will be in place in the church and in the Community Centre to help and guide you. Please co-operate with them. Volunteers are needed to clean the church after each mass. Names can be given to Fr. Hennessy, Noreen Ryan or to the parish centre.
Thank you in anticipation for your support, understanding and co-operation. It is very much appreciated.
Finally may I wish you all a very Happy, Holy and Peaceful Christmas and every blessing and happiness for the New Year
Fr. Hennessy.
---
Wanted!!!!
Old Raleigh Bicycle (Men or Women)
If anyone has an old Raleigh Bicycle pre 1960 model if possible for sale with a view to restoring please contact
---
Borris-Ileigh Camogie Club Notes
Julieanne is Minor Manager:
Current Tipperary senior camogie player Julieanne Bourke will take charge of the club's minor team for 2021. Joining her on the management team will be Nora O'Brien.
Other selectors have been ratified for coming year. They are as follows: (Under 10) Siobhán Groome, Carmel Harkin, Seamus Tynan and Joanne Ryan. (Under 12) Christine Rabbitte, Michelle Maher, Pat Keane, Liam Stapleton and Seán Maher. (Under 14) Julie Kelly. (Under 16) Siobhán Stapleton and Jimmy Slattery.
---
Pic of the Past
Tim and Margaret Costello, Post Office,Pallas Street, grandparents of Mary who is Postmistress at present.
---
Your Website Needs You
Committee: Enda Ryan, Noreen Fahy, Marie McGrath, Derry O'Donnell
Many thanks to all those who contributed photographs and news items.
Remember, we need you to continue to send us material so that we can keep our website current and interesting.
Send your email to: info@borrisoleigh.ie
This website is supported by Borrisoleigh Community Development Association.
While we make every effort possible to ensure that the information contained in this Website is accurate and complete, we cannot accept any legal liability as a result of the inaccuracy or incompleteness of the information presented to users of this site. We also reserve the right to edit material for suitability to a website format.
Also, if you like what you see and want to leave a comment, remember to use the Guestbook.