23 August 2017
23 Aug 2017
Borris-Ileigh GAA Club Notes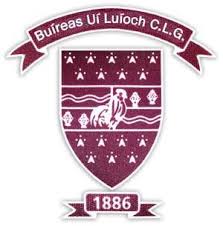 Senior:
A huge congratulations to our Seniors on reaching the clubs first North Senior Hurling Championship Final in 7 years after a great comeback victory over Templederry Kenyons in McDonagh Park in Nenagh last Sunday evening. We found ourselves 5 points down with 5 minutes to go with the score at 0-19 to 0-14 but thanks to two late goals from Brendan Maher and Conor Kenny we managed to come out on top on a score line of 2-16 to 0-20. Well done to all involved, we can now look forward to a North Final against Nenagh Eire Og on Saturday the 2nd of September in McDonagh Park, Nenagh at 6pm.
Minor:
Our Minor's recorded a good victory over Borrisokane in the North Minor 'B' championship last week. They came out on top on a score line of 2-16 to 3-08. Well done to both players and management.
U14:
Well done to our U14 hurlers who also booked their place in the North 'B' Championship Final last Wednesday evening after a hard fought victory away to Newport. In a game that ebbed and flowed from start to finish the teams went in level 1-05 a piece at the break. An early second half goal from Eddie Ryan set us on our way to a 3 point victory on a score line of 2-10 to 2-07. They will now go on to play Ballina in the final. Well done to all involved.
Liam Devaney:
Borris-Ileigh GAA Club would like to extent its deepest sympathies to Devaney family following the passing of one of the clubs greatest Liam Devaney.
A fantastic servant to both club and county he won the Dan Breen Cup with Borris-Ileigh in 1953, Liam was also a huge part the infamous Tipperary team of the 60's who captured the Liam McCarthy Cup 5 times in that period, including being awarded the Texaco Hurler of the Year Award in 1961.
Renowned for his versatility, the Liam played in five different positions in his five All-Ireland victories and lined out in every position except full-back during his time with the Premier County.
May he rest in peace.
U12:
Well done to our U12 hurlers who fought bravely from start to finish in an epic contest against Holycross Ballycahill in their 'A' County Semi Final last Monday evening in The Ragg. The game finished in a draw after extra time on a score line of 3-09 to 2-12, with the teams being level at both half time and full time in both normal and extra time. A fantastic contest from start to finish a draw was the fairest result. The replay has been fixed for Sunday the 27th of August in Dundrum at 2pm. Best of luck to the players and management, hopefully they can come out on top this time around.
Upcoming Fixtures:
Our Senior's will play the North Senior Hurling Championship Final against Nenagh Eire Og on Saturday the 2nd of September in McDonagh Park, Nenagh at 6pm. A victory would give us our first North title since 2007 when we were victorious over the same opponents.
Our Juniors will be action this Friday evening the 25th of August in Round 4 of the North 'A' Hurling Championship versus Burgess in Kilcolman. This game will take place at 7pm.
Our Minor's will attempt to book their place in the North Minor 'B' Hurling Championship Final when they take on Templederry/Ballinahinch in the Semi Final on Thursday the 31st of August. This game will take place at 7pm in Dolla.
Our U12's play will play their County U12 'A' Hurling Championship Semi Final Replay against Holycross Ballycahill on Sunday the 27th of August in Dundrum at 2pm.
Best of luck to all players and management in all grades.
All support greatly appreciated.
Lotto:
Our Jackpot is now up to a MASSIVE €18,000 for the coming week. This weeks numbers were 1, 6, 9 and 11.
Tickets are available at all local shops and pubs.
4 – LUCKY DIP WINNERS – €50.00 each
Philip O Connell, c/o Sheila Delaney
Deirdre Bradshaw, Coolderry
Tom McInerney, Ballyroan
Betty & Nuala, c/o Coffeys Bar
Well done to all this weeks lucky dip winners. If you wish to play online you can do so here: https://www.locallotto.ie/localhome.asp?LL_ID=549
---
Playing for Ireland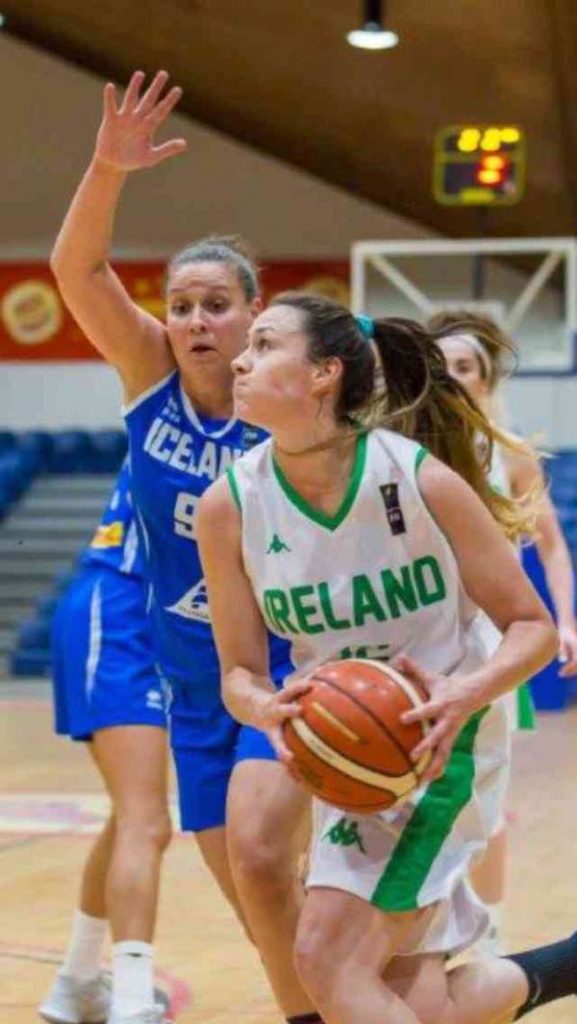 Fiona O'Dwyer playing basketball for Ireland. Fiona is grand daughter of Bridget O'Dwyer Currabaha, daughter of Donnacha O'Dwyer, Stamford
U S A
---
Evening Courses
Tipperary Education and Training Board is now enrolling for Evening Training Programmes in Cashel, Tipperary, Thurles, Clonmel, Carrick on Suir and Nenagh.
Courses are available in:
Palliative Care,
Afters School Support,
Team Leadership,
Hairdressing, Makeup,
Art,
Security,
Catering,
Health & Safety and many more.
Courses fees may not apply if you are in receipt of a social welfare payment. Please contact 052 613 4348 or www.tipperaryetb.ie
---
Borrisoleigh Historical Society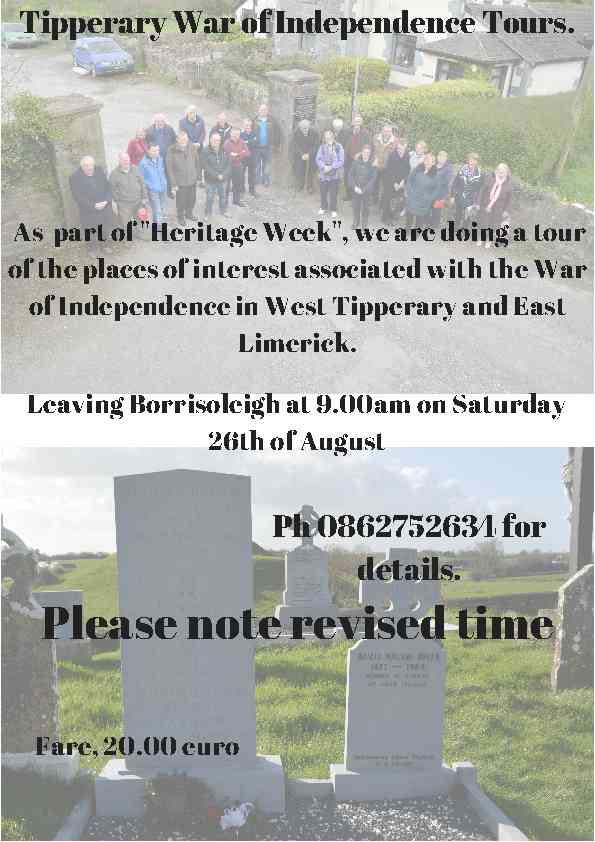 ---
Tipperary Mini Marathon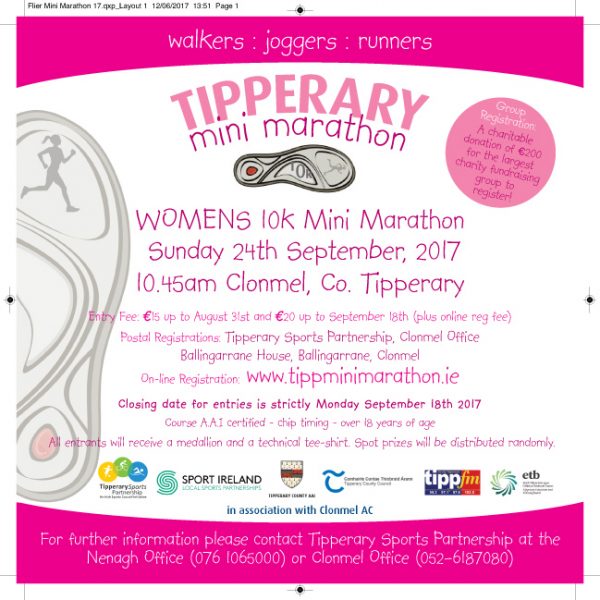 ---
Parochial House Telephone Number
The telephone number for the Parochial House has changed. To contact Fr. Hennessy please use the following number 0504 51935.
---
Borris-Ileigh Camogie Club

Seniors unfortunately lost out to Munster champions Burgess-Duharra last Saturday in a tough game, fought well by our girls.
Final Score: Burgess-Duharra 0-10 Borris-Ileigh 3-14.
Scores from: 0-09 Nicole Walsh 0-01 Megan Ryan.
Panel: Emma O'Meara, Kate Delaney, Julieanne Burke, Niamh McGrath, Tara Mockler, Teresa Ryan, Noirín Stapleton, Aoife Delargy, Megan Ryan, Aedín Hogan, Alice Fogarty, Nicole Walsh, Julie Kelly, Mary Bradshaw, Sarah Kinane, Avril Ryan, Sarah Louise Costelloe, Emer Lyons, Emma Taylor & Aoife Ryan.
Next game vs. Nenagh at home on next Saturday August 26th at twelve noon. Your support would be appreciated.
Following fixture:
Sat 16th Sept at noon away to Cahir
Junior B girls lost out to a very strong Ballina last Friday and play Lorrha next at home on Saturday September 16th.
Remaining fixtures:
Sat 23rd Sept at 12noon away to Burgess
Sat 30th Sept at 12noon at home to Silvermines
Remaining Minor fixtures:
Away to Ballingarry TBC
Mon 28th Aug at 7pm at home to St Mary's
U12's have a busy week this week, and play first round of the Autumn league this Friday at home at 7pm vs. Boherlahan. Also, this weekend on Saturday morning at 10am we host cluster set of blitz's playing Toomevara, Roscrea & Templemore.
Good luck to all.
U8's played at the County Camogie grounds blitz day last Saturday in the Ragg. A great morning's camogie was had by all.
---
Tipperary County Council Draft Plan
"Opportunity to input into the future of our town."
Have you say, Tipperary County Council have prepared a draft plan for the town. It is currently on display. See link below. Opportunity to have your say in the future development of our town. All submissions on the draft must be received in the planning office before close of business Monday 21 st August. Email planning@tipperarycoco.ie with your suggestions.
http://www.tipperarycoco.ie/sites/default/files/Part%20III%20-%20Proposed%20Variation%20NTCDP.Settlement%20Plans_1.pdf
---
Pic of the Past ………..down memory lane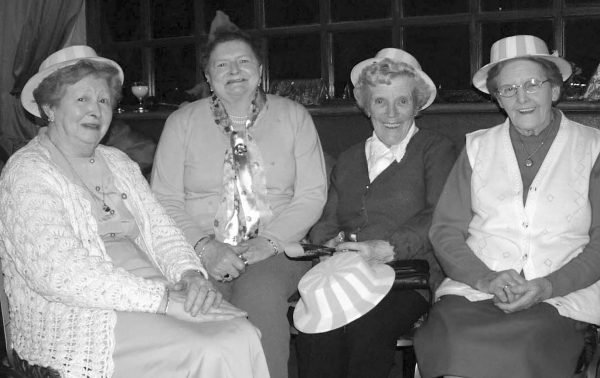 Kathleen Kennedy, Ballinahow, Peggy Ryan, Ida Costelloe, Pallas Street and Ellie Shanahan
---
Committee: Enda Ryan, Noreen Fahy, Marie McGrath and Derry O'Donnell
Many thanks to all those who contributed photographs and news items
Remember, we need you to continue to send us material so that we can keep our website current and interesting.
While we make every effort possible to ensure that the information contained in this Website is accurate and complete, we cannot accept any legal liability as a result of the inaccuracy or incompleteness of the information presented to users of this site.
Also, if you like what you see and want to leave a comment, remember to use the Guestbook