22 March 2023
22 Mar 2023
Borrisoleigh Active Social Club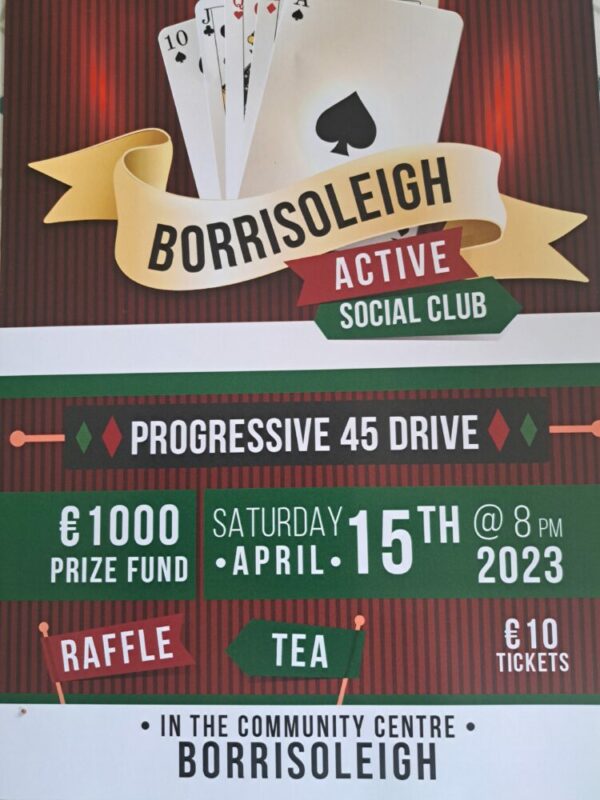 Our club are hosting a fundraising Progressive 45 Drive on Saturday April 15th at 8pm in the Community Centre Borrisoleigh. €1000 prize fund. Tickets are €10 and available from all members. More details can be got from 086 3961211. All support would be appreciated.
We are taking a bus to Mount St Joseph's Abbey, Roscrea on Monday April 3rd. Anybody interested in going please give your name to any of the officers by this Friday March 24th.
The Autumn Trip away had been decided. We are heading to Kenmare Bay Hotel on October 8th. Names and deposits of €50 must be given by April 5th.
There's a Beginner's Line Dancing Class being held this Thursday March 23rd at 11am for 1 hour in the Community Centre. This is free for all members.
---
Daffodil Day 2023
---
Parish News

Anniversary Masses
Saturday 25th March at 7pm – Borrisoleigh
Pat and Catherine O'Connor, Cullohill and their son Paddy
Bridget Ryan, Tim Ryan Senior & Tim Ryan Junior, Ballyroan
Sunday 26th March at 11am – Ileigh
Michael Brett, Coolderry – First Anniversary
Daffodil Day
Daffodil Day will take place in Borrisoleigh on Friday 24th March. Volunteers will be located at the Square, Hurley's (Gala) and Shanahans (Centra). Donations of fresh Daffodils at any of these locations are welcome. Your support would be greatly appreciated.
POPE JOHN PAUL II AWARD YOUTH PILGRIMAGE TO KNOCK SHRINE takes place on Tuesday, 28 March, starting at 11.00am and concluding with Mass at 2.30pm.
Mass will be celebrated by the Award Patron, Bishop McKeown. Many young people from this diocese, with others from across the country, attended this youth pilgrimage last year. Open to all 16-18 year-olds, the pilgrimage, including transportation, is being organised through schools. Parental consent is required.
The pilgrimage theme is 'Pilgrimage for Peace'. Prayer intentions can be sent with any young person you know attending. For more information, visit www.jp2award.com or contact Fr. Vincent Stapleton, CC, Bothar na Noamh
Medjugorje Pilgrimage ex Cork May 31st to June 7th 2023. Only 9 places remaining. Spiritual Director Fr. Ted Sheehan. €849.00 pps. €300 deposit secures place. Contact Sean O'Shaughnessy 086 2959380 or contact Joe Walsh Tours 012410800
RADIO MARIA IRELAND is an Irish-run Catholic Talk-Radio Station. Prayer, Catechesis, Uplifting music, Talks, Interviews and Testimonies – all commercial free – Listen via TV on Saorview – Channel 210 and Freeview – Channel 826; Download our FREE APP – "RADIO MARIA IRELAND", streaming on www.radiomaria.ie or via PHONE – get live radio feed by telephoning +353 (0) 1 437 3277 (no extra charges apply). Please join our growing faith family.
---
Eucharistic Adoration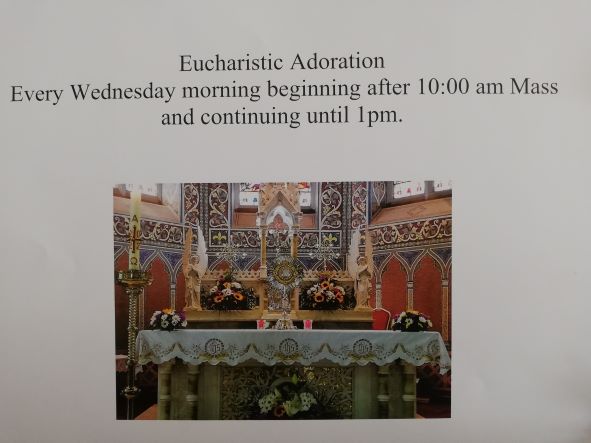 ---
Knitting and Crochet Group
Knitting and Crochet Group continues to meet every Wednesday at 10am. New members with other skills or none always welcome.
For information call Mary on 0863098982.
---
Holistic Treatment Clinic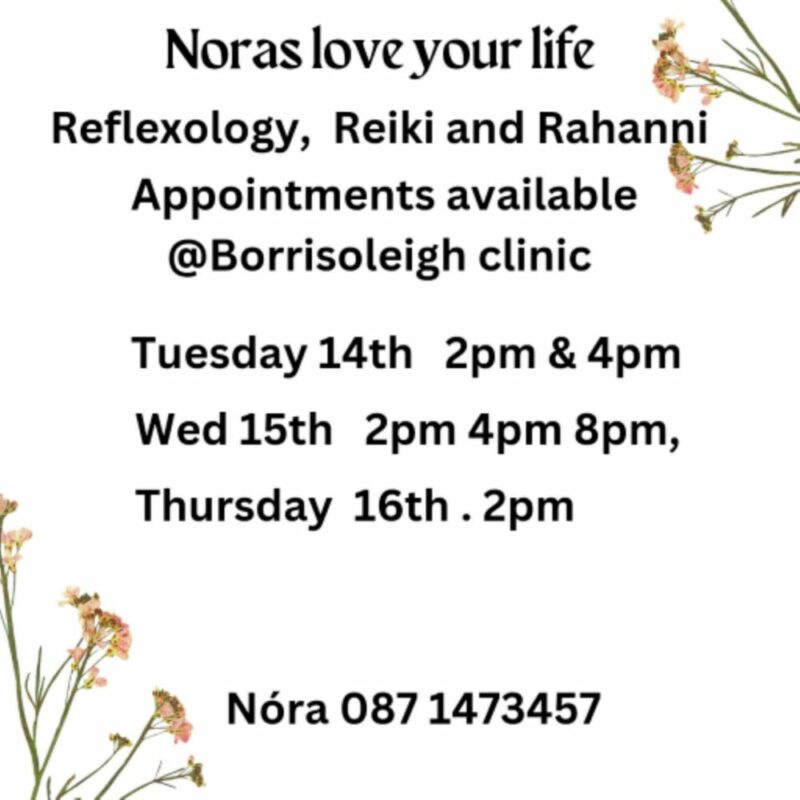 ---
Pic of the Past
---
Your Website Needs You
Committee: Enda Ryan, Noreen Fahy, Marie McGrath, Derry O'Donnell
Many thanks to all those who contributed photographs and news items.
Remember, we need you to continue to send us material so that we can keep our website current and interesting.
Send your email to: info@borrisoleigh.ie
This website is supported by Borrisoleigh Community Development Association.
While we make every effort possible to ensure that the information contained in this Website is accurate and complete, we cannot accept any legal liability as a result of the inaccuracy or incompleteness of the information presented to users of this site. We also reserve the right to edit material for suitability to a website format.
Also, if you like what you see and want to leave a comment, remember to use the Guestbook
---