21 September 2022
21 Sep 2022
Borris-Ileigh Camogie Club Notes

Shanahan's Centra Tomás Max Tournament: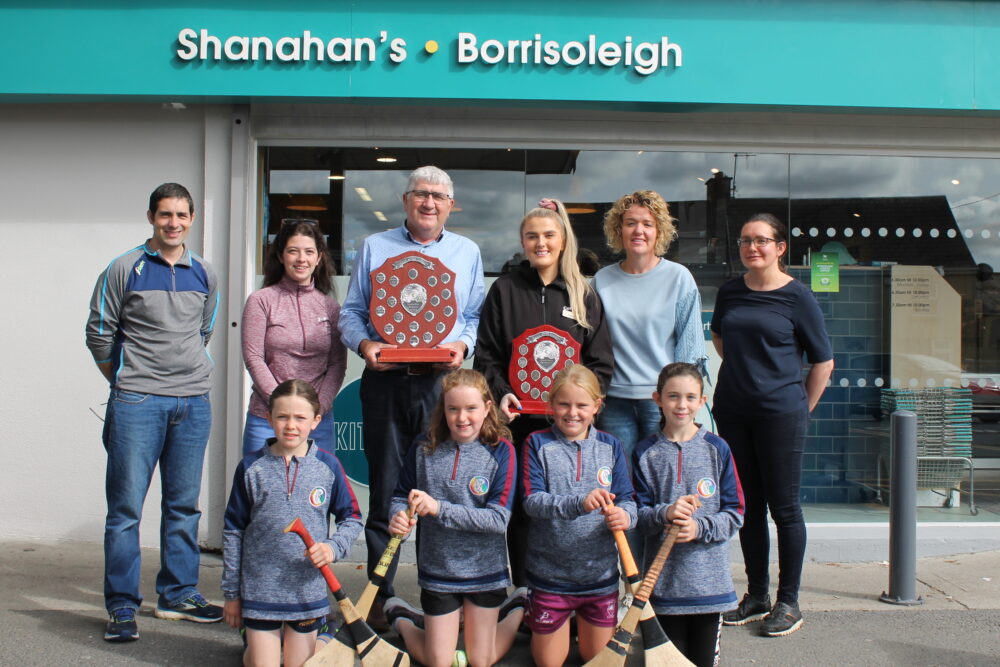 Seamus Tynan (Borris-Ileigh coach) Aoife Max (Daughter of Tomás Max & Club Treasurer), Sean Shanahan (Sponsor), Katie Shanahan (Sponsor), Edel Groome (Borris-Ileigh manager), Joanne Ryan (Borris-Ileigh coach)
Borris-Ileigh players Emily Ryan, Joanne Groome, Caoimhe Keane and Grace Tynan
The annual Tomás Max Under 10 Memorial Tournament which is being sponsored by Shanahan's Centra in Borrisoleigh is being held in the Park on Friday night next starting at 6pm.
This years participants are Borris-Ileigh, Burgess Duharra, Boherlahan Dualla and Toomevara. All are welcome to come along and give your support to the young starts of the future.
Tipperary Co-op Club League Finals:
We had a brilliant night of action at the Tipperary Co-op Club league finals on Friday night last with a large crowd turning out to witness a great night of camogie action. We had 70 players between the ages of 4 and 12 participating with the standard of play right throughout the various age-groups being very impressive.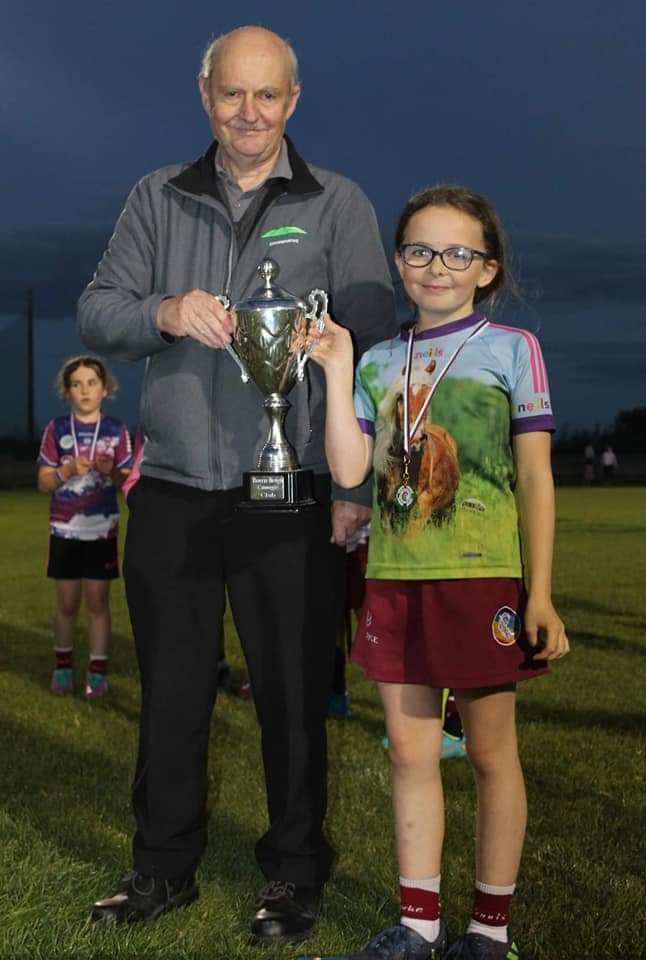 Martin Costello (Tipperary Co-op) presenting team captain Moira Meehan with trophy.
Our club would like to thanks Tipperary Co-op for kindly sponsoring our event. More photos are available in the
gallery
.
Intermediates Record Victory:
A single point separated Borris-Ileigh and Shannon Rovers in a top of the table clash in the Intermediate Championship on Saturday evening last.
A superb team performance combined with a stunning goal by Ava Bevans were instrumental in securing the victory. Next up is our last game in the Round Robin section which is an away encounter with Cahir on Saturday evening next at 5pm.
Victory for Under 13's:
Our Under 13's kickstarted their league campaign with a hard fought victory over Templemore in Clonmore on a 3-02 (9) to 2-05 (17) scoreline.
Under 15s Bow Out
Our Under 15s bowed out of the Development League on Sunday at the semi-final stage after a tough battle with Templemore resulting in a 4-04 to 3-05 loss.
---
Musicians and Singers Wanted
In conjunction with Ukrainians living locally to perform
this song
as a contribution to Culture Night. Contact 086 2752634
---
Parish News

Anniversaries:
Saturday September 24th @ 7pm Mass: Michael Shanahan, Fantane, Danny Ryan, Chapel Street, Paddy Ryan(Matt) Currabaha.
Sunday September 25th @ 9.30am Noreen Bourke, Cullohill
Sunday September 25th @ 11am Mass Michael & Bridgid Ryan, Mountgeorge, Tomás Max, Knockanevin.
The Celtic Brothers:
ONLY TWO WEEKS TO GO!! The Celtic Brothers (formerly known as The Willoughby Brothers) in Concert on Friday September 30th, 2022, Thurles Cathedral. The Celtic Brothers have entertained and endeared audiences for the past number of years and are delighted to bring their newly evolved show to the Cathedral. Their unique and recognisable sound includes a repertoire featuring a blend of Irish ballads, popular classics and contemporary songs. Their passion for singing and performing, combined with a genuine closeness, stems from a childhood filled with music and singing, a love they carried with them throughout the years and into adulthood. The Celtic Brothers have made a big impression on the national and international music scene and we look forward to a very enjoyable evening in the Cathedral of the Assumption on Friday, September 30th. Tickets available in the Parish Office, Cathedral Street (0504 22229), Bookworm, Liberty Square (0504 22257). Tickets also available in Holycross Parish Office (0504 43124) & Cashel Parish Centre (062 62200). Ticket Donation: €30.00. All proceeds towards the Cathedral "Raise the Roof" Project. Please note that due to copyright regulations the Concert cannot be live streamed.
Thought for the week: Don't stumble over things behind you.
---
Parent & Toddler Group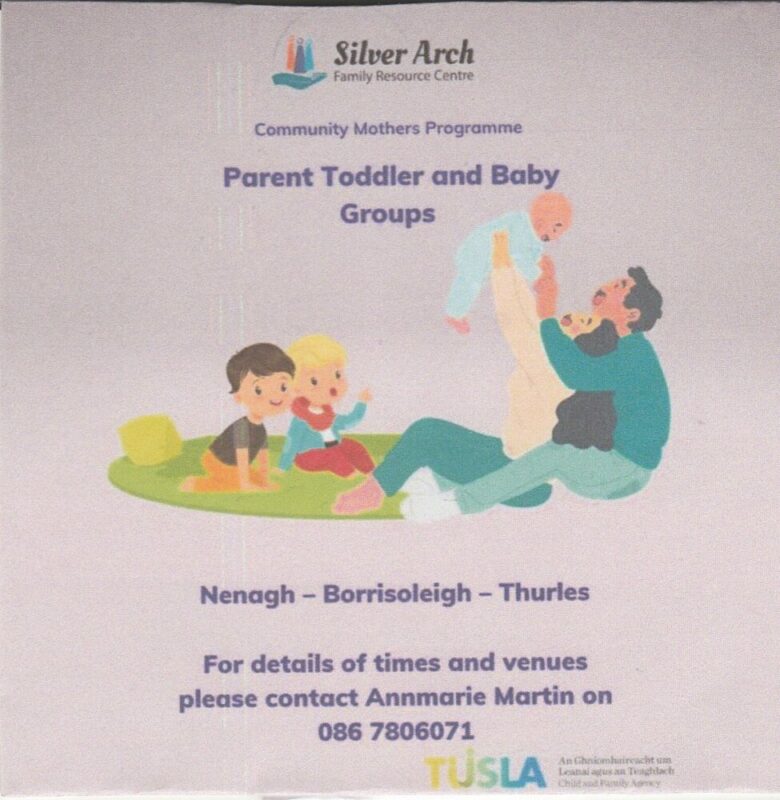 ---
Knitting Group
The Knitting group will resume activities on Wed Sept 21st from 10.00am to 11.30am in the Community Centre. Ring Mary on 0863098982 for more details.
---
AXA Community Bike Ride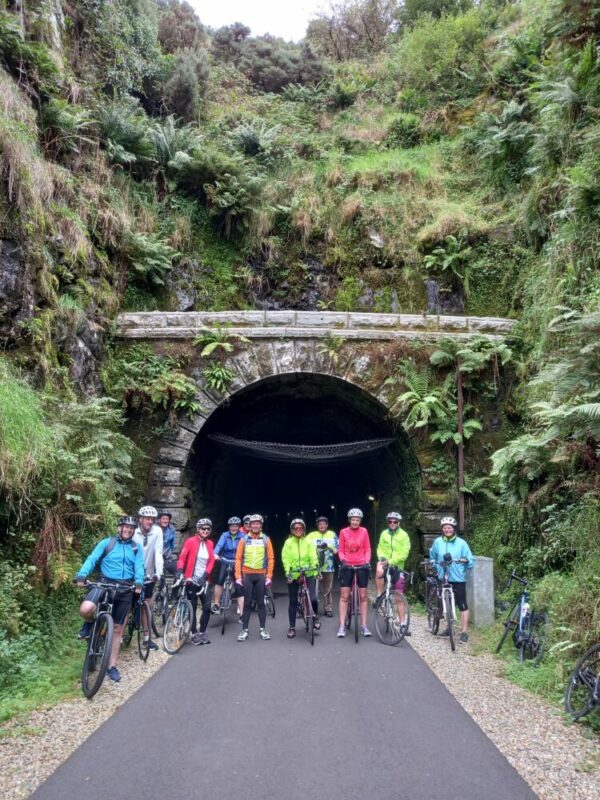 Last Sunday we enjoyed a great day out on the Limerick Greenway where we were joined by some cyclists from Limerick. We covered 75kms and enjoyed refreshments in Barnagh. Looking forward to next week where we will visit Moyne community tearooms for the first time.
---
Marian Hall AGM
AGM of the Marian Hall Committee will take place on Wednesday 28th of September at 7.30pm in the Marian Hall. All are welcome to attend.
---
ALONE Visitation Support and Befriending Service
Would you be willing to provide companionship to an Older Person for one hour per week? ALONE are currently seeking volunteers for their Visitation Support and Befriending Service in the Borrisoleigh area. Full training and support provided. If interested please sign up here: https://www.tfaforms.com/4890717
For more information, contact Aoife on Aoife.dennehy@alone.ie.
---
Borrisoleigh Community Development Association
Volunteers wanted! If you have a free hour or two (or more) to help out with maintaining the flower beds and planters around Borrisoleigh, please get in touch. Every little helps, go at your own pace. You can contact Joe Loughnane on 087-9778347.
---
Pic of the Past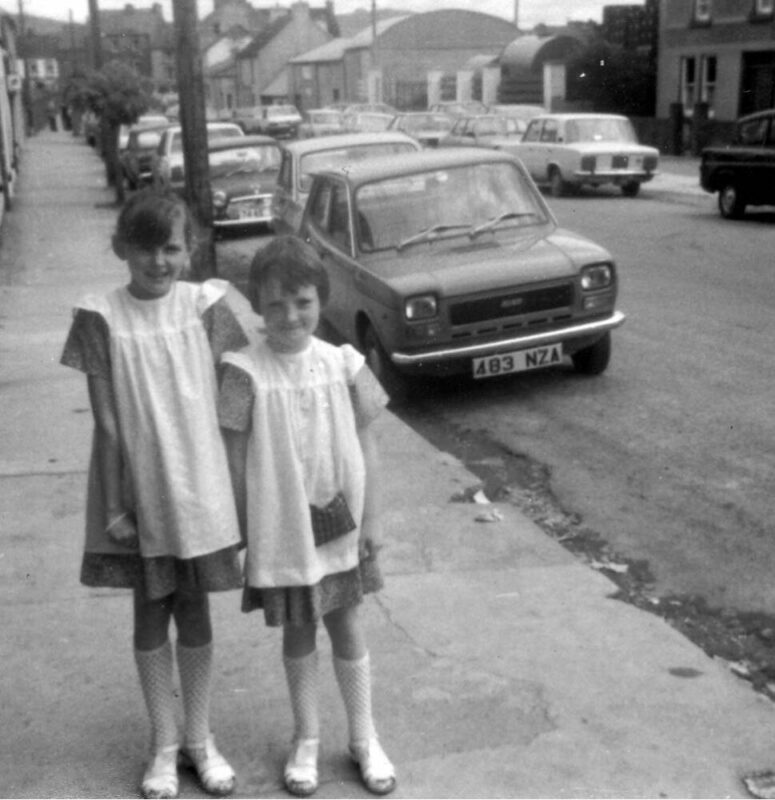 Marissa and Orla Kinane, Nenagh Road
pictured in Pallas Street
---
Your Website Needs You
Committee: Enda Ryan, Noreen Fahy, Marie McGrath, Derry O'Donnell
Many thanks to all those who contributed photographs and news items.
Remember, we need you to continue to send us material so that we can keep our website current and interesting.
Send your email to: info@borrisoleigh.ie
This website is supported by Borrisoleigh Community Development Association.
While we make every effort possible to ensure that the information contained in this Website is accurate and complete, we cannot accept any legal liability as a result of the inaccuracy or incompleteness of the information presented to users of this site. We also reserve the right to edit material for suitability to a website format.
Also, if you like what you see and want to leave a comment, remember to use the Guestbook