Borrisoleigh 5Km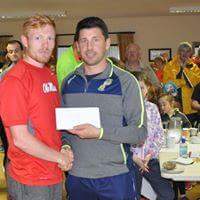 The roads surrounding the village of Borrisoleigh will be awash with athletes of all grades on Tuesday night next (27th) when many will come to compete in the fourth annual Borrisoleigh 5km which is sponsored by Declan Maher Financial Services.It's an event that caters for everyone from the elite performers to the fun runner. This year's event sees a change to both the start and finish lines with proceedings starting at the pedestrian traffic lights on the main street while the finish will see athletes returning to finish in the square instead of the turning onto the track in the sports field like in previous years.
For the leading men and women, the podium placings will see the first finisher receive €200, second place will receive €100 with third place claiming €50. The course records were set last year at 14:58 for the men and 16:42 for the women and in this year's event, the top 3 men and women will receive an €100 bonus to dip under these times.
We've also added to all other grades when this year's overage section will see prizes awarded to the top 3 finishers in the Over 40, 50 and 60 grades. We've added a junior grade with the top 3 under 18 boys and girls claiming prizes. There will also be a prize for every 25th finisher.
In another addition to this year's event, we've added a team event with the top 3 men and women's teams climbing the podium. Teams will consist of 4 participants with the top 3 scoring. It's important to note that anyone who wins an individual prize is ineligible for the team event.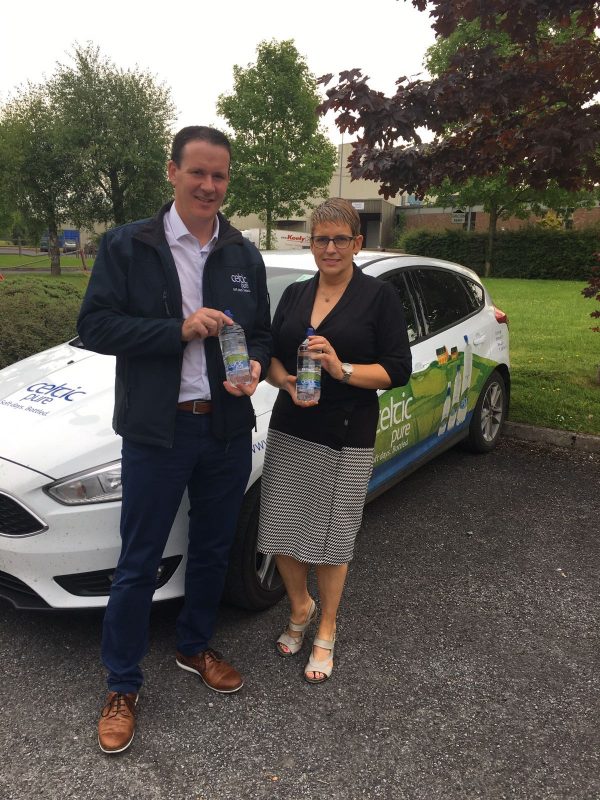 Michael Ferncombe of Celtic Pure (water sponsors for Borrisoleigh 5km) with Track-Attacks Betty Slattery
The run will start at 8pm with registration beginning at 6:30pm in the Community Centre behind the church. The entry fee is €10 while under 18's are €5. The run will be chip timed while refreshments and ice-cream will be available to all finishers at the post run presentation.
This year will also see the inclusion of a 2 mile Family Fairy Trail Fun Walk. This has a 7pm start from the square. It will then head to the sports field where participants will do 2 laps of the Fairy Trail Track before finishing back in the square prior to the start of the run.
We welcome and encourage all comers to participate in this new initiative where the entry fee is €5 per family. The participating kids will be encouraged to look for and gather some hidden feathers around the trail which will be exchanged for some spot-prizes at the finish. (One spot-prize per participant).
Entries for the walk will be taken from 6:15pm in the Community Centre.
We extend an open invitation to all to come and be part of the Borrisoleigh 5km and Fairy Trail Walk and be sure to bring a friend.
---
Borrisoleigh Festival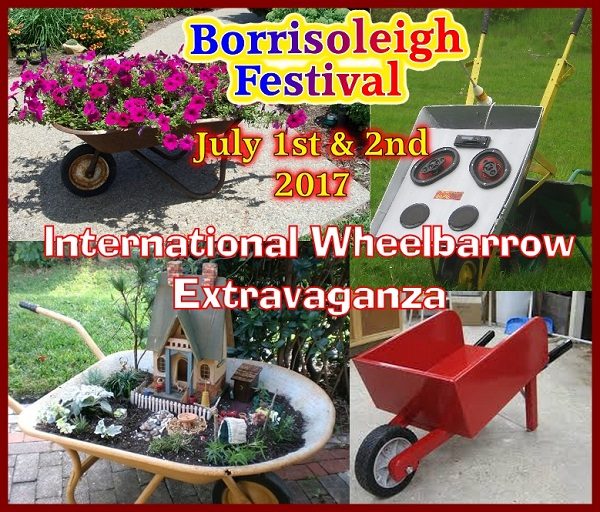 Bus to Knock 
A BUS WILL LEAVE
 THE SQUARE
 BORRISOLEIGH
 ON
 SATURDAY JUNE 24th
 FOR KNOCK SHRINE
AT 8.15 AM (SHARP)
 Organised by St. Josephs Young Priests Society
 FARE €20.00
 ALL ARE WELCOME
 FOR ENQUIRIES OR BOOKINGS CALL
 MARY AT 0504 51535/51241
---
Borris-Ileigh GAA Club Notes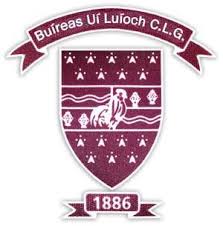 Upcoming Fixtures:
The Senior's are in action the Friday evening the 23rd of June against Eire Og Annacarthy in Round 4of the County Senior League. Throw in is at 8pm.
The draw for the next round of the North Senior Hurling Championship has also been made. We will take on Templederry at the Semi Final stage. The time, date and venue have yet to be decided and will be fixed depending on how Tipperary fair in the Qualifiers.
Our U14's will take to the field this Wednesday evening the 21st of June to against Borrisokane in the 3rd round of the North U14 'B' championship.
All support greatly appreciated.
County Board Draw:
We would like to take this opportunity to thank all those who participated in this year's County Board Draw, your entry will act as a source of much needed funding for our club. Thank you.
Lotto:
Our Jackpot is now up to €16,400 for the coming week. This weeks numbers were 1, 3, 13 and 17.
Tickets are available at all local shops and pubs.
4 – LUCKY DIP WINNERS – €50.00 each
Claire Treacy, Knockbrack
Betty Treacy, Knockbrack
Boy and Girls, c/o Mary Cummins
Michael Carroll, St. Bridget's Villas
If you wish to play online you can do so here: https://www.locallotto.ie/localhome.asp?LL_ID=549
---
Blessing of the Graves 
Graveyard Mass Times
St Brigid's Borrisoleigh: Friday 23rd June @ 8pm
Glenkeen: Thursday 29th June @8pm
---
Borrisoleigh Active & Social Club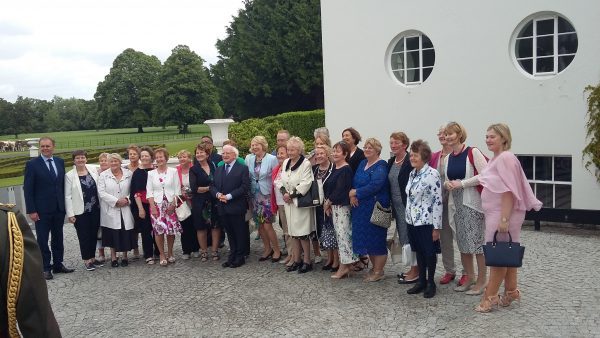 The group with President Higgins, his wife Sabina and Minister McHugh
On Thursday last, 15th June, a group of 24 people from Borrisoleigh's Active & Social Club were guests at Áras an Uachtaráin where they got a guided tour of the premises followed by a viewing of their Excellencies, the Ambassadors of Mauritius, Venezuela and New Zealand who presented their Letters of Credence to the President.
Getting the guided tour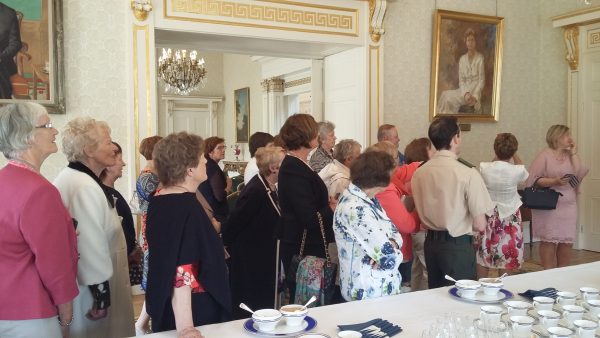 Mr. Joe McHugh T.D., Government Chief Whip and Minister of State with responsibility for Gaeilge, Gaeltacht and the Islands, represented the Government at the ceremony.  The following were also present:  Mr. Conor Ó Raghallaigh, Deputy Secretary-General to the President; Col. Michael Kiernan, Aide-de-Camp to the President; Mr. Eoin O'Leary, Assistant Secretary, the Department of Foreign Affairs and Trade; Ms. Síle Maguire, Mr. Joe Brennan, and Mr. Patrick O'Reilly, Protocol, Department of Foreign Affairs and Trade & Deputy Commander Patricia Butler from the Irish Navy (a native of Dolla, Nenagh).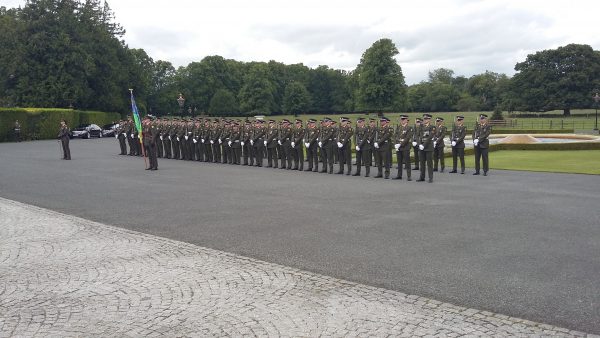 The Ambassadors were escorted to and from Áras an Uachtaráin by an escort of honour consisting of a motorcycle detachment from the 2nd Cavalry Squadron, Cathal Brugha Barracks, Dublin, under the command of Lieutenant Chris Humphreys.   A guard of honour was provided at Áras an Uachtaráin by the 7th Infantry Battalion, Cathal Brugha Barracks under the command of Lieutenant Deirdre Fahy.
The Borrisoleigh group received a warm welcome & got to meet with the President, Mr. Michael D Higgins & his wife Sabina followed by light refreshments.  This was truly a wonderful experience for all. They left the Áras on a high & proceeded to enjoy a beautiful meal at The Poitín Still & of course they rounded the evening off with a 'sing-song' on the bus on the journey home. Further photos from the day are available in a gallery.
---
Tipperary Mountain Trekking Centre
2,500 International Girl Guides are camping at Rockwell College for the first week in August, 2017. Groups will be coming every day to Tipperary Mountain Trekking Centre, to go pony trekking in the beautiful and unspoiled surroundings at Rusheen, to learn about the natural environment from Mike Collard of Future Forests, and to work with willow with renowned local artist Lynn Kirkham. Tipperary Mountain Trekking Centre is only 5 km from Borrisoleigh and we warmly welcome children and adults from the local area as well as internationally! Give us a call or email to book a riding lesson, or to explore the countryside on a small-group trek, or send your kids to one of our pony camps which are running from 3rd – 7th July, 17th – 21st July, and 14th – 18th August.
---
Volunteers Needed 
Volunteers needed to help with the upkeep of flowerbeds in the village. Meet in the town park every Wednesday from 9.30-11a.m. We would also like to ask people to be vigilant and on the watch out, as flowers planted in the raised bed in the community park have been taken.
---
 Pic of the Past ………..down memory lane
Back: Ned Finn and John Kearney
Front: Fitz, Nora and Mary Chadwick
---
Committee: Enda Ryan, Noreen Fahy, Marie McGrath and Derry O'Donnell
Many thanks to all those who contributed photographs and news items.
Remember, we need you to continue to send us material so that we can keep our website current and interesting.
While we make every effort possible to ensure that the information contained in this Website is accurate and complete, we cannot accept any legal liability as a result of the inaccuracy or incompleteness of the information presented to users of this site.
Also, if you like what you see and want to leave a comment, remember to use the Guestbook