21 December 2016
21 Dec 2016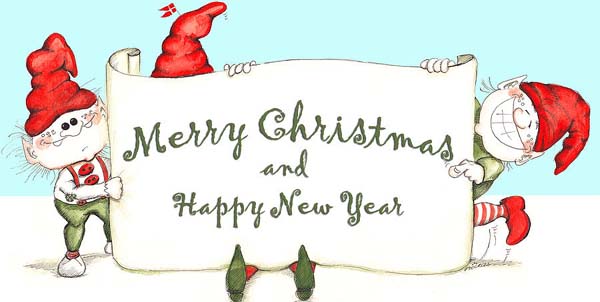 ---
Christmas Ceremonies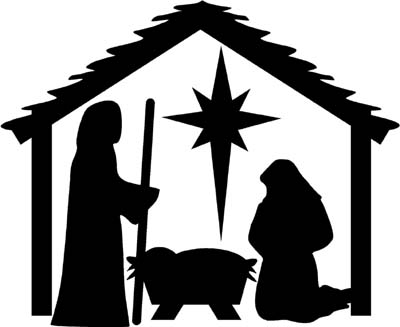 Christmas Eve (Saturday)
7pm Vigil Mass Borrisoleigh
Christmas Day
9.30 am Ileigh
11am Borrisoleigh
---
St. Joseph's College Notes
Munster U16 1/2 Hurling Final
St Joseph's College, Borrisoleigh               3-10
Colaiste an Chraoibhin,Fermoy                  0-6
Alvis Danko proved the hero of the hour as his personal tally of 2-6 powered St Joseph's College to their first Munster Schools title in six years. After the heartbreak of losing the senior final last Friday, this victory was all the sweeter for all involved.
From the throw in, it was evident that the boys from Tipp were focused and ready to put in a big performance and although they conceded the opening score to a free from Fermoy's best player, Kieran Kearney. The first two attacks proved devastating, firstly, a long puck out from Pauric Stapleton fell nicely to Sean Dunne who found Danko at full forward and he crashed the ball home. Ninety seconds later, the other members of the full forward line combined with Michael Delaney working hard to get a shot in before Harry Stapleton pulled home the rebounded save.
This as it transpired was the winning of the game as Fermoy had no answers in attack and St Joseph's College piled on the pressure. The platform for the purple patch that followed was a dominant half forward line. Cathal Ryan, Barry McCarthy and Sean Dunne rattled over superb long range points and Michael Delaney was denied only by the excellent Josh Shanahan in the Fermoy goals.
In reply, Fermoy had to wait until the 28th minute to register a Sean Desmond point but points by the dominant Kevin Maher and captain Alvis Danko left the score at the half 2-7 to 0-4 points.
It was clear that Coláiste an Chraoibhin would seek goals early in the second half and placed the dangerous Duncan Ekechukwu at the edge of the square flanked by Jake Ryan and Ryan Casey but they met a stone wall well marshalled by James Kelly and ably assisted by two tigerish corner backs in Harry Younge and Cian Stapleton who stuck to their markers like glue and never gave an inch.
With a comfortable lead for most of the match, it was only natural that the game got fragmented and the quality of hurling from both sides was not up to the standard of the first half but it was Borrisoleigh who kept a firm grips on proceedings and dominated the middle area of the field, in which Adam Ryan in particular excelled, tying down his marker and provided defensive cover and allowed Kevin Maher in particular to shine. Indeed it was Maher who broke up numerous attacks and countered with purpose on many an occasion and was the architect for further Danko points. As the game reached full time, the full forward line combined again to give the captain the final score of the game, a well taken goal.
For Fermoy, their scoring woes continued with only Sean Desmond registering points from play, a fact that will be an immense source of pride to Dan Ryan at centre back and the Ryans, Michéal and Seamus at his side who shut down their opponents for the full 60 mins.
As the full time whistle sounded and class mates, family and friends joined the players on the field to celebrate, there was a mixture of joy and relief that the final loss by the seniors was not repeated.  As Alvis Danko raised the Corn Chiaráin Uí Dhrisceoil aloft to great cheers he was quick to thank Fermoy for a sporting game, Mitchel House Restaurant, Thurles for their sponsorship, team management of Ray McLoughney and Anne Brennan as well as the fantastic supporters. For him and his Borrisoleigh GAA teammates it was a special moment as they backboned this team from the start of the year and it is so important in schools hurling the mixture of neighbouring clubs and in this case, Burgess, Ballinahinch, Knockavilla Kickhams, Toomevara and Templederry working together as one team paved the way forward to victory.
2017 will see this panel look to complete a Munster double as they try to add a football title to their list of honours and closer to home, the U17 County title will be the one that most of this panel will set their aim on after a well deserved Christmas break.
Full panel: Pauric Stapleton(Borrisoleigh), Harry Young(Borrisoleigh), James Kelly(Borrisoleigh), Cian Stapleton(Borrisoleigh), Micheal Ryan(Borrisoleigh), Dan Ryan(Borrisoleigh), Seamus Ryan(Borrisoleigh), Kevin Maher(Borrisoleigh), Adam Ryan(Ballinahinch), Barrry McCarthy(Knockavilla Kickhams), Cathal Ryan (Toomevara), Sean Dunne (Burgess), Michael Delaney(Toomevara), Alvis Danko(Borrisoleigh), Harry Stapleton(Borrisoleigh), Fintan Holland(Borrisoleigh), Daniel Fahey(Borrisoleigh), Liam Ryan(Borrisoleigh), Evan Kearns(Ballinahinch), Luke Cooney(Borrisoleigh), Cathal Hogan(Borrisoleigh),Jack Fitzgerald(Borrisoleigh), Mark Kinane(Templederry), Aidan Ryan (Templederry), William Ryan(Borrisoleigh)
by Michael Halpin
Senior Hurling Munster Final
St Paul's Community College, Waterford 2-11 St Josephs College, Borrisoleigh 1-12
Our senior hurlers came agonisingly close to claiming their first Munster schools title in five years last Friday in Cahir when their battling performance against a very strong St Pauls side came up just short. With both sides missing some key players from their starting lineup it was always going to be a day where grit and determination would be to the fore as neither side produced the high scoring hurling that had brought them both to the final.
The game started in whirlwind fashion with both sides attacking with purpose and whilst the Borris boys were wasteful, St Pauls wasted no time in hitting three points and settled into their rhythm quicker. Indeed, for a few minutes it looked like this might be a one sided affair and the loss of 5 starters from the semi final win might be too much of an obstacle to overcome but slowly they found their feet and tightened up in defence and drove forward from midfield resulting in a number of Robert Delaney points from play and from frees to leave the scores level.
The back line led by Aaron Reid and Seamus O Farrell in the central positions were now dominant in their roles ably assisted by Oran Bergin, Anthony Ryan, Aidan Coffey and Michael Lavery. A succession of attacks were repelled as St Josephs eased in to a two point lead approaching the half and when Tim Mc Cutcheon blasted to the net in the 27th minute it seemed that this would be a decisive score but straight from the puck out St Pauls roared forward and got a goal for themselves, their first score in fifteen minutes and left them not too far out of touch at half time.
The message at half time was clear, to keep up the good work at the back and try and get more scores at the other end and this is how the start of the second half started off with St Josephs trading scores before once again pushing on to a four lead at the midway point with Cathail Ryan, Kevin Maher and lionhearted captain Richard O Donoghue in particular to the fore. This was as good as it got though for Borrisoleigh as St Pauls led by the man of the match Billy Nolan began to make their physical superiority  tell and slowly but surely pegged back the deficit and in the 57th minute it was Nolan who hit the crucial score to seal the win blasting to the net.
It was a crushing blow for St Josephs and try as they might they simply had no response as St Pauls shut up shop at the back and the exhaustion from the huge effort was evident for all to see. When the referee sounded the full time whistle, it sparked wild celebrations from the boys in green and despair for the Tipp team and their supporters as the chance of victory which had seemed so close was now gone.
For the 6th year students in particular it was a bitterly disappointing end to not just the season but for most their schools hurling career. Team manager Ray Mc Loughney thanked all the panel for their hard work and dedication throughout the year and hopefully he will enjoy success with the junior team who have their own Munster final to come.
Full Panel: Richard O Donoghue (c), Conor Looby, Tim Mc Cutcheon, Matthew Ryan, Niall Slattery (all Templederry), Jamie Corcoran, Kevin Maher, Dan Ryan, Patrick O Connell, Oran Bergin, John Ryan, Aaron Rabitte, Nicky Cooney, James Kelly, Alvis Danko, Harry Younge, Patric Stapleton, Seamus Ryan (all Borrisoleigh), Seamus O Farrell, Robert Delaney, Cathal Ryan (all Toomevara) Anthony Ryan, Aidan Coffey (JK Brackens) Cathail Ryan (Ballinahinch), Michael Lavery (Upperchurch Drombane)
---
Borrisoleigh Annual 2016
Borrisoleigh Community and  Development Association is delighted to be able to announce that our Annual is once again on sale. We would  also like to sincerely thank all the individuals and groups who submitted articles and/or photos for this years annual, the local shops for selling the annuals and those who purchase it every year.  We hope you all enjoy this year's publication.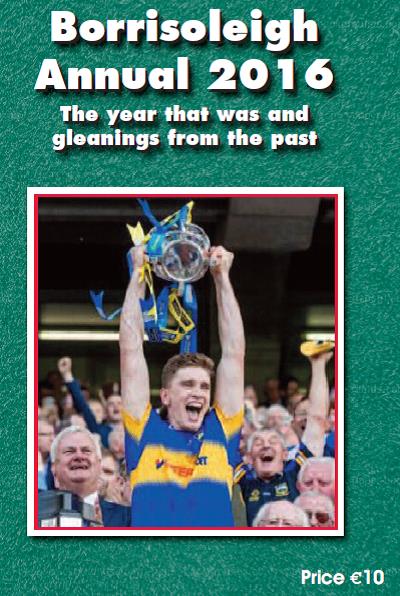 Please be advised if you are considering posting the annual the last dates and costs are:-
Ireland  21 Dec postage €2.35
Northern Ireland 20 Dec €2.35
Great Britain 19 Dec postage €5.00
Rest of Europe 13 Dec postage €5.00
USA 9 Dec postage €5.00
Rest of the world  7 Dec postage €5.00
---
St Stephen's Day 5km Run and Walk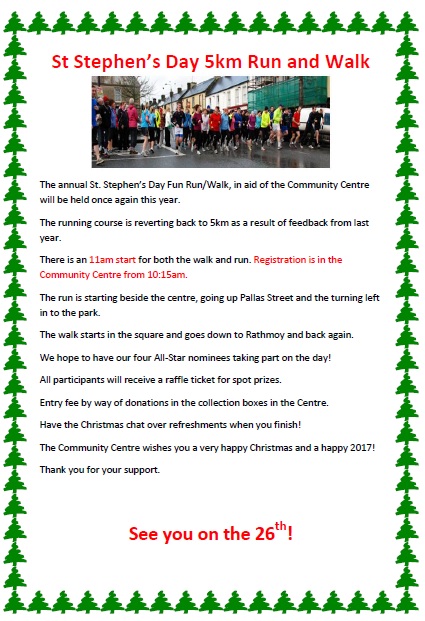 ---
Shop Local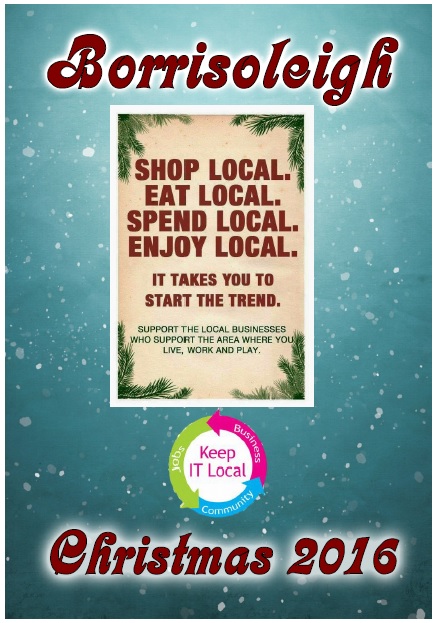 Fiona Max, festival secretary launched the Shop Local flyer. The aim of the flyer is to promote local businesses and encourage everyone to try and keep their business local. If you don't shop in your local town, you won't have a local town to shop in!
---
Borris-Ileigh GAA Club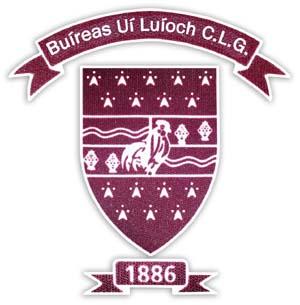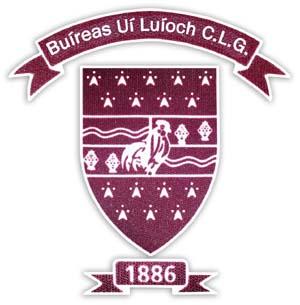 The Club AGM has been fixed for 7pm on Sunday, 8th January, in the Pavillion in the park. All are invited to attend. Any nominations or motions to be with Gerry Treacy no later than 8pm on Saturday 31st December.
---
Pic of the Past ………..down memory lane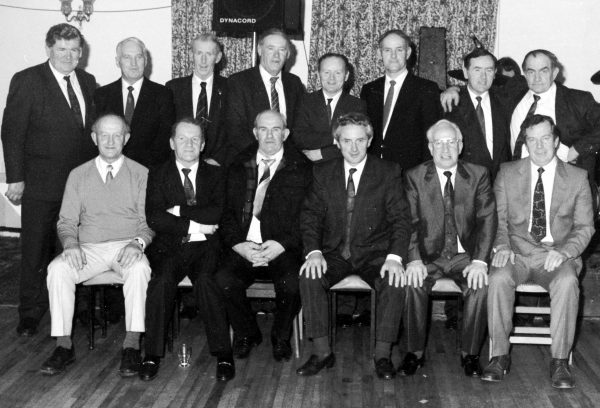 Reunion of Borrisoleigh Team of the 1960s Back: John Gleeson, Joe Prior, Gerry Ryan, Pat Ryan, Garrangrena, Johnny Loughnane, Jim Molumby, Paddy Loughnane and Paddy Delaney Front: Matt Stapleton, Lar Long, Mick Connors, George Kinane, Paddy Hammond and Tom Tierney
---
Committee: Enda Ryan, Noreen Fahy,  Marie McGrath and Derry O'Donnell
Many thanks to all those who contributed photographs and news items.
Remember, we need you to continue to send us material so that we can keep our website current and interesting.
Send your email to:info@borrisoleigh.ie
While we make every effort possible to ensure that the information contained in this Website is accurate and complete, we cannot accept any legal liability as a result of the inaccuracy or incompleteness of the information presented to users of this site.
Also, if you like what you see and want to leave a comment, remember to use the Guestbook