St. Stephen's Day Fun Run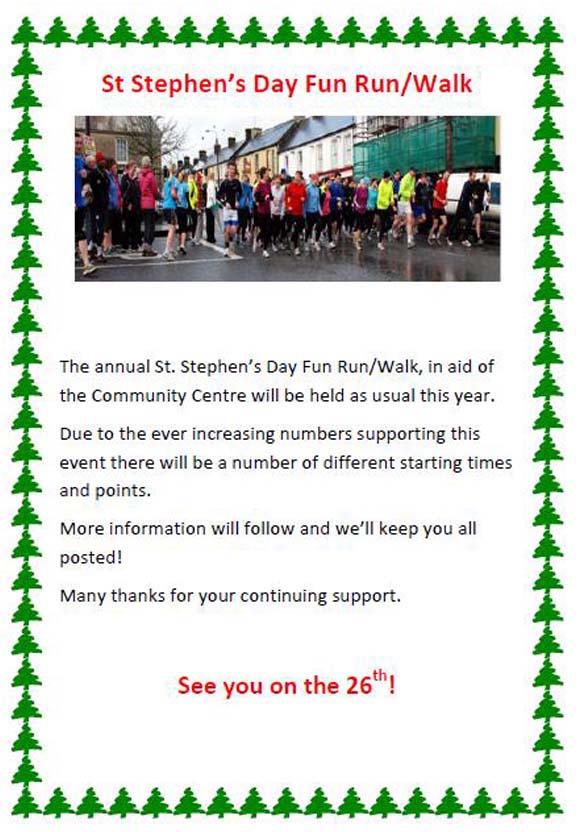 ---

Art and Craft Classes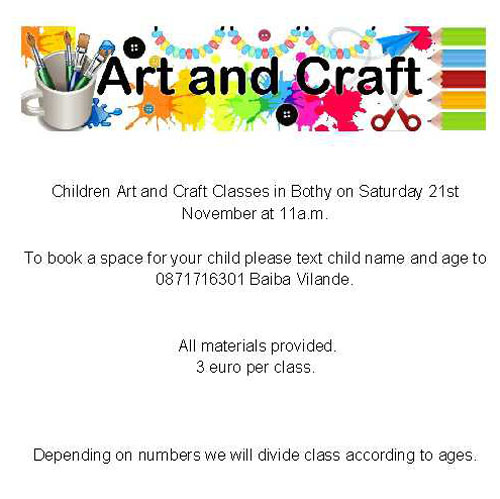 ---
 Santa post box in The Bothy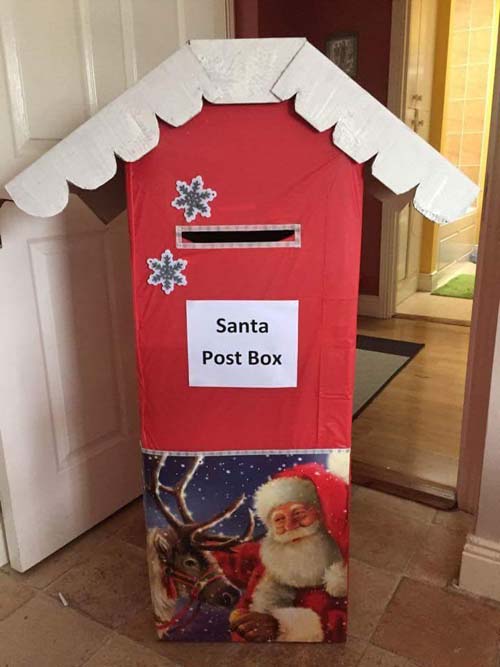 There was a special delivery to The Bothy! There is now a Santa post box in The Bothy. Any child who posts their letter here will get a personalized reply from Santa within ten days. Replies can be collected from the Bothy.

---
 Mass of Remembrance 


During the month of November, the Rosary will be recited in the cemeteries of the parish each Sunday at 3.00pm. as follows:
Nov.22nd: Glenkeen.
Nov.29th: Sacred Heart Church.
---
 St. Joseph's College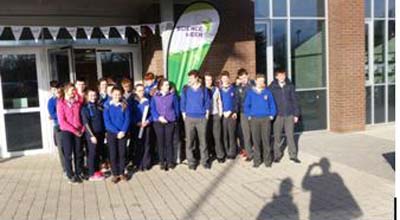 5th Year and Transition Year Students Go To University of Limerick

On the eleventh of November, our 5th year Chemistry and Physics classes along with the Transition Year students, went on a thoroughly enjoyable and informative trip to UL to attend a workshop for Science Week 2015.
Upon arriving, we attended a workshop in Product Design where all the students were assigned a task to make an object using limited materials. This challenged us but we did embrace it and had a good time.
Following this workshop, we were taken on an information packed talk on the lives of bees. This was extremely interesting and it made Science Week more educational for all of us.
Once the talk was over, we were taken on a tour of the campus. We got to see the use of each building on the campus and we truly enjoyed ourselves.
Borrisoleigh student gets Top Technology Junior Cert Award
Congratulations to Transition Year student John Ryan who achieved the top male result in Junior Cert Technology. John and his teacher Mr Halpin are now invited to attend the Technology and Engineering Teachers Association conference for him to receive a special award.


---
 Track Attack Notes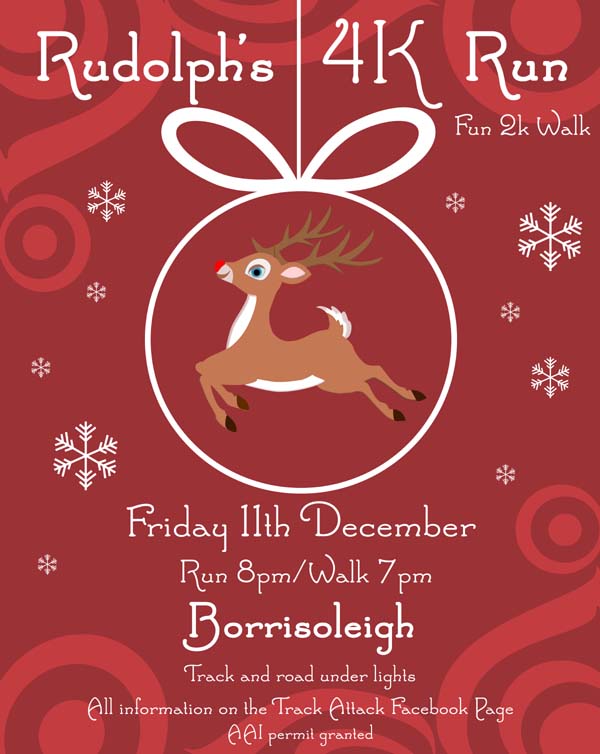 Rudolph's 4km Run
On Friday 11th of December, Track-Attack will present Rudolph's 4km Run in Borrisoleigh with an 8pm start where the course will be a combination of road and track all under lights. The run will be preceded by a 2km fun walk which will start at 7pm. The event has been sanctioned by Athletics Association of Ireland and will be timed by Niall O'Sullivan of Premier Timing Systems.
The winning man and woman will each receive €100 for their efforts, second place will get €50 while the third place finishers will each receive €25. We will have spot-prizes and refreshments galore on offer on the night. The entries will be taken in the Community Centre (behind the church) while the post-race presentation and refreshments will also be there.
The entry fee for the run is €10 for adults and €5 for school goers. The fee for the walk is €5 for adults while all school goers are free of charge. All monies generated on the night will be put towards the Track Development Fund.
Full race details including sponsors etc. will be made available soon.
Three New League Leaders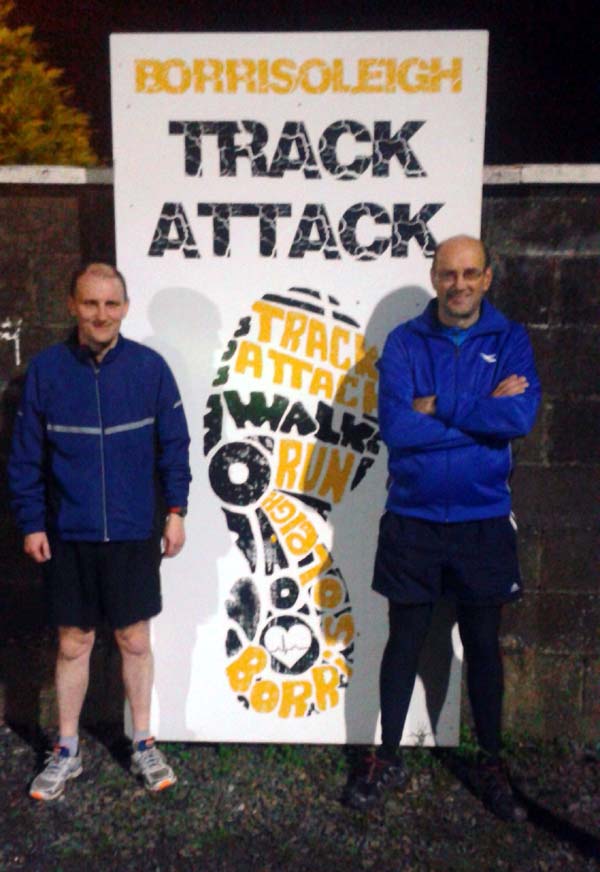 Track-Attack Brothers Austin and Paddy Ryan
The Planet Track-Attack Series continue to grow from strength to strength with new members constantly joining us every night. The sixth round of the Series saw some excellent performances from a number of competitors despite the windy conditions with three in particular running their best times to date resulting in them in now topping their respective league tables for the first time.
The improvement rate of Denis O'Connell has been there for all to see since the commencement of the Series and after stopping the clock at 26:06 for the 6km in round 6, he jumped ahead of his nearest rivals in the Venus group and now holds a slender 27 second lead over Michael O'Brien.
One of the most impressive participants to date in terms of general improvement rate has been Noreen Ryan. Competing over the 4km distance in the Apollo group, Noreen has taken sizable chunks from her opening nights performance and after recording her Personal Best time of 23:32, she now holds a one minute and 48 second lead over long time league leader Deirdre Collins.
Elaine Ryan is the third Track-Attacker to move her way to the head of her respective group. Competing in the Moon named group over a distance of 2.7km, Elaine has been chipping away week on week on Karen Nash's lead and her time bonus performance in round six have resulted in her leap-frogging the Templederry athlete and now she holds down a 55 second lead.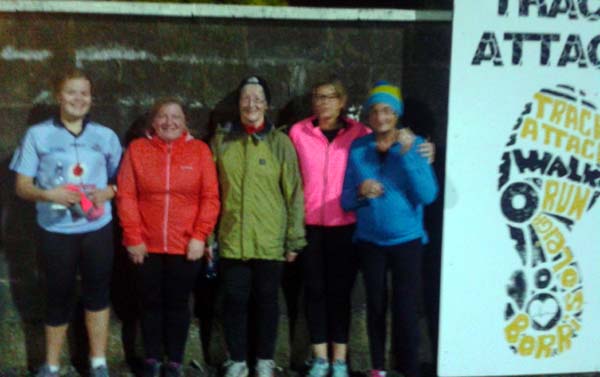 Track-Attackers Avril Ryan, Mary Stapleton, Delia Ryan, Elaine Ryan, Marie O'Connell
As well as the 3 new leaders, we also had some superb performances from other athletes on the night. Many of our youthful performers have been in truly superb form and each of them deserve tremendous credit for the way that they try their utmost best to drop their overall time each week.
Luke Mockler has been exceptional in his desire and drive to compete and improve. Competing in the Galaxy (2.7km) group, he clocked a brilliant 13:53 in round 6 and now will be the favourite to hold onto that table topping position over the last 4 weeks of the Series. Two more young-guns in the form of Donnacha Ryan and Brian Bourke are also athletes of great quality and they will give it their all to chase down Luke before the Series comes to a close on December 4th.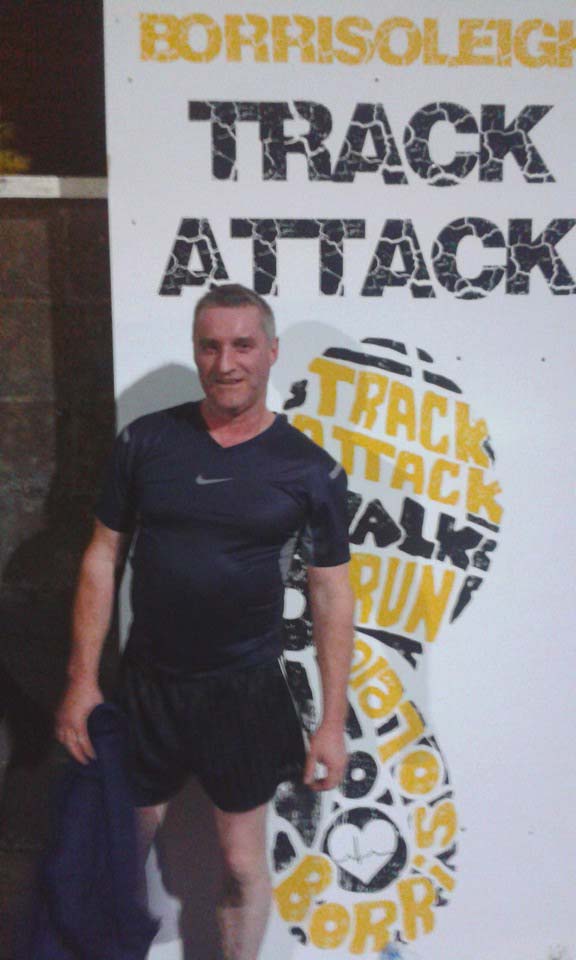 Track-Attacker Seamus Devaney
Eamon Groome has also been in simply superb form and his efforts have been rewarded by seeing his name climb to the top of the Neptune ladder which competes over the 4km distance.
The Pluto group consists of the heavy hitters of the 4km distance and within that group which is currently been led by the hugely impressive Nicky Cooney lies 3 young-guns that are gifted with enormous athletic talent. Cian Murphy, Tom Delaney and Cillian O'Brien consistently produce top class performances which are infected with a natural degree of athletic mechanics and a desire to improve and succeed. As well as all the aforementioned group of youthful performers, there are many more that we will be certain to hear a lot more about over the coming weeks and months.
To check out who are the leading 3 in each of the Series groups, check us out on Facebook at Borrisoleigh Track Attack.
---

Hope Foundation
My name is Avril Ryan and I am in Transition year in the Ursuline Secondary School, Thurles and as part of Transition year I have been chosen to go to Calcutta in India as a volunteer with the Hope Foundation. The Hope Foundation is a registered Irish charity funding over 60 projects working with the street and slum children of Kolkata (formerly Calcutta) in the areas of healthcare, education, protection, nutrition, training, counselling and human rights advocacy.
This trip is planned for the week of March 18th 2016. To enable me to go on this trip I need to raise €3,100 on behalf of the Hope Foundation. As part of my fundraising a fellow student Emma O'Dwyer and I plan to host a Buster Race Night at Thurles Greyhound Stadium on Saturday 16th of January 2016. Tickets for this night will cost €10 each , this includes racecard and admission on the night. I am also selling Butlers Irish chocolate bars in local shops and businesses which cost €2 each.
Any support for this worthy cause would be greatly appreciated. Please contact me on 087 7643011 if you would like any further information.
---
 Festival Committee Presentation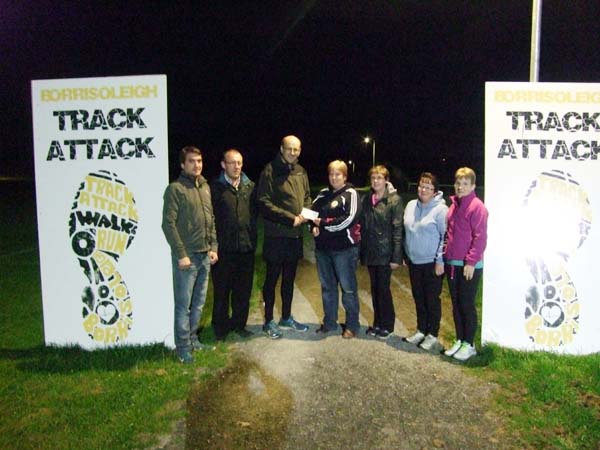 Borrisoleigh Festival Committee presenting a cheque for €200 to Track-Attack towards their track development fund.
L-R Declan Curtis, Tom Mason, Paddy Ryan, Fiona Max, Breda Ryan, Nuala Ryan and Phil Mason
---
 Borris-Ileigh GAA Club Notes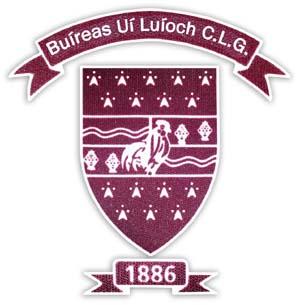 New Development: As many of you have probably seen by now, a new development has begun to take place in the town park. This is quite a large scale development and hopefully will leave the parish with one some of the best, if not the best, facilities in the county. We hope to have this development up and running in the next few years and looking forward to people enjoying these marvellous facilities.
As stated, our plan is to have state of the art facilities for the people of Borrisoleigh. This will consist of the following; the building of a state of the art multi purpose sports complex that will house our sports hall, ball alley, gym, 4 dressing rooms, meeting rooms, external floodlit hurling wall, kitchen and toilet facilities and also a viewing area out on the pitches. We will also complete the floodlighting of the now extended walking track, the building of a third playing pitch, the re-development of the tennis courts and the re-development of the soccer pitch.
As you can imagine this will not come cheap, and we hope that with the support of the parish, we can complete this development within the next few years. We are proposing a fundraising scheme where we can claim back tax on a charitable donation. We are proposing that people give a donation that equates to €4.80 per week for 3 years by standing order which we hope will finish paying for the development. We hope as many people as possible will become involved in this scheme and help us give the people first class sports and recreational facilities in the parish.
U 21 Hurling: With Clonakenny now knocked out of the intermediate championship weekends have been freed up for which to play the U21 championship. Borrisoleigh have already qualified for the North Semi Final and it is believed that this game will take place on the last weekend of November or the first weekend of December.
AGM: The time of year has come around again for our AGM. We will hold it on Sunday 13th of December in the pavilion. Any nominations for any of the positions are to be with Gerry Treacy no later than December 1st.
---
 Social Farming Information Morning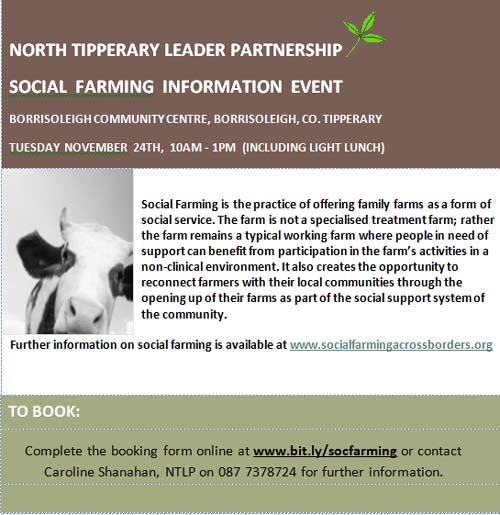 Social Farming: New farming partnerships within local communities
North Tipperary Leader Partnership is hosting an information morning on Social Farming in Borrisoleigh on Tuesday November 24th from 10am – 1pm. Social Farming includes farm families opening their homes and farm to work placement for people with a disability or other health or social need, for which they receive a payment.
Social Farming creates opportunities for ordinary farm families and rural communities to play active roles as partners in supporting more marginalized people in society. It offers choices to a wide range of people in providing the opportunity of engaging with farming and rural life. This may include the provision of training, developing new roles for people in the community, providing respite care on- farm; and supporting 'the rural lifestyle experience'. The international 'Social Farming' experience includes support to people with a range of disability or mental health support needs, through people recovering from addiction and 'at risk' youth.
The concept of social farming has evolved as a response to the choices of people who want to engage in the outdoor life and in rural community. The health and social care sector in past decades provided elements of agriculture based activities on an 'in house' basis. People want 'an ordinary life' one with roles and a contribution within the community. For those who choose this within rural communities farmers and farm families are an established 'natural support' hub. Of equal importance are the family, community, social and cultural roles that farm families play within their communities. The combination of these roles describes a relationship which is both 'social' and 'farming'. A practicing social farmer describes the kitchen table and the Stanley range or 'hearth' as being of equal importance as the outdoor work. The family farm, its connection to its past generations, its future vision and the changes each year brings are aspects which cannot be replicated in a service setting.
This concept has been piloted in recent years on 10 farms in Northern Ireland and 10 farms in the border counties of the Republic of Ireland. This was through the Social Farming Across Borders Project (SoFAB) with funding from the European Regional Development Fund. The organisations involved in the delivery of the project Project were Leitrim Development Company, University College Dublin and Queen's University Belfast.
The Social Farming Support Office has been established to continue the work of the Social Farming Across Borders Project with Helen Doherty and Brian Smyth providing advice and support for the development of Social Farming throughout Ireland. They will facilitate the information morning on November 24th and a pilot farmer who has participated in the project will also speak about his experience.
The event details are as follows –
Date: Tuesday 24th November Time: 10am – 1pm
Venue: Borrisoleigh Community Centre, Borrisoleigh, Co. Tipperary
To book: Complete the booking form online at www.bit.ly/socfarming or contact Caroline Shanahan, NTLP
on 087-7378724 for further information.
---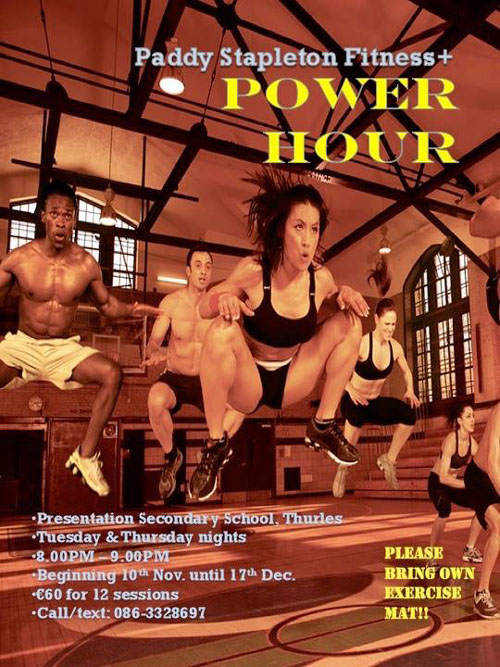 ---
 Camogie Notes 


AGM
Our A.G.M. took place last Saturday. The following officers and managers have been elected:
Chairperson: Carmel Harkin, Vice Chairperson: Mike Galvin, Secretary: Darragh Ryan, Assistant Secretary and Registrar: Paula Ryan, Treasurer: Triona Fitzgerald.
Child Welfare Officer: Denise Hogge. PRO: Catherine Delaney.
The club would sincerely like to thank outgoing Treasurer Joanne Cowen for all her work in the club over the past four years.
Managers and mentors:
Senior: David O'Connor, Toby Kavanagh, Diarmuid Kinane, Ciáran Hackett & Paula Ryan.
Minor: Ruairi O'Connell.
U16: TBA at adjourned AGM.
U14: Francis Doolan, Jody Boyle & Patricia Kennedy.
U12: Mike Galvin, Sarah Galvin & Martin Hayes.
U10: Brendan Fanning, Yvonne Hodgins, Aaron Reid & Christine Delaney.
U8 & U6: Patricia Ryan, Marion Hodgins & Kevin O'Brien.
It is hoped that we will have enough players to form a Junior B team this year.
So, if you had retired from camogie and would like to return, or if you think this could be the team for you. Please contact any committee member and let us know of your interest.
Fundraising
We are holding a Fashion Show in February. Tickets for the show will be on sale shortly. A great stocking filler for Christmas.
Our Church Gate collection takes place on November 28th & 29th, your support would be appreciated.
Like us on our Facebook page Borris-Ileigh camogie for up to the minute updates.
Merchandise is now available to buy with the Borris-Ileigh logo on the O'Neills website, www.oneills.com. Input Borrisoleigh in the search field to see the range available.
---
 Lawnmower Repairs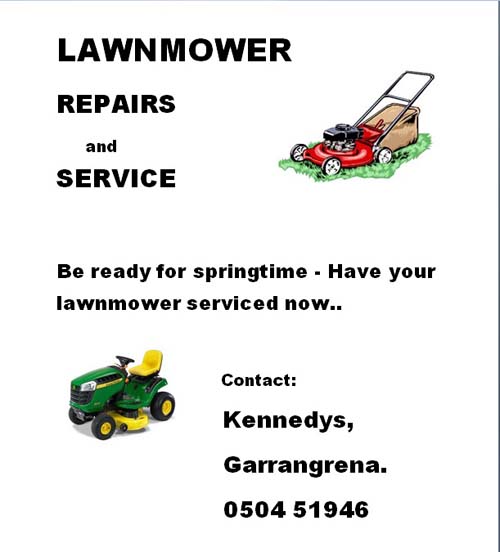 ---
Bourke Sports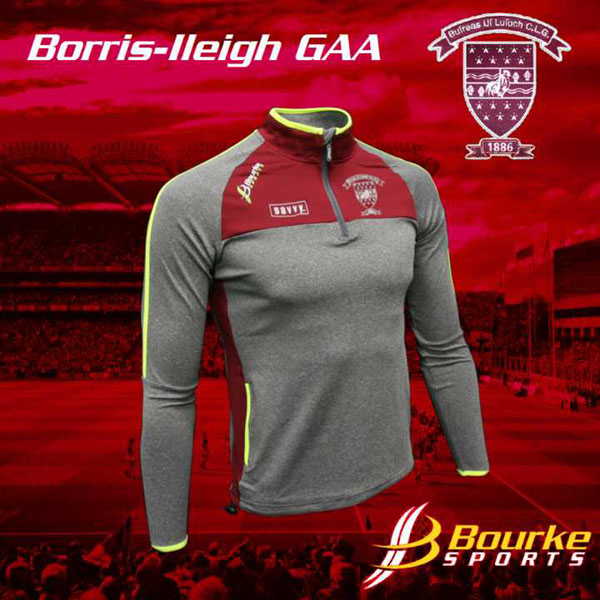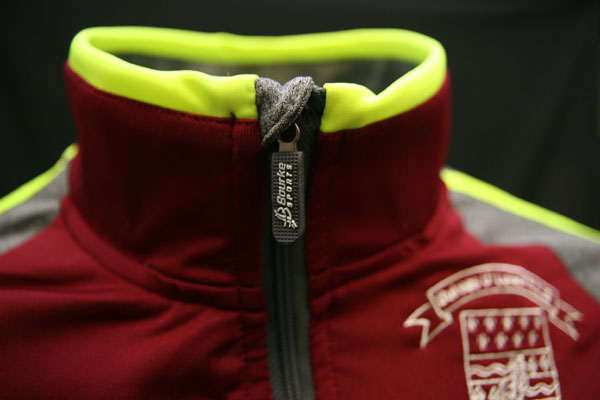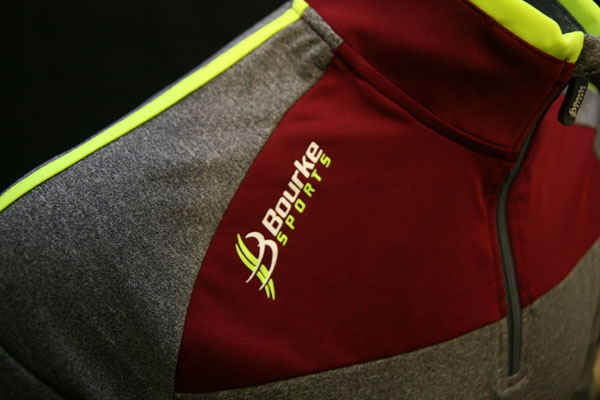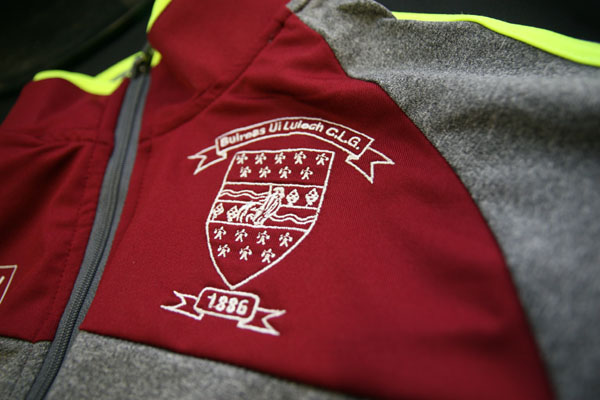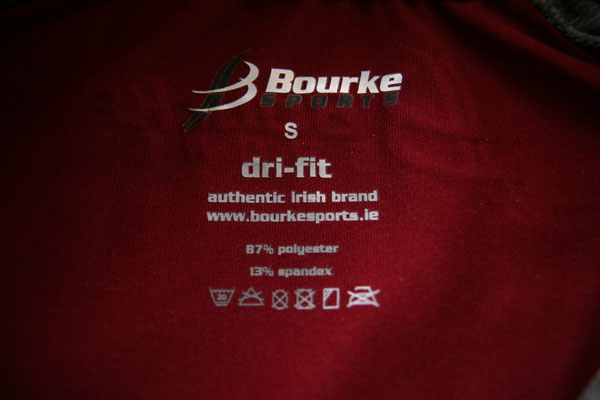 All sizes now in stock and available at Bourke Sports. Opening Hours 9am-5pm Monday-Friday (Closed 1-2 for lunch) and 9am-12 midday Saturdays, Closed Sundays
Price:
Adults €40
Kids €35
---
NORTH TIPP. ALZHEIMER SOCIETY – 10th. ANNIVERSARY

We are celebrating our 10th. Anniversary with an" Open Evening" in our Office at 3a, Ormond Court, Summerhill, Nenagh on Monday 23rd. November at 7pm. A talk on the legal aspects of Alzheimers/Dementia will be given by a local Solicitor. This will be very interesting and informative for us all. Please do come along to celebrate the occasion with us, have a chat and a "cuppa". Your presence will be much appreciated. For more information contact Mary – 087-126341 or Aileen – 087-2076814.
---
 Pic of the Past……….down memory lane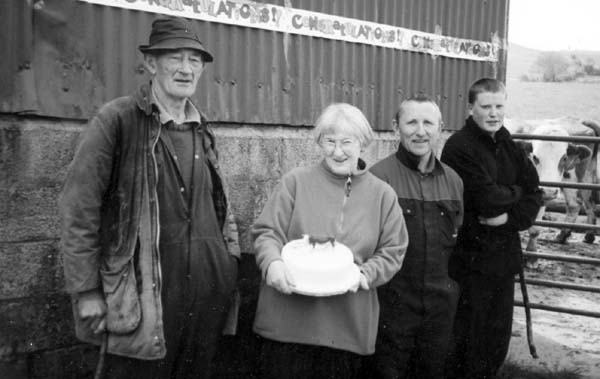 Martin Fogarty, Evelyn Fogarty, Tommy Foley and Declan Foley,
all from Currabaha
---
 Your Website Needs You!
Committee: Enda Ryan, Noreen Fahy, Margaret Cowan, Marie McGrath, Aileen Óg Groome and Derry O'Donnell

Many thanks to all those who contributed photographs and news items. Remember, we need you to continue to send us material so that we can keep our website current and interesting.
Send your email to: info@borrisoleigh.ie

Also, if you like what you see and want to leave a comment, remember to use the Guestbook!
If you are leaving a comment asking people to help with family research etc. please include your email address within the comment itself
While we make every effort possible to ensure that the information contained in this Website is accurate and complete, we cannot accept any legal liability as a result of the inaccuracy or incompleteness of the information presented to users of this site

---