Happy Halloween from all in Fifi's Tots preschool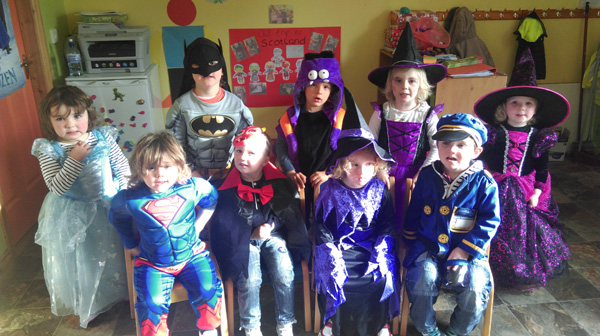 ---
Scoil Naomh Cualán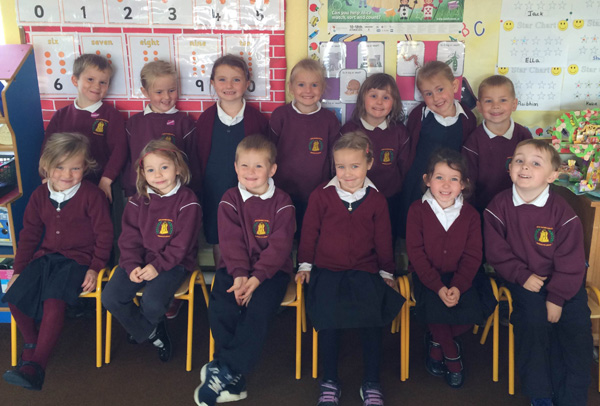 Junior Infants in Scoil Naomh Cualán have settled in really well to their new school and have had lots of fun and learning during their first term.
---
Camogie Notes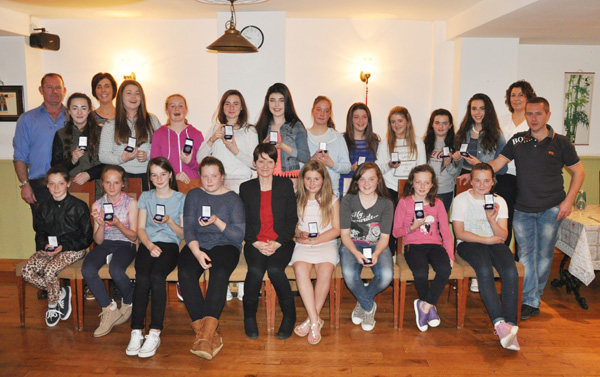 U14 Féile team came together last weekend to enjoy a meal out at the Chinese, and receive their Shield medals. The girls had travelled to Burt in Co. Donegal last June and took part in the weekend of competitions, narrowly loosing out to Paulstown of Kilkenny in the final.
A great evening out was had by all. See
gallery
, where the girls are presented with their medals by Vice-Chairperson Mike Galvin. A presentation was also made to Paula Ryan on the night for making the weekend possible.
To view photos from the night please visit our Photo Gallery or click here
Minor match has been changed v Holycross to Sunday Nov 1st at 12 in Holycross. Good luck girls.

---
Borrisoleigh Historical Society – November Lecture
'Drift and Its Dangers –
North Tipperary July 1921- June 1922.'

This talk will look at the events in North Tipperary from the commencement of the Truce in July 1921 up to the outbreak of the Civil War, eleven months later in June 1922. The title of the lecture is taken from an editorial which appeared in the Nenagh Guardian at the time and which decried the deplorable state of turmoil and slow drift to anarchy which existed in the county. Among the topics covered in the talk will be the attacks on the RIC barracks in Borrisoleigh and Goldings Cross. The evacuation of barracks by RIC / Black and Tans and their replacement by Free State and Republican forces which occurred throughout North Tipperary at the time. The talk gives an incisive look at events leading up to the Civil War and examines the way in which different personalities adopted differing positions in the lead up to the establishment of the Irish Free State. The speaker will be John Flannery, President of Ormond Historical Society. John previously delivered the inaugural lecture to Borrisoleigh Historical Society and has contributed to the Borrisoleigh Annual. He recently conducted a series of weekly talks on local history in Steeples bookshop in Nenagh. A regular contributor to historical societies in Tipperary and Clare, John is currently collaborating with our own John Connors on the history of the Civil War in North Tipperary
---
St Joseph's College Borrisoleigh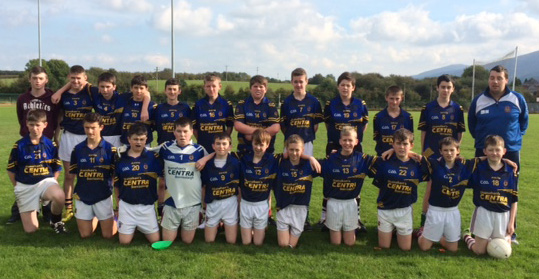 U15 Munster Football
St. Josephs College, Borrisoleigh 5-10
North Monastery, Cork 3-10
Well done to our fantastic u15 football team on their victory over a highly fancied Cork city side last week down in Ballypooreen. North Mon had accounted for Colaiste Mhuire of Thurles in round 1 so they would have been expecting to complete the double over Tipperary opponents but our boys were having none of that.
Playing against the breeze and the hill in the first half, North Mon made a flying start scoring 1-2 within 5 minutes and things were looking ominous, but man of the match Harry Stapleton got on the ball steadied the ship and set up Kevin Maher for our opening score. This settled everyone in the team and when goals from Fintan Holland and Kevin Maher as well as points from Evan Kearns and inspirational centre back and Captain Dan Ryan followed, St Josephs were in a great position but a late flurry of points from North Mon saw them take a 4 point lead to the break. This would have been greater only for the excellence of Darragh Quigley in goals and James Kelly ahead of him at full back.
A few positional changes and Bryan Murray's introduction and St Josephs took the field knowing they had a huge task ahead. Little did anyone think they would only allow their opponents 2 points in the half. Within a few seconds of the throw in, Sean Dunne weaved him way through the Cork defence to smash the ball to the net. Spurred on by this, this drove on and rattled over three more pointed free`s and a Bryan Murray goal put daylight between the teams.
North Mon tried in vain to attack but the stout defence of Cian Stapleton, Adam Galvin and especially Luke Cooney who marked their star player out of the game. This allowed our midfield and half backs to break at pace. Cathal Hogan, Aidan Ryan and Mark Kinane worked their socks off to move the ball of pace up the field.
In the last ten minutes as North Mon looked for goals, the class of Borrisoleigh shone through. Time after time, Harry Stapleton, Dan Ryan and Kevin Maher orchestrated a supply of ball to the forwards and a brilliantly taken goal from Jack Fitzgerald as well as points from Evan Kearns and Sean Dunne again left 6 points in the difference as the whistle blew for full time.
This result sees St Josephs into the Munster quarter final with their opponents Colaiste Craoibhin of Fermoy in Cork. Best of luck lads.
Darragh Quigley,Adam Galvin, James Kelly, Cian Stapleton, Luke Cooney, Dan Ryan © Mark Kinane, Cathal Hogan, Aidan Ryan, Sean Dunne, Kevin Maher, Harry Stapleton, Evan Kearns, Fintan Holland, Jack Fitzgerald, Bryan Murray, Stephen Delahunty, Josh Young, Oisin Stapleton, Pauric Stapleton and Paul mc Cormack.

Student council

Our Student Council elections were held on Monday 28th of September. The council members are: Joanne Minogue and Adam Ryan (6th year), Kristine Danko and Cormac Dunne (5th Year), Gillian O'Meara and Eimear O'Slatterra (Transition year), Bríd Ryan and Luke O'Gorman (3rd year) and Aoife Ryan and Luke Cooney (2nd year). Election of first year representatives will take place in January. Joanne Minogue was elected as Chairperson of the Student Council at our first council meeting.
Congratulations to the students elected and well done to all who were nominated and who took part in the election process. The Student Council will strive to promote a positive school atmosphere, to listen to students and represent their views throughout the coming school year.
---
Topaz Cash for Clubs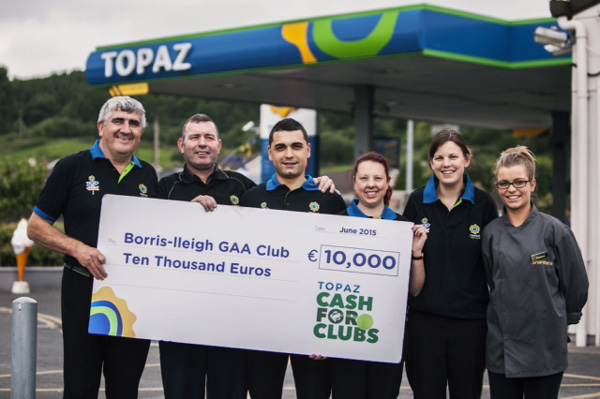 Congratulations to Borrisoleigh GAA on winning Topaz cash for clubs.
---
Borrisoleigh Community Games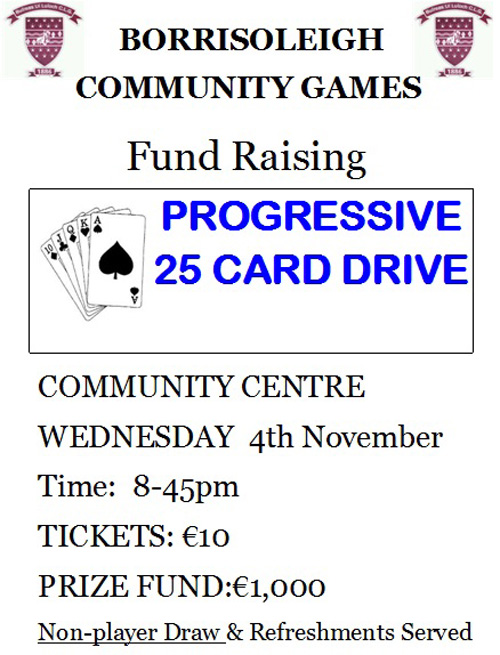 ---
Congratulations!
Congratulations to John Keane (Junior), 8 Mount George, Borrisoleigh on securing his new role as Vice Principal in St. Paul's Community College, Waterford. Wishing him every success in his new role starting Monday next 2nd of November.

---
Borrisoleigh Annual 2015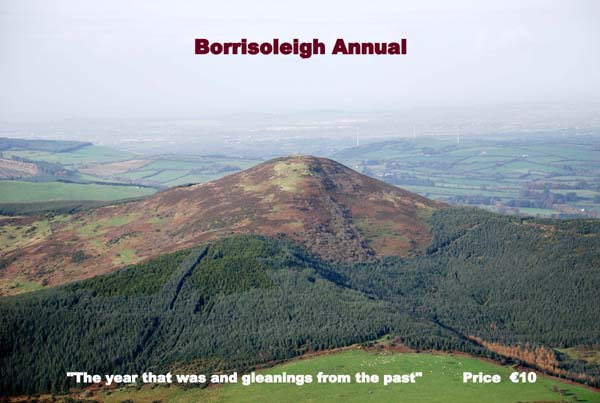 It is that time of the year again and this year the Borrisoleigh Community Development Association plan to produce another annual. We would be very grateful if the clubs/organisations/schools of the community could once again forward us an article and pictures of the activity of your clubs/organisations/schools during the year of 2015. We are also seeking interesting articles that relate to Borrisoleigh. They can be present day or relate to the past. It would be great if some photos accompanied the articles but we will accept articles without photos. Plus we would like to get articles from people who have left the area, of their memories about Borrisoleigh, or from people who have moved into the area of their experiences in the locality. We would also welcome suggestions that may help us to improve the annual.

To enable us to do this we will need all articles and photos by Thursday the 31st October 2015. Can all articles be sent in word if possible with photos as separate jpeg attachments to this email address borrisoleighannual@gmail.com. Once again your assistance in the production of the 2015 annual will be appreciated.
---
Halloween in The Bothy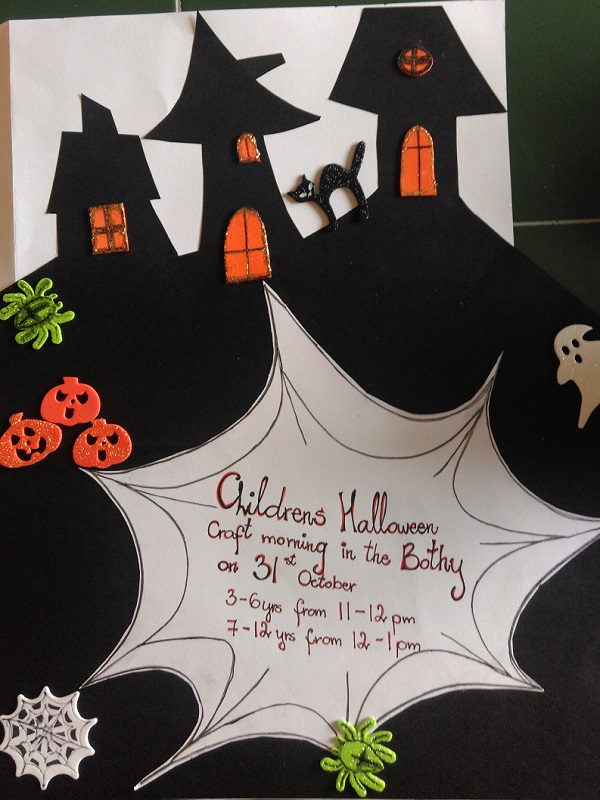 Children's Halloween Craft Morning in the Bothy on 31st October.
3-6yr old from 11-12pm
7-12yr old from 12-1pm
---
Knitting & Crochet Classes
Knitting and crochet classes for beginners will commence in the Community Center Borrisoleigh within the next couple or weeks depending on numbers. Limited places available, for more information contact Catherine at 0879326002
---
Borrisoleigh Active Social Club
Are you interested in making your own Advent Wreath for Christmas? If so contact Eileen, Dolores or Lucia before Nov 10 so we can arrange for same.

---
Borris-Ileigh GAA Club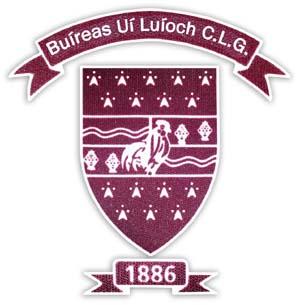 Borrisoleigh GAA Club Gear can be ordered directly from O'Neills at www.oneills.com. Click here to see the full selection.
---
Scór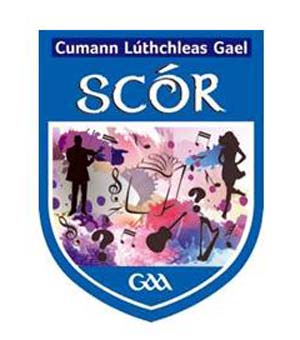 The North Final of Scór Na nÓg will take place in Birdhill hall on Saturday 7th November. Please note change of time and venue.
---

Team Hope Christmas Shoebox Appeal


Its that time of year again & We want to get as many Christmas Shoe Boxes filled as possible. All you have to do is wrap a shoe box in Christmas paper & fill it with goodies appropriate for the age group you select.
Leaflets can be got in Borrisoleigh from Fiona Max & filled boxes can be dropped to Fiona's also.
Any queries to Fiona on 087-2169150.
---
Vintage Run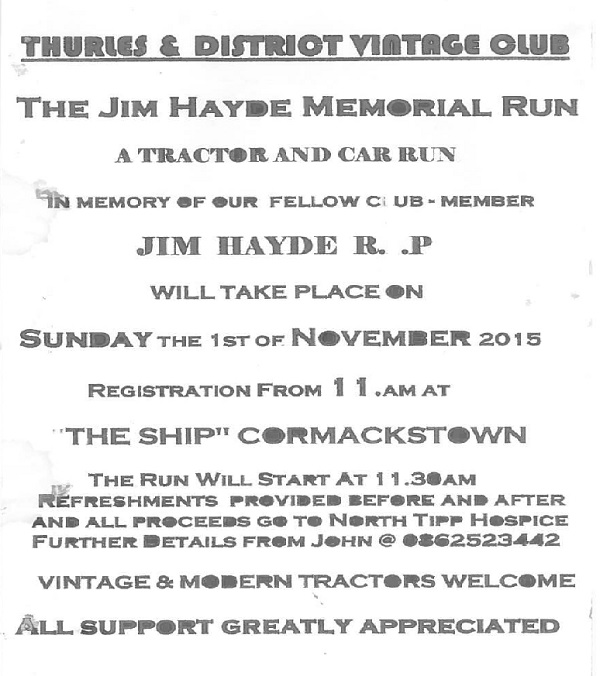 ---
Pic of the Past……….down memory lane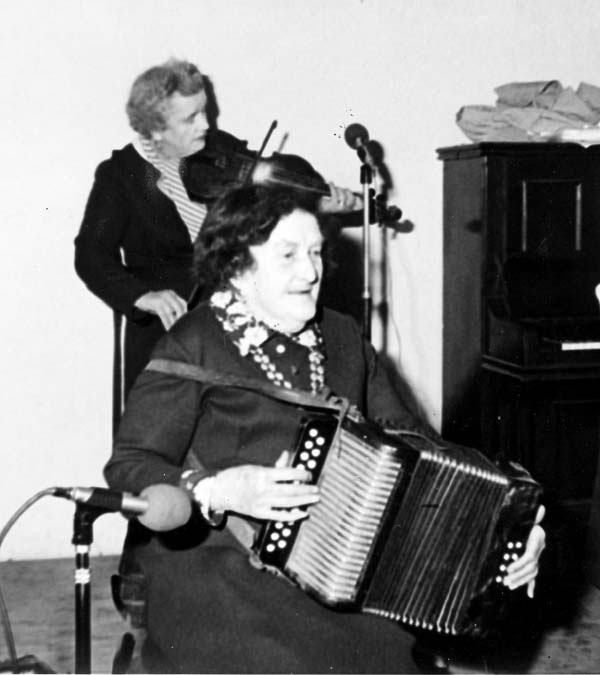 Lizzie Patterson, Lower Street on the accordian.
Lizzie was a well-known accordian player who played at many
parish outings in days gone by. She was also a grand-aunt
of the famous tenor Frank Patterson and the lady playing the violin along with Lizzie was Josephine Brady , Archerstown Mills , Thurles,
She was formerly Josephine Leahy, and was reared in Borrisoleigh where the Community Centre is now.
---
Your Website Needs You!
Committee: Enda Ryan, Noreen Fahy, Margaret Cowan, Marie McGrath, Aileen Óg Groome and Derry O'Donnell

Many thanks to all those who contributed photographs and news items. Remember, we need you to continue to send us material so that we can keep our website current and interesting.
Send your email to: info@borrisoleigh.ie

Also, if you like what you see and want to leave a comment, remember to use the Guestbook!
If you are leaving a comment asking people to help with family research etc. please include your email address within the comment itself
While we make every effort possible to ensure that the information contained in this Website is accurate and complete, we cannot accept any legal liability as a result of the inaccuracy or incompleteness of the information presented to users of this site