St Joseph's College Borrisoleigh
Open Night
A very successful open night was held at St. Joseph's College, Borrisoleigh on Thursday 15th October. A large group of 5th and 6th class pupils, along with their parents attended presentations in the specialist class rooms and met the teachers. This was followed by the principal's address and former student, Tipperary hurler James Woodlock fondly recollecting his school days at St. Joseph's. A big thank you to all the teachers who as usual put in great work to make sure the night was a success. For anybody who missed the open night and would like to view the school please contact Mr. Kevin McCarthy at 0504 51215.
Mozart Concert
On Wednesday, October 14th, the leaving cert music class attended a presentation and performance of one of their prescribed works, Mozart 's Piano Concerto in A major K 488 at the magnificent St Mary's Cathedral, Limerick. Peter Barley gave an insightful analysis of the work with the orchestra illustrating his words. This was followed by a performance of the complete concerto conducted by Peter Barley. Stuart O Sullivan was the piano soloist. It was a wonderful opportunity for the students to experience a live performances of the work they had studied and they found it to be of great interest and benefit. They even got the opportunity to speak to Stuart after the concert about his career as a pianist, his style of playing and his favourite music. Most enlightening indeed.
Junior music students will have their opportunity to hear a live orchestra when they visit City Hall Cork for a performance by Cork Pops Orchestra on November 5th. This will be presented by Evelyn Grant, well known conductor, educationalist and presenter on lyric fm.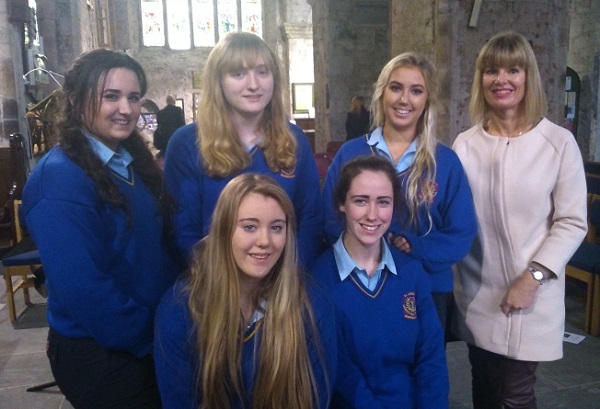 Leaving Cert Music Class with teacher Ms Rowe at Mozart Concert
Rugby Blitz

St. Josephs' College, Borrisoleigh took part in a blitz in Kilfeacle ran by Munster. We had 2 games in our pool and then progressed to the final. In the final we met Nenagh College and it ended in a draw, 10-10. Sean Dunne scored a great try to start off proceedings early in the match. It wasn't long before Nenagh did the same. Cian Stapleton then barged over the line with the help of Kevin Maher to score our second try. Nenagh College then equalised in the dying minutes. Man of the match was awarded to our own captain Kevin Maher who played outstanding as did a lot of our players who took to the rugby field for the very first time. Dan Ryan took a knock in the first game and all the team would like to wish him a speedy recovery.

St Joseph's College Rugby Team

---
Table Quiz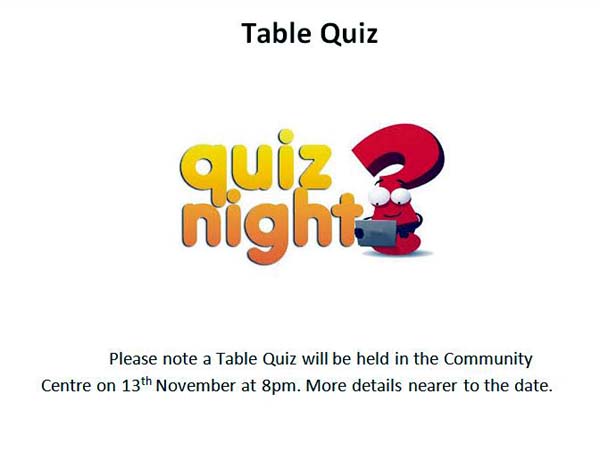 ---
Borrisoleigh Annual 2015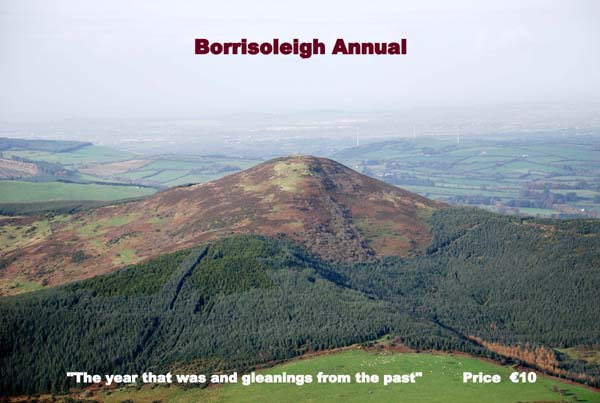 It is that time of the year again and this year the Borrisoleigh Community Development Association plan to produce another annual. We would be very grateful if the clubs/organisations/schools of the community could once again forward us an article and pictures of the activity of your clubs/organisations/schools during the year of 2015. We are also seeking interesting articles that relate to Borrisoleigh. They can be present day or relate to the past. It would be great if some photos accompanied the articles but we will accept articles without photos. Plus we would like to get articles from people who have left the area, of their memories about Borrisoleigh, or from people who have moved into the area of their experiences in the locality. We would also welcome suggestions that may help us to improve the annual.

To enable us to do this we will need all articles and photos by Thursday the 31st October 2015. Can all articles be sent in word if possible with photos as separate jpeg attachments to this email address borrisoleighannual@gmail.com. Once again your assistance in the production of the 2015 annual will be appreciated.
---
Track-Attack Notes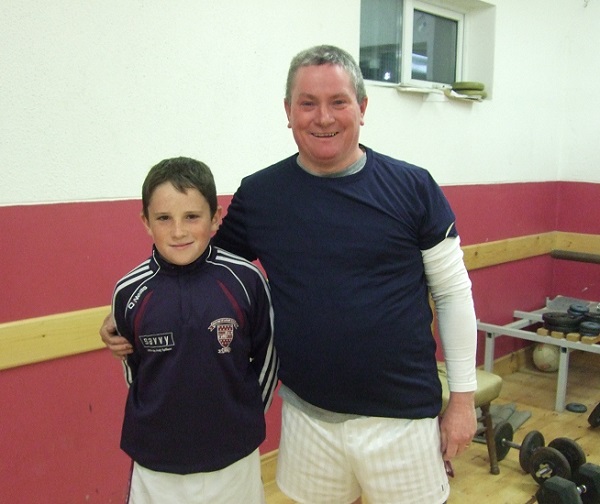 Most Improved Track-Attacker in week 2 Joe Kennedy with his son Mikey
Planet Track-Attack Lead For Hogg



It was Monday Night Madness at the track in Borrisoleigh for the third round of the Planet Track-Attack Series. The attendance record for the Series was again smashed as 169 participants took to the track in a bid to win their own personal battles.

The Series have now been broken into 16 different groups, all named with a Planet theme. The atmosphere each night is brilliant and competitive in a friendly way. With 3 different distances to choose from and a non-competitive walk also, the Series offer something for everyone and this is evident from the terrific crowds in attendance each night.

In the group labelled Earth which is competed for over 6km, we had a superb battle for the line as Daniel Hogg and Noel Kennedy went toe to toe all the way up the finishing straight and when crossing the line, the clock was unable to separate the duo and recorded identical times. Both athletes picked up the one minute time bonus on offer to all who broke their personal time and in terms of the overall Series leader board, it is the impressive Hogg who has opened up a slender 30 second lead.

The Mercury group is where you will find the hot-shots of the 6km group and their performances in round 3 certainly didn't disappoint. Andy Quinlan negotiated the track traffic to brilliantly break the tape in a time of 23:49 followed closely by Liam McCullagh in a time of 24 minutes flat. On the overall leader-board, it's the Kilcommon man that hold a 12 second lead over the Crokes athlete with Upperchurch man Mike Gleeson making up the top 3. On the night we also had superb runs from both TJ Carey and Trevor Groome and both are primed to make inroads into the overall leaders in the coming weeks.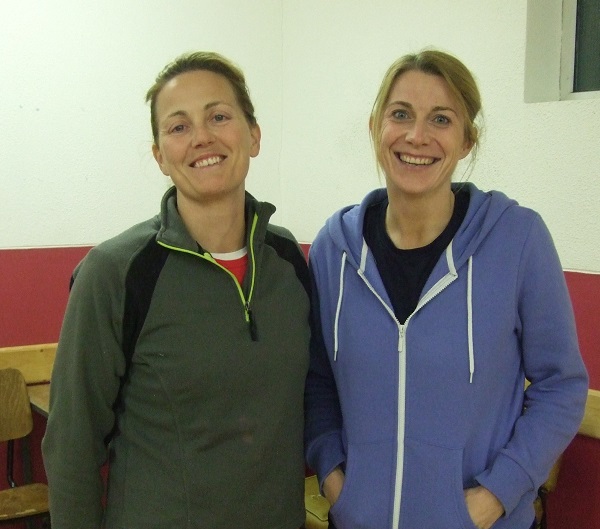 Track-Attackers Aileen Stapleton and Christine Rabbitte
Despite missing out on the time bonus by a mere 2 seconds, Tom Ryan still did enough to secure the leadership of the Venus group. It's a group that's going to get highly competitive as the weeks progress with participants with the determination as Michael O'Brien, Maher brothers Martin and Sean, Denis O'Connell, PJ Kiely and John Cummins breathing down the leader's neck.
In the other 3 groups covering the 6km distance, we have female leaders after 3 weeks of top class action. Kathleen O'Meara produced her best display of the Series to date to jump-start her Series and take the overall lead of the Mars group. Michelle Fitzpatrick is in excellent form to date resulting in her occupying the top place in the Jupiter group while in the group named Saturn, Siobhan Carey has already improved on her opening night's time by a full 2 minutes which in turn has put her in as one of the early favourites for the title.
There is also 6 different groups covering the 4km distance. The Cooney brothers Nicky and Will have both laid down early markers and are the early leaders in the Pluto and Neptune groups respectfully. Oran Bergin holds a 20 second lead in the Uranus group from Conor Keane who in turn has a 2 second lead over third place Ben O'Donnell.

Some excellent displays from Clodagh Ryan in the three outings to date sees her hold a 7 second lead over the fastly improving Patrice Cooney in the Comets grouping. Both will have to keep a watchful eye on Christine Rabbitte who is sitting in third place overall with Rena Ryan also in close proximity. Aisling Gleeson produce her best Track-Attack performance to date and in doing so announcing herself as one of the favourites for the Space named group. Her 2 closest challengers are 2 of our most improved athletes namely Phil Mason and Helen Hurley and if they can both maintain their current level of improvement, they will be in with a major title shout when the Series draws to an end in early December. Deirdre Collins knocked 17 seconds from her previous best in round 3 resulting in her claiming pole position in the Apollo group. Only 26 seconds separate the top 3 here with Catherine Ryan and Kate Minogue making up the other 2 podium placings.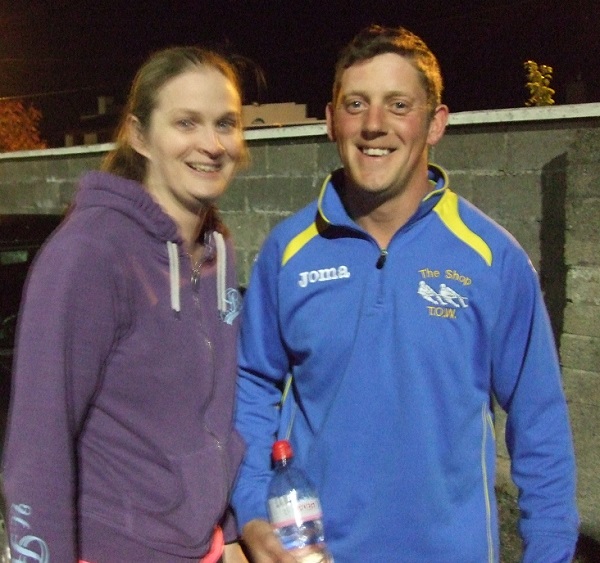 Newly-wed Track-Attackers Bernie and Ailbe Cummins

4 groups make up the 2.7km Series and all 4 will be well worth watching over the coming weeks. Brian Bourke ran a superb 13:55 to help him to the top of the Galaxy ladder and he is someone to keep a close eye on as he is already showing some excellent athletic ability. He's not going to get it all his own way however as in equally impressive fashion, Luke Mockler is hoovering with intent and will have a huge say in the final destination of the Galaxy title.

We have joint leaders in the Stars group with both Sinead Ryan and Eimear O'Donnell amassing a time of 53:35 over the opening 3 weeks. A super performance from Leo Collins however saw him make a major move up the leader board and a similar performance in round 4 could well see him climb that ladder even further.

Joey O'Dwyer butchered nearly two and a half minutes off his personal best to lay claim on the leading position in the Sun labelled group. The youth of Therese Groome will be chasing that lead in the coming weeks as she sits in second spot while Templederry's Edel Kinane impressively knocked a large chunk from her PB resulting in her occupying the third group place.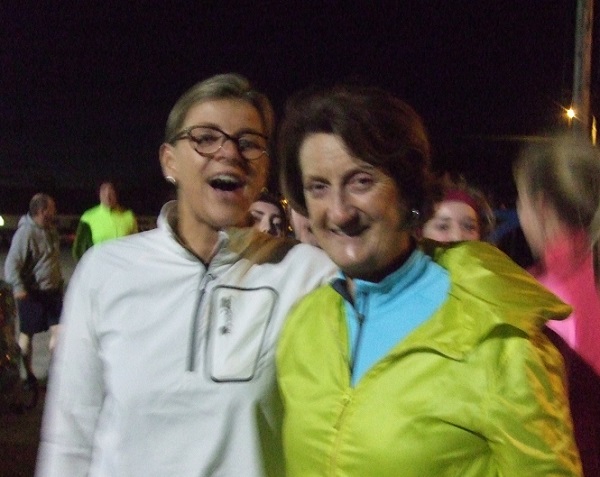 Track-Attackers Elaine Ryan and Marie O'Connell

The Templederry flag is also flying aloft in the Moon named group with Karen Nash been the only group participant to pick up the time bonus in week 3 which in turn saw her jump to the loftiest placing. Second place is currently held by Avril Ryan with Caroline Kennedy keeping a grip of third place overall.

All the groupings and general information about the Planet Series as well as all Track-Attack activities can be seen by logging onto our Facebook page at Borrisoleigh Track Attack. We could well see some major movement in the various league tables following week 4's completion. Week 4 is themed "Drive for Five" with all participants gaining a 5 second time bonus for every 5 seconds they carve off their PB while the top 5 who record the best PB's will also receive a one minute time bonus. Time bonus' in week 5 following the break for the Bank Holiday weekend could well shake up the leadership in each of the 16 groups!!!
Trevor Tackles Dublin



The very best of luck to Track-Attacker Trevor Groome who will run the Dublin City Marathon on Monday next. Hopefully the weather will be kind to participants and that PB's are the order of the day…
---
The Mary Slattery Benefit Fund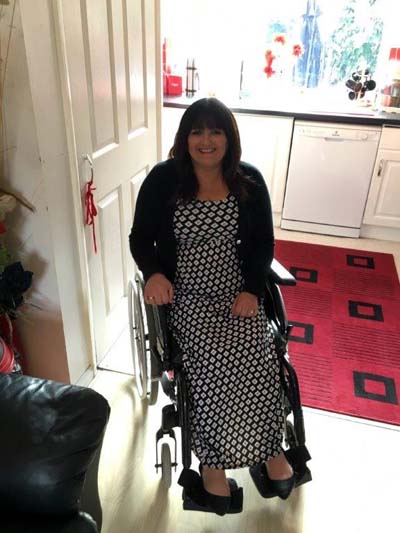 The friends and family of Mary Slattery are organising a fundraising night in Stapleton's Bar on Friday 13th November. Mary, previously of Glenanogue and Pallas St., Borrisoleigh is wheelchair bound for the last three and a half years and whilst she has received some assistance from the NHS, her home in the UK still needs some modifications to enhance her day-to-day living. We are asking for financial donations, timber or items suitable for auction or raffle. If you can help in any way please contact one of the following: Christy Slattery 087 2250791, Pat Slattery 087 2059204, Biddy Hurley 087 2926706 or Christy Kinane 087 6198362.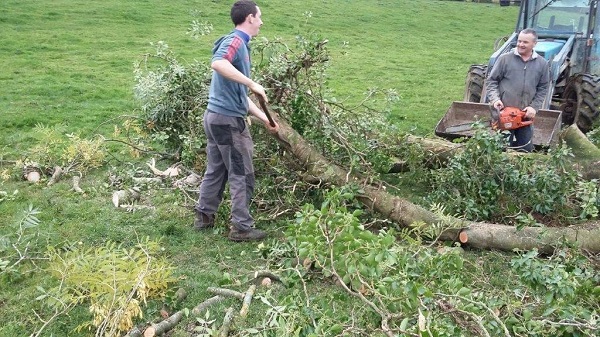 The boys are busy cutting timber in preparation for the Auction!
---
Scoil Naomh Cualán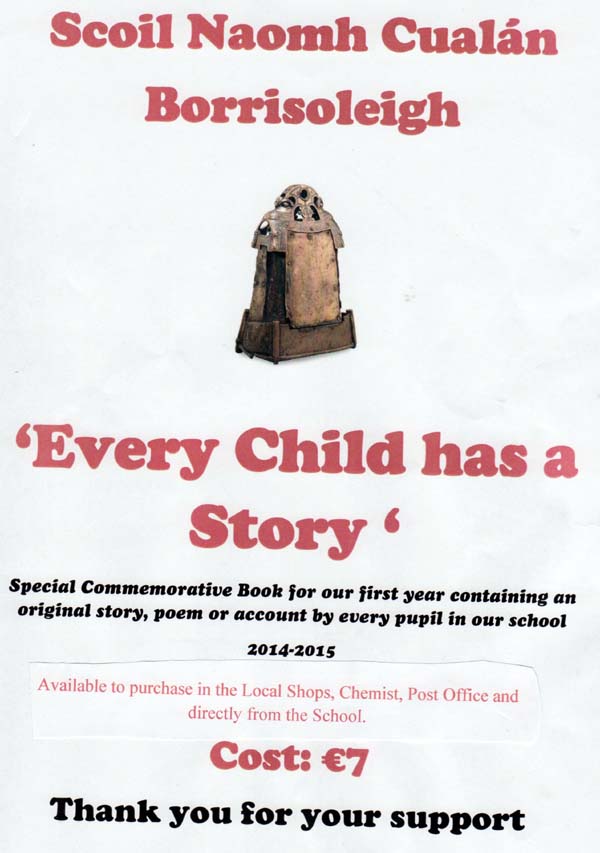 ---
Halloween in The Bothy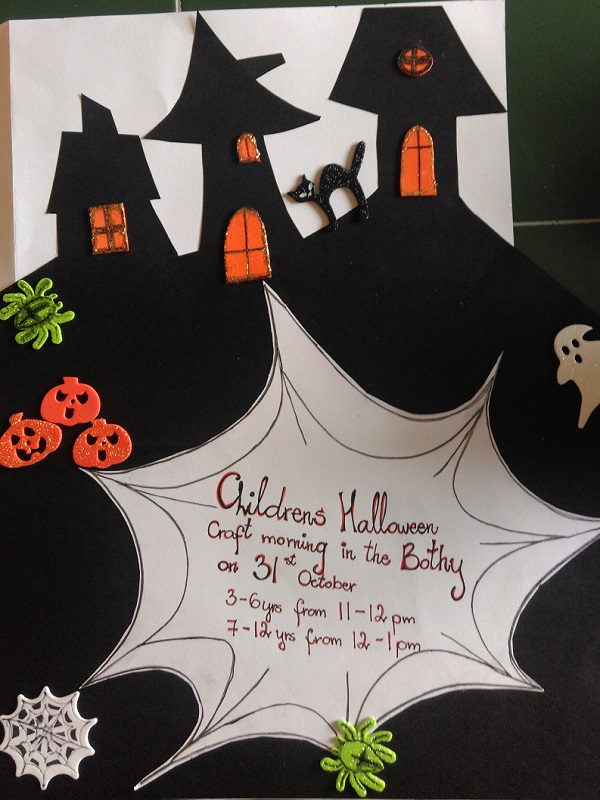 Children's Halloween Craft Morning in the Bothy on 31st October.
3-6yr old from 11-12pm
7-12yr old from 12-1pm
---
Knitting & Crochet Classes
Knitting and crochet classes for beginners will commence in the Community Center Borrisoleigh within the next couple or weeks depending on numbers. Limited places available, for more information contact Catherine at 0879326002
---
Borrisoleigh Active Social Club
There are a couple of tickets still available to go see the show The Menopause Musical in Limerick next Wed Oct 28. Please contact Eileen or Lucia if interested in going.
Are you interested in making your own Advent Wreath for Christmas? If so contact Eileen, Dolores or Lucia before Nov 10 so we can arrange for same.

---
Borris-Ileigh GAA Club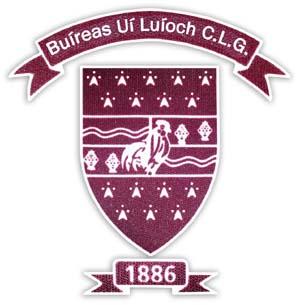 Borrisoleigh GAA Club Gear can be ordered directly from O'Neills at www.oneills.com. Click here to see the full selection.
---
Borris-Ileigh Camogie Club

The Linda O'Connor Annual tournament
took place last Saturday afternoon. A great turn out for this the annual remembrance of the late Linda O'Connor. Teams participating were Portroe, Borris-Ileigh, Moneygall, O'Loughlin Gaels White & Green and Moycarkey. This was a 7 a side competition, which meant the pace was fast and fantastic to watch. With the teams divided into two groups, the Semi-Finals resulted in Borris-Ileigh beating O'Loughlin Gaels Whites, and Moneygall beating Moycarkey.
The final between Moneygall and Borris-Ileigh was one sided from the off. Moneygall showed the skill of a well experienced Senior team, beating this hard working Borris-Ileigh team well in the final. Well done Moneygall.
View photo gallery
Also, on Saturday last, we welcomed U10 & U12 teams from Ballinora, Co. Cork, for a morning of play off matches, mixing hurling and football. It was a great event, with our girls especially loving the football. For these matches, the Cork and Borris-Ileigh mixed the teams and enjoyed it all immensely. We followed our matches by retreating to the Parish Centre, where approx 80 kids and mentors enjoyed a fine display of food and beverages.
Many thanks to Joey O'Dwyer butchers who sponsored the food for the occasion and to all the help from parents and committee with the serving of the food.
View photo gallery
Minors played Burgess last Sunday morning at home. This was a fantastic result for the girls who led throughout. Final score: 6-16 to 5-09.
Scores from: A DeLargy 0-01, K Danko 0-01, T Mockler 0-01, A Hogan 4-09, S Kinane 2-03 & K Delaney 0-01.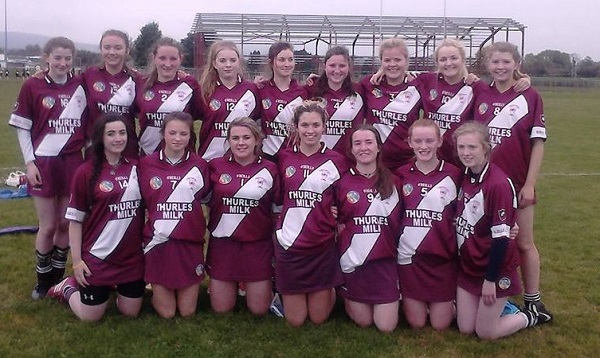 Minor Camogie Team
Like us on Facebook on Borris-Ileigh camogie for up to date times and fixtures.
---
Scór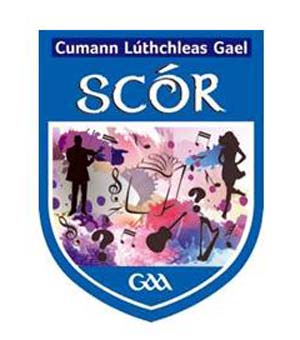 The North Final of Scór na nóg will take place in the Marion Hall in Borrisoleigh on Friday 6th November. Please note that Léitiú rules have changed.
---
Lost
Lost: On 2nd October between Magic Wok and Centra, a green scarf with a picture of a brown owl on it. If you found it could you please call 0504-50765. Mary.Thank you.
---
Team Hope Christmas Shoebox Appeal


Its that time of year again & We want to get as many Christmas Shoe Boxes filled as possible. All you have to do is wrap a shoe box in Christmas paper & fill it with goodies appropriate for the age group you select.
Leaflets can be got in Borrisoleigh from Fiona Max & filled boxes can be dropped to Fiona's also.
Any queries to Fiona on 087-2169150.
---
Vintage Run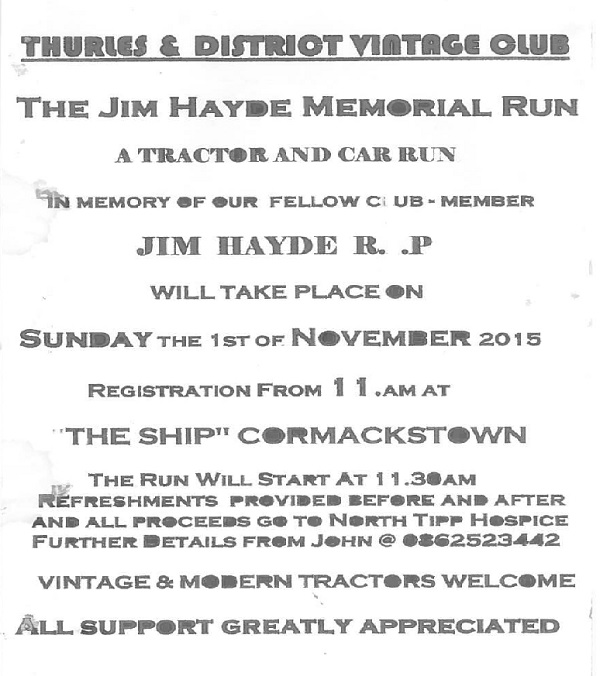 ---
Pic of the Past……….down memory lane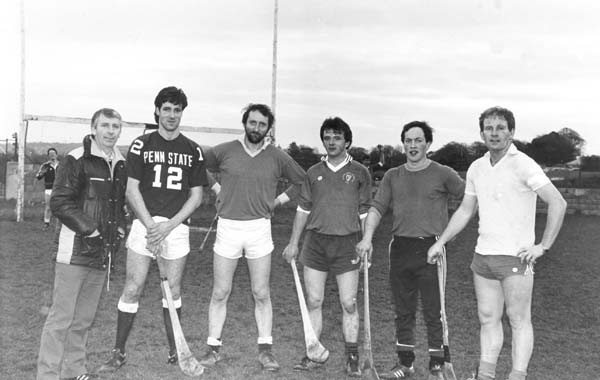 Paddy Doyle, John McGrath, Timmy Ryan, Ileigh, Francis Collins, Michael Ryan, Pallas and Noel O Dwyer, pictures at a training session in 1986
---
Your Website Needs You!
Committee: Enda Ryan, Noreen Fahy, Margaret Cowan, Marie McGrath, Aileen Óg Groome and Derry O'Donnell

Many thanks to all those who contributed photographs and news items. Remember, we need you to continue to send us material so that we can keep our website current and interesting.
Send your email to: info@borrisoleigh.ie

Also, if you like what you see and want to leave a comment, remember to use the Guestbook!
If you are leaving a comment asking people to help with family research etc. please include your email address within the comment itself
While we make every effort possible to ensure that the information contained in this Website is accurate and complete, we cannot accept any legal liability as a result of the inaccuracy or incompleteness of the information presented to users of this site