Congratulations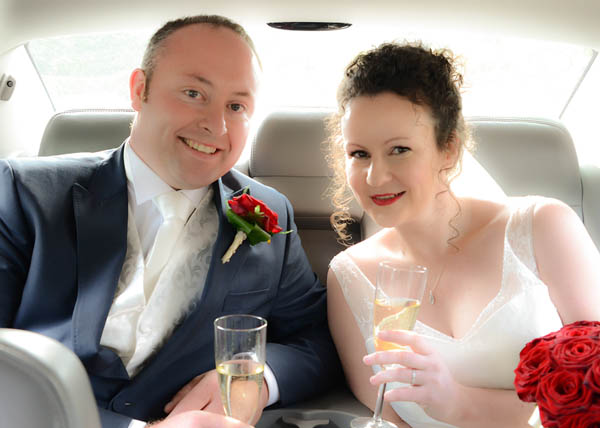 The happy couple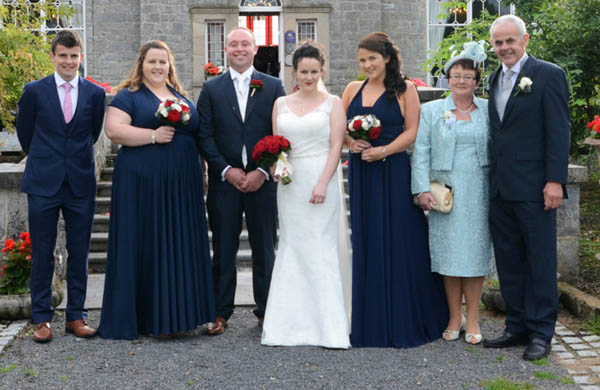 Pictured on the occasion of their wedding on 12th September last at the Church of the Immaculate Conception Ileigh are Denise Ryan, Knockdonee and Martin McDermott, Carrick on Shannon.

---
St Joseph's College Borrisoleigh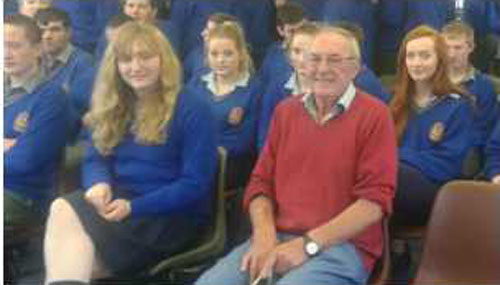 On Friday September 18th Fr Jim Crowe a priest from the Kiltegan missionary
came to speak to 5th and 6th years. Jim has been in Sao Paulo Brazil since
1969 and is a well known human rights activist in the favelas of Jardim
Angela.. He is originally from Clonlara Co.Clare to where he returns every
summer for a short break.
He spoke about how he lived through a dictatorship of the eighties, how he
experienced a time of lawlessness and regular homicide. He was central to
the formation of a community police system in the 1990s which helped
reduce the death rates. The education system of Brazil was compared to
Irelands' and everybody was glad they don't have to rely on four hours at
night in much overcrowded classes! Fr. Jim emphasised how ordinary people
can have extraordinary effects if they work together towards a common goal.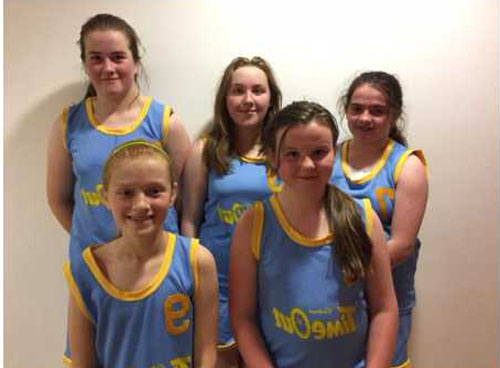 1st Year girls on a basketball blitz in the Presentation Thurles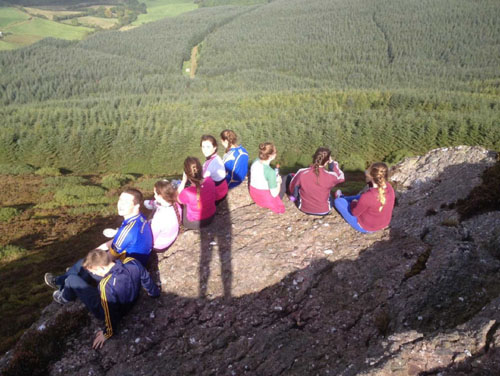 The transition year students went on an outing last Wednesday. We climbed the Devils
Bit, beginning at Barnane national school. We walked to the summit and back completing a 15km trek. We decided to complete this task as we are
working on our fitness levels with the help of our teacher Ms.Cahill, who also
climbed the Bit and kept the encouragement going.
We had a fantastic day from many different points of view, enjoying the good
weather, and hopefully a start to increasing our fitness.

On Tuesday the 29th of September ,St Joseph's U-15 hurlers headed to Limerick in their first round of the Munster championship. They were playing Ennistymon vocational school
In the first half the Borris defence worked like trojans, as the Ennistymon forwards kept putting points over and by half time Ennistymon were up by six points 1-2 to 1-8.Mr Halpin ,St Josephs coach gave a hearty talk at half time. In the second half the Borris boys got into their stride and started to battle for every ball ,every puck out and every ruck.
The second half was like as if new life had come into the Borris players. It started off with a magnificent goal from the small but skilled Borris side, Dan Ryan leading the charge from centre back, linking up well with Kevin Maher. Borris were causing fierce trouble in the Ennistymon back line forcing them to foul the attacking Borris boys. Defence was poor from the Ennistymon side in the second half. The Borris defence was excellently managed by James Kelly and featured brilliant saves from Darragh Quigley. The second half was coming to an end with Borris two points down with three minutes to go .
St Joseph's made one last hearty effort, the attack led by Dan Ryan giving the ball to Oisin Stapleton winning a penalty in the last minute. Kevin Maher slotted the ball in the top right corner of the net securing them the win. The final score 5-4 to 2-11 to Borris.

---
St Cualans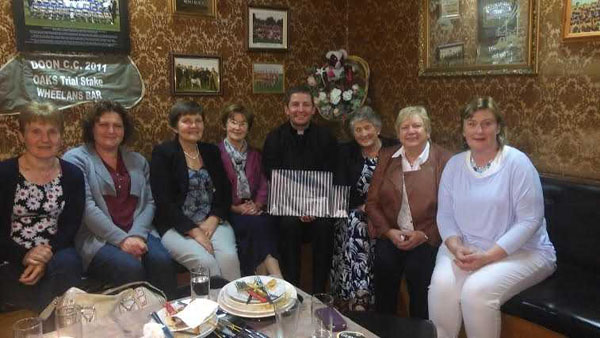 St. Cualáns Committee made a presentation to Fr Vincent Stapleton to mark his recent ordination to the priesthood.
Vincent has been a great supporter of St. Cualáns for many years. We would like to wish Vincent well.
---
Borrisoleigh Annual 2015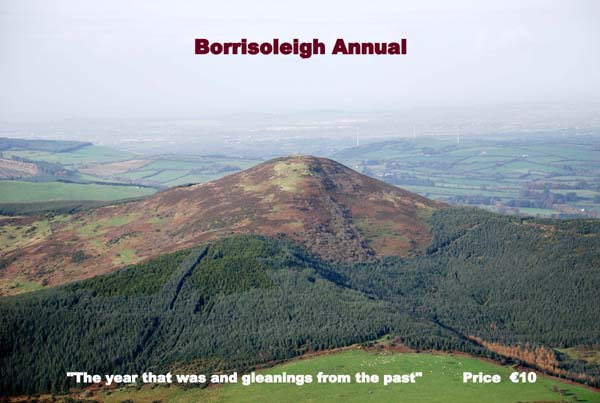 It is that time of the year again and this year the Borrisoleigh Community Development Association plan to produce another annual. We would be very grateful if the clubs/organisations/schools of the community could once again forward us an article and pictures of the activity of your clubs/organisations/schools during the year of 2015. We are also seeking interesting articles that relate to Borrisoleigh. They can be present day or relate to the past. It would be great if some photos accompanied the articles but we will accept articles without photos. Plus we would like to get articles from people who have left the area, of their memories about Borrisoleigh, or from people who have moved into the area of their experiences in the locality. We would also welcome suggestions that may help us to improve the annual.

To enable us to do this we will need all articles and photos by Thursday the 31st October 2015. Can all articles be sent in word if possible with photos as separate attachments to this email address borrisoleighannual@gmail.com. Once again your assistance in the production of the 2015 annual will be appreciated.
---
Track-Attack Notes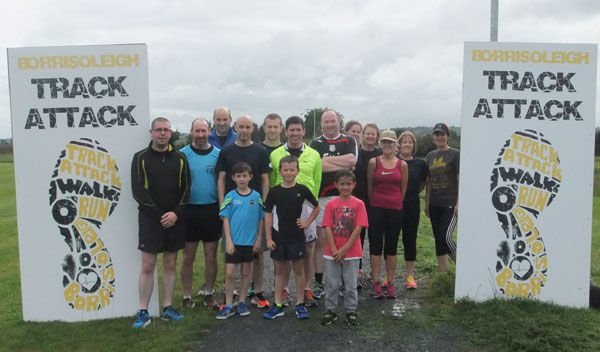 planet Track-Attack Series participants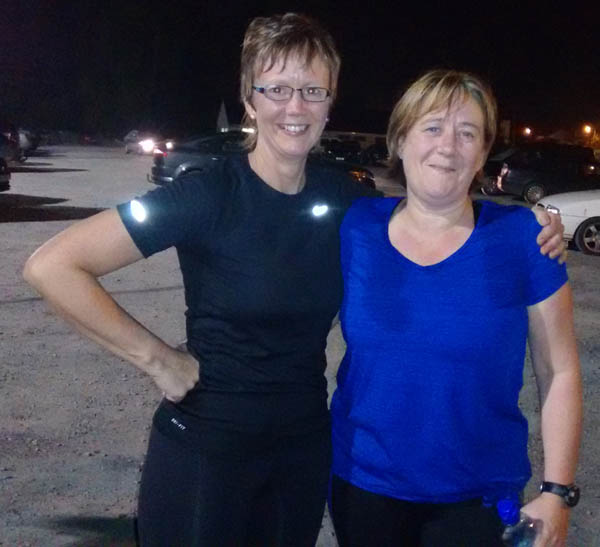 Track-Attackers Deirdre Collins and Caroline Kennedy

Record Numbers at Planet Track-Attack
The track in Borrisoleigh was swelled with a record number of participants for the opening round of the new Planet Track-Attack Series. 148 people laced up their running shoes to partake in the 4 different options available which included a 2.5km walk and 2.7km, 4km and 6km runs.

The atmosphere was brilliant as the crowd strung out around the 1.3km track following the echo of the start whistle. The opening laps of the 6km were tactical as the front runners grouped together and waited for someone to make a telling move. After two laps, the pace started to redden up and before long slight gaps were starting to appear amongst the leading dozen.

24 minutes and 49 seconds later, it was Clonakeeny's Michael Murray that crossed the finish line closely followed by Crokes athlete Liam McCullagh and Kilcommon's Andy Quinlan who were both accredited with a time of 24:54. Mike Gleeson kept the Upperchurch flag aloft when just missing out on breaking the 25 minute mark by a mere 4 seconds while the top 5 was completed by leading Borris man Tom Shanahan in a time of 25:32.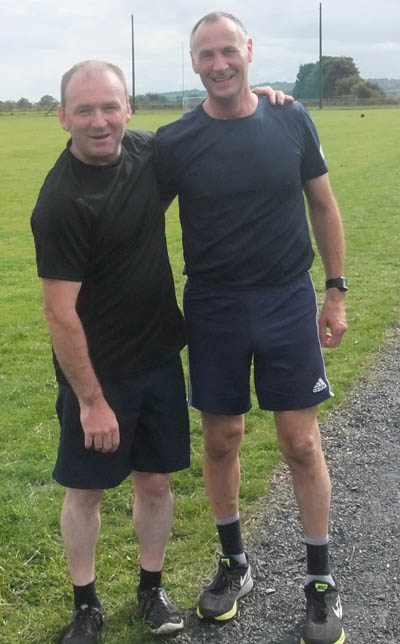 Eamon McGrath and Martin Fahy
The battle amongst the leading ladies was as equally brilliant as that of the men. Helen Kiely had to battle hard to hold off the brilliant challenge of Aisling Dolan with just 2 seconds separating the athletes after a titanic battle with finishing times of 28:56 and 28:58 respectfully. The fastly and vastly improved Mary Ryan produced a superb run on the night in a time of 29:53. A day after completing the Tipperary Women's Mini Marathon, Kathleen O'Meara was next to cross the line in 30:05 with Teresa Coffey completing the top 5 female after completing the course in 31:14.
The standard of participation right throughout the 4km field was hugely impressive. It included a mixture of ages with some of the young guns in particular showing a real impressive level of potential. The general level of fitness was of a notable standard and it's going to be very interesting as to the level that can be achieved over the 10 week duration of the Series.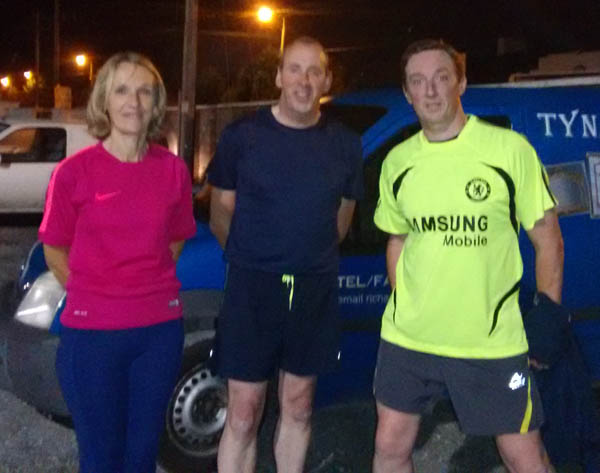 Marie McGrath, Tom McGrath, George Ryan
A brilliant battle developed at the head of the field and following superb performances from both John Ryan and Nicky Cooney, one which saw only 4 seconds separating the duo in the end and it was the former who broke the tape in a time of 17:06. Toby Kavanagh was next home in 18:09 followed by Cathal Bourke in 18:19. Seamus Ryan made up the leading quintet following his completion time of 18:25.
Claire Mockler was the leading lady over the 4km distance. In an impressive outing, she went from gun to tape in 22:11. Her nearest challenger was Christine Rabbitte in a time of 22:32 with Marie McGrath a further 13 seconds behind in 22:45. Clodagh Ryan was next home in 23:41 followed by Patrice Cooney in 23:53.

Clodagh Ryan, Seamus Ryan, John Ryan, Dan Ryan, Micheal Ryan
Templederry's Clodagh Dwan was the stand out performer in the 2.7km course and was possibly the stand out performer of the night. Her impressive showing saw her lead from start to finish, completing the two laps in a time of 14:32. It was a family one, two on the night as next to cross the line was Clodagh's sister Alison in 15:22. Third home was Mary Bourke in 16:32. Bernie Carey was next to complete the distance in a time of 17:03 followed one minute later by Sinead Ryan.
Lar Stapleton and Luke Mockler were the leading duo followed by Brian Bourke in the 2.7km course in times of 15:08, 15:35 and 16:27 respectfully. Jim Ryan was next to follow in 17:05 with Derry O'Donnell completing the top 5 in 18:52.
Also on the night, we had a good number of people completing the non-competitive walk. Don't presume that it is now too late to join us. It's never too late and we welcome and encourage all takers to come along and become a Track-Attacker. There is a place for everyone and the atmosphere that is been created is ideal for all to achieve their various fitness goals despite of the level they may be.
Following the completion of round two of the Series, all participants will then be broken into various groupings of people of equal or similar standard. The non-competitive walk starts each Monday night at 7:15pm with the 3 runs starting at 8pm. Entry fee is €2 per night with all school goers free of charge.
To keep up to date with all our activities, you can follow us on Facebook at Borrisoleigh Track Attack.
---
Borrisoleigh Active Social Club
Borrisoleigh Active Social Club held a very successful coffee morning last Friday in aid of North Tipperary Hospice. We would like to thank everybody who supported us on the day and to those who made all the confectionery. Proceeds will be presented to the Hospice on Wed night @ 8pm in The Community Centre and after the presentation we will have a meeting for all our members and new members are always welcome. Its important that all members attend this meeting so that we can discuss some upcoming events.

---

Borris-Ileigh GAA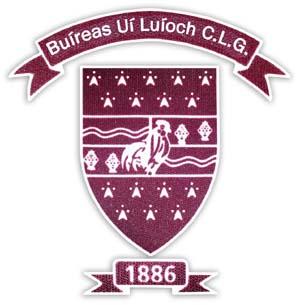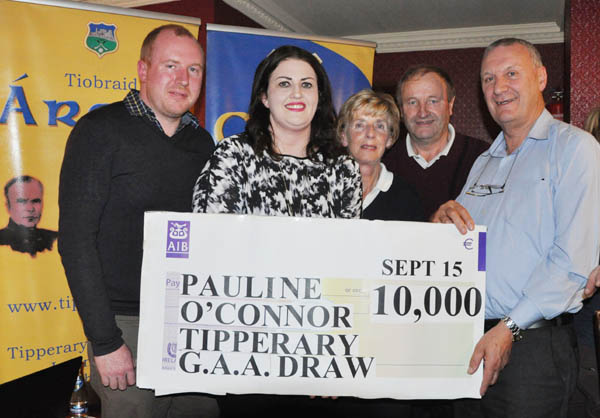 Tipperary draw which took place in Stapletons Borrisoleigh
Congratulations to Pauline O'Connor on her win in the Tipperary Draw.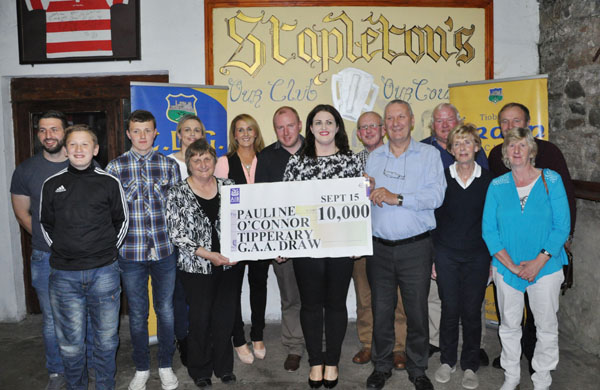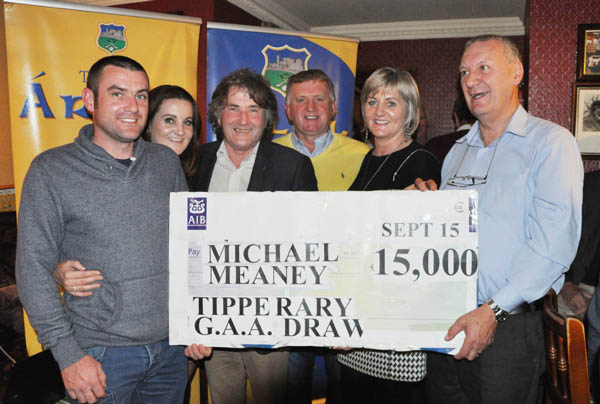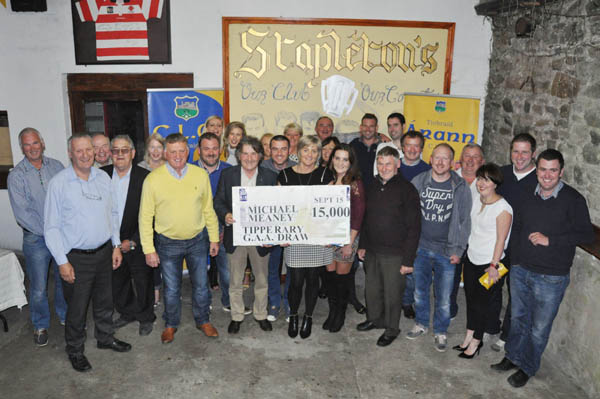 Tipperary draw which took place in Stapletons Borrisoleigh on Friday last

---

Scoil Naomh Cualán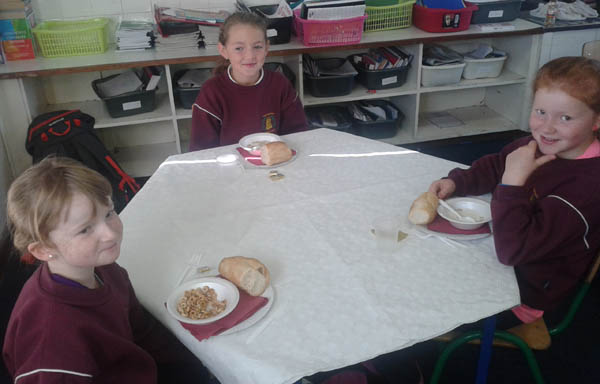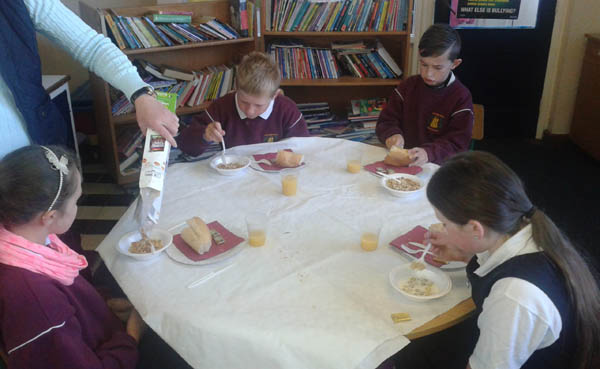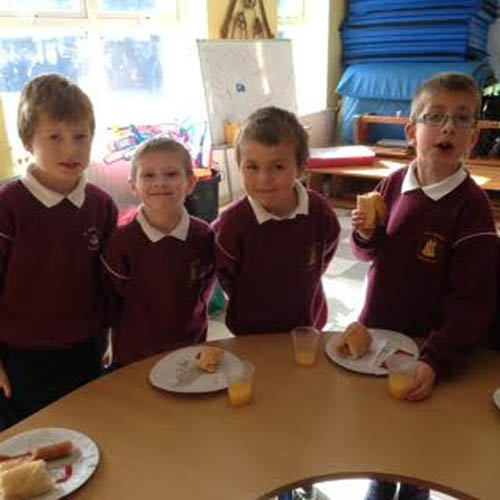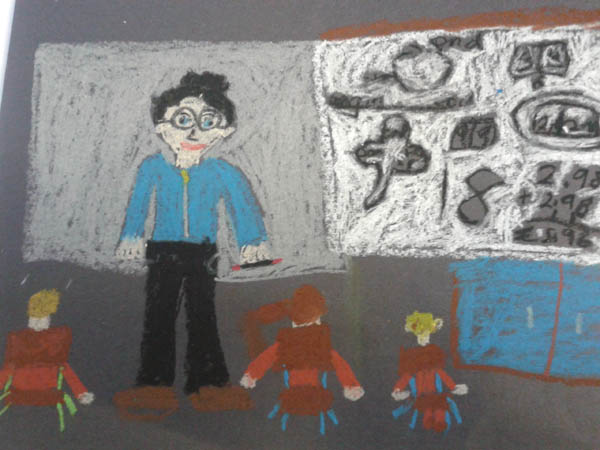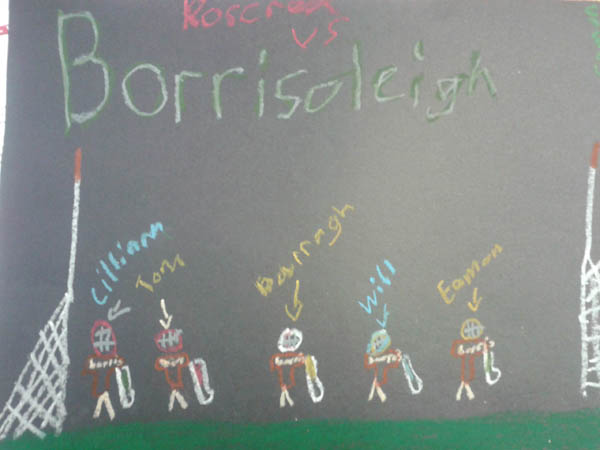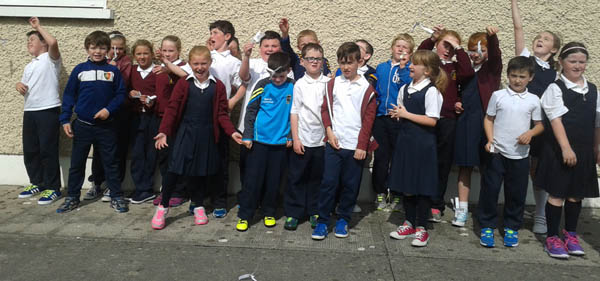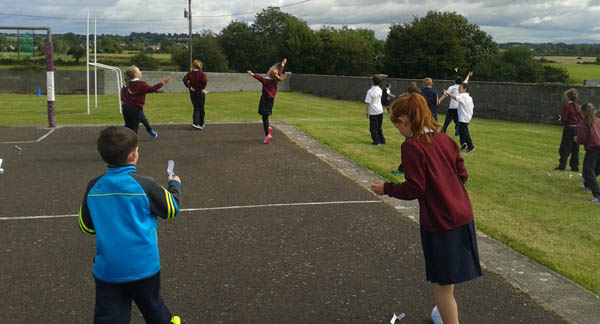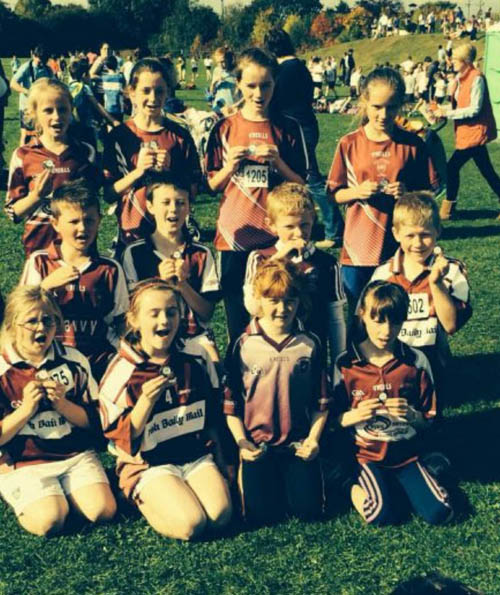 Huge congratulations to all the success as well as the enthusiasm shown by all the children of Scoil Naomh Cualán who participated in the Cross Country Championship and showcased their spirit and fitness in a highly competitive and enjoyable event.
According to www.tipperaryathletics.com record Numbers at Tipp Primary Schools XC
Over 3,100 children entered the County Tipperary Primary Schools Cross Country Championships which were held in Thurles Crokes A.C. Grounds on Wednesday 30th September. 35 races for various school categories took place in Indian Summer conditions making it a very enjoyable event for all. Many thanks to the participating schools & their teachers & to everyone from the Tipperary County Board, our Tipperary Clubs & the local schools for all their assistance. The event was covered by Irish TV & a programme will feature later in the season.
Please keep up to date on our website www.scoilnaomhcualan.com to see what we have been up to in recent weeks from Charity Breakfast mornings to cross country achievements. See photos above of all the recent activities.
---
Try a dive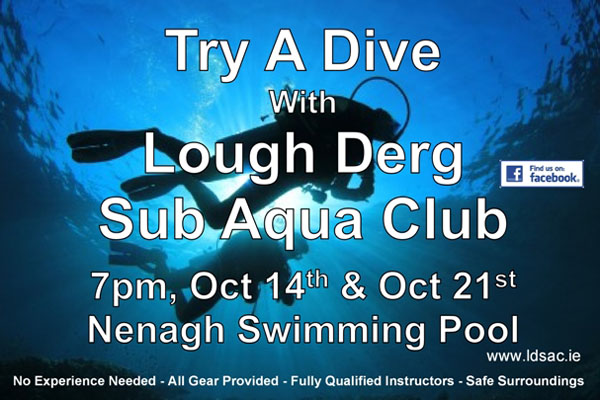 ---

Knitting & Crochet Classes

Knitting and crochet classes for beginners will commence in the Community Center Borrisoleigh within the next couple or weeks depending on numbers. Limited places available, for more information contact Catherine at 0879326002
---
Borris-Ileigh Camogie Club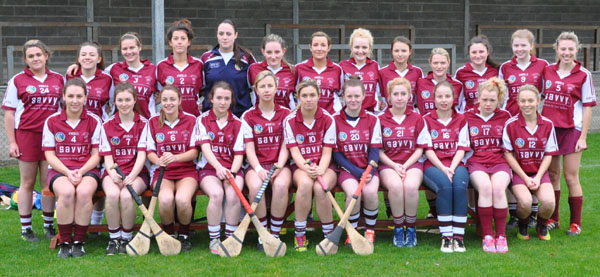 Missing from picture are Louise Fahy and Emma O'Meara
SENIOR:
Despite being this clubs first year at senior level, Borris-Ileigh qualified for this years County Semi- Final. A fantastic performance from all the girls, but we unfortunately lost out to Drom at the camogie grounds last Sunday. Final Score: Drom 1-10 Borris-Ileigh 1-03.
Scores: Nicole Walsh 1-01, Julie Kelly 0-01 & Caitriona Maher 0-01.
U10 and U12's will host matches on 17/10/15, for visiting club Ballinora, from Cork. We look forward to their visit and the opportunity to return the hospitality shown to us on our visits to Ballinnora with underage teams in the past.
Like us on Facebook on Borris-Ileigh camogie for up to date times and fixtures.
---
The Bothy Bookclub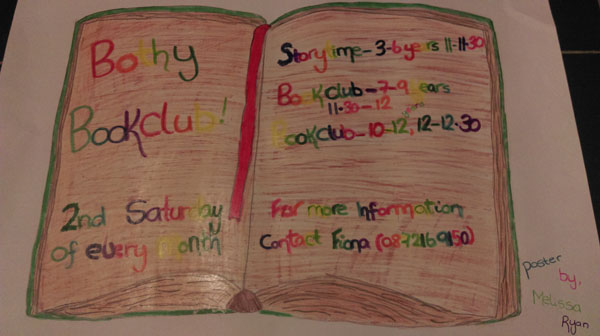 The Bothy bookclub resumes after the summer break on this Saturday, October 10th commencing at 11am with storytime for 3 to 6 year olds. This is followed by book club for readers 7 to 9 years at 11.30am & then 10 to 12 year olds at 12 pm. The bookclub is facilitated by Fiona Max. Any queries to Fiona on 0872169150. Looking forward to seeing you there on Saturday morning.
---

Borrisoleigh Active Social Club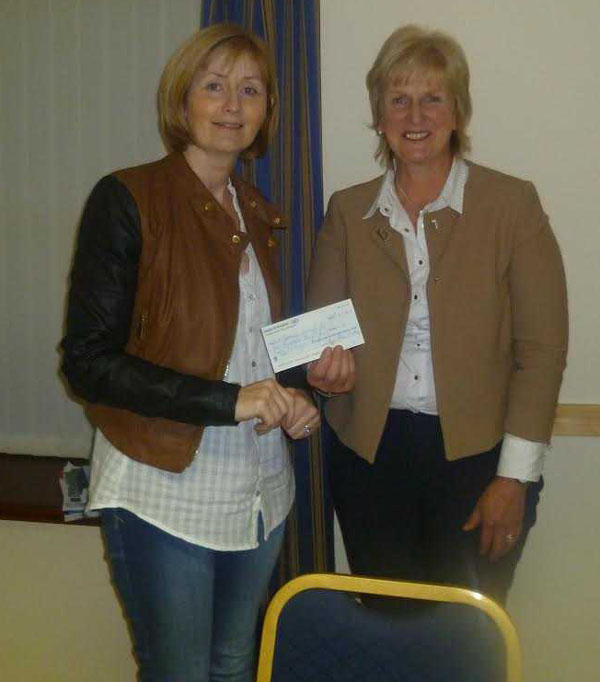 Borrisoleigh Active Social Club presented the proceeds of a recent coffee morning to Anna Ryan on behalf of North Tipperary Hospice.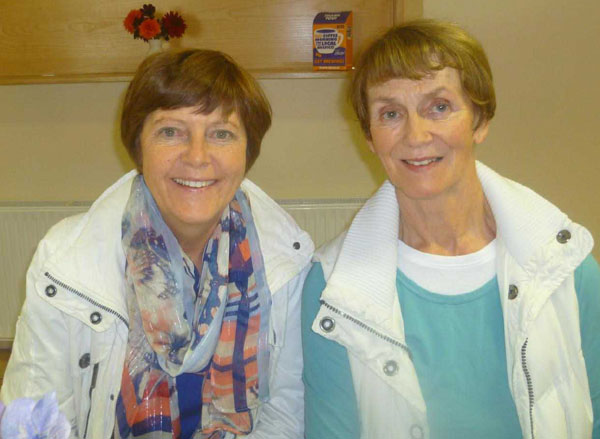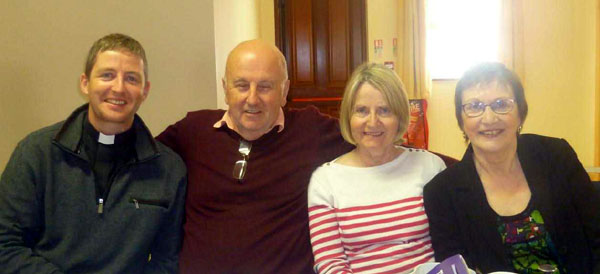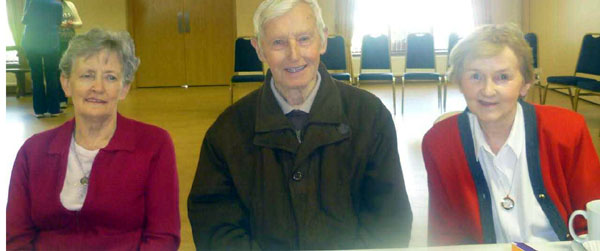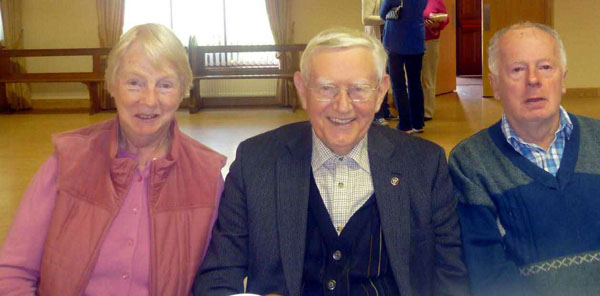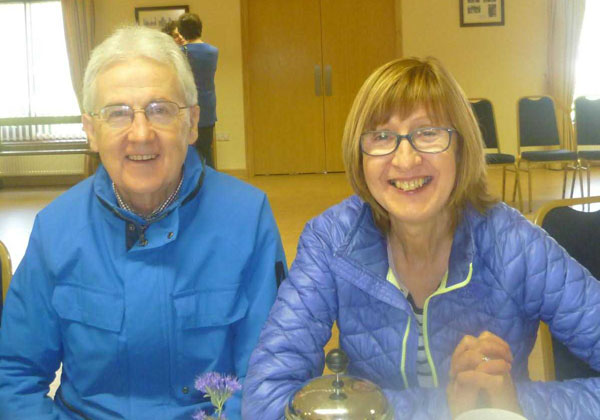 Some of the supporters of our coffee morning for North Tipperary Hospice.

---

Tracing Ancestors

We received the email below from Rod Jeffery in Australia.

"Hi great to see your news page. I am a descendant of James Young and Johanna Ryan of Rusheen Borrisoleigh who came to Victoria, Australia in 1853. This James Young had parents Mary Margaret Morris and James Young. Are there any Morris families still in the area?" Email:
rod.jeff421@gmail.com
if you can provide any information.
Also the following from Sr. Mary Kleinschafer rsm in Australia.
"I am the Community Archivist researching our early Irish Sisters. Ellen Dwan was born at Ballyroon, to Frank Dwan and Ellen Ryan, November 1866. According to the baptismal register she had a number of siblings. Ellen attended the Callan Missionary School and came to the Sisters of Mercy, Singleton in 1885, where she became Sister M Patrick. In 1889 she went on a foundation th Broken Hill NSW. In 1891 she died during an influensia epidemic aged 25. Ellen was a gifted teacher in the young community. I would be happy to have contact with anyone who may remember her. My email address is maryk@singmercy.org.au"
Please check our Guestbook as from time to time people post similar queries there.

---

Pic of the Past……….down memory lane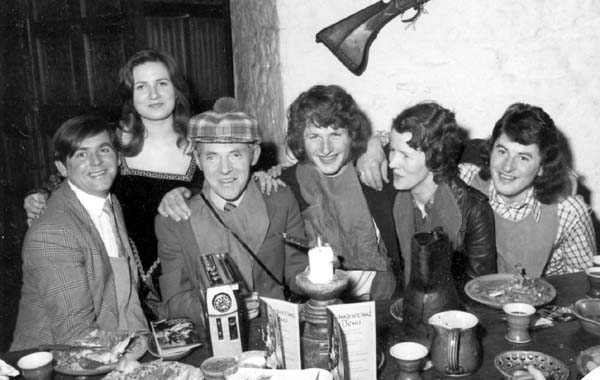 Bunratty Castle
Billy Ryan Murray, Bunratty Singer, Paddy Prior, Fitzmaurice Ryan, Ileigh,
Margaret Ryan, The Glebe and Paddy Ryan Murray

---
Your Website Needs You!
Committee: Enda Ryan, Noreen Fahy, Margaret Cowan, Marie McGrath, Aileen Óg Groome and Derry O'Donnell

Many thanks to all those who contributed photographs and news items. Remember, we need you to continue to send us material so that we can keep our website current and interesting.
Send your email to: info@borrisoleigh.ie

Also, if you like what you see and want to leave a comment, remember to use the Guestbook!
If you are leaving a comment asking people to help with family research etc. please include your email address within the comment itself
While we make every effort possible to ensure that the information contained in this Website is accurate and complete, we cannot accept any legal liability as a result of the inaccuracy or incompleteness of the information presented to users of this site