Borrisoleigh Annual 2015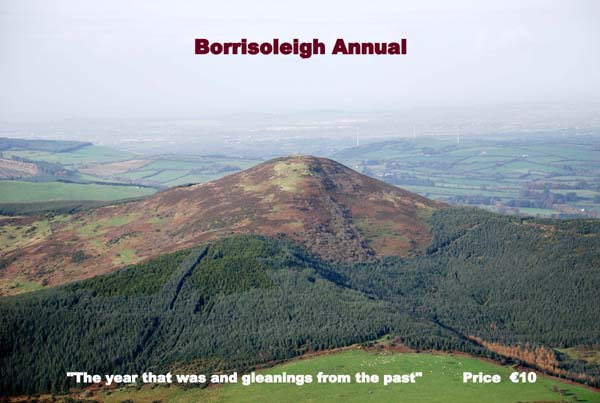 It is that time of the year again and this year the Borrisoleigh Community Development Association plan to produce another annual. We would be very grateful if the clubs/organisations/schools of the community could once again forward us an article and pictures of the activity of your clubs/organisations/schools during the year of 2015. We are also seeking interesting articles that relate to Borrisoleigh. They can be present day or relate to the past. It would be great if some photos accompanied the articles but we will accept articles without photos. Plus we would like to get articles from people who have left the area, of their memories about Borrisoleigh, or from people who have moved into the area of their experiences in the locality. We would also welcome suggestions that may help us to improve the annual.

To enable us to do this we will need all articles and photos by Thursday the 31st October 2015. Can all articles be sent in word if possible with photos as separate attachments to this email address borrisoleighannual@gmail.com. Once again your assistance in the production of the 2015 annual will be appreciated.
---
St Joseph's College Borrisoleigh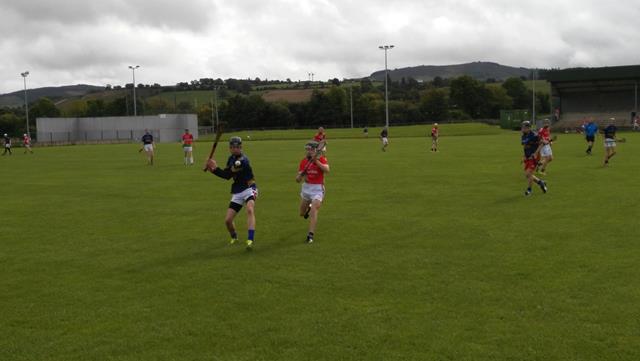 Nicky Cooney of St. Josephs striking the ball
St Joseph's College got their under 16 ½ hurling campaign off on a winning note. Hampered by the fixture being on in the middle of the Ploughing Championship, it left St Joseph's short a few hurlers. However, it opened up the opportunity for other hurlers to claim a starting place.
Colaiste na Phiarsaigh proved to be worthy opponents with only a single score being the difference at the end. With the aid of a strong breeze , Na Phiarsaigh didn't capitalise in the early stages and Kevin Maher and Nicky Cooney, Captain, began impressively winning the midfield duel. With this being the first outing of the year for both teams, chances were not converted with both sides clocking up many wides. Na Phiarsaigh were finding the long range shooting more accurately and number 8 scored two long ranges to leave St Josephs College trailing 4 points to 2 points. Borris continued to work well against a still breeze and got the green flag raised. However a deceptive chip over Borrisoleigh goalie minutes later put Na Phiarsaigh back in front. Score of the half must go to Matthew Ryan, playing a wing back, who wins a puckout and solos clear to kick for a point on the 14 yr line. The excellent free taking of Robert Delaney was keeping St Joseph's in this match. The sides finished 1-6 Na Phiarsaigh to St Josephs' College 1-4 at half time.
With the wind at St Joseph's College backs, Tim McCutcheons puck outs were reaching well into the forwards. With our midfielders sitting deep, this half, the inside forwards of Alvis Danko and Michael Delaney were a thorn in the Na Phiarsaigh defence. Alvis finished with 2 goals and Michael Delaney tapped over 3 points. St Joseph's College were up by 6 points at one stage in the second half but the Na Phiarsaigh boys didn't give in a worked a very good goal. In the end, the superior backs of St Joseph's just managed to swing it in their favour. The full back line was very stong all day, with Oran Bergin at full, dominant and he made endless interceptions. The two corners were ferious in their tackling. They lay the foundation for the rest of the team to follow.
In the end, a goal separated the teams. This victory will stand well to this team and hope for a munster title should not be far away from their thoughts. The score finished St Joseph's College 3-12 to Na Phiarsaigh 2-12.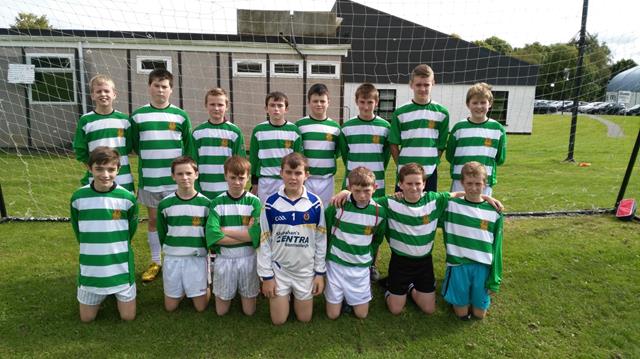 Soccer blitz U14 St Josephs College
St Josephs College, Borrisoleigh played Thurles Colaiste Mhuire in an u14 soccer challenge. Both teams brought extended squads to evaluate what players they had for the round of fixtures in early October
Colaiste Mhuire dominated midfield and was rewarded with two goals in quick succession midway through the opening half. St Josephs responded well and carved out a few excellent chances before scoring through Adam Galvin with St Josephs dominating play it wasn't long before scoring a through ball from David Delaney led to captain Evan Kearns scoring. The half finished three-two to Colaiste Mhuire.
Both teams made a raft of changes at half time and chances were few and far between for both teams in the second half. Overall the game was just what both schools required and we look forward to meeting in the later stages of the cup.
---
Track-Attack Notes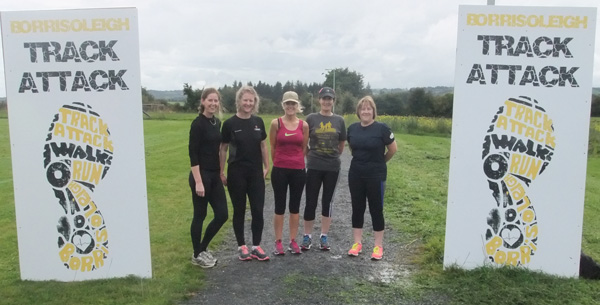 Gráinne Moore, Rena Ryan, Mary Ryan, Kathleen O'Meara, Caroline Kennedy
Planet Track-Attack Continues
The new Planet Track-Attack Series continues every Monday night at the Borrisoleigh track and we encourage and welcome all from the local and surrounding areas to participate. The run starts each night at 8pm with an optional warm up getting under way at 7:45pm.
We offer three different distances so participants of all ages and standard at catered for. The 2.5km distance is an ideal one for people starting out and participants are reminded that they don't have to be able to complete the course without stopping. Feel free to run and walk your way through the two lap course. The other two distances are 4km and 6km respectfully. Entry fee each night is €2 per person with school goers free of charge.
Track-Attack Thursday Sessions
The time and evening of Declan Doherty's training sessions have been changed to Thursday's starting at 7:30pm. To date the sessions have been a huge success and enjoyed by all who have participated in them.
The sessions are designed to help athletes with a goal of improving their overall speed and race times and all are welcome to attend.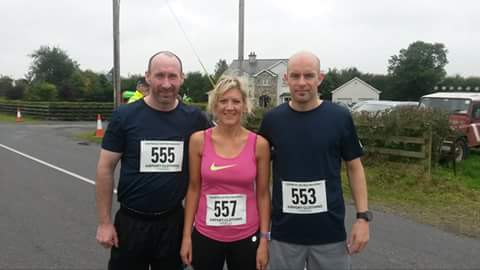 Tom Shanahan, Mary Ryan & Michael O'Brien
Team Track-Attack on Tour
Team Track-Attack have been on tour in recent weeks supporting the events of local clubs in the area. At the Leugh School 6.5km event Tom Shanahan ran an impressive 27 minutes flat while John F. Kennedy completed the course in 28:40. Michael O'Brien continues to show rapid improvement while clocking 29:24 with an equally impressive outing from PJ Kiely in 31:25. Kathleen O'Meara crossed the line in 31:37 with her training partner Mary Ryan finishing in 32:12. Borrisoleigh native Austin Ryan finished second overall thanks to a finishing time of 25:32 with Track-Attack coach Declan Doherty a mere two further seconds in arrears in third place overall.
Michael O'Brien, Tom Shanahan and Mary Ryan travelled to Moyne to take part in their 5km and all continued to impress with some very solid outings. Mary's performance in particular deserve a special mention as she continues to knock chunks off her times with every kilometre of race outings. Here she clocked 23:16 which is a brilliant and impressive showing. On Sunday last, Kathleen O'Meara travelled to Clonmel where she completed the Tipperary Women's Mini-Marathon in a time of 49:15.
As a team, it is our intention to gather as many Track-Attackers as possible to run in the Templemore 5km Christmas Cracker run on Sunday 6th December. The Planet Track-Attack Series is the ideal preparation for this so make that commitment to join the team now and work towards the event in roughly 10 weeks.
---
Borrisoleigh Active Social Club
Borrisoleigh Active Social Club held a very successful coffee morning last Friday in aid of North Tipperary Hospice. We would like to thank everybody who supported us on the day and to those who made all the confectionery. Proceeds will be presented to the Hospice on Wed night @ 8pm in The Community Centre and after the presentation we will have a meeting for all our members and new members are always welcome. Its important that all members attend this meeting so that we can discuss some upcoming events.

---
Borris-Ileigh GAA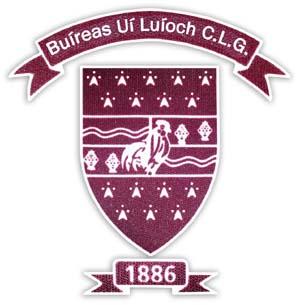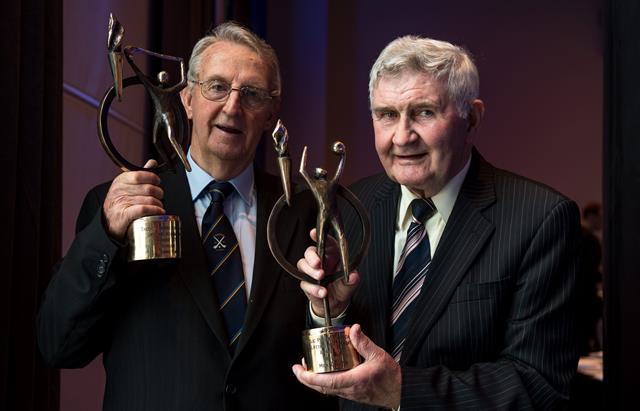 Jimmy Finn pictured with Mick O'Dwyer who received the award for football
GPA Awards: At a presentation in Croke Park recently our very own Jimmy Finn was presented with the GPA Lifetime Achievement Award for his contribution to hurling. Jimmy had a fantastic career with Borris and Tipperary in the 1950s with the highlight captaining Tipperary to an All Ireland at the age of 20. As a club we are very proud of Jimmy and all he has achieved and we would like to congratulate him on this, his latest honour.
U21 Hurling: Well done to our u21s who had a comprehensive win over Shannon Rovers Gaels on Sunday morning in Toome. Following a strong second half we finished the game winning by 5-17 to 1-11. We will now play Burgess next Sunday in the next round. Well done to all involved.

---
Borrisoleigh Community Games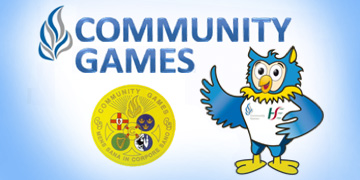 Borrisoleigh Culture Corner
All Ireland Champions
Celebration Night
Join us for a celebration in honour of the Borrisoleigh Culture Corner, Community Games All Ireland Champions 2015.
Music, Song & Dance, Refreshments
Marian Hall
Saturday 3rd October
7.45pm
Admission: Free
All Welcome
---
Knitting & Crochet Classes

Knitting and crochet classes for beginners will commence in the Community Center Borrisoleigh within the next couple or weeks depending on numbers. Limited places available, for more information contact Catherine at 0879326002
---
Borris-Ileigh Camogie Club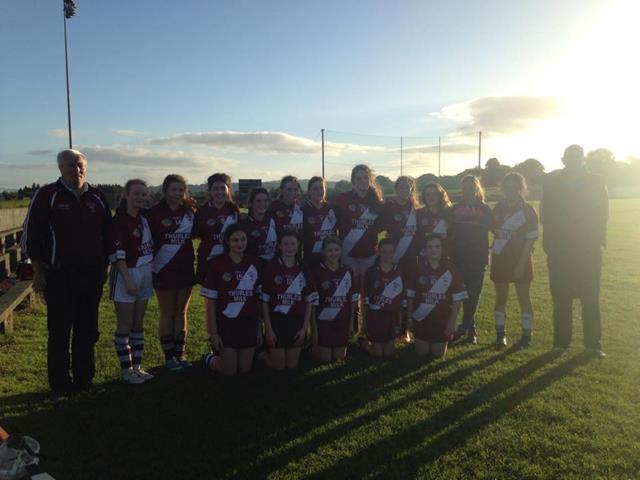 U14 team that beat Gortnahoe

Seniors will play in a County Semi Final v Drom next Sunday in the Ragg at 12 noon.
Best of luck to all.
U14's had a great win against Gortnahoe last Saturday. Winning this game 6-08 to 5-02. The girls were down by a goal at half time, and went on to have a great second half, with fantastic performances from all.
Scores from: Aoife Ryan 4-06, Laura Maher 1-02 & Aoife Max 1-00. Well done girls.
U10 and U12's will host matches on 17/10/15, for visiting club Ballinora, from Cork. We look forward to their visit and the opportunity to return the hospitality shown to us on our visits to Ballinnora with underage teams in the past.
Like us on Facebook on Borris-Ileigh Camogie for up to date times and fixtures.
---
Inch Youth Drama Group

Inch Youth Drama Group invite boys and girls attending Secondary School to a meeting in Inch Community Hall on Monday next October 5th @ 7.30pm . The purpose of this meeting is to discuss this years production. Looking forward to seeing you all there. You can find us on Facebook '
Inch Drama Group
'
---
Tracing Ancestors

We received the email below from Rod Jeffery in Australia.

"Hi great to see your news page. I am a descendant of James Young and Johanna Ryan of Rusheen Borrisoleigh who came to Victoria, Australia in 1853. This James Young had parents Mary Margaret Morris and James Young. Are there any Morris families still in the area?" Email:
rod.jeff421@gmail.com
if you can provide any information.
Also the following from Sr. Mary Kleinschafer rsm in Australia.
"I am the Community Archivist researching our early Irish Sisters. Ellen Dwan was born at Ballyroon, to Frank Dwan and Ellen Ryan, November 1866. According to the baptismal register she had a number of siblings. Ellen attended the Callan Missionary School and came to the Sisters of Mercy, Singleton in 1885, where she became Sister M Patrick. In 1889 she went on a foundation th Broken Hill NSW. In 1891 she died during an influensia epidemic aged 25. Ellen was a gifted teacher in the young community. I would be happy to have contact with anyone who may remember her. My email address is maryk@singmercy.org.au"
Please check our Guestbook as from time to time people post similar queries there.

---
Pic of the Past……….down memory lane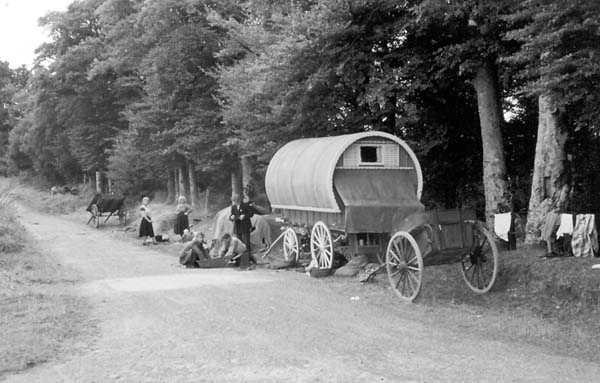 Traveller's Camp, Summerhill – 1960s
note: the old style horse-drawn wagon
---
Your Website Needs You!
Committee: Enda Ryan, Noreen Fahy, Margaret Cowan, Marie McGrath, Aileen Óg Groome and Derry O'Donnell

Many thanks to all those who contributed photographs and news items. Remember, we need you to continue to send us material so that we can keep our website current and interesting.
Send your email to: info@borrisoleigh.ie

Also, if you like what you see and want to leave a comment, remember to use the Guestbook!
If you are leaving a comment asking people to help with family research etc. please include your email address within the comment itself
While we make every effort possible to ensure that the information contained in this Website is accurate and complete, we cannot accept any legal liability as a result of the inaccuracy or incompleteness of the information presented to users of this site