Borris-Ileigh G.A.A. Notes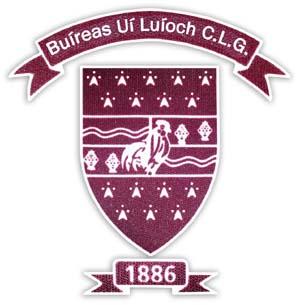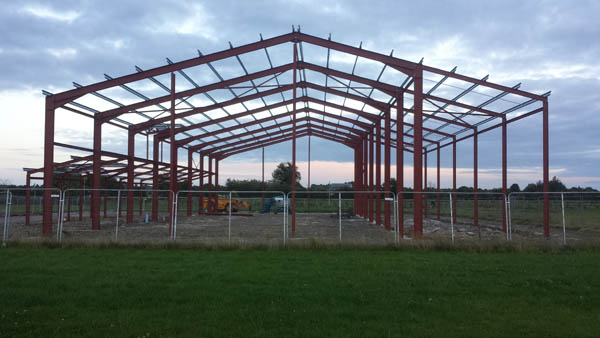 Family Fun Day: On Sunday 13th of September the club will be hosting a Family Fun Day and 7 a side hurling tournament in the town park. This promises to be a great day for everybody with fun games and activities for all to enjoy.The day will kick off with the 7 a side tournament which will see players of Borris from past and present take to the field to try and best one another. There will also be many mini games on offer including fastest shot, digger games and bouncy castles. There will also be a donkey derby and the annual charity cycle takes place the same day. We are also doing a fundraiser on the day titles "The Ass in the Grass" where people will buy squares of a field for €5. We hope to see as many people there as possible and that everyone will enjoy themselves
Development: As many will have seen there has been further development taking place in the park in recent weeks. Our walking track has now been extended to 1.3km and we have begun the construction of our new sports complex. We hope that that people continue to support us in our efforts

---
New Circuit Training block with a competitive edge!!**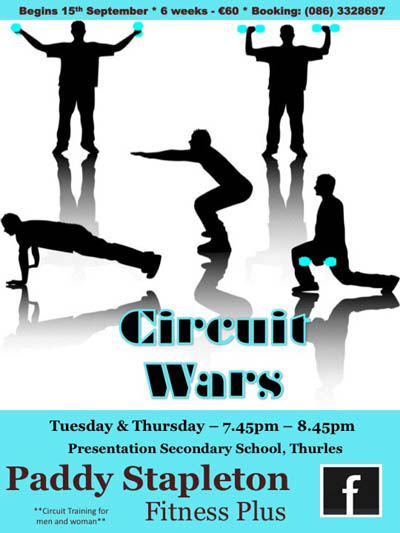 Two teams will be formed to see who can improve the most over the 6 weeks with the winning team receiving a prize each!
This is for all capabilities as it will measure you're improvement from week 1 to week 6.
The location is Presentation Secondary School Sports Complex, Thurles.
Please book as soon as you can as I do not want to disappoint anyone.
Mail or text me for booking or information (086-3328697)
---
Munater Handball title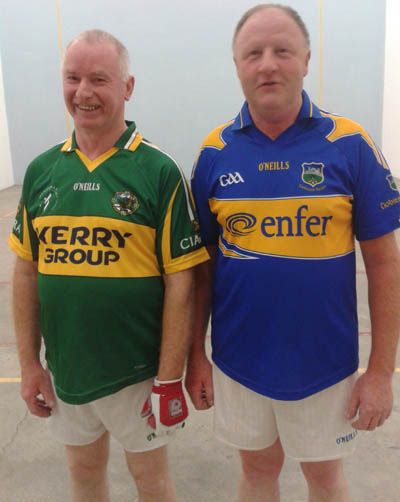 Congrats to Martin Ryan who won the Emerald Masters Munster final last Friday evening in Broadford, Co Limerick. Martin defeated Pat Lacey, Kerry. Martin will be gunning for All Ireland glory over the coming weeks when he competes in both All Ireland singles and doubles semi finals. Best of luck to Martin.

---
Line Dancing Classes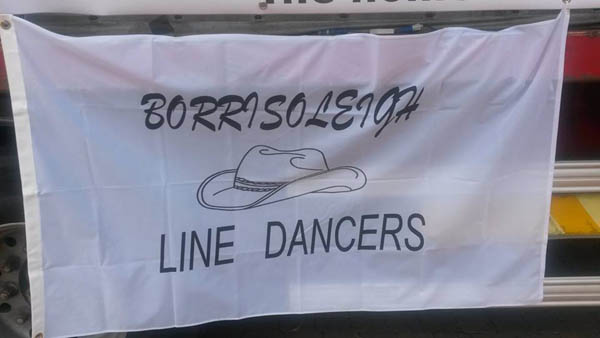 The nights are getting shorter and now that Strictly Come Dancing is starting back on TV that means its only 17 weeks to Christmas. Do you fancy learning new dance routines for the office party or even just for a bit of exercise for that party dress, then come along to my Line Dancing class. It is suitable for all ages and for absolute beginners so don't worry if you have never done it before. I have two classes so you can choose what day suits you or you can go to both. I promise you, you will really have a laugh and meet some great people. We are all there for the same reason to have a bit of fun and dance the Winter blues away.
My classes resume Saturday September 5th 10:00 to 11:30am and Thursday September 10th 8:00 til 9:30pm. The class is only €5 per person.
I hope you can join us

---
Niall Mellon Race Night
Mellon Educate is an international volunteer-based charity and have now embarked on a 10-year initiative to provide educational assistance for more than 100,000 of Africa's most impoverished children. Volunteers are needed and financial support from a lot of people to achieve this ambitious target.
One volunteer from Borrisoleigh that hopes to help with this initiative is PJ Younge.
PJ held a very successful race night last sat night in the Clodagh Bar to help raise funds. There were 2 signed Tipperary Jerseys(Minor & Senior) up for auction. Bidding went well for these and they were purchased by local GAA supporters. Hopefully the Minors will have success on Sunday in the All Ireland and it might even double the value of the Minor Jersey!!!!
PJ would like at this stage to say a BIG Thank You to everybody who helped to make the night a success and this includes all those who Advertised on his race night programme, those who bought horses, those who gave sponsorship and to everybody who came out on the night to have a flutter. Thanks to Eamon and Lisa for the welcomed food on the night.
PJ is wished well and on his return he will give an update on how he got on.

---
Fifi Tots Preschool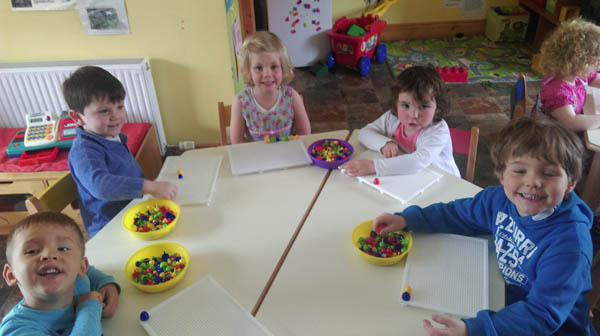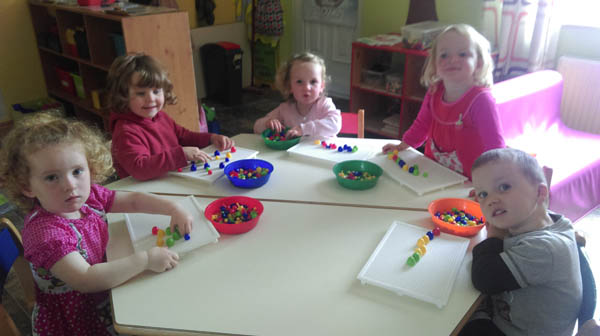 Everyone with happy smiles on their first day in preschool.

---
Borris-Ileigh Camogie Club

Seniors play Clonoulty this Friday 4th September at home at 7.15. Best of luck girls. Your support would be appreciated.
REMAINING SENIOR FIXTURES:
Sat Sept 19th – v Burgess/Duharra (away)
Sat Sept 26th – v Moneygall (away)
Linda O'Connor tournament coming up soon. Like our Borris-Ileigh camogie Facebook page for more details.
MINOR's have been training hard, and are set to commence the Championship.
FIXTURES AS FOLLOWS:
Sat Sept 12th at 5pm v Holycross (away)
Next match v Burgess/Duharra – Date TBC.
U14's League kicks off this Friday evening Sept 4th at 5.30 v Templemore at home. Best of luck girls.
REMAINING FIXTURES:
Sunday Sept 20th v Shannon Rovers (away)
Sat Sept 26th v Gortnahoe (away)
U12's are doing well with 2 wins, 1 draw & 1 lose in this Autumn League.
Remaining u12 FIXTURES:
Mon Sept 7th v St Marys (home) at 7pm. Best of luck girls.

---
Rose of Tralee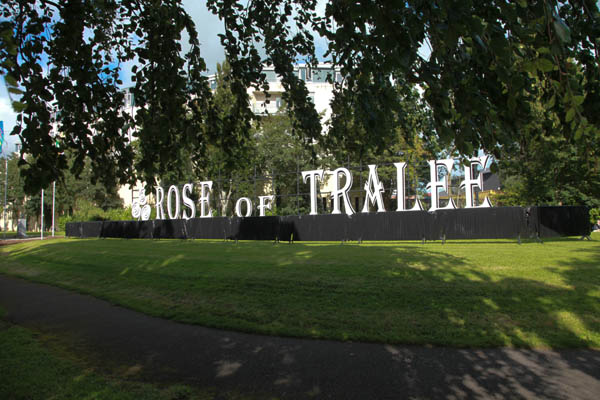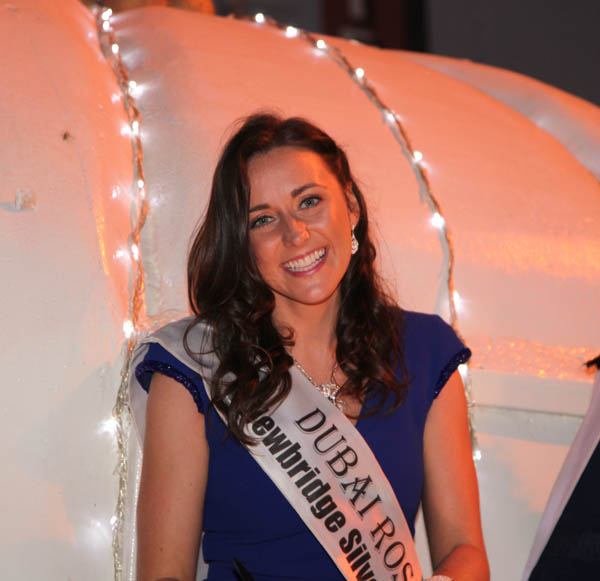 Marie Ryan from Ballyroan who represented Dubai at the International Rose of Tralee Festival recently.
To see more pictures of Marie and all her supporters over the weekend of the Festival press here

---
Annual Borrisoleigh Cycle 2015


This year's cycle will take place on Sunday 13th of September 2015 with a return to the choice of a 25 mile or a 50 mile route. The 25 mile route will be the same circuit from Borrisoleigh to Thurles and back home via Templemore. The 50 mile has yet to be decided but you can be assured it will be challenging. The 50 mile cycle will commence at 9.15am with the 25 mile cycle starting at 10am sharp. We will be cycling this year to support the new Borrisoleigh Walking/Running Track development and lights in the Town Park. Since its installation in 2013 the track has become a focal point for many people in the locality and beyond wishing to exercise and improve their fitness. The provision of lighting ensures that the track can also be used all year round where walkers and joggers can exercise in a safe environment. Recently the track has been extended around the full perimeter of the Town Park with the addition of a nice incline for those that like to push themselves a little bit more. The total distance is now approx. 1.3km and it is the intention to also provide lights in this new section so that it can also be used on those dark winter evenings.

So it's time to dust off the bike and ensure it is in good working order. A few short spins between now and the 13th of September should be enough to get you around the traditional 25-mile course. On-road support will be provided and refreshments will be available during the cycle and also on return to Borrisoleigh. Safety gear including cycling helmets and bright clothing must be worn to ensure the safety of all participants. This year rather than issuing sponsorship cards there will be a registration fee of €20 per person taking part. Registration will take place in the Square on the morning of the cycle from 8.45am onwards. Any queries can be made to P.J. Delaney and Ruairi O'Connell. Now in our 12th year Borrisoleigh Cycle are delighted to support this fabulous development in our community and would urge as many as possible to take part to make this a success.
---
Mary's After School Care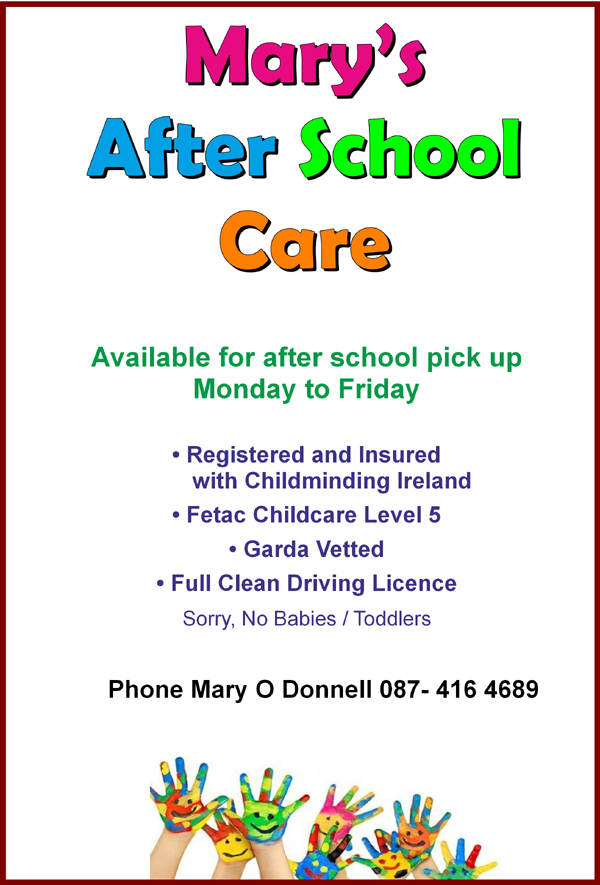 ---

A week to my Wedding
Tune into RTE this Thursday night to see Brendan Kenny Jnr. Borrisoleigh and his new wife Maeve's wedding
Details in the below link:-
---

Pic of the Past……….down memory lane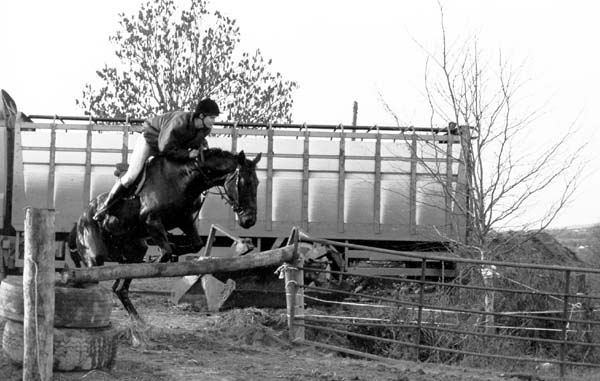 William Donnelly on horseback
---
Your Website Needs You!

Committee: Enda Ryan, Noreen Fahy, Margaret Cowan, Marie McGrath, Aileen Óg Groome and Derry O'Donnell

Many thanks to all those who contributed photographs and news items. Remember, we need you to continue to send us material so that we can keep our website current and interesting.
Send your email to: info@borrisoleigh.ie

Also, if you like what you see and want to leave a comment, remember to use the Guestbook!
If you are leaving a comment asking people to help with family research etc. please include your email address within the comment itself
While we make every effort possible to ensure that the information contained in this Website is accurate and complete, we cannot accept any legal liability as a result of the inaccuracy or incompleteness of the information presented to users of this site