Community Games National Gold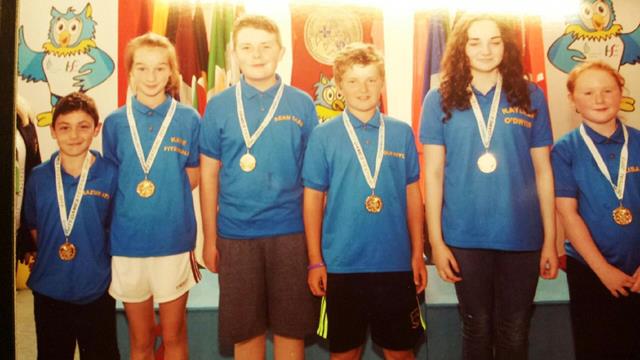 Borrisoleigh Culture Corner take Gold in the Community Games National Final
Congratulations to Razuk Atik, Katie Fitzgerald, Adam Carr, Colm Boyle, Kayleen O'Dwyer, Lisa Carr, and all involved behind the scenes. Brilliant performance.
---
Borris-Ileigh Juvenile Club

U12 County Semi Final;
All roads on Sat led to Boherlahan to play Kilsheelin-Kilcash in the county semi- final. Unfortunately we met a much stronger and physical team in Kilsheelin-Kilcash and after a hard fought game we bowed out of the championship. The Club would like to thank the players and their parents for all their support throughout the year in travelling to games. Thanks also to the management team of Michael Kinane, Mick Ryan and James Gould.
U16 played Kildangan in a play off on Tuesday 25th and were beaten in Puckane. The team short some players on the night fought hard but were unable to overcome a strong Kildangan team. This ends our run for the year in this group. The Club would like to thank the players and parents for their support and the management team of Jimmy Stapleton, Tom Hurley, Michael Delaney and Philip Delaney.
U13 North Plate. We have entered a team in the U13 Plate Competition and details of fixtures will be sent out later.
U10s played Toomevara in a very lively match and great to see so many young players improving in their skills. We are invited to a Blitz in O Loughlin Gaels on Sat 29th in Kilkenny City and details will be sent out of travelling arrangements.
---
São Paulo Visitors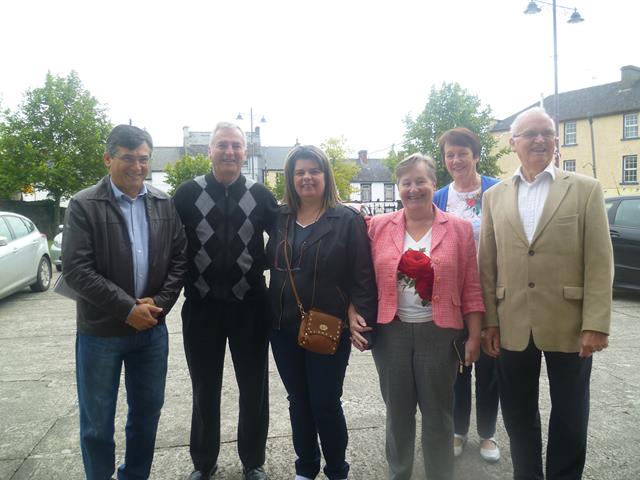 Friends from Brazil. Simaò and Vilma from São Paulo, friends of Fr. Liam who married them 25 years ago, with Tom and Joyce Ryan and Mairead Bradshaw on way into Sacred Heart Church.

---
Borris-Ileigh Camogie Club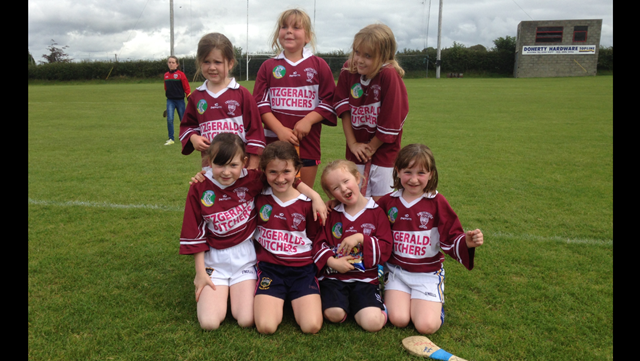 Seniors played Drom last Saturday, however, things didn't go Borris-Ileigh's way, and lost this game 3-11 to 1-03. Scores: 1-00 Sarah Kinane & 0-03 Nicole Walsh.
Next game v Clonoulty TBC
REMAINING SENIOR FIXTURES:
Sat Sept 19th – v Burgess/Duharra (away)
Sat Sept 26th – v Moneygall (away)
Linda O'Connor tournament coming up soon. Like our Borris-Ileigh camogie Facebook page for more details.
Great win for U12's against Moyle Rovers last Thursday August 20th
Scores 0-04 Danielle Ryan.
They also played Ballybacon last Monday, they were unlucky on the night, loosing this one 3-01 to 2-01. Scores: 1-00 Katie Fitzgerald, 1-01 Danielle Ryan.
Remaining U12 FIXTURES:
Thurs Aug 27th v Moneygall (away)
Mon Aug 31st v Drom (away)
Mon Sept 7th v St Marys (home)
U8's played a blitz last Saturday in Moneygall. Our girls played and won all four matches. Well done girls.
---
Rose of Tralee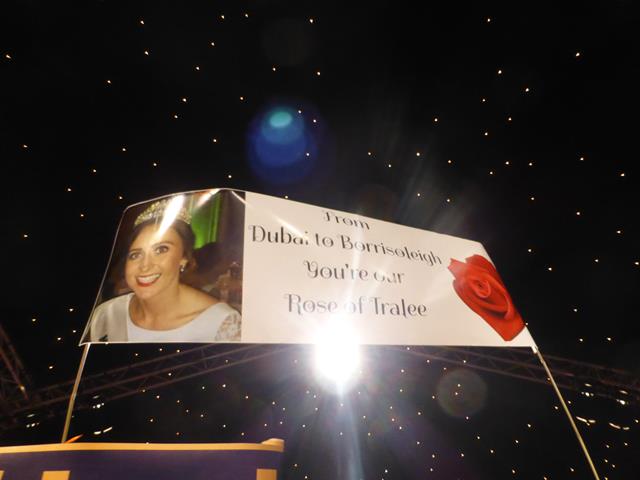 Well done to Marie Ryan from Ballyroan who represented Dubai at the International Rose of Tralee Festival recently. She had good support in the Dome on the night!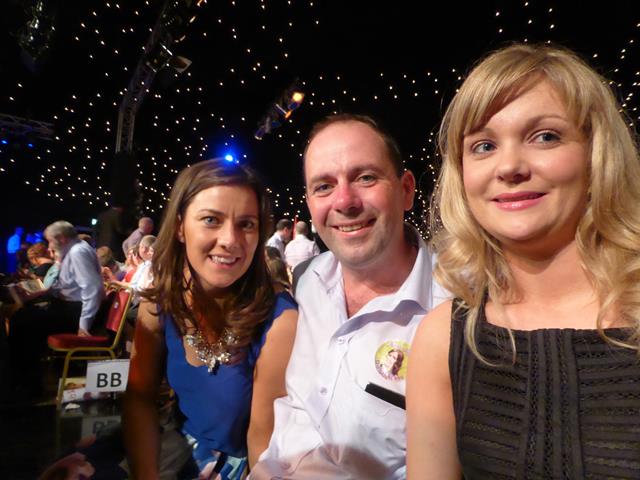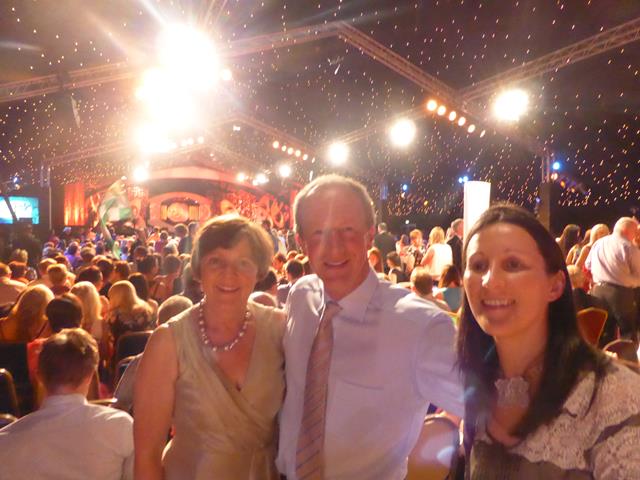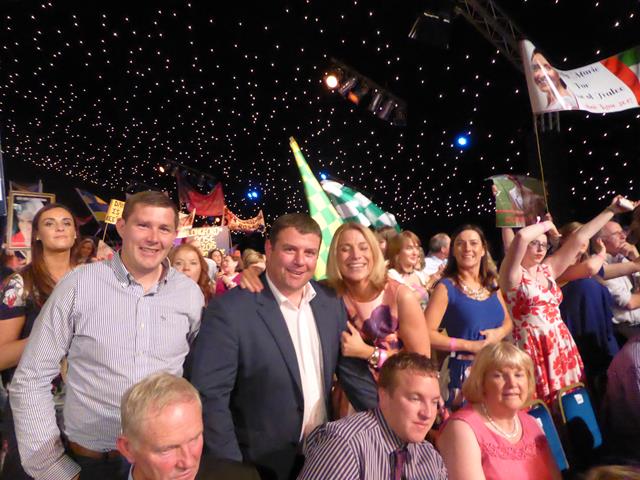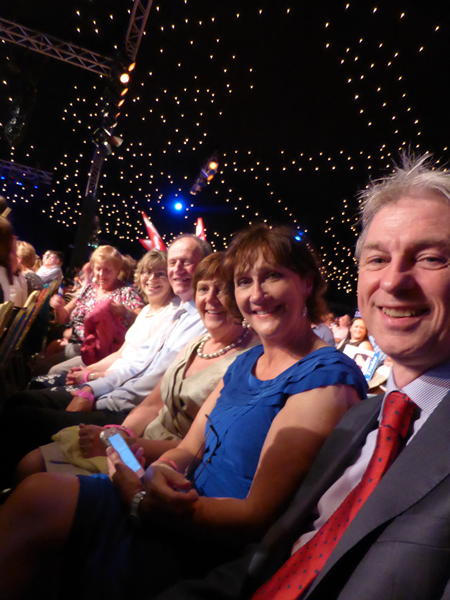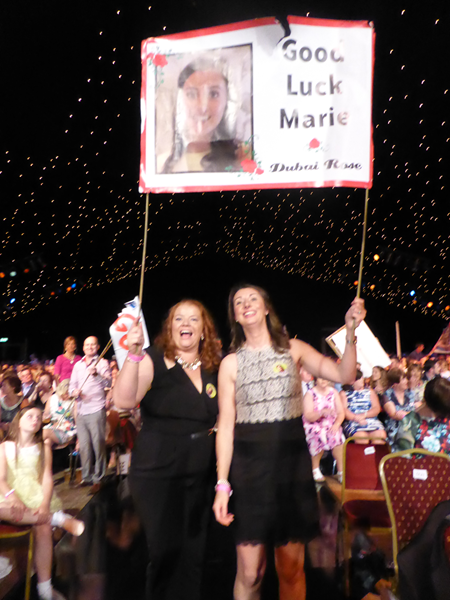 ---
Annual Borrisoleigh Cycle 2015


This year's cycle will take place on Sunday 13th of September 2015 with a return to the choice of a 25 mile or a 50 mile route. The 25 mile route will be the same circuit from Borrisoleigh to Thurles and back home via Templemore. The 50 mile has yet to be decided but you can be assured it will be challenging. The 50 mile cycle will commence at 9.15am with the 25 mile cycle starting at 10am sharp. We will be cycling this year to support the new Borrisoleigh Walking/Running Track development and lights in the Town Park. Since its installation in 2013 the track has become a focal point for many people in the locality and beyond wishing to exercise and improve their fitness. The provision of lighting ensures that the track can also be used all year round where walkers and joggers can exercise in a safe environment. Recently the track has been extended around the full perimeter of the Town Park with the addition of a nice incline for those that like to push themselves a little bit more. The total distance is now approx. 1.3km and it is the intention to also provide lights in this new section so that it can also be used on those dark winter evenings.

So it's time to dust off the bike and ensure it is in good working order. A few short spins between now and the 13th of September should be enough to get you around the traditional 25-mile course. On-road support will be provided and refreshments will be available during the cycle and also on return to Borrisoleigh. Safety gear including cycling helmets and bright clothing must be worn to ensure the safety of all participants. This year rather than issuing sponsorship cards there will be a registration fee of €20 per person taking part. Registration will take place in the Square on the morning of the cycle from 8.45am onwards. Any queries can be made to P.J. Delaney and Ruairi O'Connell. Now in our 12th year Borrisoleigh Cycle are delighted to support this fabulous development in our community and would urge as many as possible to take part to make this a success.
---
Mary's After School Care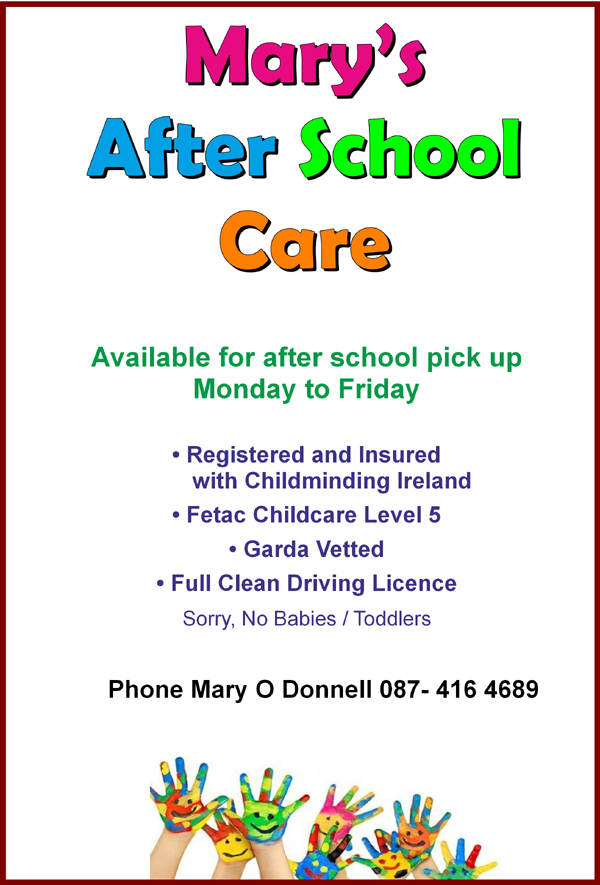 ---
Borris-Ileigh GAA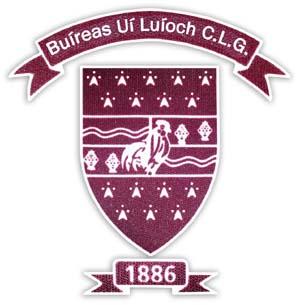 Family Fun Day: On Sunday 13th of September the club will hold a family fun day in the park. The will be a variety of games for young and old to enjoy. A food tent will also be there to keep people fed through out the day. There will also be an internal 7 a side hurling tournament which will have players from the hurling and camogie clubs and retired players. It promises to be great fun and we hope to see you there. The same day we will also see "The Ass in The Grass"-this is a fun fundraiser where people will buy squares on a field with a donkey in it. The donkey will choose the winner by "leaving his mark" on a square. Cards are in circulation around the parish and squares cost just €5.
The club is now taking requests for tickets for the All Ireland Hurling final. As we are only in the minor our allocation will be very small and it's very unlikely we will meet demand. Therefore we will have to do a draw to determine who will receive a ticket. Each club member can enter their name for ONE ticket for the draw by contacting club secretary Gerry Treacy on 086-3958405 no later than 6pm onSunday, 30th August

---
Ursuline Debs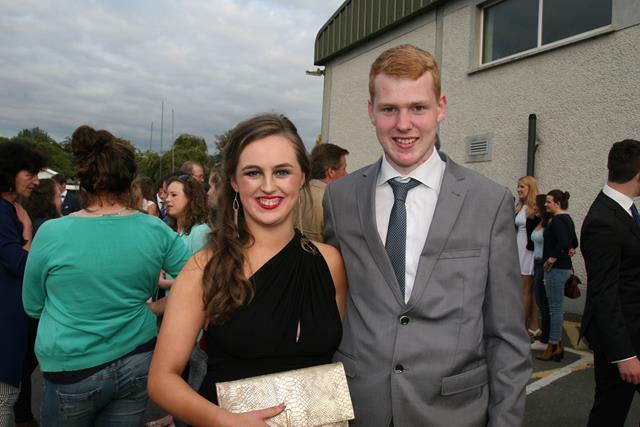 James McCormack escorts Cáit Ryan, the Mill to the Ursuline Debs

---
Pic of the Past……….down memory lane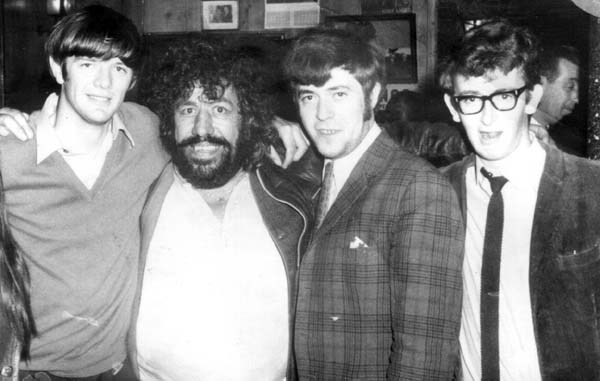 Joe Stapleton, Pecker Dunne, Lar Smith and Oliver McSherry pictured in Ballybunion
---
Your Website Needs You!
Committee: Enda Ryan, Noreen Fahy, Margaret Cowan, Marie McGrath, Aileen Óg Groome and Derry O'Donnell

Many thanks to all those who contributed photographs and news items. Remember, we need you to continue to send us material so that we can keep our website current and interesting.
Send your email to: info@borrisoleigh.ie
Also, if you like what you see and want to leave a comment, remember to use the Guestbook!
If you are leaving a comment asking people to help with family research etc. please include your email address within the comment itself
While we make every effort possible to ensure that the information contained in this Website is accurate and complete, we cannot accept any legal liability as a result of the inaccuracy or incompleteness of the information presented to users of this site