Marian Hall Borrisoleigh 5Km & Track Attack Notes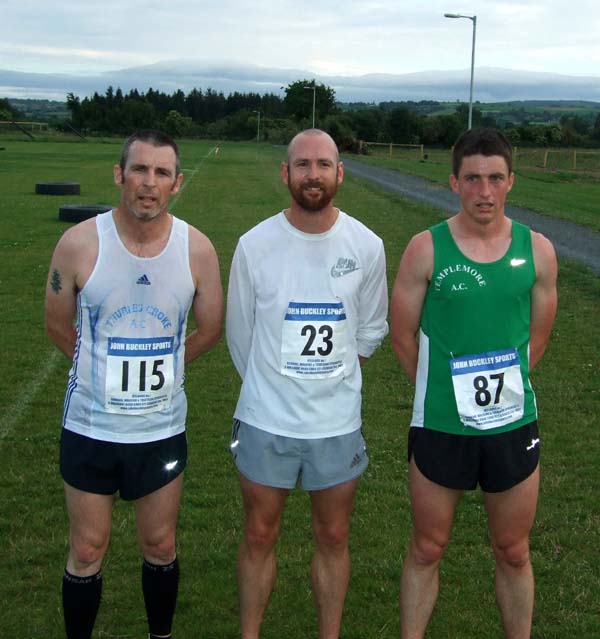 Denis Shanahan, Kevin Maunsell & Tony Fogarty
Maunsell & O'Doherty Break Course Records
On a perfect night for running, a huge crowd swelled the roads of Borrisoleigh while competing in the second annual Marion Hall Borrisoleigh 5km. 312 participants completed the fast course with many producing Personal Best times in the process.
Despite competing in the 3000 metres at the Cork City Sports on the previous night, Clonmel's Kevin Maunsell took an early lead and set a blistering pace throughout to come home in a new course record of 15:28, a brilliant 34 seconds faster than the previous best. Borrisokane's Siobhan O'Doherty was as equally brilliant on the night as she shaved a massive 20 seconds off her previous best on the course to claim the women's title in an impressive time of 17:07 and in doing so securing fifth place overall also.
Last year's victor, Tony Fogarty of the Templemore Club had to settle for the runner up spot this year when clocking 16:30 with Thurles Crokes athlete Denis Shanahan finishing in third spot overall thanks to an impressive showing in 16:47. Templemore also secured the runner up spot in the women's race with Margaret Danagher ducking under the 18 minute barrier in a time of 17:58. The third spot was claimed by Clonmel's Laura Tobin in a time of 19:19.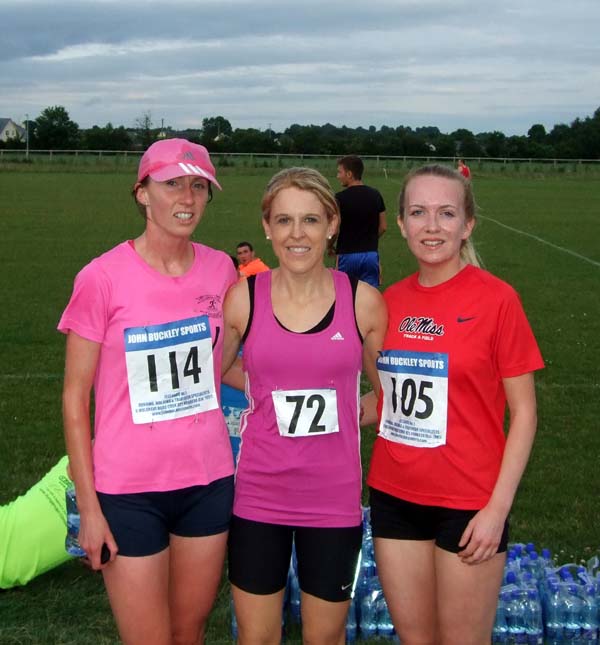 Siobhán O'Doherty, Margaret Danagher & Laura Tobin
We also had prizes for the participants who finished in every twenty fifth position and the following were the winners; Peter Ryan (Borrisoleigh), Michael O'Brien (Borrisoleigh), Sinead O'Meara (Drom), Sharon Cantwell (Moyne), Trish Lee (Thurles), Razuk Atik (Borrisoleigh), Deirdre Collins (Borrisoleigh T/A), Siobhan O'Shea (Cork), Olivia Lawlor (Thurles), Attracta Cahill (Drom), Luke Cooney (Borrisoleigh) and Mairead Bradshaw (Borrisoleigh). The spot prizes were won by Regina Carroll (Touraneena), Paddy Kennedy (Templederry), Owen Ryan (Templemore), Natasha Kennedy (Borrisoleigh) and Andy Quinlan (Kilcommon). If any of the above were not at the race presentation and didn't receive their prize, just send a message to Borrisoleigh Track Attack on Facebook or contact 087 6380649.
In the battle of the locals, Peter Madden was first home in a time of 17:51 followed by Austin Ryan in 18:36 with last year's winner Ailbe Cummins coming home in third in a time of 18:51. Helen Kiely was the winner of the women's title clocking 23:40. Trish Ryan ran an impressive 24:09 to take second spot while Mary Collins returned to her roots to claim the third spot in 24:46.
The event proved to be a huge success which was made possible by a huge team of people. Thanks to the local GAA club, Town Park and the Parish Centre for the use of their facilities on the night. Thanks to the team of people who looked after the registration of participants and the finishing times. Thanks to the Gardaí who were out in force on the night to help with the traffic control. A huge thanks to Tom Mason and his team of stewards for the brilliant job of stewarding the course and ensuring the safety of all participants. Thanks to Mark Bourke and his team of people who controlled the parking on the night.
Thanks also to Tara, Aisling and the Order of Malta who attended on the night. Thanks to Teresa Murray and her team of caterers who did a superb job with the catering at the post-race presentation on the night. A huge thanks to everyone who brought sandwiches/confectionary etc. on the night, it was hugely appreciated. Thanks to the Borrisoleigh Cycling Club and to Tom Tynan for escorting the leading athletes around the course. Thanks to Seamus Kennedy for supplying the amplification on the night and to Eddie Martin and Christy Slattery for erecting the finish gantry for the event. Finally thanks to all the participants who came on the night and made the event the success that it was. Hopefully we'll see you all back again next year when we intend to make the event even bigger and better.
Thanks to our Sponsor

Track-Attack would like to sincerely thank the Marian Hall for coming on board with us this year and becoming our main race sponsor. Their generous sponsorship ensured that we could host a top class event that catered for everyone.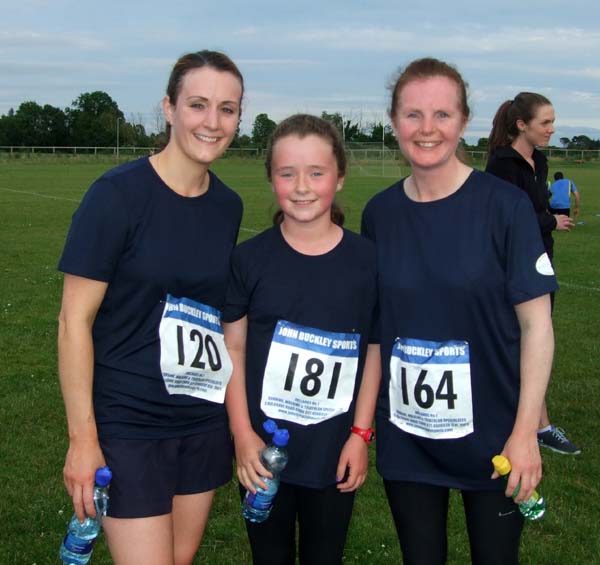 Jacqueline Minogue, Kate Minogue & Caroline Murray

Family Hat-trick Completed
In the weeks leading up to the Borrisoleigh 5km, the pressure was on both Jacqueline Minogue and Caroline Murray to follow Kate Minogue's footsteps and claim one of the league titles in the Track-Attack Marathon Series. Kate proved to be the star of the entire series en-route to claiming the Puma's title with 2 weeks to go. Kate's mother Jacqueline made superb progress in recent weeks and in doing so, she moved in on the leaders of the Lions group and eventually claimed the pole position. In the 5km, she smashed her previous best to run home in 27:49 which in turn guaranteed her the title with a total of 14 points. Finishing second in the group was Marie Carr with 30 points while Betty Slattery finished third with 41 points.
It was down to Kate's aunt Caroline then to complete the family treble and following an excellent run in the 5km in a time of 29:16, she guaranteed herself the top spot in the Cheetahs group with a total of 15 points. Grainne Moore finished second with 36 points while Deirdre Collins on 45 points finished in third place.

The Shop Tug O' War Team
Despite the best efforts of the chasing women, they left it too late to reign in Martin Fahy's lead at the summit of the Falcons grouping. It was a superbly competitive group right throughout the Series and with a total of 28 points, it was Martin who claimed the top prize. Kathleen O'Meara finished in second spot with 35 points while in joint third were Trish Ryan and Mary Ryan who both clocked up 37 points each. Rena Ryan was the run-away leader of the Bears group and with a total of 26 points, she was the deservedly victor of the title. Her closest rival was Anne McCormack who finished second on 58 points with Suzanne Whyte another point behind in third place.
A superb time of 19:17 in the 5km lay down a serious marker to his closest challengers in the Sharks group as long-time leader John F Kennedy secured the title in impressive fashion thanks to a Series total of 27 points. Closest to the leader proved to be Christy Slattery with 38 points with Tom Shanahan holding off Noel Kennedy by a single point to take third spot with 40 points.
The Dolphins group went right to the wire. In the end it wasn't possible to split the duo of John Vahey and Richie Tynan with both completing a brilliant series with a total of 45 points each so fittingly they will share the top honours. In third spot was Tom Stapleton with a total of 55 points. The other 2 titles were already claimed before the 5km showdown. Mary Stapleton clinched the Jaguars title while Drom young speedster Conor Gleeson brought the Tigers title across the parish divide.
The presentation of prizes for the Marathon Series will be organised soon. We are taking a break from Track-Attack activities for a couple of weeks but in the meantime, we will be putting together a 10 week series which will start in late September/early October where we will be hoping to lay down a challenge for participants of all ages and ability using the newly extended 1.3km track.
---
Borrisoleigh Active Social Group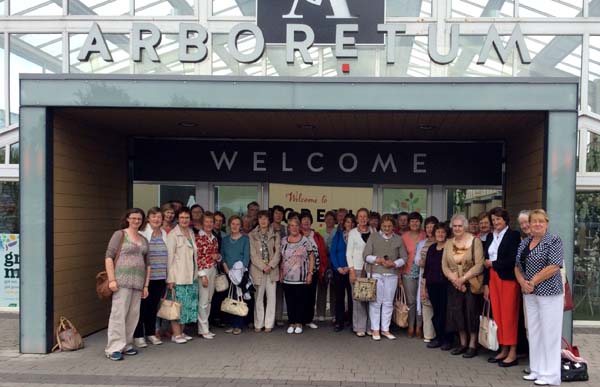 We had our first outing last Tuesday. We left Borrisoleigh shortly after 9am and headed off to the Nicholas Mosse Pottery Factory. Some enjoyed watching the pottery being made & painted while others shopped and got good bargains. After about 2 hrs there we headed off to Arboretum Home and Garden Heaven. This was very impressive from the time we got off the bus until we got back on again. We were all amazed by the variety of flowers and shrubs and again purchases were made. This place is well worth a visit.
On our way home we stopped off in Hotel Kilkenny to have a cuppa. The hospitality we received throughout the day was top class. We were back in Borrisoleigh at about 7.30pm. Overall this was a great day out and we were joined by some friends from Kilcommon. We look forward to our next venture. New members are always welcome.

---
Community Centre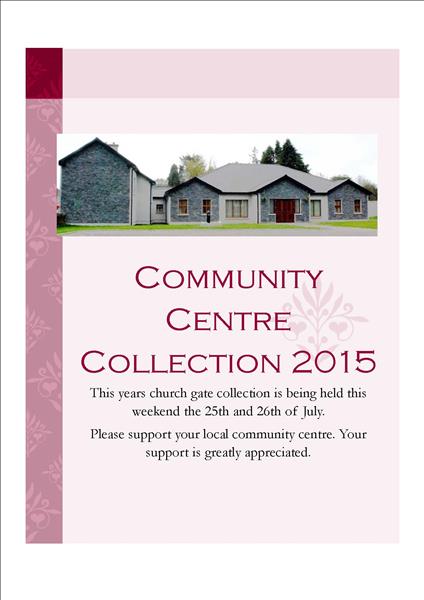 ---
Tipperary Relay For Life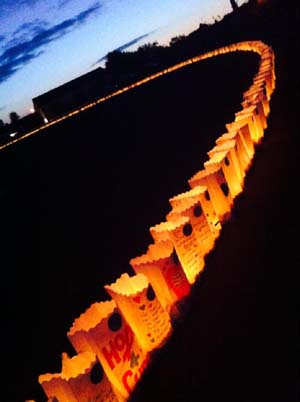 Candles of Hope

Teams entered for this year's Relay for Life Tipperary are busily making preparing for the event which takes place in St. Michael's GAA Grounds in Toomevara on the weekend of 15/16 August.
Chairperson Relay for Life Tipperary, Lorna King says that Relay for Life is all about HOPE – the hope that one day we will have a world without cancer, that we will find a cure for cancer, and that patients who are diagnosed with cancer will have better treatments and outcomes. There has been significant progress in this regard and the work of Relay for Life is helping to make such a world possible, with cancer sufferers nowadays having a much better chance of surviving the disease than was the case in years gone by.
One of the most poignant events at every Relay for Life is the Candle of Hope ceremony which takes place as darkness begins to fall. As the evening approaches, the lighted candles are set around the track, and remain there lighting all night as the event continues. Once the candles are placed around the track, the short ceremony takes place.
Rose Cleary Chairperson – Candle of Hope Sub-Committee, says "for many people, this is when the true meaning of Relay hits home. Some of the candles are to celebrate a friend or loved one who has survived cancer, others are to remember someone who did not, while still others are dedicated to family and carers who helped in the fight against the disease. All candles are numbered, and people can easily locate their own candle and message around the track".
Candles are available from any member of any participating Relay team, or email relayforlifetipperary@gmail.com or call 087-4463631.

---
Borrisoleigh Festival

All roads lead to Borrisoleigh this coming weekend for the Borrisoleigh Festival which takes place from Friday 24th to Sunday 26th July. There is something for everyone and all ages over the course of the weekend.
The weekend starts with the Tomás Max Camogie U10 tournament on Friday evening in the Town Park. Macks Funfair will be present in the Town Park all weekend. The Official Opening of the Festival takes place in The Square with the Main Sponsors, Ryan's of Camden St. Dublin, at 9pm. This is followed by live music from the hugely popular band, Acoustra.
Saturday 25th July starts early with walks organised by the Bush and Briar Ramblers to Knockanora (The Tower) and Latteragh Forest Loop. Registration for these walks takes place in the Community Centre, to the rear of the Church, at 9.30am and 10.30am respectively. Borrisoleigh Line Dancers will be displaying their fancy footwork from 12 to 1.30pm in McDonagh Square. A Food and Craft Fair will also be taking place in the Square from 12 to 6pm with local food and crafts for sale.
A baking competition, 'Bake 4 Borris', will tantalise your taste buds on Saturday. All baking entries to be dropped into Community Centre before 2pm. Viewing is from 3pm with the results being announced at 6pm. Entry is free with all cakes being sold afterwards for the festival. The Historical Walk through Borrisoleigh takes place from 3pm to 6pm starting at Shanahan's Centra, coming down to McDonagh Square and finishing on Pallas St. promises to be and enlightening and entertaining journey through the past. Irish TV will be present to record some of the events on Saturday, so be sure to scrub up well!
A Variety Concert featuring talent from Borrisoleigh and neighbouring parishes begins at 7.30pm in The Square on Saturday. There will be a special guest appearance by the Dubai Rose, Marie Ryan of Ballyroan who will be interviewed by the Mayoress Patrice Cooney. Marie will also present the prizes for the school art competition. The Artwork will be on display in the Community Centre throughout the weekend.
Also at 7.30pm will be a Churn Racing display on Pallas St. featuring some of the participants from the All Ireland Churn Racing competition held in Tipperary Town. This is a great opportunity to see this unique and growing sport. To really add to the festival atmosphere there will be live music in the Square with 'Ochy Calderon' Latin Caribbean Fusion Salsa Band from 9pm.
There is a Family Fun Day in the Town Park on Sunday 26th July from 2pm to 5pm. This features a number of entertaining events such as a veterans hurling tournament, bubble soccer, vintage car display, strongman display, tug of war, pony rides, athletics, sheaf tossing, BBQ, games of skill, plus much much more.
Live music starts in The Square with Old Time Dancing by 'The Castle Trio' from 4pm to 6pm. They are followed on stage by the wonderful 'Ebony' from 4pm to 6pm. Silver Dollar finish off the live outdoor music from 8pm to 9.45pm with the Official Closing of the Festival by Lord Mayoress Patrice Cooney. In case of severe inclement weather outdoor music gigs due to play in The Square will be moved to the Community Centre.
The pubs will also have live music at the weekend and even some storytelling with the 'Hilarious comic monologues' of Fergus Costello performing his show 'Tell me lies horse' in Finn's on Saturday at 9pm.
For full event listings and more info visit www.borrisoleighfestival.com or follow on Facebook and Twitter.
---
Borris-Ileigh GAA News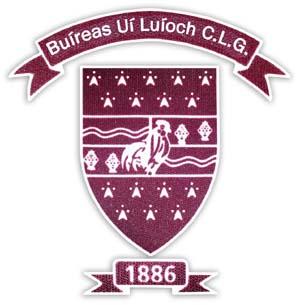 Senior Hurling:
With Drom's defeat to Thurles Sarsfields on Sunday, it now ends Borris's interest in the senior championship for 2015. We would like to thank all players and management for their efforts during the year. Our attention for senior hurling now turns to 2016
Junior Hurling: Our junior A team take on Roscrea on Saturday evening in round three of the North championship. The time is yet to be set for it but we will let players know as soon as possible.
Minor Hurling: Our minors take to the field for round three on Wednesday 22nd in Toomevara against Roscrea at 7:30pm. Your support would be most welcome
---
Borris-Ileigh Camogie Club


Our Senior girls are back in action shortly in the Championship. Fixtures for August as follows:

Sat Aug 8th v Annacarty (away)

Sat Aug 22nd v Drom (home)

U15's play Portroe this Thursday evening in Portroe. Best of luck girls.

U13's played Portroe last week, but unfortunately lost out on this occasion. Final score: Portroe 5-07 Borris-Ileigh 3-01, scores from Danielle Ryan 3-00 and Katie Boyle 0-01.
Next game v Kildangan July 20th. Results to follow.

Remaining fixtures:

v Holycross (away) July 27th

v Templemore (home) August 4th. Good luck girls.

U10's had the privilege to play at half time at the Tipp v Clare match last Saturday at the Camogie Grounds, The Ragg. They played Knockavilla for this game, and thoroughly enjoyed the experience. Many thanks to John Walsh, Costcutter for providing the refreshments.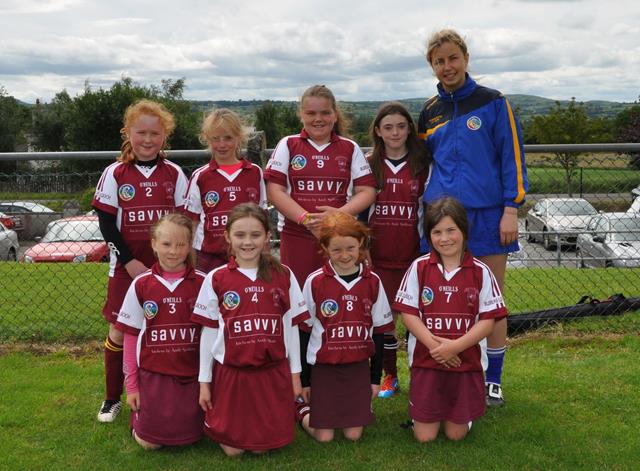 U10's with our own Nicole Walsh of Tipperary Senior County and Borris-Ileigh Senior camogie.

Also, U10 Tomás Max Tournament takes place this year in conjunction with the Borrisoleigh Festival on this Friday evening July 24th. Clubs to participate are Drom, Holycross, Moycarkey & Borris-Ileigh. This is a big event in our camogie juvenile calendar, and a great evening's entertainment is guaranteed. Borris-Ileigh were last year's winners, and hope to regain the title.

U8's had a blitz day last Saturday morning in Burgess. They played four matches, against Moneygall, Burgess, Nenagh & Toomevara. A great morning's hurling was had by all.

---
Borrisoleigh Historical Society
At 3.00pm next Saturday, July 25th, we gather at the green entrance to Mount George, to complete the historic walk that was such a success during the festival week of 2013. Upper St and Pallas St are the focus of attention this year. An array of different speakers are lined up to inform us about places such as, Kenny's Hall, The Barracks, Grey's Garage, Pat Mahons, The Pig Market, Prior's and Dermody's coal stores, Leahy's forge, to name but some. The walk will conclude with tea and brack in the Community Center. This is an occasion not to be missed.
On Sat 22 August, we are going on a tour of Spike Island and Cobh Heritage Centre. The cost is 40.00 euro for the ferry and guided tour of Spike Island and admission to the heritage centre and includes the bus fare and tips. Anyone interested in travelling, give your name to any committee member.
---
Pic of the Past……….down memory lane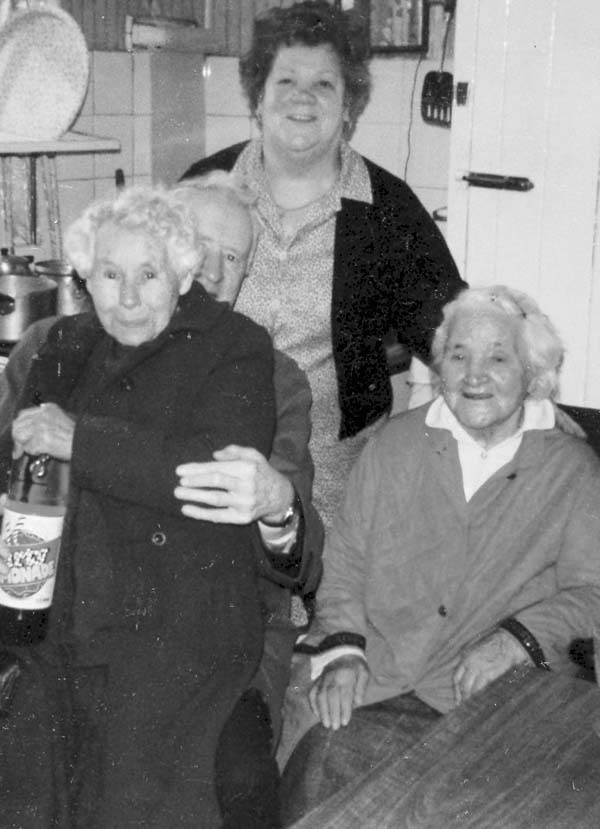 Minnie Mott, Peter Dwyer, Josie Quinn (standing) and Ellen Quinn,
all residents of St. Brigid's Villas.
---
Your Website Needs You!
Committee: Enda Ryan, Noreen Fahy, Margaret Cowan, Marie McGrath, Aileen Óg Groome and Derry O'Donnell

Many thanks to all those who contributed photographs and news items. Remember, we need you to continue to send us material so that we can keep our website current and interesting.
Send your email to: info@borrisoleigh.ie
Also, if you like what you see and want to leave a comment, remember to use the Guestbook!
If you are leaving a comment asking people to help with family research etc. please include your email address within the comment itself
While we make every effort possible to ensure that the information contained in this Website is accurate and complete, we cannot accept any legal liability as a result of the inaccuracy or incompleteness of the information presented to users of this site