Borris-Ileigh GAA News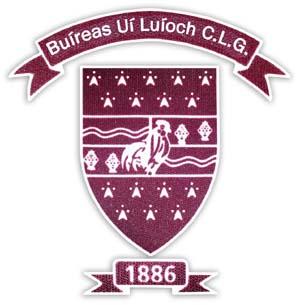 Minor Hurling:
Our minor team open their campaign on Thursday evening(2nd) in round 1 of the minor A north championship. We will play Nenagh Éire Óg in Templederry at 7:30pm. There are 5 teams in our group including ourselves, Nenagh, Newport Gaels, Portroe and Roscrea. The team that finishes top qualify for the north semi while 2nd and 3rd will qualify for the quarter finals.
U16 Hurling: Well done to our u16s who had a very tough win against Moneygall/Clonakenny in the opening round of the north A u16 championship. In an extremely blustery St. Flannan's Park, Moneygall, our lads worked out a win in a game they lead for the majority of the hour. Scores were difficult to come by but thankfully we found the board when needed and won out on a scoreline of 0-8 to 0-6. We will play for the next number of mondays in the group stage of the championship.
Junior Hurling: It is expected that our junior hurlers will be in action on the weekend of the 12th in round 2 of the north championship. Having lost to Toome in the opening round a win will be vital here. Training continues for all players.
5K: Our now annual 5K run takes place on Wednesday July 8th. 278 runners of all ages took to the course last year and we hope to see as many and more there this year. There are some great prizes on offer and refreshments will be served in the community centre afterwards.
Walking Track: As some may have noticed with the ongoing developments in the park, the track has now been extended considerably. The course is now approximately 1.3km long and goes around the boundary of the park. We hope to see as many people down using this new and improved facility.
Ordination: Best wishes to Vincent Stapleton who, this weekend, will be ordained to the priesthood. It has been a long road for Vinny, who has continued to represent the club with distinction throughout his period of study. The club would like to offer their congratulations to Vinny and wish him all the best for his future ministry.
---
Borrisoleigh Clean Up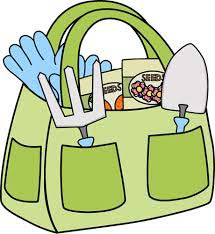 Borrisoleigh Clean Up taking place on Thursday next July 2nd at 6pm. This is to clean the town up in advance of the Ordination and the Festival. Could volunteers please bring wheelbarrows, shovels, hoes etc. Meet in McDonagh Square.
---
Ordination Celebrations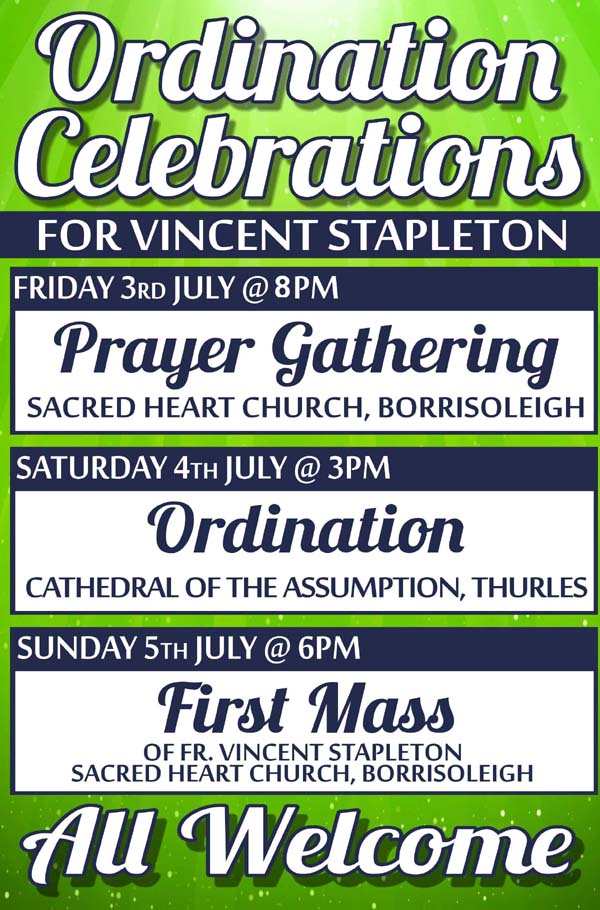 Ordination Celebrations for the Stapleton family, Borrisoleigh and the Arch Diocese of Cashel and Emly. Vincent Stapleton, son of Matt and Brigid Stapleton, Pallas Cross is being ordained to the Priesthood on Saturday 4th July at 3 p.m. in the Cathedral of the Assumption, Thurles. Light refreshments will be served in St. Patrick's College afterwards.
In preparation for the special occasion there is a Prayer Gathering and First Friday Mass at 8 p.m. on Friday 3rd of July in the Sacred Heart Church, Borrisoleigh.
On Sunday 5th of July at 6 p.m., Vincent will celebrate his First Mass of Thanksgiving in the Sacred Heart Church, Borrisoleigh. Following the first mass there will be refreshments in the community centre adjacent to the church and entertainment will be provided by local artists. All are welcome to attend all events.
Parking arrangements and stewarding will be in place in the town park, local schools and behind Shanahans Centra shop. Please note no parking in the church yard as this will be set down only for the elderly and the infirm.
The organising committee would like to extend their best wishes to Vinny on this joyful occasion and for the future.

---
National Tug of War Championships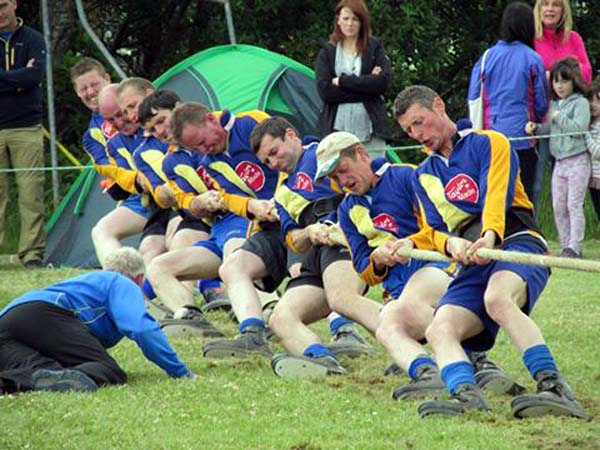 The Shop Tug of War Team


The photo shows The Shop Tug of War Team who won the gold in the Senior division 2 680kg National Championships which were held in New Ross recently. The Shop pulled Clonterm from Galway, Boleys from Wexford, The Burren from Clare, Glenhill from Cork, Maharees from Kerry, Boyneside from Offaly, Clonmines from Wexford and Saltmills from Wexford who they beat in the final.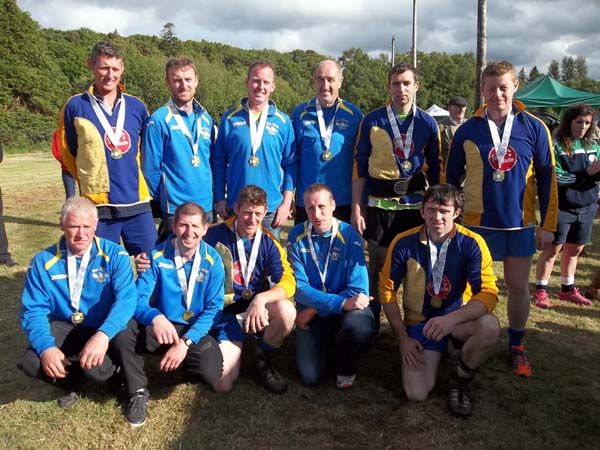 Photo includes Andy Quinlan, Willie Corcoran, John Phelan, Tony Pender Coach, Tom Ryan, John Cummins, Paul Murray, Mike Ryan, Ailbe Cummins, Paddy McLoughney and Jim Ryan
---
Cashel & Emly Pilgrimage to Lourdes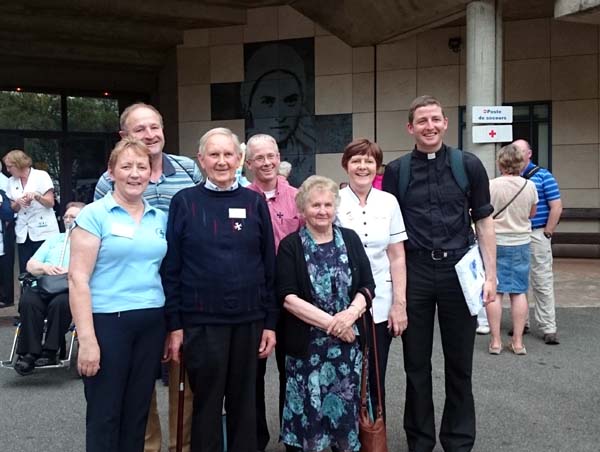 Borrisoleigh group who travelled to Lourdes are TF Stapleton, Christy Reid, Catherine Ryan, Deacon Vincent Stapleton, Anna Ryan, Tom and Nan Reid
(Missing from the group Brid Ryan)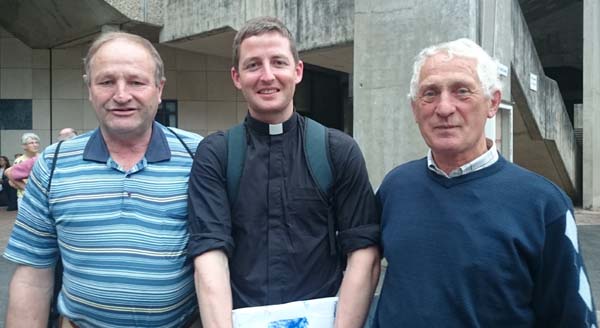 Vincent pictured here with TF Stapleton and Matt Hanley, Silvermines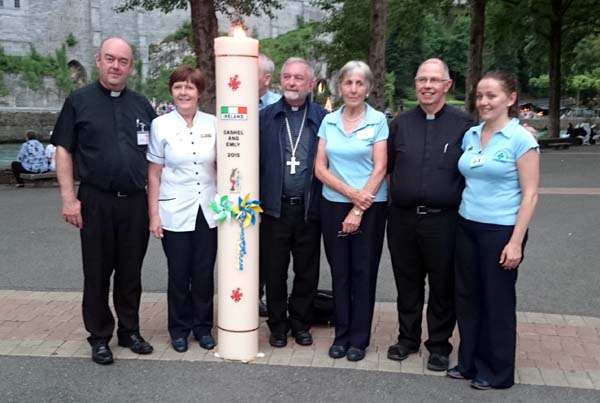 Catherine Ryan and Mary O'Connor pictured here on their reirement from their long years of service to the Lourdes Pilgrimage
Please click here for more photographs from Lourdes
---
Saints All Stars Camp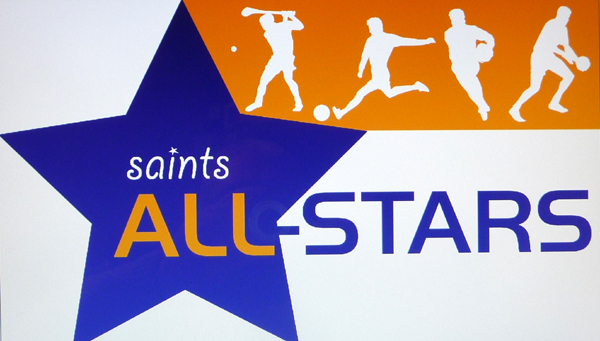 Just a reminder to register your kids for the summer camp as soon as possible. I am looking to get them a t-shirt each and I don't want anyone disappointed when they don't receive one. All you do us text their name, age and t-shirt size to 086-3328697. I will text back to confirm I have received it. Thanks!


---
Borrisoleigh Track-Attack Notes
Marion Hall Borrisoleigh 5km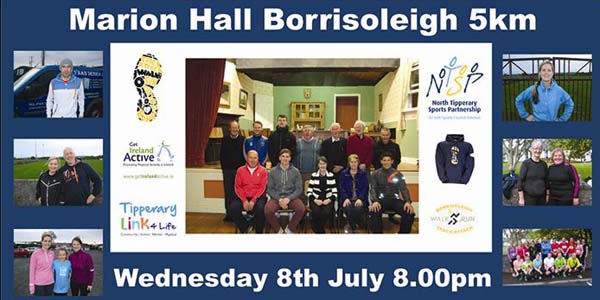 Borrisoleigh 5km



On Wednesday night next (8th July), the roads of Borrisoleigh will hopefully be swamped with athletes and walkers competing in the second annual Borrisoleigh 5km which is this year sponsored by the local Marion Hall.
The course is made for fast times and ideally suited for anyone hoping to record a personal best time. The starting gun will echo on Pallas Street outside St. Joseph's College at 8pm. Participants will then proceed down the straight, turning right out the Thurles road before turning right again onto the Rathmoy loop. On completing the loop, you will head back onto the Thurles/Nenagh road, turning left and head back towards Borrisoleigh village. Just on the outskirts of the village, participants will turn left again onto the track surrounding the GAA field where they can flat out over the final 150metres.
Registration will be taken in the GAA pavilion from 6:45pm onwards with the entry fee €5 per participant. Under 16's can enter free of charge. Toilets and changing facilities will be available at the pavilion while the track including the newly extended part will be available to all to warm up.
A huge number of people have come on board to help ensure the smooth running of the event. Parking facilities under the stewardship of Mark Bourke will be available to all at the grounds. The course will be well stewarded to ensure the safety of all participants with Tom Mason taking charge of this important aspect of the event. To further ensure the safety of all participants, the Order of Malta medical staff and ambulance will be on duty on the night.
This year's post-race presentation and refreshments will be served up in the Community Centre which is situated behind the church. Teresa Murray is head of catering and her team will be on hand to ensure everyone will be well looked after. As an extra treat, this year we are giving out wafers and ice-cream to all finishers so don't forget to head up to the Centre once you're finished your race. Already a huge number of Track-Attackers have kindly volunteered to provide refreshments for the night, for which we are hugely grateful. If you wish to bring sandwiches, buns, cakes etc., just contact Teresa.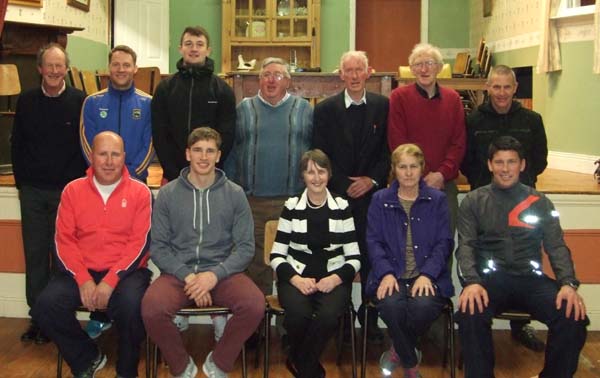 Launch of Marion Hall Borrisoleigh 5km



Proceeds from the night will all go towards the Track Development fund. This has been made possible thanks to the hugely generous sponsorship offered to us by the Marion Hall. All we need now is to get people out and participate on the night. It doesn't matter if you run, jog or walk, just come along and be part of the event. There is a place for everyone and we encourage people to bring their friends and family members along with them.
We are offering attractive prizes for those hoping to compete at the elite end of proceedings. The first man and woman to complete the course will receive €100 each, second place will get €50 and third will get €25. On top of that, we are offering a bonus payment €100 for the first man and woman to break the course record. The men's record stands at 16:02 which was set by Templemore athlete Tony Fogarty while the women's record was last year set by Irish International athlete Siobhan O'Doherty in a time of 17:27.
This year's event will see prizes offered to participants who finish in every 25 position (25th, 50th, 75th, 100th etc.). There will also be spot-prizes on offer for participants throughout the field.
Who will this year secure the local finishers prize? Ailbe Cummins and Julie Kelly are the defending champions. This year we have 1st, 2nd and 3rd in each code with the winner receiving the perpetual trophy. To qualify for this, participants have to be born and reared in Borrisoleigh or now living in the parish.
Hopefully the sun will shine nicely for us on the night which in turn would guarantee a great atmosphere on the night. Again, we encourage people to come out to support the event and ensure a huge crowd on the night.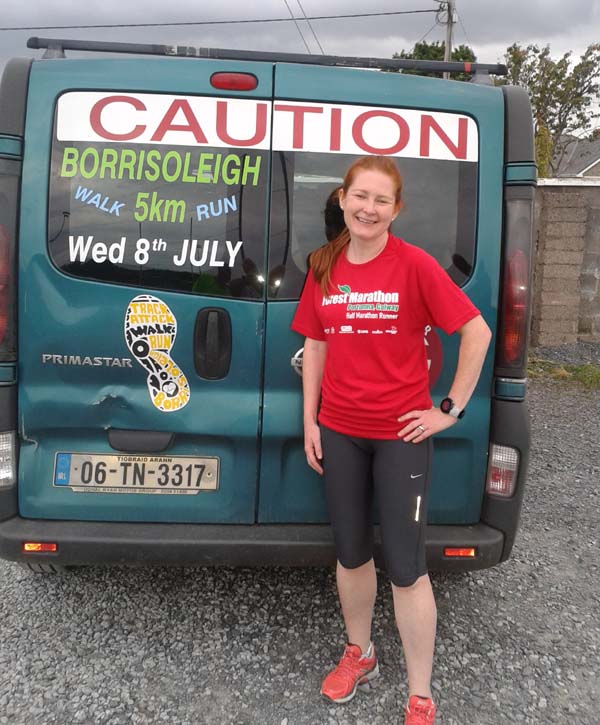 Mairead Lane
Mary Takes Jaguar Title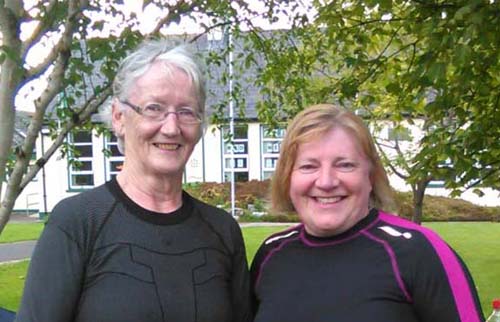 Jaguars Champion Mary Stapleton (right) with Delia Ryan



The Jaguar title of the Track-Attack Marathon Series has now been secured by Mary Stapleton with one week to spare. The win is very much deserved following a fantastic transformation of performances over the duration of the Series.
On week 3 of the Series, Mary completed the 4km distance in a time of 29:47 and on week 11 she knocked a superb 2 minutes and 17 seconds from that time to clock 27:30 which is a highly impressive turn around.
Mary now joins Kate Minogue and Conor Gleeson as group winners with the remaining 6 groups going down to the wire on the last night which is the aforementioned Borrisoleigh 5km on Wednesday night next.
Martin Fahy is the favourite to take the Falcons grade thanks to a 10 point lead heading into the final encounter. Tom Stapleton is the leader of the Dolphins group but his lead is now a mere 4 point with Zenga now waiting to make one last title winning move. Both need to watch over their shoulder as Richie Tynan is only a further point in arrears after making great progress in recent weeks.
A 20 point lead as this stage would have guaranteed a title so Rena Ryan was a step away from claiming the Bears title with a week to go. She holds an 18 point lead over Suzanne Whyte so providing she finishes the 5km, she will be picking up the top group honour. Caroline Murray is in a similar position in the Cheetahs group. She also has an 18 point lead and completing the 5km course will keep the family hat-trick of titles alive. Jacqueline Minogue is the third member of the family aiming to secure that hat-trick achievement. Her performances in recent weeks have been exceptional and as a result she holds a 9 point lead over Betty Slattery. Betty will be hoping to claim the bonus points on offer on the final night and further hope that Jacqueline slips up and then the calculator could be called into play to determine the eventual victor.
The smart money is on John F. Kennedy to take the Sharks title as he heads proceedings by 9 points. His impressive form suggests he will do enough to claim the title and only a slip up at this stage will allow Christy Slattery, Tom Shanahan or Noel Kennedy slip in on the final hurdle to take the title.

Track-Attack Gear
The new Track-Attack gear is now available to purchase. The running t-shirts cost €20 each or 2 for €35 while the hats are available for €10. If you wish to purchase, contact Declan Maher.


---

Borris-ileigh Camogie Club




Féile Finals
On the weekend of June 19th, 20th & 21st our Féile U14 girls travelled to host club Burt in Co. Donegal to participate in Féile finals. After winning two of their match's on Saturday, the team qualified for the Shield final on Sunday where they were narrowly defeated by Paulstown of Kilkenny, score 0-05 to 1-00.
Well done girls, you've done your county proud. Many thanks to the host families and the mentors and parents who travelled to Donegal with the girls for this very memorable weekend.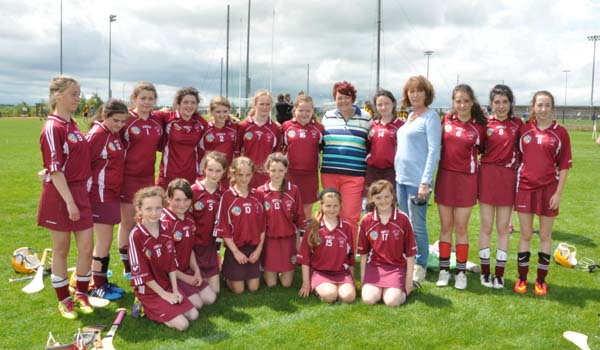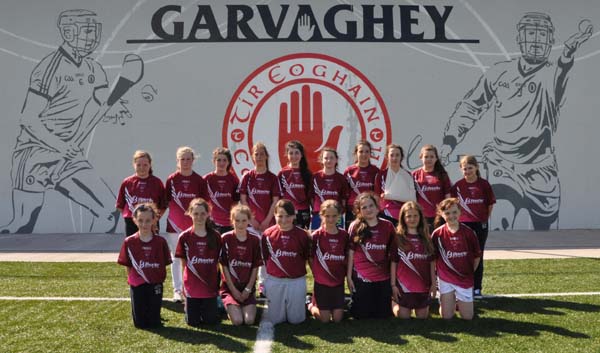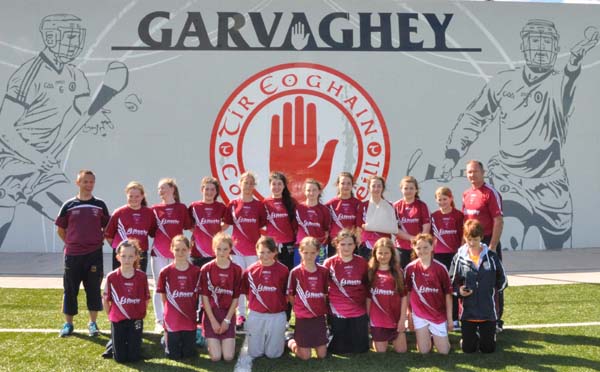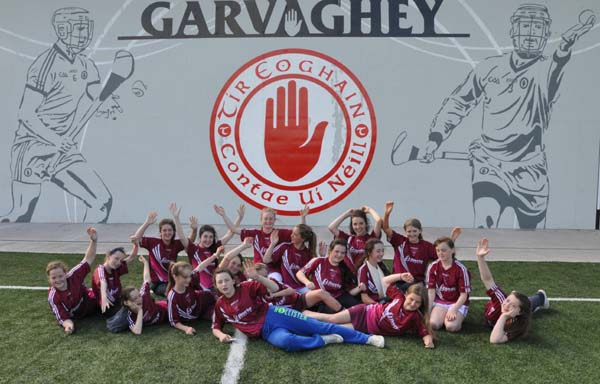 We are delighted to announce, that our club through participation in the TOPAZ Cash for Clubs scheme, we have won €1000.00. Many thanks to all who collected stamps on our behalf.



---



Borrisoleigh Festival – Bake 4 Borris

A "Bake 4 Borris" Competition will take place as part of the Borrisoleigh Festival on Saturday 25th July.
There will be a Children's section in the "Bake 4 Borris" Competition which is Cupcakes

The Adults competition will have 3 sections

Pastry: Sweet/Savoury
Breads and Scones
Cakes for any occasion

All entries to be dropped into community centre before 2.00 pm. Viewing from 3.00 pm. Results will be announced at 6.00 pm

Entry is free. All cakes to be sold after the results are announced.
---
Mary's'Retiring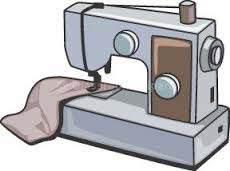 Mary's retiring her sewing machine
---
Borrisoleigh Men's Shed
Borrisoleigh Men's Shed will be hosting a Bowl Carving and Green Woodwork demonstration with the multi talented John O Neill from Waterford on Thursday July 2nd at 2pm.
This event is open to all to attend. Borrisoleigh Men's Shed is open every Monday, Wednesday and Friday night from 6pm. New members always welcome.
---
Pic of the Past……….down memory lane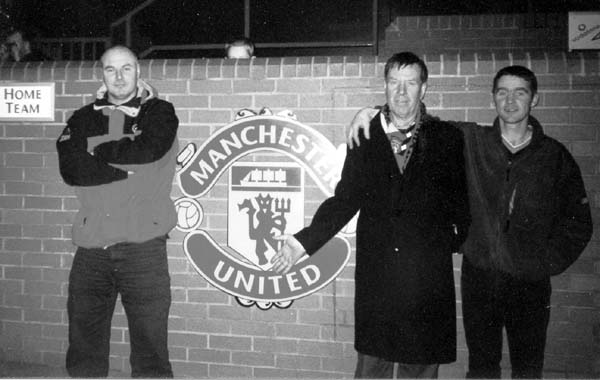 The Hallowed Ground
Michael Clohessy, Willie Stapleton and Joe Loughnane on a visit to Old Trafford


---

Your Website Needs You!
Committee: Enda Ryan, Noreen Fahy, Margaret Cowan, Marie McGrath, Aileen Óg Groome and Derry O'Donnell

Many thanks to all those who contributed photographs and news items. Remember, we need you to continue to send us material so that we can keep our website current and interesting.
Send your email to: info@borrisoleigh.ie
Also, if you like what you see and want to leave a comment, remember to use the Guestbook!
If you are leaving a comment asking people to help with family research etc. please include your email address within the comment itself
While we make every effort possible to ensure that the information contained in this Website is accurate and complete, we cannot accept any legal liability as a result of the inaccuracy or incompleteness of the information presented to users of this site