Wedding Celebrations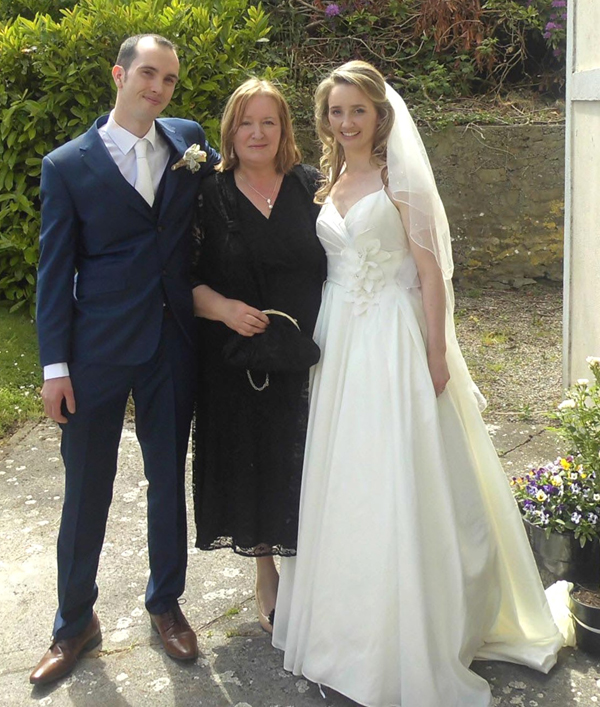 This is a picture of Mary Maher celebrating the wedding day of her good friend Sheila Kenny to Kevin Lonergan on Saturday 13th June. A great day was had by all.
---
Borris-Ileigh GAA News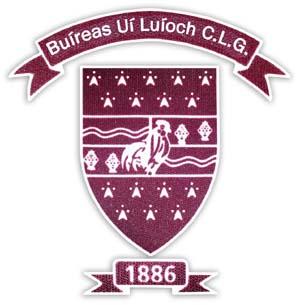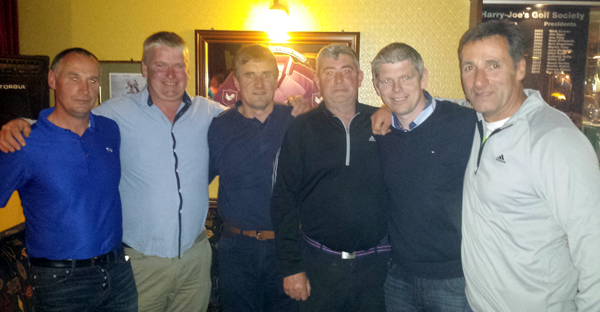 Martin Fahy and Club Chairman Mark Stapleton with the winning team of Eddie O'Meara, Donal Hurley, Vincent O'Brien and John McGrath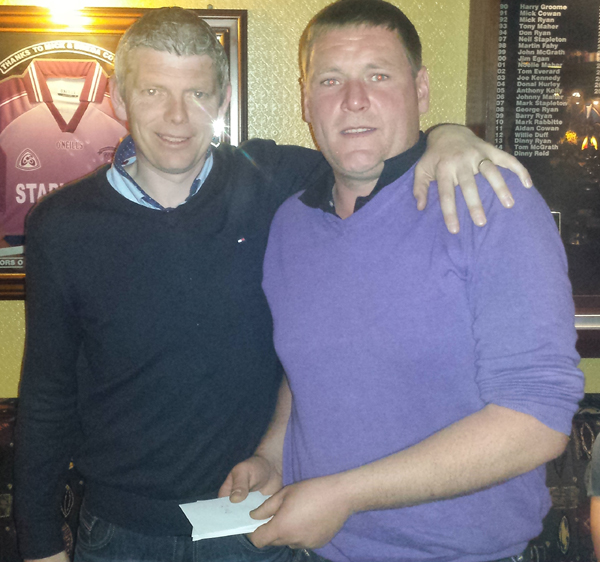 Mark Stapleton with Eamon Clohessy whose team came second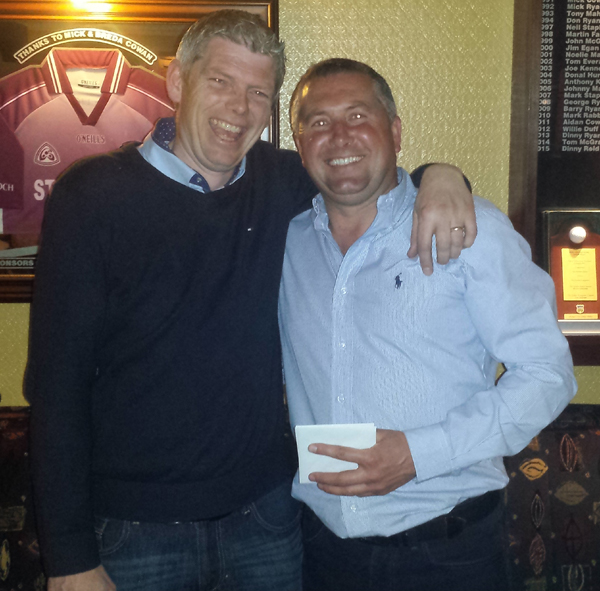 Mark Stapleton with Roger McLoughlin whose team came third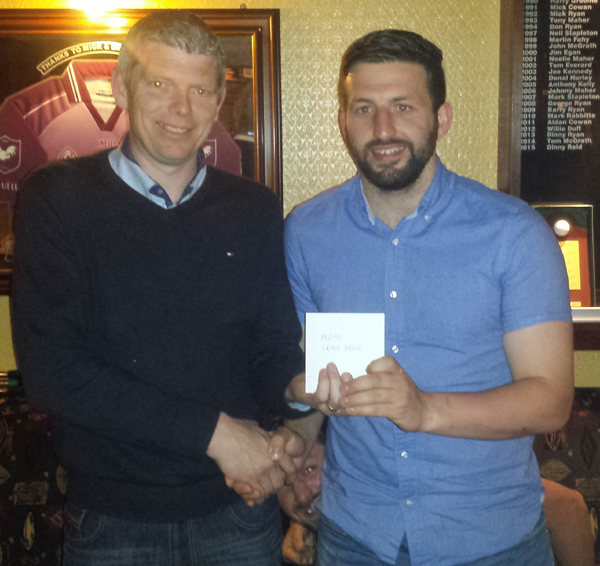 Mark Stapleton presenting David O'Connor with the Longest Drive prize
Junior Hurling: Our Juniors opened their campaign last Saturday with a defeat away to Toomevara. It was a game we never fully got going in and ended up losing by 8 point. Round 2 takes place this Sunday afternoon against Roscrea in Toomevara at 3pm. All support will be greatly apprediated.
Minor Hurling: There has been a change to the opening round of the minor hurling championship following a north board meeting. Borris will now play Nenagh Eire Og on Thursday next 2nd of July in Templederry.
5K Race: On Wednesday the 8th of July the club in association with Track Attack, we will be holding our now annual 5K road race. Last year, 278 people took part and it would be great to see as many and more take part again this year.
Inter County: A massive well done to Tipperary on their great win over Limerick on Sunday last in the Gaelic Grounds. Borris were represented by captain Brendan Maher and corner back Paddy Stapleton while Conor Kenny and Dan McCormack were on the panel. They have now qualified for the Munster Final against Waterford which will take place on Sunday 11th of July

---
Ordination Celebrations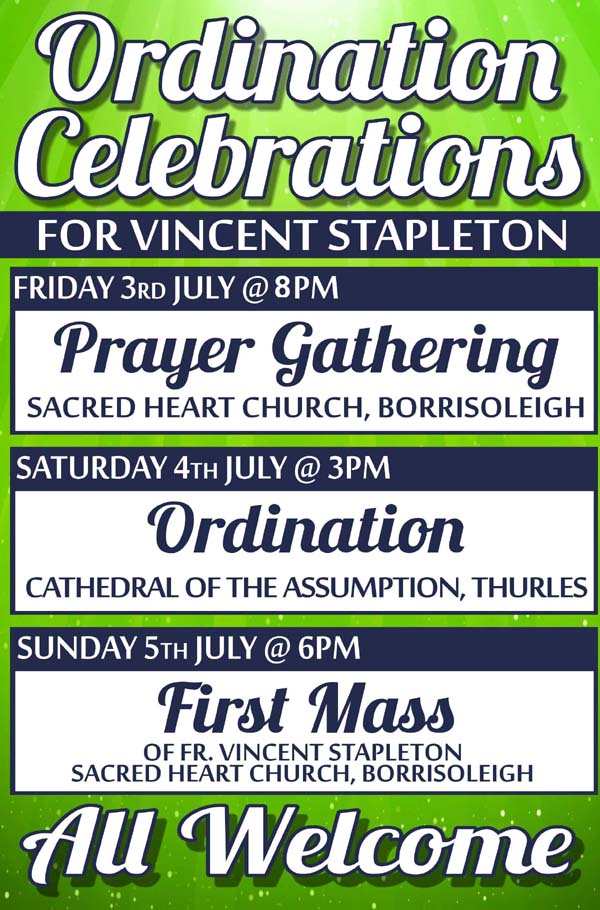 Ordination Celebrations for the Stapleton family, Borrisoleigh and the Arch Diocese of Cashel and Emly. Vincent Stapleton, son of Matt and Brigid Stapleton, Pallas Cross is being ordained to the Priesthood on Saturday 4th July at 3 p.m. in the Cathedral of the Assumption, Thurles.Light refreshments will be served in St. Patricks College afterwards.
In preparation for the special occasion there is a Prayer Gathering and First Friday Mass at 8 p.m .on Friday 3rd of July in the Sacred Heart Church, Borrisoleigh.
On Sunday 5th of July at 6 p.m., Vincent will celebrate his First Mass of Thanksgiving in the Sacred Heart church, Borrisoleigh. Following the first mass there will be refreshments in the community centre adjacent to the church and entertainment will be provided by Ebony. All are welcome to attend all events
.
Parking arrangements and stewarding will be in place in the town park, local schools and behind Shanahans Centra shop. Please note no parking in the church yard as this will be set down only for the elderly and the infirm.
The organising committee would like to extend their best wishes to Vinny on this joyful occasion and for the future.
---
Borrisoleigh Active Social Club

This is the final reminder to have your name in to go on our trip to the Nicholas Mosse Pottery Factory and the Artboretum Home and Garden Heaven in Carlow on Tues July 14. The names have to be in by next Tues June 23 to any of the following: Fiona Max 087 2169150 Eileen Slattery 087 9849848 or Lucia Ryan.
There will be a meeting of members and those wanting to become members of the club on Wed June 24 @ 8.30 in the Community Centre.

---
Saints All Stars Camp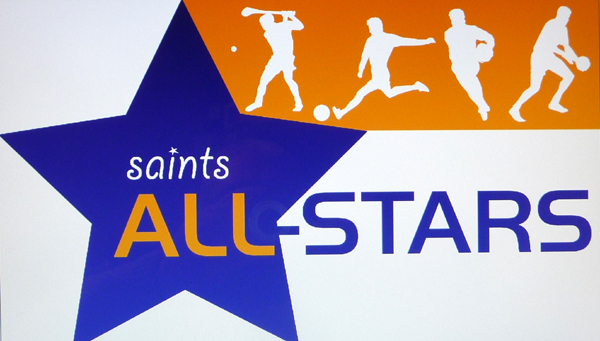 Just a reminder to register your kids for the summer camp as soon as possible. I am looking to get them a t-shirt each and I don't want anyone disappointed when they don't receive one. All you do us text their name, age and t-shirt size to 086-3328697. I will text back to confirm I have received it. Thanks!

---

Scoil Naomh Cualan Notes

A Flavour of Yeats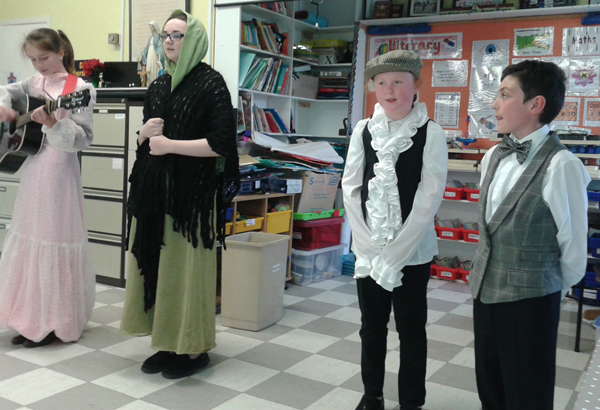 Pupils and teachers in Scoil Naomh Cualán were treated to 'A Flavour of Yeats' last week which commemorated the 150th anniversary of the birth of W.B. Yeats. Our talented local Community Games Drama winners gave a most enjoyable insight into the life and work of the Nobel Laureate through Drama, Music and Song.

We are very grateful to the group and their mentors for giving us this special experience and wish them every success in the All-Ireland Final in August. Go n-éirí go geal libh go léir.
———————————————————-
Co. Final Success for boys and girls of Scoil Naomh Cualán.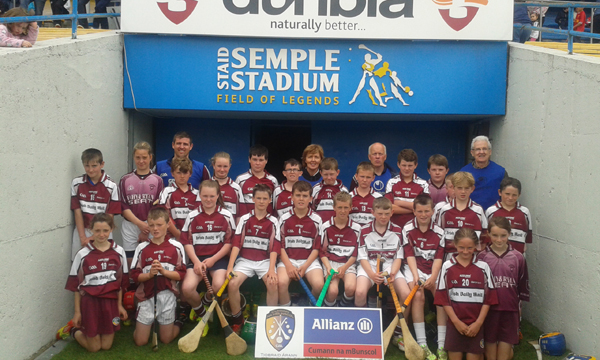 U-13 hurling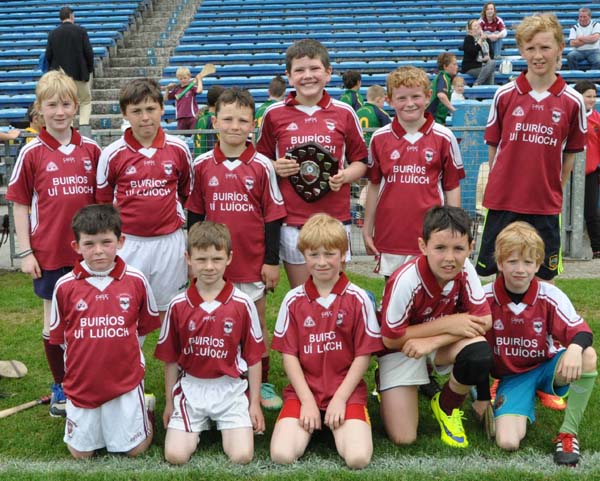 U-11 C hurling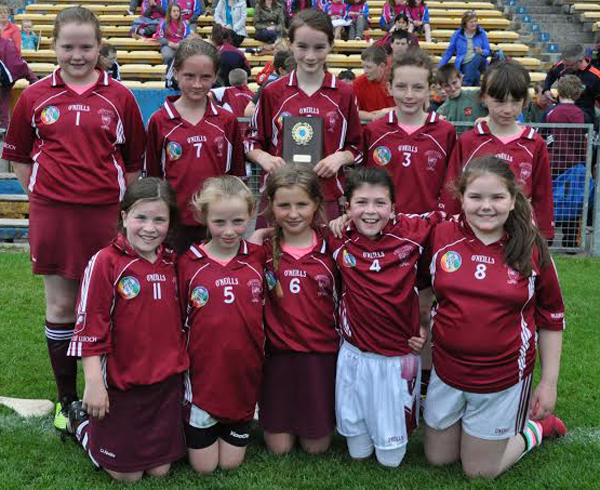 U-11 camogie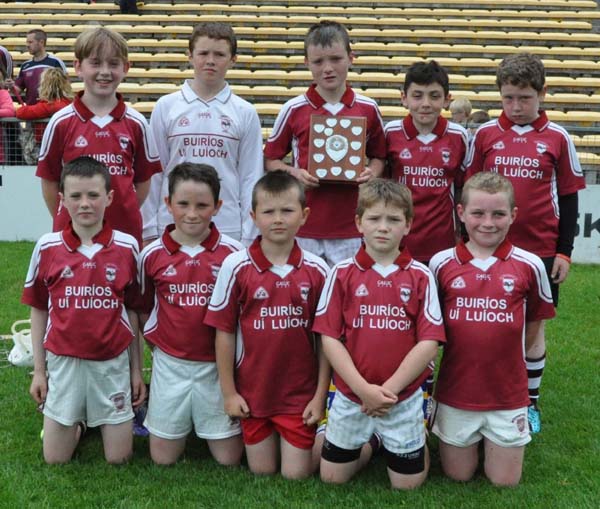 U-11C1 hurling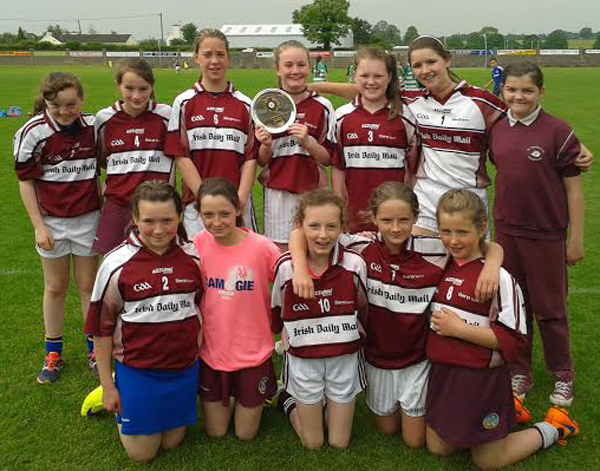 Ladies U-13 Football Plate (Co. Blitz)
What an end to a highly successful first year as an amalgamated school for Scoil Naomh Cualán, when their hurling and camogie teams achieved a first-ever record of 4 x Co. Final victories in one day on Wednesday, June 17th at Semple Stadium. There was great excitement when captains, Daniel Ryan, Seán Max, Katie Fitzgerald and Oisín Stapleton received the U-11 C hurling , U-11C1 hurling, U-11 camogie and U-13 hurling trophies on behalf of their respective teams. These trophies now hold pride of place with the U-13 North Football and Hurling trophies and the Ladies U-13 Football Plate (Co. Blitz) as testimony to the outstanding effort and achievements of pupils and management.
As the school prepared for an evening of celebration this week, when they launched a special commemorative book, 'Every Child Has a Story', compiled from the work of every child in the school, the exciting atmosphere of last week's Co. Final success provided the perfect backdrop for a very special evening. Well done to all concerned.
—————————————————–
Scoil Naomh Cualán Senior School , school tour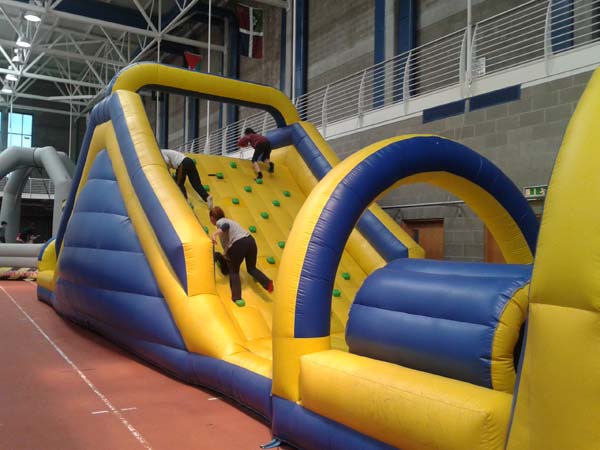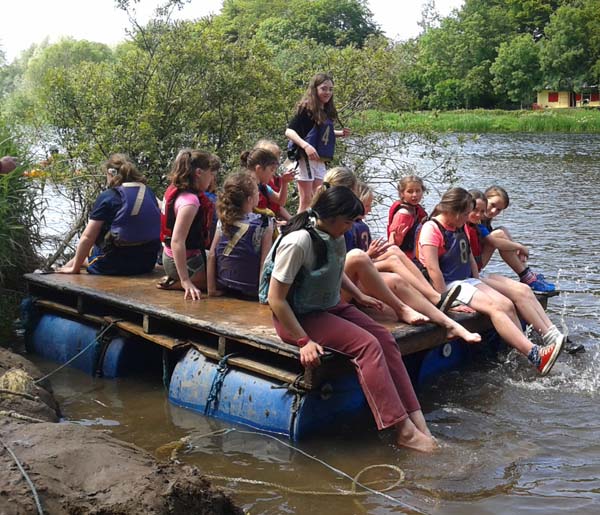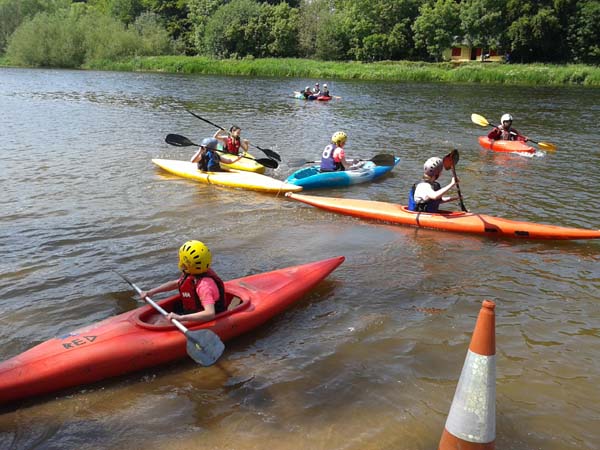 The children from 3rd to 6th enjoyed a packed fun filled activity day in University College Limerick activity centre on Thursday the 18th of June continuing the celebrations from their victories in Semple Stadium just the day before. These included many indoor fun activities in their state of the art gym and pool, completing the day by getting a little wet rafting and diving as well as paddling their own canoes!! With perfect weather conditions, a great day was had by all
to see more photos of the School Tour and Ladies Football Blitz press here
or you can also view Scoil Naomh Cualan's website by clicking into www.scoilnaomhcualan.ie

---
Charity Walks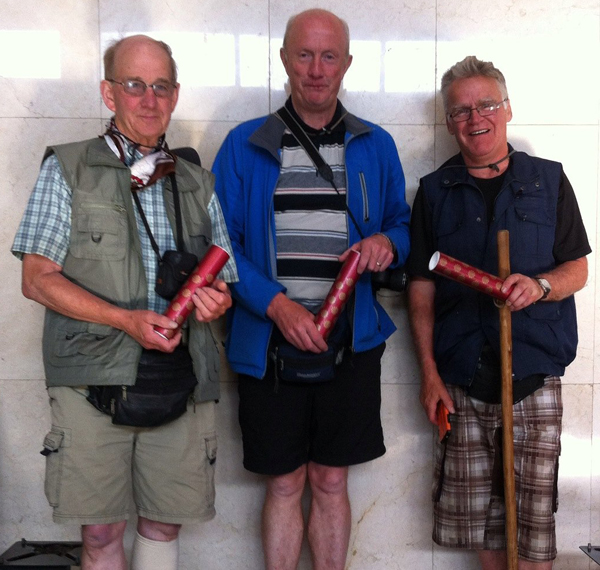 Tom Cullagh, Christy Kinane and Michael Revins pictured with their certificates having completed the 775m Camino Walk in Santiago last week.

Charity walks 4km & 6km approx in aid of Milford Hospice and Sr. Ailbe Ryan's (Glown , Upperchurch) mission in Congo, Brazzaville. Walk will commence at Fr. Kenyon Community Center Templederry on 26th June departing at 7.30pm. This is also in support of Christy Kinanes Camino de Santiago walk. Light refreshments afterwards. All welcome.
---

Fifi's Tots school tour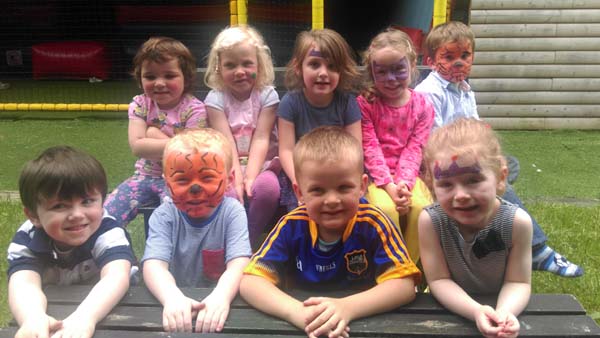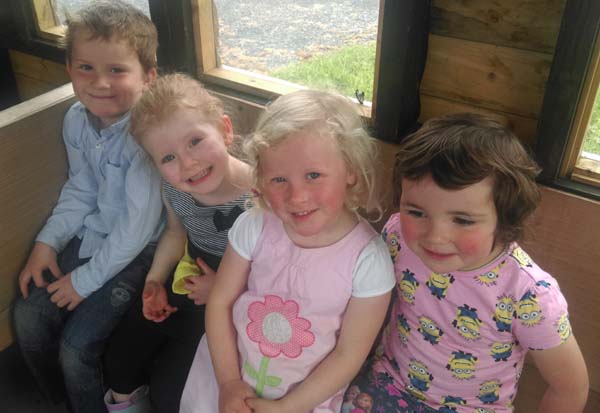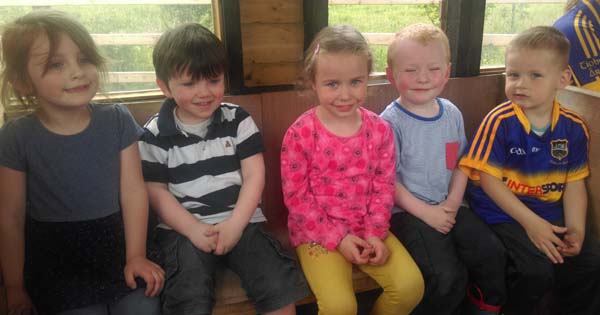 The children of Fifi's Tots went to Lisfuff adventure farm recently on their school tour. A great day was had by all.
---



Borrisoleigh Track-Attack Notes

Kate Claims Puma's Title With two weeks to spare, Templederry's Kate Minogue is the second athlete to lay claim to one of the nine titles on offer in then Track-Attack Marathon Series. Kate has been one of the most improved and impressive performers since the Series kicked off and all her fellow Track-Attackers will be delighted to see her climb the highest step of the podium.
Kate have earned the respect of all the participants most of which are many years her senior. It has been fantastic to see someone so young come to the track week on week and constantly perform to the maximum of her ability. That said effort have resulted in Kate improving her overall times beyond recognition over the short few weeks of the duration of the Series and she has now reaped the rewards for her efforts with the capturing of the title.
We had a new athlete first past the post last week over the 3km distance when Tom Shanahan kicked for home and brilliantly held off the challenge of the previous top speedster John F. Kennedy despite the former recording his fastest time of the Series over the distance. The President namesake is still the one to catch for the overall Sharks title and with an 8 point lead with 2 rounds to go, it will take a huge effort from Christy Slattery, Tom Shanahan or Noel Kennedy to wrestle away the top honour from him.

Martin Fahy and Tom Stapleton are both within touching distance of the Falcons and Dolphins titles respectfully. Martin has a dozen points to spare over the Ragg duo of Kathleen O'Meara and Mary Ryan while John Vahey has 15 points to make up on Tom in order to dislodge him from the top spot. Rena Ryan has opened up a 17 point lead at the head of the Bears grouping while Caroline Murray is in pole position to claim the Cheetah's title thanks to a 14 point lead heading into the final 2 weeks.

The Lions group is proving the hardest to predict an eventual winner with 3 athletes still in with a major shout in claiming the title. Jacqueline Minogue has the slenderest of leads as she holds a one point advantage over Marie Carr. Betty Slattery is still hovering within touching distance of the leading duo and could well make a decisive move in the final 2 weeks. One more solid performance from the impressive Mary Stapleton should be good enough to gift wrap the Jaguars title.

Templetuohy 5km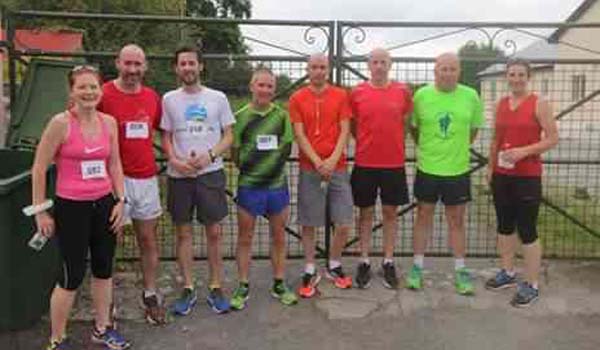 Track-Attackers in Templetuohy: (L-R) Mairead Lane, Tom Shanahan, JP McSherry, John F Kennedy, Michael O'Brien, Larry Stapleton, Pat Keane and Kathleen O'Meara
On Friday night last, our Track-Attackers headed to Templetuohy to participate in their 5km road race walk. On a perfect night for running, a huge crowd gathered in the village and proceeded to complete the out and back course. Track-Attackers times continue to improve with every outing and our 8 participants namely Mairead Lane, Tom Shanahan, JP McSherry, John F. Kennedy, Michael O'Brien, Larry Stapleton, Kathleen O'Meara and Pat Keane were all happy with their overall performances.
Congratulation to Kathleen O'Meara who took third place in the ladies grade while a huge congratulations to Michelle Fitzpatrick and all the organising committee for a job very well done. Pride of place must go to whoever made the chocolate éclairs for the post-race refreshments, just ask John F. how nice they were!!!!
We were further represented at other events. At the Dave Fogarty 4 mile race hosted by the Thurles Crokes club, Kathleen O'Meara, Mike Gleeson and Michael Murray kept the Track-Attack flag flying while sisters Jacqueline Minogue and Caroline Murray completed the Nenagh Eire Og 5km.
---



Borrisoleigh Festival – Bake 4 Borris

A "Bake 4 Borris" Competition will take place as part of the Borrisoleigh Festival on Saturday 25th July.
There will be a Children's section in the "Bake 4 Borris" Competition which is Cupcakes

The Adults competition will have 3 sections

Pastry: Sweet/Savoury
Breads and Scones
Cakes for any occasion

All entries to be dropped into community centre before 2.00 pm. Viewing from 3.00 pm. Results will be announced at 6.00 pm

Entry is free. All cakes to be sold after the results are announced.
---



Borrisoleigh Men's Shed



Borrisoleigh Men's Shed will be hosting a Bowl Carving and Green Woodwork demonstration with the multi talented John O Neill from Waterford on Thursday July 2nd at 2pm.
This event is open to all to attend. Borrisoleigh Men's Shed is open every Monday, Wednesday and Friday night from 6pm. New members always welcome.
---
Pic of the Past……….down memory lane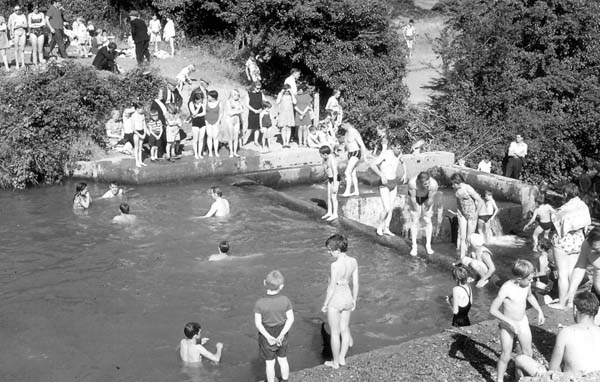 A Busy Day at the Sandtrap
---
Your Website Needs You!
Committee: Enda Ryan, Noreen Fahy, Margaret Cowan, Marie McGrath, Aileen Óg Groome and Derry O'Donnell

Many thanks to all those who contributed photographs and news items. Remember, we need you to continue to send us material so that we can keep our website current and interesting.

Send your email to: info@borrisoleigh.ie
Also, if you like what you see and want to leave a comment, remember to use the Guestbook!
If you are leaving a comment asking people to help with family research etc. please include your email address within the comment itself
While we make every effort possible to ensure that the information contained in this Website is accurate and complete, we cannot accept any legal liability as a result of the inaccuracy or incompleteness of the information presented to users of this site