Community Games


Community Games Athletics County Final – Templemore Sunday 21st June. All athletes to be in Templemore Track at 10.30am for Parade. Competition starts immediately after parade.

Photos below were taken from the Parish Community Games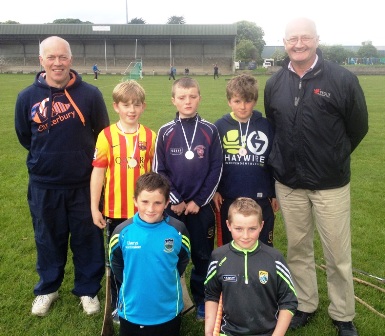 Boys U12 Long Puck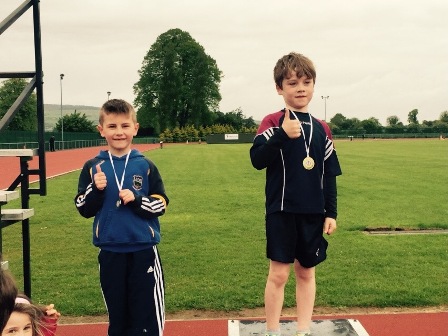 Boys U8 60m & 80m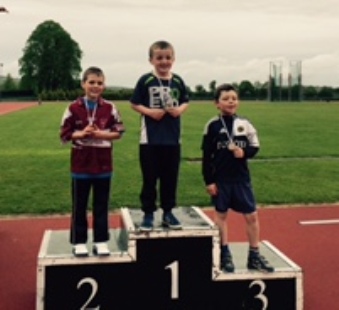 Boys 100m & 200m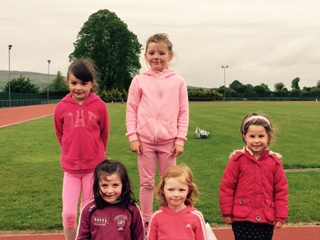 Girls U8 60m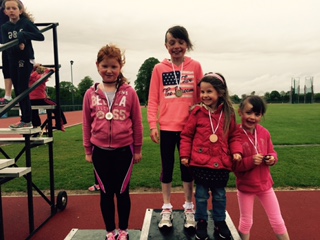 Girls U10 100m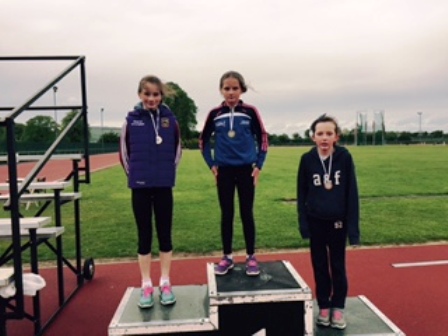 Girls U12 600m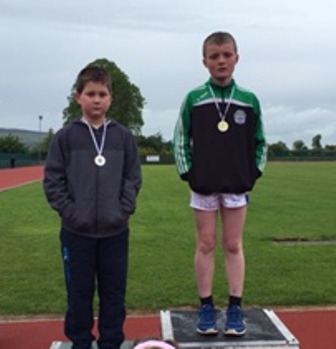 Boys U12 600m

---
Borris-Ileigh Camoige Notes



As a result of our club participation in Hurl Smart Week, our u12's now travel to Dublin for Caman to Croker on July 7th. This event is run by The Camogie Association and last year 720 girls and 28 counties took part in this day long event of "Go Games" blitzes. Best of luck girls.
U12's had a great victory against Portroe last Tuesday, winning 2-01 to 0-00. Scores: Danielle Ryan 1-01 and Emma Doolin 1-00. Well done girls. Borris-Ileigh U14 Féile na Gael camogie team will travel to Donegal to represent their club and county on Friday 19th June to Sunday 21st June. The girls are currently fundraising to pay for the trip, this is a great opportunity for the girls and the club. All support greatly appreciated.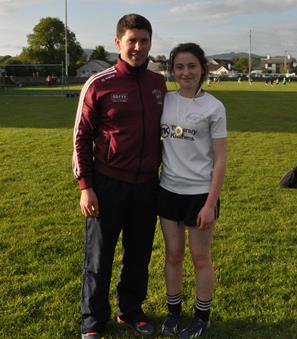 Aoife with Declan Maher
At U14 camogie training recently, the local heat of the Community Games Long Puck competition was held under the supervision of Community Games rep. John Stapleton. Medals as follows: Gold: Aoife Ryan, Silver: Katie Boyle & Bronze: Eimear Fahey. Aoife now goes through to represent Borris-Ileigh at the next stages.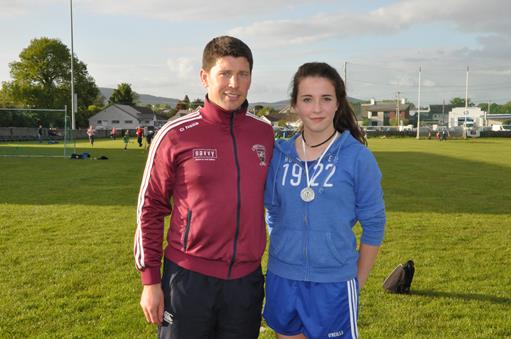 Katie with Declan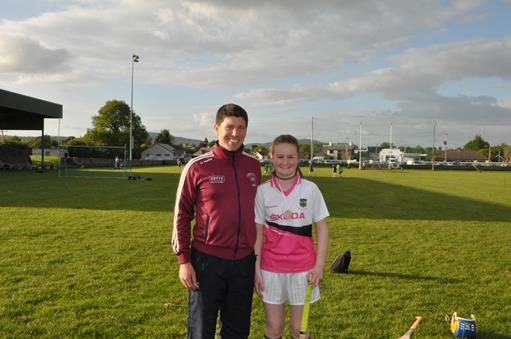 Eimear with Declan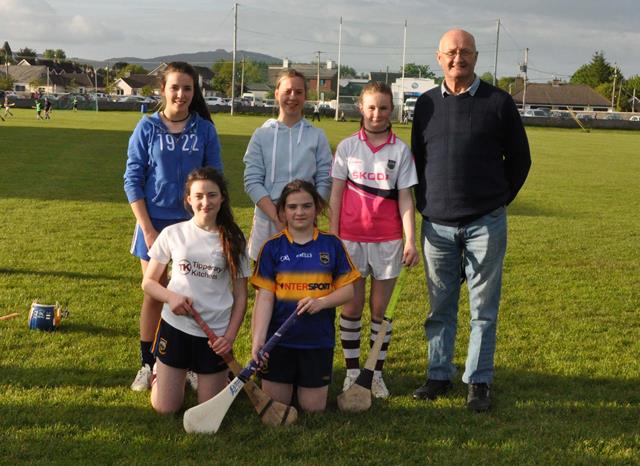 U14 long puck competitors with John Stapleton
---
Ordination Celebrations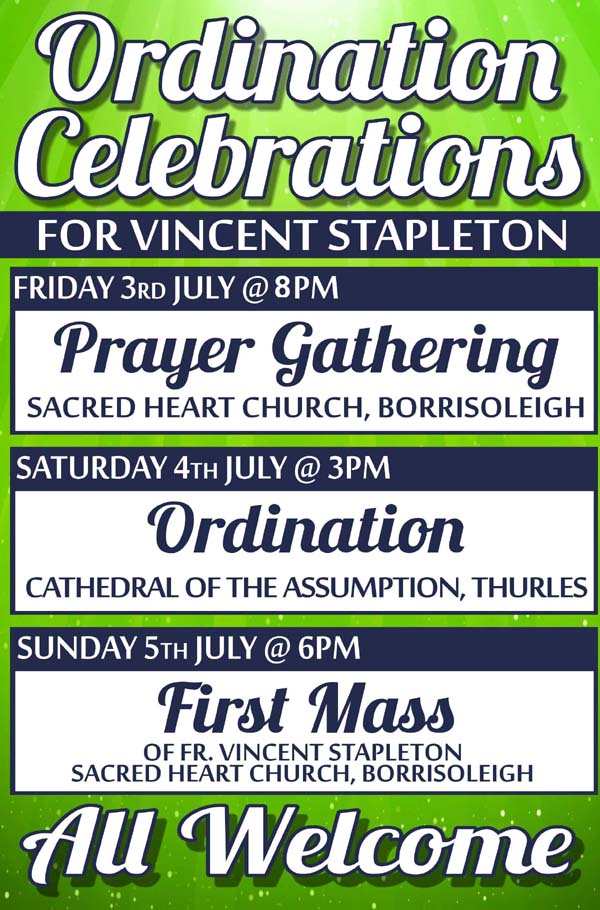 Refreshments will be served in the Community Centre following the first mass
---
Saints All Stars Camp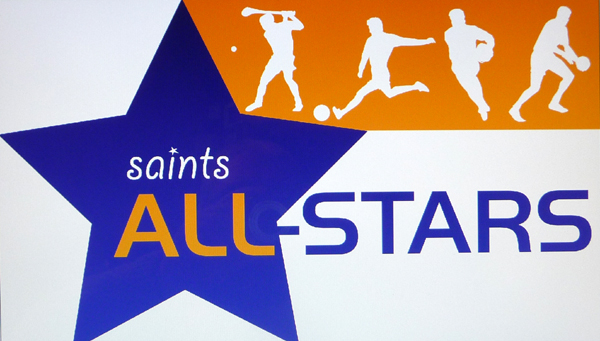 I am now taking bookings for the camp in the park starting the August Bank Holiday Monday 3rd -7th of August. Please note that it is really important to get your childs name in before the start of July as I am getting the kids t-shirts and I need the sizes to give enough time for them to be made. Sorry to put a push on but otherwise people will be left without one. My number is (086) 3328697 and all I need is the name, age and t-shirt size of the child/children.

---
Scoil Naomh Cualán
What a year it has been for camogie and hurling in Scoil Naomh Cualán! We are proud and delighted to have qualified for four Co. Finals next week. This is an outstanding achievement for the children, for our school and for our parish. The Co. Final will take place as part of a Festival of Games over two days on this Wednesday and Thursday, 17th and 18th, in Semple Stadium. It is very exciting for the children to get an opportunity to play on this famous pitch which many regard as the best in Ireland. The following are the teams involved on Wednesday and their respective opponents:
Scoil Naomh Cualán U-11 (Hurling) Team A v St. Oliver's, Clonmel,
Scoil Naomh Cualán U-11 (Hurling) Team B v Gaelscoil, Clonmel,
Scoil Naomh Cualán U-11 (Camogie) v Knockavilla N.S.
Scoil Naomh Cualán U-13 (Hurling) v Killenaule N.S.
Well done to all our pupils who have represented us so well in competitions at all levels this year. They have been a credit to our school, our parish and their parents. Sincere thanks, also, to the team mentors, local GAA and camogie volunteers and to all who have supported them in any way in developing their skills and talents through the years.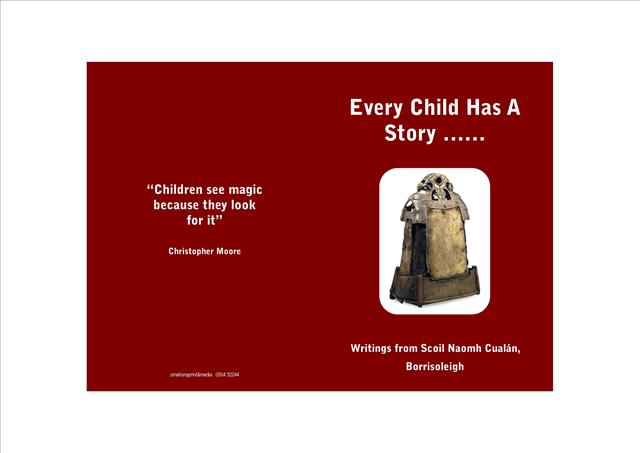 Scoil Naomh Cualán would also like to invite parents, families and friends from the wider community to our School Mass, Book Launch and Presentation Evening which will take place on Tuesday, June 23rd commencing at 7.00p.m. in the Sacred Heart Church and, following that, at approx 7.45 in the school. Pupils, parents, staff and management will together celebrate the end of our very successful first year as a new school community. Refreshments will be provided by our Parents' Association to whom we are deeply indebted for their hard work and dedication to the school over the years.
To mark the end of our very successful first year we will launch a special book which has been compiled from the writings of every pupil in our school. From Junior Infants to Sixth Class, our children have shared their imagination and creativity in the form of a story or poem which gives the book its title 'Every Child Has a Story.' The children are justifiably proud of their work and we are certain that all those interested will really enjoy reading it. We will also present our victorious camogie and hurling and football teams with their North and Co. medals and who knows what famous local celebrities might make a guest appearance on the night? So please come along and join us on the 23rd. You will be most welcome.
Ní neart go cur le chéile!

---
Borrisoleigh Track Attack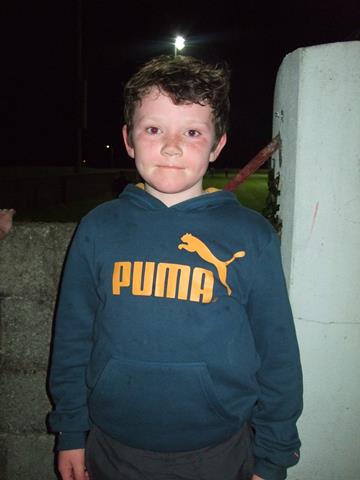 Conor is Top Tiger
Youthful Drom speedster Conor Gleeson is the first athlete past the post in the Track-Attack Marathon Series as he can no longer be caught at the head of the table in the Tigers group and did so with the luxury of having three weeks to spare.
Conor is a tough and honest competitor that will leave every ounce of effort on the track each night and his never say die attitude is a joy to watch every week. He has dominated his group from the word go and is a very popular winner of the Series title. Some superb running last Monday night by 3 different members of the one family resulted in them all grabbing the leading spot of three different groups in the Track-Attack Marathon Series.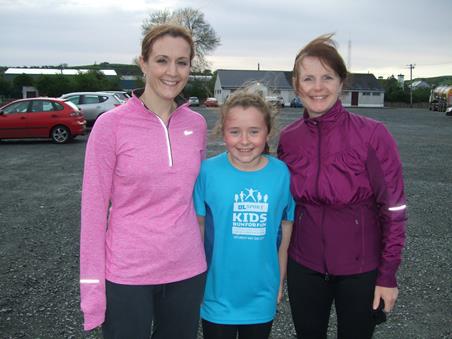 Jacqueline & Kate Minogue with Caroline Murray
One of the performances of the night came within the highly competitive Lions group when Jacqueline Minogue smashed her personal best time for the distance which in turn guaranteed her the stage win, the extra 5 bonus points on offer and the highest rung of the ladder, a place she now holds with Marie Carr with both athletes sitting on 14 points each. Her sister Caroline (Murray) has continued to show tremendous progress week on week and last week was no different as she further widened the gap between herself and her closest competitors in the Cheetahs group.
Jacqueline's daughter Kate has been one of the leading Track-Attackers within the entire Series. The clock simply doesn't lie. On week one, Kate went from gun to tape in a time of 16:05. In week nine, she covered the same 2km distance in a time of 13:43 and as a result she has virtually guaranteed herself the Puma's title. The betting have been suspended in the remaining 5 groups of the Track-Attack Marathon Series!! With 3 rounds to go, the destination of each of the 5 titles is firmly in the hands of their current leaders. Although they each have a title winning lead, complacency or missing a night could still see them piped at the post as there is still a healthy battle going on behind them in the chasers quest to create an upset.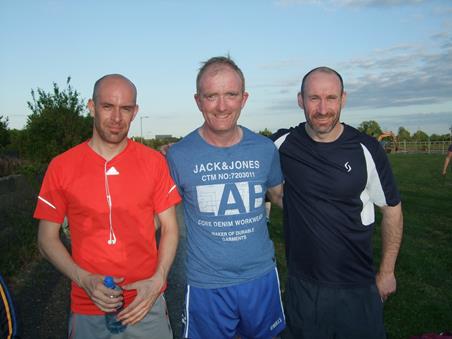 Michael O'Brien, Daniel Madden & Tom Shanahan
Tom Stapleton seems home and hosed in the Dolphins group with a total of 22 points amassed. John F. Kennedy continues to be the deadliest within the Shark pool and with 23 points accumulated, he is maintaining his lead that could well land him the title. Rena Ryan has been brilliantly consistent throughout the Series and is a worthy leader of the Bears group while Mary Stapleton has been one of the success stories of the Series to date. Unless we see a meltdown of her form to date, she will be a sure bet to claim the Jaguars title on the 8th of July. Martin Fahy has really taken flight in recent weeks and is the outright leader of the Falcons group. If he continues to churn out the impressive displays that he produced in round 9, he will be climbing the loftiest step of the podium on the final night.
Track-Attack 147
The Track-Attack 147 Challenge proved to be a huge success and we would like to thank everyone how helped out with it in any way. Thanks to the athletes on the night who all turned up displaying the colours of the various snooker balls including a few cue-balls!! Thanks also to the people who turned up to support on the night and to those who bought and sold tickets.
The finishing time was 12 hours, 15 minutes and 6 seconds. Nobody predicted the time exactly but 25 people forecasted 12:15:00 so a draw was held and the lucky winner of the €200 was Jimmy Chute.
Track-Attack on Tour
The Track-Attackers were out in force at the Drom 5km recently in support of our near neighbours. A huge congrats to everyone who travelled on the night and performed brilliantly. It was a tough but enjoyable run and top marks to the organising camogie club for a job well done. On Friday night last, Tom Shanahan produced his best performance to date when dipping under the 20 minute mark for the first time for the 5km distance in Ballyskenagh, Co. Offaly. Tom clocked 19:53, a just reward for the work he has been putting in, in recent months. Michael Murray and Michael O'Brien also lined up on the night with both clocking impressive times in 19:22 and 21:27 respectfully.

---
Borris-Ileigh GAA Notes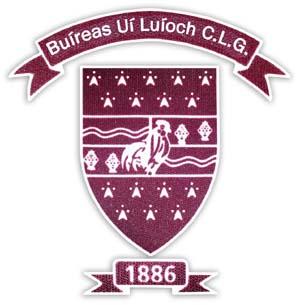 Golf Classic:
A big thank you to all who made our recent golf classic such a huge success for yet another year. 85 teams took to the fairways on two glorious days of sunshine and the event was enjoyed by all in Thurles Golf Club on Friday and Saturday last. It is the third year of running the golf classic and is proving to be a vital fundraiser to the club. We would like to thank the finance committee for all their great work over the past number of weeks who put on yet another top class event. We would also like to thank Thurles Golf Club for having the course in such immaculate
condition. Finally we would like to thank all those who took part in the event and yet again helped to bring in much needed funds. A big congratulations to Donal Hurley and his team who won the event on a very impressive score of 106 points.
Junior Hurling: Our Junior A team begin their championship campaign against Toomevara this Saturday at 1:30pm in Toomevara. As always your support would be greatly appreciated. We are in a group of 5 along with Toomevara, Roscrea, Templederry and Knockshegowna. Two team will go forward from the group to the north semi finals.
Minor Hurling: Our minors begin their championship on July 1st against Portroe. They are in a group with Newport Gaels, Nenagh, Roscrea and Portroe. The team that tops the group will advance to the north semi final with the second and third place team will go forward to the quarter finals.
5K: For anyone looking to stretch their legs put July 8th in your diary as it is the evening we are hosting the annual Borrisoleigh 5k run. 278 runners of all ages took part last year and we hope to see even more this year.

---
Thank You Lads!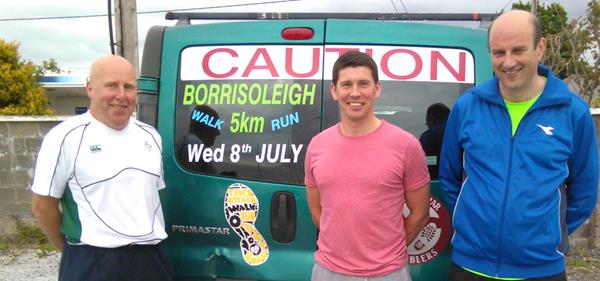 Borrisoleigh Track Attack Series has been an outstanding success with over 100 participants registered.Through last winter and spring we have enjoyed a challenge nearly every week, no matter what the weather. This success does not come without a committed and dedicated group of people, organizing and running each event.
So we are taking this opportunity to THANK, PAT KEANE, DECLAN MAHER and PADDY RYAN, for all their work, commitment and organizing of Track Attack and the success that it is. They have proved that men can also multi-task with all the different roles they take on each night at the track to give everybody a challenging and fun experience.
From all the Track Attackers
We say THANK YOU PAT, DECLAN and PADDY

---
Borrisoleigh Active Social Club

This is the final reminder to have your name in to go on our trip to the Nicholas Mosse Pottery Factory and the Artboretum Home and Garden Heaven in Carlow on Tues July 14. The names have to be in by next Tues June 23 to any of the following: Fiona Max 087 2169150 Eileen Slattery 087 9849848 or Lucia Ryan.
There will be a meeting of members and those wanting to become members of the club on Wed June 24 @ 8.30 in the Community Centre.

---
Bus to Knock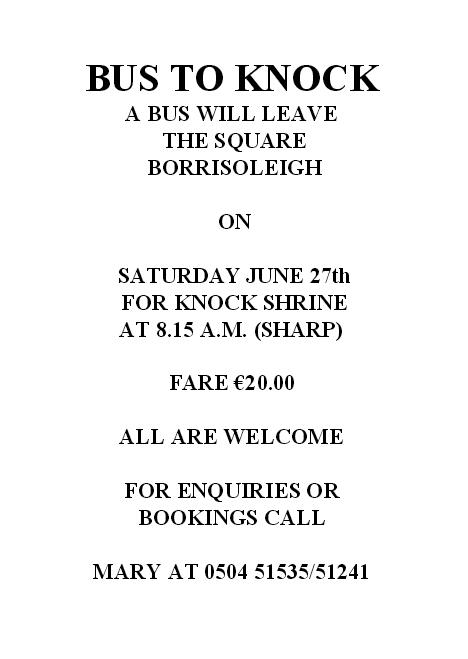 ---
Cemetery Masses

The remaining Cemetery Mass will take place at Ileigh, Thursday 18th June @ 8pm

---
Fun with Barn Owls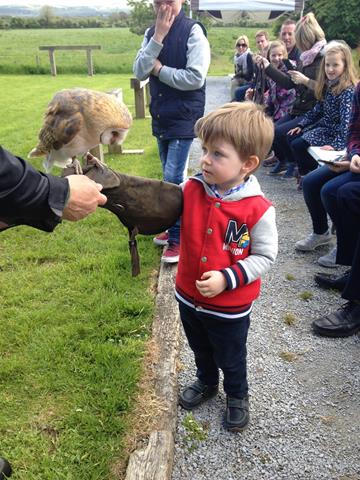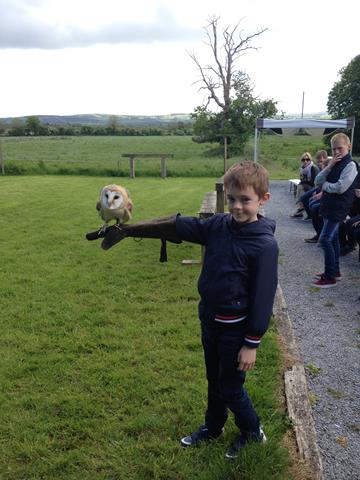 Darragh & Ciarán Kennedy (Castlecourt) getting acquainted with some barn owls at a falconry display in Co Kerry.

---
Pic of the Past……….down memory lane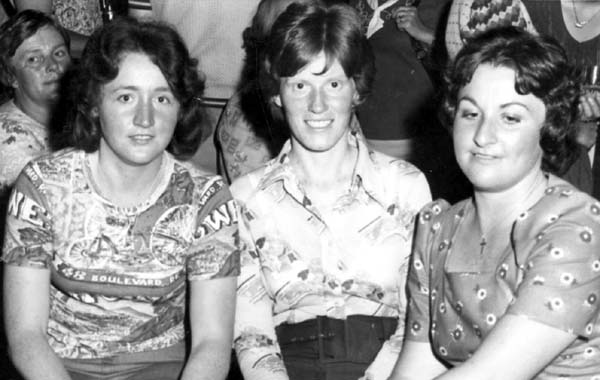 Josephine Spillane, Rita Stapleton and Marion Spillane, all from Pallas

---
Your Website Needs You!
Committee: Enda Ryan, Noreen Fahy, Margaret Cowan, Marie McGrath, Aileen Óg Groome and Derry O'Donnell
Many thanks to all those who contributed photographs and news items. Remember, we need you to continue to send us material so that we can keep our website current and interesting.
Send your email to: info@borrisoleigh.ie
Also, if you like what you see and want to leave a comment, remember to use the Guestbook!
If you are leaving a comment asking people to help with family research etc. please include your email address within the comment itself
While we make every effort possible to ensure that the information contained in this Website is accurate and complete, we cannot accept any legal liability as a result of the inaccuracy or incompleteness of the information presented to users of this site