Borris-Ileigh Camoige Notes


Best of luck to all our Junior & Leaving Certs starting their exams this Wednesday.
This week our club participate in "Hurl Smart Week 2015", this event runs in conjunction with The Camogie Association. Camogie clubs are encouraged to join with their local GAA club and community in getting everyone active for the week through the medium of camogie and other fun activities. The following is the list of events for the week June 1st to 7th.:
U16 County camogie players Aédin Hogan and Tara Mockler will join our U10 girls for training in the Park at 11am on Monday
Some of our U10, U12, U16 and Minor girls will do circuit training with our Senior camogie team at training during the week.
Tipperary Senior hurler Paddy Stapleton will help the U12 girls with a few drills and their warm up on Wednesday evening in preparation for their match against Moneygall which is at home with a 7.15pm start.
Declan Maher and Pat Keane representatives of Borrisoleigh Track Attack will attend U14 & U16 camogie training on Wednesday evening at 7.30pm to speak to the girls about doing warm ups and stretches properly.
County Senior camogie players Nicole Walsh and Julieanne Bourke have a few fun games lined up for our U6&U8 girls when they train on Wednesday evening at 7.30pm
We hope to see as many as possible on these nights and all of these sessions are open to everyone in the parish.
Thanks for your support!
Borris-Ileigh U14 Feile na Gael camogie team will travel to Donegal to represent their club and county on Friday 19th June to Sunday 21st June. The girls are currently fundraising to pay for the trip, this is a great opportunity for the girls and the club. All support greatly appreciated.
U12's play Moneygall this Wednesday evening in Borrisoleigh. Best of luck girls.
All teams continue to train and are actively participating this week in "Hurl Smart Week". Enquire with any committee member if you or your child wishes to join at any age group.
---
St. Cualán Social Club
The monthly coffee/tea morning takes place on Thurs June 11th in the Community Centre after 10am Mass. Everybody is welcome to join us for a cuppa and a chat.

---
Bus to Knock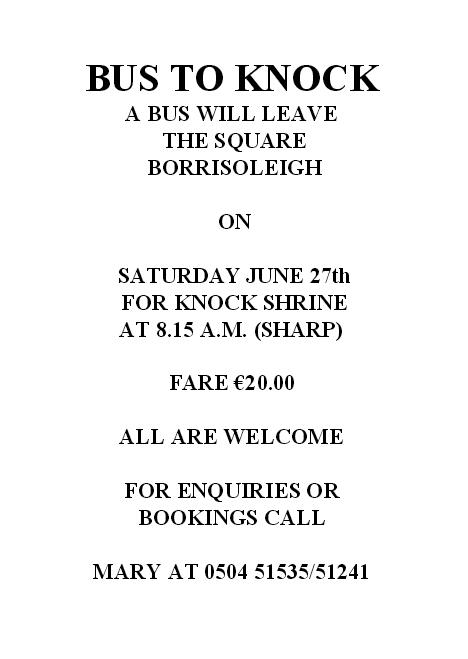 ---
Cemetery Masses

Cemetery Masses in the Parish will take place at the following dates and times.
St. Brigid's Borrisoleigh, Thursday 4th June @ 8pm
Glenkeen, Thursday 11th June @ 8pm
Ileigh, Thursday 18th June @ 8pm

---
Borrisoleigh Track-Attack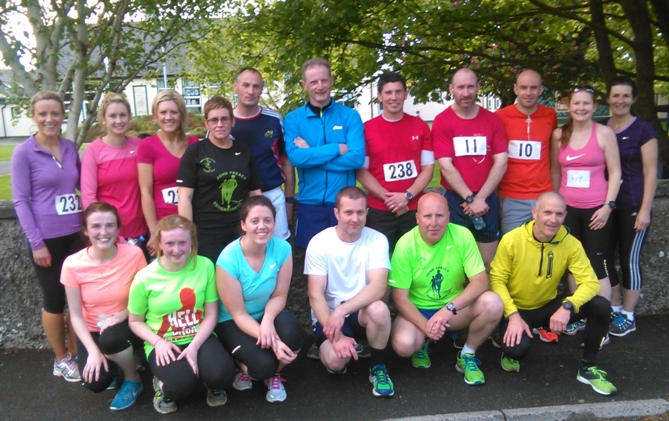 Touring Track-Attackers in Holycross



Touring Track-Attackers



The picturesque village of Holycross was the ideal setting for their inaugural 5km road race and walk in aid of the local St. Michael's National School. The most striking aspect of the night was the sense of community that in turn led to a fantastic friendly atmosphere where participants from the elite to the fun runners to the superb showing of youth mingled brilliantly in their quest to complete the ideally selected course.
The course challenged the huge numbers present to a multitude of different terrain including steady inclines, flat straights, downhill stretches before returning to the finish line on the gentle slope adjacent to the historic Abbey.
The organisers of the event deserve tremendous credit for the show they put on and without doubt it is an event that will be already pencilled into next year's calendar for the many athletes who competed on the night.
It was a night that saw the Borrisoleigh Track-Attackers out in force. It was our biggest number travelling to an outside event to date and the performances of all who competed are proof that the levels of general fitness amongst our members are on the rise and improving with every passing week.
Delia and Mary after completing the Holycross 5km
Peter Madden who participated in our last marathon series had a super show when clocking 18:01 to finish in third spot overall. Two more of that same series participants namely Austin Ryan and Andy Quinlan were joined by John F. Kennedy to break that 20 minute barrier. The improvement rate of Tom Shanahan continue to rise at a rapid rate and after just missing out on the aforementioned barrier by a mere 4 seconds, he is well on his way to smashing it open in 5 weeks on home ground in the Borrisoleigh 5km.
Others to participate on the night were Declan Maher, Michael O'Brien, Noel Kennedy, Kathleen O'Meara, Teresa Coffey, Mary Ryan, Jimmy Stapleton, Martin Fahy, Mairead Lane, Michelle Fitzpatrick, Joan Cummins, Noreen Treacy, Betty Slattery, Catherine Shanahan, Denis Kelly, Mary Stapleton, Delia Ryan and Pat Keane. Some completed a race for the first time, more completed the course in a personal best time while all performed brilliantly while keeping the Track-Attack Flag flying high.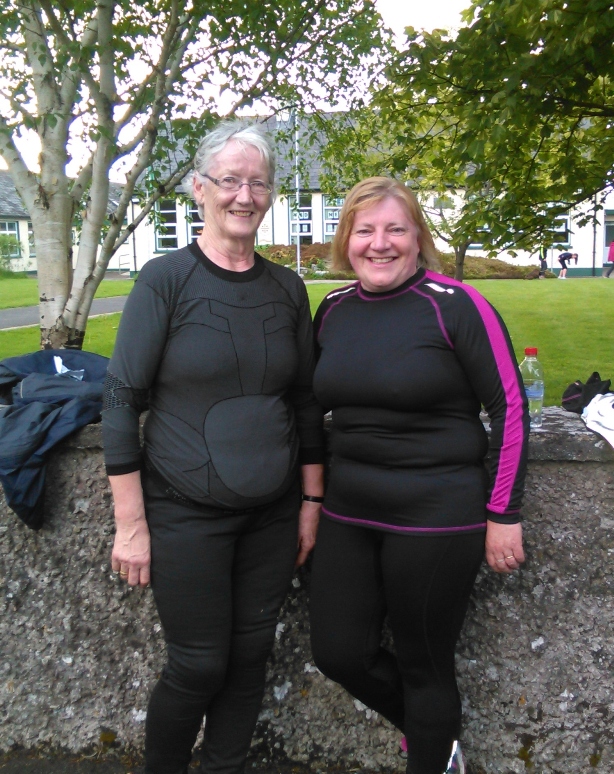 Delia and Mary after completing the Holycross 5km
5 Weeks to 5km



It's only 5 weeks to go before the roads of Borrisoleigh will hopefully be awash with huge numbers of participants in the second annual 5km road race and walk. Preparations are in full swing as we attempt to build on the success of last year's event.
This year we received a huge boost when the local Marion Hall came on board to be the main sponsor of the event. Now we need your help. We don't mind if participants run, jog, walk or crawl, we just want to see you don a number and participate. Ask you friends and family members to come along also and help us swell the crowd on the night.
The entry fee on the night is €5 with under 16's free of charge. All of this fee will be channelled towards the development of the track facilities at the park. Follow us on Facebook at Borrisoleigh Track Attack to keep up to speed with all the happenings over the coming weeks.
Support our Neighbours
It would be great to see a large number of Track-Attackers cross the parish boundary on Friday night next and support the annual Drom 5km race and walk. Registration is in the Drom Community Hall from 6:30pm onwards with proceedings starting at 7pm. Entry fee is €10 for adults and €5 for juniors. Hope to see you there!!
3 x 1km Challenge
Since the formation of Track-Attack, we've had some great sessions but last's week challenge has possibly the best one to date. Many turned up for a leisurely Predict Your Time session with a view to reserving some fuel for the Holycross run two nights later.
Once the carrot was dangled in front of the eyes however, they were unable to resist the challenge and they shed every ounce of sweat within in their quest to eat into the personal best times over the 1 km distance.
Participants had to predict what time it would take them to complete 3 separate 1km challenges with the recovery been walking a lap of the track between the heats. What transpired was brilliant and thoroughly enjoyable to watch. The majority of those present underestimated their own ability with many shattering their forecasted times by as much a full minute.
Heat 1 went to Obama country as Moneygall's Anne McCormack finished bang on her predicted time of 5:05. We had joint winners of heat number 2 as both Tom Stapleton and Frances Maher both finished with a second of their forecasts. Tom completed the km in 4:14 while Frances covered the distance in 5:10. The last heat saw a trio of participants climb the loftiest step of the podium as all three finished 2 seconds outside their predictions. Betty Slattery crossed the line in 5:18, Jim Ryan clocked 5:28 while Mary Ryan completed the distance in 4:41.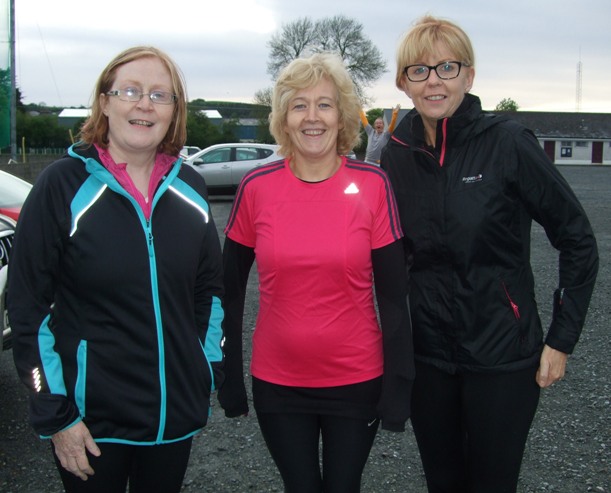 Mary Fanning, Anne McCormack, Mary Guest
Track-Attack 147
On Sunday night next at 8pm, we will be on the track to complete the Track-Attack 147 challenge. 36 people will be circling the track where they will be collectively completing 147km. We would ask our members to make one final effort over the coming days to sell their lines which are priced at €1 each. Please support the venture if possible. Any funds raised will be going towards the track development fund.
---
Scoil Naomh Cualán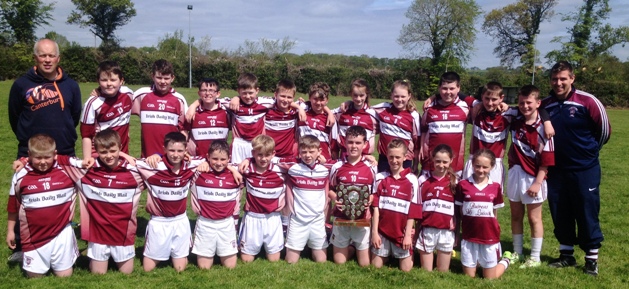 U-13 Hurling team that defeated Dromakeenan N.S. in the North Final last Thursday. The U-13's now face Upperchurch N.S. in the County Semi-Final.
The team have done the double again this year after winning the North Football Championship before Christmas. Well done to all!!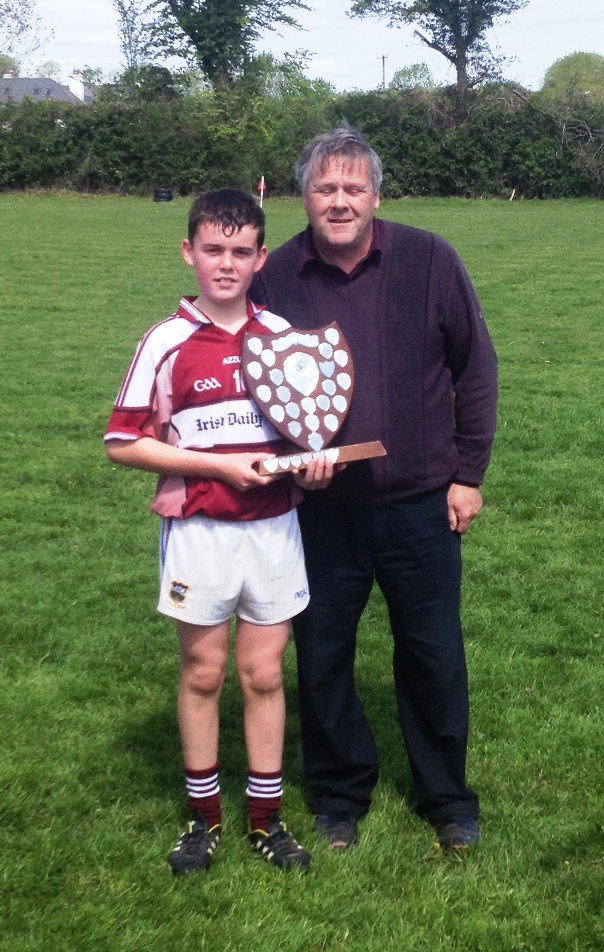 Captain Oisín receiving the trophy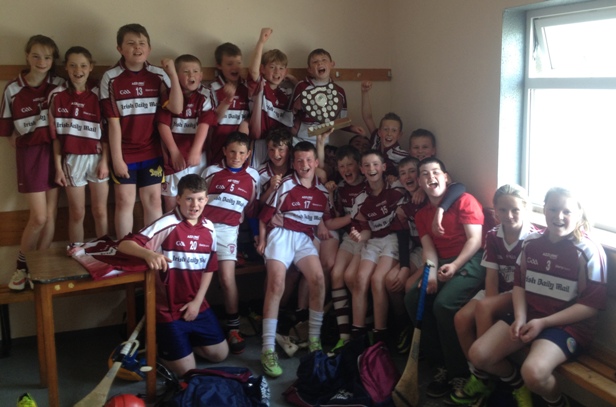 Dressing room celebrations after our U-13 Hurling North final win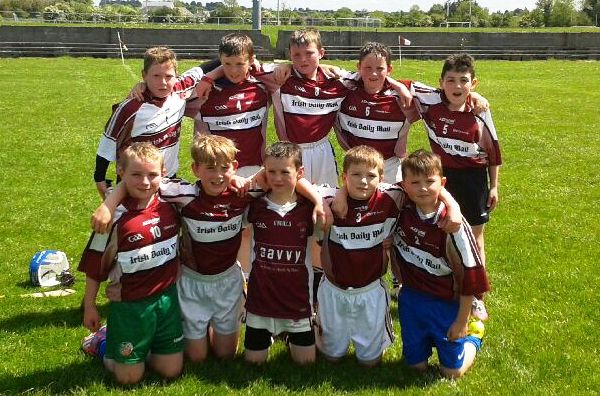 U-11 team who defeated Lissenhall N.S. after a great team effort in the County Semi-final on Tuesday.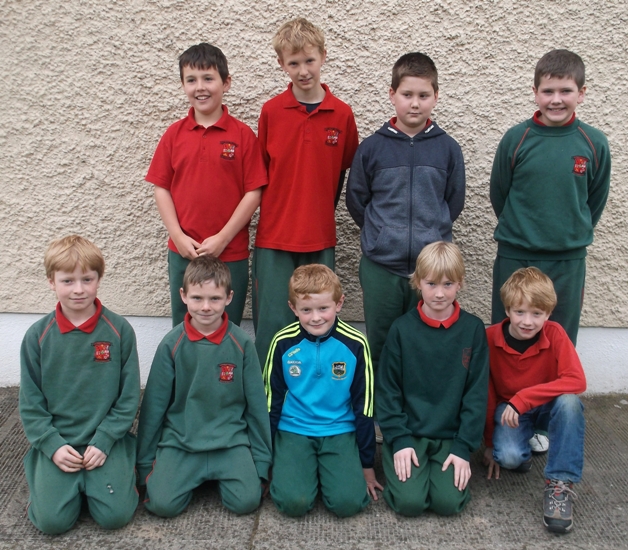 Congratulations to our second Scoil Naomh Cualán Under-11 hurling team on their great performance last week in their Co. Semi-Final blitz.
Both of our U-11 teams have now qualified for the Co. Final in their respective categories. These will take place in Semple Stadium on Wednesday 17th June. Best of luck boys!
---
Bootcamp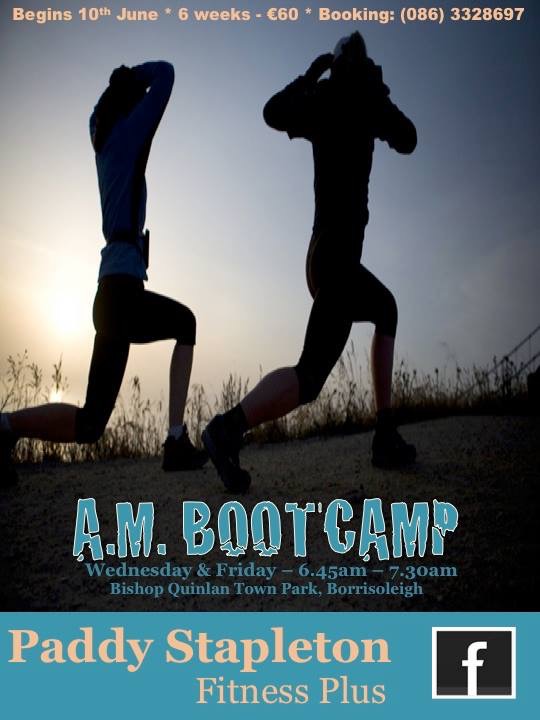 ---
Borrisoleigh Attracts Talent from Everywhere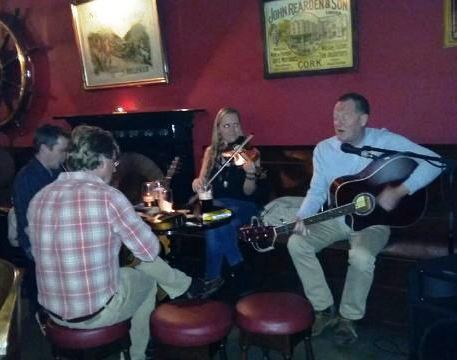 Pictured at a recent Friday at Finns Session are Brian McLean, Bangor, Rhian Sands, Ards Peninsula, Foxy Caperby, Cappamore and Karl Purdy from the US
---
Inaugural Killea Devil's Bit Walk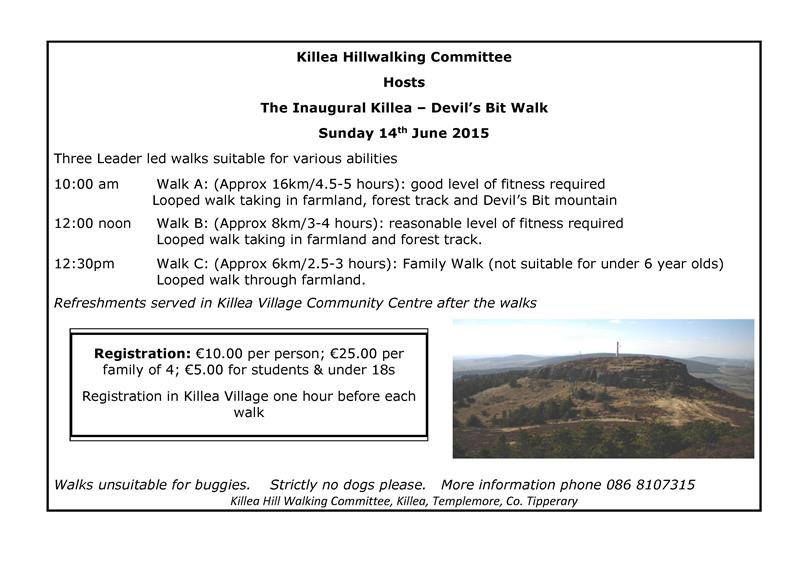 ---
Borrisoleigh Festival
Plans are in full swing now for the Borrisoleigh Festival 2015 which takes place on July 24th, 25th and 26th. A great line up of entertainment and events is planned for the weekend. The Festival was officially launched on Saturday night last after another tremendous performance by the Borrisoleigh Drama Group in the Marion Hall.
The main sponsors of the festival has been announced as Ryan's of Camden St., Dublin
. The Ryans have a very strong and proud Borrisoleigh connection. Ryan's is a favourite spot for everyone from the area when visiting Dublin for matches and other occasions.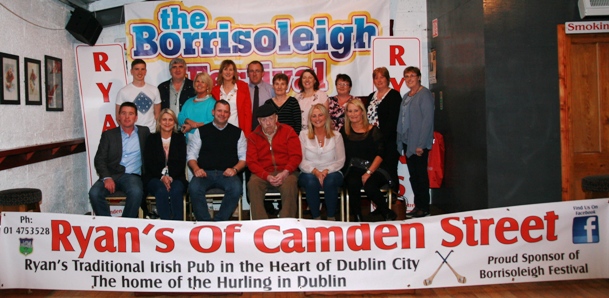 Pictured before the launch of the 2015 Borrisoleigh Festival with the Main Sponsors, Ryan's of Camden St., Dublin and some members of the organising committee are:-
Back row: Brendan Maher, Tipperary Senior Hurling Captain, Sean Shanahan, Marie Shanahan, Patrice Cooney, Mayoress of Borrisoleigh, Tom Mason, Phil Mason, Kathleen Scanlon, Nuala Ryan, Fiona Max, Breda Ryan.
Front row: Joe Loughnane and members of the Ryan Family, Bernie, Liam, Martin (Snr), Pauline and Brenda.

---
Borris-Ileigh GAA Notes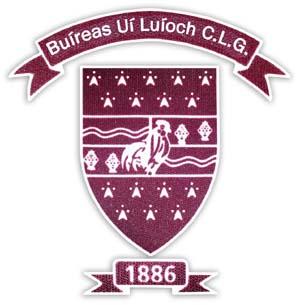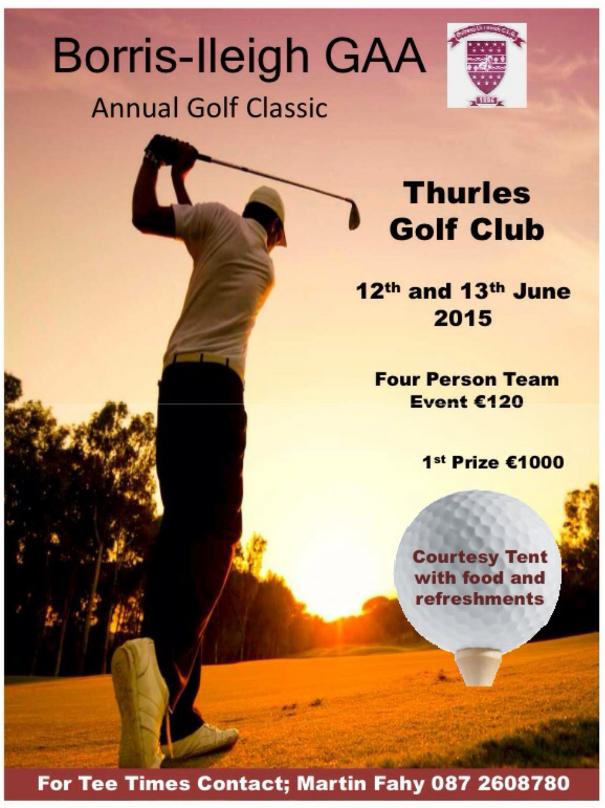 ---
Borrisoleigh Active Social Club
Members of our group joined in with the Templemore Club last Wed. We had a lovely afternoon chatting with them and getting ideas from them on what they do in their club.
There are some members heading off to the Health and Wellbeing Day this Thurs June 4th being held in the Radisson Blu Hotel in Limerick. This looks like its a packed day with different activities, fashion and music. For anyone still thinking about going its Free and no need to book. Starts from 10.30am to 5pm. Special Guest on the day is Anne Doyle former RTE newsreader.
Names are still being taken for our trip to Carlow on July 14. We are visiting Nicholas Mosse Pottery Factory and the Arboretum Home ane Garden Heaven. Names have to be in by June 23 so that we can finalise costs and make definite time arrangements. Names can be given to Lucia Ryan 0863961211 Fiona Max 0872169150 or Eileen Slattery 0879849848 and membership forms can also be had from any of the above. Membership €10 needs to be paid by June 23.
We would like to say a Huge Thank You to the Borrisoleigh Drama Group and to those who attended their final production of the Maiden Aunt last Sat night. The proceeds of their raffle €600 was presented to our club. This is a welcome and great boost to our newly formed club. It was a very entertaining production and we wish them continued success.
---
Borrisoleigh Drama Group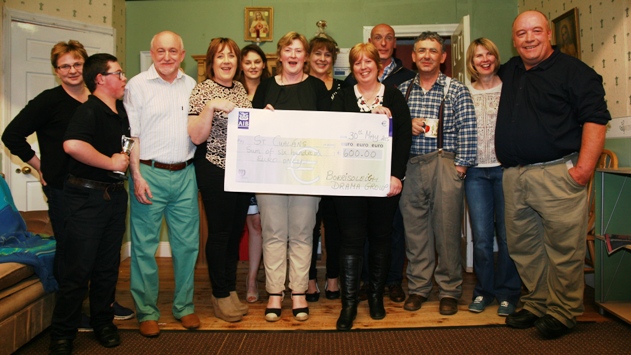 Borrisoleigh Drama Group present a cheque to the Borrisoleigh Active Social Club following their final performance of " The Maiden Aunt" in the Marian Hall last Saturday night.
---
Pic of the Past……….down memory lane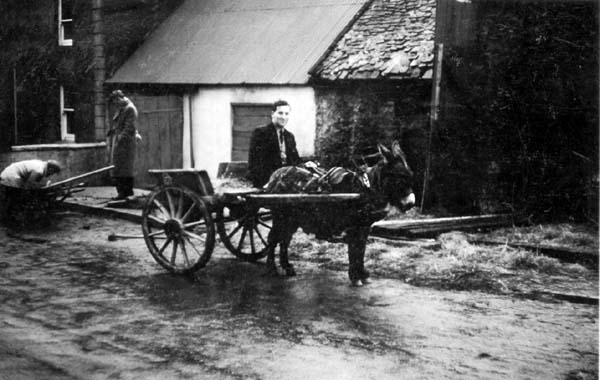 Prior's Coalstore, Pallas Street.
Included in the photograph are Joe Prior and Joe Boyle (standing in background) pictured outside Prior's Coalstore

---
Your Website Needs You!
Committee: Enda Ryan, Noreen Fahy, Margaret Cowan, Marie McGrath, Aileen Óg Groome and Derry O'Donnell
Many thanks to all those who contributed photographs and news items. Remember, we need you to continue to send us material so that we can keep our website current and interesting.
Send your email to: info@borrisoleigh.ie
Also, if you like what you see and want to leave a comment, remember to use the Guestbook!
While we make every effort possible to ensure that the information contained in this Website is accurate and complete, we cannot accept any legal liability as a result of the inaccuracy or incompleteness of the information presented to users of this site