Borrisoleigh Drama Gro
up

The Borrisoleigh Drama Group will take to the stage this weekend ,Friday 22nd and Saturday 23rd May ( also 30th May ) where they will perform a three act play " The Maiden Aunt " by Jimmy Keary. Show starts each night at 8.15pm. All proceeds on this Friday night's performance will go to the Billy Goulding-Shanahan Recovery Fund.
---
Borrisoleigh Track-Attack Notes
Marion Hall Sponsor Borrisoleigh 5km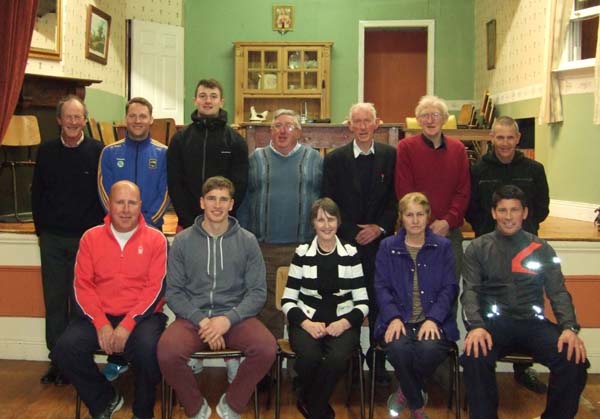 Tipperary Hurlers Launch Borrisoleigh 5km
(Back L-R) Martin Ryan (Marion Hall), Paddy Stapleton, Conor Kenny, Jimmy Farrell (Marion Hall), Ger Ryan (Marion Hall), Seamus Ryan (Marion Hall), John F. Kennedy (Track-Attack)
(Front) Pat Keane(Track-Attack), Brendan Maher, Kathleen Ryan (Marion Hall), Biddy Shanahan (Marion Hall), Declan Maher (Track-Attack).



The second annual Borrisoleigh 5km road race and walk will be held on Wednesday 8th July and during the week, the event received a major boost when the Marion Hall announced that they were coming aboard to be the main sponsor of the popular sporting occasion.
Chairman of the Marion Hall committee Martin Ryan expressed his delight to be able support such a sporting event within the parish of Borrisoleigh and we within Track-Attack will look forward to working hard over the coming weeks to ensure that no stone will be left unturned to make the event become a huge success.
The generous sponsorship that have been made available now means that all income from the event on the night will be channelled towards the further development of the track facilities in the park. Entry fee on the night will be €5 with anyone under 16 free of charge. In terms of the road racing circuit, the entry fee offers tremendous value and it is possibly Tipperary's best value race.
Over the coming weeks, we will be actively encouraging all parishioners to come out on the night, support the event and help us swell the numbers participating. It doesn't matter if you run, jog, walk or crawl, the participating is what is important and help create a brilliant sporting occasion soaked in a Borrisoleigh sporting atmosphere.
To date there has been confirmation of many coming from outside the parish and indeed county boundaries to participate so the Rathmoy loop should be hopping on the night. The first man and woman to cross the finish line will each receive €100, second will receive €50 while the third home will receive €25. This year we are also offering a €100 bonus to the first man and woman to break the existing course records while are held by Templemore's Tony Fogarty and Borrisokane's Siobhan O'Doherty. Also this year, we will have prizes for the people who finish in 25th, 50th, 75th, 100th (every 25) places overall so there will be a good spread of prize winners right throughout the field.
In the meantime, use the longer evening to get out jogging or walking and get yourself ready to complete the 5km course.
Track-Attack would like to sincerely thank the committee of the Marion Hall for their generous donation of sponsorship and we would also like to thank Tipperary hurler Brendan Maher, Paddy Stapleton and Conor Kenny for coming along and help us launch the event.

Suzanne Moves to Joint Top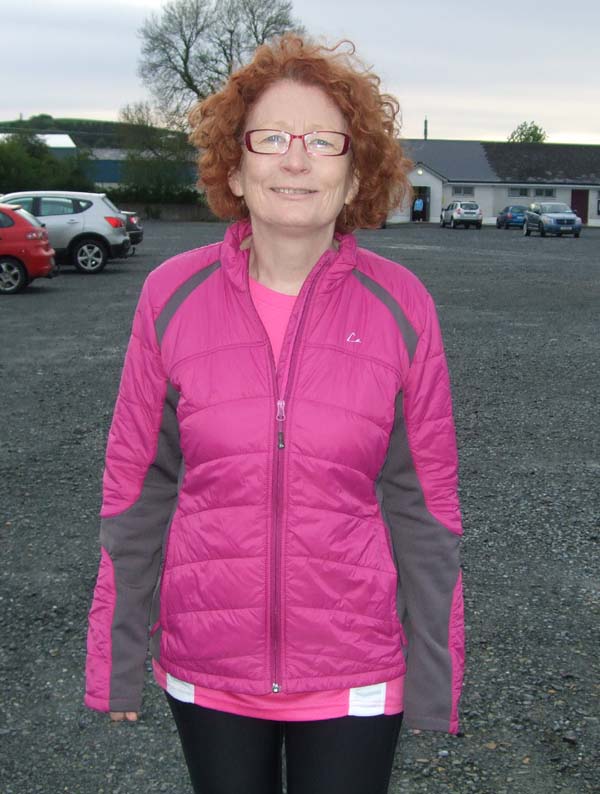 Bears Joint Leader Suzanne Whyte



Suzanne Whyte was the big mover in the seventh round of the Track-Attack Marathon Series as a brilliant bonus point winning performance saw her move to joint top spot in the Bears enclosure, a position she holds with long-time leader Rena Ryan. With 5 rounds remaining, it's going to be an interesting battle but both athletes need to keep glancing over their shoulder as hot on their heels are both Anne McCormack and Frances Stapleton.
The Lion's Den is also going to be a superb battle of wits over the coming weeks as the leading contenders are struggling to make a clean break from the chasing pack. Betty Slattery has been the form athlete having been placed in the top 3 in 5 of the 6 heats to date. Heading into the final phase, she has a slender single point leader over the consistent Marie Carr and the fastly improving Jacqueline Minogue. Jacqueline was the star performer last week have shaved precious seconds off her previous best to earn herself the all-important bonus points which in turn has positioned her for a drive for the title over the coming weeks.
It was a successful sister attack for the overall leading positions in round seven as Jacqueline's sister Caroline lay down a serious maker in her quest to claim the Cheetahs title when producing her best performance to date which in turn have resulted in her opening up an 11 point lead over previous table-topper Grainne Moore. Mary Stapleton is now the bookies favourite to claim the laurels in the jaguars grouping following another excellent display of determination and improvement.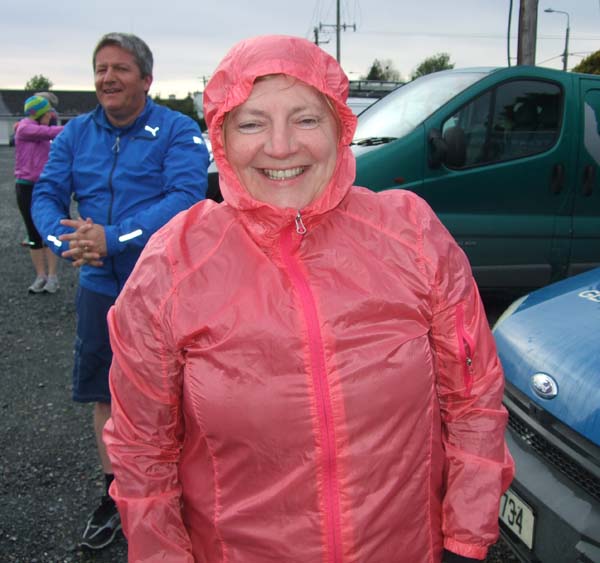 Jaguars Leader Mary Stapleton
Kate Minogue continues to be the class act in the Puma's group and with an accumulation of 6 points, she is now best scoring athlete throughout the entire series. She deserves tremendous credit for her week on week performances and is now virtually unrecognisable from the athlete we saw on the opening night.
Martin Fahy remains the highest flying Falcon but has yet to reach the lofty heights that would guarantee him the title. Chasing him down are the Drom duo of Mary Ryan and Kathleen O'Meara and with only 8 points separating the table-topping trio, it promises to be thrilling contest over the remaining weeks of the series. A word of warning to the trio, Trish Ryan is closing the gap at a rapid rate and is within touching distance of the podium positions.
The smart money is now on Tom Stapleton to lay claim to the Dolphins title. His sheer style of determination and unwillingness to give in week on week is highly commendable and could well be the reason he eventually climb to the highest rung of the ladder. Siobhan Carr is still more than capable of reeling in the leading gap and watch out for Richie Tynan moving up the blindside in recent weeks.
JFK is still the leading contender for the Sharks top honour and last week he gave an exhibition of front running en-route to a superb performance over the 4km distance. With 5 weeks of possible points still on offer and the leading gap down to 6 points, Christy Slattery is displaying levels of determination in recent weeks that saw him ranked as one of Ireland best ever racquetball players and he could be well calculating a drive for the title over the coming weeks.
JFK Runs Riot in Cooley Coast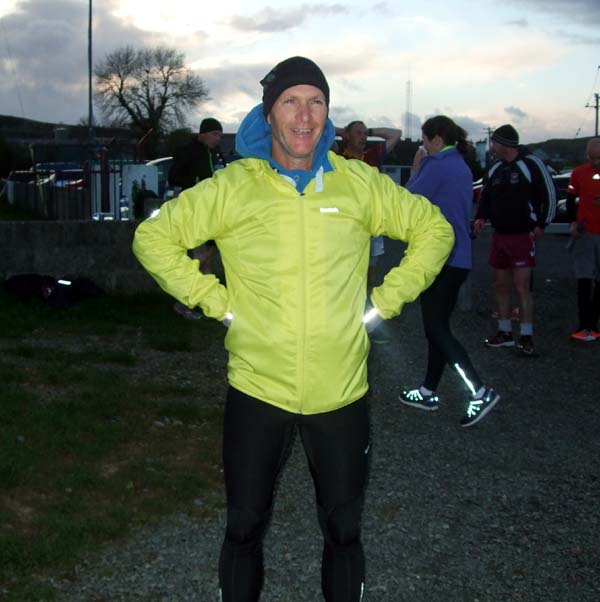 Cooley Coast Victor John F. Kennedy



On Friday night last, our Track-Attackers were out in style and in the Cooley Coast Run in Co. Louth, John F Kennedy produced a superb performance over 12.5km to claim the first Over 50 prize. His time of 50:26 also saw him impressively finish in 8th place overall.
We also had 8 Track-Attackers travel to near-by Thurles to participate in the 6km run in aid of Scoil Ailbe. Again we had some excellent performances overall and we look forward to seeing many more at the various races over the coming weeks. The 8 who competed on Friday night were Declan Maher, Tom Shanahan, Michael O'Brien, Martin Fahy, Jimmy Stapleton, Kathleen O'Meara, Mary Ryan and Pat Keane.
All roads next Wednesday night (27th) will lead to Holycross for their 5km road race in aid of St. Michael's N.S. The race which will be chip timed will start at 7:30pm beside the Abbey and the entry fee is €10. We would encourage all our Track-Attackers to support the event.
---
Music Lessons
Music lessons for Summer 2015 in Borrisoleigh
All ages from 3 years.
Tin whistle, flute, low whistle, fiddle, banjo.
Give your child the gift of music this summer.
Call/ Text 0863585281
---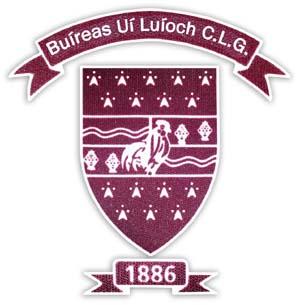 Senior Hurling:
Hard luck to our senior hurlers who narrowly lost out to Templederry in the opening round of the north championship on Saturday evening. In a hard fought contest in Dolla there was very little between the two sides for the hour as the two sides battled it out for local bragging rights. Borris led by two after a David O Connor goal midway through the second half but credit to Templederry who took some great scores finishing up to win the game by two. We now play Lorrha in the second round. The game will take place on Sunday 31st of May in Cloughjordan at 7pm.
Junior Hurling: Our Junior B team had a tough match away to Lorrha on Sunday morning eventually losing by four points. Hard luck to the lads.
Track Attack: Best wishes to the Track Attack team as they embark on their "147" fundraiser. The funds raised will go to the upkeep and further development of the track which include widening, extra lights and an extension of the track to 1 mile. We ask that all people support this fundraiser as the track is a huge benefit to the community and we would to stay providing such a great service to the parish, but it is only with your help that we can do it. There are now cards available and we ask people to support generously. We are asking people to guess the time it takes a team of 18 to run 147km.
Golf Classic: The time of year has rolled around again and we are now preparing for our now very successful annual golf classic. Over the last two years we have had around 100 teams take to the fairways each year for two days of very enjoyable golf. This year the event will take place on June 12th and 13th. A team of 4 will cost €120 and tee boxes will cost €30. Tee box times can now be booked by contacting Martin Fahy on 087 2608780.
Tipperary Draw: The time of year has come around again to renew our Tipperary Draw subscriptions. This is a great fundraiser for both the club and county and has fantastic prizes on offer with 2 cars being given away every month along with cash prizes. If you are renewing or entering for the first time please contact TF Stapleton or Joe Kennedy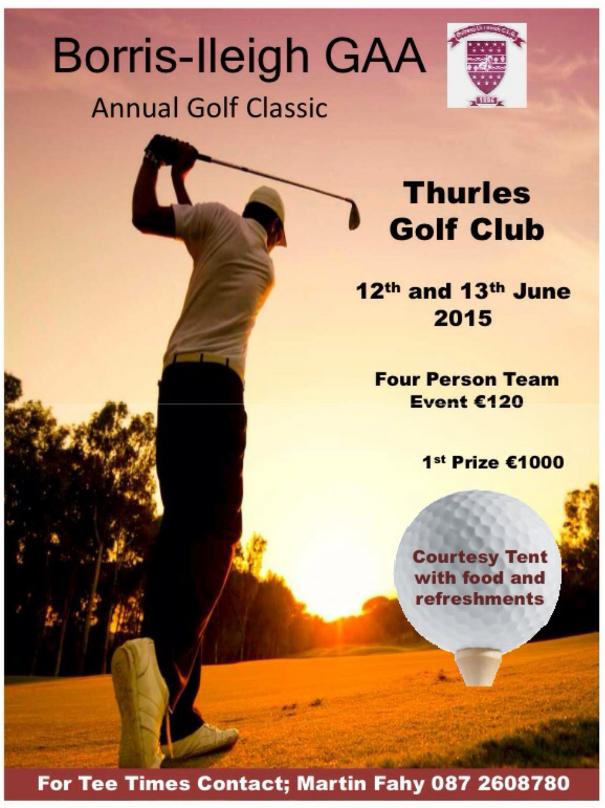 ---
Flower Arranging Workshops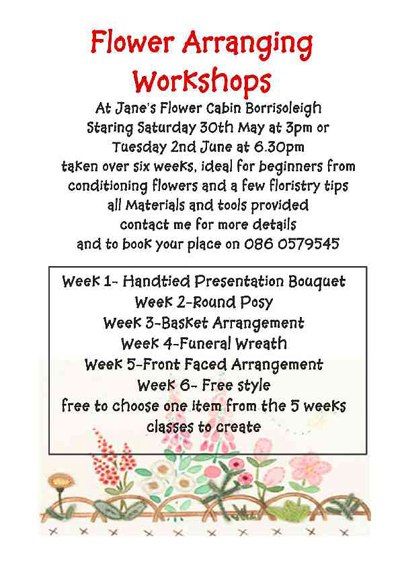 ---

Bush & Briar Ramblers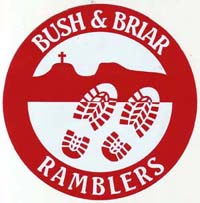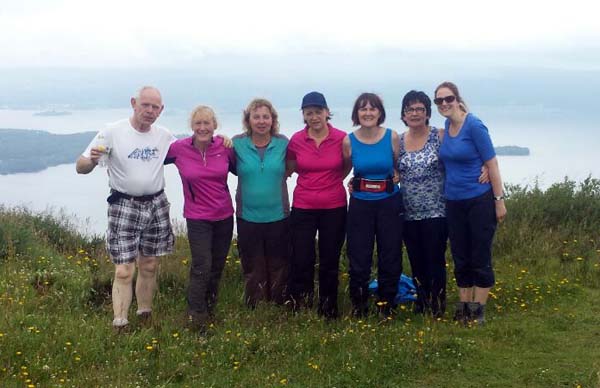 ARRA MOUNTAINS CALLING
After a short break last weekend we are out rambling again this weekend with a walk in the Arra Mountains overlooking beautiful Lough Derg and taking in the summit of Toutinna with its magical panoramic views.
Meeting at the rear car park of Shanahan's Topaz Service Station
Saturday 23 May 2015
08.50hrs for departure at 09.00hrs
Also meeting at Nenagh hurling field at 09.25hrs
Boot essential and pack lunch recommended.
ENJOY

---

Fifi's Tots Preschool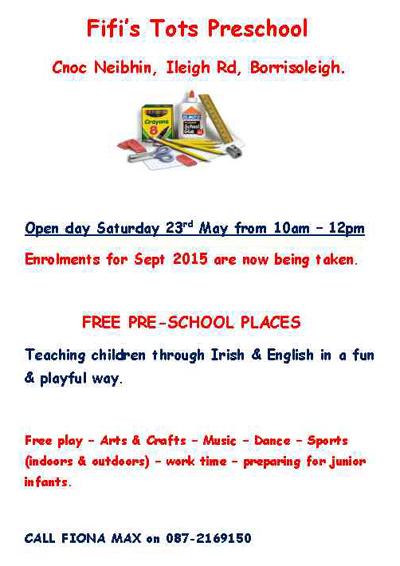 ---
Borrisoleigh Active Social Club



The Borrisoleigh Active Social Club have been invited to join in with the Templemore group next Wed May 27th. They meet in the McAuley Centre Templemore @ 3pm. If you would be interested in going please give your name to Lucia Ryan 0863961211, Fiona Max 0872169150 or Eileen Slattery 0879849848 by Mon May 25th. .
There is a Health and Wellbeing Day (Open & Free to all) being held in the Radisson Blu Hotel, Limerick on Thursday June 4th. Again if interested please contact any of the names above.
Don't forget to book your seat on the bus if you are wishing to travel to the Nicholas Mosse Pottery Factory and Arboretum Home and Garden Heaven on Tues July 14th. It is important to book your seat so that we can arrange a suitable size bus.
Membership €10 needs to be paid by anyone wishing to join the club and everybody (men & women)is welcome to join.
---

Bootcamp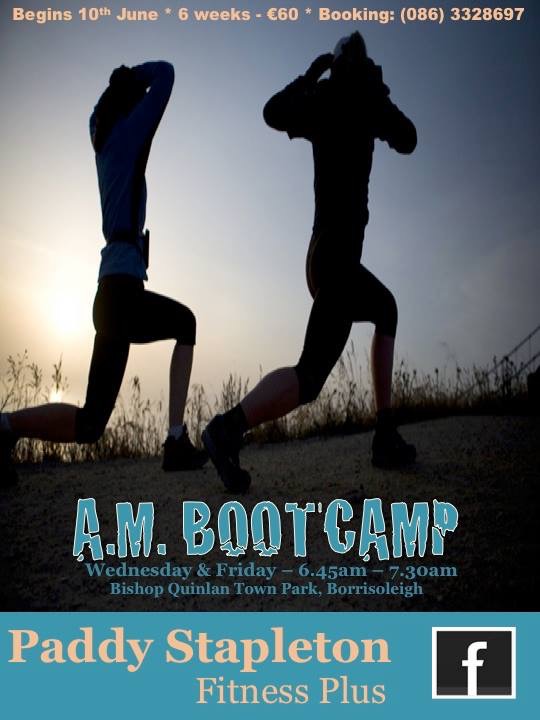 ---
Breastfeeding and Early Parenthood Support Services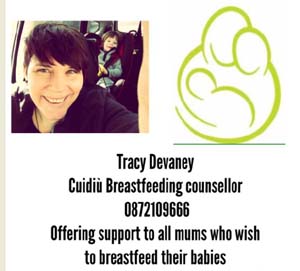 Tracy Devaney of Lower Street Borrisoleigh is one of only 2 trained breastfeeding counsellors working in all of Tipperary. As a mum of 7 she has years of personal experience as well as 2 years of specific training and 3 years working voluntarily with the national organization Cuidiù and the Irish childbirth trust. Tracy co-ordiates the Cuidiù breastfeeding support groups aimed at mums and mums to be wishing to find support and obtain up to date information on nursing and nurturing their baby. By attending a group women get to meet lots of other likeminded mums in the county. The groups are relaxed and informal- much like any mother/toddler group, but with the added support of a trained Cuidiù counselor, who can assist a mum with all her breastfeeding and new baby concerns and offer general support with the view to gentle and natural parenting in mind.
Tracy also provides phone support which is available to all mums across the country. Sometimes all it takes in the early days of nursing is a listening ear. Home visits are also available for mums who can't attend a group and may need more specific support in maintaining a healthy breastfeeding relationship.
Groups are on regularly in Nenagh and Thurles. For more info click the link below and follow us to get all the latest news from Cuidiu Tipperary. Our next meeting is on Friday 29th from 10.30am in Thurles rugby club or call Tracy – 0872109666
---
Tractor Challenge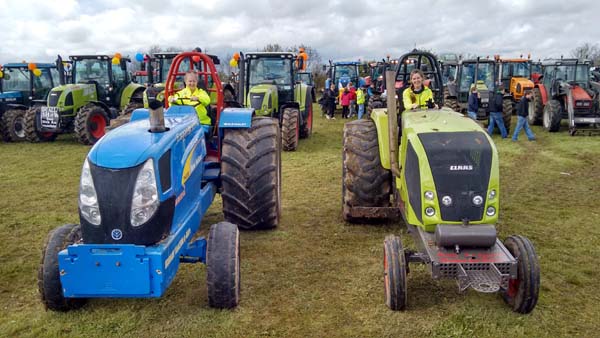 Photo from the recent Tractor Challenge in Two-Mile Borris where Rena Ryan & Grainne Moore 'challenge' each other to a race!



---

Pic of the Past……down memory lane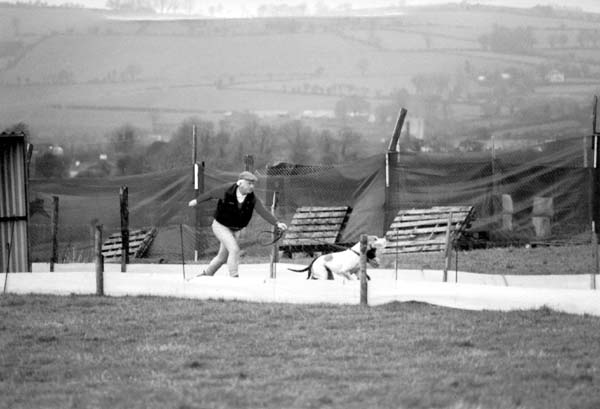 The Slipper in Action
Owen Walsh pictured 'slipping' the greyhounds at Borrisoleigh Coursing

---
Committee: Enda Ryan, Noreen Fahy, Margaret Cowan, Marie McGrath, Aileen Óg Groome and Derry O'Donnell
Many thanks to all those who contributed photographs and news items. Remember, we need you to continue to send us material so that we can keep our website current and interesting.
Send your email to: info@borrisoleigh.ie
Also, if you like what you see and want to leave a comment, remember to use the Guestbook!
While we make every effort possible to ensure that the information contained in this Website is accurate and complete, we cannot accept any legal liability as a result of the inaccuracy or incompleteness of the information presented to users of this site