Retirement Party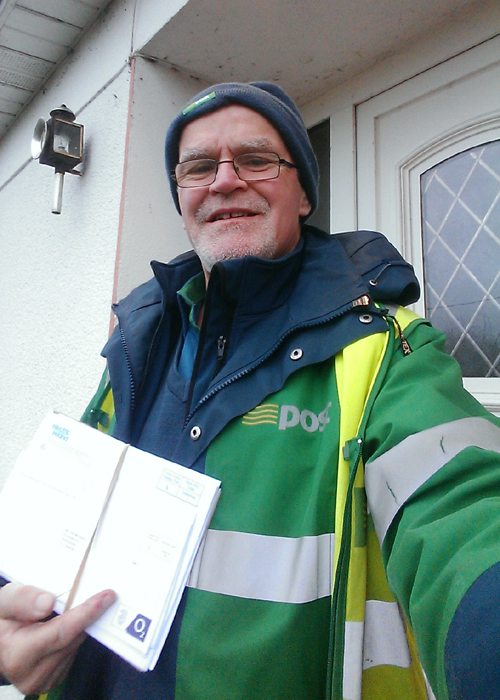 A thank you from Michael

I would like to send my thanks to all the people in Borrisoleigh for their cards and gifts on my retirement. I would like to express my thanks to all the people who worked so hard to make it a great night in the Community Center, all the musicians and singers, caterers for the lovely refreshments provided.
I spent thirty great years working in Borrisoleigh and I must say I enjoyed every day.
I will forever have great memories of you all.
I wish you all good Health and Happiness
Michael Revins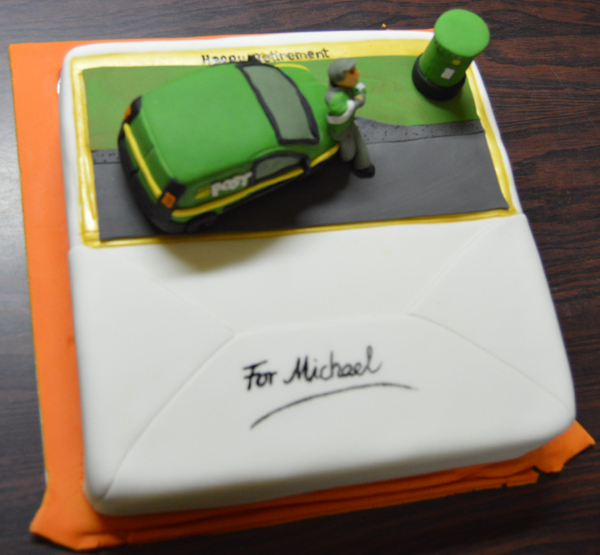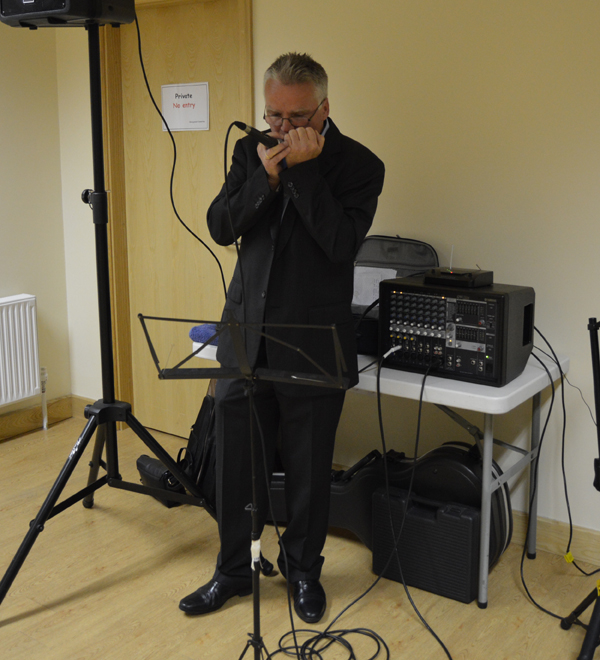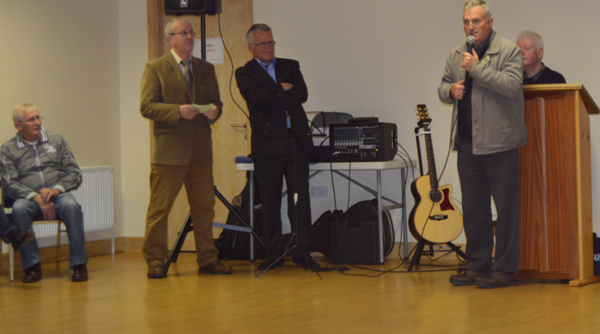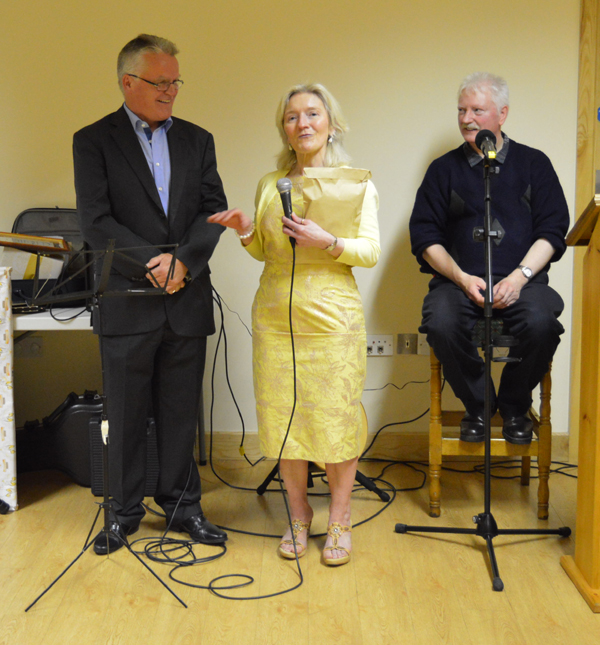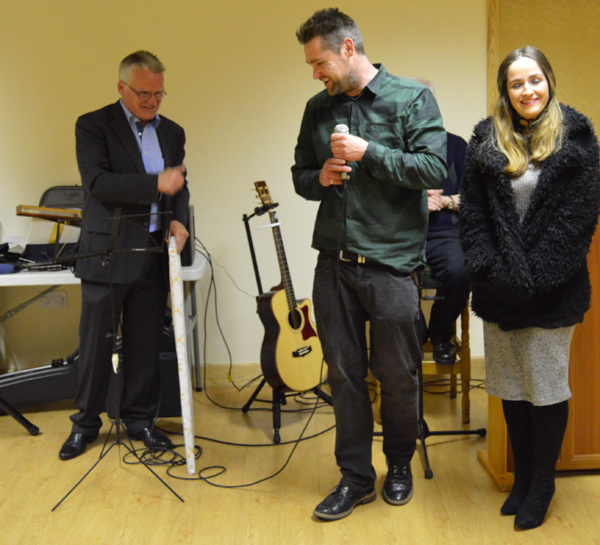 The Retirement Party for Michael Revins was held last Saturday night in Borrisoleigh Community Centre, A good night was had by all. Wishing Michael a Happy and a busy retirement.

---

Scoil Naomh Cualan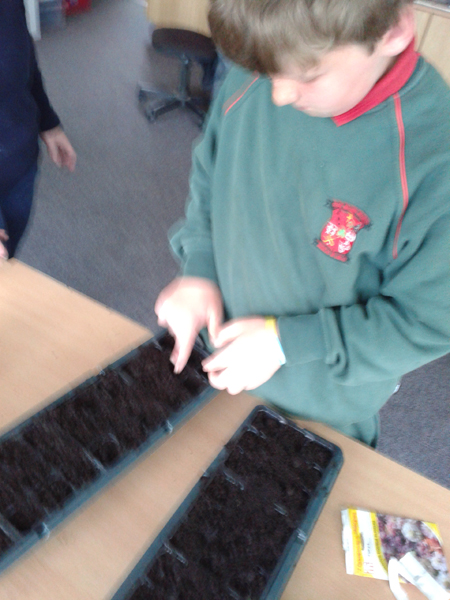 Planting seeds as part of our commitment to being a green school.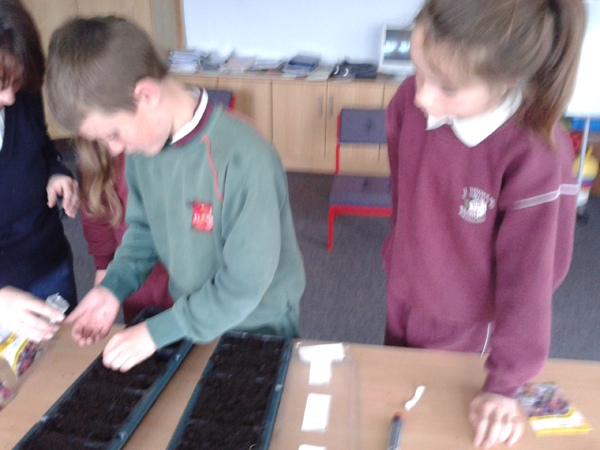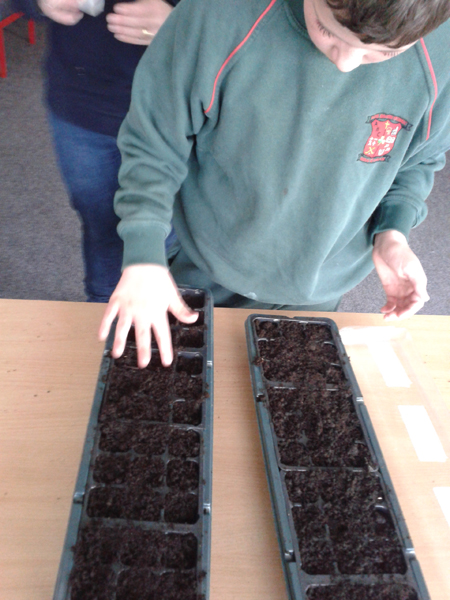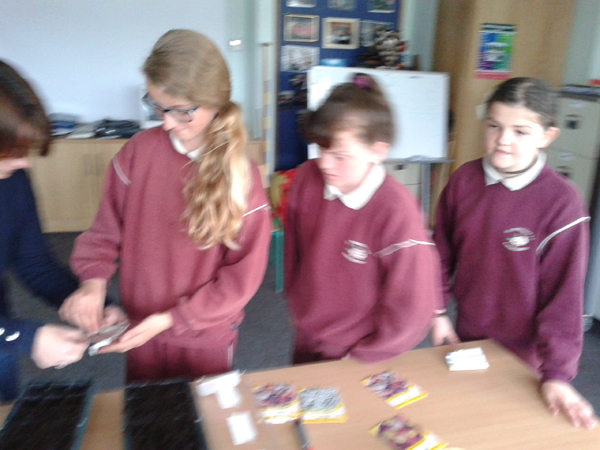 Hopefully we will have some lovely flowers soon!!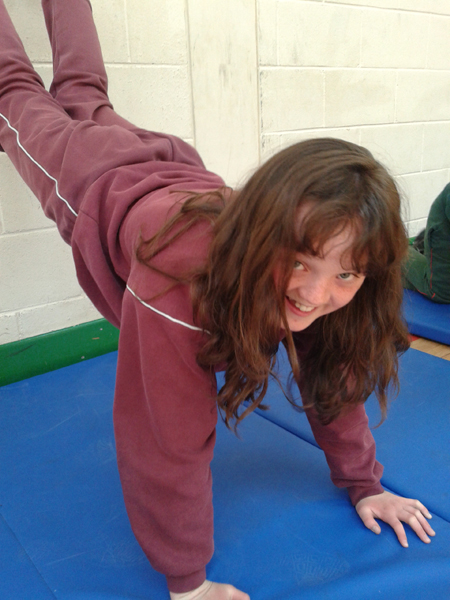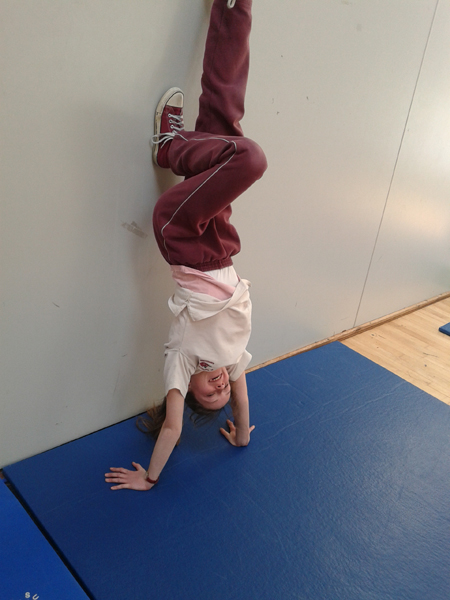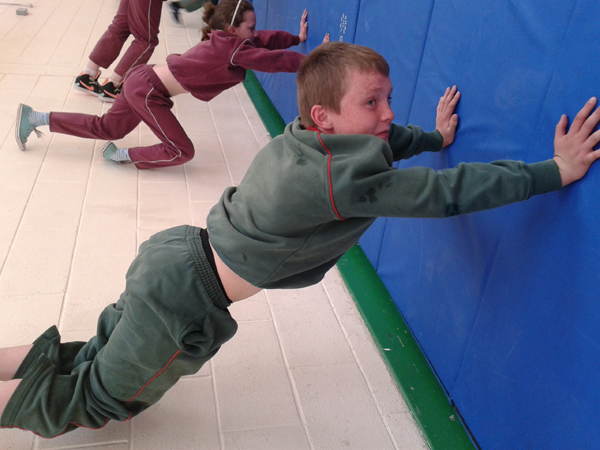 Pupils from Scoil Naomh Cualan enjoying their gymnastics classes

---

Borrisoleigh Drama Group

Borrisoleigh Drama Group will present a three act comedy 'The Maiden Aunt ' on Friday 22 May " Saturday 23 May and Saturday 30 May . All proceeds on the first night Friday 22 May will go to the Billy Goulding (Shanahan ) Recovery Fund.

---
Twisted – the adventure run with a twist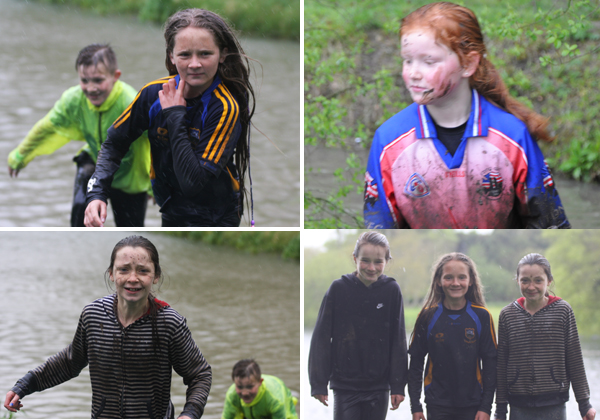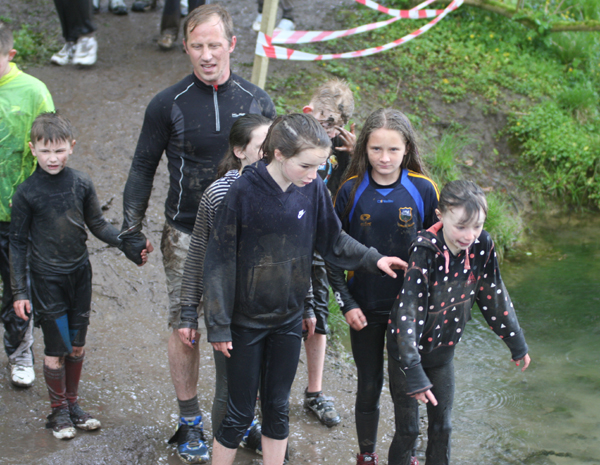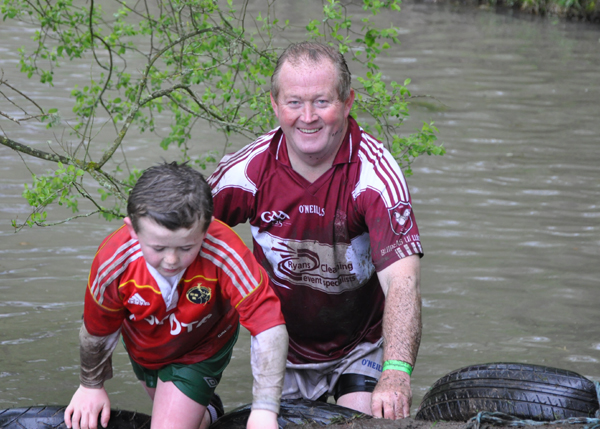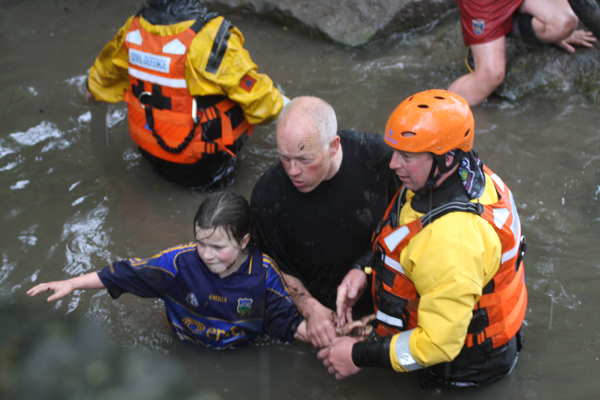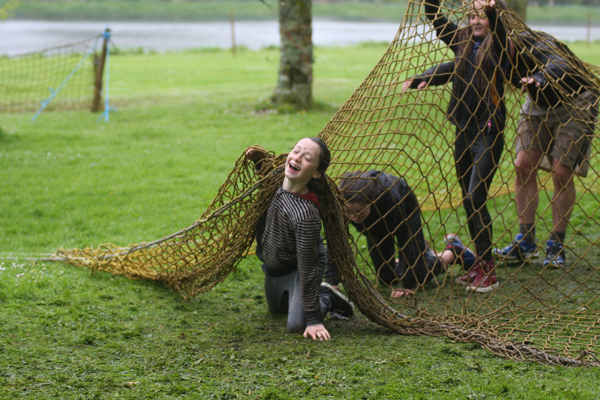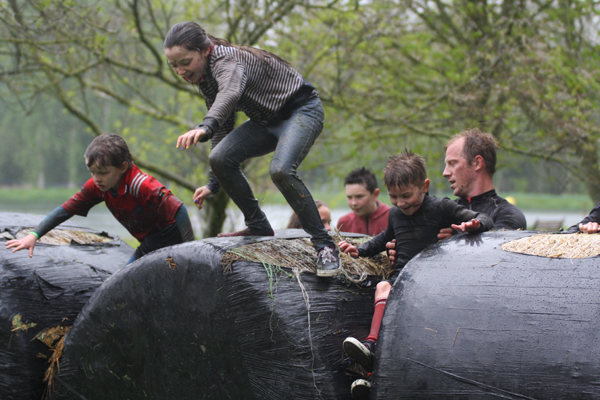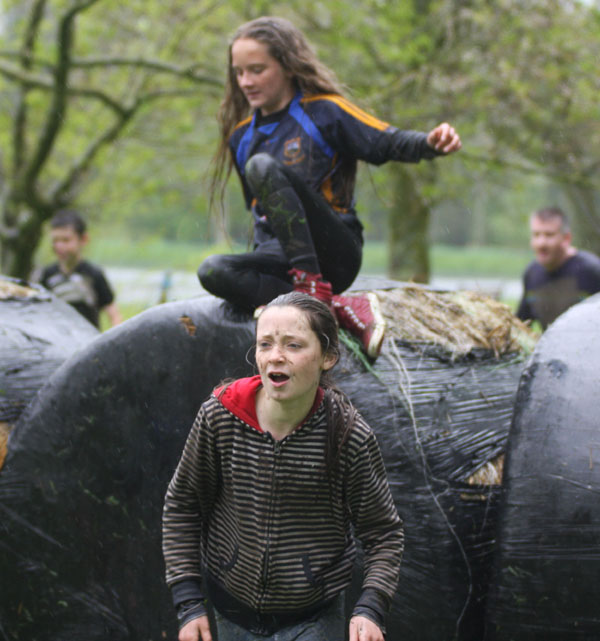 Borrisoleigh play their part in Twisted in Templemore on Sunday last. A great day was had by all.


---
Music Lessons
Music lessons for Summer 2015 in Borrisoleigh
All ages from 3 years.
Tin whistle, flute, low whistle, fiddle, banjo.
Give your child the gift of music this summer.
Call/ Text 0863585281
---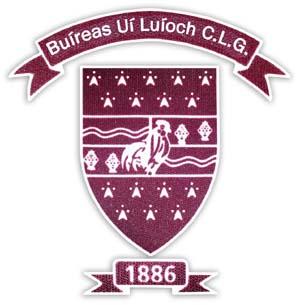 Senior Hurling: Well done to our seniors who had a great win over Burgess on Saturday evening in Nenagh on a scoreline of 0-17 to 1-13. The result sees us finish third in the group, losing out to Drom on score difference. We have however retained our Senior A status for 2016. We play Templederry in the first round of the North Championship on Saturday evening in Dolla at 7pm. As always we hope to see you there to support the lads
Junior Hurling: Our Junior B team play Lorrha in the next round of the junior league on Sunday morning. The game throws in at 12:30 in Lorrha. Best of luck lads.
Track Attack
: Best wishes to the Track Attack team as they embark on their "147" fundraiser. The funds raised will go to the upkeep and further development of the track which include widening, extra lights and an extension of the track to 1 mile. We ask that all people support this fundraiser as the track is a huge benefit to the community and we would to stay providing such a great service to the parish, but it is only with your help that we can do it. There are now cards available and we ask people to support generously. We are asking people to guess the time it takes a team of 18 to run 147km.
Golf Classic: The time of year has rolled around again and we are now preparing for our now very successful annual golf classic. Over the last two years we have had around 100 teams take to the fairways each year for two days of very enjoyable golf. This year the event will take place on June 12th and 13th. A team of 4 will cost €120 and tee boxes will cost €30. Tee box times can now be booked by contacting Martin Fahy on 087 2608780
Tipperary Draw: The time of year has come around again to renew our Tipperary Draw subscriptions. This is a great fundraiser for both the club and county and has fantastic prizes on offer with 2 cars being given away every month along with cash prizes. If you are renewing or entering for the first time please contact TF Stapleton or Joe Kennedy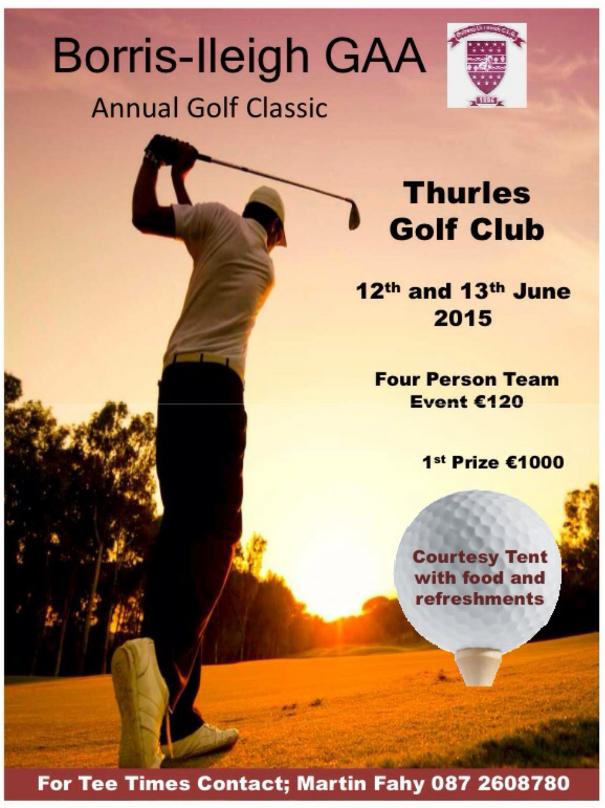 ---
Flower Arranging Workshops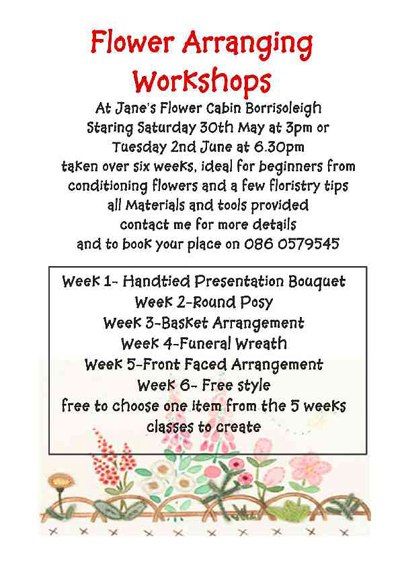 ---

Bush & Briar Ramblers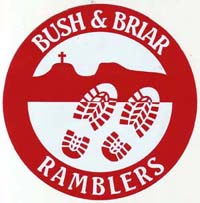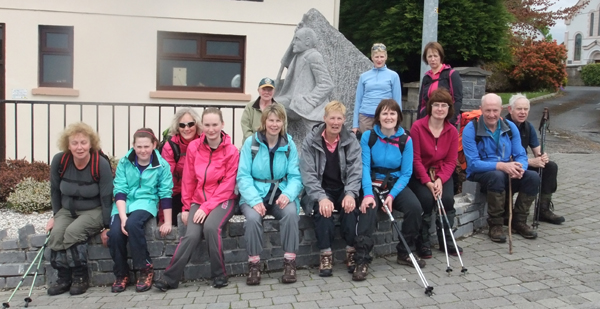 We were in Upperchurch last weekend for a beautiful stroll through the scenic hills overlooking the village. We were blessed with excellent visibility, giving views in all directions and the pleasant weather added to the whole enjoyment of this wonderful walk.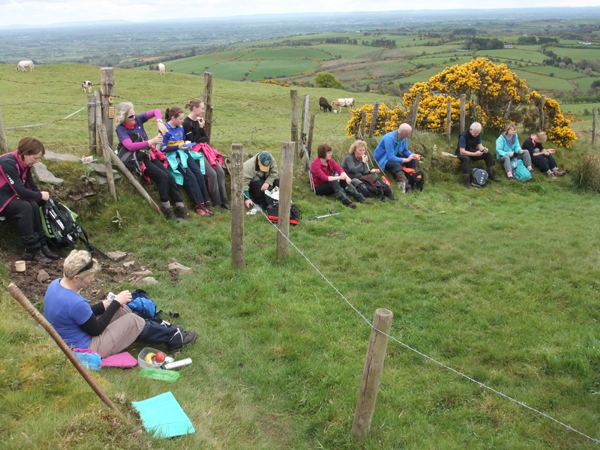 Thanks to all for making the ramble another wonderful outing. Our Very Best Wishes to Christy heading off to hike the Camino.

---

Fifi's Tots Preschool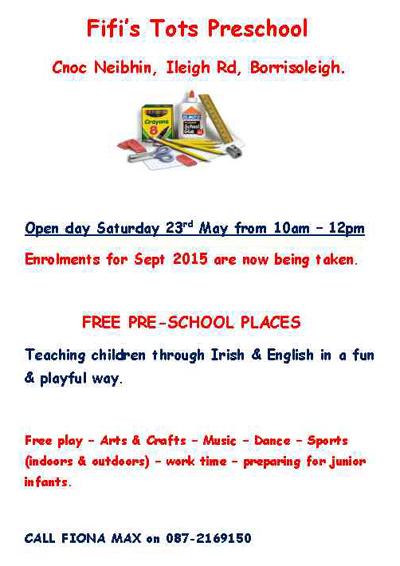 ---
Borrisoleigh Active Social Club
.
Recently a new club was formed in our parish called Borrisoleigh Active Social Club. While this club is called Borrisoleigh Active Social Club we could welcome people from our surrounding parishes.
It is open to men and women and hope to meet once or twice a month. Our main aim is to arrange social events, educational options and activities which encourage and support retired people to remain as active participants within their community. For us to succeed we are encouraging people to join us. Membership for this year €10.
By becoming a member you qualify for discounts in many shops, hotels and health services nationwide. We are organising a trip to the Nicholas Mosse Pottery Factory in Bennetsbridge and continuing onto the Arboretum Home & Garden Heaven in Leighlinbridge Co. Carlow.
This is being organised for Tuesday July 14th so if you or any of your friends would be interested in this trip/or want more information please contact any of the following committee members: Lucia Ryan 0863961211, Fiona Max 0872169150 or Eileen Slattery 0879849848 on or before June 23rd so we can make final arrangements.
We are also hoping that a group from our club will visit the Templemore group in the next couple of weeks.

---

Bootcamp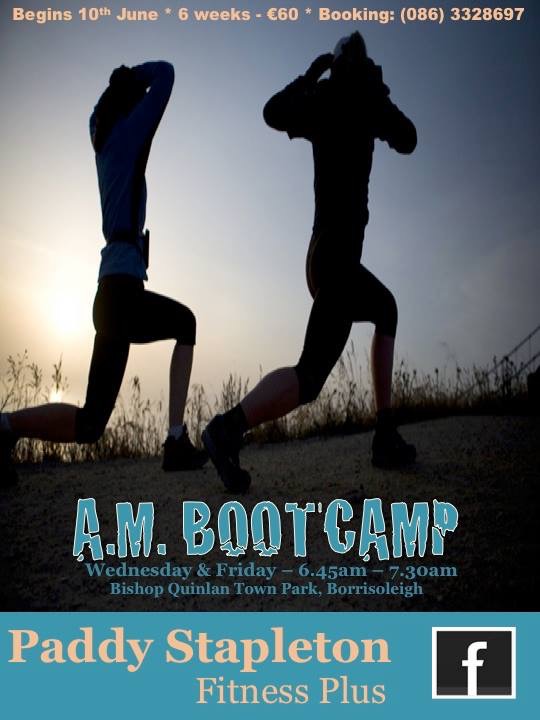 ---

Pic of the Past……down memory lane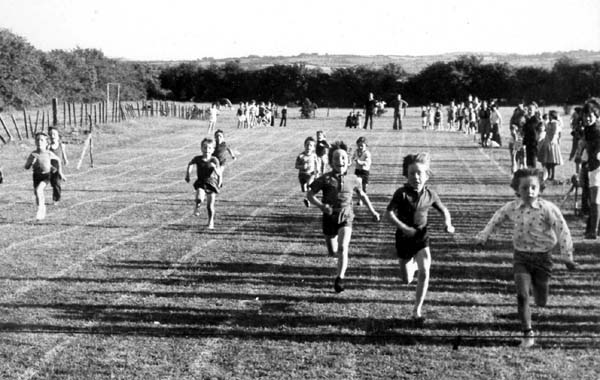 Sports Day in Borrisoleigh in the 1970s
---
Committee: Enda Ryan, Noreen Fahy, Margaret Cowan, Marie McGrath, Aileen Óg Groome and Derry O'Donnell
Many thanks to all those who contributed photographs and news items. Remember, we need you to continue to send us material so that we can keep our website current and interesting.
Send your email to: info@borrisoleigh.ie
Also, if you like what you see and want to leave a comment, remember to use the Guestbook!
While we make every effort possible to ensure that the information contained in this Website is accurate and complete, we cannot accept any legal liability as a result of the inaccuracy or incompleteness of the information presented to users of this site