Borris-Ileigh Camoige Notes

SENIOR:
The Semi-Final of the League took place last Sunday evening in the Ragg v Clonoulty. Unfortunately, things didn't go well from the start, and finished with a final score of: Borris-Ileigh 0-07 Clonoulty 6-15.
Scores from: Ailish O'Connell 0-05 (frees), Aédin Hogan 0-01, Sarah Kinane 0-01. Hard luck girls.
U14's played Thurles last Wednesday in the Camogie Grounds. The girls were unlucky, and with wet and windy conditions, the play was difficult. Unfortunately, we lost this game, but came very close to a quarter final in our division, the girls can look forward to proving themselves in the League later in the year.
Borris-Ileigh 4-03 Thurles 9-03.
Scores from: Aoife Ryan 2-03, Aoife Max 1-00, Laura Maher 1-00.
Team: Shaneen Stapleton, Antoinette Atik, Christine Delaney, Ciara Doolan, Alice Buckley, Katie Boyle, Gretta Atik, Maeve Stapleton, Sinead Ryan, Laura Maher, Aoife Ryan, Aoife Max, Caitriona Ryan, Sharolynn Leimlehner, Eimear Fahy, Mairead Maher & Emma Doolan
U12's continue with Cluster Blitz's and hope to play in Drom this weekend. Teams in this group: Borris-Ileigh, Templemore, Thurles & Drom. Best of luck girls.
---
Borrisoleigh Community Development Association
The annual Spring Cleanup took place last Thursday. Many thanks to everyone who came out and helped gather up litter and rubbish around the town and on the approach roads. The trailer load of over 30 bags of rubbish was taken away to AES in Nenagh to dispose of properly.
Thanks again to everyone who helped out. By volunteering for the Spring Clean campaign, YOU are actively helping to make and keep your local environment a cleaner and more enjoyable place to work and/or live in. Your participation in Ireland's largest anti-litter initiative is very important. Spring Clean is entirely dependent on the fantastic support and work of Tipperary County Council and An Taisce. Not only do they supplement supplies of materials but they also ensure that our rubbish is properly disposed of.
---
Borrisoleigh Drama Group
Borrisoleigh Drama Group are busy getting ready for their next production. Following the success of last year's play, the group are currently rehearsing another 3 Act comedy by Jimmy Keary. 'The Maiden Aunt' will be performed in Borrisoleigh on May 22nd, 23rd and 30th. Put it in your diary!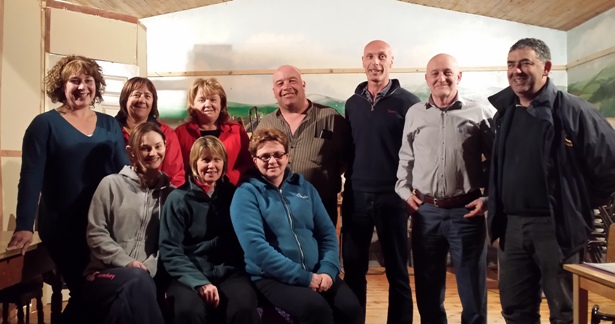 The thespians preparing for their next performance
---
Tour of Duty
Pictured below is Gunner Padraig Dolan, Mount George, Borrisoleigh who is being deployed to Lebanon in the next few weeks as part of the 49th Infantry Group Unifil Mission
This is Padraig's third tour of duty overseas, having previously served in Chad and Lebanon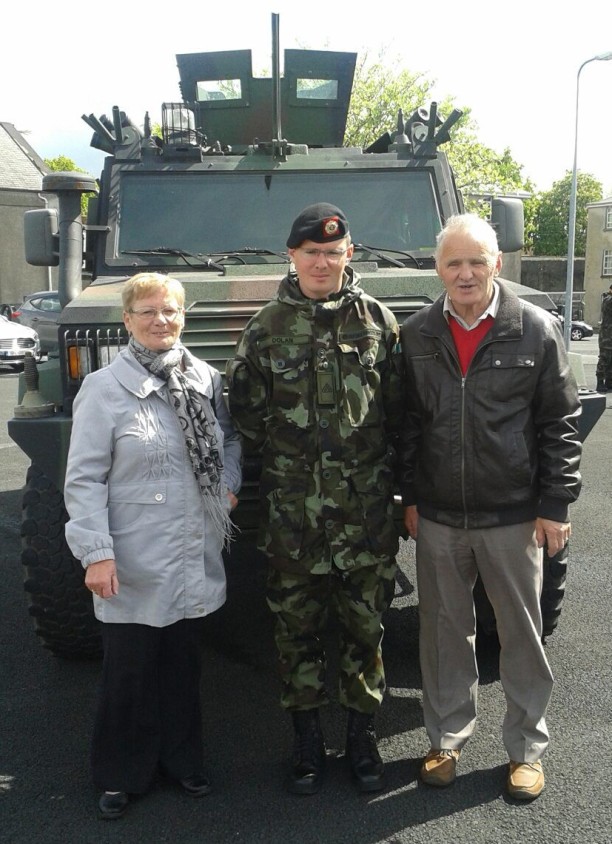 Padraig with his parents Pat and Marian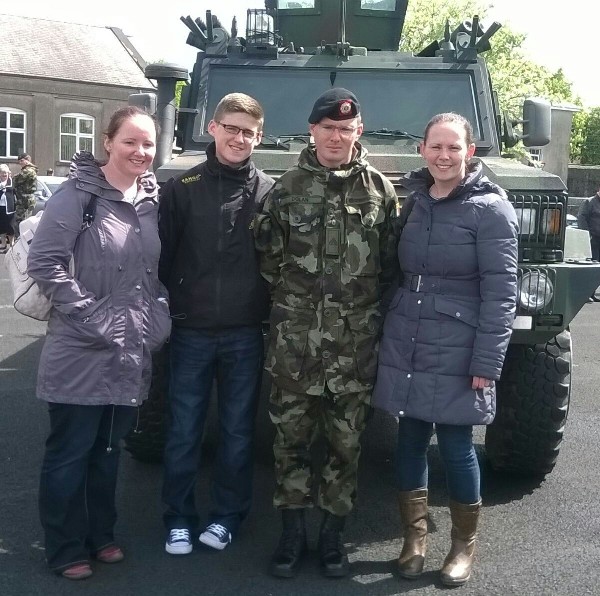 Padraig with his sisters, Aisling and Sinead, and nephew James

---
Community Games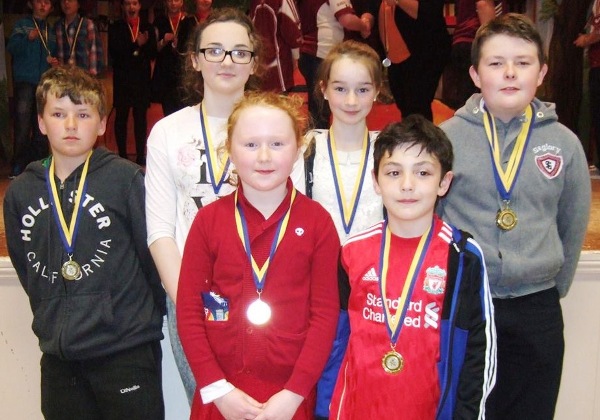 Culture Corner U15 – Razuk Atik, Colm Boyle, Adam Carr, Katie Fitzgerald, Kayleen O'Dwyer, Lisa Carr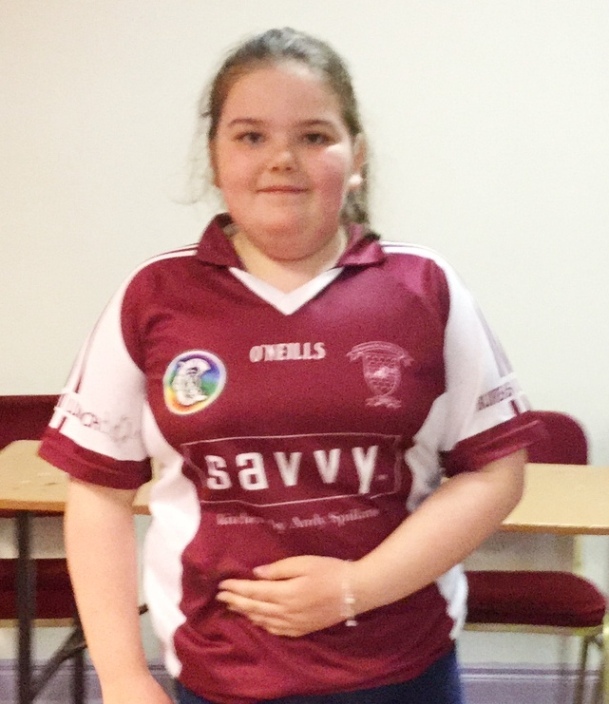 U12 Solo Singing – Anna Harkin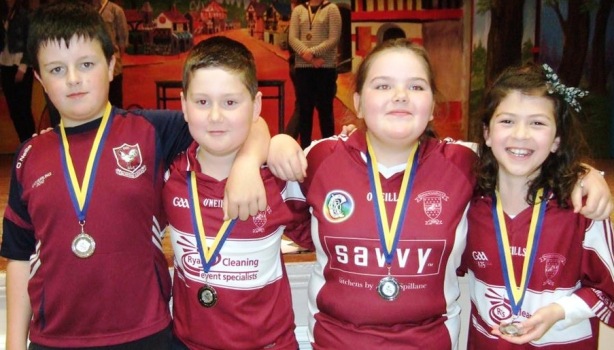 Group Singing U14 – Anna Harkin, Emma Kelly, Shane Maher, Josh Young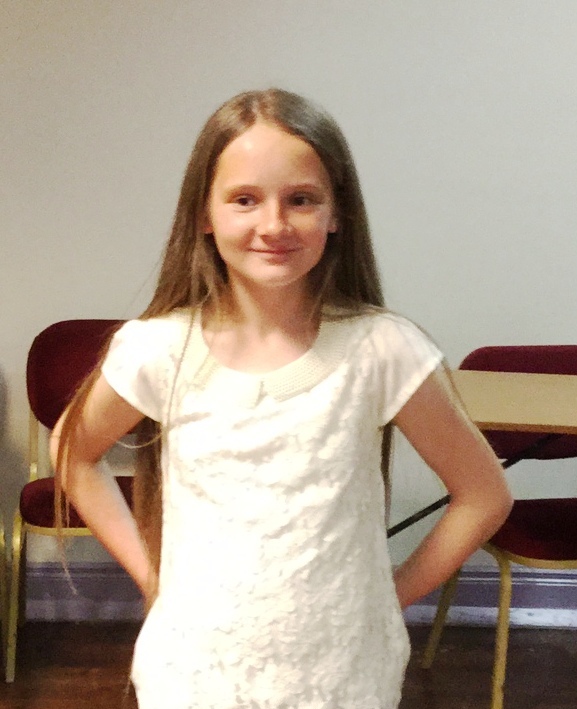 U12 Solo Singing – Danielle Ryan

Community Games Athletics Trials
Date: Monday 1st June
Time: 6.00pm
Place: Templemore Athletic Track
All Borrisoleigh parish residents are welcome to participate.
ATHLETICS TRACK EVENTS
(Individual Events)
Boys & Girls U/8 years Over 6 – 60M & 80M
Boys & Girls U/10 years Over 8 -100M & 200M
Boys & Girls U/12 years Over 10 -100M & 600M
Boys & Girls U/14 years Over 12 -100M & 800M
Boys & Girls U/16 years Over 14 – 100M, 200M & 1500M
Boys & Girls U/16 years Over 14 – 7Km Marathon
Long Jump
Boys & Girls U/14 over 12
Long Puck
Boys U/12 and over 10
Girls U/14 and over 12
Any queries please contact Sheila @ 086 403 0458
---
Tractor Challenge

Borrisoleigh boys helping out at tractor challenge last Sunday in Two Mile Borris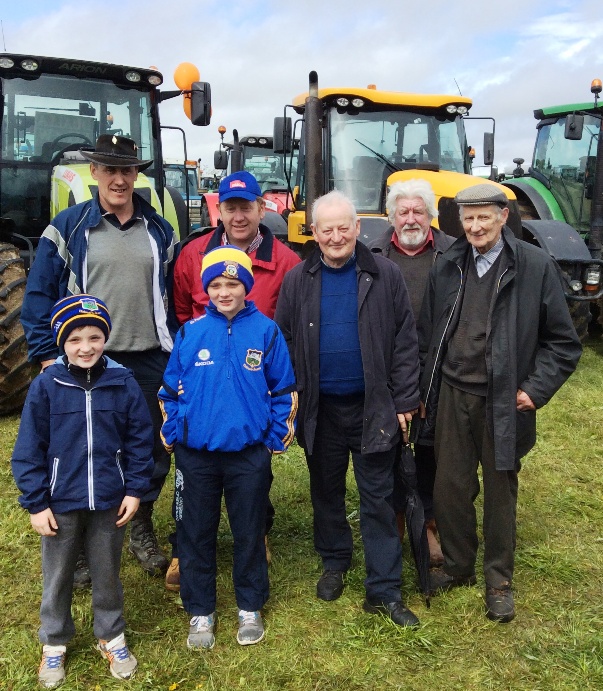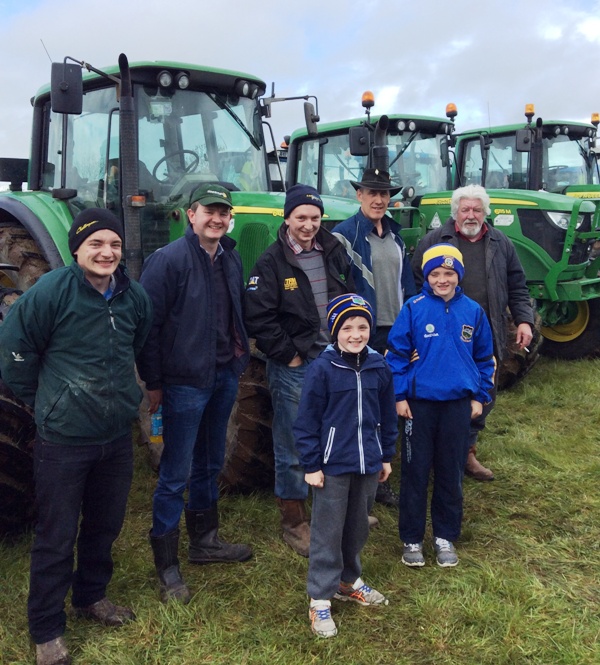 ---
Borrisoleigh Track Attack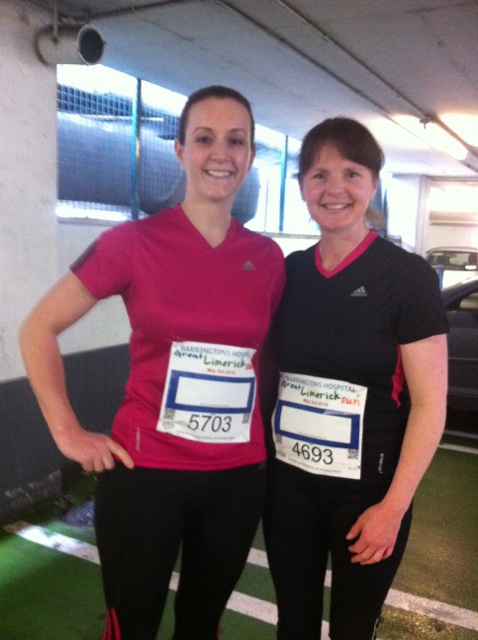 Track-Attack sisters Jacqueline Minogue and Caroline Murray
Track-Attack 147



Track-Attack are currently fundraising to do further development work to the track facilities in Borrisoleigh. The work that we hope to carry out is as follows: Erect extra lighting to the bottom straight of the existing track, widen the existing track in order to comfortably cater for three people while running/walking abreast and to extend the track around the perimeter of the entire grounds which would result in a distance of approximately 1.3km.
All of the above would lead to huge potential in what Track-Attack can achieve into the future. It would also be a great asset for everyday users of the track. To make the development plans a possibility, we are holding a fundraising event on Sunday 7th of June named Track-Attack 147.
To make the development plans a possibility, we are holding a fundraising event on Sunday 7th of June named Track-Attack 147. All of the above would lead to huge potential as to what Track-Attack could achieve into the future. It would also be of great use to the everyday users of the track. To make the development work a possibility, we are holding a fundraising event on Sunday The 147 is based on the maximum break in a snooker match. Translated to Track-Attack, the aim is to guess how long it will take a team of 36 people to collectively run 147km. As per snooker, we will have 15 blacks, 15 reds, 1 yellow, 1 green, 1 brown, 1 blue and 1 pink. evening 7th June called Track-Attack 147.
The 147 is based on the maximum break in a game of snooker. Translated to Track-Attack, the task will be to predict how long it will take a team of 36 people to collectively run 147kms. As per snooker, we will have 15 blacks, 15 reds, 1 yellow, 1 brown, 1 green, 1 blue and 1 pink. The 15 athletes in black will each run 7km each, the 15 reds will each run 1km each, the yellow will run 2km right up to the pink athlete running 6km. An example of how it works is, if each athlete ran at an average pace of 5:05 per km, the winning prediction would be 12 hours, 27 minutes and 15 seconds.
Many of our Track-Attackers are currently selling the tickets which are priced at €1 each. We would ask for your support where possible and help us ensure that the facilities are developed. If you would be willing to sell a few tickets, we would be very grateful for your help. Cards have 50 lines at the aforementioned €1 each. If you are in a position to help us out, please contact Declan Maher at 0871444977 or Pat Keane at 0876380649.
Track-Attackers on Tour
Over the weekend, many of our Track-Attackers were in action at various events. On Friday night, the short journey was made to the village of Loughmore to participate in their annual 7.4km road race. The event was excellently organised and enjoyed by all. The hard runs over the shorter distances on Monday nights showed up in a positive light as each of the Track-Attackers were in flying form and should be well pleased with their overall efforts. On the night, we had 9 participating namely Michael Gleeson, Michael Murray, Martin Fahy, Mary Ryan, Teresa Coffey, Noreen Treacy, John F Kennedy, Noel Kennedy and Pat Keane.
On Saturday, one of our youngest Track-Attackers headed to the Treaty County to participate in the juvenile 2km event of the Great Limerick Run. Kate Minogue has been in brilliant form week on week at our Monday night Track-Attack sessions and all her hard work was richly rewarded when she crossed the finish line on Saturday following a top class performance. Well done Kate and keep up the good work.
A trio of Track-Attackers were also in action in Limerick on Sunday and all 3 performed brilliantly at the superb festival of running. Kathleen O'Meara brilliantly and comfortably surpassed her own pre-race ambition in the Half Marathon. With the 21km under her belt, she crossed the finish line in 1:51:32 and she can be well pleased with her performance and time.
Sisters Jacqueline Minogue and Caroline Murray lined out in the popular 6 mile event. They were in brilliant form on the previous Monday night in Borrisoleigh with both being one of only a hand-fist of athletes who picked up bonus points for their efforts over the 3km distance as part of the Track-Attack Marathon Series. They carried their form through to Sunday and when crossing the finish line, the clock showed 1:01:55.
Over the coming weeks, we intend to pick a 5km road race where we could travel to as a group and further fly the Track-Attack flag and promote what we are doing. The 5km distance would suit all our Monday night participants and it would be great to see as many as possible to travel together to such an event.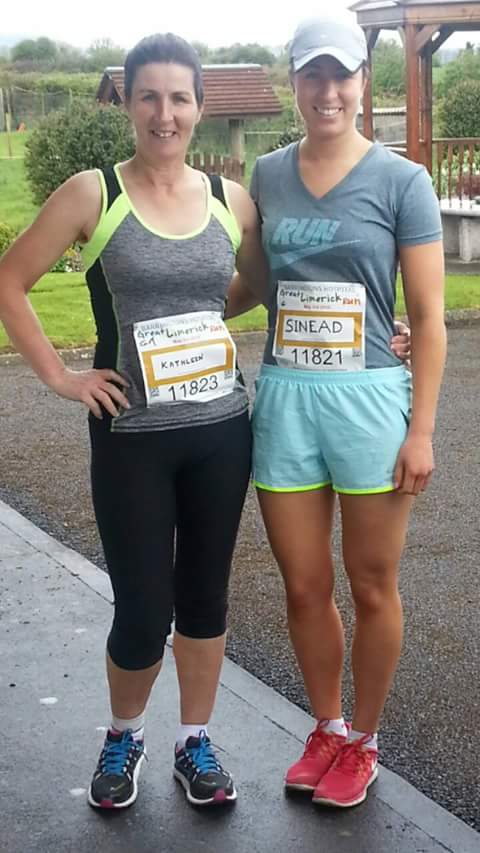 Kathleen O'Meara with her daughter Sinead

Martin Hits Back
After losing his table topping position on the Monday night previous, Martin Fahy pulled out all the stops in round 6 of the Track-Attack Marathon Series where he was the star of the show with a top class performance that have seen him regain the lead at the top of the Falcons grouping. A finishing time of 13:34 over the 3km distance further shows the progress he has made in recent weeks and as a result, he now holds a 7 point lead over the previous leader Mary Ryan.
John F Kennedy continues to knock chunks off his weekly times and after covering the 3km in 11:52, he has strengthened his grip of the table topping position of the Sharks group. Caroline Murray and Juanita Ryan were the stars of the show in the Cheetahs group with both picking up the bonus points on offer for breaking their personal best times to date. As a result, Caroline was the biggest mover of the week and now sits impressively at the head of the table after dislodging Grainne Moore from the position she held in recent weeks.
Tom Stapleton and Jim Ryan were the stand out performers in the Dolphins group with both notching up the bonus points on offer. Tom has now opened up an 8 point lead over Siobhan Carr while Jim's excellent performance have seen him move into the podium positions in third spot overall. Kate Minogue battled hard over the 3km distance which resulted in achieving the bonus point time and she has now put daylight between herself and her nearest Pumas challengers. Conor Gleeson is proving unbeatable in the Tigers group and is now in full control of the group.
Three athletes hit bonus territory in the Lions group namely Betty Slattery, Marie Carr and Jacqueline Minogue. As a consequence of the bonus points gained, Marie is again in joint pole position with Betty while Jacqueline is now in joint third spot with Aisling Gleeson. No bonus points were secured in the Bears group as Rena Ryan continues to lead the way. Her lead however was slightly cut in round 6 with Suzanne Whyte closing in on the table topping position. The improvement rate of Mary Stapleton continues week on week and after gaining the 5 bonus points, she now has a nine point lead at the head of the Jaguars group.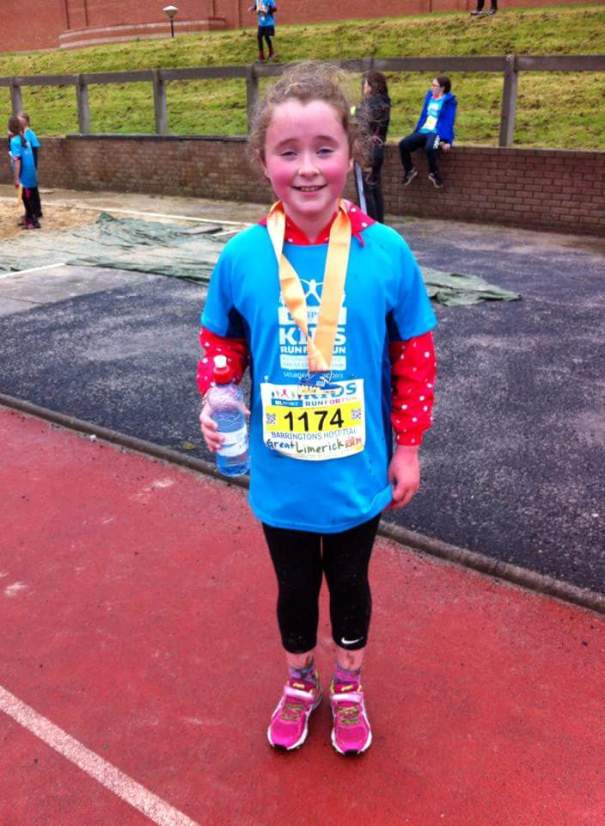 Track-Attacker Kate Minogue
---
St Joseph's College

Scifest Success for St Joseph's College, Borrisoleigh

On Thursday, 30th April St Joseph's College took part in the regional finals of Scifest 2015 in LIT Thurles. Scifest is a National Science fair competition that takes place annually for secondary school students. Schools from Tipperary, Kilkenny and Laois attended.
St Joseph's College submitted 16 entries entering in the categories Physical Sciences, Life Science and Technology. There was great excitement throughout the school in the build up to the event, with each participant putting in vigorous efforts with their project.
The day began with judging first, with each group excelling in their presentation. The exhibition was later opened to the public for viewing. The public showed great interest and enthusiasm for each of our projects and our participants were well capable of answering the public's toughest questions. St Joseph's College even attracted the interest of the television cameras!!
Once the students had finished showcasing their knowledge, we then headed to the conference centre for a lecture about future career choices in the STEM field. This was followed by questions from students in which they were competing for the prize of 'best question'. This was the first of many awards won by St Joseph's College, with John Ryan, 3rd Year, claiming the prize.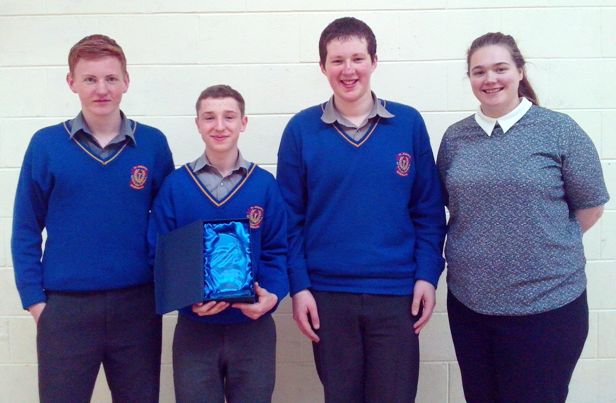 Excellence in Maths(L-R) Tim McCutcheon, Templederry, Anthony Ryan, Clonmore, John Ryan, Borrisoleigh and Ms Mary Gorey, Science Teacher


It was then onto the awards ceremony, where St Joseph's College were highly victorious in many different categories. Joint best projects in Junior Physical Sciences were both won by St Josephs students. The first group consisted of Cathal Ryan, Jason Heskin and Stephen Delahunty of 2nd Yr. The second group consisted of Luke Cooney, Daniel Fahey and Sean Dunne, all 1st Years. The next award went to Annabelle Wynn Jones, Eimear Murphy and Elaine Gleeson, TY students, for the Medical Devices Award.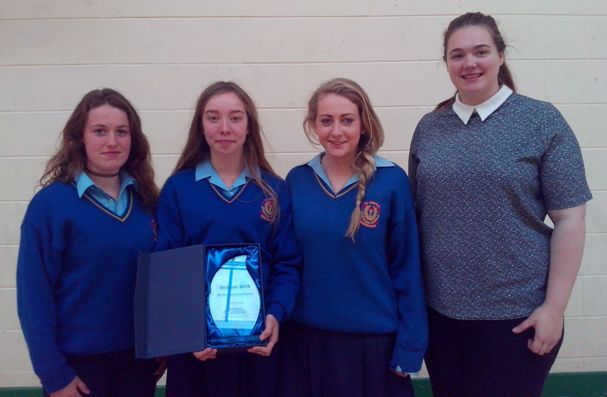 Medical Devices (L-R) Eimear Murphy, Templederry, Annabelle Wynn Jones, Barnane, Elaine Gleeson, Templederry and Ms Mary Gorey, Science Teacher
St Joseph's had another victory when Kate Delaney and Gretta Atik won the excellence in Chemistry award. The excellence in Maths in Science Award once again went to St Joseph's students, John Ryan, Tim McCutcheon and Anthony Ryan.Aaron Reid, Daire Kavanagh and Oisin Walsh took home the prize for Best Project in Intermediate and Senior Physical Sciences.
To conclude, the awards ceremony, St Joseph's College was presented with the Best School Award.
This was a triumphant event for St Joseph's College, Borrisoleigh and we look forward to many more in the future.
Excellence in Chemistry (L-R) Gretta Atik, Kate Delaney and Ms Mary Gorey, Science Teacher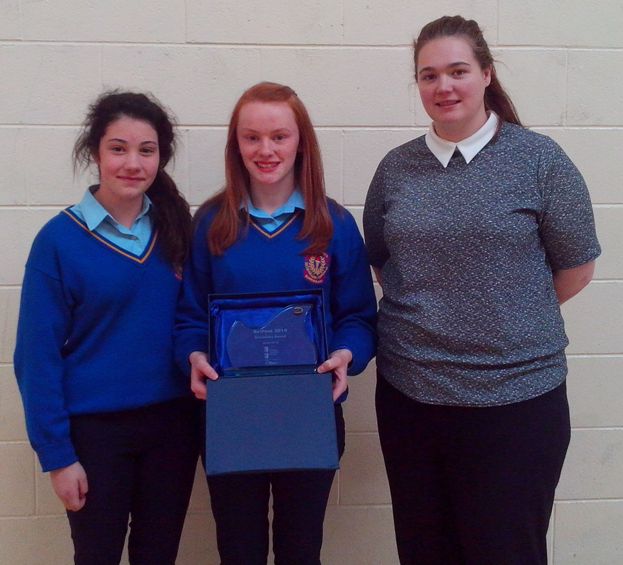 Excellence in Chemistry (L-R) Gretta Atik, Kate Delaney and Ms Mary Gorey, Science Teacher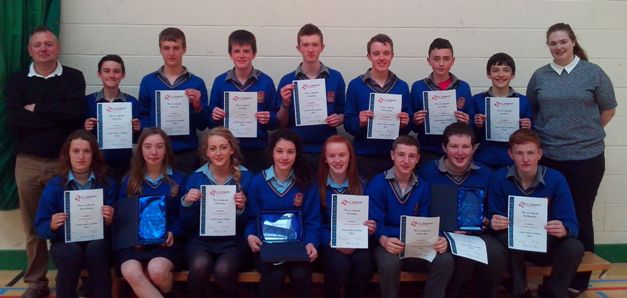 Sci Fest Winners (L-R)(Back Row) Kevin McCarthy, Acting Principal, Luke Cooney, Borrisoleigh, Aaron Reid, Borrisoleigh, Oisin Walsh, Cashel, Cathal Ryan,Toomevara, Daire Kavanagh, Killea, Jason Heskin, Drom, Sean Dunne, Burgess and Ms Mary Gorey, Science Teacher
(Front Row) – Eimear Murphy, Templederry, Annabelle Wynn Jones, Barnane, Elaine Gleeson, Templederry, Gretta Atik, Borrisoleigh, Kate Delaney, Borrisoleigh, Anthony Ryan, Clonmore, John Ryan , Borrisoleigh, Tim McCutcheon, Templederry
---
---
Borris-Ileigh GAA Notes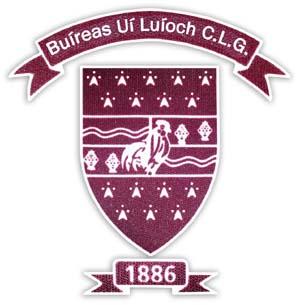 Senior Hurling: Our senior hurlers take to the field again this Saturday evening in the third round of the county championship against Burgess. The game will take in Nenagh at 7pm. A win will ensure that we remain in the A section of the senior championship for next year. We hope to see you there.
Junior Hurling: Our A team were held to a draw against Knockshegowna on Saturday evening in the junior league. We now have two draws and a loss from three games with one game remaining. The draw now ends our interest in the competition. Our one remaining game is against Nenagh.
Track Attack: Best wishes to the Track Attack team as they embark on their "147" fundraiser. The funds raised will go to the upkeep and further development of the track which include widening, extra lights and an extension of the track to 1 mile. We ask that all people support this fundraiser as the track is a huge benefit to the community and we would to stay providing such a great service to the parish, but it is only with your help that we can do it. There are now cards available and we ask people to support generously. We are asking people to guess the time it takes a team of 18 to run 147km.
Golf Classic: The time of year has rolled around again and we are now preparing for our now very successful annual golf classic. Over the last two years we have had around 100 teams take to the fairways each year for two days of very enjoyable golf. This year the event will take place on June 12th and 13th. A team of 4 will cost €120 and tee boxes will cost €30. Tee box times can now be booked by contacting Martin Fahy on 087 2608780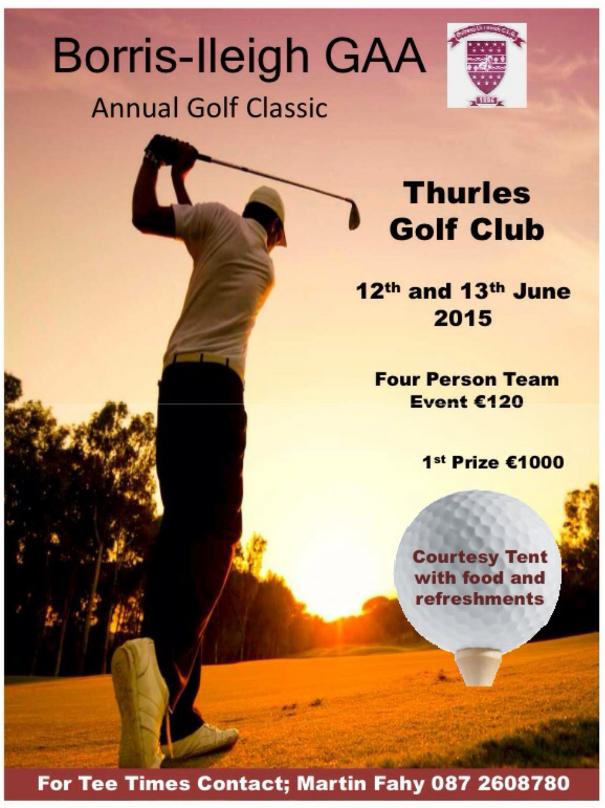 ---
Scór News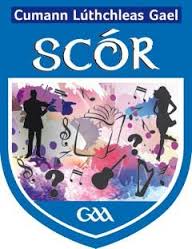 The A.G.M of Borrisoleigh Scor was held in The Marion Hall on Wednesday 29th April 2015. The following officers were elected: Phil Maher (Chairperson), Paula Stapleton (Vice-Chairperson), Teresa Doolan and Eileen Slattery (Secretaries), Geraldine Delaney (Treasurer), Clare Ryan (PRO), Phil Maher, Paula Stapleton and Lucia Ryan (North Board Reps).
The Club would like to congratulate Noel Joyce, JK Brackens Club and Newport Ballad Group on their recent All Ireland wins in Scor Sinsear.
---
Music Lessons

Music lessons for Summer 2015 in Borrisoleigh
All ages from 3 years.
Tin whistle, flute, low whistle, fiddle, banjo.
Give your child the gift of music this summer.
Call/ Text 0863585281
---
St. Cualáns Social Club

We are holding our monthly tea/coffee morning this Thursday May 7th in the community centre after 10am mass. Everybody is welcome to come in for a cuppa and a chat.
---
Pic of the Past……down memory lane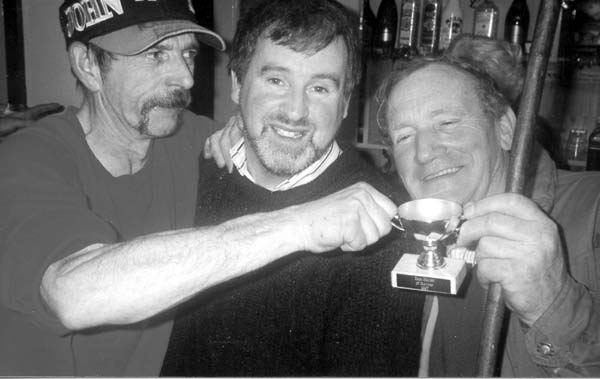 Hare Beater of The Year Award 1997
The 'Hare Beater Award' being presented to Michael Patterson. Also in the photograph are Philly Bourke and Donal Bourke.


---
Your Website Needs You!
Committee: Enda Ryan, Noreen Fahy, Margaret Cowan, Marie McGrath, Aileen Óg Groome and Derry O'Donnell
Many thanks to all those who contributed photographs and news items. Remember, we need you to continue to send us material so that we can keep our website current and interesting.
Send your email to: info@borrisoleigh.ie
Also, if you like what you see and want to leave a comment, remember to use the Guestbook!
While we make every effort possible to ensure that the information contained in this Website is accurate and complete, we cannot accept any legal liability as a result of the inaccuracy or incompleteness of the information presented to users of this site