Borris-Ileigh Camogie Club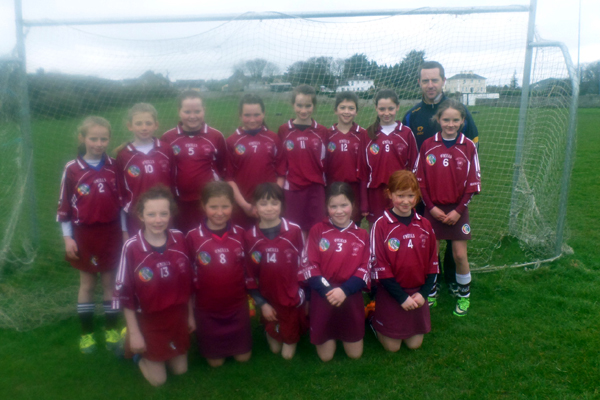 U12's hosted there first Go Game blitz on last Sat April 4th,
Teams in this group, Borris-Ileigh, Templemore, Thurles.
Borris beat Templemore 2-00 to 0-01.
Scores from: Emma Galvin 1-00 & Danielle Ryan 1-00.
——————————-
SENIOR: Borris played Drom-Inch last Sunday, but unfortunately they lost out on the day.
Full time score, Drom 4-11, Borris-Ileigh 0-09.
Scores from N Walsh 0-08 & Aedín Hogan 0-01 (from play).
Next match in the League v Annacarthy in Borrisoleigh on Sunday April 12th at 11.30am.
——————————–

U16's play Moycarkey (away) on Mon April 13th, Best of luck girls.
———————————

U14's played Templemore on Wednesday April 1st but unfortunately they lost out by five points on this occasion.
Scoreline of : T'more 3-03, Borris-Ileigh 2-01.
Scores from Aoife Ryan 1-00, Gretta Atik 1-00, Laura Maher 0-01.
Next match on Weds April 8th v Gortnahoe (home).
Best of luck girls.
———————————
CLOTHES COLLECTION:
Its Clothes Collection season again, so when your spring cleaning, please donate to raise some much needed funds.
Bags, shoes, and belts all can be donated as well clothes/coats/textiles/cuddly toys etc.
Collection will take place on the morning of Saturday April 18th in the Town Park. Leaflets will be left through doors throughout the parish in the next few days.
Donations can be collected by calling telephone number given on the leaflet.
REGISTRATION:

If you intend to train or play with Borris-Ileigh Camogie Club this season, you must be registered. It is essential to contact Paula Ryan (087 9035949) Club Registrar or your team manager to arrange payment of membership and collection of our Code of Ethics, Conduct and Best Practice. It is vital that everyone involved in the club is familiar with this document.
The County Board requires full details of club registration immediately.
Adults €40, Juveniles €20 (€13 registration & €7 insurance), & Social Members €20.

---

Borrisoleigh Track-Attack Notes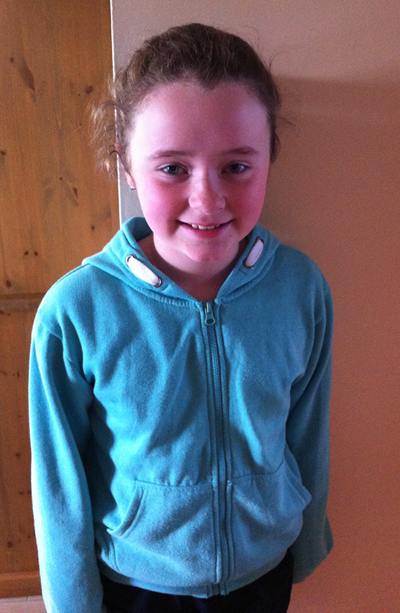 Star Performance by Kate Minogue
Phase one of the Track-Attack Marathon Series is now complete after 51 athletes braved the driving rain and gale force winds of round 4 of proceedings and now have 14 of the 42 kilometres firmly tucked under their belts. On a night that wasn't conducive to fast times, 14 of the 51 participants somehow managed to record times that were better than those of their previous week. In sport, kids need role models but on the night in question it was the young track-attackers who were the ones who we all looked up to following a string of outstanding performances that would prove impossible not to be impressed by. Kate Minogue was the star of the show in both the Pumas grouping and the Series overall. Her determination to succeed became more evident with every passing lap which in turn resulted in the young Templederry talent to record the best improvement overall on the night and she claimed the leading position in the Puma group with a total of 11pts. Good friends Eimear O'Donnell and Aimee Kenneally are hot on Kate's heels following another impressive outing from both young track-attackers. Eimear sits in second spot overall with 12pts while Aimee is perched on the third podium spot with 15pts. The display of raw ability, determination and true grit by Ben O'Donnell also deserve a special mention and with a total of 24 points, he is sitting in the long grass ready to lay a challenge up the leader board of the Puma group.
Conor Gleeson is the runaway leader of the Tigers group after producing yet another outstanding performance. His performance defied logic as he made little of the tremendously difficult weather conditions. Keep an eye out for the name of this young talent as you could well be hearing a lot about him heading into the future.
Kathleen O'Meara was the stand out performer in the Falcons group with an impressive outing over the 5km distance. The Falcons league ladder is still being headed up by the fastly improving Martin Fahy with a total of 14pts. Wexford native Mick O'Connor has closed the gap to a single point however while the aforementioned Kathleen along with Mary Ryan now jointly hold the third position with 16pts.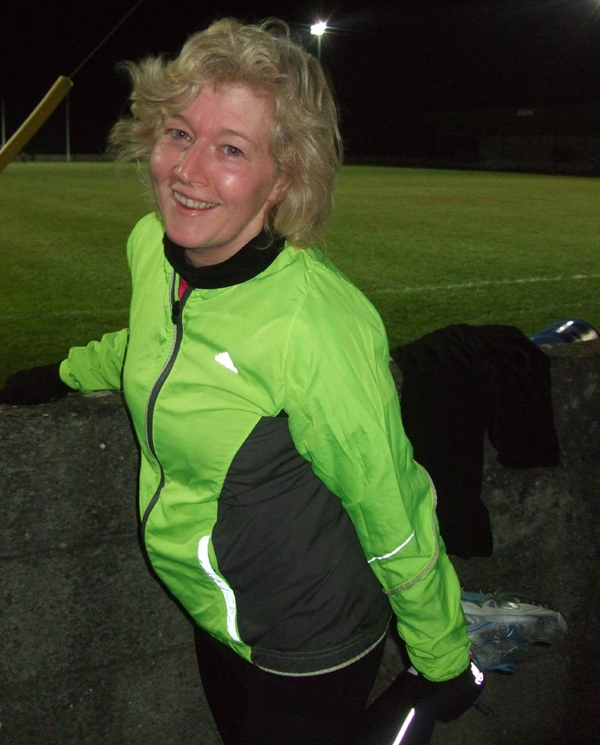 Anne McCormack

Suzanne Whyte led the troops in the Bears group in week 4 resulting in her occupying the second spot overall on 15pts. Still leading the way is Rena Ryan on an impressive 8pts while Phil Mason is sitting on 26pts in third spot, a single point ahead of Anne McCormack.

Delia Ryan continues to impress week on week and was again the leading contender in week 4. Her performance have moved her into the leading placing, a place she jointly holds down with Mary Stapleton. Tom Shanahan was back to his best after his impressive outing at the recent Craughwell 10 miler and was the top performer in the Sharks group over the 5km distance. We've a new leader in the group overall after a table topping move from John F Kennedy now sees him leading the way on 12pts. Noel Kennedy is his closest challenger on 16pts while next in line is Paddy Ryan who is now in third spot overall on 18pts.
Tom Stapleton is now the one to catch in the Dolphins group after a performance that saw him record the best improvement of the night as well as move to the outright leading position on 15pts.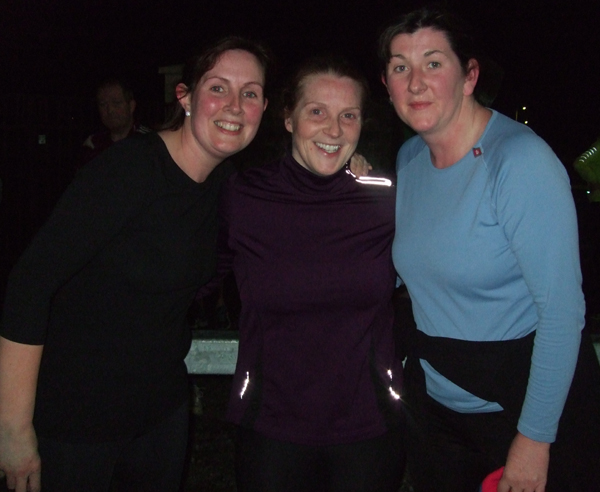 Marie Carr, Siobhan Carr, Aine O'Leary
Siobhan Carr is stringing together some very impressive performances and now sits in second spot on 16pts while a further point behind is Alan Kelly. We have joint leaders in the Lions group with both Betty Slattery and Marie Carr now heading up the group on 12pts each. Aisling Gleeson is next in command on 13pts.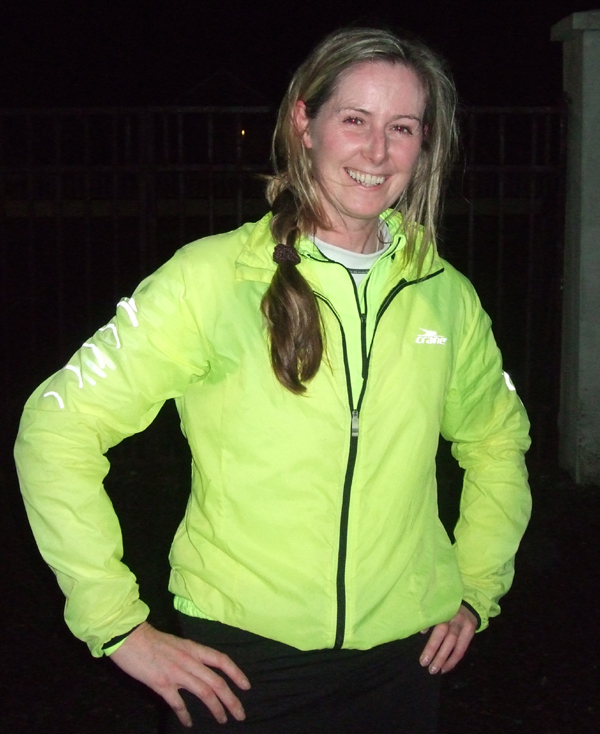 Grainne Moore

Grainne Moore leads the Cheetahs group heading into phase 2 with a total of 13pts. Deirdre Collins looks set for a takeover for the group leadership with 14pts while Caroline Murray is also poised for a leader move with 16pts accumulated.

---

Borris-Ileigh G.A.A.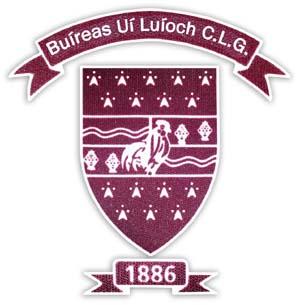 Senior Hurling: Well done to our senior lads who drew against Drom-Inch in the first round of the county championship last Sunday in Dolla. This was a great result considering and we showed huge heart and determination to get a result from a game we were always behind in. Our next game will take place on the weekend of 26th of April against Kilruane.
Junior Hurling: Our Junior Bs recorded our first win of the season by defeating Ballina in the opening round of the league. The final score line was 4-08 to 1-14. There is no fixture made for round two yet.
Our Junior As kick off their league campaign against Roscrea on Saturday evening in Borris at 6:30. Best of luck to all involved. Best wishes to Danny Ryan also, who picked up a nasty hand injury on Monday evening against Ballina.

---
Saints All Stars 2015
Just a reminder that the camp will commence bank holiday Monday the 3rd of August from Monday to Friday. I will be around to the schools soon and from then on I will be taking bookings. I have been advertising a different camp in Thurles for the 13th of July so if anyone was wondering if that was a replacement for my Borrisoleigh one then it isn't. Looking forward to more activities and fun this year.

---
Cormack Brothers Film Screening
Film screening of the Cormack Brothers (111mins) in the Community Centre, Borrisoleigh, Saturday 18th April from 8pm. Tickets 8 euro, children half price. Filmed in Tipperary, telling the true story of the Cormack boys hanged in Nenagh in 1858 and reburied in Loughmore in 1910. With intro by writer/director.

---
Scoil Naomh Cualan


Easter cooking in Scoil Naomh Cualan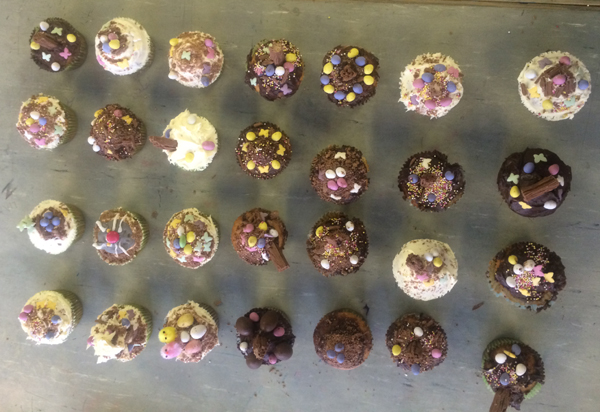 The children were very proud of their Easter cupcakes

---

Borrisoleigh Historical Society
Professor Liam Kennedy, Queen's University Belfast and Borrisoleigh native will deliver a very interesting lecture in Borrisoleigh Community Centre, on Friday 10th April at 8 o'clock. Title of lecture: Borrisoleigh ………the Rural Community in a larger Irish setting. The important matter of Farm Inheritance, dowries, marriage patterns will be discussed. All are welcome.

---

Holocaust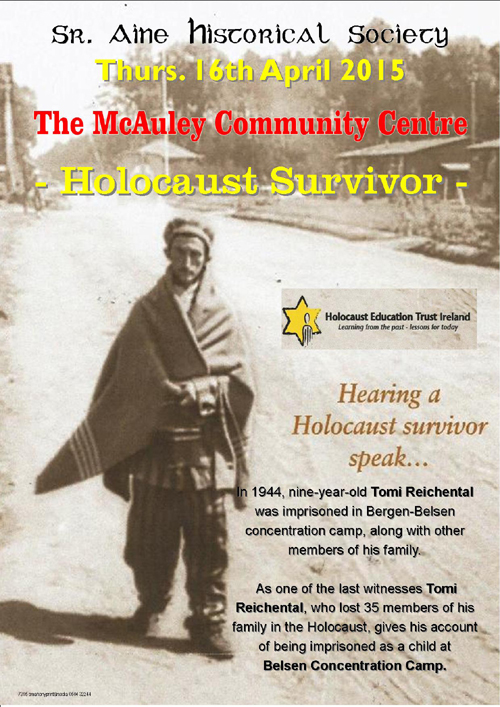 ---
Pic of the Past……down memory lane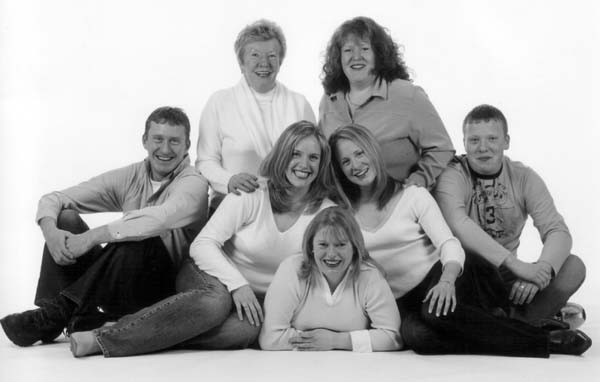 Carroll Family, Mount George
Back: Mary and Alice
Middle: Michael, Denise, Helen and Sean
In front: Katherine
---
Your Website Needs You!

Committee: Enda Ryan, Noreen Fahy, Margaret Cowan, Marie McGrath, Aileen Óg Groome and Derry O'Donnell
Many thanks to all those who contributed photographs and news items. Remember, we need you to continue to send us material so that we can keep our website current and interesting.

Send your email to: info@borrisoleigh.ie
Also, if you like what you see and want to leave a comment, remember to use the Guestbook!
While we make every effort possible to ensure that the information contained in this Website is accurate and complete, we cannot accept any legal liability as a result of the inaccuracy or incompleteness of the information presented to users of this site