Borrisoleigh Track-Attack Notes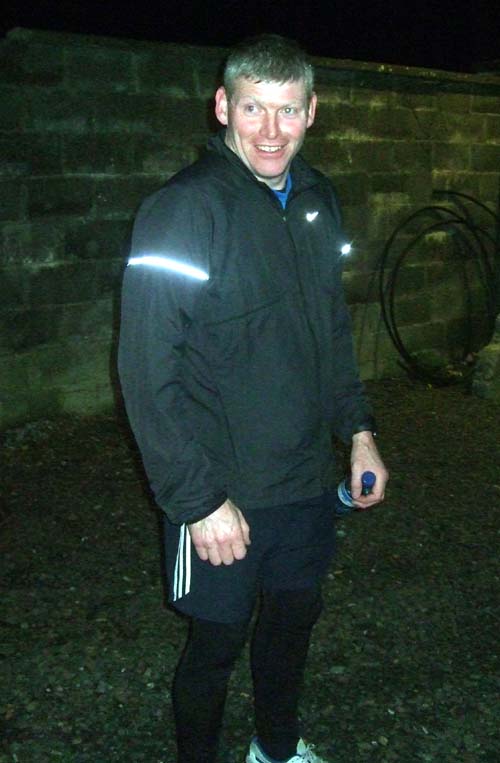 TJ Carey leads the way


TJ Leads the Way
Upperchurch's TJ Carey led the 83 strong field of participants home in the opening round of the new Track-Attack Marathon Series when he stopped the clock at 7:25 for the 2km distance last week. His sparring partner Ailbe Cummins was a close second a mere 4 seconds in arrears while Timmy O'Connell returned after an injury lay-off to finish in an impressive 7:50 and the third placed finish overall.
Teresa Coffey was the outstanding female athlete of the night clocking a hugely impressive 9:15 for the 2000 metres. It was a brilliant display from whistle to tape and if she can continue to show her current levels of improvement, she could well be a dark horse for the first local prize for the Borrisoleigh 5km race which takes place on Wednesday 8th July.
Kathleen O'Meara finished in 9:45 to be the second female on the night while a further 6 seconds behind was Trish Ryan to make up the top 3. In the juvenile ranks, Adam Galvin continues to impress each week and he kickstarted the new series with an impressive finishing time of 9:36. Oisin Stapleton crossed the line in 10:09 while Ben O'Donnell completed the course in 10:32.
There was also many other impressive performances right throughout the field. Martin Fahy (9:31), Mick O'Conner (9:38) and Alan Kelly (9:42) are to name just a few of the men that impressed in round one while for the women, Teresa Murray (10:10), Mary Ryan (10:26) and Mairead Lane (10:36) will all be happy with their completion times.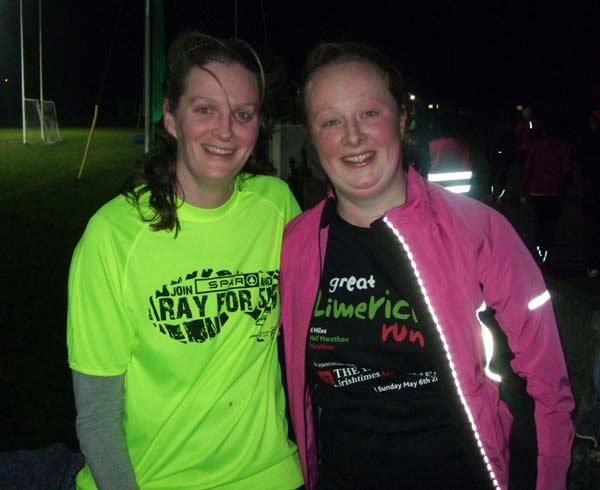 Track-Attack First Cousins, Bernie Carey and Margaret Meehan


The new series will see a change to the overall structure as we will break the field into a number of groups. These groups will be made known after week 2 is completed and will consist of 10 to 15 participants in each one. The various league tables will be based again on who much a participant will improve from week to week and not by who has the fastest times.
It just adds a bit of fun to the overall aim of getting people active and attempting to complete a marathon over a period of time. At the end, we will have a multitude of league winners instead of the one previously but this time there will be no stage winners as before.
We always encourage and welcome newcomers and please feel free to join us at any time. If a participant misses a week for whatever reason, you can complete the distance yourself and send on your time by text once it's completed. To qualify for league points, your time will have to be in by the following night.
Registration begins each night at 7:30pm, a warm up under the watchful eye of Paddy Ryan begins at 7:40pm while the start whistle will sound at 8pm. The registration fee is €2 per night with under 16's free of charge.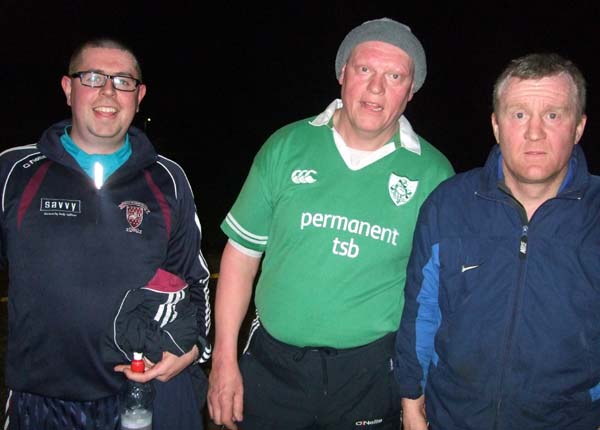 PJ Kiely, Tom Kenneally and John Joe Maher
To keep up to date with all our activities and news, just check out our Facebook page at Borrisoleigh Track Attack.



---
St. Joseph's College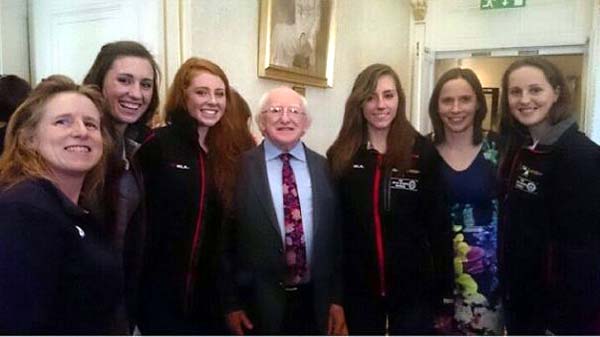 Aisling Keller was nominated for Youth Sailor of the Year at the Irish Sailing Association Awards

Aisling Keller, a 5th Year student of St. Joseph's College, Borrisoleigh who was invited to meet President Higgins at Áras an Uachtaráin as part of International Women's Day. Aisling is pictured with members of the Irish Sailing Youth Academy.
---
Bush & Briars Ramblers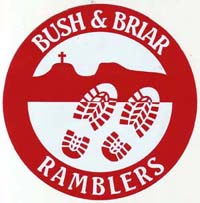 KNOCKALOUGH CALLING
Next weekend we return to the Upperchurch.for a walk around the Knockalough Loop Walk on Sunday 22 March 2015 Meeting at the rear car park of Shanahan's Centra at 08.50hrs for departure at 09.00hrs. Meet at the school in Upperchurch approx 09.15hrs Don't forget a small pack lunch and rain gear. Looking forward to seeing you there. And remember, "It's all about the PACE".

KEEPER HILL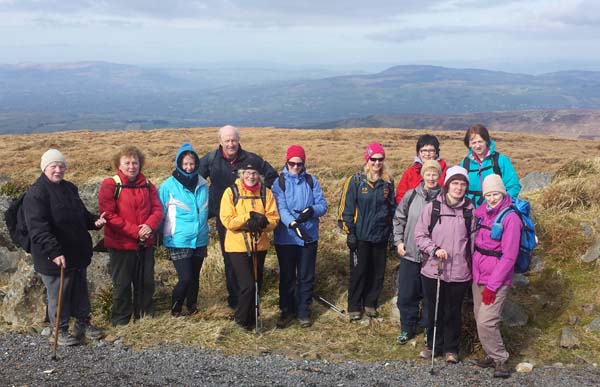 Last Saturday the Ramblers headed to Keeper Hill. Great weather, great company, great views, great ramble. Well done to all who made this walk such an enjoyable outing.

---
Hello to Ireland from Germany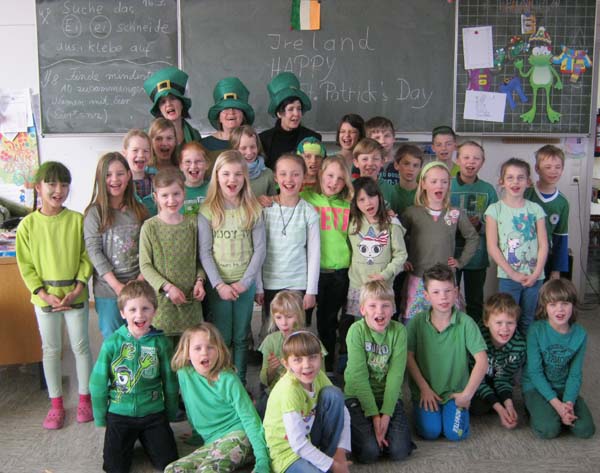 "Staff and pupils of Grundschule Stahringen wishing you a fantastic St. Patrick´s Day. Enjoy it! Warmest regards from the South of Germany (Lake of Constance)"
Petra Wieshoff
Principal
---
Scoil Naomh Cualan
Fun learning about the human heart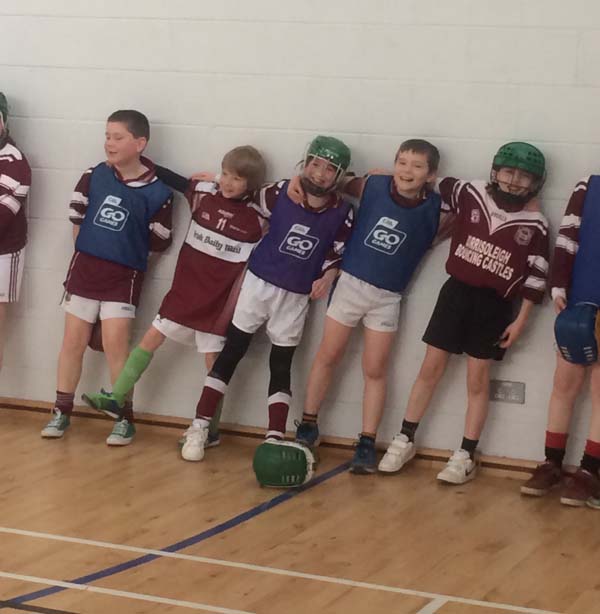 Super day out in Nenagh at the indoor hurling blitz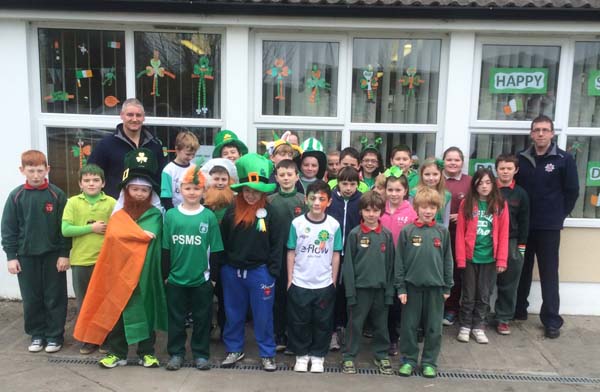 Firemen visit our school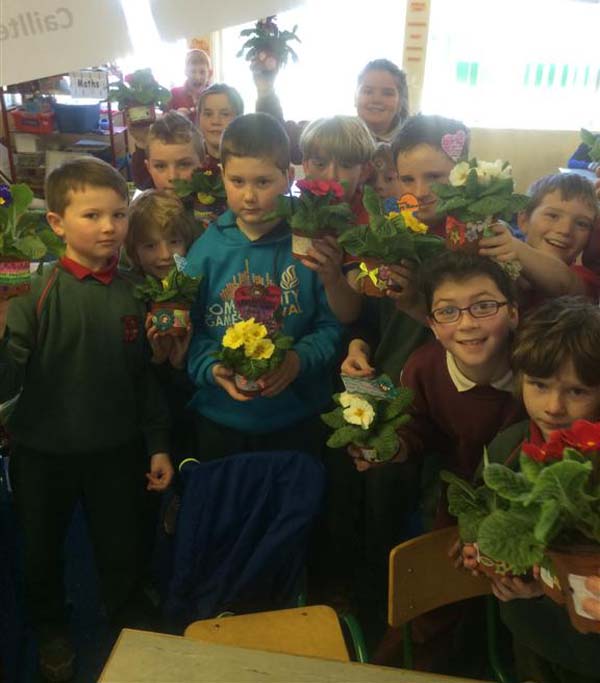 Mother's Day Art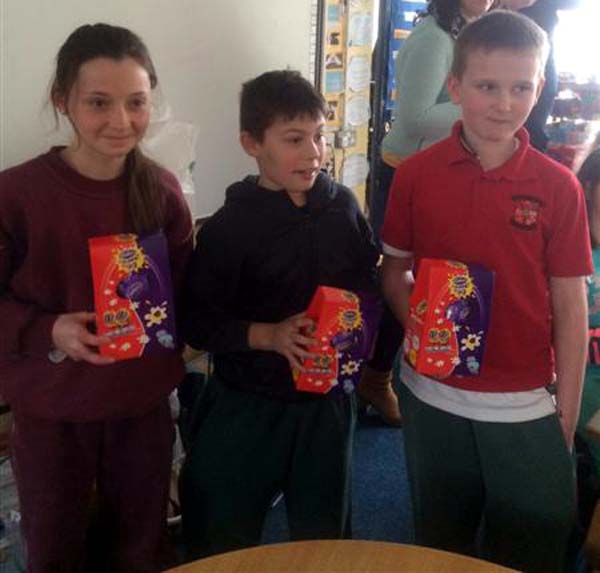 Winners of our Tráth na gCeist for Seachtain na Gaeilge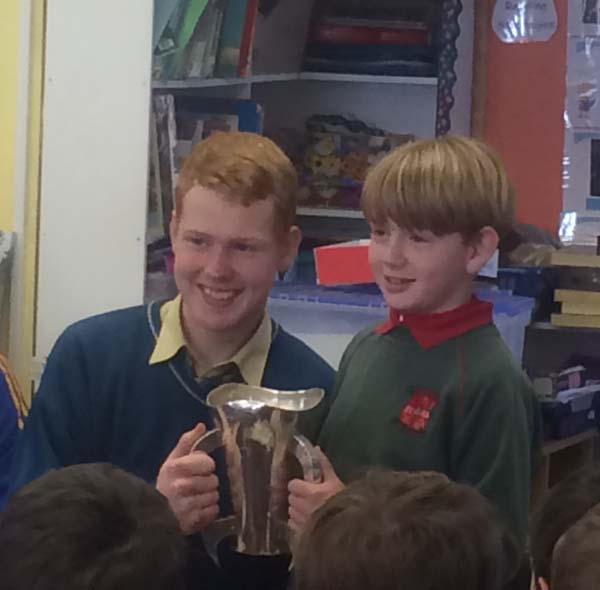 Dr. Harty Cup came to our school
---
St. Cualan's Social Club



St. Cualans annual trip to Mount St. Joseph Monastery, Roscrea is on March 28th. The bus leaves McDonagh square at 2pm. The day will commence with confessions, then a stroll around the grounds and gift shop followed by tea in the restaurant there. The cost of the trip is €10 per person. Please give names ASAP to any of the following committee members.
Chairperson: Lucia Ryan 0863961211
Secretary: Fiona Max 0872169150
Treasurer: Eileen Slattery 0879849848
Committee: Frances Kennedy, Angela McSherry, Teresa Stapleton, Margaret Kelly, Barbara Atik, Phil Mason, Margaret Madden


---
Scór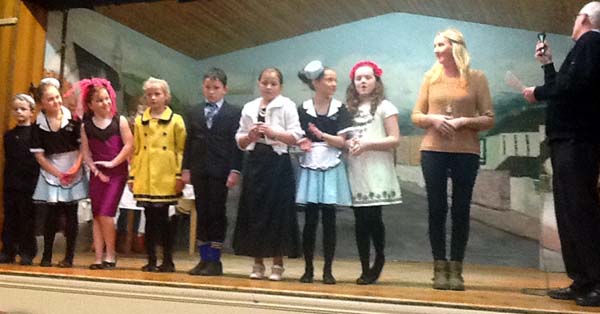 On Monday the 16th March Scór held a celebration night to honour our Scór Na bPáisti county final winners. It was great to see such a large crowd in attendance. The evening started with the children performing their novelty act Elizabeth's Wedding Party. It was followed by a presentation of lovely hoodies to the children and a crystal vase to their mentor Paula Stapleton. Then refreshments were served to all. The night ended with the crowd all set dancing. It was lovely to see both young and old dancing in the hall on the eve of Saint Patrick's Day.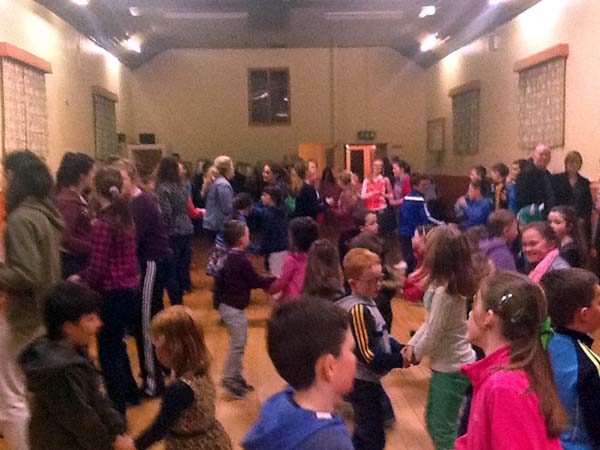 On next Saturday night the Munster Semi-Final of Senior Scór takes place in Cappamore. Tipperary are being represented by Borrisoleigh in the set dancing and léiriú. It is a honour for our club that we are representing Tipperary in two categories. Go n-éirí an bothar libh.
To view more photographs please click
here
---
Borris-Ileigh GAA Club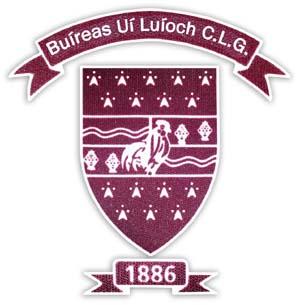 REMINDERS: The date for Saints All Stars Summer Camp 2015 is the 3rd of August (bank holiday Monday) to the 7th of August. I will be coming to the schools soon with the flyers and how to book.
Senior Hurling:
Hard luck to our senior hurlers who were defeated by Clonoulty in round 2 of the league on Sunday morning. Despite the loss the effort shown by the players must be commended. We will now play the losers of Roscrea V Upperchurch on Sunday in Borris.
Membership: Membership and insurance is now being taken by both the senior and juvenile club. The cost for adult players is €50 and ordinary members are just €30. Martin Fahy and John Bradshaw will be taking the membership. The juvenile club will also be holding two registration evenings on March 11th and March 25th from 7pm to 8:30pm in the pavillion. All players are to be registered by March 31st to ensure they will be insured to play for the club. We would encourage that all players are registered on these nights. The cost is €15 per child and €30 per family. Anyone wishing to avail of Tipperary tickets later in the year must be a member by March 31st.
Club Lotto: For anyone interested in playing our club lottery please click on the link below. The lotto is a vital source of income for the club for both the running and development of the club. We appeal to those Borris natives now outside the parish to get involved and sign up. We have given out huge amount of prize money and are to be considered quite a "generous" lottery. In the last year and a half we have given out over €50,000 in prize money! For those interested please click here http://www.borris-ileighgaa.com/index.php/lotto
---
Nutritional Talk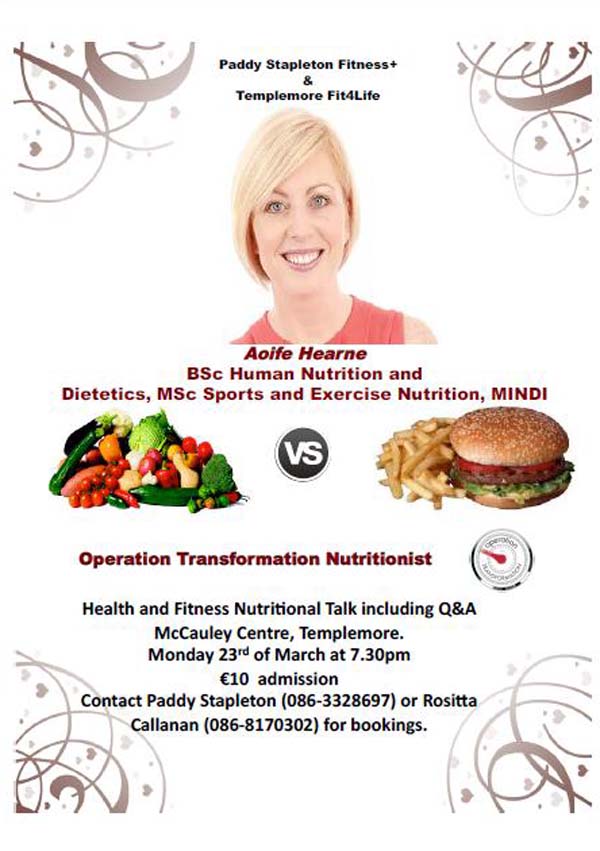 Saints All Stars Summer Camp 2015
REMINDERS:
The date for Saints All Stars Summer Camp 2015 is the 3rd of August (bank holiday Monday) to the 7th of August. I will be coming to the schools soon with the flyers and how to book.
Paddy
---
Borrisoleigh Community Development Association

The Borrisoleigh Community Development Association will hold their AGM in the Parish Centre at 8pm on Wednesday the 25th March. All current and new members welcome.

---
Easter Sunday Cake Sale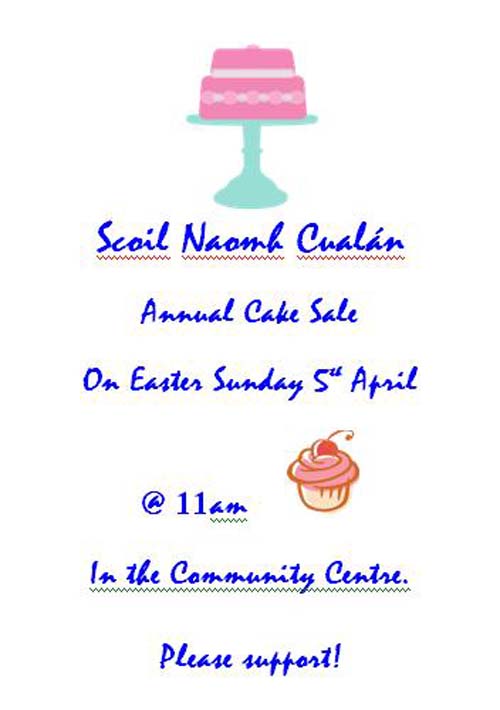 The Parents Association of Scoil Naomh Cualán will hold a Cake Sale on Easter Sunday April 5th at 11am in the Community Centre
---
Fifi Tots Preschool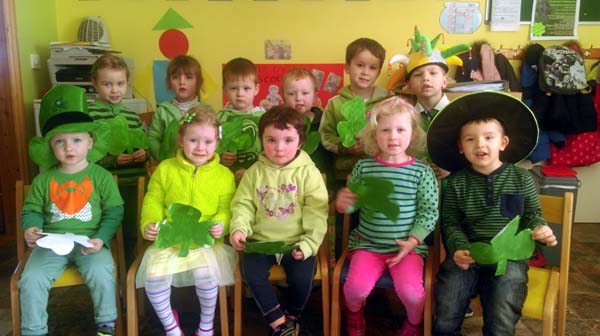 Happy St. Patrick's Day from Fifi's Tots Preschool



---
Inch Drama Group
Inch Drama Group presents:
'Too Close To Home'
a 3 act comedy by Jimmy Keary
in Inch Hall
on Sunday 22nd March @ 8.15pm sharp each evening.
'too funny for words!'



---
Pic of the Past………..down memory lane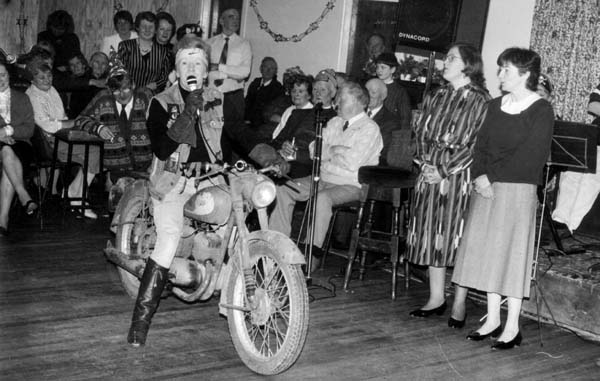 Senior Citizen's Party
Mary Carroll (on motorbike) entertains the crowd in the Clodagh Bar



---
Your Website Needs You!
Committee: Enda Ryan, Noreen Fahy, Margaret Cowan, Marie McGrath, Aileen Óg Groome and Derry O'Donnell

Many thanks to all those who contributed photographs and news items. Remember, we need you to continue to send us material so that we can keep our website current and interesting.
Send your email to: info@borrisoleigh.ie
Also, if you like what you see and want to leave a comment, remember to use the Guestbook!
While we make every effort possible to ensure that the information contained in this Website is accurate and complete, we cannot accept any legal liability as a result of the inaccuracy or incompleteness of the information presented to users of this site