Presentation to Historical Society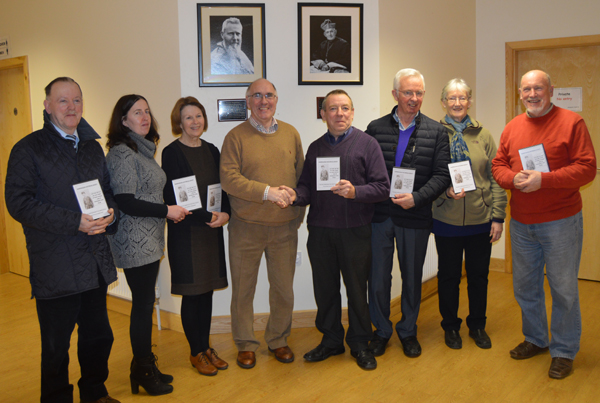 John Connors presents DVD's of his recent lecture on the Life and
Times of Sean Hogan to Borrisoleigh Historical Society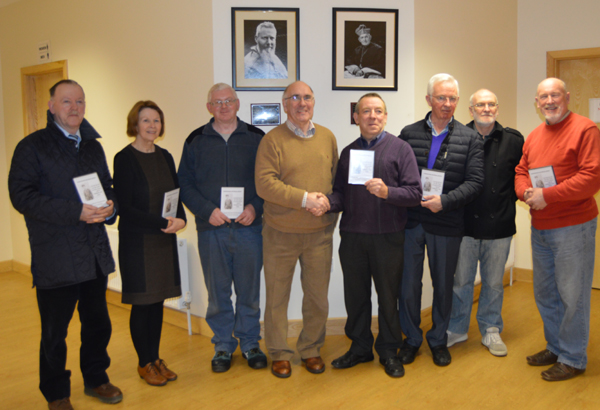 The DVD can be purchased in Walshes, Hurleys or Tipp Co-Op Creamery or direct from
John Connors for €10. Proceeds of sale to Historical Society.
---
The harryjoes golf society on a recent trip to Spain,thirty two golfers over five days.
Also in photo is Gordon loughnane who has a pub "The Irishman" in Marbella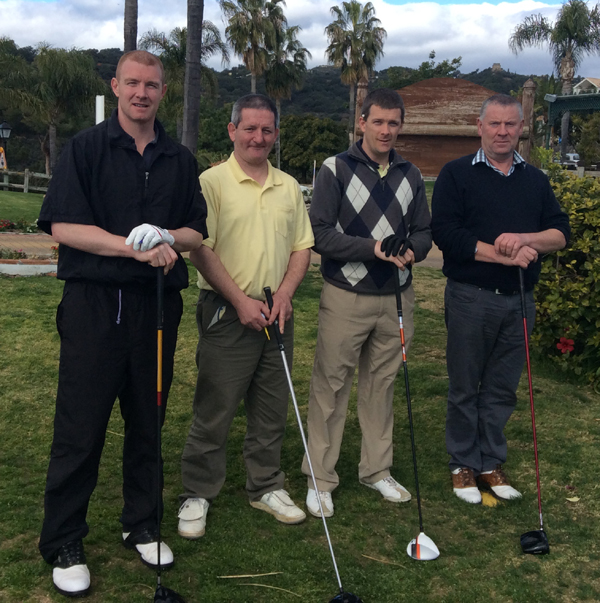 Eamon Corcoran, Michael Hogan, Declan Stapleton and Gerry Stapleton ready for off!!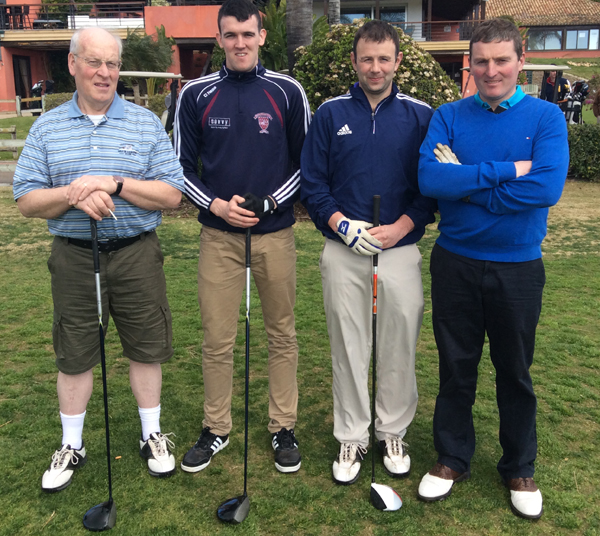 Pakie Stapleton, Thomas Fahy, Kevin Walsh and Denis Ryan ready to play!!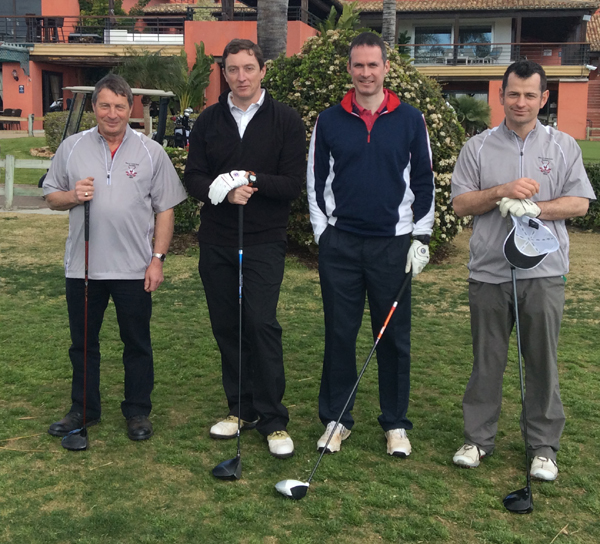 Johnny Maher, George Ryan, Paul Ryan & Brian Blanchfield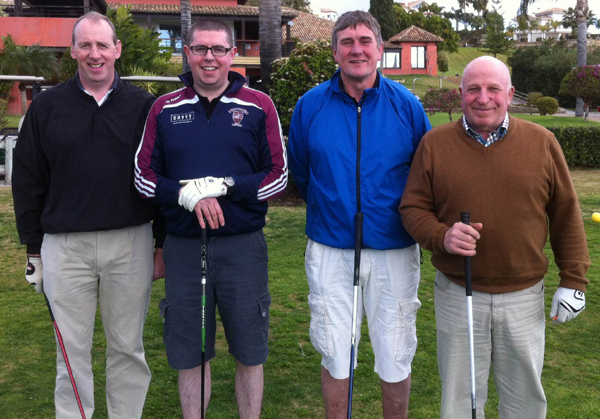 Tom McGrath, P.J. Kiely., Donal Hurley and Willie Duff
---
bh


Borris-Ileigh Camogie Club




Registration mornings will take place in the Pavilion on Saturday February 28th and March 7th from 10 to 12 am. Please contact Paula Ryan club registrar to arrange payment of membership and collection of our Code of Ethics, Conduct and Best Practice.
The County Board requires full details of club registration/insurance asap. €40 adults, €20 juveniles, €20 social members.
We are holding a Clothing Collection in the next couple of months, please ensure to keep any unwanted clothing, bags, belts or shoes to help us with our fundraising.
Help is still needed, and if you would like to be involved with the coaching of any of the teams, please contact a committee member.
---
Borrisoleigh Track-Attack Notes
Daniel Leads the Way
The pen-ultimate auditions for the role of Track-Attack Series Champions were held during the sixth round of proceedings and the leading role for the men's Steps of the Stairs title is now firmly in the hands of Templederry's Daniel Madden after he produced his best performance to date which resulted in him opening a 15 point gap on previous joint leader Tom Stapleton.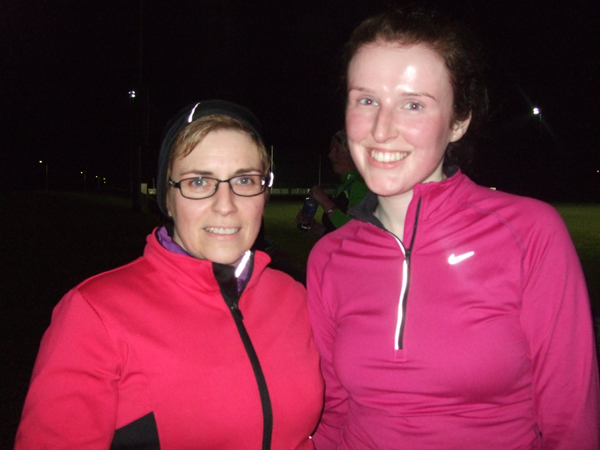 Betty Slattery and Teresa Coffey
Toby Kavanagh and Tom Kenneally are still lurching within a catchable distance of the leaders but it will take a huge effort for them to gain the necessary points to claim the title but they will certainly have their sights firmly focussed on at least a podium placing.
It looks like a near impossible task to extract the women's title away from the grasp of Delia Ryan after a brilliant showing of consistent performances over the six rounds to date. Teresa Murray remains as her closest challenger but unless there is a major move on the leader board on the final night, the battle looks set to be for the overall podium placings where it looks like Teresa will be joined by the Templederry duo of Madeline and Roisin Kennedy to see who will accompany Delia at the head of the league ladder.
The Half Marathon Challenge is near impossible to call with a single heat to go. Ben O'Donnell has been the long-time leader but he will still probably need his best performance to stop Jim Ryan from leap-frogging him on the final night to take the men's title. Dillon Ryan is still in with a title chance while both Tom Mason and John Vahey could well sneak in the back door and earn a place on the podium.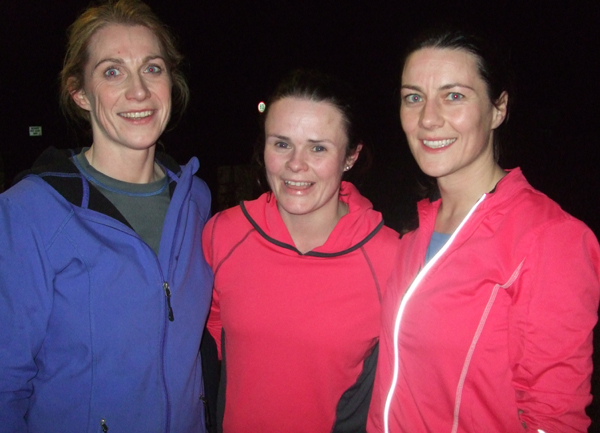 Christine Rabbitte, Siobhan Crowe, Michelle Ryan
The final round of the women's Half Marathon Challenge could well be the battle of the entire Series as any one of the top six could well land the title with one last major effort. Chloe Carroll is in pole position heading into the final night but Laura Kennedy could well be the good bet to take the title as she sits nicely in second spot waiting to make one final leap. One of the performers of the entire Series to date has been Aimee Kenneally and she too could easily end up with crown jewels. Sitting in the long grass however ready to pounce on any lapse from the leading trio are Juanita Ryan, Eimear O'Donnell and Caroline Kennedy. It's hard to call the title favourite, it's impossible to call the line-up for the podium three.
A superb run from Joan Cummins in the sixth round of the Steps of the Stairs Marathon saw her claim her first overall stage win after recording the best improvement rate on the night. In second place was Marie O'Connell while Rena Ryan completed the top three.
It was a real family affair in the sixth round of the Half Marathon Challenge with Rhona Carroll showing the greatest improvement to take the stage win. Chloe Carroll claimed second spot while Sam finished in fifth place. Sisters Margaret Meehan and Carol Treacy finished in third and fourth places respectfully.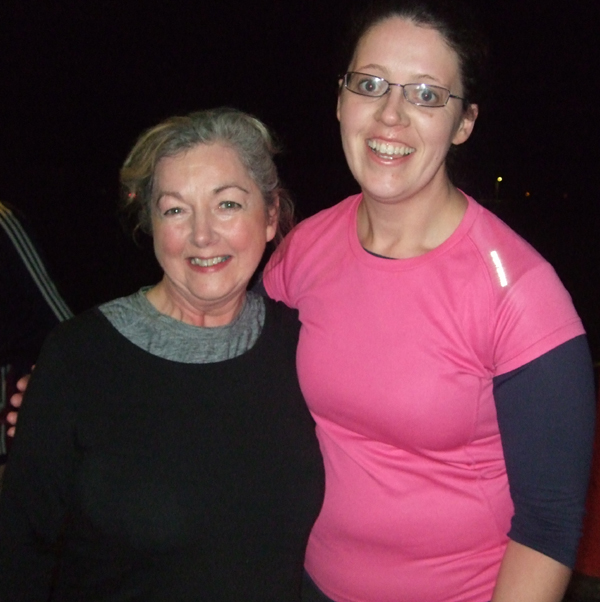 Helen Hurley with stage winner Joan Cummins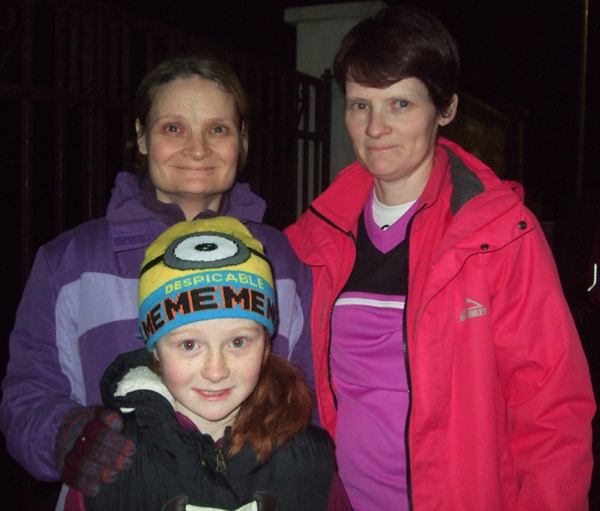 Rhona Carroll, Paula Ryan and Chloe Carroll
Support the Clonoulty 5km
We would encourage as many of our Track-Attack participants as possible to head for Clonoulty next Sunday afternoon to take part in and support the 5km Fun Run/Walk which is been organised to help defray the costs of medical care for Helen and Sean Gleeson.
Helen and Sean are the youngest children of Johnny Gleeson (Loughmore) and Catherine Shine Gleeson (Holycross) and they are both been treated currently for serious medical conditions.
The event kicks off at 12:30pm so if at all possible, build the event into your weekly training schedule and support a hugely worthy cause.
New Track-Attack Series
It is our aim to keep the activities of Track-Attack going right through to the second annual Borrisoleigh 5km road race and fun walk which this year will be held on Wednesday 8th July. With proceedings of the New Year's Series now coming to its conclusion, we have details of the new series which is about to begin.
We will again host the marathon distance but this time we will do so over a 12 week period while also giving everyone the opportunity to be at their very sharpest for that Wednesday night in July. The 12 rounds of the series will be broken into distances of 2, 3, 4 and 5km. The final 5km will be the actual Borrisoleigh 5km.
As well as the marathon series, we will also have 2 nights of "Beat the Clock" and "Predict Your Time". How do you beat the clock? It will be organised over a 2 mile distance. The clock will begin at 7:45pm with a reading of 45mins and then proceed to count down backwards. Participants will then go at whatever time they feel it will take them to complete the distance and whoever finishes closest to when the clock hits zero will be declared the winner.
The Predict Your Time nights will see participants starting together after they predict their finishing time over the stated distance on the night and the winner is determined by doing exactly what it says on the tin, simply predict their finishing time. No watches or phones will be allowed during these 2 events.
So over the coming weeks, there will be plenty of activities to get involved in and keeping you fit. They will be open to everyone and all newcomers are both welcome and encouraged. There is a registration fee each night of €2 with under 16's again free of charge.
We kickstart events on Monday night next (March 2nd) at 7:45pm with a 2 mile Beat the Clock event. A full calendar of events can be seen on our Facebook page at Borrisoleigh Track Attack.
---

St. Joseph's College Notes
SciFest 2015
Best of luck to our Transition Year and 2nd year students who are taking part in this years SciFest. SciFest will be held in Thurles LIT this year on April the 30th. This is another excellent opportunity for the students to show off their great ideas, like our winners in the BT Young Scientist this year.
Transition Year Programmes:
Our Transition Years are just after finishing a 6 week programme with Cross Fit Tipperary. This was a programme to increase their fitness level and to introduce them to a different aspect of physical activities. It focused on flexibility and doing exercises that related to every day challenges. It was a fantastic experience and they hope to do it again near to the end of the year. They would like to thank Ms. Gorey for organising the programme for them.
As a part of their Gasice Programme, the Transition Years are going to Kilfinane on the 18th and 19th of March. This trip will face them with challenges such as hill walking and wall climbing. It will be a fantastic opportunity for team bonding and will help them achieve their bronze award in Gaisce.
Primary School Blitz:
Dates are being discussed about the annual Primary School Blitz that takes part in the school every year. The blitz will be held with the help of John O'Keefe sometime in May. We hope to see great participation and may the best team win!
It's all Go for the Girls:


5 a side soccer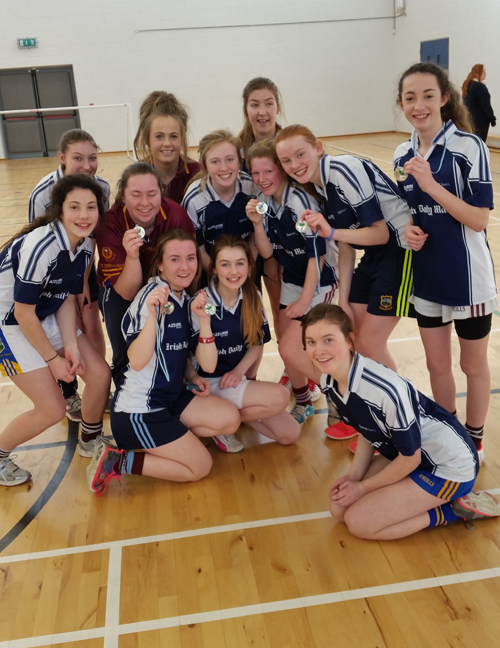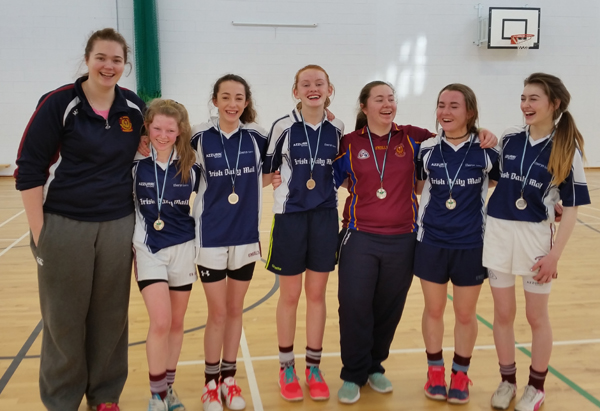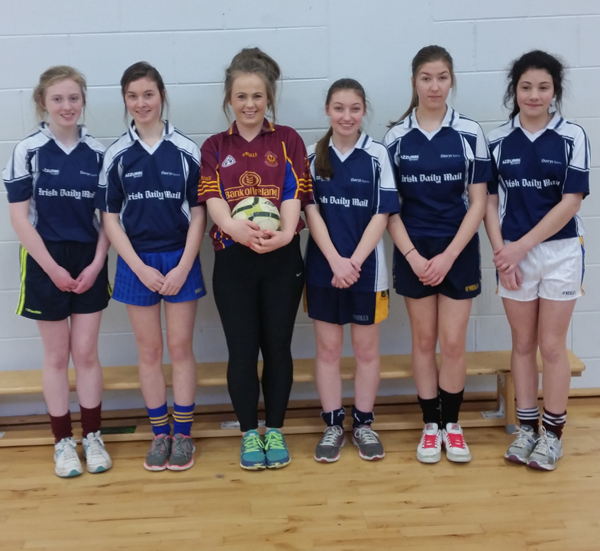 A selection of our second and third year girls took part in a 5 a side soccer blitz which took place in Nenagh College. We had two teams playing. The girls had a fantastic day out and one of our teams came second after a well fought final. Well done to all! Thanks to Nenagh College for hosting the event.
Gaelic Football
Plans to set up a Gaelic Football team for girls are set to take action next year. This will offer a wider variety of sports for girls to take part in. It will give them a good opportunity to show off their skills and take part in varies competitions.

Tennis Coaching
Next year plans have also been made to bring in a member of Tennis Coaching Ireland to the school. Many of our students participate in the sport outside of school, and this will introduce more girls to the sport. We look forward to the new challenges given and hopefully they will have great success in it.

After School Study:
After school study is set to commence again soon after the Midterm break. Dates have not been clarified as to when it will start back but forms will be issued to the students as soon as possible.

Now Enrolling:
St. Joseph's College would like to offer you enrolment forms for students choosing St. Joseph's as their school from September 2015. You can enrol your child easily, by calling 0864161816. We look forward to hearing from you!
---

Busker Abú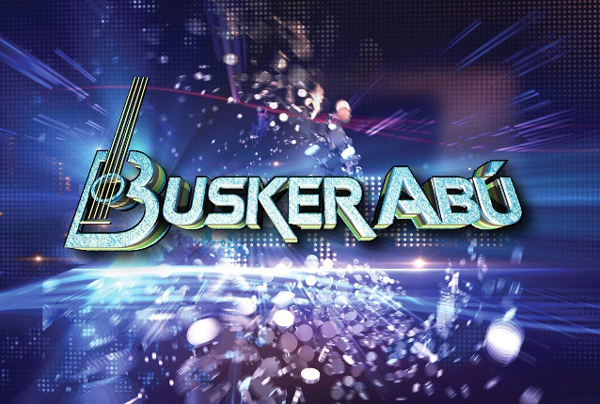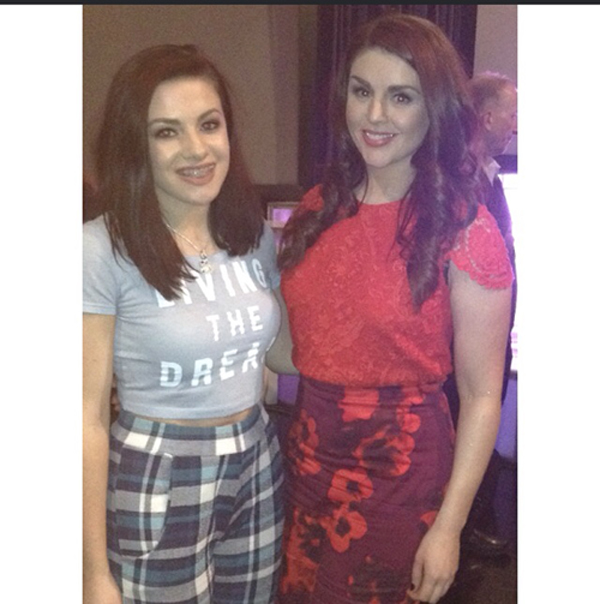 Tune in to TG4 on Sunday, 1st March at 8.30pm to see Clóda Scanlon make her television debut singing on new TV show 'Busker Abú'.
---
Borris-Ileigh G.A.A.
St. Joseph's College Notes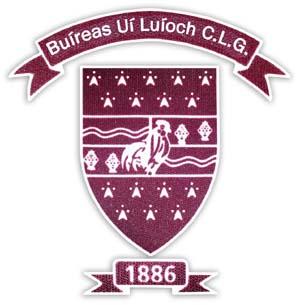 Senior League: We have been drawn with Moycarkey-Borris in the first round of the county league. The game will take place in Borrisoleigh on Sunday 8th at 2:30pm.
Tipperary Supporters Club: TF Stapleton is now taking applications for the Tipperary Supporters Club. Anyone wishing to join please contact him as soon as possible. It is a vital source of income to the Tipperary training fund and also keeps you up to date with all things Tipperary.
Membership: Membership and insurance is now being taken by both the senior and juvenile club. The cost for adult players is €50 and ordinary members are just €30. Martin Fahy and John Bradshaw will be taking the membership. The juvenile club will also be holding two registration evenings on March 11th and March 25th from 7pm to 8:30pm in the pavillion. All players are to be registered by March 31st to ensure they will be insured to play for the club. We would encourage that all players are registered on these nights. The cost is €15 per child and €30 per family.

---
St. Cualan's Social Club

St. Cualans Social club will hold a public meeting on Wednesday next March 4th at 7.30pm Re: Setting up an active retirement group in Borrisoleigh. A representative from the mid west region active retirement group will be giving a talk. If you or anyone you know are interested in this please attend the meeting to show some support on Wednesday evening. Refreshments will be served afterwards.
St. Cualans will hold their monthly coffee morning on Thursday March 5th at 10.30am.

---

Dubai Rose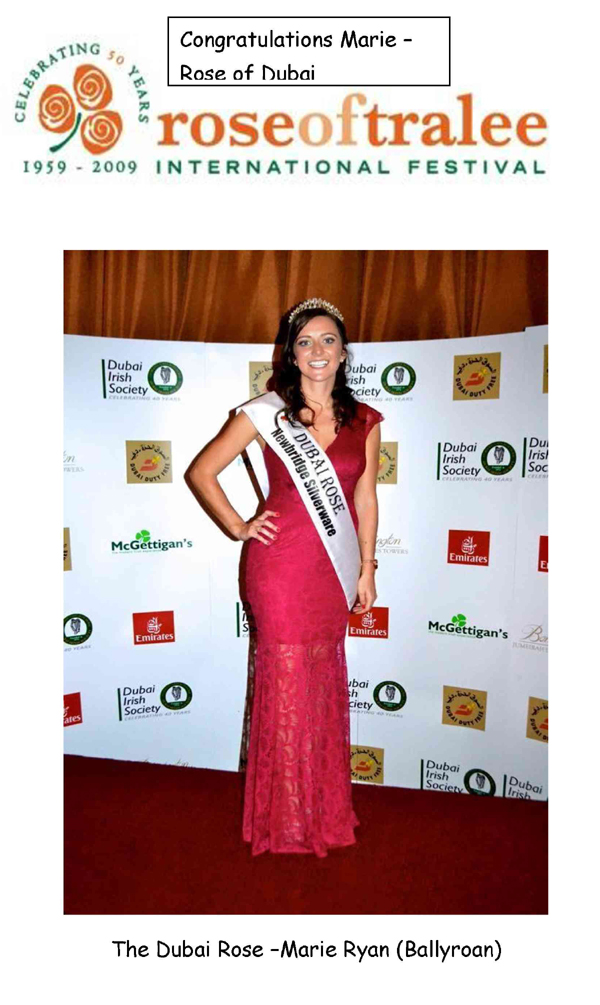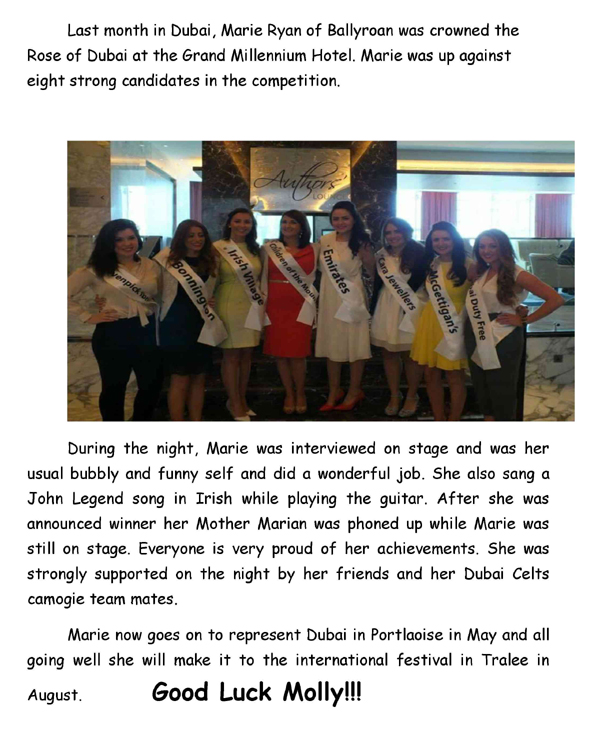 ---
Scór News
The Scór na bPaisti North Final was held last Sunday in Nenagh. Well done to all who participated. Congratulations to our Novelty Act who will be progressing to the County Final. The County Final will be held this Sunday 1st March at 3pm in Cashel. We wish the Novelty Act best of Luck on the day. Scór Sinsear County Final will be held in Borrisoleigh on Saturday 7th March.
Novelty Act Winners

Emma Galvin, Chantal Feighery,Niamh Ryan, Michael Kennedy, Nicole Colgan, Conor Kinane & Jane Delaney

---
Bush & Briar Ramblers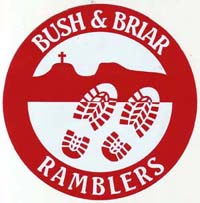 Last Saturday we journey up to Kilcommon to stroll around the Pilgrim Loop.
We experienced wet soggy marsh land, moss covered woods, steel bridges,singing birds, new forest roads, snowing in the sunshine cold and warm, fantastic views and good company, oh and not forgetting the cat doing security in the car park. Great day and a great walk.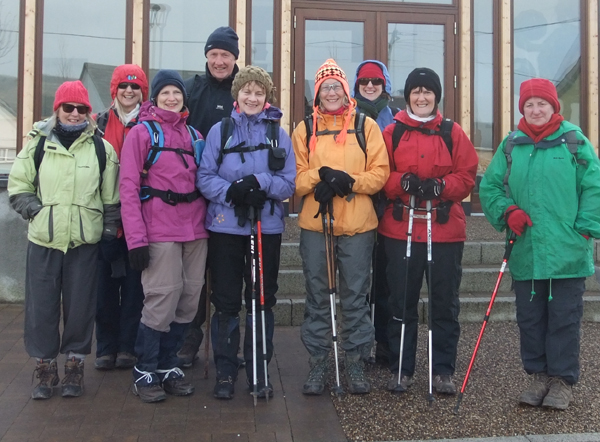 Next week on Sunday 1st March 2015 we are heading to the Devils Bit for a stroll around our local mountain.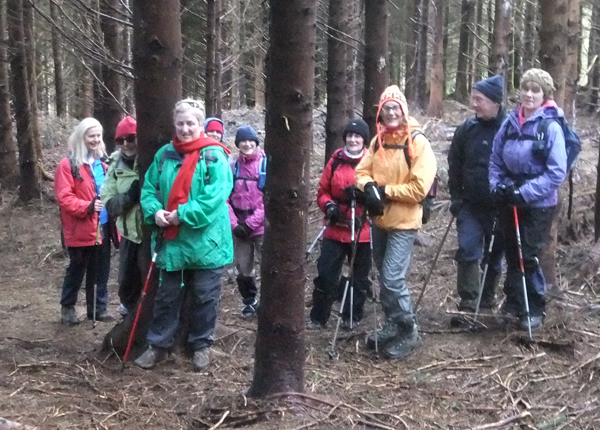 Meeting at the rear car park of Shanahan's Centra at 08.50hrs for
departure at 09.00hrs
Don't forget a small pack lunch and rain gear.
Also it is recommended to bring extra layers of clothing, gloves and hat.
Happy Rambling.

---

Pic of the Past…..down memory lane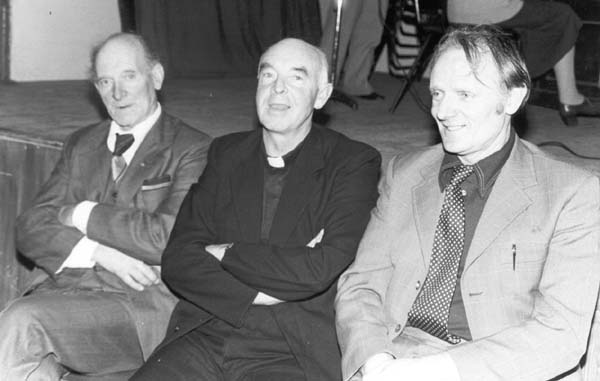 Marion Hall
John Delaney, Very Rev. Tom Kennedy PP and Austin Kearney
---
Committee: Enda Ryan, Noreen Fahy, Margaret Cowan, Marie McGrath, Aileen Óg Groome and Derry O'Donnell
Many thanks to all those who contributed photographs and news items. Remember, we need you to continue to send us material so that we can keep our website current and interesting.

Send your email to: info@borrisoleigh.ie
Also, if you like what you see and want to leave a comment, remember to use the Guestbook!
While we make every effort possible to ensure that the information contained in this Website is accurate and complete, we cannot accept any legal liability as a result of the inaccuracy or incompleteness of the information presented to users of this site