Bush & Briar Ramblers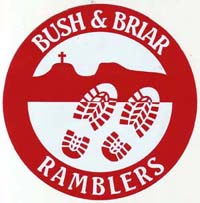 Plan B
On last Sunday we headed to Keeper Hill for an attack on this mighty mountain but due to a deer cull in progress we had to retreat and regroup. Plan B was put into action and so we returned to Templederry and had a very enjoyable stroll through some local hills. Well done guys and thank you all for a very enjoyable ramble.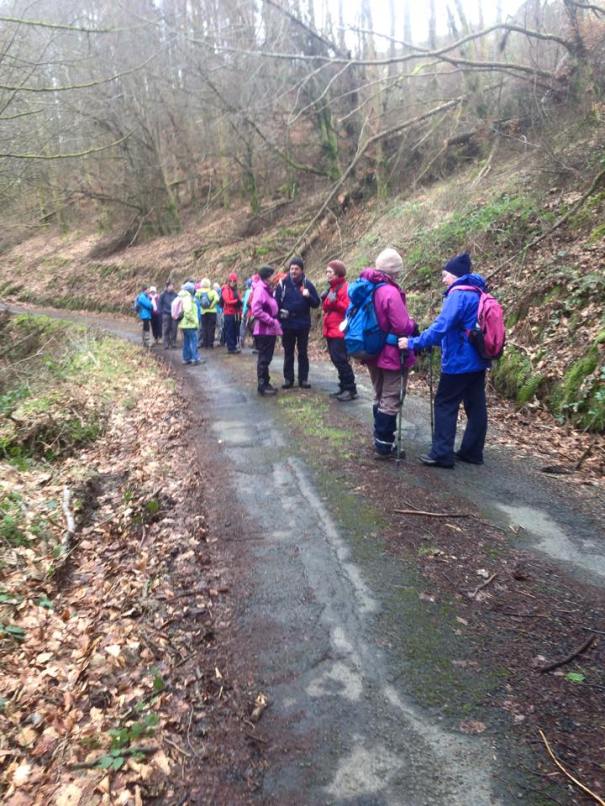 Gathering of the flock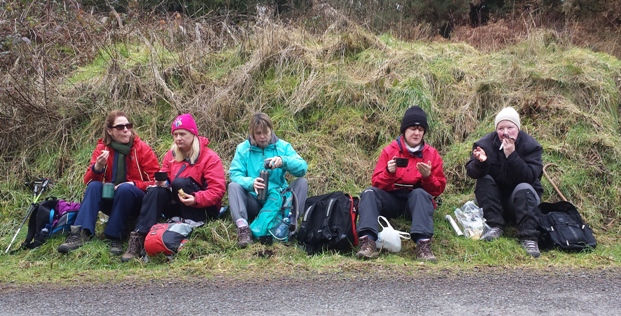 Lunch on the hills
KILCOMMOM LOOP WALK
Next weekend (Saturday) we going to Kilcommon for an interesting walk on the Pilgrim Loop.
Saturday 21 Feb 2015
Meeting at the rear car park of Shanahan's Centra at
08.50hrs for departure at 09.00hrs
Meet in Kilcommon approx 09.30hrs
Don't forget a small pack lunch and rain gear.
Looking forward to seeing you for a nice weekend of walking.
---
St Joseph's College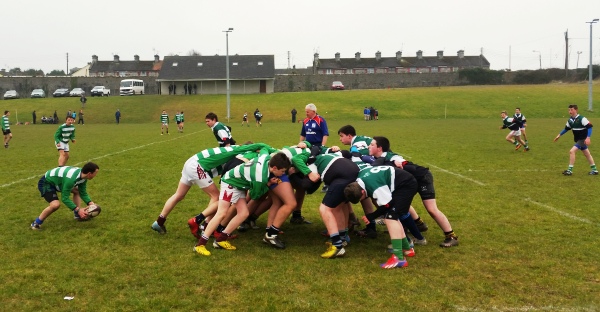 Tuesday last saw St Joseph's u15 rugby team travel to Tipp Town to take on the Abbey CBS.
St Josephs bravely stood strong against a vastly older side but were no match for their physicality.
It was however an impressive performance from some of our younger players.
With our usual captain Cathail Ryan and vice captain Oran Bergin busy with their mock exams, Liam Ryan stood up as captain.
Borrisoleigh opened the scoring when a penalty from the boot of Kevin Maher sailed over the crossbars from just inside the half way line.
Borrisoleigh tried to soak up the pressure defensively. St Joseph's Seamus Ryan and James Ryan won every single lineout between them, both our own and the opposition's.
However the Abbey were a strong side and scored some well worked tries. Micheál Ryan stood heroically at full back and made some great tackles.
In the second half, after winning a penalty Alvis Danni took the ball from Kevin Maher and burst over the try line to score in the corner. A solid conversion from man of the match Kevin Maher ensued.
It wasn't long before borrisoleigh won another lineout and a series of rucks and mauls saw Fintan Holland crash over the line for our second try.
Borrisoleigh went down to the vastly more experienced side but it was a great effort from Borrisoleigh.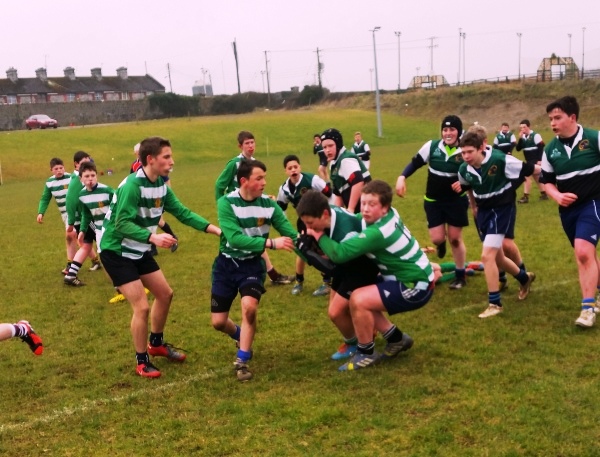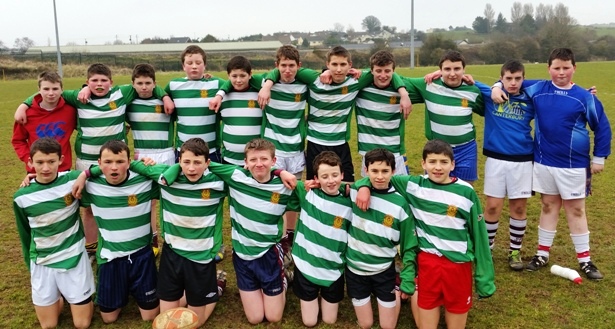 ---
Valentines flower baskets in Scoil Naomh Cualán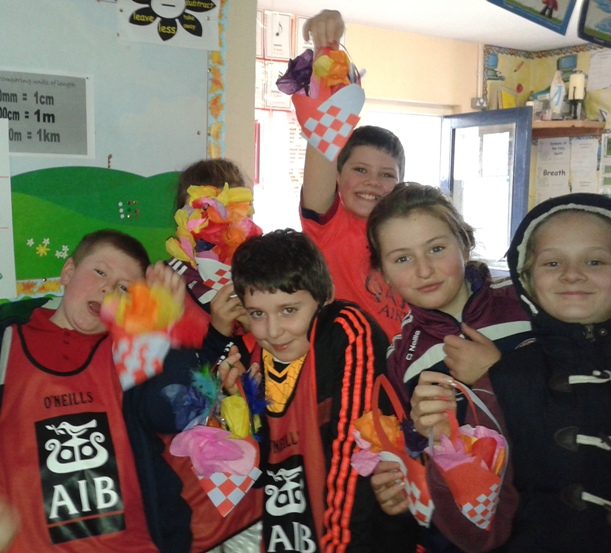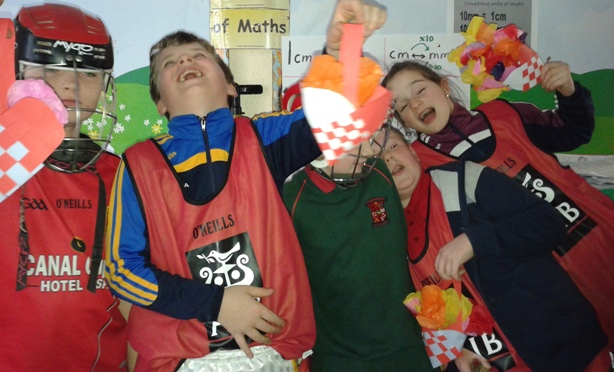 ---
Borrisoleigh Track-Attack Notes
Zenga & Delia Rule Supreme
Larry Stapleton ripped roared his way to the quickest finishing time of the Track-Attack Steps of the Stairs Marathon when completing the 7km course in a very impressive time of 27:25 which is all the more commendable when you consider that he had to negotiate his way through the traffic of 101 other participants en-route to crossing the finish line after 9 laps of the 780 metre track.
Our female participants refuse to be out-done by their male counterparts and continue to record impressive finishing times and round 5 of the series proved no different. Trisha Hogan continued to string together a brilliant consistence to her performances and on the night she recorded the quickest female completion time after clocking in at 34:17.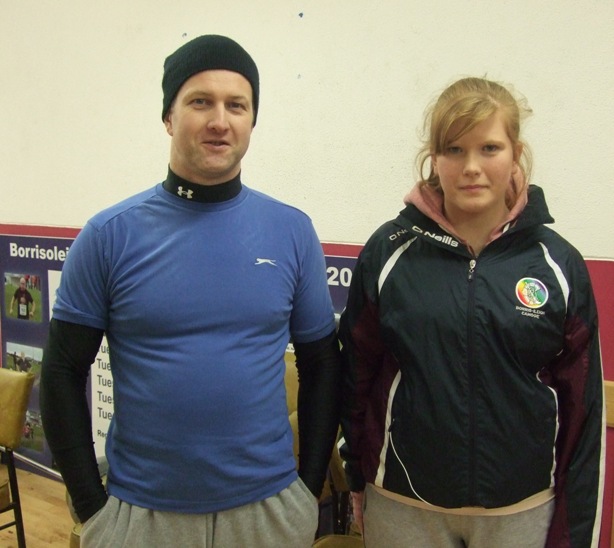 Half Marathon League leader Laura Kennedy with her father Noel
In the Half Marathon Challenge, Trish Ryan was again the top female finisher thanks to a 15:36 finishing time but could well face stiff competition over the last 2 weeks with Mary Ryan returning from an injury and clocked in at 15:55 in round 5 for the 3km distance. John Slattery made his debut outing of the Track-Attack Series and in crossing the finish line in 14:01, he proved the quickest performer on the night. A well-deserved mention however must go to the youthful duo of Cathal Hogan and Adam Galvin who week on week are shaving hard earned time reductions from their previous outing which is a just reward for the outstanding efforts they have produced over the duration of the overall series.
The overall stage winners each week are judged on who improves their time from their previous effort and as a result, Delia Ryan and John "Zenga" Vahey were the deserving and popular victors of the 5 round of the respective Steps of the Stairs and Half Marathon Challenge respectively.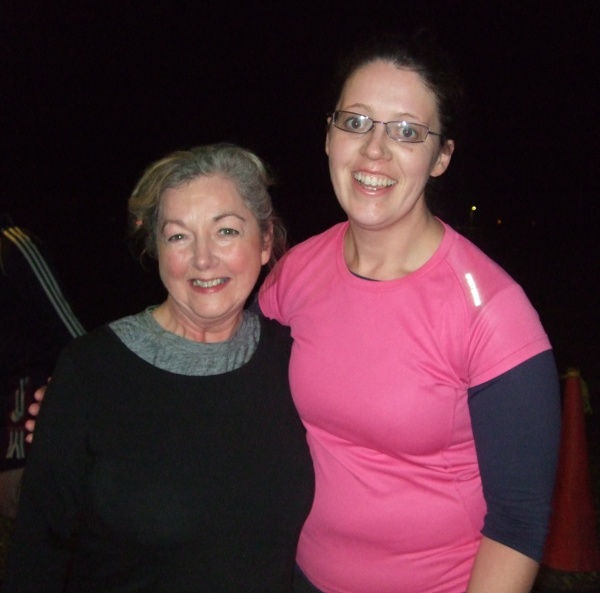 Helen Hurley and Joan Cummins
With just 2 more rounds to go before the completion of this New Year's Series, things are hotting up on the various league ladders. In the Half Marathon Challenge, Laura Kennedy has been the star of the show to date and have opened up a 19 point lead on her nearest challenger following an excellent showing of consistent outings. Although Laura is now the favourite for the overall title, the performances of Juanita Ryan in recent weeks could well mean that the result could go right to the wire on the very last night. She is one of the athletes who have improved on their time in each of the rounds to date and a further reduction in her finishing times over the last 2 weeks could well see her climb to the top rung of the series ladder. The third spot overall is now held by Aimee Kenneally and this young athlete deserve enormous credit for her displays in the 5 rounds to date.
Ben O'Donnell is also a perfect example of the excellent talent amongst the youth of the parish and as a result of his terrific performances, he is now the outright leader in the men's Half Marathon Challenge league ladder. Ben's closest challenger is Jim Ryan whose performances are getting all the more impressive with every passing week. Ben will also have to keep a watchful eye on Tom Mason who is now in third spot and Ben's own father Derry who again is clocking in some excellent times in recent weeks and could well have his eye on dislodging him from the ladder leading position!!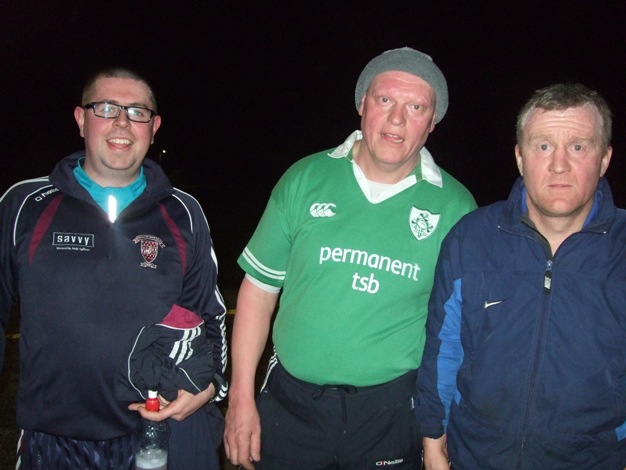 PJ Kiely, Tom Kenneally and John Joe Maher
The battle at the head of the men's Steps of the Stairs Marathon is simply brilliant and there is no doubt that the eventual victor will not be known until all the tallies are recorded and double checked following the last round of the series. For the third week running, Tom Stapleton and Daniel Madden are refusing to give an inch to each other and are again the joint leaders of the series. As well as keeping an eye on each other, they now have 2 more athletes to contend with as both Toby Kavanagh and Michael Murray made serious moves in round 5 and as a result have made major inroads into the leaders point advantage. With Tom and Daniel locked on 95 points each, Toby and Michael are now only 4 and 5 points respectfully in arrears. All 4 however would be foolish not to be wary of the challenge been provided by Tom Kenneally who is poised nicely to make a serious challenge over the remaining 2 weeks and has only 10 points to make up on the leading joint leaders.
Delia Ryan is the league leader of the women's Steps of the Stairs Marathon and has an 18 point advantage over Teresa Murray who is sitting in second place overall. The points difference may seem like a sufficient lead but one major effort from Teresa, Madeline Kennedy or Roisin Kennedy who are sitting nicely in third and fourth places respectfully could very easily see one of them claiming that top podium placing in 2 weeks time.
Don't forget to check out all the Track-Attack news and activities by liking us on Facebook at Borrisoleigh Track Attack.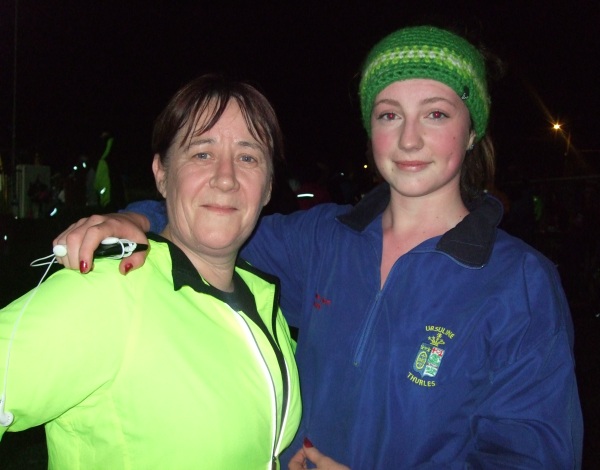 Caroline Kennedy and Clodagh Ryan
---
Borrisoleigh Churchyard in the 1960s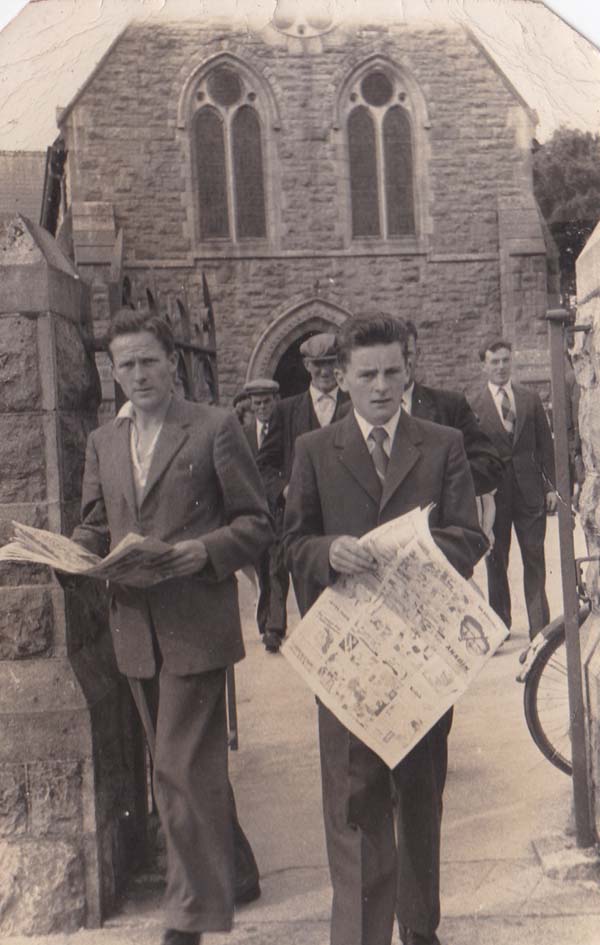 Updates on photo.
18th Feb:-Eddie Loughnane in Nenagh has confirmed the man on the right as Matt Gleeson from Killoskehane. He said he recognised him instantly. Also as John Loughnane was born in 1943 the photo is definitely in the 1960's.
11th Feb:- "On the far right the man wearing a tie without a cap isn't that the late Sean Kenny?"
28th Jan:- We received further confirmation that the man on the left is Tim Ryan, Ballyroan and in the center with the paper is indeed John Loughnane, Chapel Street, the tall man behind with the cap is Jim Farrell, Garrangrena and Jim Kent, Rathmoy is on the left also with cap.
21st Jan:- "I think that the tall man with the cap behind the two younger men reading their newspapers is Jimmy Farrell of Garrangrena"
"I think the man on the left with the open necked shirt is Tim Ryan, from Ballyroan"

---
Pic of the Past……..down memory lane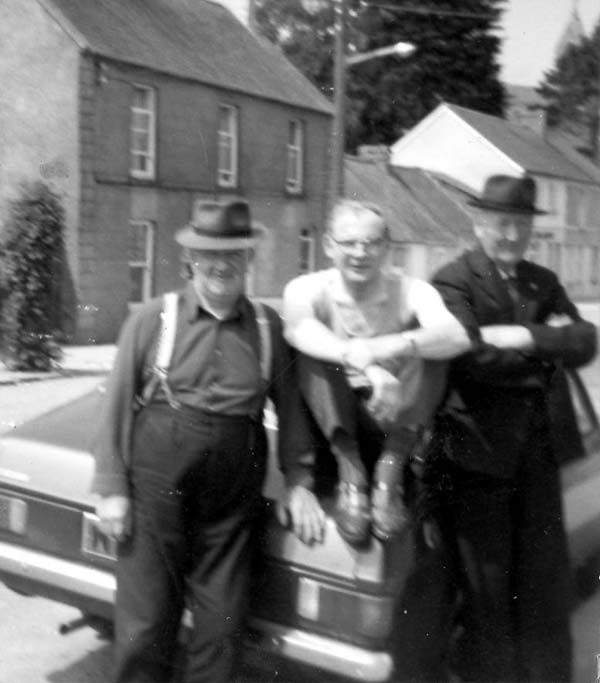 Owen Darmody, Toby Clarke, Gurteeny and Mick Darmody.
Owen and Mick ran a coal store in Pallas Street for many years

---

Your Website Needs You!
Committee: Enda Ryan, Noreen Fahy, Margaret Cowan, Marie McGrath, Aileen Óg Groome and Derry O'Donnell
Many thanks to all those who contributed photographs and news items. Remember, we need you to continue to send us material so that we can keep our website current and interesting.
Send your email to: info@borrisoleigh.ie
Also, if you like what you see and want to leave a comment, remember to use the Guestbook!
While we make every effort possible to ensure that the information contained in this Website is accurate and complete, we cannot accept any legal liability as a result of the inaccuracy or incompleteness of the information presented to users of this site