O'Connell's Pharmacy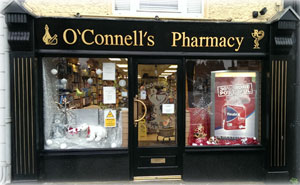 ---

Pallottine Retreat



A one day retreat will be held in the Pallottine Retreat Centre, Thurles on Sunday 1st March from 11am to 3.30pm. Tea on arrival, lecture, Holy Mass, three course lunch, Holy Hour, Confession and ending with tea. Cost €25.00. Retreat is organised by St. Joseph's Young Priests Society and is open to all. Contact: Mary at 0504 51241 or Mary at 0504 51535 on or before February 18th.
---
Borrisoleigh Track-Attack Notes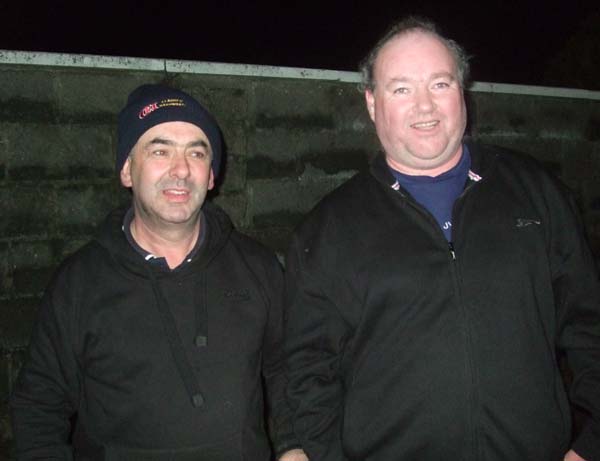 Paul Boyle & John Vahey

Stage Win for Phil


Round 4 of the new Track-Attack Series saw new heat winners including a joint winner of the Half Marathon Challenge for the first time. Phil Mason produced her best performance to date to record the biggest improvement of the night in the Steps of the Stairs Marathon and in doing so, she claimed her first heat win. Likewise Noel Kennedy also clocked in with his best performance resulting in a second place finish in the heat.
In the Half Marathon Challenge, both Sam Carroll and Dillon Ryan were recorded as joint winners of the fourth heat after showing the best and identical improvement rates on the night.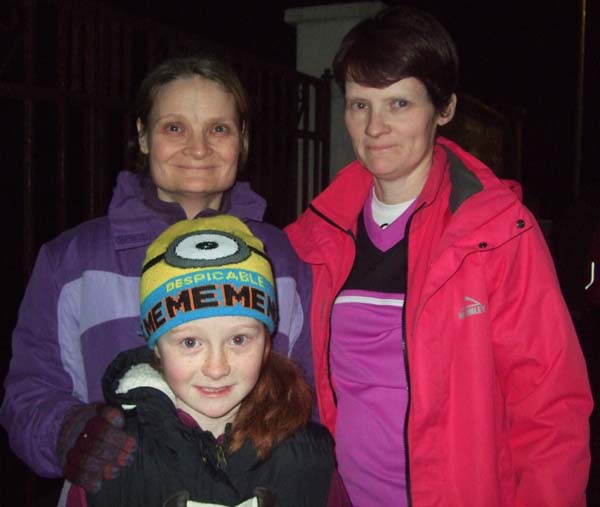 Rhona Carroll and Paula Ryan with Chloe



A superb performance from young Chloe Carroll have seen her leapfrog her closest challengers to the top of the Half Marathon league ladder. Her closest challenger is teenager Laura Kennedy while Juanita Ryan is currently in the third of the podium places. In the men's equivalent, it is also a young-gun that is sitting in the loftiest placing of the league ladder. For the second week running, Ben O'Donnell is the joint leader although after heat 4, it is Tom Mason that is his joint league ladder leader. The highly impressive Dillon Ryan is currently sitting in third place overall.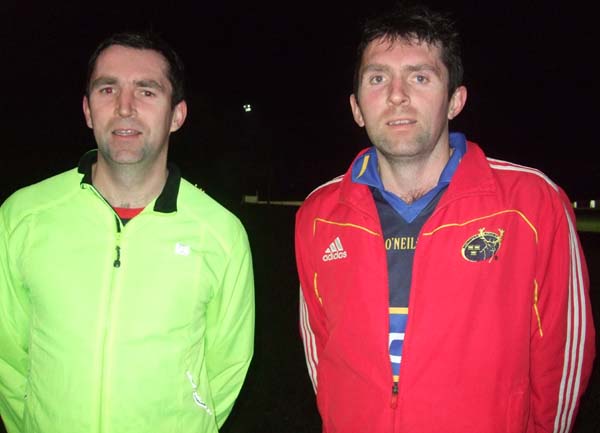 Tom Ryan & Jim Ryan



The star of the show to date in the Steps of the Stairs Marathon is Norita Ryan. Heat 4 saw Norita hit her best min/km average to date covering the 6km in an impressive 29:12 which in turn strengthened her grasp of the leading position at the top if the league ladder with just 3 heats remaining. Teresa Murray has been hugely consistent in her performances to date resulting in her securing the points to sit in second place overall. Delia Ryan's performances to date sees her sitting in third place overall.
Tom Stapleton and Daniel Madden are still battling it out at the head of the men's league and an identical showing in round 4 have resulted in them remaining as joint leaders so it will be very interesting over the remaining 3 weeks as to which one of the 2 will react best to the increase in distance of 1 kilometre each night.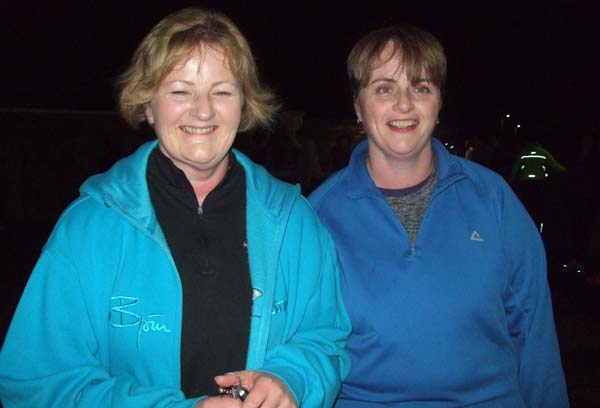 Madeline Kennedy and Roisin Kennedy



The top of the league ladders to date are as follows:
Half Marathon Challenge
(Women) 1 Chloe Carroll 62pts, Laura Kennedy 71pts, Juanita Ryan 75pts, Brenda Ryan 76pts, Caroline Kennedy 79pts.
(Men) 1 Ben O'Donnell 65pts, Tom Mason 65pts, Dillon Ryan 66pts, Jim Ryan 70pts, Paul Boyle 82pts.
Steps of the Stairs Marathon
(Women) 1 Norita Ryan 71pts, Teresa Murray 78pts, Delia Ryan 81pts, Madeline Kennedy 88pts, Roisin Kennedy 89pts.
(Men) Tom Stapleton 73pts, Daniel Madden 73pts, Michael Murray 83pts, Tom Kenneally 88pts, Noel Kennedy 91pts, Tom Shanahan 91pts.
To date, 166 different people have participated in the Track-Attack Series with a high of 125 on one given night. It's never too late to start as we welcome and encourage new participant each night regardless if you want to run, jog or walk. We are currently putting together the Track-Attack Spring Series and details of it will be announced shortly.
---
Borris-Ileigh GAA Club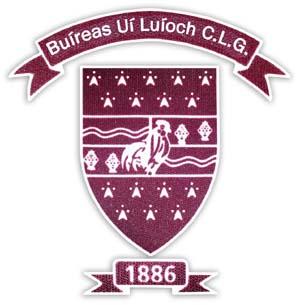 County Championship: The draw has been made for the league stage of the county championship. We have been drawn with Drom-Inch, Burgess and Kilruane. It is planned that these games will take place the first weekends of April.
Tipperary Supporters Club: Membership is now being taken for the Tipperary Supporters Club. This is a great way to keep up to date with all things Tipperary GAA and is also a vital source of income for the players' fund. If you wish to join please contact TF Stapleton. The cost for the year is €30.
Membership: Membership and insurance is now being taken to 2015. The cost for adult members is €30 and the cost for adult players is €50. The cost for student players is €30. Money can be paid to any officer or to club registrar Martin Fahy.
Celebration Night: On Saturday night last the club held a night of celebration of the career of local legend Liam Devaney. Liam was recently inducted into the Munster GAA Hall of Fame and last weekend was the time for the club to honour one of its most famous sons. We heard tales from many of his old team mates from both Borrisoleigh and Tipperary including Mackey McKenna, Jimmy Doyle, Donie Nealon and our own Matt Stapleton before Matt made a presentation to Liam on behalf of the club.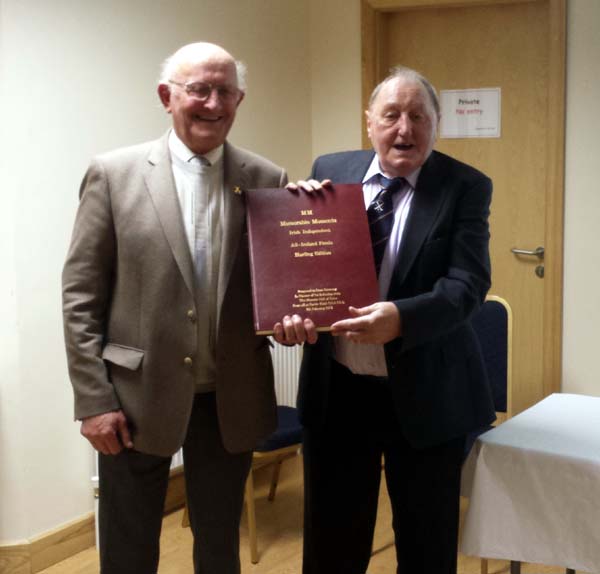 Matt Stapleton making a presentation to Liam on behalf of the club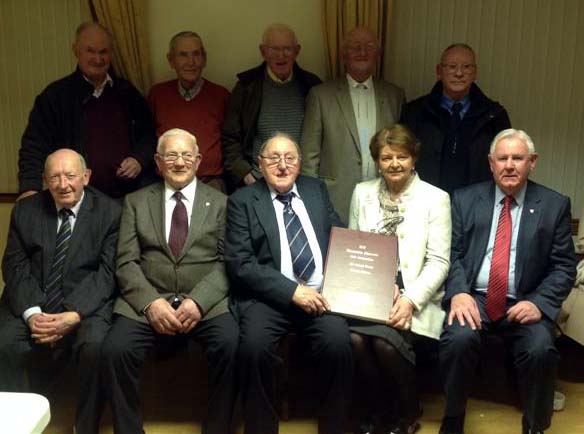 Liam Devaney with some of his old team mates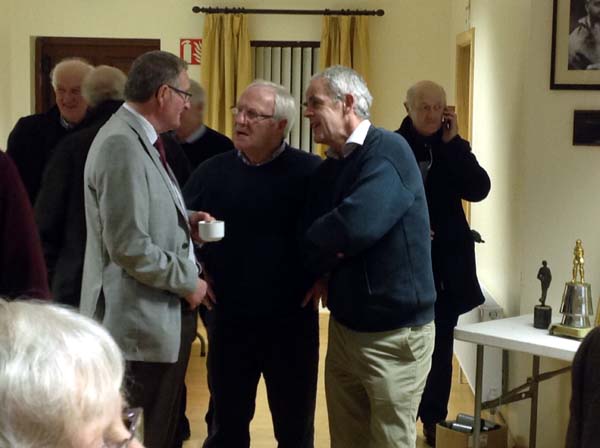 Enjoying the celebration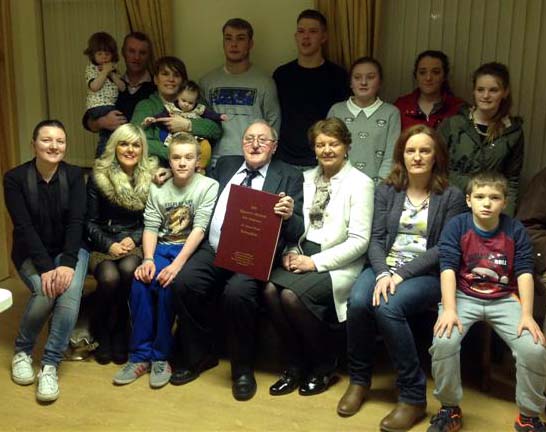 Liam Devaney with his family
Season Pass: The club championship match pass is now available for purchase. The cost for the ticket is €120. The pass entitles the holder entry to all adult level club games and is great value for anyone who attends matches. If you are interested in purchasing one please contact Lar na Pairce on 0504 22702
---
Information Meeting
Speaker:
Mr. TOM DAWSON, Agricultural Consultant, PRESIDENT ACA
Rea Clarke & Associates Tipperary Town.
Topics: GLAS Environmental Scheme & changes to CAP 2015.
MONDAY 16th FEBRUARY 2015
in BORRISOLEIGH Parish Centre at 7.45pm.
NEW FUTURES FARMING GROUP will host the information meeting in association
with
THE GREATER SLIEVE FELIM GROUSE CONSERVATION PROJECT COMMITTEE, IRISH RED GROUSE CONSERVATION and IRISH FARMERS with DESIGNATED LAND (IFDL)
This event is supported by NTLP's Local Community Development Programme so admission is free and All are welcome.

---
Borris-Ileigh Camogie Club

As the January blues are lifting, the camogie gear is out again, and thoughts are back to fitness and getting out and about in the fresh air. The club are kicking into gear for the 2015 season.
Registration mornings will take place in the Pavilion on Saturday February 28th and March 7th from 10 to 12 am. Please contact Paula Ryan club registrar to arrange payment of membership and collection of our Code of Ethics, Conduct and Best Practice.
The County Board requires full details of club registration/insurance asap. €40 adults, €20 juveniles, €20 social members.
We are holding a Clothing Collection in the next couple of months, please ensure to keep any unwanted clothing, bags, belts or shoes to help us with our fundraising.
Senior and U14/U16's have commenced training, all other teams will start training shortly and will be contacted by text of training times.
Help is still needed, and if you would like to be involved with the coaching of any of the teams, please contact a committee member.
Last Friday night the Tipperary Camogie County Board, held a fund raising Fashion Show in the Templemore Arms. During the event, the U16 All Ireland winners of 2014 were presented with their medals. Our club was represented by Aedín Hogan. Well done Aedín, and congratulations.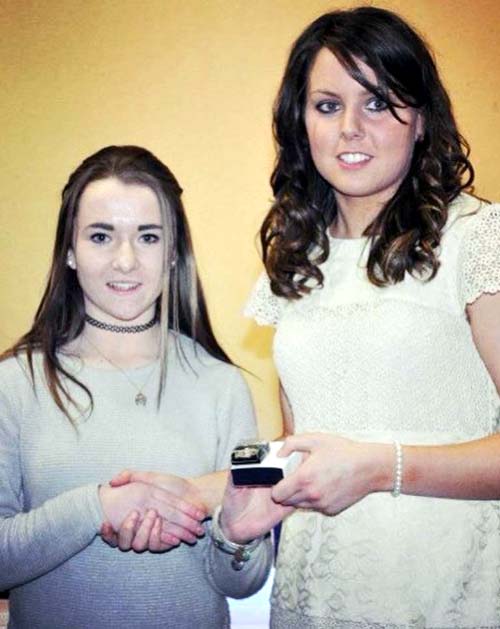 ---
Borrisoleigh Festival Committee



Borrisoleigh Festival Committee will hold their AGM on Wednesday February 25th at 8pm in the Marion Hall. All committee members to attend and new members are very welcome.
---
St. Cualan's Social Club



Due to circumstances beyond our control we had to cancel this months
coffee morning
which was due to be held last Thursday morning. Our apologies for any inconvenience. Our next coffee morning will be March 5th @10.30am.
Date for your diaries is Wed March 4th @ 7.30pm in the Community Centre Borrisoleigh. We are having an open meeting with a rep from the Mid West Area of Active Retirement Groups. This meeting is being held to see what interest is in the parish (and is also open to the people of surrounding areas) of setting up an active retirement group. If you are interested in having an active retirement group in the parish we would like to invite you and your friends to come to the meeting.

---
Bush & Briar Ramblers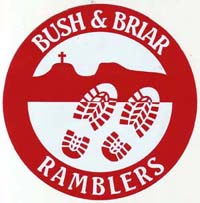 KEEPER HILL Calling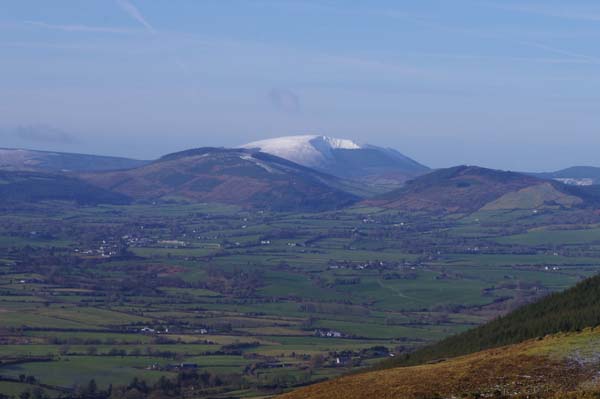 After a rest last week we are heading over to walk on the lovely slopes of Keeper Hill. Having had a great view of Keeper on our last few walks its time now to look at it up close.
Meeting in Borrisoleigh in the rear carpark of Shanahan's Service Station at 08.50hrs for departure at 09.00hrs on Sunday 15 Feb.
Also meet at Dolla at 09.15hrs.
Boots essential and the walk will be at an easy pace.
Don't forget raingear and the very important lunch.

---
Borrisoleigh Historical Society

Dates for the Diary
Thursday March 12th
: Mr Charles Lysaght noted historian will deliver lecture on the life of Brendan Bracken, Minister in the British Conservative Cabinet.
Friday 10th April: Professor Liam Kennedy, who was born in Borrisoleigh will deliver lecture on "Borrisoleigh – social change".


---
Borrisoleigh Community Centre

Cookery Demonstration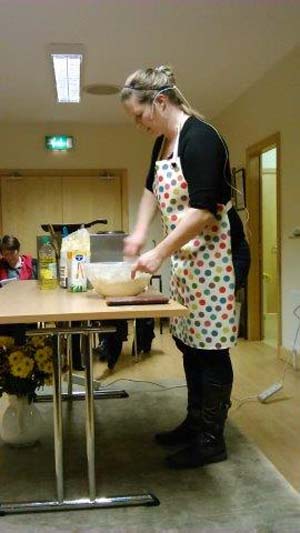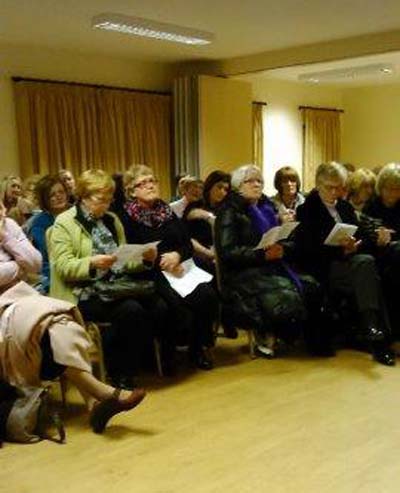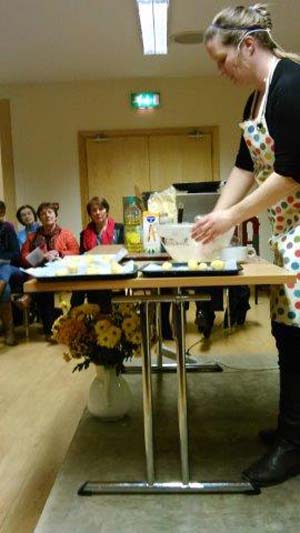 Borrisoleigh Community Centre recently held a cookery demonstration.The chef on the night was Naomi Morrissey from Naomi's Café, West Gate, Thurles. She made several dishes and at the end of the night everyone got to sample what was made. It was a very enjoyable night.

---
Borrisoleigh Churchyard in the 1960s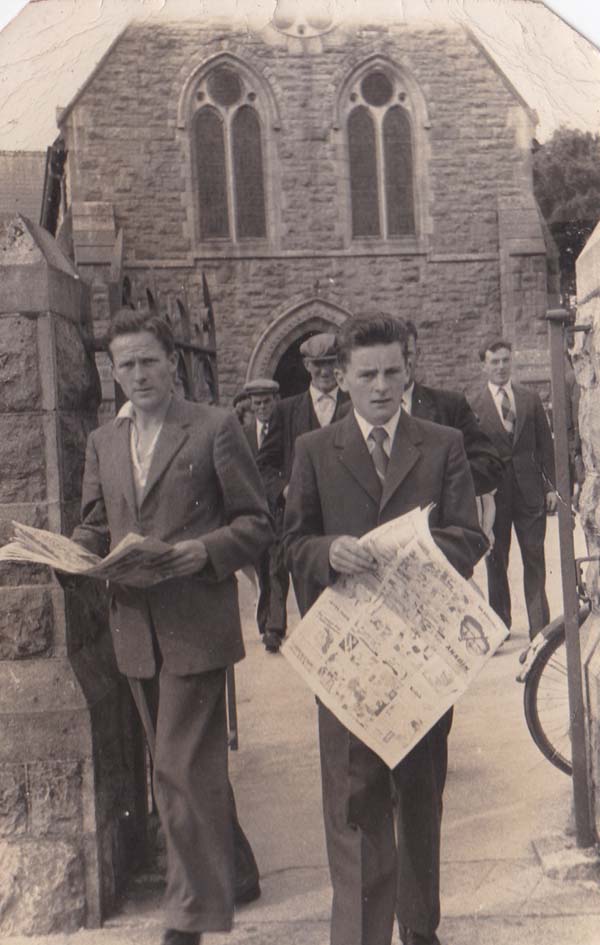 We received the following update on this photograph
"On the far right the man wearing a tie without a cap isn't that the late Sean Kenny?
I'd say it's more 1950s than 1960s"
---

Pic of the Past……..down memory lane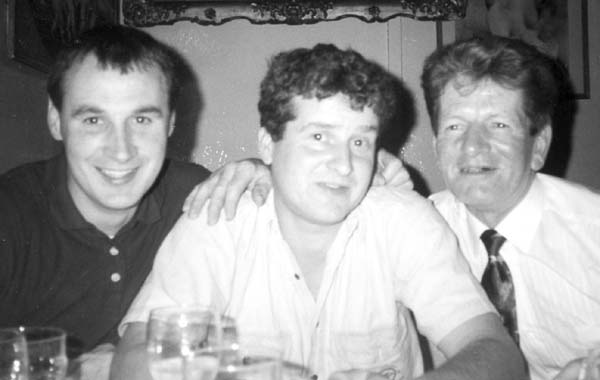 Martin Fahy Gurteeny, Seamus Maher Kilfithmone and Michael Hogan Pallas Street



---
Your Website Needs You!
Committee: Enda Ryan, Noreen Fahy, Margaret Cowan, Marie McGrath, Aileen Óg Groome and Derry O'Donnell

Many thanks to all those who contributed photographs and news items. Remember, we need you to continue to send us material so that we can keep our website current and interesting.
Send your email to: info@borrisoleigh.ie
Also, if you like what you see and want to leave a comment, remember to use the Guestbook!
While we make every effort possible to ensure that the information contained in this Website is accurate and complete, we cannot accept any legal liability as a result of the inaccuracy or incompleteness of the information presented to users of this site