Borrisoleigh Track-Attack Notes
League Ladder Leaders
Three rounds of the Track-Attack New Year's Series have now been completed and things could hardly be closer at the top of the various league ladders. Norita Ryan is the early pace-setter in the women's section of the Steps of the Stairs Marathon after 3 weeks of excellent showings of consistent performances. Teresa Murray is her closest challenger a mere 4 points in arrears while Siobhan Crowe and Delia Ryan are locked in joint third spot.
There is a two way tie at to the fore of the men's section as Tom Stapleton locks horns with Templederry's Daniel Madden. Toby Kavanagh has improved in each of his three outings to date and as a result he's sitting in third spot overall just two points behind the leading two.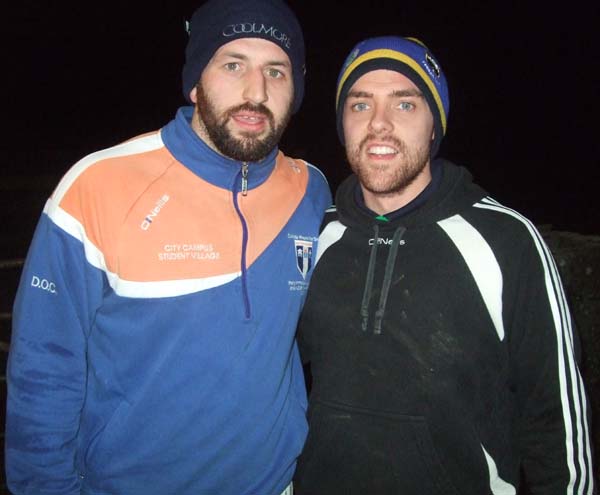 Track-Attack Participants – David (DOC) O'Connor and Toby Kavanagh
The top five on the Steps of the Stairs Marathon league ladder to date are as follows: (Women) Norita Ryan 62 points, Teresa Murray 66pts, Siobhan Crowe 72pts, Delia Ryan 72pts and Trisha Hogan 72pts. (Men) Daniel Madden 58pts, Tom Stapleton 58pts, Toby Kavanagh 60pts, TJ Carey 68pts, Tom Shanahan 69pts, Timmy O'Connell 69pts and Tom McGrath 69 pts.
Karen Nash is the league leader of the women's section of the Half Marathon Challenge after knocking a minute and a half off her finishing time over the duration of the opening three weeks. Eimear Lyons is within touching distance of her in second spot with teenager Aimee Kenneally presently in third spot following her impressive displays over the 3km distance to date.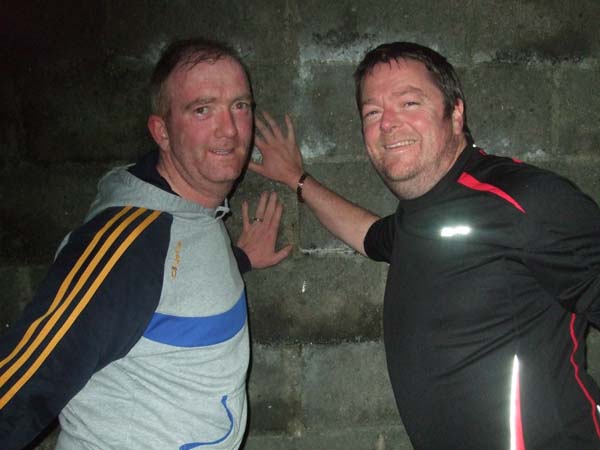 Daniel Madden and Alan Kelly
In the men's section, Jim Ryan is deadlocked with young-gun Ben O'Donnell at the top of the table with Tom Mason is close contention in third spot. The overall league ladders are as follows: (Women) Karen Nash 50pts, Eimear Lyons 54pts, Aimee Kenneally 56pts, Chloe Carroll 59pts, Trish Ryan 60pts, Laura Kennedy 60pts, Michelle Madden 60 pts and Marie Madden 60pts. (Men) Jim Ryan 50pts, Ben O'Donnell 50pts, Tom Mason 55pts, Johnny Maher 64pts and Dillon Ryan 60pts.
We had two new stage winners in round three of the series. Trisha Hogan produced her best performance to date to show the best improvement on the night in the Steps of the Stairs Marathon. In a close second spot was Delia Ryan with John Joe Maher making up the podium spots. Margaret Meehan was the clear winner of the Half Marathon Challenge with the Templederry duo of Helen Keane and Liz Kennedy in second and third places respectfully.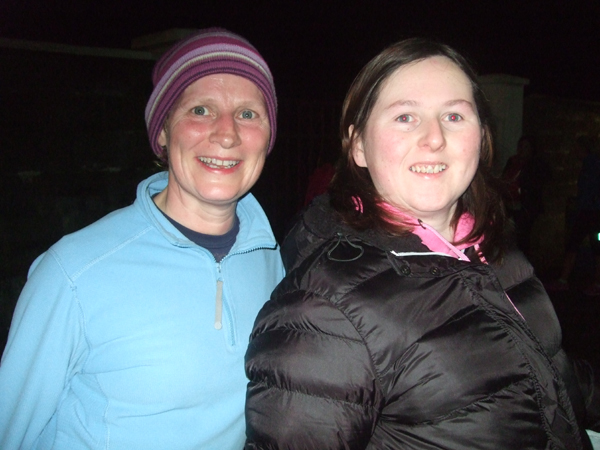 Teresa Murray and Catriona Quigley
As well as winning the Steps of the Stairs stage, Trisha Hogan was also the fastest female of the night thanks to a 24:25 finishing time for the 5km course. Kathleen O'Meara who also had a superb run at the Dungarvan 10 miler on Sunday was the second fastest on the night clocking 24:47 with Norita Ryan's time of 25:09 enough to secure the third fastest on the night.
TJ Carey was the leading performer in the men's category, clocking a time of 20:26 for the 5km. Michael Murray was close on his shoulder crossing the line a mere four seconds in arrears. John F Kennedy's 27 minute flat time saw him record the third fastest time on the night.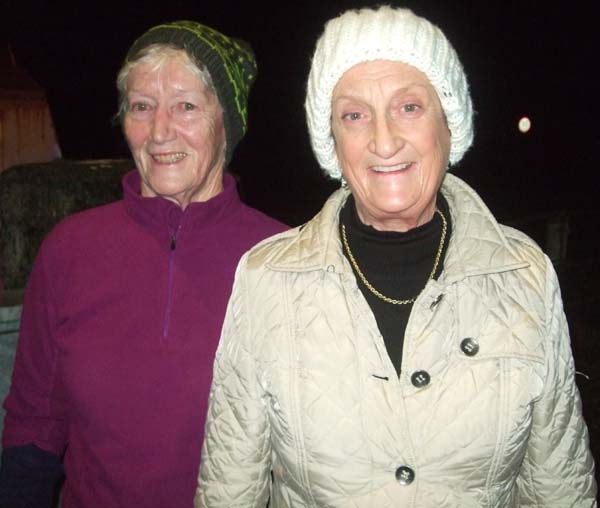 Delia Ryan and Marie O'Connell

Paddy Ryan missed out on breaking the 13 minute barrier by a single second in the Half Marathon Challenge but was still the clear leading performer in the men's grade. Two young-guns namely Cathal Hogan and Adam Galvin have been in super form since the Series commenced and round 3 saw their progression continue. Only 5 seconds separated them as Cathal crossed the finish line in 15:10 and Adam in 15:15.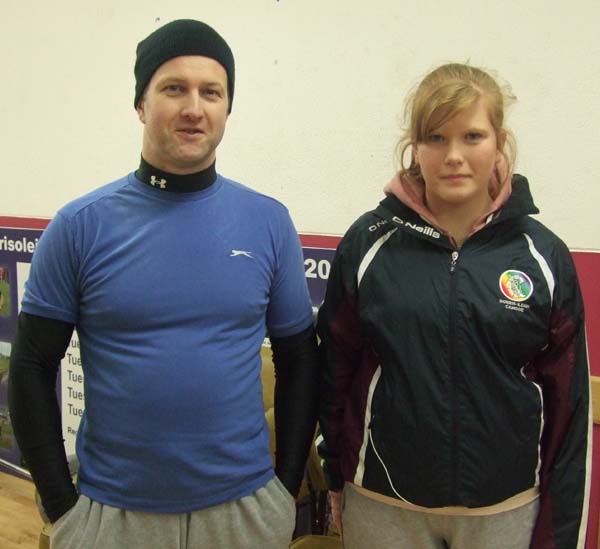 Noel and Laura Kennedy

Trish Ryan continues to record the leading times in the women's section and round 3 saw her lead the way in 15:45. Noreen Treacy impressively completed the 3km course in 16:52 to be the next quickest while Eimear Lyons continued her impressive showings to date and her time of 16:58 secured her the third quickest time of the heat.
---

Scoil Naomh Cualán Parents Association
A meeting was held in November last to join the Parents Associations of St. Patrick's and St. Therese's National schools following the
amalgamation of the two schools. The new officers are as follows
Chairperson
Marion Kennedy,
Secretary
Paula Ryan
Treasurer
Tracy Fitzgerald.
A huge thanks to the outgoing officers of both schools.
The aim of the parents association is to work with the Principal Mrs Kay Ryan and her staff to support the school. We organise a couple of fundraising events during the year of which there is very little work involved. We are meeting in St. Patrick's boys school building on Tuesday next February 10th at 8.30pm to discuss some ideas. We are
looking for as many parents as possible to get involved and help out. This is of benefit to all children attending the school. Hope to see you all there!
---
Borrisoleigh festival committee will hold their AGM on Wednesday February 25th at 8pm in the Marion Hall. Could all committee members attend and new members are very welcome. We would like to thank everyone who helped out in any way with our Christmas tree event. There are too many to mention. You know who you are and thank you very much. All your help is much appreciated.

---
Borrisoleigh Community Games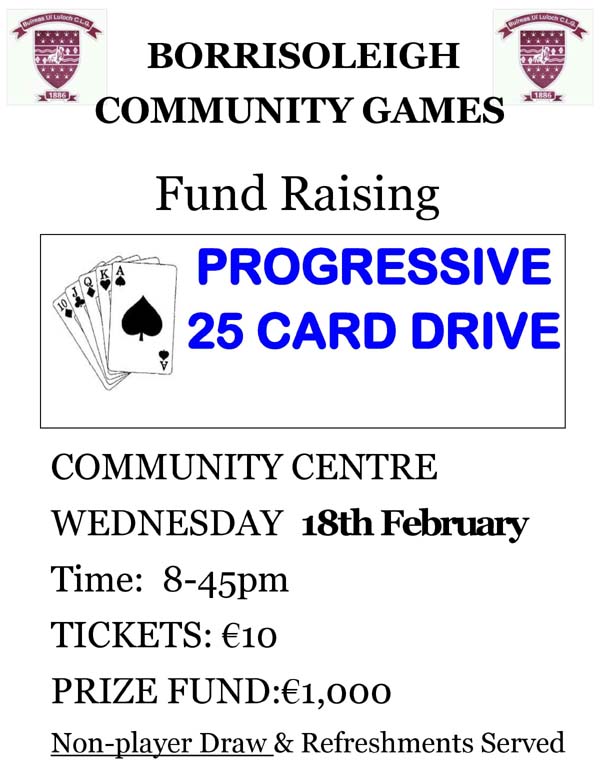 Anyone interested in the following please contact Sheila @ 086 403 0458
Chess – U13 and U16
Draughts – U10, U12, U14, U16
Handwriting – U10 and U12
Table Quiz – U14

---
St. Cualán's Club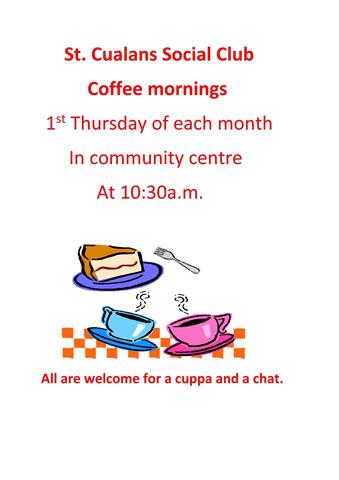 ---
Borrisoleigh Drama Group

Fancy a new pastime this Spring? Borrisoleigh Drama Group are holding a meeting this Thursday 5th February at 8pm in The Bothy. This is a great opportunity to get involved in a fun activity. Don't worry if you think you'd suffer from stage fright, there's plenty of assistance required backstage. All are welcome to attend, we hope to see you there!
---
Michelle Costello triple Gold Medal Winner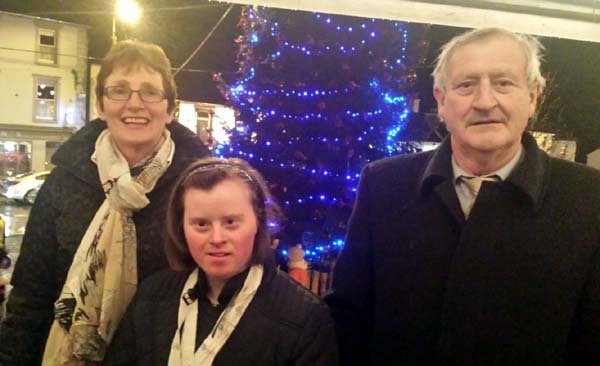 Michelle Costello, triple Gold Medal Winner in the Special Olympics switched on the lights of the Christmas Tree in Borrisoleigh. Michelle is pictured with her parents Marguerite and Tom.
---

Scoil Naomh Cualán news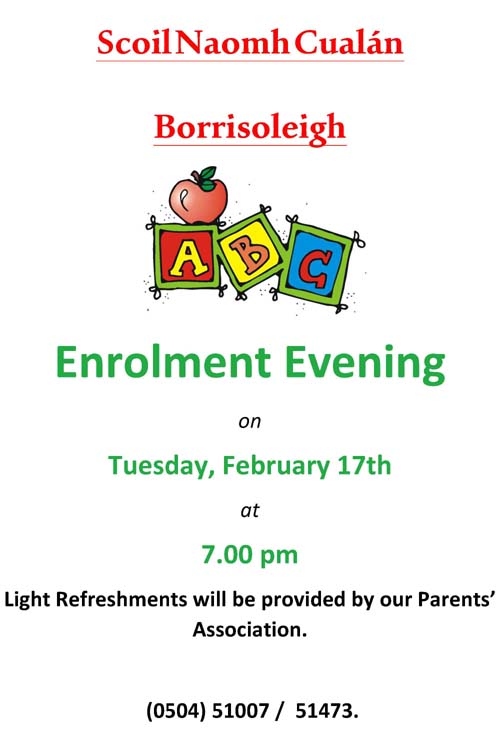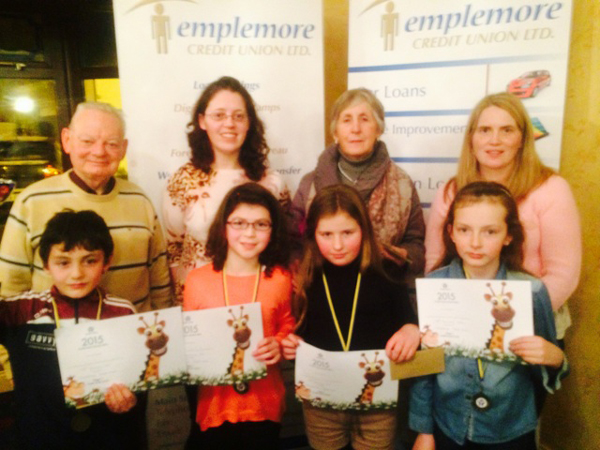 Above are photographs of the pupils of Scoil Naomh Cualán who achieved 1st and 2nd place in the Credit Union Quiz
Teams from Scoil Naomh Cualán did our school proud in the Credit Union Quiz in Templemore last Friday. We are delighted to report that our U/11 team of , Emma Kelly, Razuk Atik, Valerie Treacy & Emma Galvin achieved 1st place in their competition and will now go forward to represent the division at Chapter Level.
Our U/13 team of , Colm Boyle, Leisha Ryan, Laura Young& Cathal Hogan also put in an excellent performance and achieved 2nd place in their competition. Well done to all concerned.
Scoil Naomh Cualán is holding a clothing collection in the school to help raise funds. If you have any clothes, shoes, belts etc. that you no longer require we would appreciate if you could drop them to our school before Thursday 26th

---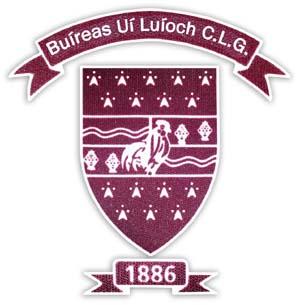 County Championship: The draw has been made for the league stage of the county championship. We have been drawn with Drom-Inch, Burgess and Kilruane. It is planned that these games will take place the first weekends of April.
Public Meeting: The public meeting scheduled for Wednesday February 11th has been postponed for a few weeks. Apologies for any inconvenience caused.
Tipperary Supporters Club: Membership is now being taken for the Tipperary Supporters Club. This is a great way to keep up to date with all things Tipperary GAA and is also a vital source of income for the players' fund. If you wish to join please contact TF Stapleton. The cost for the year is €30.
Membership: Membership and insurance is now being taken to 2015. The cost for adult members is €30 and the cost for adult players is €50. The cost for student players is €30. Money can be paid to any officer or to club registrar Martin Fahy
Celebration Night: On Saturday 7th of February we will be holding a night to honour the hurling career of Liam Devaney. Liam was recently inducted into the Munster GAA Hall of Fame and now is the turn of Borris-Ileigh GAA to honour one of its most famous sons. The night will begin in the community centre after evening mass and is opened to the public. We hope to see as many people there as possible

Season Pass: The club championship match pass is now available for purchase. The cost for the ticket is €120. The pass entitles the holder entry to all adult level club games and is great value for anyone who attends matches. If you are interested in purchasing one please contact Lar na Pairce on 0504 22702
Juvenille AGM: On Saturday evening last we held our Juvenille Club AGM in the pavilion. In front of yet another strong attendance we heard of the great work that went on in the club over 2014. The highlights of the year included the success of the u14 team winning the North Féile competition and the u16 team winning both the North and County Championships. Our younger teams also had great success winning different tournaments along the way. We had 4 representatives on the successful Peadar Cummins team and also on the Tipperary u14 & u16 teams. The managers and coaches of all teams were sincerely thanked for their great work and commitment throughout the year. The following were elected to manager our teams: Jimmy Stapleton-u16s, Jimmy Slattery-u14, Michael Kinane-u12, Jody Boyle-u10, Anthony Kennedy-u8, and Gerry Treacy-u6. We wish them all the best of luck for the coming year. The following were elected officers: Michael Small-Chairman, Philip Delaney-Secretary and Vera Hogan-Treasurer. The position of PRO has now been merged with the senior club PRO and this role will be filled by Martin Ryan. Special mention was given to Paddy Ryan who has stepped down from the position and we would like to thank him for all his great work. As the meeting came to a close we were wished all the best for 2015 and everyone was thanked for their continued support. Here's to a very successful 2015
---
Scór News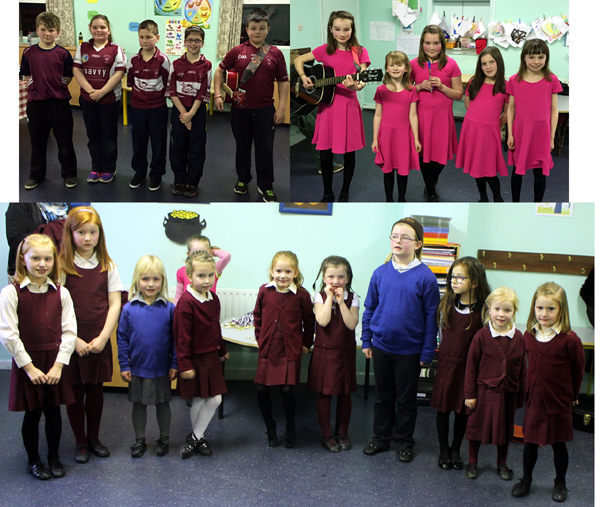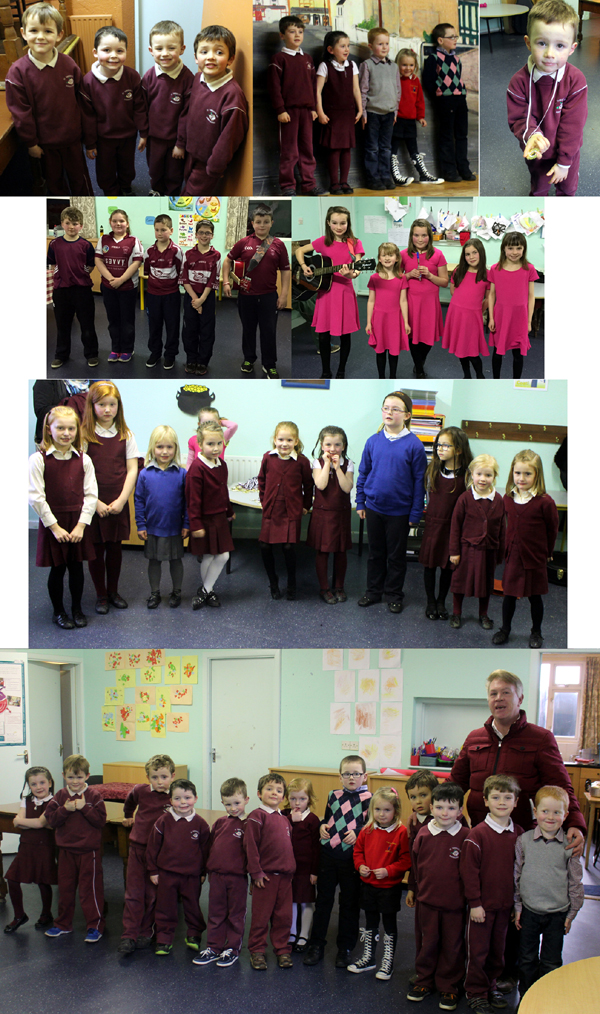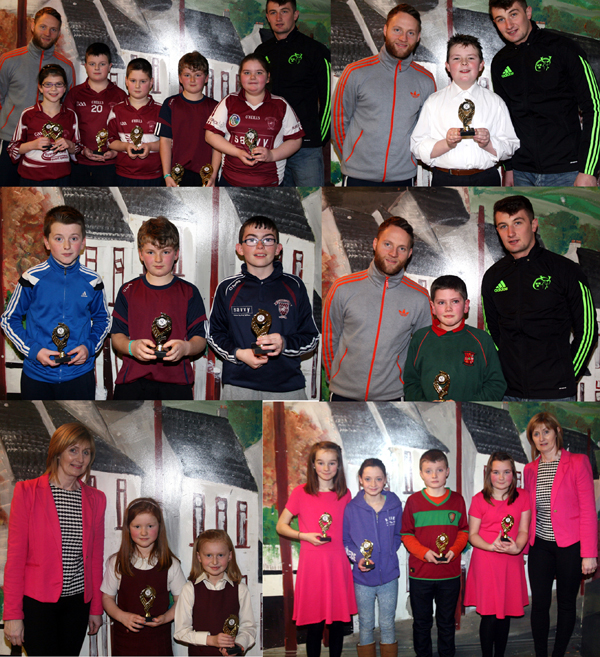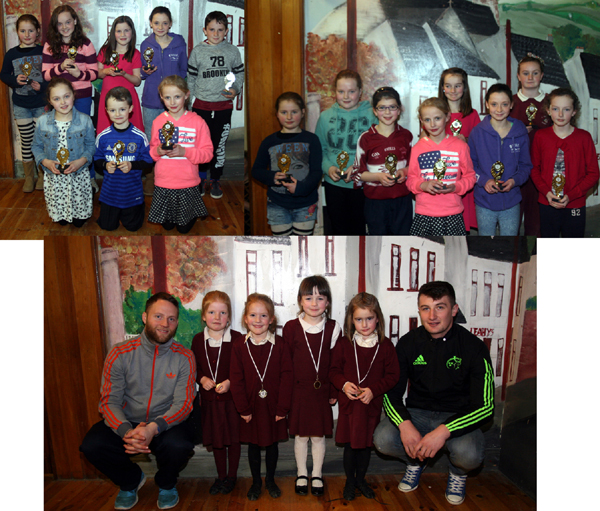 Above are photographs of the winning acts with their medals, going through to Area Final.
Scór na bPaisti Area Final will be held in Templederry this Sunday 8th February at 3.00pm.
The County Scór Sinsear will be held in Borrisoleigh on March 7th.
Anyone wanting to take part, please contact a committee member

---

Bush & Briar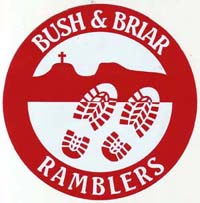 Latteragh to the Tower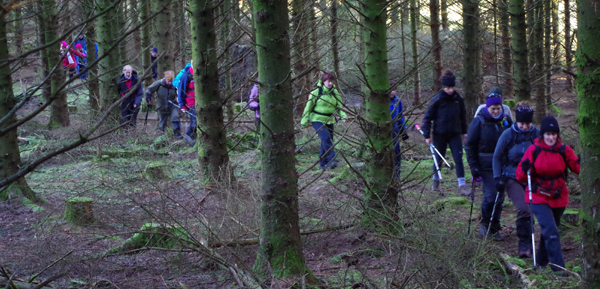 We really need to work on our camouflage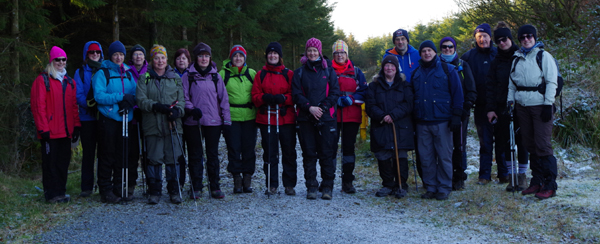 Group at Latteragh forest
We were late last week organising a walk due to the prospect of poor weather but despite the short notice 19 hardy ramblers braved the cold, crisp, calm, sunny weather to venture out last Sunday in Latteragh to walk to the summit of Knockanora (The Tower).
Another outing dominated by good weather conditions and again we were blessed with brilliant and long distant views of the surrounding countryside.
Thank you to all for making the walk so enjoyable.

---
Pic of the Past…..down memory lane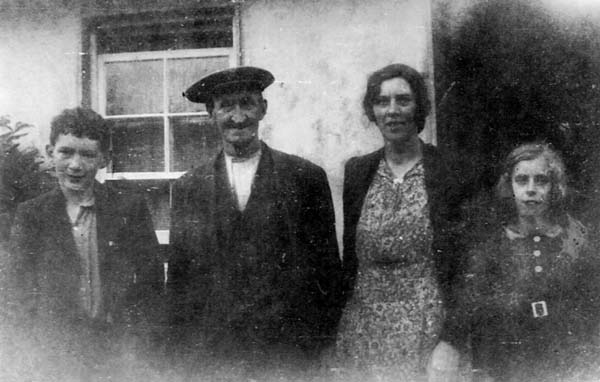 Martin Fogarty, Dan O'Brien, Grace Fogarty and Molly Fogarty, all from Currabaha
Dan O'Brien, known locally as "The Gunner", served in the First World War (1914-1918)
and the Boer War which was fought in South Africa (1899-1902).

---
Committee: Enda Ryan, Noreen Fahy, Margaret Cowan, Marie McGrath, Aileen Óg Groome and Derry O'Donnell

Many thanks to all those who contributed photographs and news items. Remember, we need you to continue to send us material so that we can keep our website current and interesting.

Send your email to: info@borrisoleigh.ie
Also, if you like what you see and want to leave a comment, remember to use the Guestbook!

While we make every effort possible to ensure that the information contained in this Website is accurate and complete, we cannot accept any legal liability as a result of the inaccuracy or incompleteness of the information presented to users of this site