Silvermines Forest Walk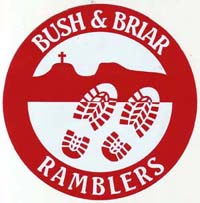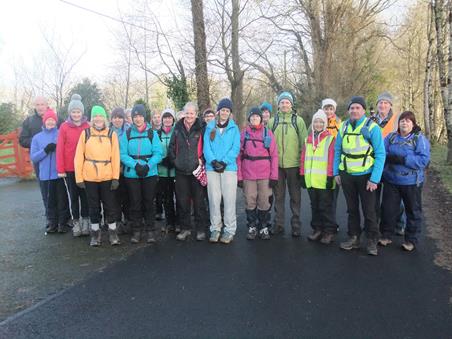 Ready for the off
Our rambles last weekend took us back to Silvermines to explore a new route under the careful guidance of local woman Caitriona. Another fine turn out for what proved to be an enjoyable stretching of the legs. The weather again was very kind to us and the views of Keeper Hill with its snow cap were fantastic. Very well done to all our walkers and a special welcome to our new walkers. Looking forward to seeing you all out again soon.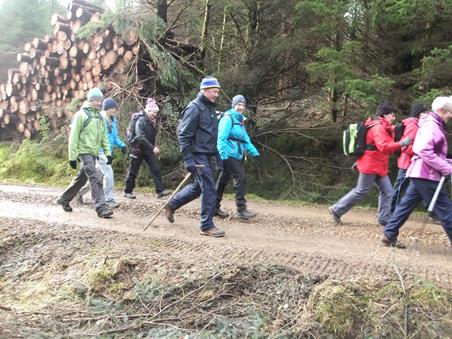 Stepping it out!
---
Borris-Ileigh GAA Notes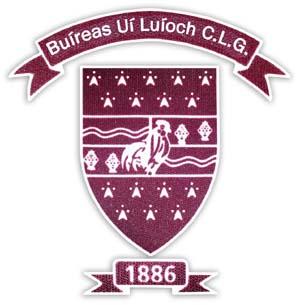 Public Meeting: On February Wednesday 11th a public meeting will be held in the Community Centre at 7:30pm. The meaning of this meeting will be to discuss the sports complex that has been proposed for the Town Park. We will be inviting all members of the public, committees and groups to attend this meeting as it will concern all people in the parish. There is huge scope for developing this project in the near future but we will need all people to row in behind it and support the project.
The project will be community led and community driven and with everyone working together we can add yet another great facility to our Town Park. We will endeavour to get as many people to this meeting as we need to know within the next few weeks whether this project is viable and if it is what the people of Borrisoleigh want. We hope to see you there and ask you to spread the word about this very important meeting.
Tipperary Supporters Club: Membership is now being taken for the Tipperary Supporters Club. This is a great way to keep up to date with all things Tipperary GAA and is also a vital source of income for the players' fund. If you wish to join please contact TF Stapleton. The cost for the year is €30.
Membership: Membership and insurance is now being taken to 2015. The cost for adult members is €30 and the cost for adult players is €50. The cost for student players is €30. Money can be paid to any officer or to club registrar Martin Fahy
Celebration Night: On Saturday 7th of February we will be holding a night to honour the hurling career of Liam Devaney. Liam was recently inducted into the Munster GAA Hall of Fame and now is the turn of Borris-Ileigh GAA to honour one of its most famous sons. The night will begin in the community centre after evening mass and is opened to the public. We hope to see as many people there as possible.
---
Borrisoleigh Track-Attack Notes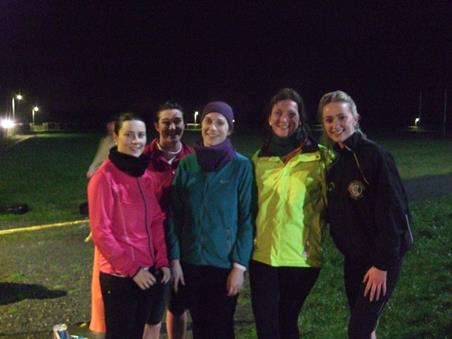 A carpet of snow covered the car park adjacent to the track an hour before the start whistle of the second round of the new Track-Attack Series but it didn't deter a record number of 125 participants from lining out in what turned out to be a brilliantly contested heat right throughout the competing field.
Those who choose the Steps of the Stairs Marathon option negotiated their way through a distance of 4km while the participants of the Half Marathon option again lined up to challenge themselves over 3km in the hope that they'd better their efforts of the previous week.
Right from the off, a superb battle developed at the head of the field as a cluster of athletes began to reel off lap after lap in a highly impressive fashion. Subsequently as a result of the leaders pace setting, it resulted in 6 athletes crossing the finish line in a time shy of the 16 minute barrier.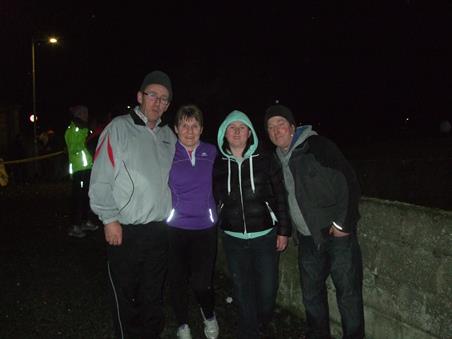 Clonakeeny's Michael Murray laid down a serious marker to all potential opponents as he moved impressively through the gears while ticking off the laps. A finishing time of 15:33 is all the more impressive when you consider the amount of traffic he encountered over the 5 lap course. Austin Ryan was back on home turf and again laid down a timely reminder that he will be a force to be reckoned with as the distance increases by a kilometre each week as he crossed the finish line in 15:49.
Mike Gleeson and Ailbe Cummins renewed their weekly battle and went blow for blow up the finishing straight resulting in them both been credited with a time of 15:53. Timmy O'Connell produced his best performance to date and clocked in at 15:55 with TJ Carey a mere 2 seconds more in arrears.
It was another highly impressive display of running from the leading female participants on the night. Evelyn Maher again proved to be the top performer on the night with a hugely impressive finishing time of 17:18. Moira Maher's performance was a picture of consistency as her ratio of min/km were bang on 4:52 as per the previous week and again finished the second fastest female in a time of 19:29.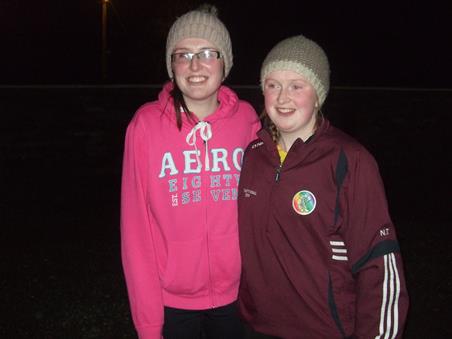 The performance of the night possibly came from Teresa Coffey as she shaded 10 seconds per km off her previous weeks effort resulting in her completing the 4km distance in 19:45 and third fastest on the night. Kathleen O'Meara produced another superb performance which entitled her to fourth fastest on the night with a time of 19:47 while a further 2 seconds behind was Norita Ryan who produced a top class display and in the process fired out a warning to the leading women to keep an eye over their shoulder in the coming weeks.
The leading participants in the Half Marathon Challenge were certainly not outdone by their counterparts in the longer distance. It was a night that the youth of the parish shone brightly as they impressively went about completing the 3km course. The men were led home by the experienced Paddy Ryan in 13:22 but the next 4 finishers defied their youthful age to stream home in a very impressive collection of finishing times. Cathal Hogan was outstanding, crossing the finish line in 15:05 followed closely by the equally brilliant David Delaney in 15:15. Darragh Quigley had the best improvement of the night finishing in fourth place overall in a time of 15:39 a single second ahead of Adam Galvin who in turn was also hugely impressive on his debut performance.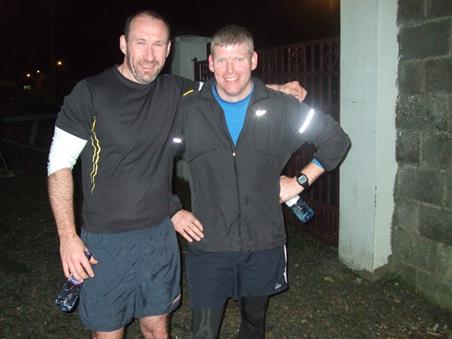 Trish Ryan was the leading female contender shading 3 seconds off her previous weeks tally to finish in 15:34. Emma Quigley gave an outstanding display of athletic ability and potential to clock in at 15:42 closely followed by another superb performance from Chloe Carroll who crossed the line in 15:45. Eimear Lyons continued on from her impressive opening round performance to finish in 17 minutes flat while the youthful Eimear O'Donnell was another to show enormous potential and in the process finished in a time of 18:21.
Like in all sport, the leading contenders grab the headlines but the fundamental thinking behind what Track-Attack are aiming to achieve is the participation and enjoyment of recreational activities for participants of all age, gender and ability. During the second round of our current series, our aims are certainly be achieved as participants be it running or walking were evidently battling against themselves in a bid to better their previous best and doing so with an obvious level of personal achievement and enjoyment.
Seconds and indeed minutes were shaved off the previous week's tallies and the speed of motion up the finishing straight was certainly sharper and crisper. The levels of improvement were distinctive right throughout the field in both distance options. In the Steps of the Stairs option, the top improvement came from Tom McGrath followed by Siobhan Crowe, Delia Ryan, Daniel Madden and Tom Stapleton to make up the top 5.
In the Half Marathon option, Darragh Quigley showed the greatest improvement closely followed by David Delaney and Sean Dempsey. Johnny Maher was next in line while the top 5 improvements was completed by Michelle Madden.
---
St. Cualán's Club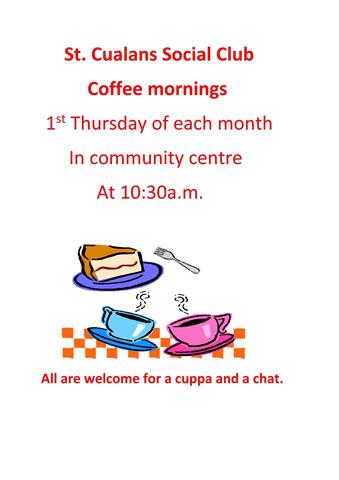 ---
Borris-Ileigh Juvenile GAA Notes
Borris Ileigh Juvenile GAA Club annual general meeting takes place this Saturday 31st January in the Pavillion at 8pm. A full account of 2014 activities on and off the field will be provided. We will also be looking forward to 2015 and your input in this regard, would be appreciated. We are asking that as many club members and supporters as possible attend on the night.
---
Borrisoleigh Community Centre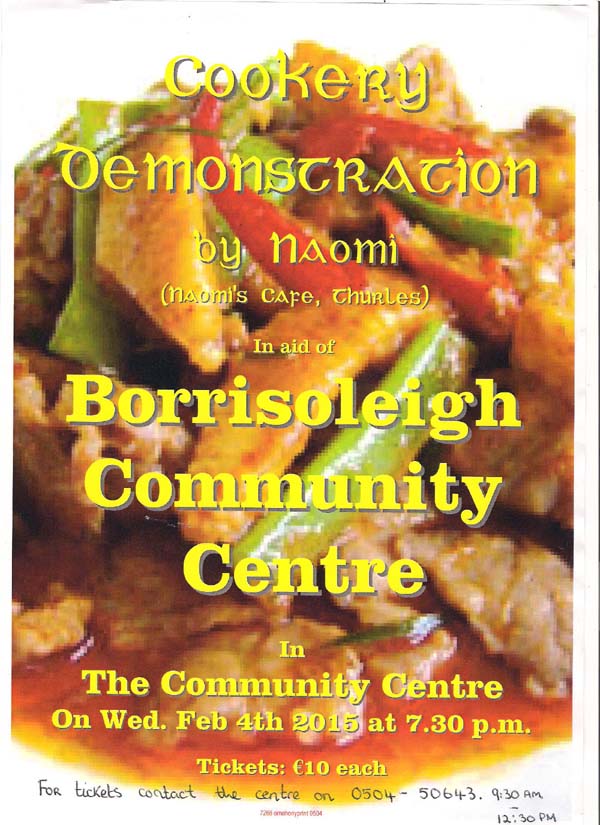 ---
Festival Committee
Borrisoleigh Festival Committee will hold their AGM on Wednesday February 25th at 8pm in the Marion Hall. Could all committee members attend and new members are very welcome.
---
Scór News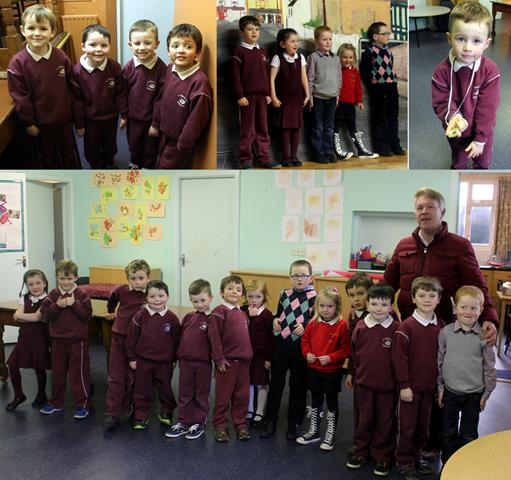 The Scór na bPaisti Parish finals were held last Saturday, showcasing the amazing talent by all who entered. The winners of each category will compete in the Area Final on Sunday 8th February at 3.00pm in Templederry.
Congratulations to the winners of each category who were:
Rince Seit
Emma Galvin, Natasha Kennedy, Emma Kelly,
Emma Doolan, Katie Fitzgerald, Jane Delaney,
Emer Fahey & Valerie Treacy.
Ceol Uirlse
Daniel Ryan, Emma Doolan, Katie Fitzgerald & Laura Young.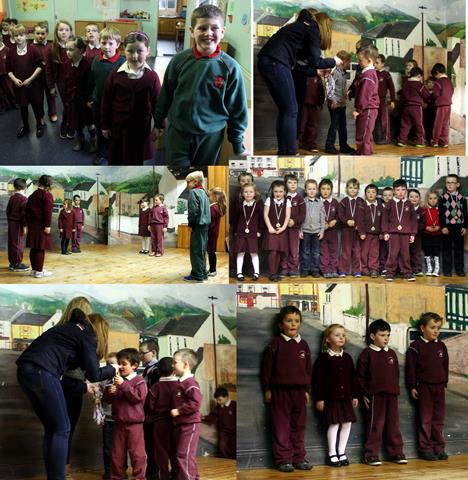 Rince Foirne
Emma Maher & Eve Maher
Nuachleas
Michael Kennedy, Emma Galvin, Emma Doolan, Nicole Colgan,
Chantal Feighery, Jane Delaney, Niamh Ryan & Conor Kinane.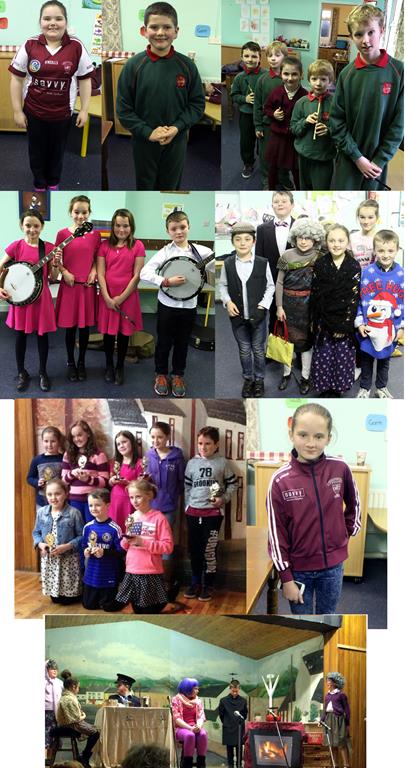 Trath Na gCeist
Cathal Hogan, Eddie Ryan, Colm Boyle & Emma Doolan.
Amhranaiocht Aonair
Sean Max
Aithriseoireacht/Scealaiocht
Adam Carr
Bailead Ghrupa
Anna Harkin, Emma Kelly, Colm Boyle,
Shane Maher & Josh Young
---
Old Photo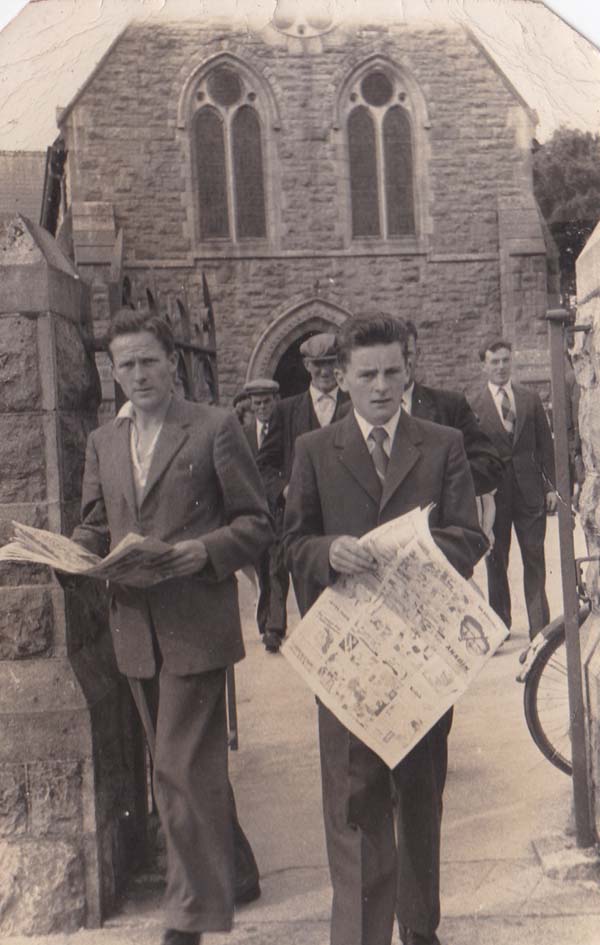 We received further confirmation that the man on the left is Tim Ryan, Ballyroan and in the center with the paper is indeed John Loughnane, Chapel Street, the tall man behind with the cap is Jim Farrell, Garrangrena and Jim Kent, Rathmoy is on the left also with cap.
---
Pic of the Past…..down memory lane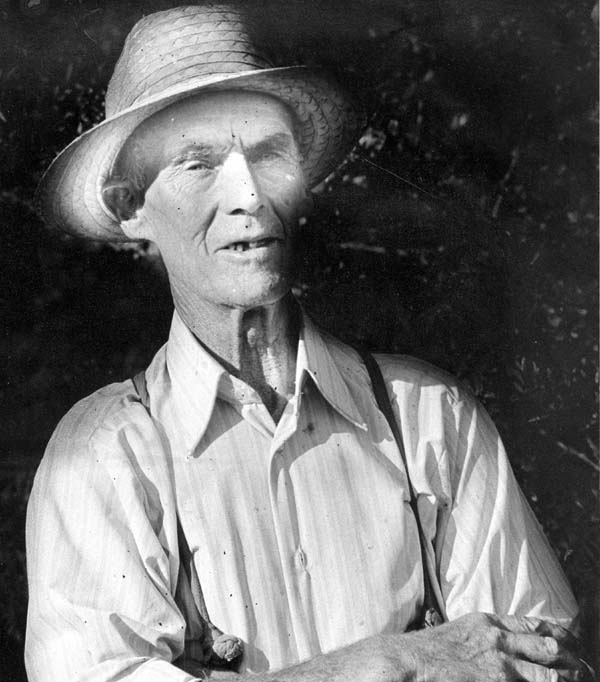 Joe Dwan, Ballyroan, a well-loved local character known
for his witty and humourous personality
---
Your Website Needs You!
Committee: Enda Ryan, Noreen Fahy, Margaret Cowan, Marie McGrath, Aileen Óg Groome and Derry O'Donnell
Many thanks to all those who contributed photographs and news items. Remember, we need you to continue to send us material so that we can keep our website current and interesting.
Send your email to: info@borrisoleigh.ie
Also, if you like what you see and want to leave a comment, remember to use the Guestbook!
While we make every effort possible to ensure that the information contained in this Website is accurate and complete, we cannot accept any legal liability as a result of the inaccuracy or incompleteness of the information presented to users of this site