Borrisoleigh Track Attack Notes
Ailbe Cummins & Michael Gleeson
Eamon McGrath Leads the Way
With 30kms of the Borrisoleigh Marathon Challenge which is kindly sponsored by Albany Home Decor (Nenagh), Owen Ryan Motors (Loughmore), Wright Insurance (Wexford), Cross Fabrication (Templederry) and Pat Keane Painter & Decorator (Mountkinane) now completed, Eamon McGrath is the current leader of the pack sitting clear on the overall league ladder with 50 points.
Denis Ryan is has been making steady and impressive progress each week and as a result he's now in second place overall, a mere 4 points behind Eamon McGrath. There is a clutter of athletes queuing up behind the top 2 and they're in a great position to dislodge them from their podium positions in the final 2 weeks of the Challenge.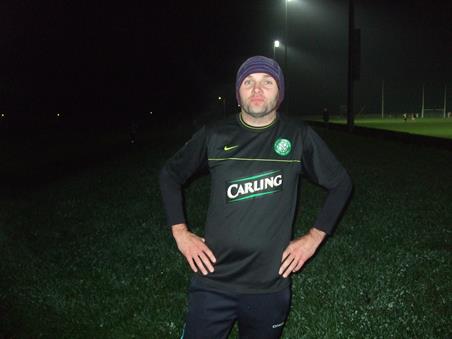 Denis Kelly
Alan Kelly is now on 55 pts, Richie Tynan is on 56 pts while completing the top 5 overall is Paddy Ryan on 61 pts. Three female athletes are now in the top 10. Patricia Ryan, Suzanne Ryan and Mairead Lane are in 7th, 8th and 10th places respectfully with Ailbe Cummins and Michael Gleeson in the separating positions.
Another super show by Alan Kelly in the fifth round saw him again record a sufficient improvement to take his hat-trick of stage wins but only just. An improvement of 3:07 meant he had just 7 seconds to spare over Richie Tynan who must surely be due a stage victory soon following his fourth, third and second place finishes in the last three stages. Helen Hurley had her more impressive outing to date finishing in third spot as did Carol Treacy and Suzanne Whyte who finished in fourth and fifth places respectfully.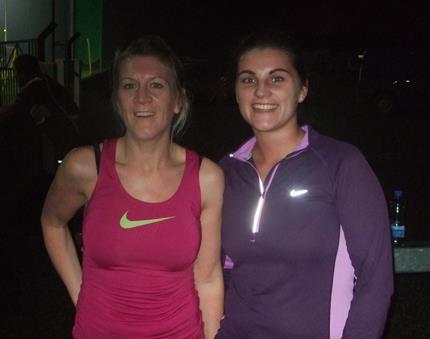 Mary Ryan & Laura Young
On the night we also saw the course record shattered for the third week running, this time by Peter Madden on his first outing on the course following his super showing in this year's Dublin marathon. A finishing time of 22:52 means he has now the target for any potential challengers over the final few weeks. Michael Gleeson was the second fastest on the night with a time of 25:28 closely followed by Ailbe Cummins in 25:32 after yet another great weekly battle between the 2. Michael Murray was next in 25:48 with fifth fastest on the night going to Challenge debutant Denis McCullagh in 26:32.
On the night, 21 athletes recorded personal best times gaining 10 bonus points on the league table in the process. With only 2 scoring nights left, we could well see a major shift in the overall positions especially as more bonus points will be on offer on the final night.
Check Us Out…
You can check out all the activities of Borrisoleigh Track-Attack on Facebook or on the website www.borrisoleigh.ie
---
St Cualan's Social Club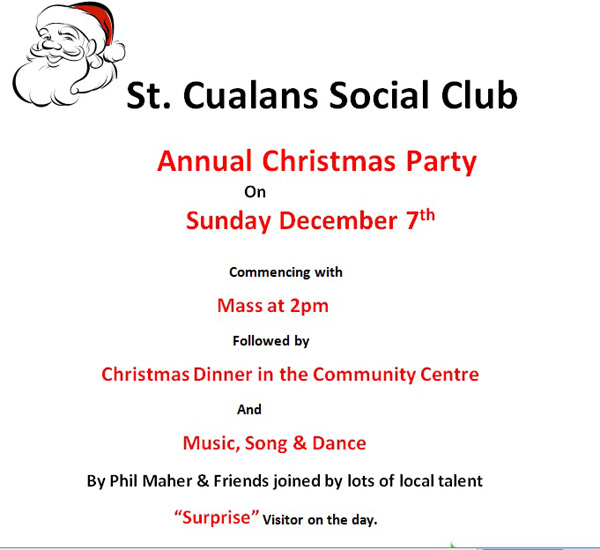 ---
Bush & Briar Ramblers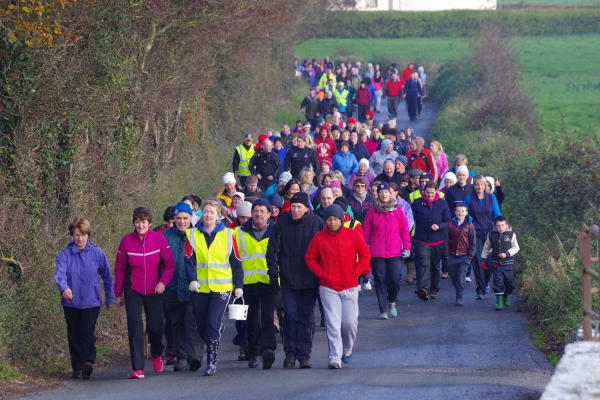 Billy Goulding Charity Walk 16 Nov 2014

A large crowd walked the 5.4km Inch Trail Loop last Sunday in aid of Billy Goulding. With the weather keeping good for the duration of the walk most people got around dry although they may have been a little muddy. Overall a very enjoyable day and some well earned refreshments back at the Community Center in Borrisoleigh. A BIG THANK YOU to everyone involved , walkers, stewards, sponsors and caterers. WELL DONE one and all.
All the photos from the walk can be viewed on Facebook page- Bush & Briar Ramblers.
Next Walk for the Ramblers
After a bit of a break we are back to business as usual with an walk in Latteragh on Sunday next 23 Nov 2014. Easy pace walk of about 2 to 2.5 hrs Boot essential and a small pack lunch and raingear are recommended. All are Welcome.
Meeting at the rear of Shanahan's Service Station at 08.50hrs for departure at 09.00hrs. Also we will meet at (Old Seanie's Pub) Latteragh Cross Roads at approx 09.10hrs.
---
Jingle Bell 5K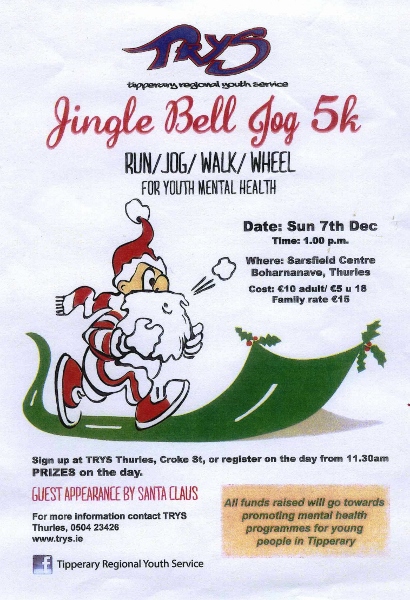 ---
Borris-Ileigh GAA Notes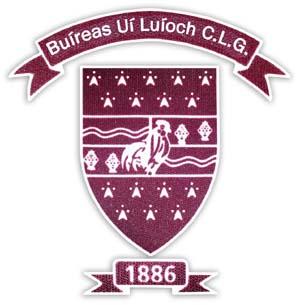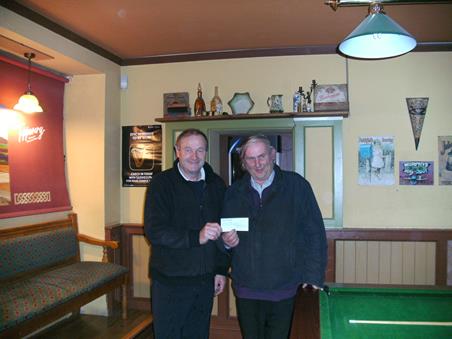 TF Stapleton presenting Michael Brett with his GAA Lotto win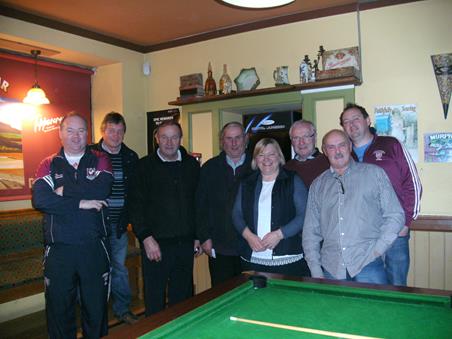 The lotto committee with promoter Mary Stapleton & Michael Brett
Fundraiser: On Saturday 29th of November we are holding "Stars In Your Eyes" in Younge's The Ragg for our latest fundraiser for our development fund. This promises to be a great night of entertainment and will be fun night that you will not want to miss. The format of the night will see acts imitate their favourite acts. Practices have been ongoing and our singers are nearly ready for the big night. Tickets are on sale now. They can be got from any of the acts. They can also be got from any of the finance committee that consists of Diarmuid Kinane, Martin Ryan, Mark Stapleton, Henry Groome, Michael Tierney, Toby Kavanagh, George Ryan, Mark Bourke, Declan Maher and Brendan Maher
U21 Hurling: Well done to our U21s who had a good win in the north quarter final against Portroe on Sunday on a scoreline of 3-11 to 1-12. We will now play Lorrha in the north semi final this Sunday 23rd in Cloughjordan at 2:30pm. We hope to see you there to support the lads
Club Merchandise: An order will be put in soon for all types of club merchandise. As usual the gear is to be paid for up front. Please contact Mark Stapleton to place your order
---
Irish Cancer Society
Thank you to everyone who donated to the recent Church Gate Collection for the Irish Cancer Society on Saturday 1st & Sunday 2nd November, 2014. Total amount collected was €750.00.
---
County Cross Country Athletics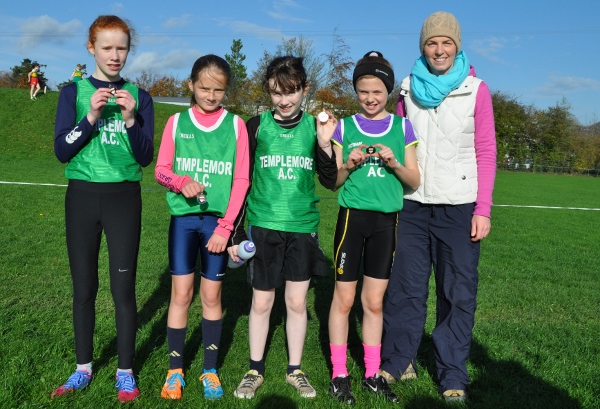 Well done to Danielle Ryan, Borrisoleigh with the Templemore relay team who took Gold in the County Cross Country which took place in Thurles recently.
---
Borrisoleigh Historical Society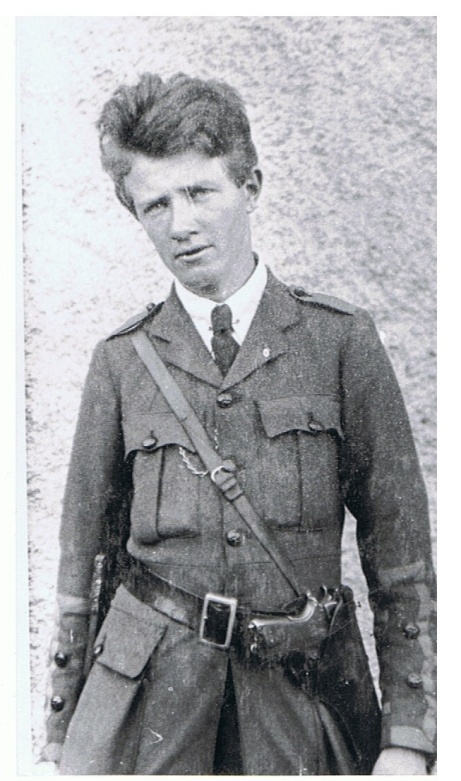 SEÁN HOGAN – HIS LIFE AND TIMES
ONE OF TIPPERARY'S 'BIG FOUR' – BORRISOLEIGH HISTORICAL SOCIETY
TUESDAY 2nd DECEMBER 2014 8.00 PM IN COMMUNITY CENTRE BORRISOLEIGH
Local man, John Connors of Rathmoy will be the speaker at the next lecture presented by the Borrisoleigh Historical Society on 2 December 2014. John has researched extensively on the life of Tipperary man, Sean Hogan, who was rescued in May 1919 from the train at Knocklong by his more famous IRA comrades, Sean Treacy and Dan Breen. Although not yet eighteen years of age, Hogan was one of the most wanted men in the British Empire after the Soloheadbeg attack on 21 January 1919 in which two RIC men were killed. The daring and deadly rescue (two of the RIC escort were shot dead there also) had its origins adjacent to Borrisoleigh parish, as Hogan had been captured at Meagher's of Annfield by RIC Sergeant Peter Wallace from Roskeen in an early Monday morning raid.
While many may be aware of this famous and significant event, few will know about the life of the young man who entered the history books from the Soloheadbeg and Knocklong episodes. As well as bringing us a reprise of these more famous events, John Connors will fill the gap about the further periods of Hogan's early life and his active IRA service in both Dublin and Tipperary, as well as what became of him after the troubled times, with his well-illustrated lecture. The lecture will be introduced by Puckane historian, like the lecture subject also named Sean Hogan, and author of the much acclaimed "The Black and Tans in North Tipperary – Policing, Revolution and War – 1913 -1922".
"One million Dubliners" a very poignant documentary film about Glasnevin Cemetery and the late Shane Mac Thomais will be shown on RTE 1 on Thursday night 20th November at 10.15pm.
---
Sr Áine Historical Society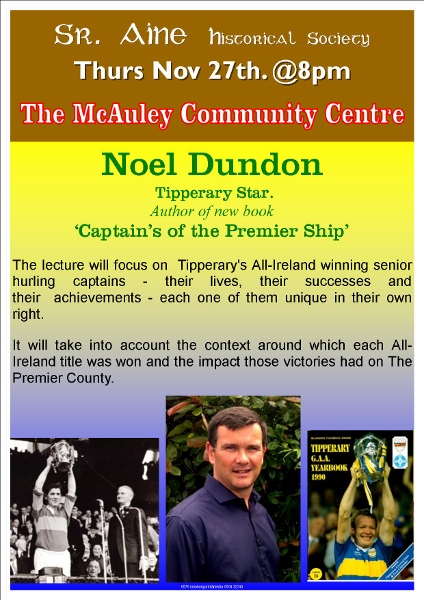 ---
First Steps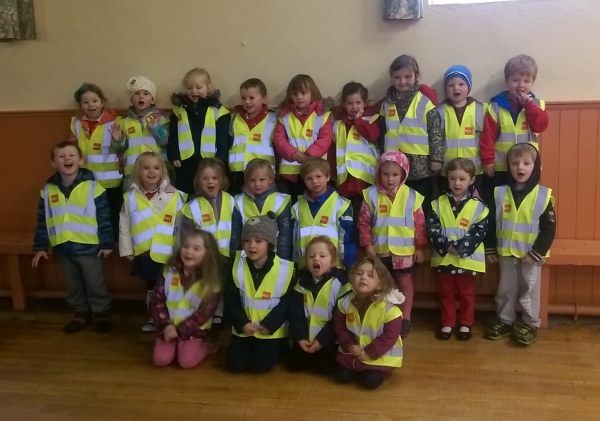 The children from First Steps Montessori enjoyed their Beep Beep day. We walked down to the traffic lights & with the help of some parents we crossed the road. Afterwards the parents & children enjoyed some refreshments.
---
Borris-Ileigh Camoige Notes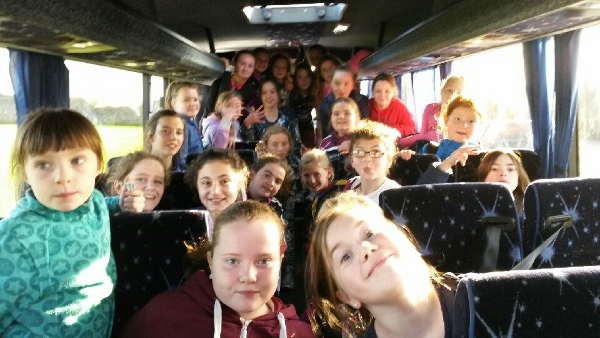 U10/U12's
The girls enjoyed an end of year trip to Ballybrown, Co. Limerick recently. They did very well and won all their matches. Ballybrown were extremely hospitable, and fed everyone on the day.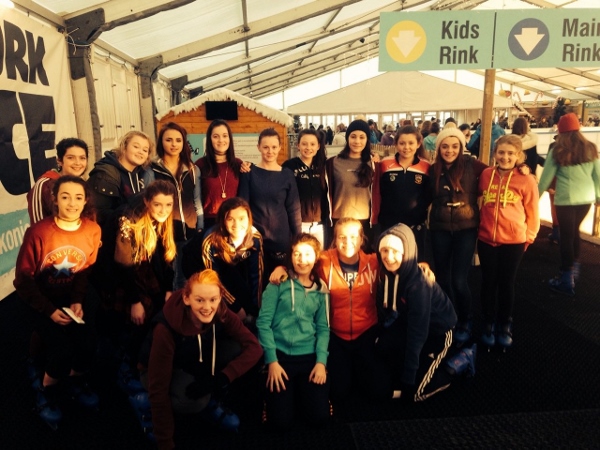 U14/U16's
U14/U16's travelled to Cork recently to play a challenge match. They had a great day, followed by Ice Skating and shopping.
Annual General Meeting
AGM has been re-set for Saturday November 22nd at 7.30 in the Pavilion. All paid up members (over 16 years) of the club are entitled to vote. New members and new input in the club are always welcome. If you would like to become involved with a team or the committee, please come along on the 22nd or contact Louise Delaney Secretary (0879517979) or any committee member with your nominations.
MERCHANDISE:
Camogie club merchandise now available. Please contact Caroline at 08661522716
---
Community Centre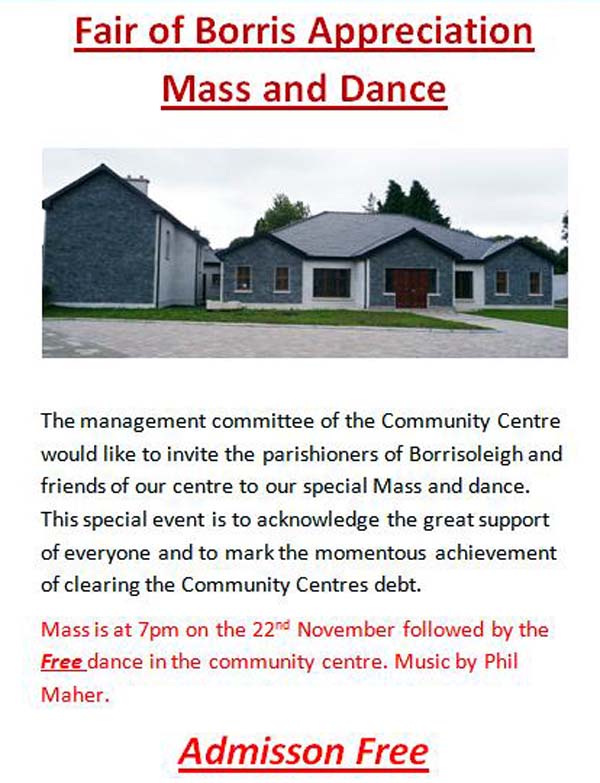 ---
St Stephen's Day Run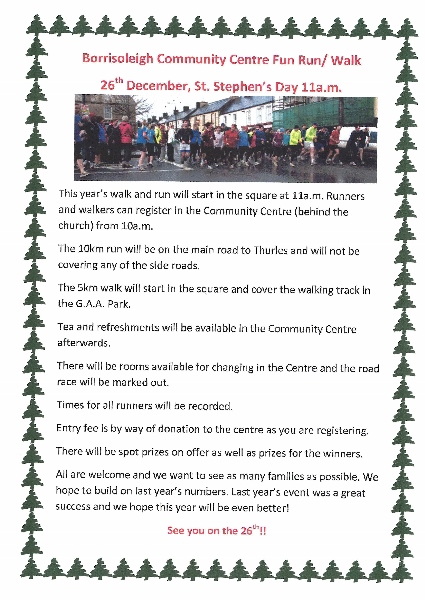 ---
Pic of the Past….down memory lane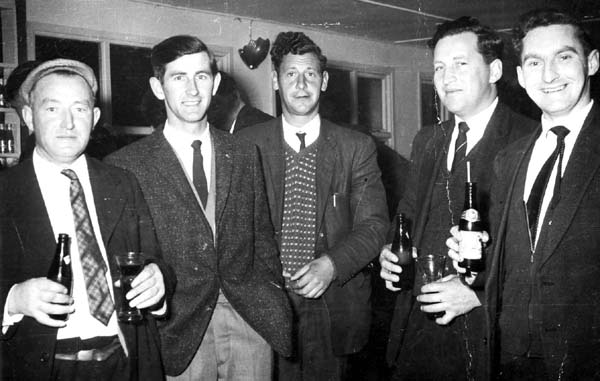 John Young, Joseph Kenny, Adam Hodgins, Joe Prior and Kieran McDonnell

---
Your Website Needs You!
Committee: Enda Ryan, Noreen Fahy, Margaret Cowan, Marie McGrath, Aileen Óg Groome and Derry O'Donnell
Many thanks to all those who contributed photographs and news items. Remember, we need you to continue to send us material so that we can keep our website current and interesting.
Send your email to: info@borrisoleigh.ie
Also, if you like what you see and want to leave a comment, remember to use the Guestbook!
While we make every effort possible to ensure that the information contained in this Website is accurate and complete, we cannot accept any legal liability as a result of the inaccuracy or incompleteness of the information presented to users of this site