Borrisoleigh Track-Attack Notes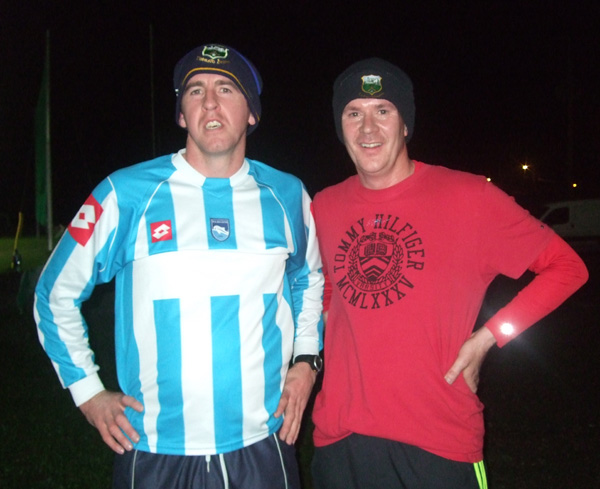 Liam McCullagh & Michael Ferncombe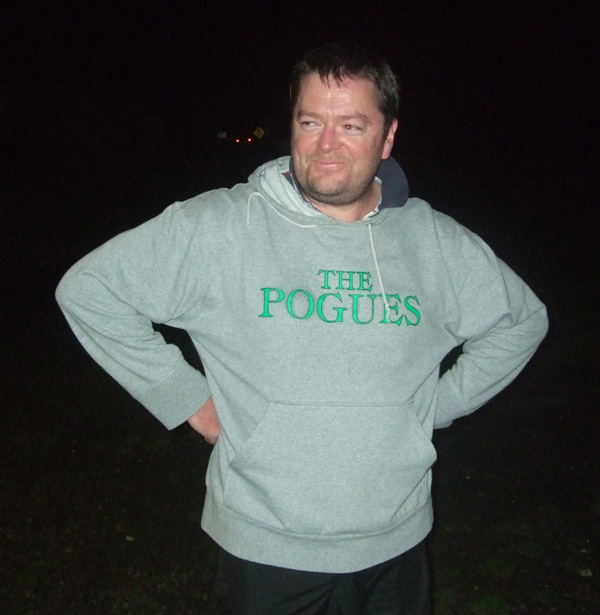 Alan Kelly
Alan Kelly Rules Supreme in Round 4

Round 4 of the Borrisoleigh Marathon Challenge was certainly the cream of the crop to date with 27 participants recording personal best times, a record entry of 45 participants on the night, the course recorded was again shattered, the vastly improving Alan Kelly won his second heat of the event to date following one of the most impressive individual performances to date while a new name in the form of Eamon McGrath have recorded his fourth improvement in a row to go outright league leader on his own.
Kindly sponsored by Albany Home Decor (Nenagh), Owen Ryan Motors (Loughmore), Wright Insurance (Wexford), Cross Fabrication (Templederry) and Pat Keane Painter & Decorator (Mountkinane), the league to date is proving to be a big success. The league itself can be as competitive or non competitive as any individual participant wishes but each Tuesday night once the start whistle sounds, it quickly becomes evident that participants are going all out to improve on their previous weeks best which in turn is the ultimate success for that same participant to achieve.
Round 4 was simply brilliant. Individual battles broke out all over the field led by an absolute speed-fest at the head of the bunch. Michael Ferncombe has thrown down the gauntlet for anyone who wishes to offer a challenge. His performance in the fourth round was the best to date clocking 23:50 for the 6km course and when you consider that in doing so, he has to negotiate the right angled turns and track traffic, the finishing time was all the more impressive. Four more athletes went on to break the 26 minute barrier on the night namely Liam McCullagh, Ailbe Cummins, Michael Gleeson and Michael Murray.
Mark Stapleton, Henry Groome and Martin Fahy continued their weekly battle but this time they had to contend with Noel Kennedy who put in his most impressive display to date knocking 86 seconds from his previous best with all 4 finishing in a time of 31:23.
The female participants were certainly not going to be outdone on the night as one by one they knocked valuable seconds from their previous finishing times with a string of hugely impressive performances. Helen Kiely shredded her previous best, knocking near on 4 minutes to coast home in a superb 29:34. Patricia Ryan clipped off 39 seconds from her personal best which contributed greatly to her securing her a place on the top 10 league ladder overall. Other PB's were recorded by Francis Maher, Mairead Lane, Marie McGrath, Suzanne Whyte, Frances Stapleton, Mary Ryan, Caitriona Spooner, Geraldine O'Brien, Phil Mason and Fiona Looby. The performance of Challenge debutant Clodagh Ryan also deserves a mention as the 15 year old cruised home in a highly impressive 32:23.
The stage victory on the night went to Alan Kelly who brilliantly slashed 6:34 off his previous weeks finishing time and in doing so he recorded his second stage victory of the series to date. Second on the night was Caitriona Spooner with a 6:02 improvement. Richie Tynan continued his excellent improvement each night taking third place thanks to a 5:19 betterment of his previous weeks time. There was a tie for fourth in the stage as Paddy Ryan and Helen Kiely both knocked 3:53 from their round 3 finishing time.
Happenings on the league ladder are really heating up only 14 points separating the top 10. Eamon McGrath is now the outright league leader with a total of 49pts thanks to an impressive quartet of times to date, 38:26, 36:39, 35:10 and 33:09. Paddy Ryan is his nearest challenger with 51 pts followed closely by Ailbe Cummins with 54 pts. Noel Kennedy was the big mover in round 4, moving into fourth place with 56pts. The consistent running of Michael Murray sees him holding the fifth spot with 57pts while Denis Ryan is making steady progress up the ladder and with 58pts, he is now holding down the sixth spot and closing in on the league leaders in impressive form. GAA club chairman Mark Stapleton clocks in at number 7 with 60pts while club treasurer Henry Groome and Michael Gleeson jointly hold down eighth position with 62 points. Patricia Ryan on 63 points occupies the tenth spot.
A string of participants are fastly closing in on the top 10 so with 3 more scoring night left, we can anticipate many more changes in the league table before its completion. Round 5 sees a bonus of 10pts given to any athlete who breaks their own personal best times so a lively night is expected. All (runners/walkers) are welcome and encouraged to attend each night with the start whistle sounding at 8pm sharp. An entry fee of €2 is collected each night with under 16's free of charge.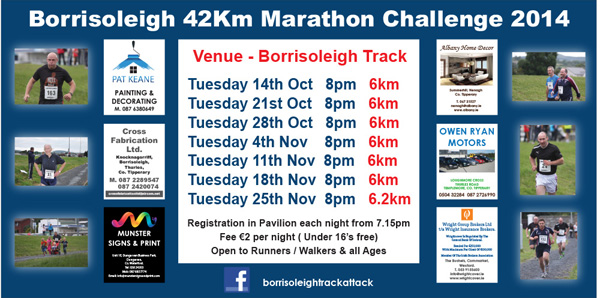 ---

Fifi's Tots Preschool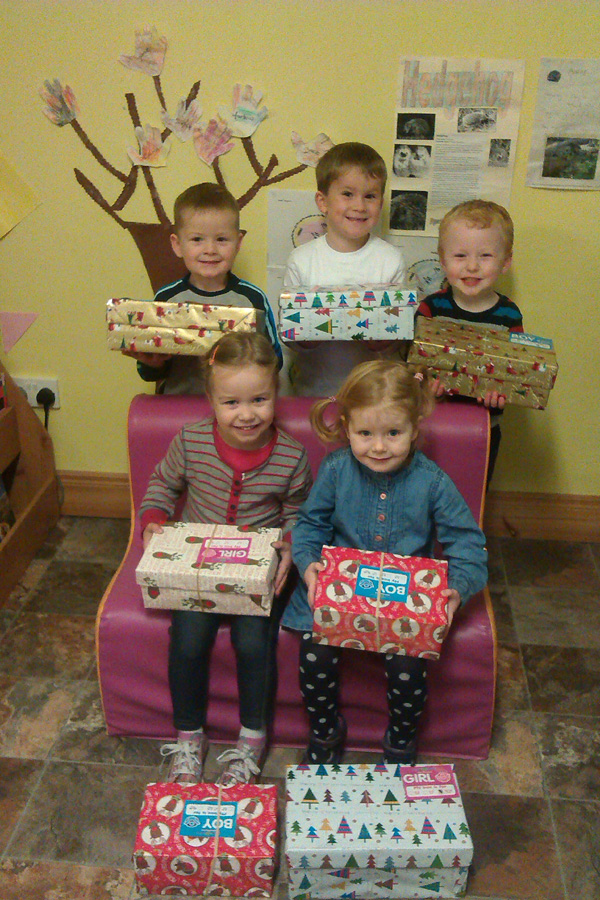 Some of the Children in Fifi's Tots preschool proudly showing off the TEAM HOPE Christmas shoe boxes that were collected recently.

---

Charity Walk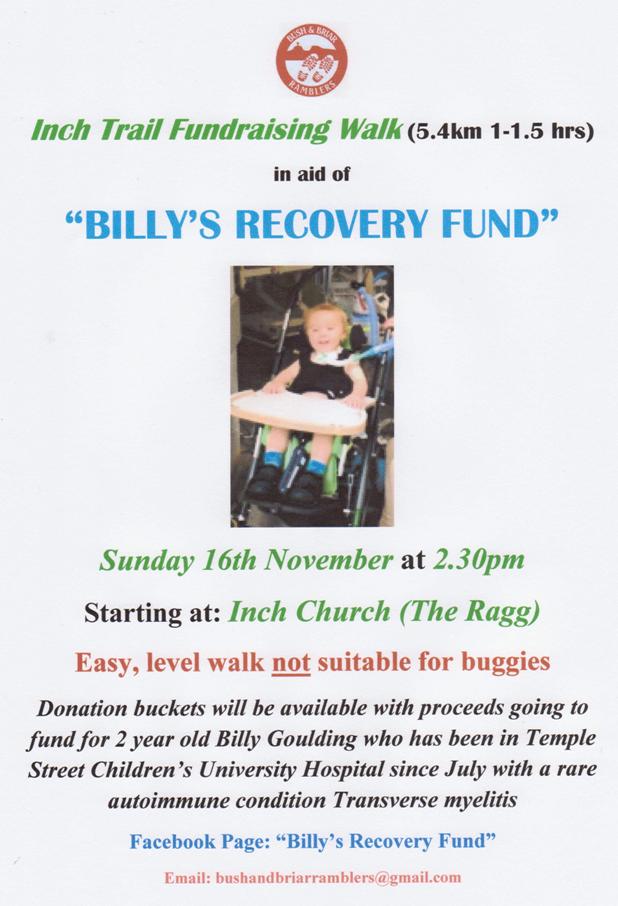 ---

Scór News
The Scór na nÓg North Final will take place on November 28th in Birdhill. Anyone interested in taking part should give their names to Theresa Doolan 086 0765202 or Eileen Slattery 087 9849848
before Monday, November 10th.
We would like to give a call out to anyone who may have set dancing shoes they no longer need. Anyone wishing to donate or sell their unwanted shoes please bring them in to a committee member any Monday night.
Also there is a Maroon set dancing dress which has not been returned since last year. If anyone knows the location of this dress please hand it in to a committee member asap.


---
Borrisoleigh Community Centre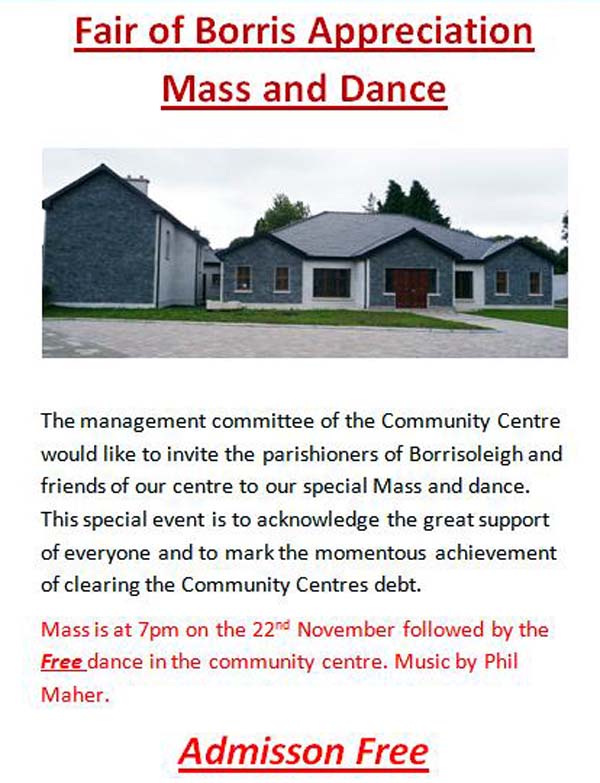 ---
St. Stephen's Day Run/Walk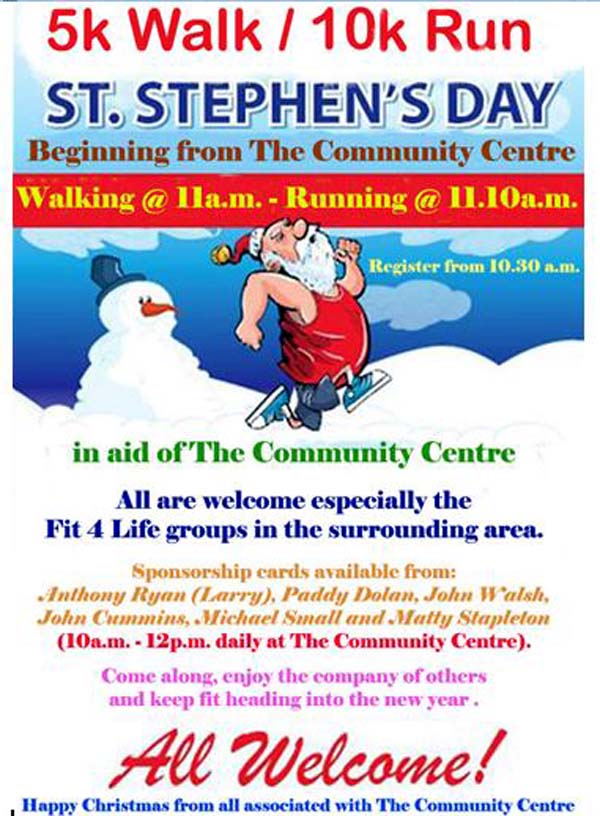 ---
Bothy
Bothy's opening hours for the coming weeks
Wednesday ,Thursday and Friday. 10.30 to 5
Saturday- Closed
---

Camogie Notes


MINOR:
Unfortunately, our Minors lost to Portroe last Sunday, although the score line did not reflect the efforts made in the game. The girls played extremely well as a team, and were unlucky not to have narrowed the score line. Portroe 6-09 to Borris-Ileigh 4-04
U12's
U12's played Nenagh in the League County Semi-Final last Sunday, they were unlucky on the day and were only down by 1 goal at half time. Hard luck girls.
Annual General Meeting
AGM has been re-set for Saturday November 22nd at 7.30 in the Pavilion. All paid up members (over 16 years) of the club are entitled to vote. New members and new input in the club are always welcome. If you would like to become involved with a team or the committee, please come along on the 22nd or contact Louise Delaney Secretary (0879517979) or any committee member with your nominations.
MERCHANDISE:
Camogie club merchandise now available. Please contact Caroline at 08661522716
---
Borris-Ileigh GAA notes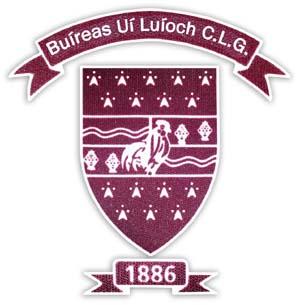 Fundraiser: On Saturday 29th of November we are holding "Stars In Their Eyes" in Younge's The Ragg for our latest fundraiser for our development fund. This promises to be a great night of entertainment and will be a fun night that you will not want to miss. Practices have begun and the artists are already looking and sounding the part. Tickets are on sale now and can be got from the following people-Mark Bourke, Diarmuid Kinnane, Martin Ryan, Mark Stapleton, Henry Groome, Toby Kavanagh, Gerry Treacy, Declan Maher, Brendan Maher, Michael Tierney. Committee members will also have tickets. The cost per ticket is €20. The show will commence at 8pm and music after will be by Ebony.
U21 Hurling: Our U21 team will be in action this weekend in the second round of games. We take on Portroe in Shallee on Sunday at 2:30pm. The 4 winners of round 1 will play the 4 losers of round 1 with the winners of this round qualifying for the north semi final.
Club Merchandise: An order will be put in soon for all types of club merchandise. As usual the gear is to be paid for up front. Please contact Mark Stapleton to place your order.
---
U16 County Final Replay 2014
Photographs taken by Liam Ryan at the U16 County Final Replay November 2014 can be viewed by clicking here or visiting our Photo Gallery. Borris-ileigh emerged winners on the day to claim the County Final.
---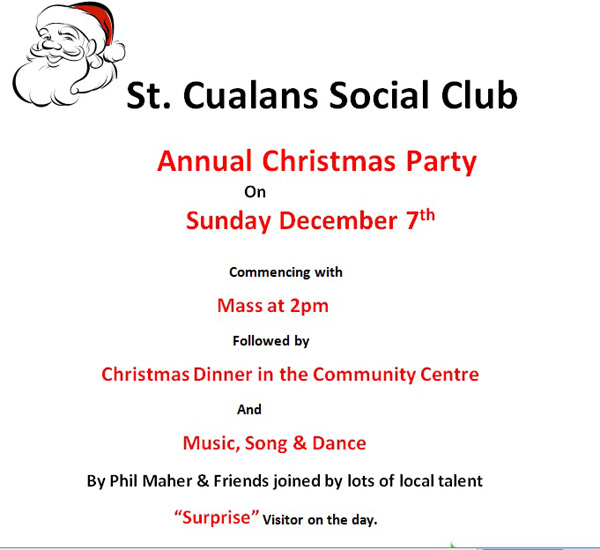 Enquiries to:
Lucia Ryan 086-3961211
Fiona Max 087-2169150
Eileen Slattery 087-9849848
---
St Joseph's College
1st year Boys soccer
St Joseph's College 1st year boys travelled to the Dome, Thurles for the annual Futsal tournament. With a promising team, St Joseph's travelled in hope of reclaiming the county title. We were grouped together with Gaelcolaiste Clonmel, Carrick CBS and Colaiste Mhuire Thurles. We set the tone in the opening match, hitting the post on four occasions and with goals from Barry McCarthy and a long rang goal from Dan Ryan, St Joseph's College secured the win in the opening game. Excellent finishing against Gaelcolaiste Clonmel, with goals from Barry McCarthy, Dan Ryan, Sean Dunne, Alvis Danko (x2) and Kevin Maher saw us win 6-1. The key match was our final group match v Carrick CBS. Carrick took the lead early but Sean Dunne scored the equalised for the match to finish a draw. With St
Joseph's and Carrick on 11 scored and 2 against, a playoff was decided to see who topped the group. Carrick CBS scored the golden goal inside the opening minute and this ensure thet topped the group. St Joseph's were drawn against Group 2 winners, Borrisokane. St Joseph's lost the match 3-0. Credit must go to Borrisokane who won the Tipperary title and will be worthy representatives in the Munster finals next week.
1st year girls soccer
The 1st year girls took part in th Futsal soccer tournament in the Dome last Friday. The team, captained by Derbhila Donnelly showed tremendous courage and tenacity in the four games. The defence only contained 3 goals thanks to our back line of Megan Dunne, Alice Buckley and Catheriona Ryan. However Hazel Reynolds was outstanding in goals and kept her composure throughout. In misfield, the inpressive duo of Meave Stapleton and Aoife Ryan made a nuisance of themselves every time the opposition got the ball. Derbhila Donnelly also had an excellent performance throughout the
tournament, leading the attack along with Antoinette Atik and Shaneen Stapleton who shot at every opportunity. All girls are looking forward to the next ouying.
BT Young Scientist
A big congratulations to Ciara Ryan, John Ryan and Jack O'Meara who have selected out of over 2,500 groups to exhibit at the BT Young Scientist competition in January 2015. Best of luck.
Open Night
We would like to thank the parents and 6th class students who took the time to come to our open night last wednesday 5/11/2014. We would also like to thank our students who put in a massive effort to make it happen. Please note, oppurtunities for enrollment are still available.
All-Ireland Cross-Country
One of our students Richard O'Donoughue(transition year)finished 9th in the munster finals winning a bronze medal. Only the first 12 were picked to race in the All-Ireland Final. A big congratulations to Richard and Best of luck.
---
Pic of the Past……..Down Memory Lane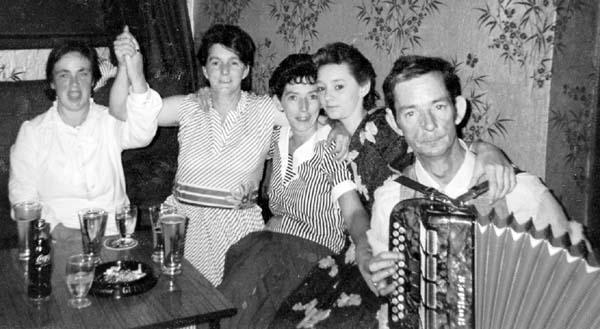 Patterson Family
Kathleen, Mary (Molly), Ann, Kathleen and Matt
---
Your Website Needs You!
Committee: Enda Ryan, Noreen Fahy, Margaret Cowan, Marie McGrath, Aileen Óg Groome and Derry O'Donnell
Many thanks to all those who contributed photographs and news items. Remember, we need you to continue to send us material so that we can keep our website current and interesting.
Send your email to: info@borrisoleigh.ie
Also, if you like what you see and want to leave a comment, remember to use the Guestbook!
While we make every effort possible to ensure that the information contained in this Website is accurate and complete, we cannot accept any legal liability as a result of the inaccuracy or incompleteness of the information presented to users of this site