Borris Ileigh Juvenile GAA Club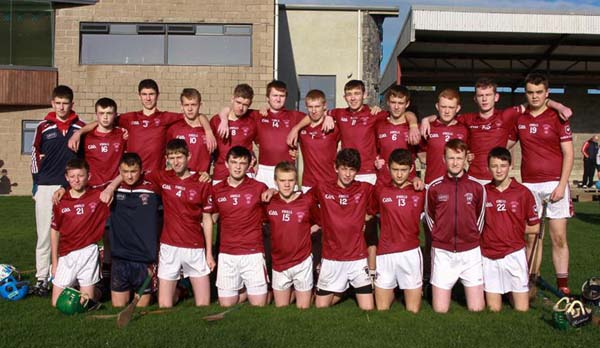 U16 County Champions
On Sunday morning last we travelled to Holycross in hope, hoping for a good team performance and a favourable result in the u16 County Final replay against Emly /Sean Treacys. After the drama of the drawn match including extra time it was difficult to predict how events would unfold or if the performance levels of the drawn game could be matched. We played into the breeze in the first half however it was the opposition who fired over the first two points. The borris boys responded well and a good clearance found its way to Gerry Kelly who carried the ball from 50 yards out and rifled to the Emly /Treacys net. Emly /Treacys worked hard also and scored some good points throughout the first half. Andrew Vance (3). Michael Hayes (2) and three pointed frees from Patrick Carey were matched by three pointed frees, a sideline cut, a point from play by Gerry Kelly, along with a point from James Devaney. This sent the teams to the dressing room level at half time Borris 1-06 to 9pts with all to play for.
A Gerry Kelly point from play followed by a free from Patrick Carey kicked off the second half action. Into the second half the Borris defence worked well as a unit and made life very difficult for the opposition. Some great defending by Jack Prior along with some forward driving runs from John Ryan and Nicky Cooney put the pressure on the Emly Treacys defence. This yielded further points for borris. With 5 minutes remaining and borris in front 1-11 to 11 points and Raymond Mc Cormack now operating at full forward, he passed a great ball out to Aaron Rabbitte who struck a great shot to the roof of the net. This put some daylight between the sides for the first time. Emly\ Treacys however responded immediately with a point and put on enormous pressure, forcing Alvis Danko to bring off a couple of saves and Aaron Reid to put in two last ditch blocks. Ray Mc Cormack replied with the final point of the game for Borris leaving the full time score of 2-12 to 12pts.
Overall this was a magnificent team performance and credit to all players, and the management team of Jimmy Stapleton, Tom Hurley, Kieran Hackett and Martin Ryan for their efforts throughout the year. Also we would like to wish a speedy recovery to Jamie Corcoran and Aaron Donnelly who played their part throughout the year but were injured for the replay. The lineout was as follows Alvis Danko, Jack Prior, Nicky Cooney, Seamus Ryan, Oran Bergin, Aaron Reid, John Ryan, Ray Mc Cormack(0-1), David Mc Cormack, Dan Brookes, Gerry Kelly ( 1-10 5f 1 s/c), Aaron Rabbitte (1-0), Kevin Maher, Conor Keane,James Devaney(o-1). Subs: Jamie Corcoran, Killian Bergin, Patrick o' Connell, Aaron Donnelly, Rickie Geoghegan, Dan Ryan and Michéal Ryan.
---
St. Cualans Social Club
The final coffee morning takes place this Thurs Nov 6th in the Community Centre after 10am mass. Everybody is welcome to call in for a cuppa & a chat. Thanks to everyone who has attended these mornings for the past months and a huge thank you to everyone who baked and helped serve up the goodies every month.
The Christmas Party is being held on Sun Dec 7th in the Community Centre. It will start with mass at 2pm followed by a hot meal and music by Phil Maher plus lots of other local talent. We do also hope to have a very 'special man' in attendance!!!! If anyone would like to attend please give your name to any committee member asap.
---
Borrisoleigh Men's Shed
Borrisoleigh Men's Shed was set up in late October this year after a number of meetings were organised in the Bothy to guage interest during the year. The Men's Shed are fortunate enough to have the use of the Oratory, at the back of the previous vet's office, on Main St. Currently the Shed is open every Monday, Wednesday and Friday from midday to 5.30pm. The first project undertaken was to get the place ready for holding regular gatherings. Although still in it's infancy other projects are being discussed and ideas shared around.
What is a Men's Shed?
A Men's Shed is a dedicated, friendly and welcoming meeting place where men come together and undertake a variety of mutually agreed activities. Men's Sheds are open to all men regardless of age, background or ability. It is a place where you can share your skills and knowledge with others, learn new skills and develop your old skills. New members are always welcome and can be assured that there is something of interest for everyone as the men have ownership of their Shed and projects and decide their own program of events. An objective of Men's Sheds is to enhance or maintain the well-being of the participating men.
As Borrisoleigh Men's Shed has just started up they are welcoming donations from the public of any unused tools, timber, nails, screws, building materials, finance etc. But most importantly new members are most welcome. To get involved or to find out more just drop in on any of the days mentioned above.

---
Borrisoleigh Track-Attack Notes
Ann Marie Greed Wins Round 3
18 of the 42 kms of the Borrisoleigh Marathon Challenge are now completed and with every passing round the levels of improvement and competitiveness is hugely evident right throughout the field. 50 different people have to date participated in the Challenge with new people joining in each night.
The course record was blown apart in round 3 when former Borris-Ileigh hurling coach Michael Ferncombe set a blistering pace right from the off, maintained all the way through and crossed the finish line in 24:03. His pace setting led to a kick on through the field and as a result further Challenge PB's were set by his closest competitors. The ever improving Michael Murray was second fastest on the night with a finishing time of 26:04 using an interesting tactic of sitting back in the opening laps before moving through the gears in the later half, picking off his fellow competitors in impressive fashion. Ailbe Cummins continued with his consistent performances crossing the line in 26:10, knocking 46 seconds off his previous best. Michael Gleeson was fourth quickest on the night in a time of 26:42 with Paul O'Brien completing the top 5 of the night thanks to another impressive outing in 27:07.
The stage win on the night went to Ann Marie Greed following a top class performance that resulted in her knocking 8 minutes and 22 seconds from her previous weeks effort. Paudie McGrath got second place, improving by 6:27 from round 2 while a super run from Kathleen Mockler resulted in a 4:41 improvement and third place overall on the night. One of our walkers Richie Tynan set a very impressive pace, cutting his previous round effort by 4:20 while the aforementioned Michael Murray slashed 1:59 from round 2 to take fifth place.
After 3 rounds, the league leaders are as follows: Michael Murray 32pts, Ailbe Cummins 32pts, Claire Mockler 35pts, Tom Shanahan 36pts, Michael O'Brien 36pts, Eamon McGrath 40pts, Patricia Ryan 43pts, Noel Kennedy 44pts, Mark Stapleton 44pts and Henry Groome 46pts.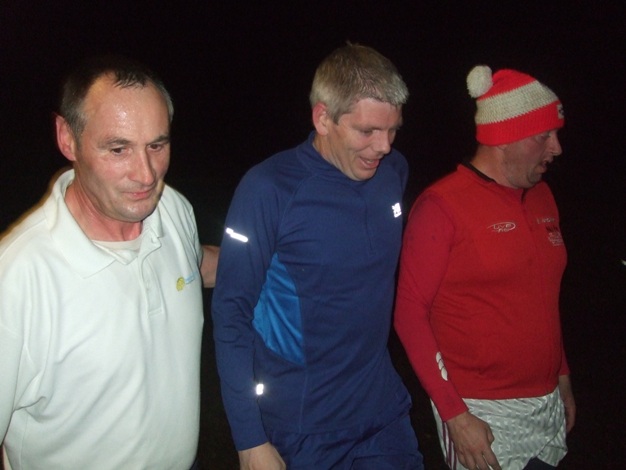 Martin Fahy, Mark Stapleton and Henry Groome
Trio Compete in Dublin Marathon
Congratulations to 3 of the Borrisoleigh Track-Attack participants namely Mairead Lane, Paddy Ryan and Paudie Meehan who completed the Dublin Marathon on the October Bank Holiday Monday. A special mention to Mairead and Paddy who completed round 3 of the Borrisoleigh Marathon Challenge the following night.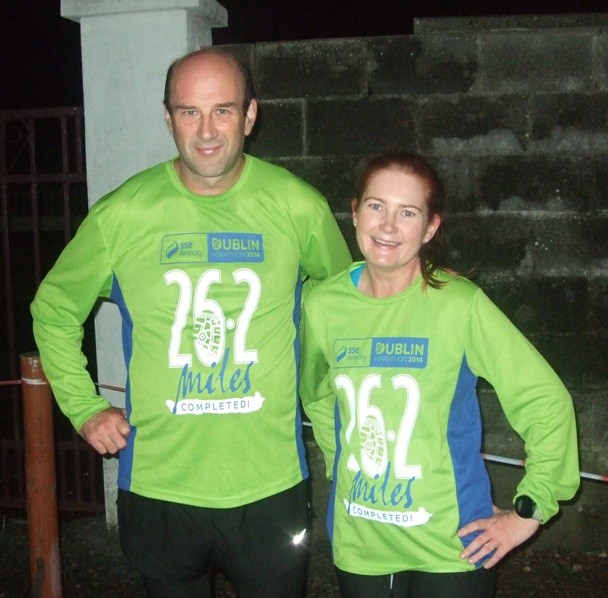 Paddy Ryan and Mairead Lane



Facebook
---
Parish Renewal Team
CEMETERY ROSARY
During the month of November, the Rosary will be recited in the parish cemeteries each Sunday at 3.00pm as follows:
November 9th : Glenkeen
November 16th : Ileigh
November 23rd : Sacred Heart Church
……………………………………………
MASS OF REMEMBRANCE
The Annual Mass of Remembrance for all those who died in the parish during the past year will be offered in the Sacred Heart Church on Friday, November 14th at 7.00pm.
---
Scoil Naomh Cualán
The staff and pupils of Scoil Naomh Cualán say thank you to Marian for all her hard work and dedication. She will be missed by our whole school community.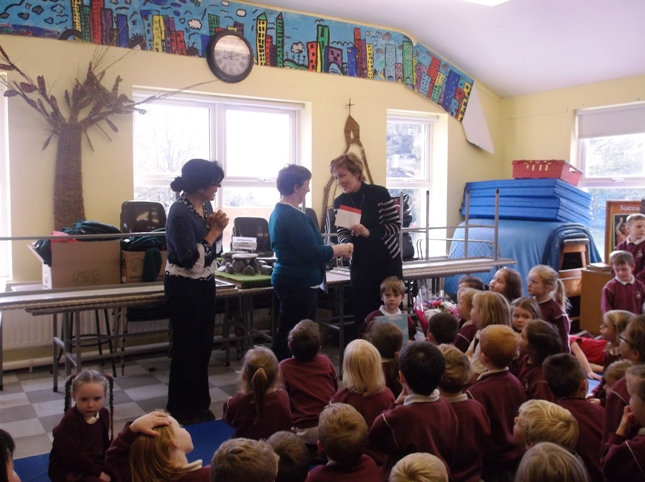 Presentation from staff by Mrs. Ryan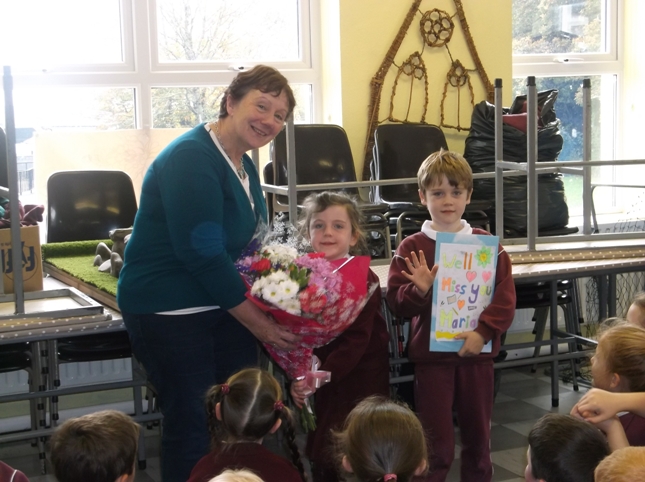 Special presentation from students of fond memories of Marian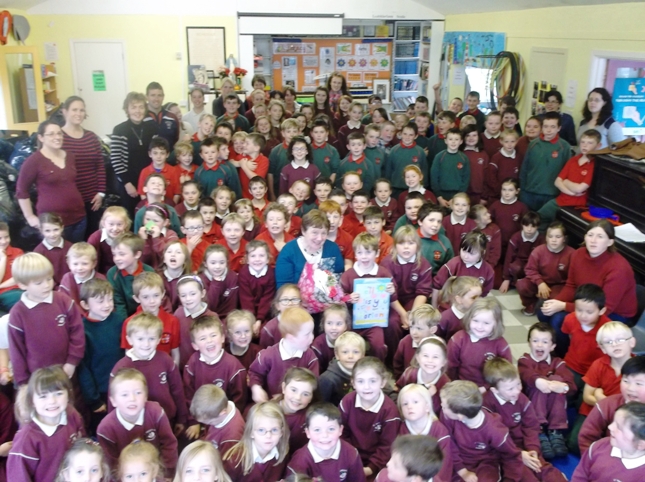 The whole school of Scoil Naomh Cualán
Halloween
Scoil Naomh Cualán had some visitors who took over the school and the catwalk for the day.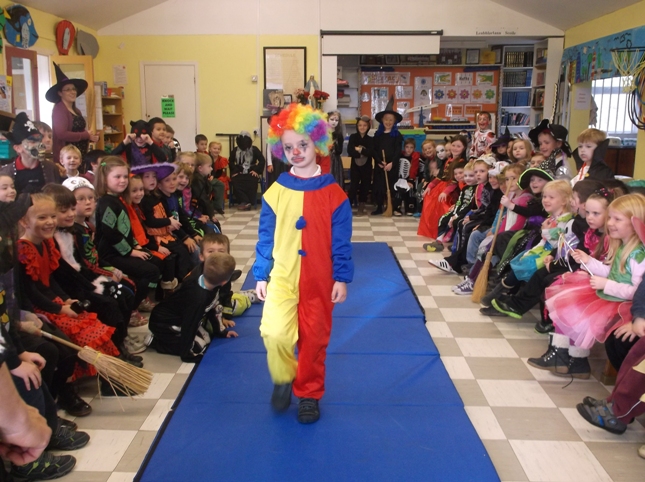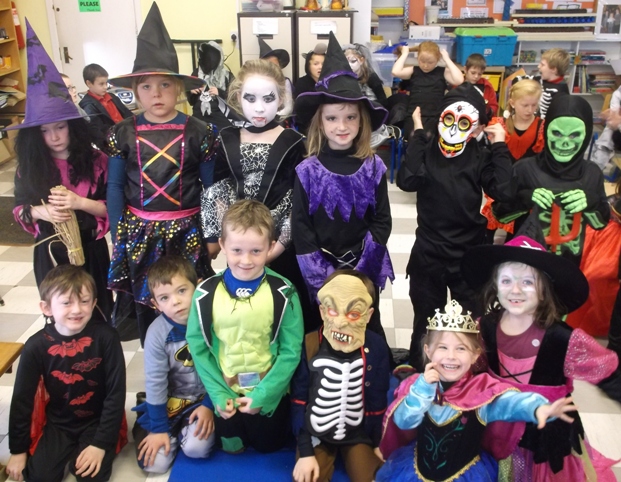 For more Halloween photos visit the photo gallery
---
Bush and Briar Ramblers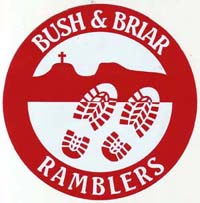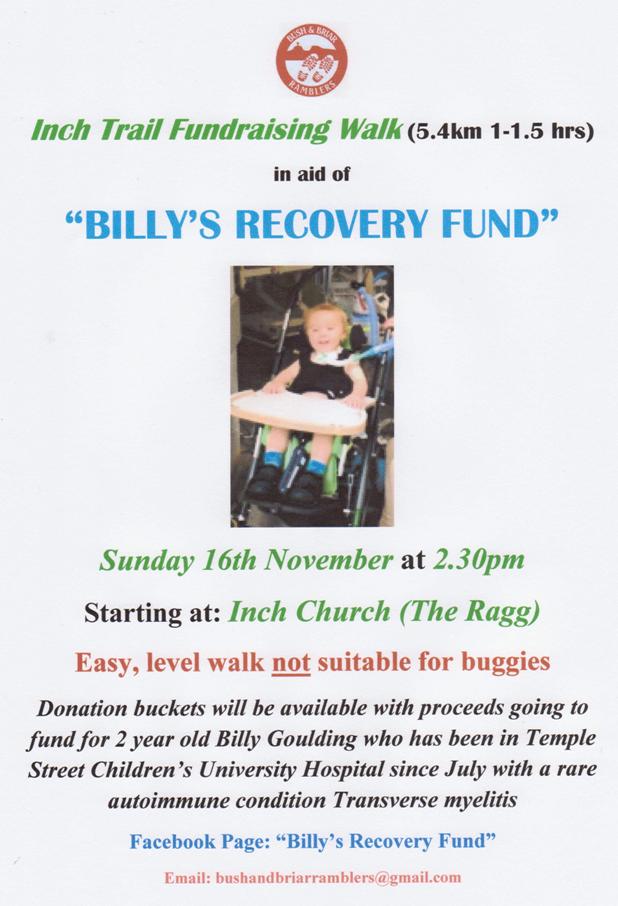 Inch Trail Fundraising Walk in aid of 'Billy's Recovery Fund' Sunday 16th November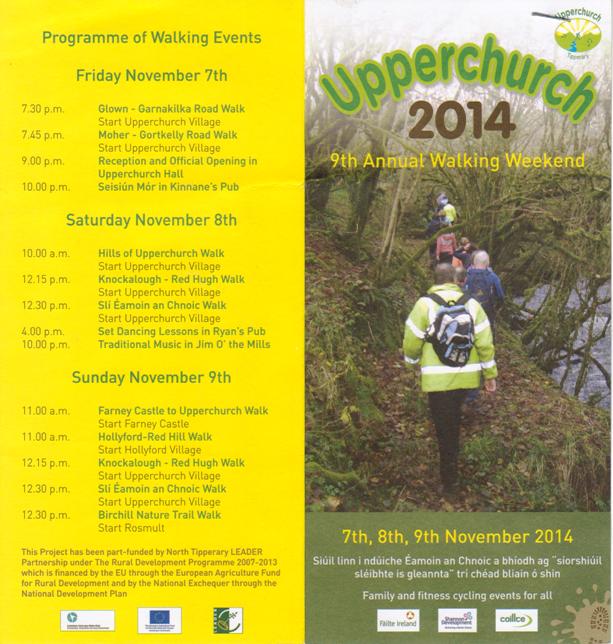 Upperchurch Walking Festival 7th, 8th & 9th November 2014
---
Congratulations
Congratulations and best wishes to Fr. Declan McInerney, who has been recently appointed Parish Priest of Eyrecourt, Clonfert and Meelick by Bishop John Kirby, Bishop of Clonfert.
Fr. Declan is a native of Borrisoleigh and was ordained to the priesthood on the 11th June 1994.
Having spent the last fourteen years in the town of Ballinasloe, he now takes up his new appointment serving three Churches and two Primary Schools.
This parish also has the shrine to Our Lady of Clonfert, where the people of Galway have great devotion especially during the month of May.
Fr. Declan is also the Diocesan adviser to the Primary Schools in the Clonfert Diocese.
His Family and the Parish of Borrisoleigh wish him well on his new appointment.

---
Greetings from "Busy Fingers" Workshop, Nottinghamshire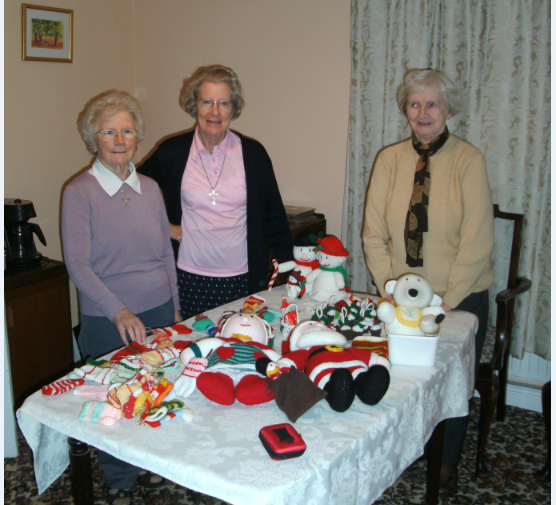 Hello to all our friends in Borrisoleigh, Templederry & Drombane
Left to Right Sr. Mary Ellen Rooney,(Nr Ireland) Sr. Elizabeth Buckley (Templederry) & Sr. Laura Ryan (Patsy) Drombane
Busy knitting their Christmas crafts for the Parish Fair.

---
Borris-Ileigh GAA Notes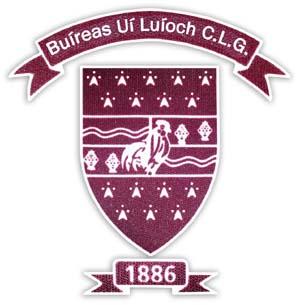 Fundraiser: On Saturday 29th of November we are holding "Stars In Your Eyes" in Younge's The Ragg for our latest fundraiser for our development fund. This promises to be a great night of entertainment and will be fun night that you will not want to miss. Tickets will go on sale soon.
U16 Hurling: Well done to our U16s on a fantastic victory in the county final replay on Sunday morning against Sean Treacys/Emly. It has been a great year for this bunch of lads and we thank them and the management for the huge effort put in all year.
U21 Hurling: There is still no date fixed for round 2 of the north championship. We will let you know as soon as we know.
Club Merchandise: An order will be put in soon for all types of club merchandise. As usual the gear is to be paid for up front. Please contact Mark Stapleton to place your order.
---
Borrisoleigh Community Centre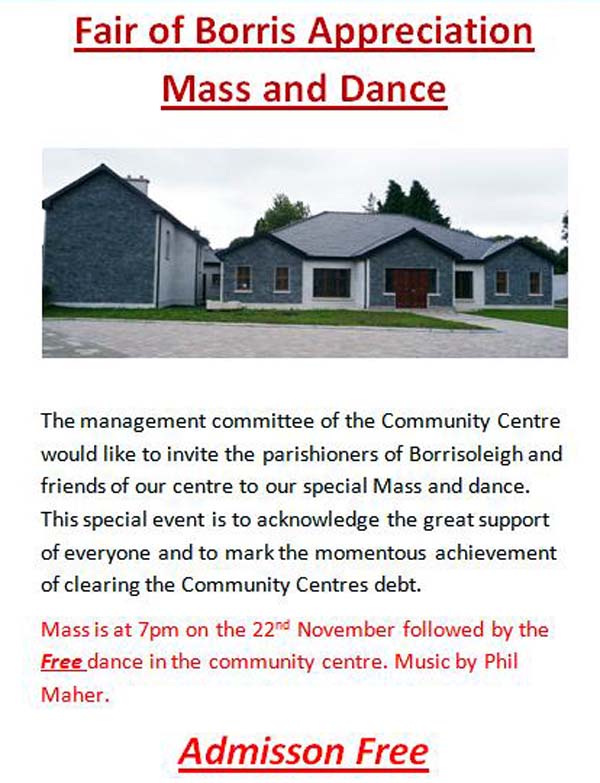 _________________________
St. Stephen's Day Run/Walk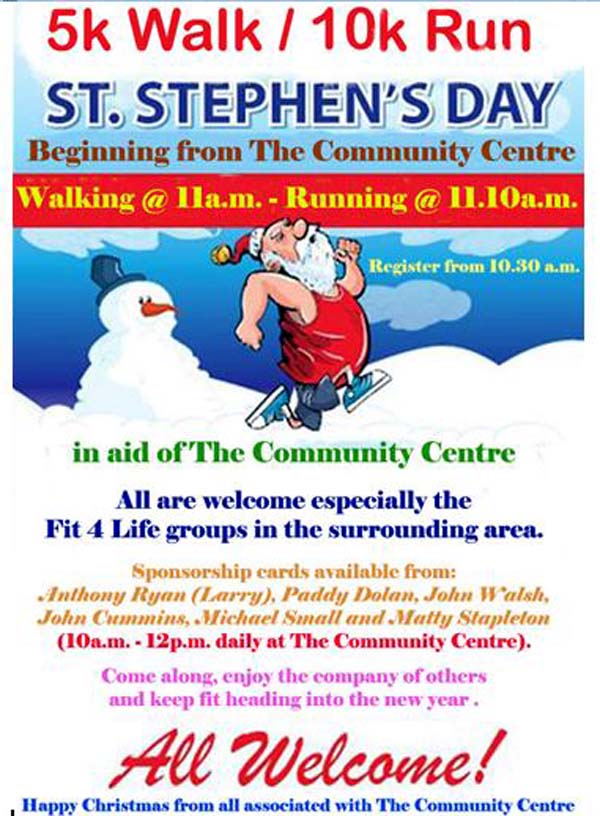 ---
Retirement Function
Mary Brosnan's retirement function from Templederry playschool will be held on Friday 14th November next.
It will commence with mass in the Church of the Immaculate Conception at 7 pm and will be followed by refreshments and entertainment in the Fr. Kenyon Community Centre.
A presentation will be made to Mary on the night. If you wish to be associated with this please contact one of the following: Alice Kennedy (087) 6111850, Teresa Shanahan (087) 7627219, Joan Brennan (086) 8185124, Maura Carey (087) 2915585, Gerry Hogan (087) 2121386 and Róisín Kennedy (086) 8103403.
If you would like to be involved in the choir, please contact Ailish Murray on (086) 8358840.(practice this Saturday night 8th November after 7pm Mass).
Buns, cakes and sandwiches would also be appreciated please contact Margaret Fogarty on (087)8093631.
All welcome.
---
Line Dancing Classes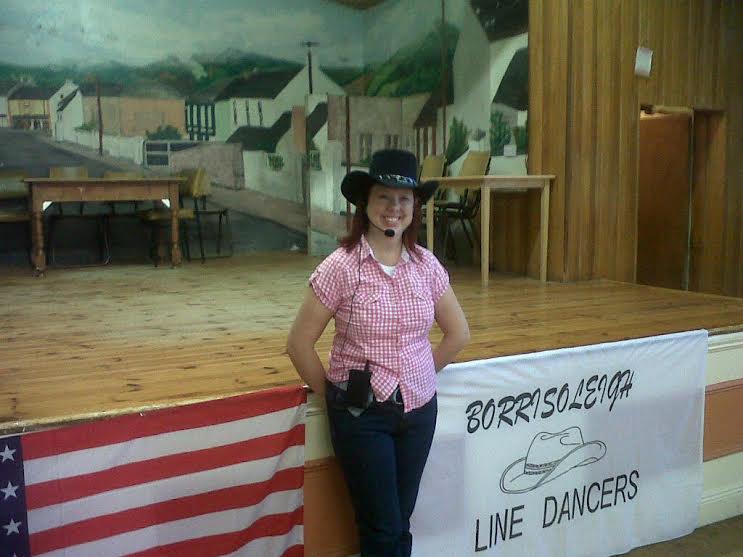 Want to learn something new and exciting then join my Line Dancing Class every Thursday night from 8pm til 9:30. We dance to every type of music and its a fun way to exercise. It's suitable for all ages and absolute beginners.
Saturday class resumes this week at 10am
Date and Times
Thursday 8-9:30pm
Saturday 10-11.30am
Venue: Marian Hall Borrisoleigh
Price: €5.00
Hope to see y'all there
---
Playing for the wrong team?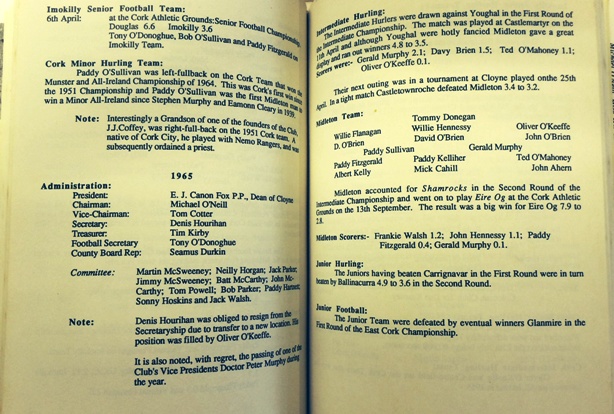 Sean Shanahan browsing through the Middleton GAA book 1886-1986 spotted the name of a corner forward who maybe should have hurled for Thurles Sarsfields or Borrisoleigh.
I wonder who it could be……..

---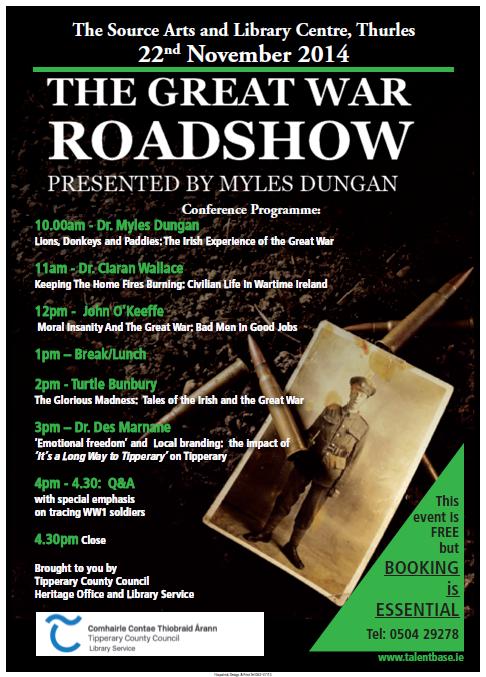 ---
Pic of the Past……..Down Memory Lane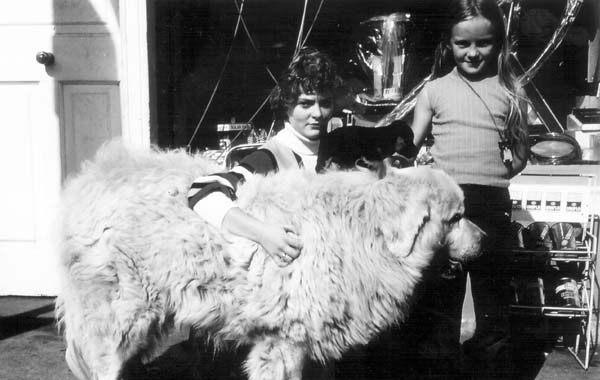 Marion and Tina Campion Main St.
---
Your Website Needs You!
Committee: Enda Ryan, Noreen Fahy, Margaret Cowan, Marie McGrath, Aileen Óg Groome and Derry O'Donnell
Many thanks to all those who contributed photographs and news items. Remember, we need you to continue to send us material so that we can keep our website current and interesting.
Send your email to: info@borrisoleigh.ie
Also, if you like what you see and want to leave a comment, remember to use the Guestbook!
While we make every effort possible to ensure that the information contained in this Website is accurate and complete, we cannot accept any legal liability as a result of the inaccuracy or incompleteness of the information presented to users of this site