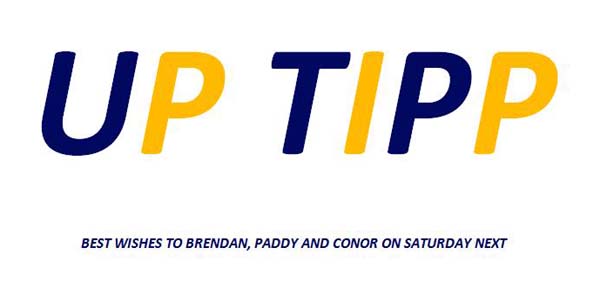 ---

Saturday Evening Mass
Mass on this Saturday evening September 27th will be at 7.30pm due to the All Ireland Replay
---

Borris-Ileigh GAA Club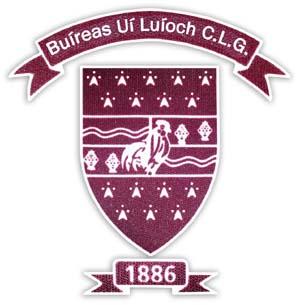 U16B North Final Champions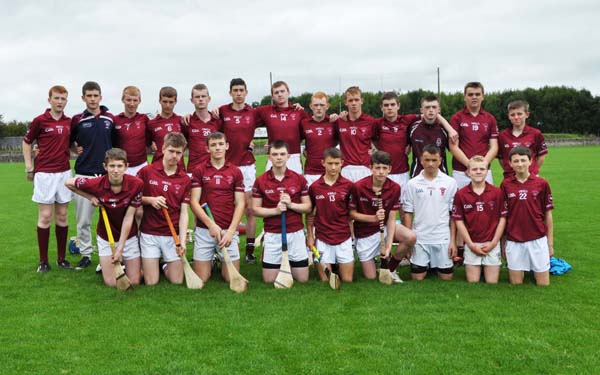 U16B Team who defeated Borrisokane to win the North Final on Saturday last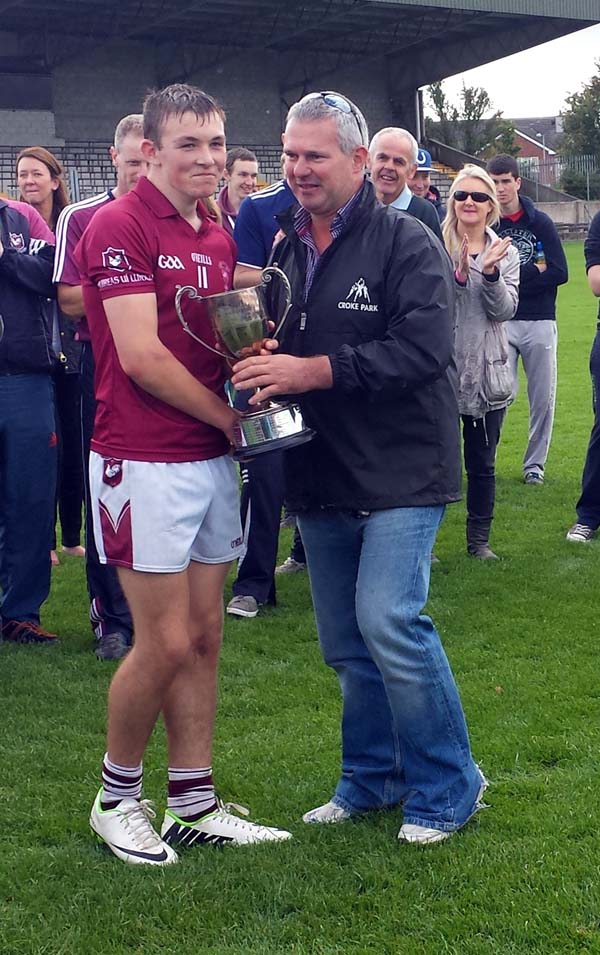 Gerry accepts u16 North trophy from board chairman John Delaney



Senior Hurling:
Our seniors take on Silvermines in the last group game of the county championship on Saturday 4th October in Nenagh at 4pm. This is a game we must win by 7 points to get out of the group. All support would be greatly appreciated for the lads. On Friday evening we play O Loughlin Gaels in Borrisoleigh in a challenge match. The game will throw in at 8pm.
U21 Hurling: Well done to our U21 team who kicked off their campaign in impressive fashion, beating Shannon Rovers Gaels 3-25 to 2-3 in the opening round. There is no fixture made for the next round yet.
U16 Hurling: A huge congratulations to our U16 team who defeated Borrisokane in the North B Final on Saturday afternoon on a scoreline of 3-12 to 1-10. Despite going 3 points down in the second half, we showed great character to dig out the victory and win by 8 points. Great credit must go to the players for the massive effort they have put in this year. A big thank you also to the management of Jimmy Stapleton, Tom Hurley, Martin Ryan and Ciaran Hackett. We will now play Loughmore in the county semi final on Saturday October 4th. The team that started the game was as follows: Alvis Danko, Jack Prior, Oran Bergin, Seamus Ryan, Nicky Cooney, Aaron Reid, John Ryan, Ray McCormack, David McCormack, Dan Brooks, Gerry Kelly(capt), Aaron Rabbitte, Kevin Maher, Jamie Corcoran, Conor Keane. Subs used: James Devaney for David McCormack.
Inter-County Hurling: Best of luck to Brendan, Paddy, Conor and all the Tipp lads in the All Ireland Final this Saturday. There has been great colour put up around the town and if anyone has any flags or banners try and get them up before the weekend.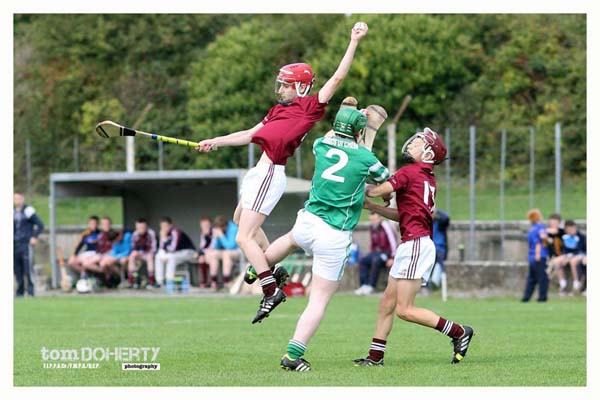 The lads in action at the U16B North Final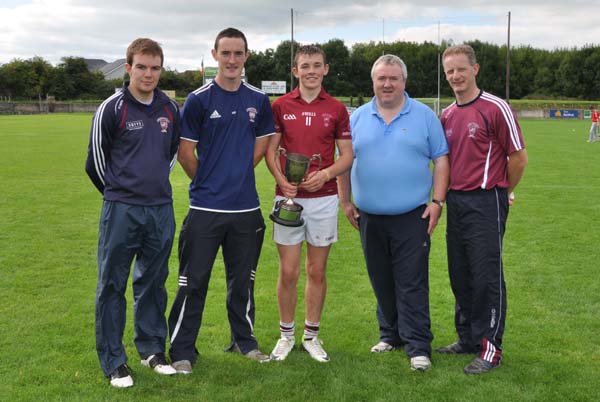 U16B management team are Ciaran Hackett, Martin Ryan, Gerry (Captain), Tom Hurley and Jimmy Stapleton Thanks to Mike Ryan and Tom Doherty for the great photos



---
Borris IIeigh Juvenile GAA


Congratulations to our U16 side who defeated Borrisokane in the North U16b final last Saturday in Nenagh on a scoreline of 3-12 to 1 -10. In what was an exciting game from start to finish Borrisoleigh got off to a great start with goals from Kevin Maher and Jamie Corcoran in the first quarter following some good play by Conor Keane and Aaron Rabbitte. In the second quarter though the scores dried up and it took some good goalkeeping from Alvis Danko, along with some great defending from all six defenders particularly Jack Prior who was outstanding, to ensure we had a narrow lead at half time 2-03 to 5pts. In the second half Borrisokane worked hard and got themselves into a two point lead with 10 minutes remaining. A great point from Dan Brookes however sparked Borris Ileigh into life followed by further scores from Jamie Corcoran, Raymond Mc Cormck (1-1), Gerry Kelly and substitute James Devaney. Team Captain Gerry Kelly accepted the trophy from North Board Chairman John Delaney. We will now play Loughmore Castleiney in the Co semi final.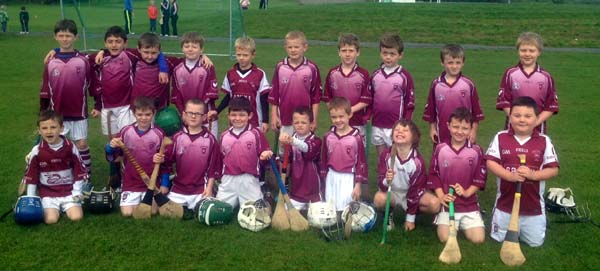 Borris-Ileigh U8 winners of the Meagher Cup on Saturday last
The U8 Meagher Cup took place also on Saturday morning last in Borrisoleigh with Drom Inch, Upperchurch Drombane, Loughmore Castleiney and Borris Ileigh taking part. In the opening games Borris Ileigh accounted for Upperchurch and Drom Inch overcame Loughmore Castleiney. In an exciting final Borris Ileigh edged out Drom Inch with a last minute goal. A delighted Borris Ileigh Captain Tom Delaney accepted the trophy on behalf of the Borris Ileigh team. In an equally entertaining plate final Loughmore Castleiney defeated Upperchurch by a single point. Thanks to the team Mentors, parents players and juvenile committee members for their part in making it such an enjoyable mornings hurling.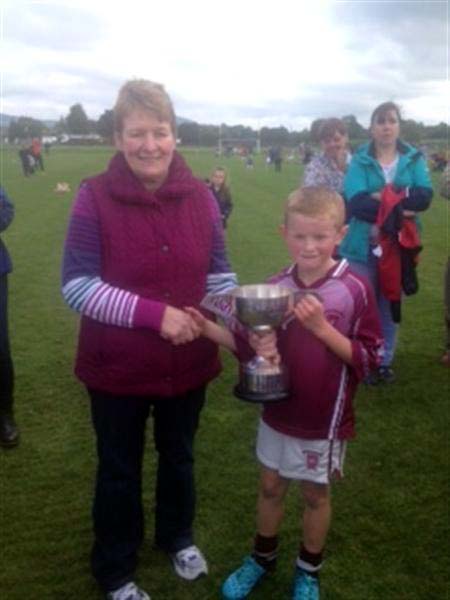 Tom accepting the trophy
For more photographs please click here



---
Bush & Briar Ramblers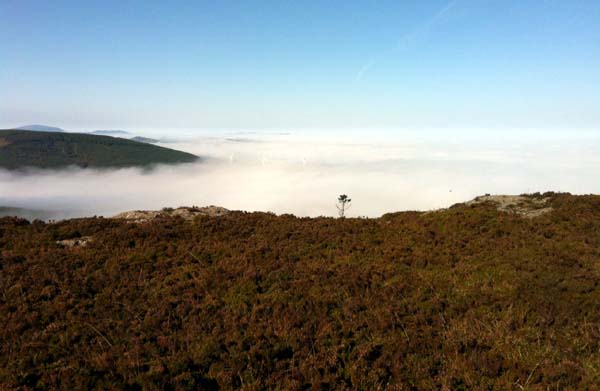 A foggy view from the top
We had a fantastic morning on Sunday 21st for our three hour walk on the Devils Bit. It was warm and sunny with not even a breeze at the top of the Bit to cool us down! When we reached the top the view down towards Borrisnafarney and further afield was covered in mist and fog with the wind turbines just peeking through – it was a mystical view! It was a very enjoyable mornings walking.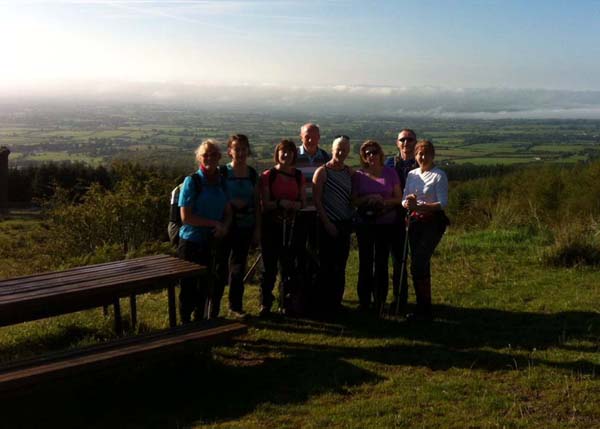 Enjoying the early morning walk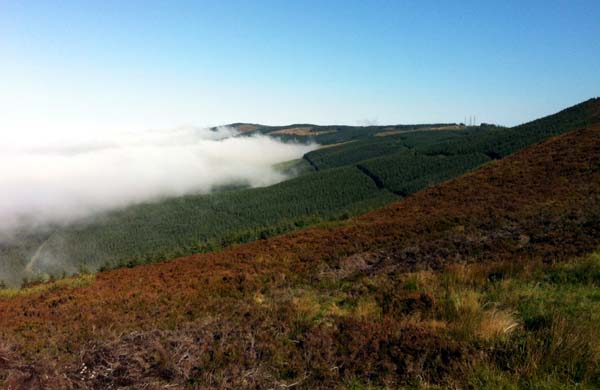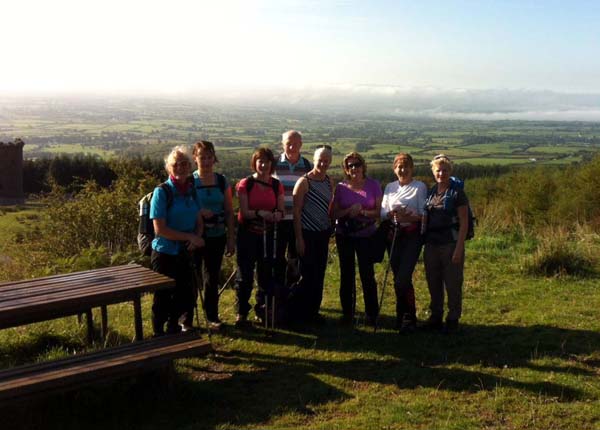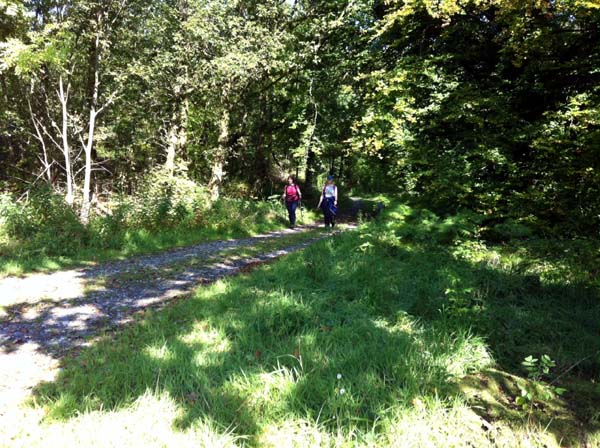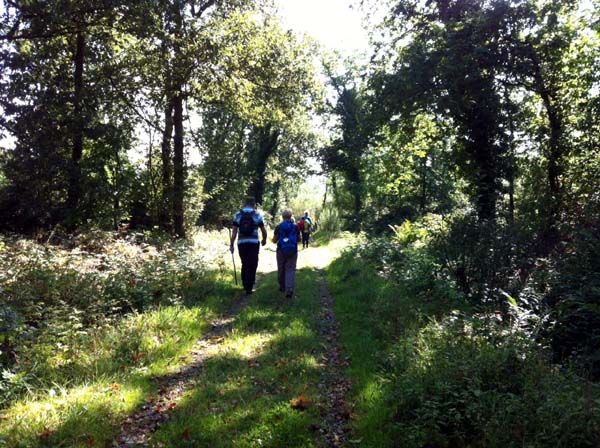 ---
Borrisoleigh Festival

Borrisoleigh Festival October 3rd, 4th and 5th
Borrisoleigh is the place to be for the first weekend in October as the Borrisoleigh Festival takes place from Friday 3rd to Sunday 5th October. Locals have been busy again this year painting premises around the town and even more lovely murals have been added to the ones painted last year.
The festival is being officially opened on Friday evening in McDonagh Square with the re-inroduction of the mayoral candidates followed by live music by Outa Diesel.
Saturday has two walks organised by the local Bush and Briar Ramblers up the Devil's Bit and on the newly opened Inch Loop Walk. There is also a Line Dancing workshop in the Marion Hall and a Food and Craft Fair in the Square. Live music in the Square starts at 7.30pm with the White Gypsy Band followed by the ever popular Silver Dollar and friends at 9pm.
Sunday the 5th starts off with the annual 40k charity cycle organised by the local cycling club with funds raised this year going to Downs Syndrome North Tipp Branch. The Family Fun Day in the park is bigger and better this year with a host of new fun activities added. Along with popular favourites from last year such as Bubble Soccer, Strongman Display by Irish Champion and local man Kevin Murray, Tug of War, Sheaf Tossing, BBQ and novelty games of skill, there is also an exhibition of Birds of Prey, Bouncy Castles, Sumo Wrestling, Rodeo Bull, Arts, Crafts and Music workshops for kids, a vintage tractor display, a climbing wall, face painting and more. Live music in the Square kicks off at 5pm with the Castle Trio. At 7pm the acclaimed Liam Ó Maonlaí (of Hothouse Flowers fame) will take the stage. At 9pm Ebony take over and the new Mayor/Mayoress of Borrisoleigh will be announced.
There will be parking restrictions in the town over the course of the weekend.
---
Paddy Stapleton Fitness+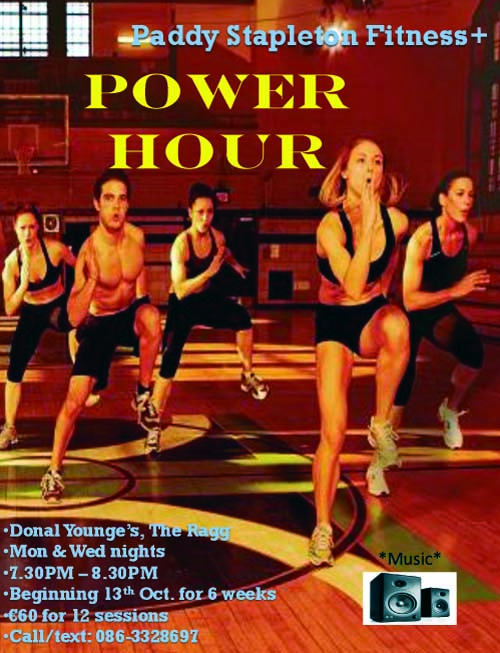 Unfortunately all the 7.30pm places have been filled. However there is now an 8.30pm to 9.30pm class directly afterwards on the same days. All other information is included in the poster above.

---
St. Joseph's College
GAA Preparations
Senior Hurlers traveled to Cashel for a worth while challenge match against Cashel community school where it was a good learning experience in their preparation for the Championship.
Under 15 footballers played a match this week where they travelled to Thurles to play Coláiste Mhuire in a beneficial challenge match.
School Concert
Preparations are underway for the TY drama which will be the centre piece of our school concert which will take place at the end of November. Also students throughout the school are preparing their pieces for the show.
1st and 2nd year Blitz
Wednesday the 17th of September the 1st and 2nd year girls competed in the Tipperary schools camogie blitz in the Ragg camogie grounds against Nenagh College, Borrisokane, Cahir and Newport. The girls competed well but unfortunately victory did not come their way. A strong Borrisokane team won the final. They look forward to the Munster Junior Championship that will begin shortly.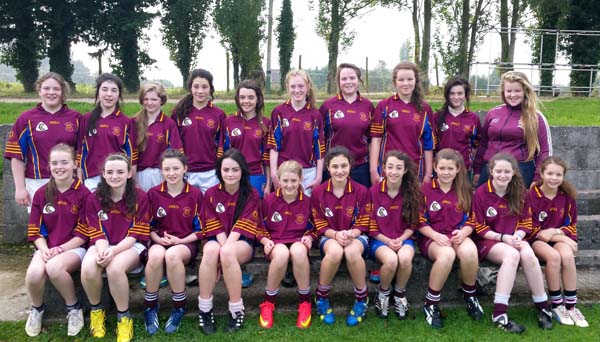 1st and 2nd year girls from St. Joseph's College who competed in the Tipperary Schools Camogie Blitz recently



---
Scór News



Set dancing classes resumed Monday 15th September.
Welcome back to all our dancers, and a special welcome to all our newcomers.
A reminder of new class times.
1st Class 6.30pm – 7.00pm
2nd Class 7.10pm – 7.55pm
3rd Class 8.00pm – 8.45pm
4th Class 8.45pm – 9.30pm
Also the Borrisoleigh Scór Committee would like to wish
Brendan, Paddy, Conor and the
Tipp Team the best of Luck
on Saturday
---
Borris-Ileigh Camogie Club


INTERMEDIATES CHAMPIONSHIP
Borris had a great victory over Drom last Friday and are now due to play Semi Final of the Championship on the 1st weekend in October.
Panel on the night:
Carmel O'Brien, Michelle Ryan, Shauna Rabbitte, Niamh McGrath, Cloda Scanlon, Teresa Ryan, Noreen Stapleton, Julie Kelly, Aoife DeLargy, Deirdre Corcoran, Jane McCormack, Chrissy Kenny, Nicole Walsh, Mary Bradsaw & Moira Maher. Subs: Nora O'Brien, Sarah Kinane, Michelle Ryan, Lauren Butler-Ryan, Catherine Ryan, Louise Fahy, Patrica McElwee & Aisling Kiely. N O'Brien for C Scanlon & L Fahy for N Stapleton.
Final Score:
Borris-Ileigh 2-15 Drom 0-08
Scores from: N Walsh 0-09 (5 frees), M Maher 0-02, D Corcoran 1-01, M Bradshaw 0-03, J Kelly 1-00,
Follow
"Borris-Ileigh Camogie"
on Facebook for further updates.
U14 League
Borris were beaten by Templemore last Saturday in the Ragg. Unfortunately, we were missing some players and were unlucky not to quality for Quarter Finals.
Borris-Ileigh 2-00 to T'more 5-01
Scores: 1-00 Aoife Max 1-00 Gretta Atik.
U10 girls played Nenagh, last week, and won well. Well done and keep up the good work.
U10's Tomas Max Tournament takes place in the town park this Friday evening September 26th at 6.15 p.m.
Teams participating are: Borris-Ileigh, Thurles, Holycross & Moycarkey-Borris. Your support would be appreciated.
U12
It is a great privilege that our U12 club player Katie Boyle of Ballyroan has been selected to play at the half time game of the All-Ireland Final replay on Sept 27th. Katie will wear the number 12 jersey to represent Tipperary. The teams that play at half time are selected from players from all over Ireland. So as we cheer on our Borris boys of Brendan, Paddy & Conor, we also wish Katie the very best of luck.
FUNDRAISING:
CLOTHES COLLECTION
Its Clothes Collection season again, so when you clearing out all the households summer gear, please donate some to raise some much needed funds.
Bags, shoes, and belts all can be donated as well clothes/coats/textiles/cuddly toys etc.
Confirmation of dates for collection will be announced shortly.
TIPPERARY CAMOGIE COUNTY BOARD and CLUBS are taking part in a Sponsored Walk in October. Half the proceeds that the club collect, will go directly to fund the Borris-Ileigh club. Your support would be appreciated, please sponsor any committee member or manager at €2/line.
MERCHANDISE:
Camogie club merchandise now available Hoodies, tracksuits, t-shirts, jerseys and raincoats available. Please contact Caroline at 0861522716.


---
Our next tea/coffee morning will be on Thurs Oct 2nd in the Community Centre after 10am Mass. Everybody is very welcome to call in for a cuppa and a chat.
On this morning we will be having a representative from the Mid-West Region Active Retirement to give a talk. If you are interested in getting involved or would like to know more about Active Retirement Groups please come in as this is Your chance to hear whats involved. Looking forward to seeing you all.
We would like to take this opportunity to wish Brendan, Paddy, Conor and All the Tipperary team the best of luck on Sat and hopefully bringing Liam McCarthy back to Borrisoleigh.
---
Pic of the Past……..down memory lane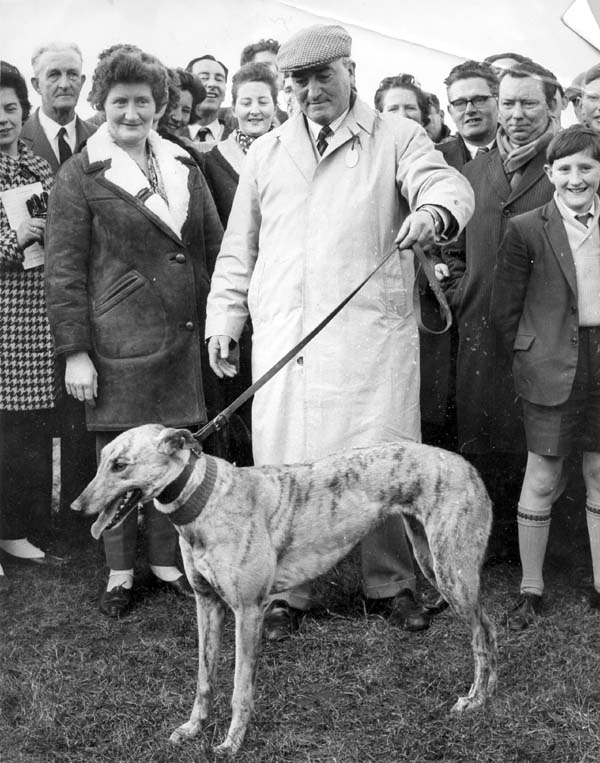 'Regent Prince' Winner of the Oaks 1963
Sarah, Mattie and Tom Costello with Regent Prince, owned by Jimmy Finn.
Also included in photograph: Patrick and Theresa Finn, Dan Maher and Tom O'Dwyer (both from Templemore).


---

Your Website Needs You!
Committee: Enda Ryan, Noreen Fahy, Margaret Cowan, Marie McGrath, Aileen Óg Groome and Derry O'Donnell
Many thanks to all those who contributed photographs and news items. Remember, we need you to continue to send us material so that we can keep our website current and interesting.
Send your email to: info@borrisoleigh.ie
Also, if you like what you see and want to leave a comment, remember to use the Guestbook!


While we make every effort possible to ensure that the information contained in this Website is accurate and complete, we cannot accept any legal liability as a result of the inaccuracy or incompleteness of the information presented to users of this site
---